Interview: Tom Oldroyd, Chef & Founder of Oldroyd
Prior to setting up his own restaurant, Tom Oldroyd was Chef-Director of Russell Norman's Polpo group, critical in launching the Venetian small plates concept back in 2009. He left the company to focus on his independent venture, Oldroyd, located in Islington's foodie nucleus, Upper Street. The restaurant offers a daily-changing European menu built around seasonal British ingredients largely sourced locally. Following much acclaim over the past year for his restaurant, Oldroyd has ambitions to open a new space. Something Curated caught up with the talented chef and restaurateur at his Islington eatery to learn more about his career, the inspiration behind Oldroyd, and his plans for the future.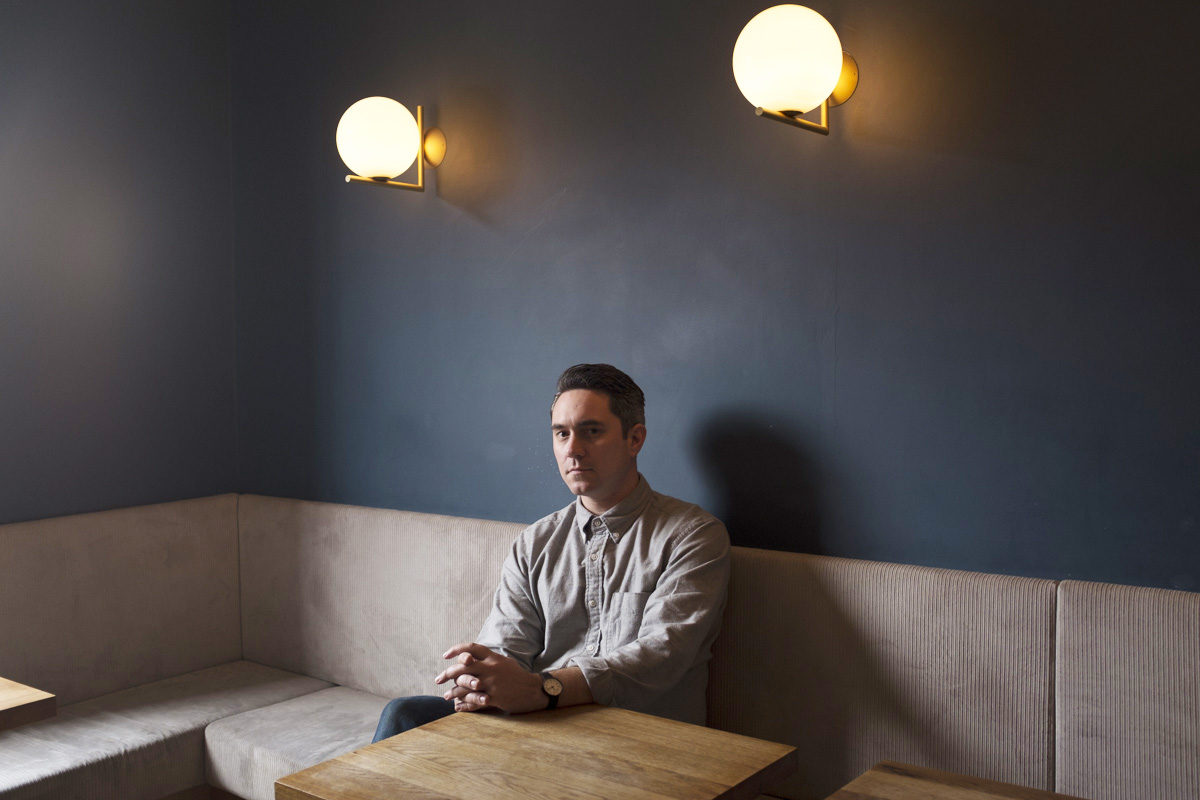 Something Curated: How did you get into this field?
Tom Oldroyd: I fell in love with hospitality at a young age. I remember one New Year's Eve party when we went to a local hotel in my hometown, Guildford. Years later, after washing up in pub kitchens, I went to work in that hotel, and I worked there for seven years in total—it was a Forte Crest at the time, now it's a Holiday Inn. I never really thought about becoming a chef during that period, all I saw was a hotel where everything was microwaved and chefs were angry. I knew though that at some point I'd like to come back to work in this field, somehow. I went travelling for a year, fell in love with food, came back, returned to the hotel and carried on. Soon after I went to university to study International Hospitality Management, and I started cooking in the university kitchen. That was my first taste of professional cooking, and it wasn't anything like the hotel where the chefs were angry, swearing men—it was proper cooking and I loved it. I worked there for a while, and as I was a mature student I ended up training some of the students.
After graduating, I knew that I wanted to see how a kitchen worked, so I decided to move to London. I had a friend who had contacts at Alistair Little's on Frith Street in Soho, I went to many other interviews and stages, but I really wanted to work in the centre of Soho. I thought that was where I would get the most inspiration. And it was a tiny kitchen where I could work my way up, and I did for three years; my mentor was Juliet Peston, she was Alistair Little's right hand lady. After that I worked at Boca di Lupo for six months, I still very much enjoyed being a chef, and I was then approached by two guys who had eaten at Alastair Little's restaurant a lot. They wanted to open up an Italian restaurant called Polpo, they needed a chef, and I said that sounded like the kind of thing I wanted to do, loving Italian food. So we went to Venice, did some research, and set up Polpo on Beech Street in 2009. Then we opened Polpetto a year or so later, soon after we opened Spuntino. We opened, I think, nine restaurants in five years while I was with them.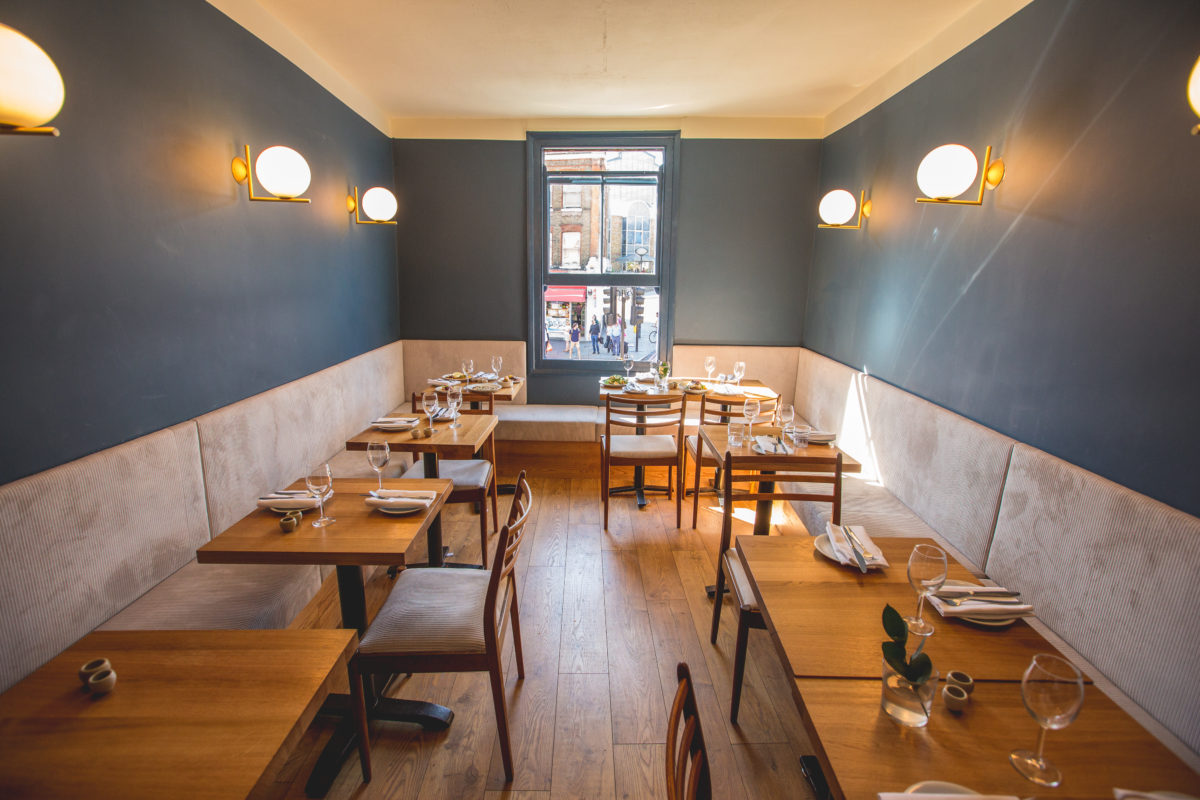 SC: What compelled you to leave the Polpo group and focus on this new venture?
TO: So I had gone from not really wanting to become a chef, to then having a hundred chefs and running nine restaurants; this was great experience, but given that it wasn't my intention, I thought it was time to put the breaks on at this point. I wanted to learn how the kitchen ran, how to write a menu, I wanted to learn how to construct food, not just say, "I like eating this", but learn how to make a menu that makes people want to come back. It was time for me to do my own thing. I had learned a lot at Polpo—I thoroughly enjoyed my time there. I enjoyed it all, but it was also very hard work—it was a real challenge that I enjoyed up until the moment I realised I wanted to create something for myself. I'd love to go back to Soho at some point to open a restaurant, but I like where I am now. I took a year off, I knew I wanted to do something but I wasn't exactly sure what. At the time my head was still spinning with Polpo, I had written the recipes for Russel Norman's cookbook while I was there, and it was the Waterstones book of the year—it was amazing. Then I got engaged, had a few ideas, then found this place and fell in love again really, we opened our doors in July 2015 and the time has flown by. 
SC: Did you have a preconceived vision for the space? 
TO: It was a little sandwich place before, full of junk, downstairs it was very claustrophobic and full of fridges and freezers. My fiancé designed it and made it what it is now with her parents and my parents—it was a bit of a family affair. And friends chipped in too. Oldroyd is a Yorkshire name, it means 'a clearing in the wood', so we wanted a lot of plants inside; we wanted them to be blue and grey with light wood. I wanted it to feel cosier and we both wanted the walls to be blue. We envisioned the space to be timeless, but we didn't want there to be a particular theme or look to it. The kitchen is small and easy to clean, for the lazy chef you don't have to move anywhere, but this does also mean the menu is quite limited. In a way this is a good thing though— if you trust the chef, the small size of the menu is a blessing really. It would have been very easy to open this as a one or two dish menu, a burger shop or a chicken shop. But that's not what I wanted to do, I wanted a proper restaurant with a menu and a wine list, and we managed to do it.
SC: Could you talk to us about the philosophy behind this new restaurant and the daily changing menu?
TO: I love Italian food—I love the simplicity of the food and the family-style way of eating. You pass it around and you make conversation about it. The menu was designed so that you could eat it in any way you like. A lot of menus nowadays are often very disjointed, but what I love about our menu is that it's mostly Italian, French, a bit Spanish, but everything compliments everything else, it's all from the same little area of the world. We have two chefs on a service and the restaurant is open seven days a week from lunch through to dinner, if people want to eat at 4pm in the afternoon, they can. Nowadays people are eating out when they want to, and it's great. The idea of a meal has been broken down.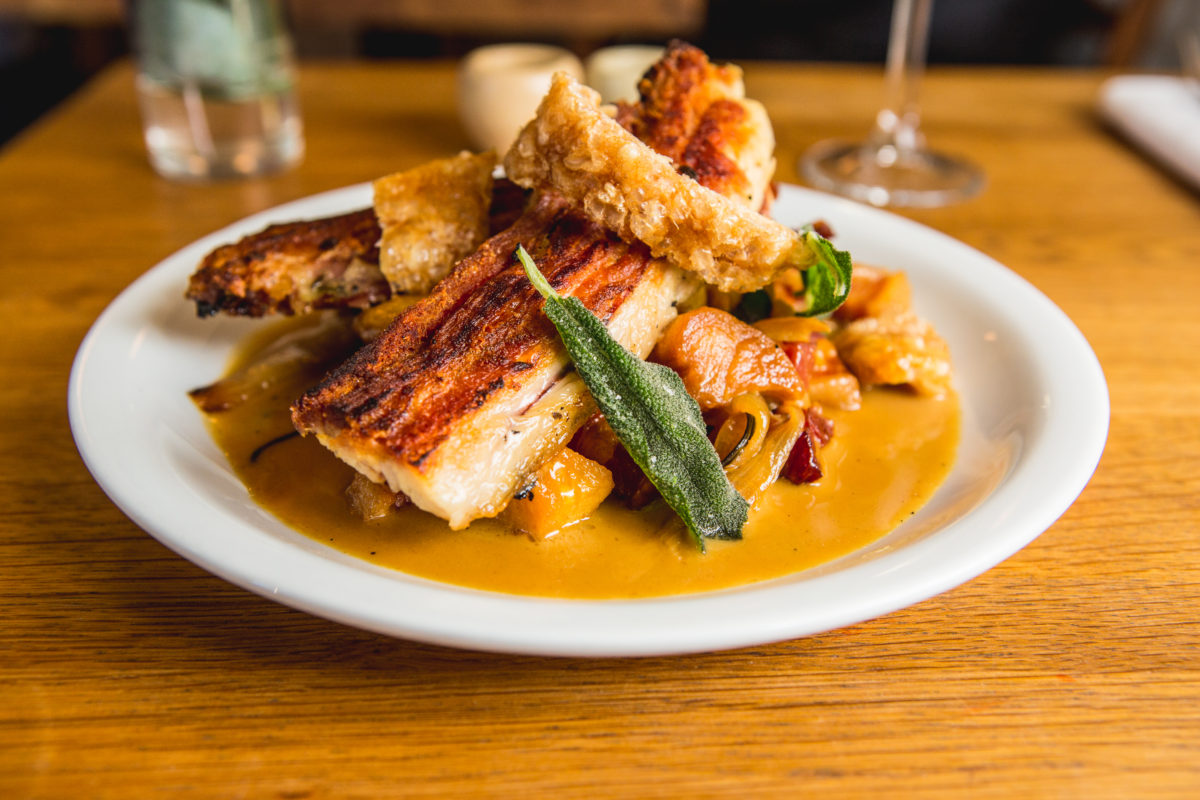 SC: Where do you source your ingredients? 
TO: We tend to use British produce, British cheeses, charcuterie, fish, meat, vegetables, though there are some from Europe. We don't use a product just because it's British, we prefer it, but if there are better options we will use them. We work with some great suppliers with a good ethos, but we speak to some small suppliers too; there's an Italian caviar supplier and he's got his office on Camden passage. We use Turner & George for our meat, Southbank is our fish supplier, and Rushtons greengrocers. The wine is from Jascots, La Cave and Perfect Cellar—like our food menu there's not a lot, there are usually four reds and four whites and a couple of fizzes, one rosé and that's it.
SC: Who or what inspires your food?
TO: Classics. Going to a country and eating what the locals eat, understanding why they like it, if it's delicious, and then translating it into a dish we can do here. If I went to Spain and ate various dishes of paella, for instance, I'd try to pin down what I liked about them, or hated about them. It always stems from a classic dish or flavour, we just bend it to how we like it. I love eating. People are often spending so much time in the kitchen that they spend very little time eating. It's very satisfying when you can take your craft up to a level where it can be enjoyed by others.
SC: What is your most memorable gastronomic travel experience?
TO: In Japan I fell in love with Japanese food and culture. I didn't crave anything, there was everything you needed on your plate. 
SC: What does your typical daily schedule look like? 
TO: I have a good chef and manager, they've worked together before—they came as a pair. With them we have a very strong, reliable team who have for the most part been here since the beginning. This is great for me; it means I can concentrate on the business as a whole as I can rely on them to check stocks etc. I write the menus with the chef and it works very well. I have an office across the road and I can concentrate on other events. I like writing, making recipes for other people. There are discussions for another book, which we'd love to coincide with another opening.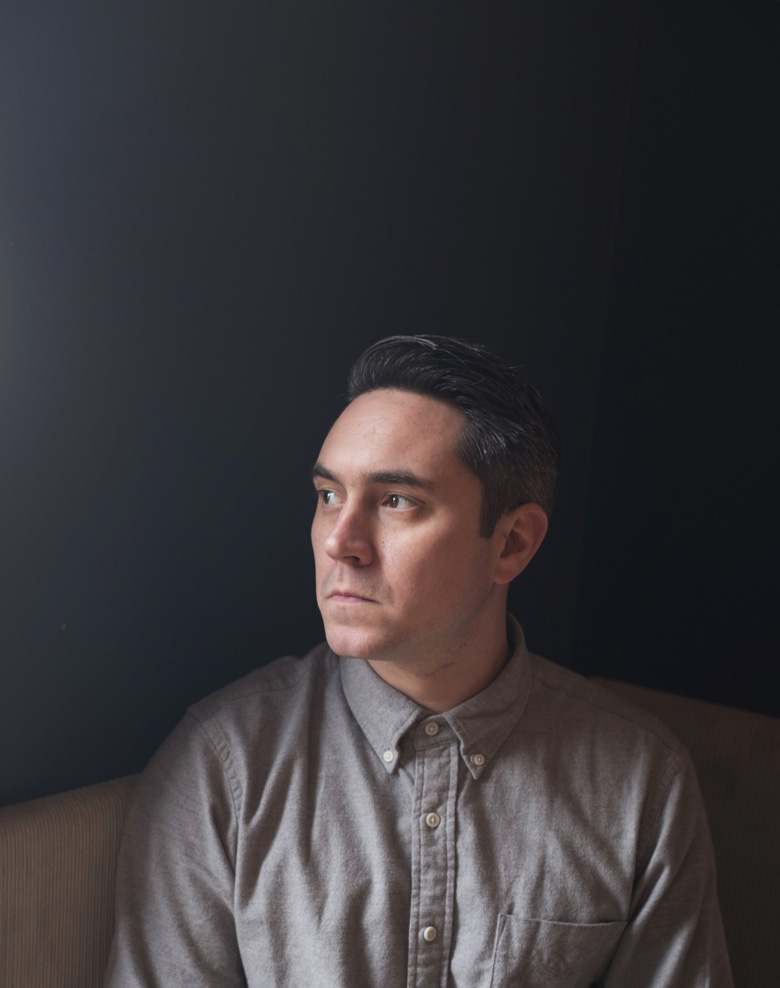 SC: What's your favourite dish of all time?
TO: I've thought about this a lot, and the thing that I crave the most and eat the most is probably calves' liver and onions with mashed potato. I first made it when I was at Polpo—it's very satisfying.
SC: With the small kitchen do you find it a challenge to cater to people with different dietary requirements?
TO: We have a Christmas menu currently, and we've made sure there's a separate menu for pescatarians, one for vegetarians and another for vegans. The vegan menu starts with a pumpkin-spiced walnut risotto—it's a really good puree so it's tasty, with crispy sage on top. For the main dish there's wet polenta with confit garlic and chanterelle mushrooms. The dessert is a red wine poached pear with walnuts. As a chef, you often break down the plate into protein, carbohydrates etc, and then when you're making a vegan dish you think that it's missing something, when actually it's not most of the time, and people really enjoy it. Italian food lends itself to vegetarianism with all those lovely sun-dried vegetables, it's a great way to be. I'm actually finding myself eating less meat. I'm a lot more interested in it—we're trying to celebrate the vegetable a lot more now.
SC: Tell us about some of the achievements of which you are most proud.
TO: My fiancé Meryl is no. 1, this restaurant is no. 2. Meryl deals with the website, social media and various other things. She designed most of the restaurant. She owns a concept store on Hackney Road called 'The The Store' which sells all sorts of things.
SC: Can you recall any particularly memorable collaborations?
TO: There was something called Glanstonbury. It's a festival of offal and offcuts that I set up with a friend a couple of years back and we now do once a year at a pub called the Drapers Arms up the road in Islington.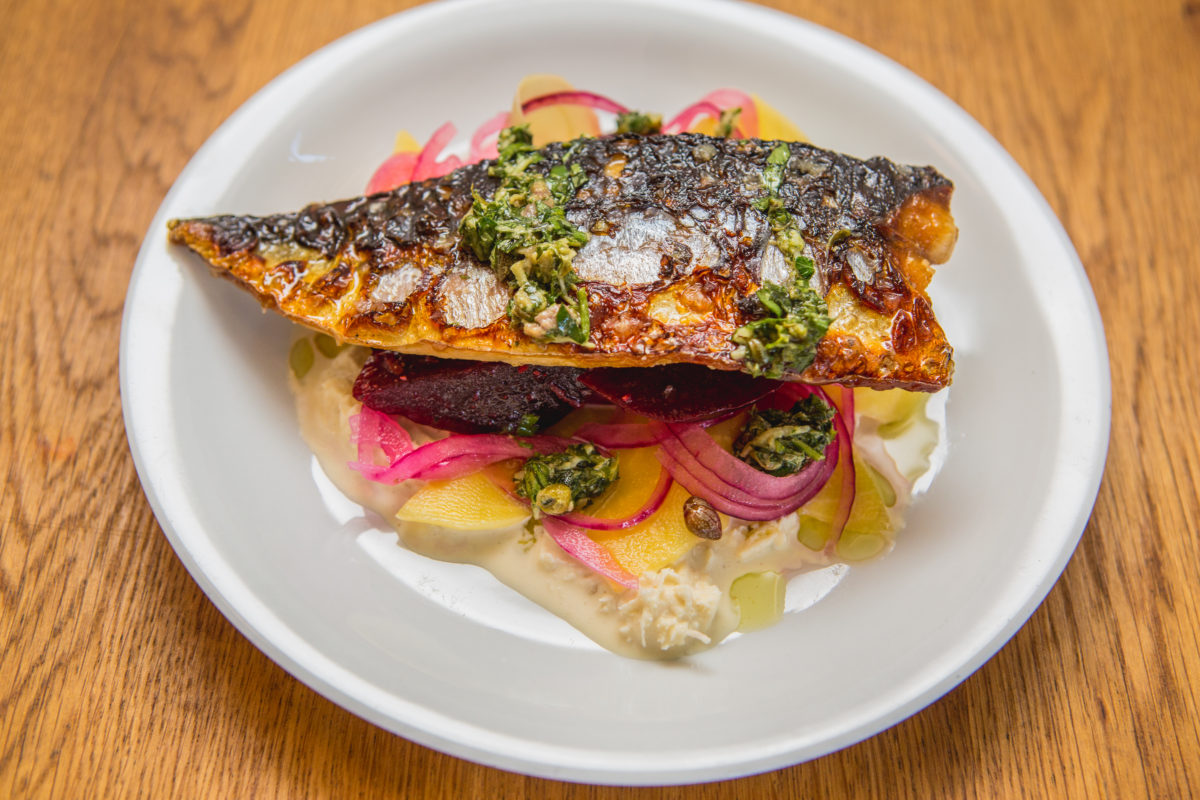 SC: What are the biggest challenges chefs are faced with today?
TO: The biggest problems facing the restaurant industry is the lack of cooks. The restaurant industry has exploded in the past few years, which is great; I think we've overtaken New York in recent years. I think London is the best place to eat in in the world—England outside of London is pretty poor though—that needs a lot of work. There are many restaurants here in London, but not many chefs, so the restaurants become very simple—a burger restaurant, a place that offers fried chicken, often something where skills aren't needed. It's interesting because there's food everywhere now on TV. I'm hoping younger generations will see this and think, "I want to create good food."
SC: Are there any chefs or restaurants that you think are doing something particularly interesting right now? 
TO: Merlin Labron-Johnson at Portland Restaurant and Clipstone—this has just opened. Andrew Clarke at Brunswick House is doing some fantastic food; he's opening a new restaurant called Bastien, a duck led restaurant.
SC: When you come home late and you're too tired to cook, what do you eat? 
TO: A fried egg sandwich—it's comforting, filling and satisfying. Or just some cheese and pickles, leftovers put together from the fridge. A lot of chefs I know are big on fatty, salty foods, at the end of their shift they don't want that complicated food. Many chefs eat a lot of crisps.
SC: What does London, and Islington in particular, offer Oldroyd?
TO: It had to be a local restaurant, so it had to be surrounded by locals, in a residential area. There's a real mix of people from all walks of life here, we get a lot of mixed tables; it's good to see who really gets it and enjoys what we do. It's also on Upper Street which is full of restaurants—I'm not saying they are all great, but the market was here. It's nicknamed 'Supper Street'. Everyone here is looking for something to eat and something to do before and afterwards—that's important too.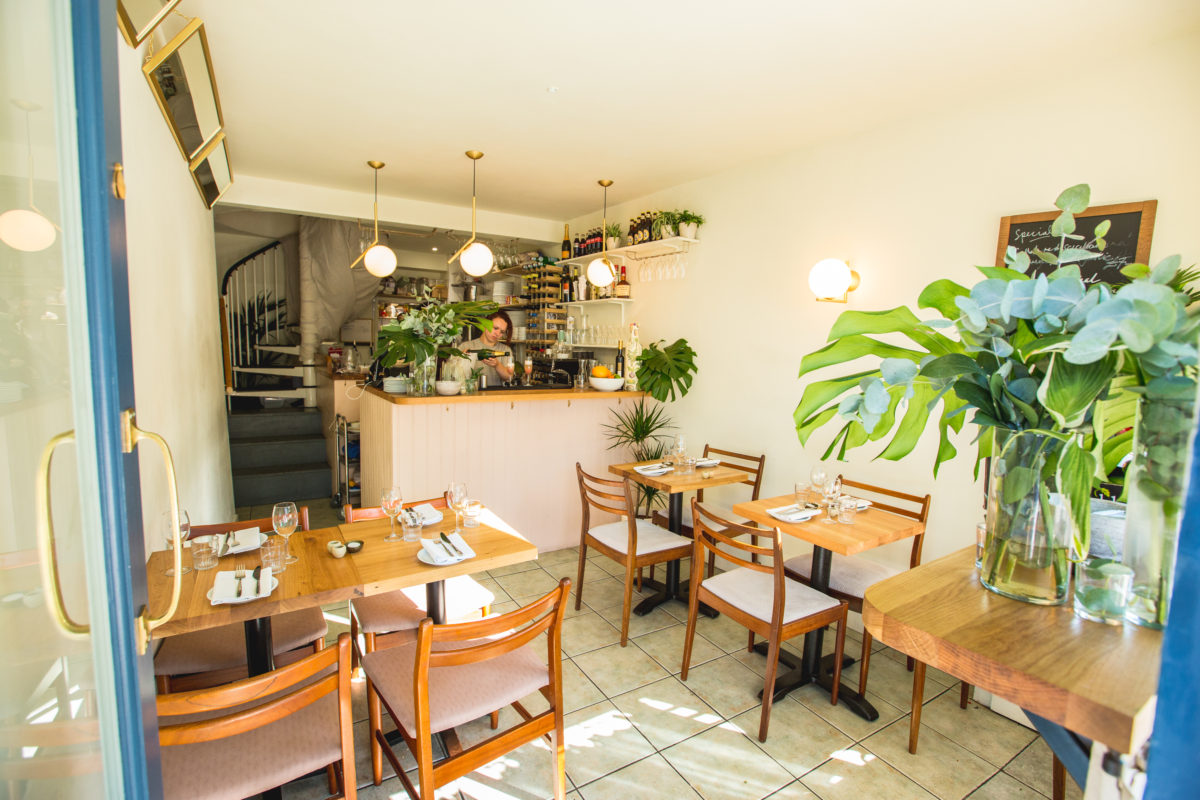 SC: Where do you live in London and what drew you there?
TO: London Fields, Hackney. It's perfectly positioned for the restaurant and my fiancée's shop, I just jump on a bus. It's also a lovely area, there are many great restaurants in east London. There's a lot happening in the east.
SC: Preferred work attire?
TO: In the kitchen I would be in a white t-shirt and an apron. But I'm less and less in the kitchen and more and more front of house, meeting people, pouring wine, working on the bar, then I just like a loose-fitting comfortable shirt.
SC: Favourite place to shop in London?  
TO: It would have to be 'The The Store' on Hackney Road—they sell everything there. Also, Muji for clothes.
SC: Favourite restaurant in London? 
TO: Other than here, Quo Vadis in Soho is a firm favourite. I love Portland Restaurant on Portland Street. And also Max's Sandwich Shop in Finsbury Park. 
SC: Favourite holiday destination? 
TO: I go to the south of Spain a lot, Meryl's parents have a house in Estepona, near Gibraltar. We go there a couple of times a year at least.
SC: One golden piece of advice to an aspiring chef?
TO: Cook. Just surround yourself with food. I didn't go out and eat a lot when I was first starting out—I wasn't really swayed by what other people were doing. All I wanted to learn was why flavours work together. I started making soups. I didn't really know much about restaurants at the time, I took it from the basics. If I wasn't cooking, I was watching cooking channels, I liked Ready Steady Cook, and read recipe books until I fell asleep.
Interview & Portraits by Elizabeth Sulis Gear