Interview: Sadie & Joe Williams, Fashion Filmmakers
Hailing from Ladbroke Grove, siblings Sadie and Joe Williams join forces to create their distinctive fashion animations. Their unusual stop motion films and magpie aesthetic builds upon Sadie's strengths in print and textile design, and Joe's experience as a filmmaker. Since working on a university project together in Brighton, the duo have created films for clients as versatile as Marc by Marc Jacobs, Vogue, Barbie, Loewe, Katie Hillier and Ungaro. Joe's talent as a filmmaker has seen him create editorials, campaigns and content for clients such as Louis Vuitton, Vogue UK, Mulberry, Joseph, and Victoria Beckham, and Sadie's eponymous fashion label, supported by Newgen and The British Fashion Council, presents seasonally at London Fashion Week. Something Curated caught up with the talented siblings at their east London studio to learn more about their work, collaborative relationship and plans for the future.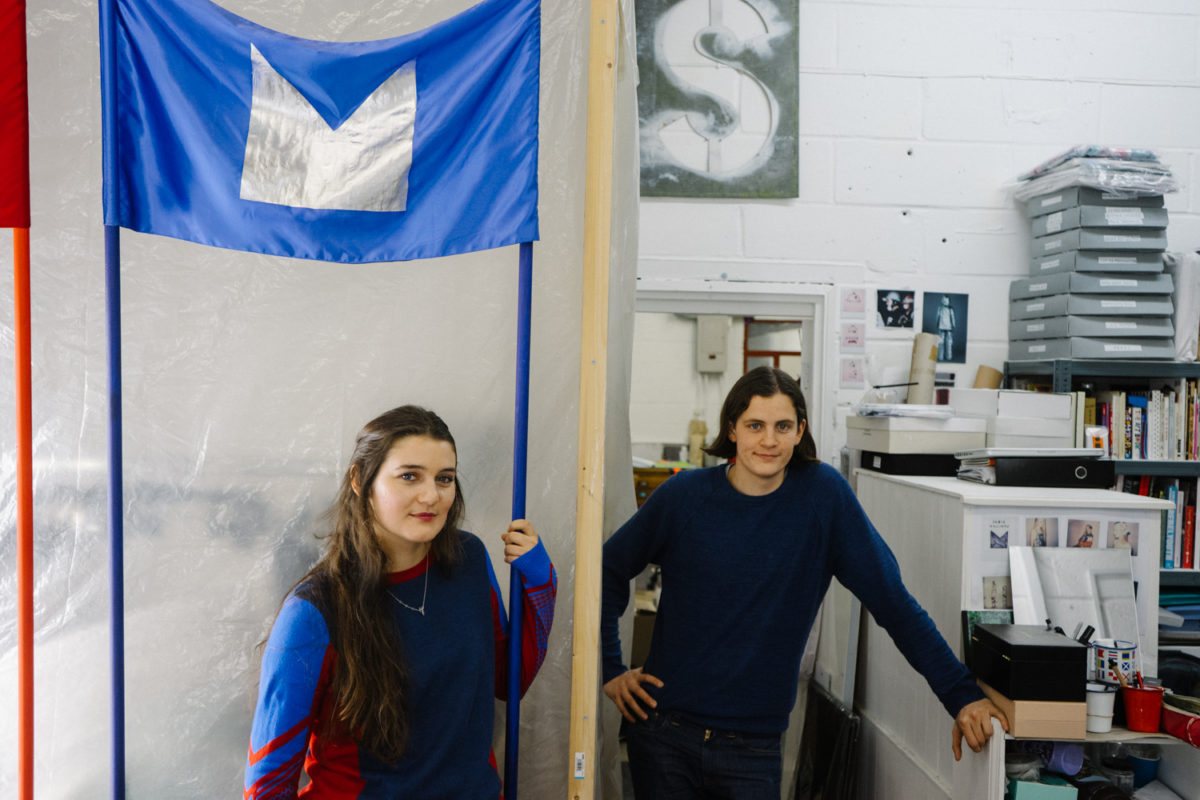 Something Curated: Broadly speaking, could you tell us about the vision behind Sadie + Joe?
Sadie Williams: We're not trained in animation. We arrived here from just wanting to try it out. For both of us it's something quite fun, we both have other jobs that we do, when we do animations it's a nice way to get creative again. I was studying Fashion, Joe was studying film and we were both at Brighton University. I had a project—it was a transformable hat that could transform into different shapes—and I thought the best way to illustrate that would be through a film. So I said, "Joe, what do you think about doing that?" And he was really into animation anyway, he liked the work of Jan Švankmajer, also the Quay Brothers—all of their big sets and props were there so we though we could give it a go too.
Joe Williams: We're pretty crafty, the end results of our videos are not so slick; they have more of a warm feeling. And our first animations were pretty crude.
SW: It was so crude! And we boxed ourselves into this tiny little spare room in this flat I was living in, just rented a camera from university and I think all our first animations were lit with house lamps.
JW: Even for the first few commissions, we were still learning on the job. Only until a year or two after doing it did we start to figure out what was the better software to use, rather than shooting a load of stuff then checking through Preview. The technology changed a lot in the last five years; that made it a lot easier for us to get on with the actual animation.
SW: And then you slowly get better budgets to work with proper studio lights and stuff like that. Our first official commission was for Katie Hillier, who I used to intern for when I was still a student. She saw the first animations that we did. She's an accessories designer, so she does bags, necklaces etc. She just started her own jewellery brand, and she wanted a video to go with the launch of her website and brand so we made her a little one. We kept doing it for her whenever she launches a new collection. And she works at Marc by Marc Jacobs—that was our first big commission actually because we suddenly had more time to work with—we had a month where we were able to make lots of different sets.
JW: And at that point I was working in a photo/film studio, I managed to hire lights from there, but we still did it in our bedroom. We rearranged everything to build a shop that was 2ft high.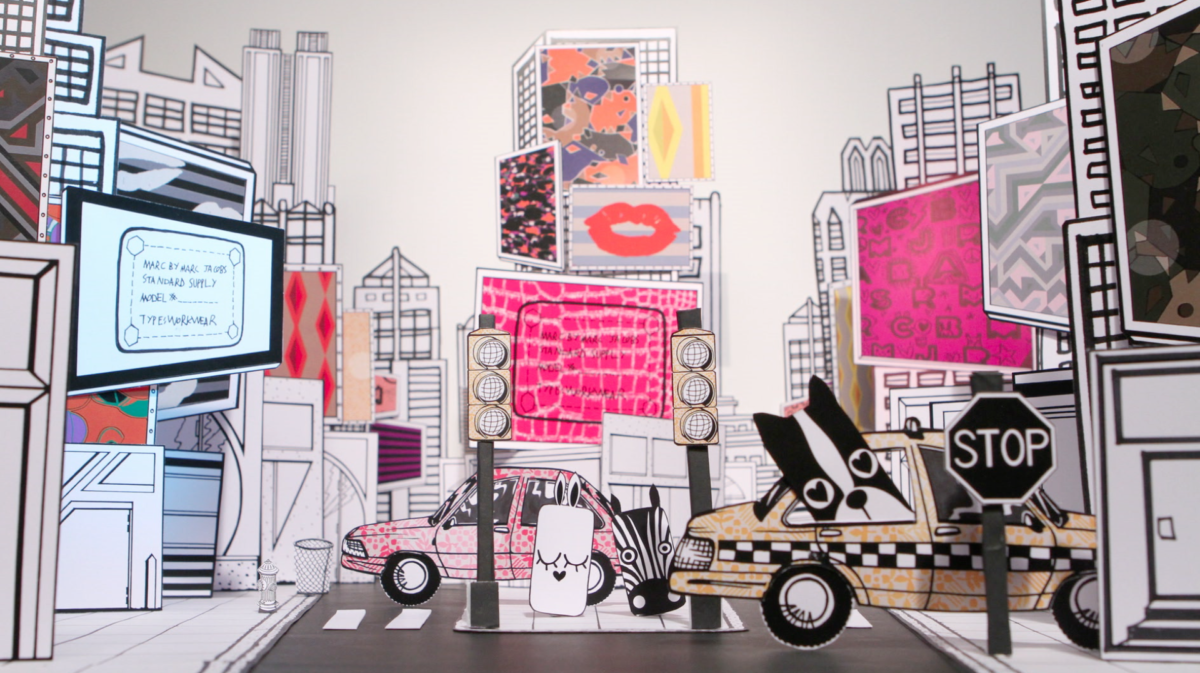 SC: What motivated you to work in collaboration with one and other, and could you tell us about your working dynamic?
JW: I think more and more that we just kind of fell into it, and then we realised something was happening, people were getting interested. We were just chuffed when Hillier approached us, and then Marc by Marc Jacobs. We have our own speciality—I'm more from a film background, whereas Sadie is more design and graphic-led.
SW: When we do get a brief we do split it up a bit—I'll maybe come up more with the look or the ideas, but I'll speak to Joe and we'll touch base on it because maybe he'll say "we could film it like this" or "put this kind of light on it"—I don't really think of that side of things but he's got that background.
SC: You both maintain individual practices too – could you talk about those?
JW: Together we are animators, but in our own fields, Sadie is a fashion designer first and foremost, she has her own label, launches a new collection every 6 months and shows it at London Fashion Week. I direct my short commercials and fashion films, separately. When we come together it works really well, but we have our own individual thing.
SW: I do fashion design, I have my own label now—it's really textile driven so it's quite a lot about the textures, fabrics and colour—the stuff that I love. I'm going into my 5th season now by myself, and before that I did projects and collaborations with my name to them. I'm a technophobe so that's Joe's department. I do use technology now, I have to, but I'm not naturally inclined like Joe is. When we were kids Joe would buy cameras at Portobello market, take them apart and look at how they worked. I would be in my bedroom making things and being crafty, so I guess it's an extension of how we've always been.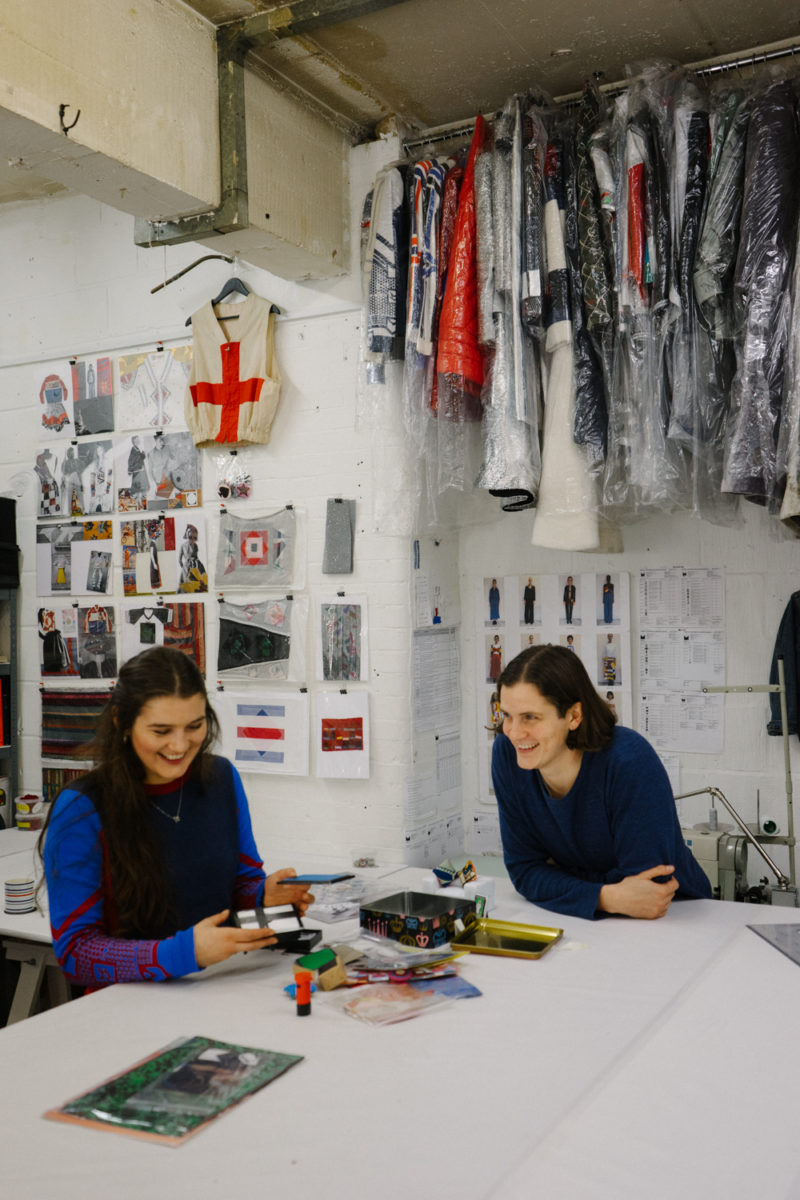 SC: Could you tell us about your respective journeys to get to this point in your career?
SW: I've helped at loads of fashion houses before doing my degree. We'd both completed an art foundation separately prior to university, I went to Central Saint Martins and specialised in Print Design. Joe was at LCC doing a foundation course in Narrative Filmmaking. My BA at Brighton University was in Fashion Design. During this time I interned for Bernhard Willhelm who does really wacky stuff in Paris. After Brighton I did an MA as well in Textiles for Fashion.
JW: I've assisted photographers, on camera crews, etc. I worked in this photo studio called Sola for a while near my parent's house; that was a really great hands on experience. My degree in Moving Image was good in that I really had the time to think about what I was doing, but it wasn't necessarily a technical course. It was an artist-led film course—you know, shoot in 16mm, scratch it up.
SW: He photographed my look book at uni and other friends from my fashion course asked him to film theirs.
SC: What do you feel is unique about Sadie + Joe's approach to making?
JW: We're brother and sister so we understand each other and can contact each other whenever we need to without having to think about the professional approach. You can say it straight.
SW: It's such a tedious medium, moving everything a tiny bit for each frame, but we can put up with each other. It's not like we're friends who can have a fallout if we're stressed with each other. We have the go-to playlist for when our energy is running out. We've always both been very creative.
SC: What does London offer you as versatile makers?
SW: I don't think it would be possible for us to do a lot of things like our animations if we weren't in London, I wouldn't be able to run my own label elsewhere. For young designers there's such great support—London Fashion Week is great about promoting us.
JW: And also upon finishing uni everyone moves to London. In our extended friend group there are loads of people doing cool, creative things and getting involved with interesting projects.
SW: There's so much overlap that for the kind of work I do, you need photographers and people to film it, art directors, stylists, there are so many different areas. Here there are always people you can call and ask for advice from.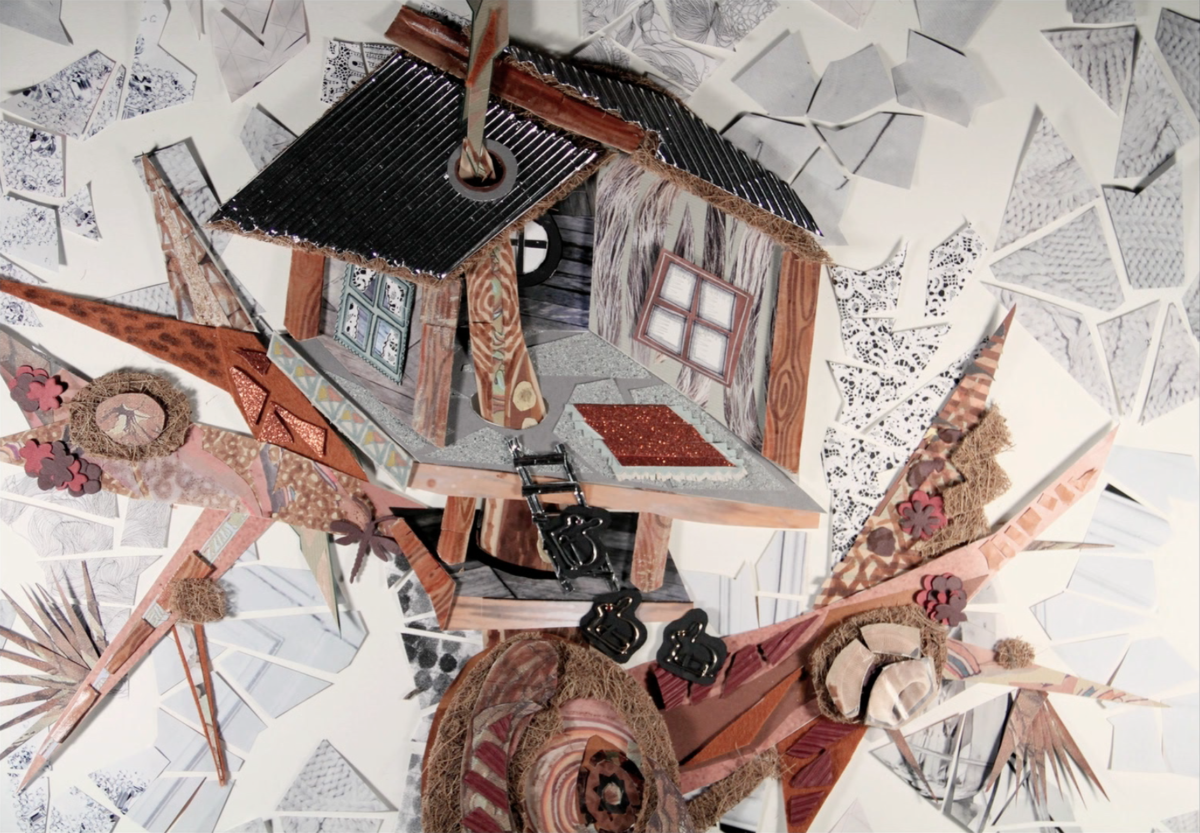 SC: Tell us about some of your most memorable projects and why you enjoyed working on them.
 SW: The first one was The Black Bowler. That was really fun and super hands-on and crafty, there was lots of free styling as we went along and props. I think the first commission we did for Marc by Marc was too, because I drew loads of sets for a storyboard. Will Broome is an illustrator who drew these critters, which were essentially on phone cases, but kept appearing in Marc by Marc's collection. We animated these characters which at the end of the film became phone cases, but had their own life.
JW: & Other Stories was quite a big one too, Sadie did a collection with them and for the short film we had a green screen and a model who we inserted into the sets and Sadie's designs—it was interesting to have this added element to what is usually a set of inanimate objects moving around. I still get such a buzz when we do a playback and see our work coming to life.
SC: What does a typical workday look like for you?
 SW: Typically I'm here in the studio with interns, we arrive at 10, they leave at 6ish and I stick around until a lot later. It depends what time of the season we're in, whether we're designing new things for production for sales, or designing new stuff, pattern cutting, getting people to work on textiles—painting, silkscreening. I don't like designing too much around too many people, I try to be more proactive during the day and leave aside some time in the evening to be more creative.
JW: Because I'm filmmaking a lot, each day is completely different. I'm either on a set, or on location shooting, a lot of the time I'm doing post-production. For pretty much every stage of the filmmaking process I'm there, though I'm weaning off it a little bit. I collaborate quite a bit with musicians to come up with the soundtrack, but apart from that I can do most of it myself.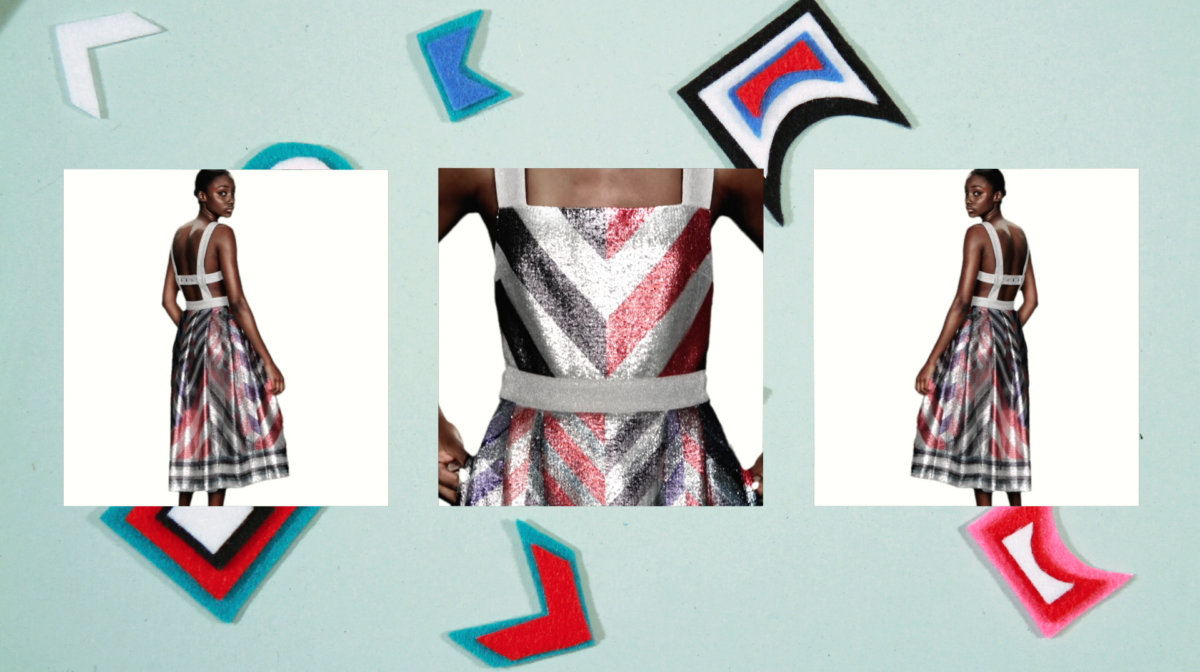 SC: Who or what inspires your work?
JW: A whole load of stuff really; films we watched as kids, films we're watching now. We grew up with stuff like Nightmare before Christmas by Tim Burton, Wallace and Gromit—Dad showed us all the Ray Harryhausen stuff who was the stop motion animator behind the 1963 Jason and the Argonauts. I know we don't deal with characters so much in our films, but looking back at his films now, they're technically amazing but also quite crude at the same time—those things have always looked great.
SW: I love looking at folk art and folk craft. On my bookshelf I have quite a few old popular craft books, look and learn books; there's this book on Amish quilts which has always been quite inspirational because it's so graphic, at the same time as being quite crude—I like that mix. My textiles have always had an element of hands on—I love collaging, there's always been that process of cutting things up, mixing things up, I've always been quite eclectic, and I enjoy finding a direction from having too much stuff and filtering out.
SC: What has joining the RSA meant for you?
JW: It's been great having more focus and attention on us, and meeting so many interesting people who we wouldn't have had the opportunity to meet before. Also, just being attached to the RSA is great. We were initially quite overwhelmed being approached by such a big company, when what we were doing was primarily very DIY from our bedrooms.
SW: And when there has been work assigned to us, they've always been really supportive and offered us help in areas where we might need it. We haven't actually been able to accept all commissions that come our way due to our schedules, we do have other jobs, but whenever there has been something they have a great support network.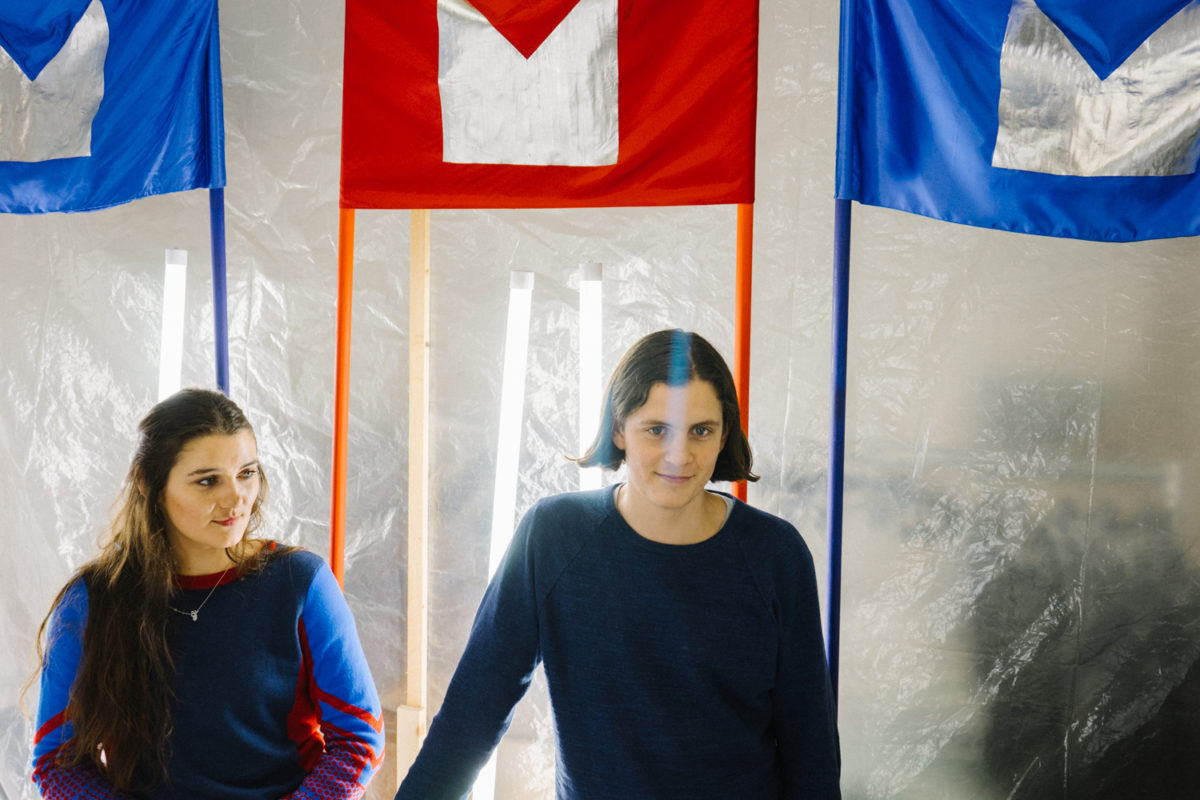 SC: Are there any creatives that you feel are doing something particularly exciting in London right now?
SW: So many of my friends and peers are here in London—I have so much respect for them. My friends Caitlin Price and Marta Jakubowski, and Luke and James that have this funny label called Rottingdean Bazaar—it's just so funny and great. It's quite conceptual, they do things like buying valuable things off Christie's and heat pressing them onto tops; badges with fag butts, and pubes and condoms on other things. And the guys who started Law magazine, John Holt and Joe Prince, we've loved them since the beginning. Also Lily Bertrand-Webb—she's a photographer and a good friend from back home—she took some great pictures of my last collection.
JW: Lydia Garnett and a bunch of friends from uni who started up Accent magazine.
SC: Where are you based in London and what drew you to the area?
SW: I live in Kensal Rise, other side of town, it's a nice area and I live with a friend. It's easy to get to the studio on the Overground. Joe lives really close to here, around Old Street. He usually cycles to work.
SC: What does this area offer you as the site of your studio?
SW: For me it just made sense to be east as a lot of other designers are here. It's just a really good area in terms of being surrounded by other creatives.
SC: Favourite restaurant in London?
SW: I like little bring-your-owns which you can go to with friends. I like The Number 1 Cafe which is the local Thai near our parents' house in Ladbroke Grove. If it's for a treat, Ida Restaurant in Kensal Rise is really nice. They do homemade pasta—the menu is really small but it's all made freshly there. The Tow Path Cafe on the canal side near my studio is great too, but it's closed right now as it's seasonal because they can't heat it. It opens in April. They do good tea and cake, brunch too. Our Mum sold them some plates too as she sells old crockery and stuff she buys in France, bric-à-brac really. She has a real eye for it, so she always comes back with interesting stuff.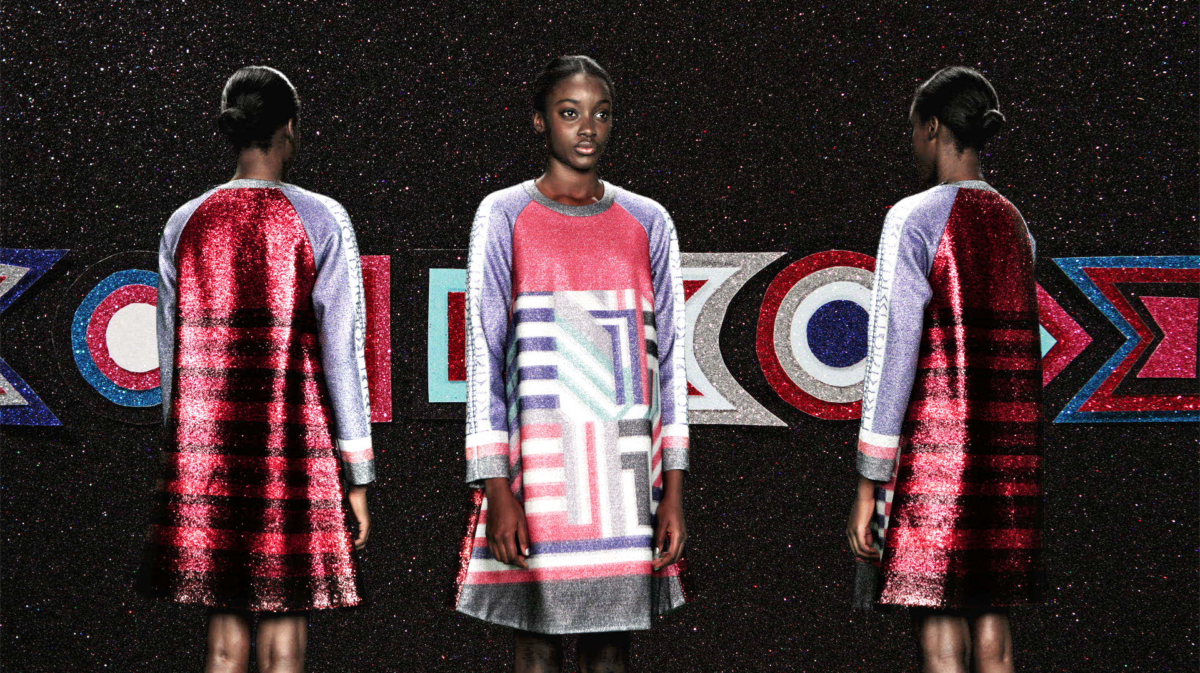 SC: Favourite place to shop in London?
SW: Donlon Books on Broadway Market. We both really like it.
JW: Claire de Rouen and Donlon. Claire de Rouen is on Charing Cross Road, the director is called Lucy who handpicks the books. Photographers go in to get free portfolio reviews.
SW: The Photographer's Gallery has a great bookshop too. Some of my favourite shops are around Shepherd's bush and Portobello, especially Shepherd's Bush market actually. The stalls are so chaotic and have all that haberdashery, old vintage stock that you can't get anywhere else, little treasure troves. They're really special and it's great that those places still exist.
JW: Mr Cad Camera's in Pimlico is just the best second hand camera place. You go in wanting something specific and come out with two cameras and a load of black and white film.
SC: Favourite place to relax in London?
SW: Our Aunty has a place down in North Cornwall, near Boscastle, it's so wild down there and you can just spend hours on long walks. We sometimes go there for a couple of days and come back feeling great. Also Hampstead Heath is great—I think we have the best parks in London.
JW: Or just travelling around sometimes. Going for a long walk in a new city, getting lost and finding yourself again.
SC: Any advice to aspiring creatives?
SW: I think while you're studying and young especially, just play around, experiment and do as much as you can. Don't be afraid to make mistakes and stay true to yourselves. I personally feel I learned a lot from making mistakes and doing work that was a bit dodgy, but then you're like "but that's really good". It's all a learning curve and I'm still learning now.
JW: And I think especially in the film/photo game, try and be as hands on as you can. Work experience is so valuable. That's how you learn. Also, don't be afraid to learn on the job. Sometimes you might pass on an opportunity because you don't technically know how to do it, but you can find a way if you actually do it. There are a million YouTube tutorials for anything you want to do.
Interview & Portraits by Elizabeth Sulis Gear | Stills courtesy of Sadie + Joe