A Closer Look At LVMH Prize Winner Marine Serre & The Finalists
On June 16th, French-Belgian designer Marine Serre won the 2017 edition of the LVMH Prize for Young Designers, elevating the 25-year-old into the international spotlight only a year after her graduation from Belgian school La Cambre. Rihanna announced the winner at the Louis Vuitton Foundation in the presence of jury members including Karl Lagerfeld of Fendi, Dior's Maria Grazia Chiuri, Louis Vuitton's Nicolas Ghesquière, Loewe artistic director Jonathan Anderson, Céline's Phoebe Philo and Kenzo designers Humberto Leon and Carol Lim. Serre beat some 1,200 applicants to walk away with a grand prize of €300,000, plus a year of coaching from industry experts at luxury conglomerate LVMH.
Serre had previously worked for Maison Martin Margiela under Blazy and for Christian Dior with Simons. The designer, whose team consists of three people, has just one collection under her belt. Named Radical Call for Love, the collection combines 19th century Arab garments, such as the caftan, karakou and sirwal, with corporate sportswear trends of the 1990s and 2000s, and projects the result in a futurist oriented fashion. She has secured around 15 wholesale accounts for fall, including Dover Street Market in London and Opening Ceremony in New York, in addition to Space at Nordstrom and Canadian online retailer Ssense.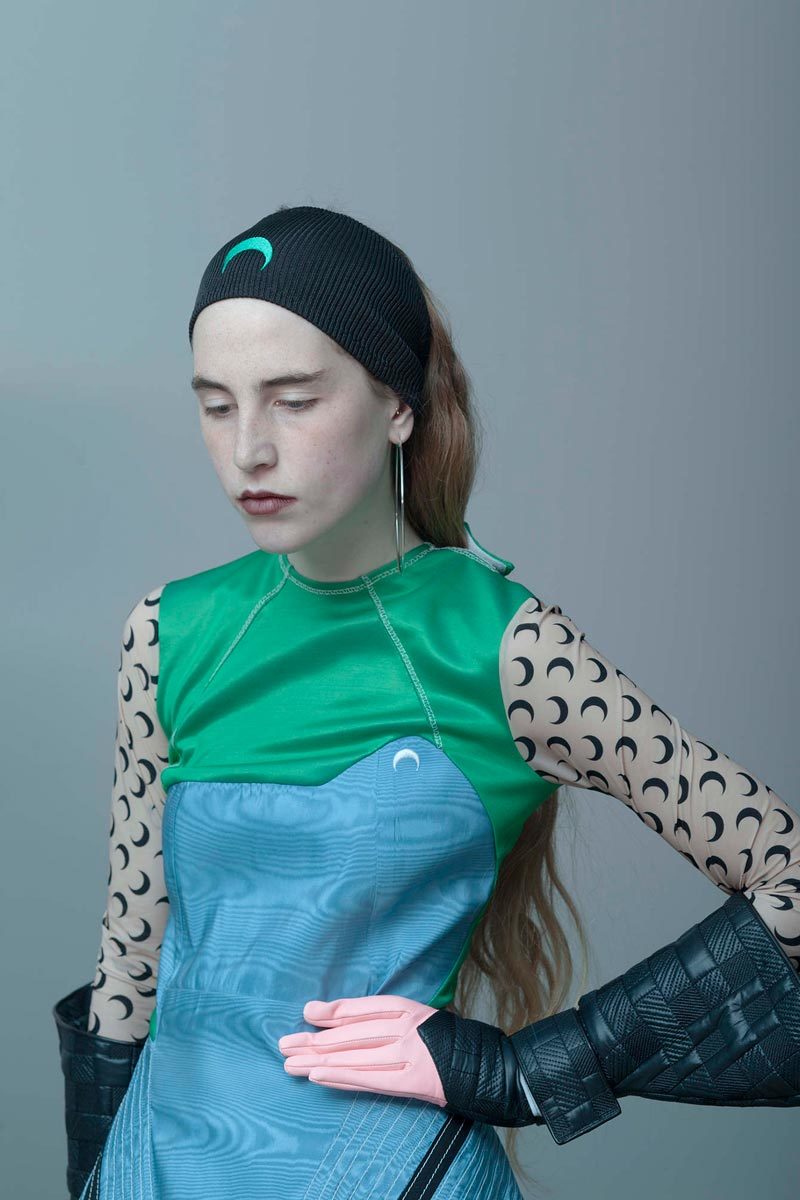 The LVMH jury awarded a special prize to Kozaburo Akasaka, whose first stand-alone men's presentation in January channelled a punk rocker sensibility. He won a grant of €150,000 and a one-year mentorship programme from the luxury group. The Japanese designer, who is based in New York, presented items from his degree collection Brutal Sensitivity, including jeans woven from recycled fabric.
Among the shortlisted designers was London native Molly Goddard who specialises in traditional hand-craft techniques such as pleating, smocking and crocheting. Her work, stocked in Dover Street Market, Trading Museum Comme des Garcons, I.T, Browns, Boon the Shop and Club 21, touches upon themes of special occasions, nostalgia and coming of age, often taking inspiration from party dressing and Sunday best. The techniques that she utilises serve to create clothes that are both delicate and fragile, but the character she designs for conflicts with the beauty of her technique, and brings a clumsy and charming awkwardness to her silhouettes and fabric combinations.
Nabil El-Nayal, another Londoner on the shortlist, was born in Syria and moved to England at the age of 14. He went on to win many prestigious awards including the British Fashion Council MA Scholarship Award, enabling him to study at the Royal College of Art. Nabil's obsession with Elizabethan craftsmanship has deeply informed his practice; seen through his use of pleats, dramatic construction and powerful silhouettes. Whilst this backdrop of historical references remains at the heart of the brand, Nabil is also conducting extensive research into ways in which these techniques can be applied, using the latest technologies.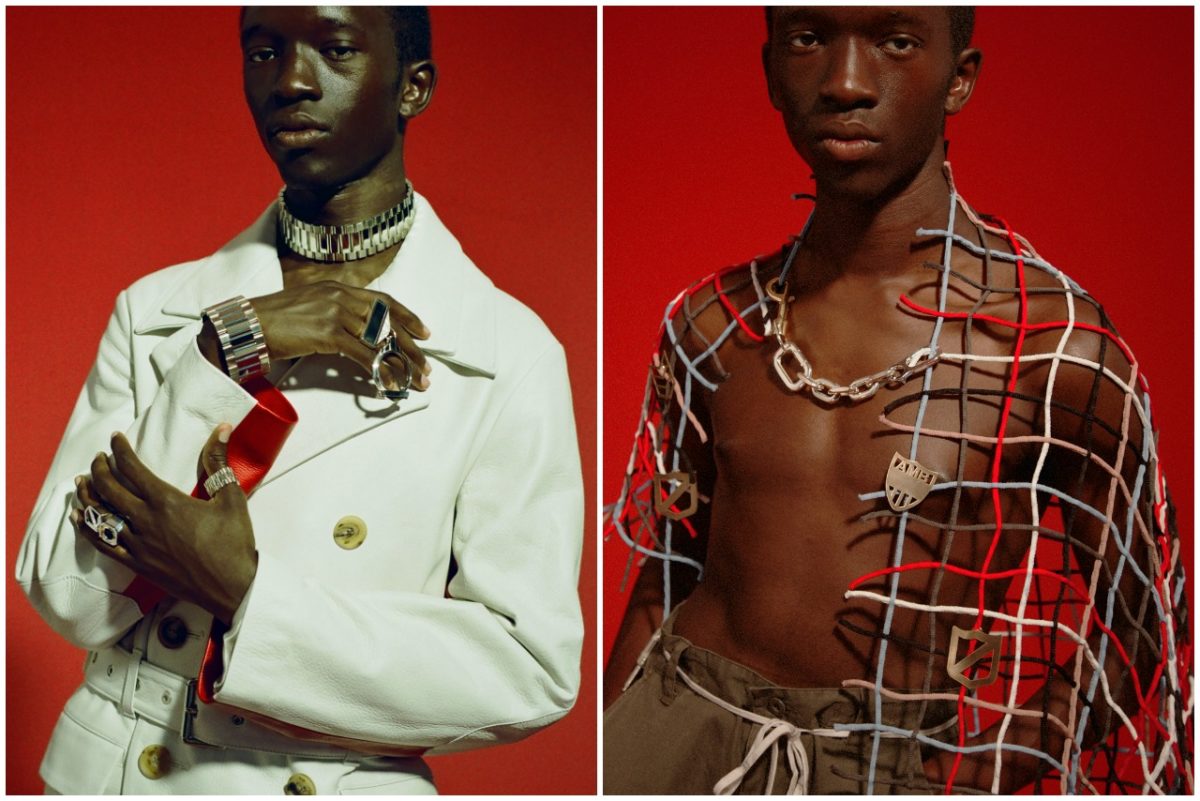 Yoon Ahn, designer and visual director of Ambush, an experimental line of jewellery and apparel, which she launched with Verbal in 2008, was raised in the US where she pursued studies in graphic design in Boston before moving to Tokyo where she developed the DNA for her label. Yoon has expanded the brand's realm through collaborations with Louis Vuitton's Kim Jones, Sacai and Undercover. Her creative talent was recognised by Pharrell Williams who personally selected her to work on the Adidas Superstar campaign.
Originally from Japan, Kozaburo Akasaka travelled to London to study fashion design at Central Saint Martins where he obtained his undergraduate degree. Having grown up during the 90s in Japan, Kozaburo's aesthetic is heavily inspired by music subcultures and various street styles he was exposed to during that period. He gained professional experience with eminent designers in New York such as Thom Browne, and went onto join the MFA degree at Parsons for fashion design; his work during the first year of the programme led him to win VFiles Runway S/S16.
With an MA from the Royal College of Art, London, and after working for some of the best international brands, Cecilie Bahnsen launched her line in 2015. She was awarded the distinguished DANSK Design Talent Award in 2016, marking her as one of the most important new voices in Danish fashion. Cecilie draws inspiration from traditional techniques and uses them in new and exploratory ways. Her simple and feminine silhouettes work as canvases for delicate embroidery and fabric combinations that underline an understanding of both structure and craftsmanship.
The last of this year's finalists is Antonin Tron, who was born in Paris in 1984 and studied fashion design at the Royal Academy of Fine Arts in Antwerp, followed by an internship with Raf Simons. Upon graduation in 2008, Tron returned to Paris and joined the studios of Louis Vuitton and Givenchy, before establishing Atlein in March 2016. Since its debut collection, Atlein has been supported by international stockists including Net-a-Porter, Bergdorf Goodman, Neiman Marcus, Ikram, The Webster and Boon the Shop. The label name Atlein evokes a fluid, ever-changing site, a continually-evolving place for research and experimentation.
Feature image via Marine Serre