Highlights From Masterpiece London 2017
Masterpiece London, running until 5 July at the Royal Hospital Chelsea, brings together 150 galleries and specialists. Launched in 2010, with a unique focus on cross-collecting, over the past seven years Masterpiece has established itself as one of the leading international art fairs, attracting around 40,000 visitors. Exceptional works offered for sale span Impressionist, Modern, Post-War and contemporary art, master paintings from the 15th to 18th century, design, decorative arts, furniture, photography, ethnographic and folk art, antiquities, ceramics, rare books and jewellery.
This year, the fair, which was founded by Harry van der Hoorn, Simon Phillips, Harry Apter, Thomas Woodham-Smith and Robert Procop, introduced MASTERPIECE PRESENTS, a new specially created exhibition space that transforms the Fair's entrance. Among the highlights, for the 2017 edition, the venue showcased a large-scale site-specific installation by artist Iván Navarro. Exploring Masterpiece, Something Curated selects six of the most interesting objects for sale and exhibits on show at this year's fair.
Impenetrable Room, 2017, Iván Navarro || Paul Kasmin Gallery (Entrance)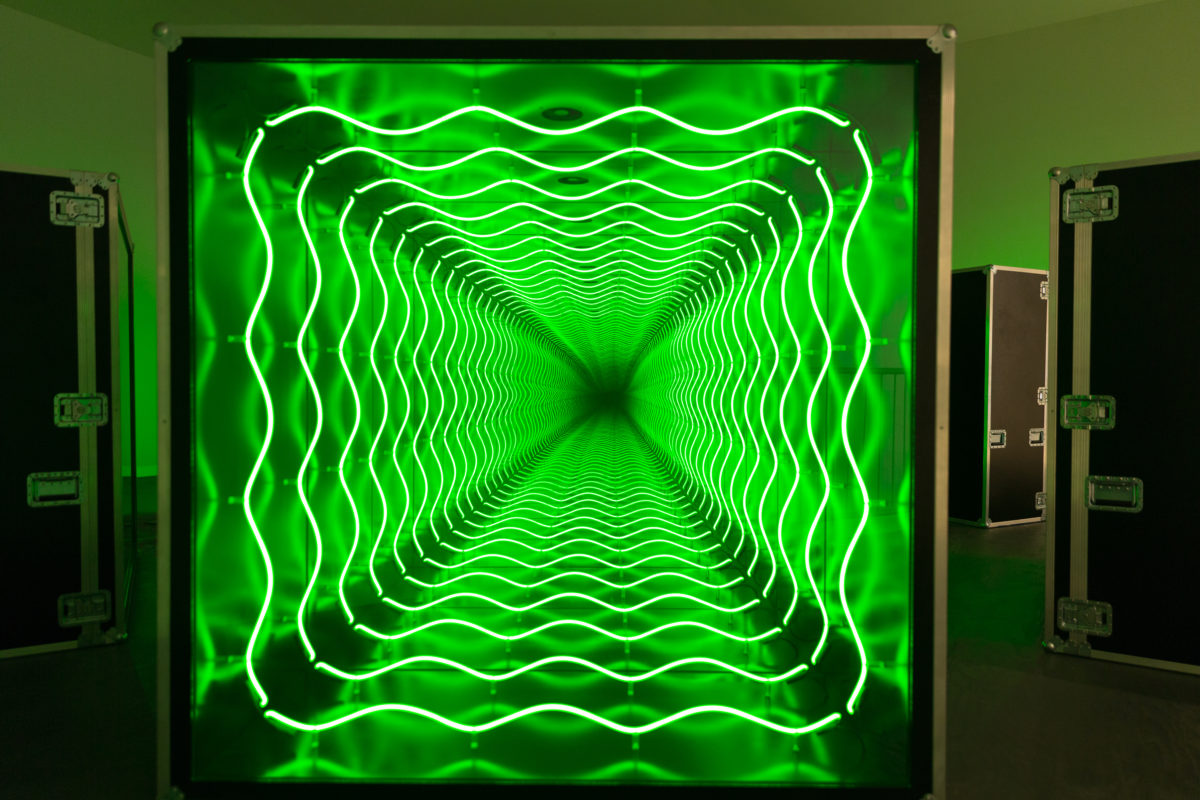 The six, six by six foot, containers, not unlike those used to transport musical instruments, have appeared in Navarro's work before, but this new site-specific installation, commissioned by Paul Kasmin Gallery, offers a different perspective. Navarro, who grew up in Santiago during Pinochet's rule, is well known for his exploration of socio-political themes. Having worked as an antique restorer, he also states furniture as a key inspiration. "One idea I like about this work is that you can show it in different configurations," the artist said. "Each box is independent from each other, so every time it's shown in different places you can create different environments."
Masque (Grand), 1972 || Didier Ltd (Stand A14)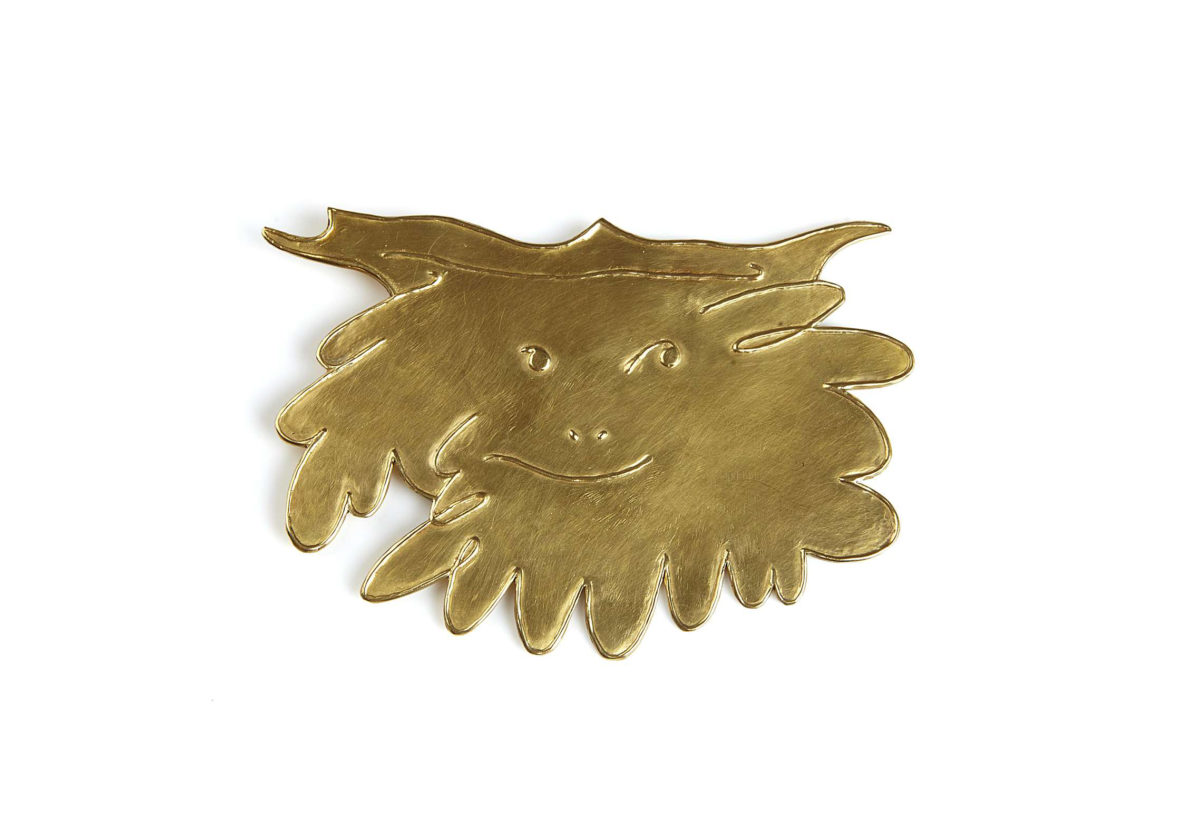 On sale from Kensington-based Didier Ltd, a gallery specialising in 20th-century artists' jewels by painters, sculptors, architects and designers, is an unusually large 22.2ct gold pendant, embossed with a delightful bearded head.
Chair 'Ultrastellar', 2016, Zaha Hadid || David Gill Gallery (Stand D3)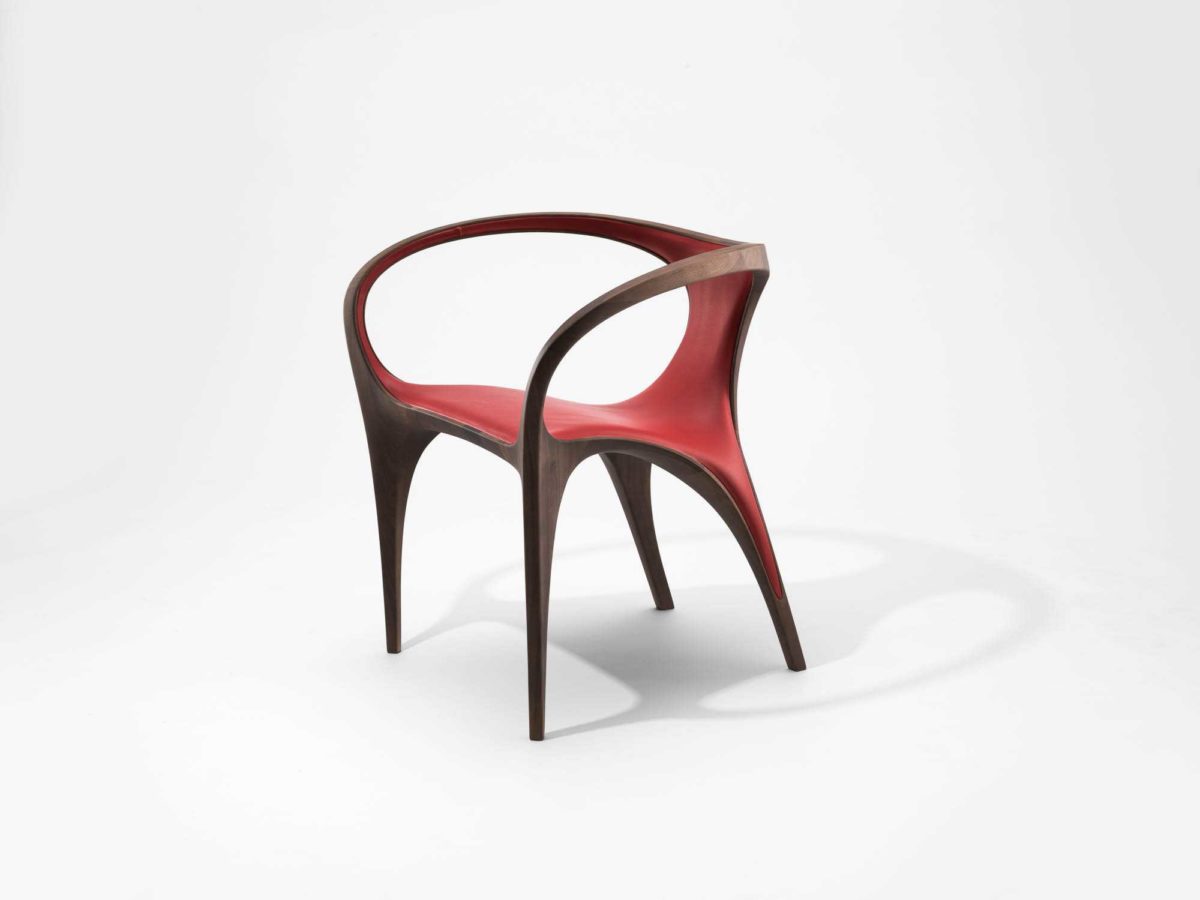 Zaha Hadid's final furniture collection for London's David Gill Gallery is made of walnut and leather, a reference to vintage furniture from the 50s and 60s. The collection, finished by her practice, Zaha Hadid Architects, references mid-century furniture through its use of wood rather than Hadid's typical material of choice, clear acrylic. The above dining chair has arched armrests and tapered legs, with leather detailing that extends to the bottom.
Cacti on Terrace, David Hockney || Lyndsey Ingram (Stand C17)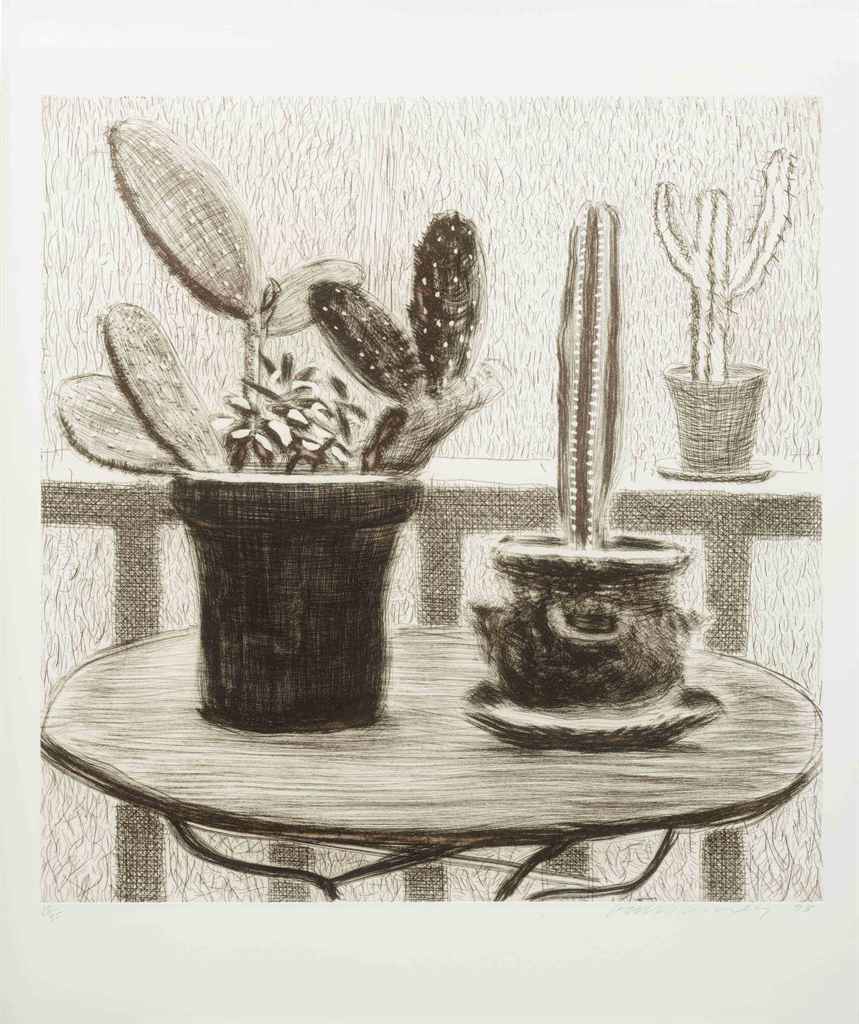 David Hockney, English painter, printmaker, photographer and stage designer, is perhaps the most popular and versatile British artist of the 20th century. Frequently changing his style and embracing new technologies as he goes, Hockney has created some of the most iconic artworks of our time, questioned the nature of pictures and picture-making and challenged their conventions over the course of six decades. Cacti on Terrace seems recognisable as Hockney's own Hollywood garden, often documented by the artist as a haven amidst the drought California was gripped by at the time.
The Cape Reimagined, Christopher Bailey || Burberry (Adjacent to Le Caprice)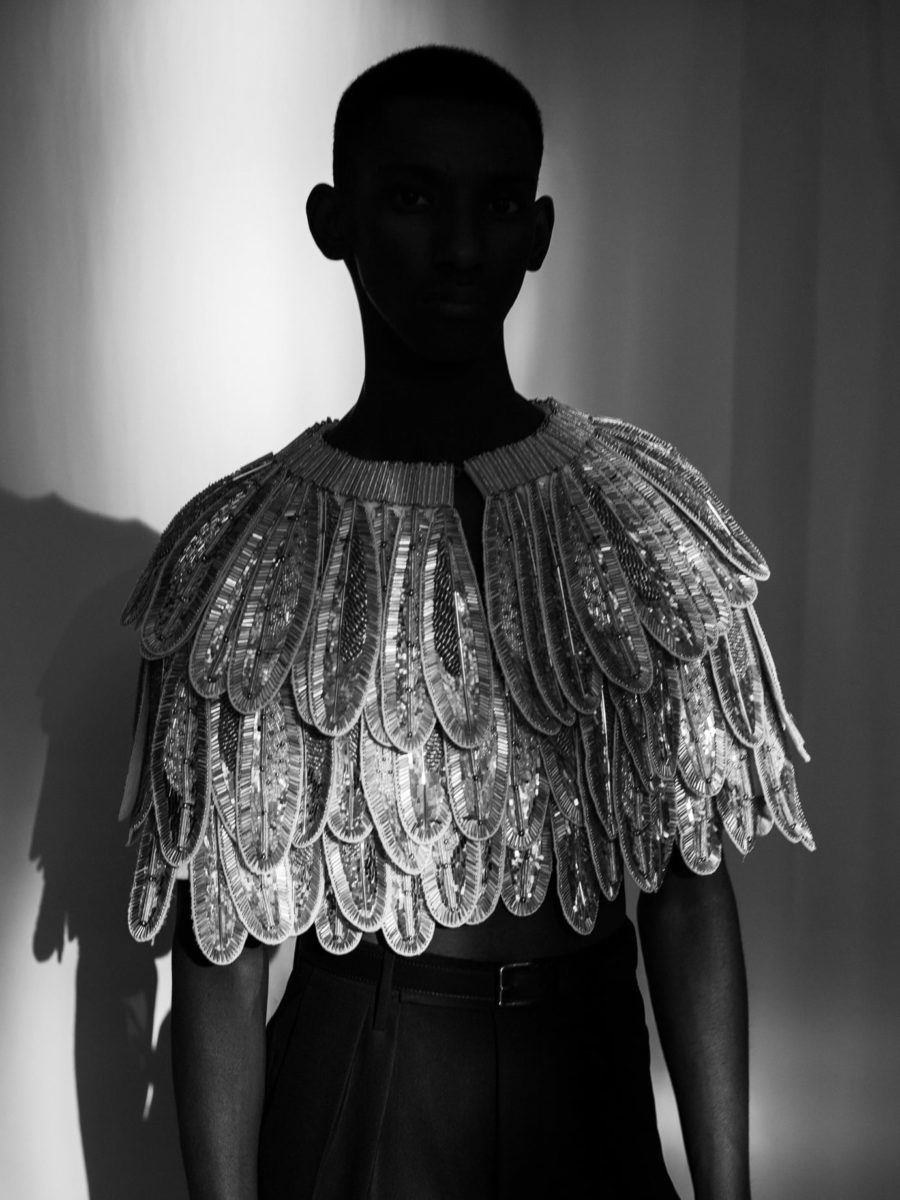 A symbol of protection since the 1880s, the Burberry cape finds a new expression; The Cape Reimagined, an exhibition by Burberry at Masterpiece London, brings a selection of handmade couture capes to the fair. Referencing the spirit of the Burberry archive, each cape is designed in their London atelier and crafted using unique constructions. Introduced on the runway, these collector's pieces are inspired by the scale and form of Henry Moore's sculptures, and represent the very essence of the British brand.
Lapis lazuli, nephrite and turquoise cigarette case, 1929, Cartier || Symbolic & Chase (Stand C7)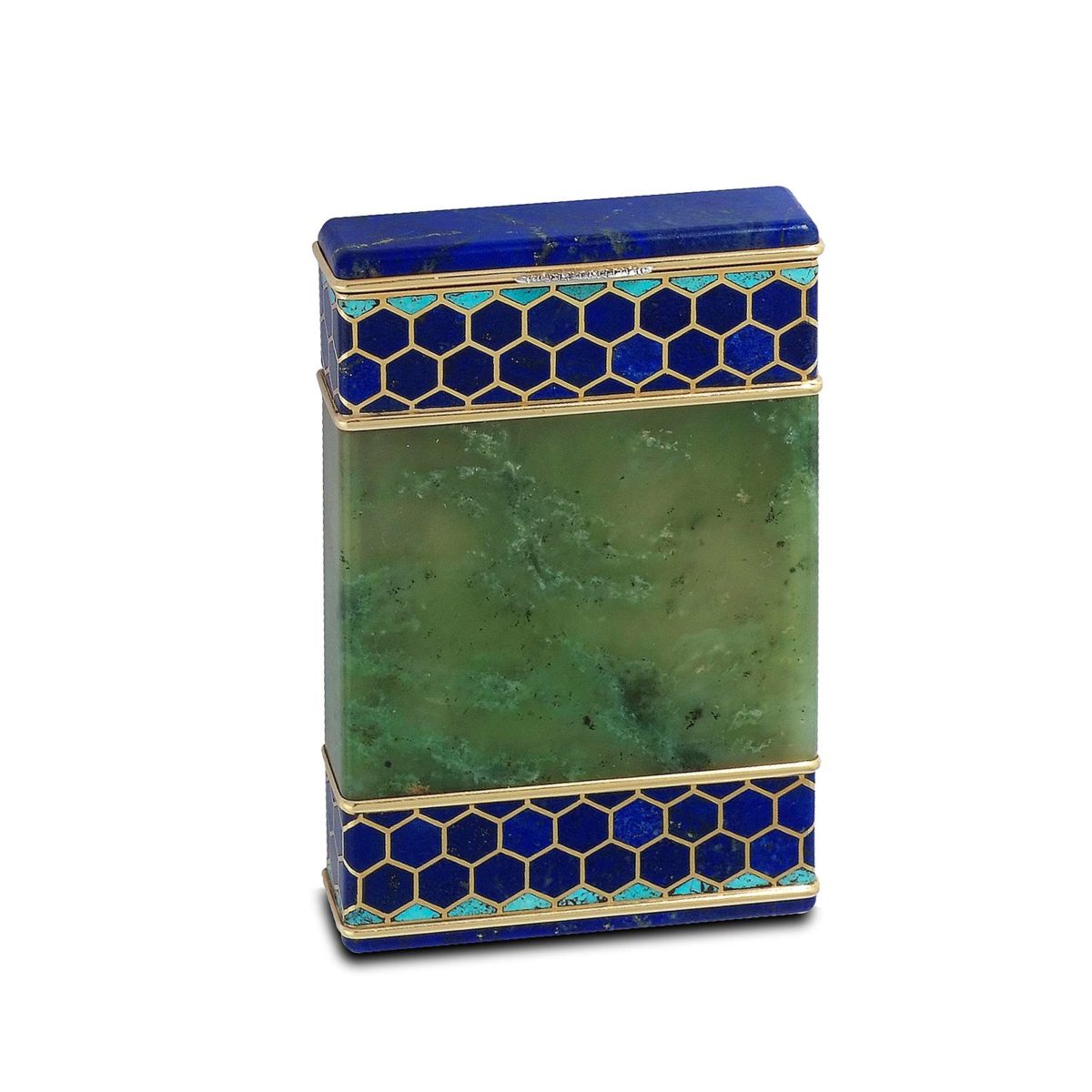 Of Persian inspiration, the central body of the case is composed of a hollowed piece of green nephrite, embellished to top and bottom with a geometric frieze of hexagonal lapis lazuli sections, accented with turquoise, within yellow gold borders. The base and lid are composed of a lapis lazuli plaque, signed Cartier and numbered 503, with an engraving of 'Linda 14.7.29' on the inner-lid.
Feature image via Masterpiece London