Femi Adeyemi: The Force Behind NTS Radio
Femi Adeyemi's eclectic taste in matters of music combined with a natural aptitude for picking up raw talent from the club next door, allowed him to build a safe space for anyone looking to express themselves creatively, be it through music, spoken word or live debates. NTS's slogan "Don't Assume" perfectly illustrates his constant desire to push the status quo.
Now eight years strong, the idea for NTS Radio germinated in Femi's mind at a time were radio programming was often repetitive and focusing on a single musical genre. Together with Clare Urbahn – his friend and business partner – Femi decided to take advantage of this blank space. At 28 years old, he quit his job as an online manager for a fashion company to dedicate his time and energy to the creation of a radio station that would showcase a range of artists from London's underground scene.
Femi's wish to start a radio had always been there, locked down somewhere deep. But the advent of the Internet offered a whole new lot of possibilities. While terrestrial networks were exclusive and expensive, the Internet was open and free. To bring his project to fruition, Femi also looked at what was happening on the other side of the Atlantic. College radios, and in particular the ones from Santa Monica (KCRW), Jersey City (WFMU) and Manhattan (EVR) were an endless source of inspiration.
NTS aired for the first time on a Sunday evening in April 2011, from the back of a small shack in Gillett Square, Dalston. It all started with a four-hour house and electro set by a man named Martin. NTS has since then evolved into a key international broadcasting platform that plays live shows 24/7. In 2014, it won an award for best online radio station in the world, and annex studios have opened in Manchester, Shanghai and Los Angeles.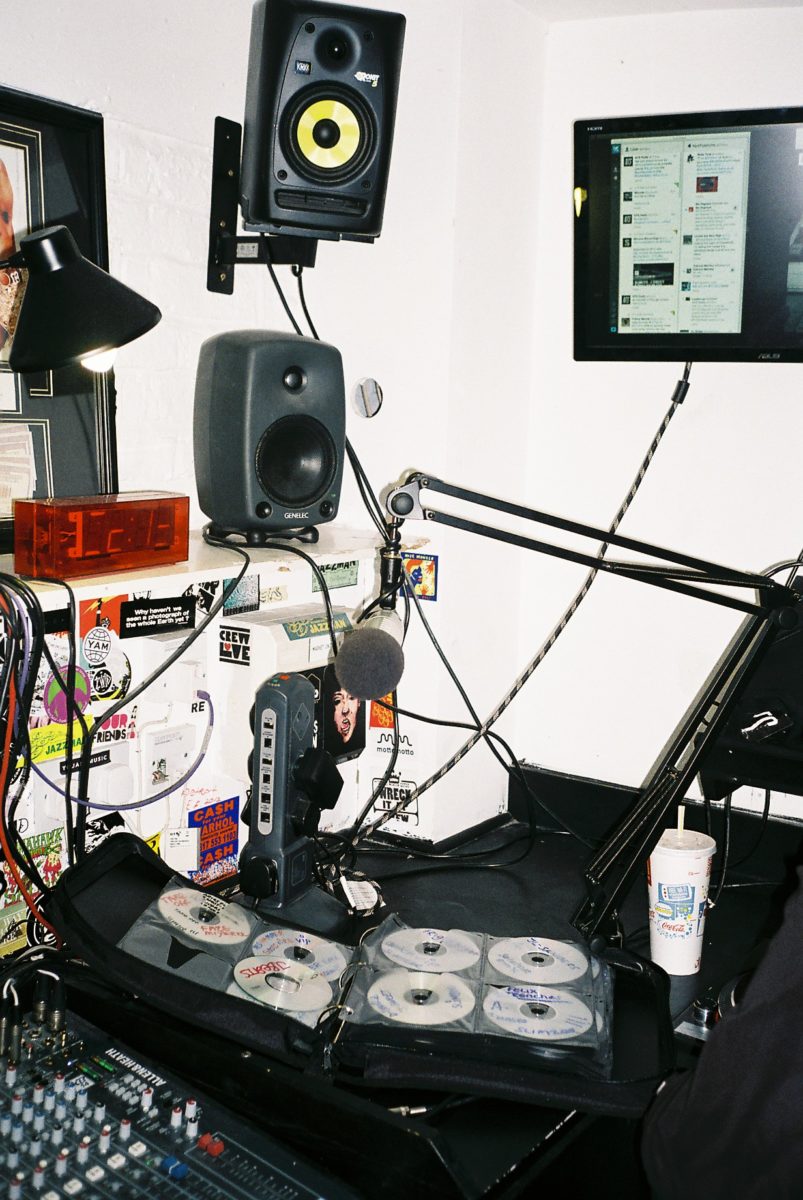 Femi, who had been working as a DJ alongside his fashion job, was no stranger to the London music scene, yet to bring NTS to the place where it is now, his incredible flair has to be credited. Over the years, NTS acted as a springboard for artists across a variety of countries and niche genres including spiritual jazz, post-punk, grime, bluegrass and psychedelic country to name a few. The station has over 200 regular hosts and has helped establish British rapper Skepta and the Young Turks record label.
NTS has also worked with brands like Nike and Red Bull but despite big players constantly knocking on his door for collaborations, Femi stayed true to his roots. NTS is and always will be about discovery and independence: no on-air ads whatsoever and all talents – from Brooklyn to Burkina Faso – are welcome.
On diverse programming:
"There's so much music in this world that you would miss out if you focused on one specific thing. A lot of commercial stations stick to what they know because they don't want to lose their sponsors and backers. We don't have that sort of pressure. We can take as many risks in any way we want." – The Couch Sessions, 2014
On the growth of online radio:
"Definitely in the last three years, there has been a major change in approach: Internet radio stations have gone from being just a stream of playlisted tracks to an actual studio with a live host and live interaction. This paradigm shift was caused by stations like NTS using the Internet to completely flip the script on what radio should be." – Thump, 2016
On London's music scene:
"London is the center point for anything musical. The rest of the world watches what happens here. Although I miss the days where you could find an empty space in Hackney and just do a party, musically speaking, there always is something bubbling beneath the surface. Two weeks ago, I was at a party in south London and it was the most amazing thing I've been to in a long time. There were about 60, 70 people at the back of this African Social Club. Black, white, gay, straight were all dancing together. The energy of that party was unreal. I really want to champion that sort of stuff." – Hyponik, 2015
Words by Caroline Astaes | Feature image via Hark1karan