A Closer Look At Jonathan Anderson's Current Menswear Offering For Loewe
Back in 2013, LVMH announced Jonathan Anderson as Loewe's creative director. Founded in 1846, the Spanish house has seen an array of designers, including Narciso Rodriguez and Stuart Vevers, endeavouring to find it a suitable identity. Reconfiguring the brand from scratch, whilst attentively paying homage to its history, Anderson has accomplished much in the space of a few short years. From reimagining the logo, with help from Mathias Augustyniak and Michael Amzalag of M/M Paris, to re-modelling more than 150 Loewe stores around the world, including London's Mount Street outpost, Anderson's approach has been undoubtedly thorough.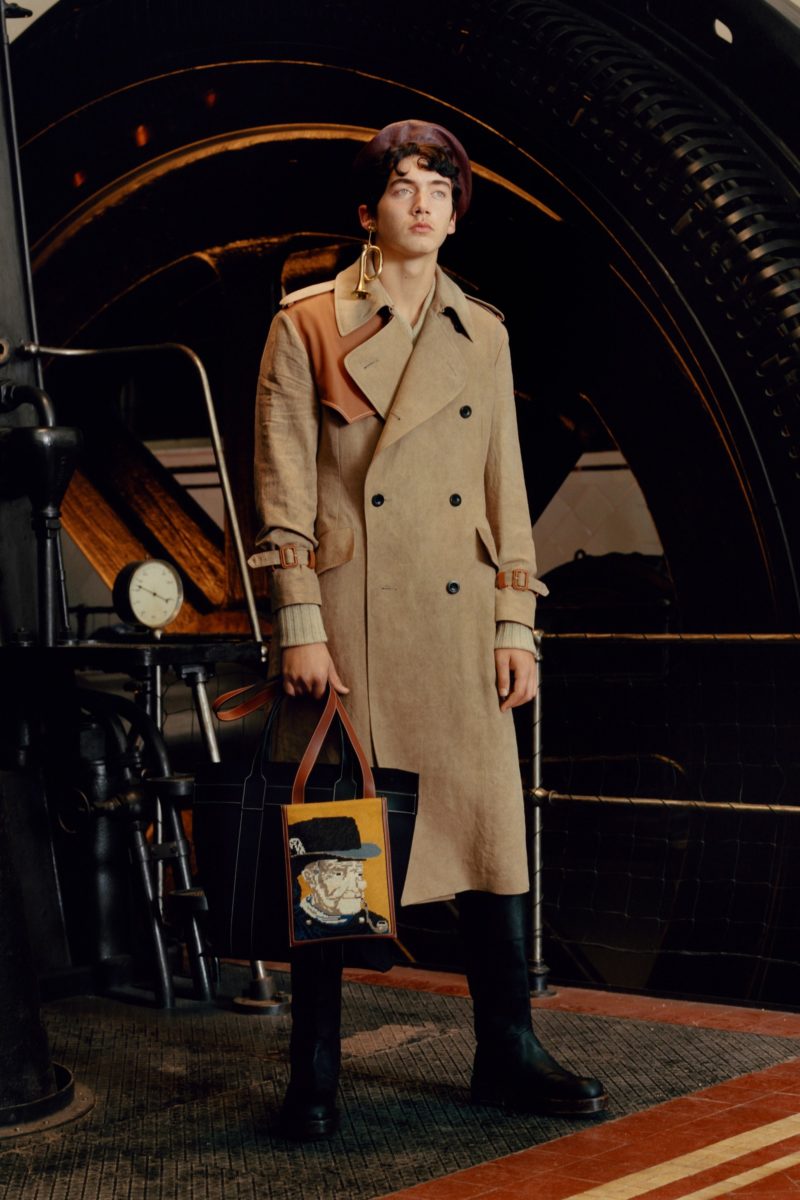 The Irish designer has previously spoken of his intentions to make Loewe "a cultural brand," placing an emphasis on arts and crafts and the house's rich lineage. For the label's AW17 menswear offering, available now, there is a substantial focus on craftsmanship and individualism, satisfying a cerebral character. Intriguingly, Anderson's reference to craft simultaneously evokes a sense of the expert, the trained maker, whilst touching on a sense of childhood naivety. Presenting the collection within the context of an exhibition in January, as oppose to a runway show, gave viewers time to examine the handmade intricacies of each piece. The attention here is on the authentic, everything highlighting the handmade values of the leather goods company and its heritage.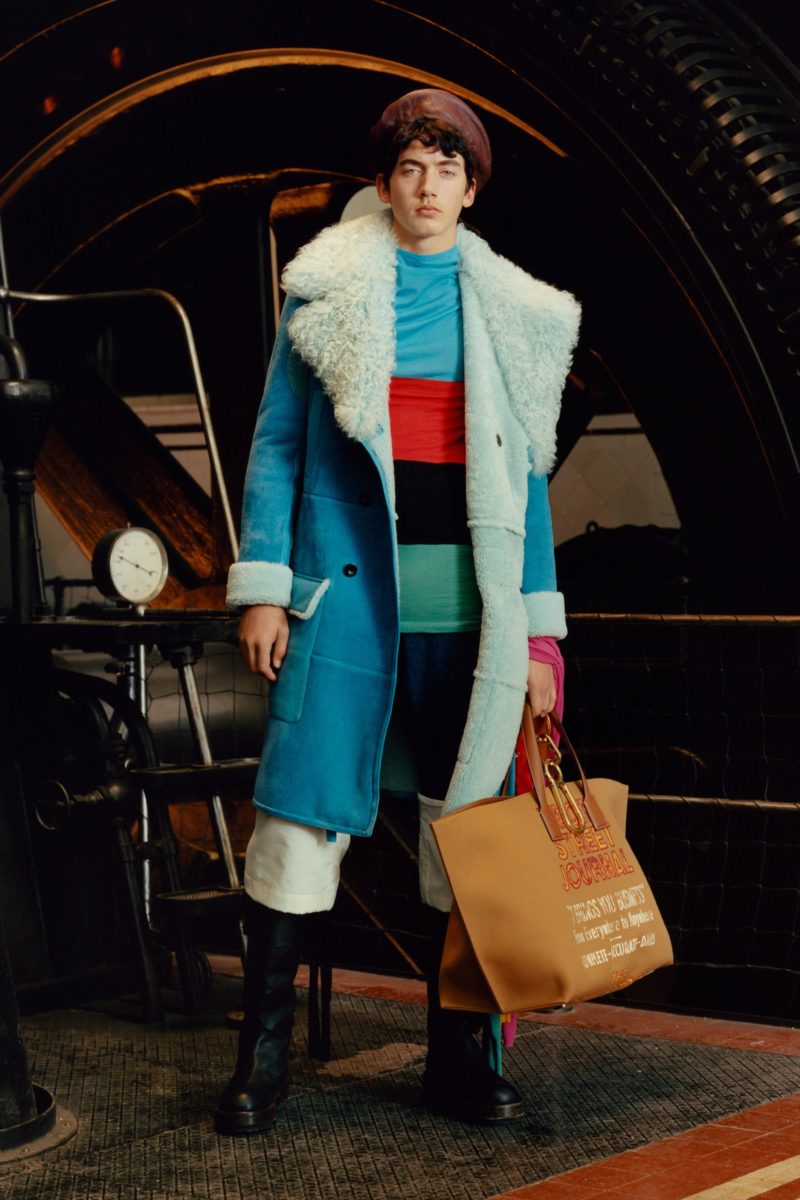 The designer described the work to Vogue as being about, "a youthful eclecticism, something post-industrial." Jackets and sweaters feature looped hand-knitted details, a stitch technique modified to emulate sailor's-knots, but also to echo the Loewe logo. A double-breasted asymmetric shearling coat, rendered in a cheerful assortment of blues, incorporates hand-sewing around the collaged linen elbow and pocket patches. There is also a rainbow iteration, composed from a dozen vibrantly hued panels sewn together, creating a striking effect. The opposition between post-industrial collage and total individualism creates a sense of dichotomous confusion, manifest in carefully styled looks that are both constructed and broken down.
Anderson enhances his products with meaning, tactility, and things to learn, placing a crucial importance on human, experiential values. Multiple garments are signed with propaganda-inspired iconography including fictional newspaper and Past Present Future screen-prints. Effective composition relates often incongruent methods and ideas, evident in patching, mismatched and superimposed tartans, photographic elements and cleverly layered appliqués. Regarding accessories, from leather key rings in the shape of animals, decorative brass trumpets, carved dog's heads, to a hand-thrown ceramic bowl repurposed as jewellery, eclecticism is vital to the designer's vision.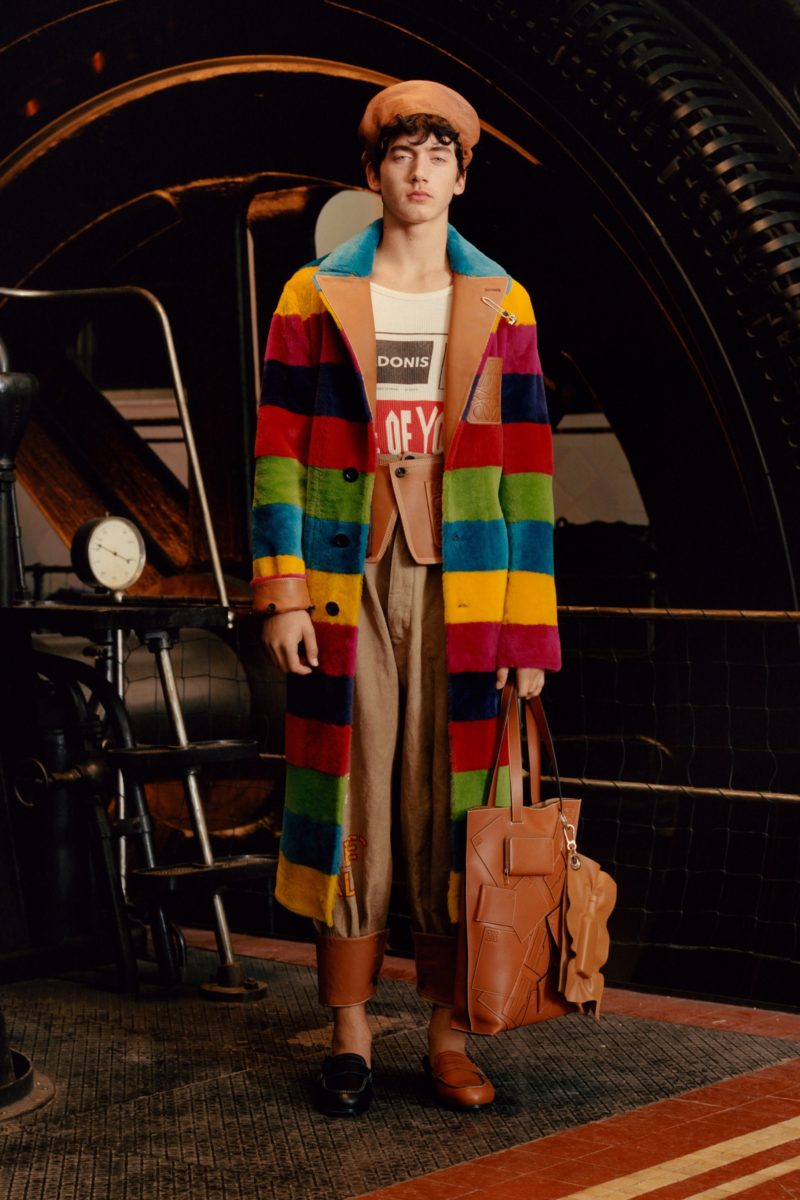 Experimental readings of menswear archetypes inspire an enveloping linen trench coat, complete with calfskin gun flap, whilst a striped fisherman jumper, a familiar nod to the workman, embraces artisanal tasselling. Signature Loewe pieces which reoccur each season, like the folded trousers and the house's asymmetric shirts, are reconsidered with fresh fabrications. An all-black leather look, formed around an apron polo shirt, conjures images of a romanticised factory where workers infuse utility wear with a subversive twist. Throughout, Anderson's AW17 offering for Loewe proposes a very contemporary take on craft and the role of the maker, uniting meticulous processes with a youthful rebellion, distinctly and consistently detail oriented and entertaining.
Words by Keshav Anand | Images via Loewe