When Art & Fashion Do Furniture: 11 Of The Best Conceptual Homeware Pieces
Smudging the threshold between art and design, function and aestheticisation, Something Curated highlights eleven of the most interesting examples of furniture and homeware conceived by creatives working in art and fashion.
Jessi Reaves || Foam Couch with Straps, 2016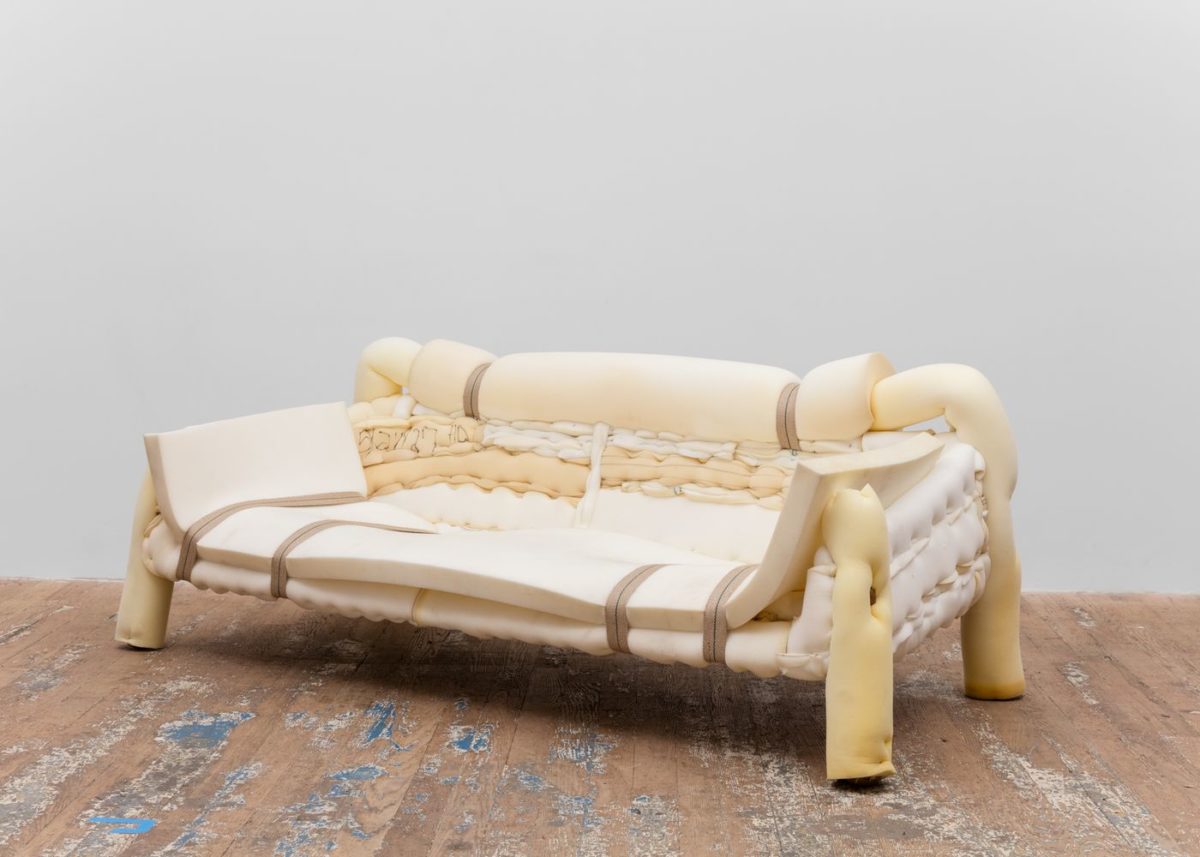 For her recent show at Herald St, Jessi Reaves built sculptural chairs, shelves, lamps and cabinets which obscure traditional distinctions between the functional and the aesthetic. While her constructions employ the structural and technical lexicons of furniture-making, utility is resolutely downgraded in favour of the grotesque and the excessive. Reaves replaces stylistic details you might otherwise associate with craft, such as carving, inlay, exotic wood grain, joinery or tufting, with her own methods and flourishes.
Rick Owens || Pavane for a Dead Princess, 2010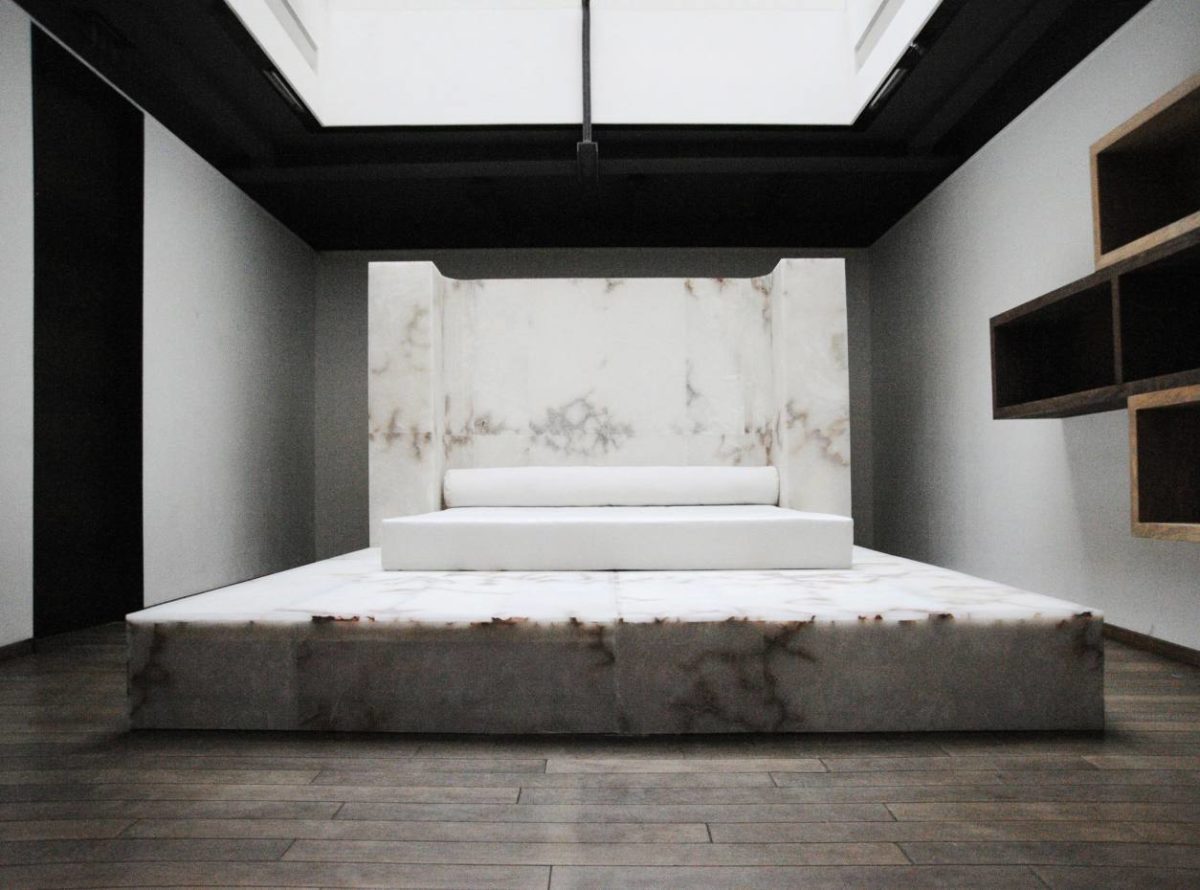 This project is named after a Ravel piano piece that Owens' parents used to play when he was a child, and the composer's mysterious, fictional Spanish heroine provides the starting point for the designer's "romantic and dramatic" imaginings. The truly monolithic king-size bed, decadently outfitted in translucent Spanish alabaster, is formed from a towering, two-meter-tall headboard atop a three-meter-square platform.
Nicolas Deshayes || Filth Takes Off its Shirt, 2015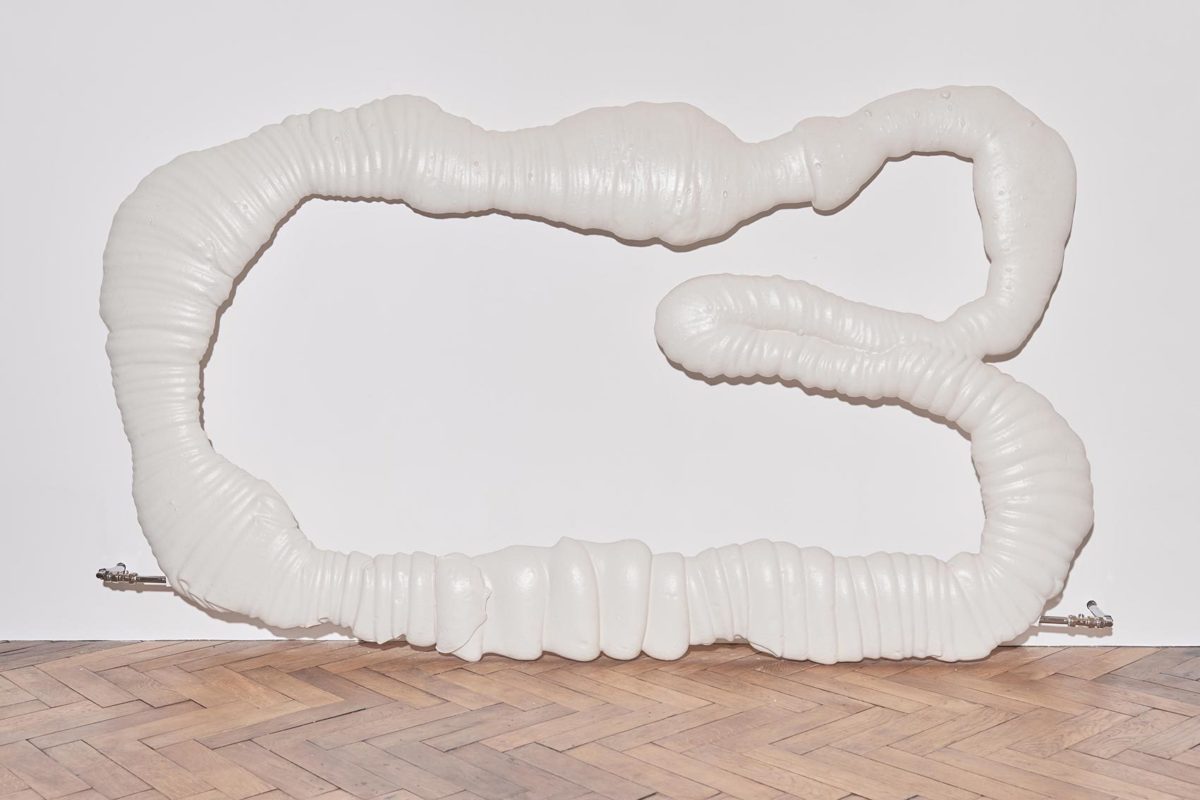 Nicolas Deshayes' sculptures use materials such as anodised aluminium and vacuum formed plastic to embrace the glossy aesthetics of 21st century design. Despite their emphasis on slick industrial surfaces and physicality, Deshayes' works maintain a human presence in the form of glutinously rich, bodily allusions, engaging with the materials in ways that distort the ordinary. For Studio_Leigh, Deshayes made a series of warming sculptures; a heated depiction of a bodily organ produced in a similar fashion to a home radiator.
Virgil Abloh || Free Cubes, Material Table & Trivision Sign, 2016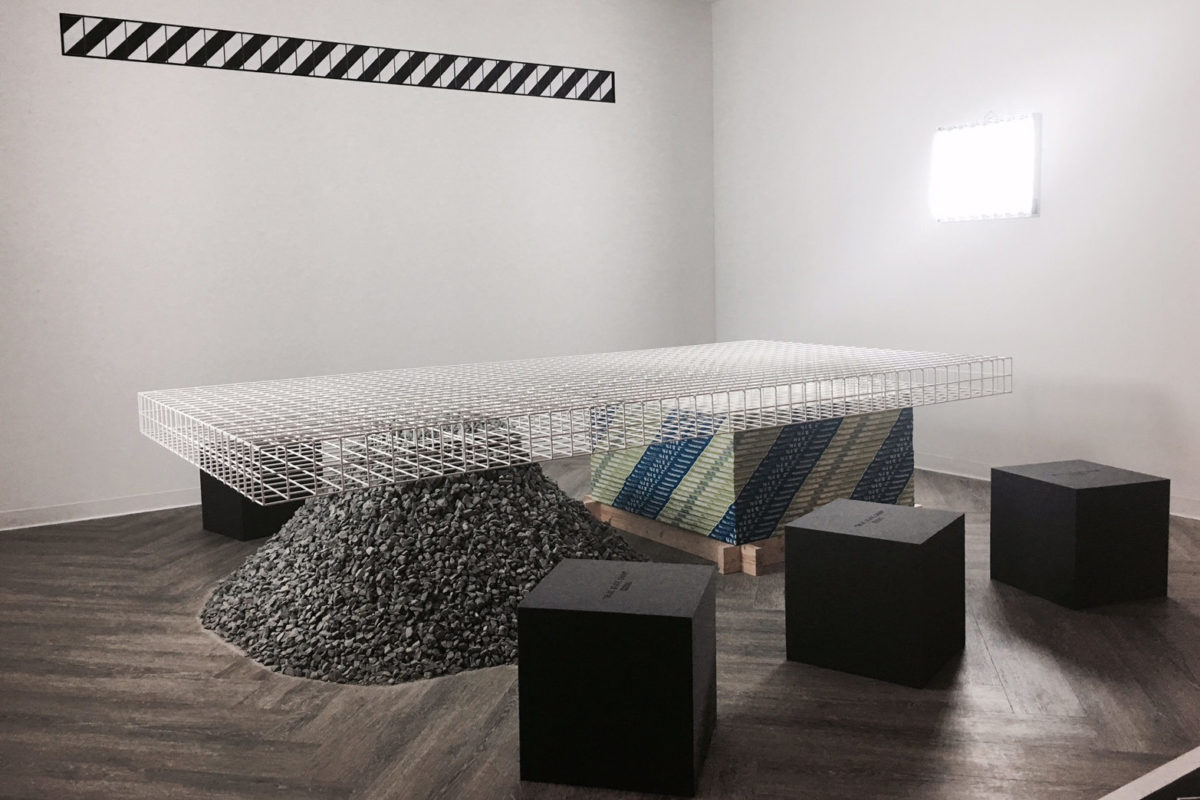 Virgil Abloh sees the act of creating as a need which continually shifts, prompting his move from fashion into the realm of furniture design last year. The designer debuted tables, chairs and credenzas, constructed from the likes of steel, stone, wood and leather. His Off-White project takes inspiration from architectural and urbanist references, comprising a curated assortment of furniture items presented at Design Miami's exhibition platform.
Franz West || Artist's Chairs, 1970s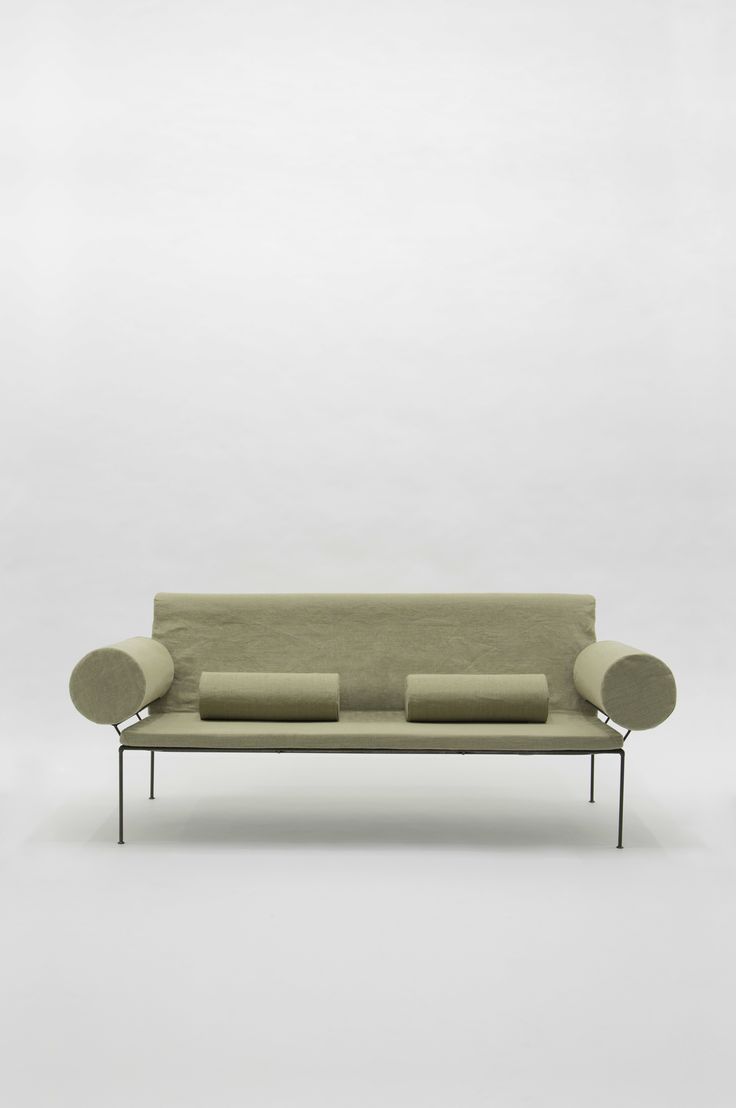 Visual artist, Franz West thought of chairs, tables, upholstered pieces, wardrobes, and bookcases in sculptural terms, and approached their design in accordance with his concept of sculpture, considering their physical and tactile qualities. By questioning the practicality of art and our physical and emotional response to it, West called into question the way art is experienced and defined, and accordingly suggested the possibility that furniture might be seen as sculpture and a social experience.
Allen Jones || Chair, 1969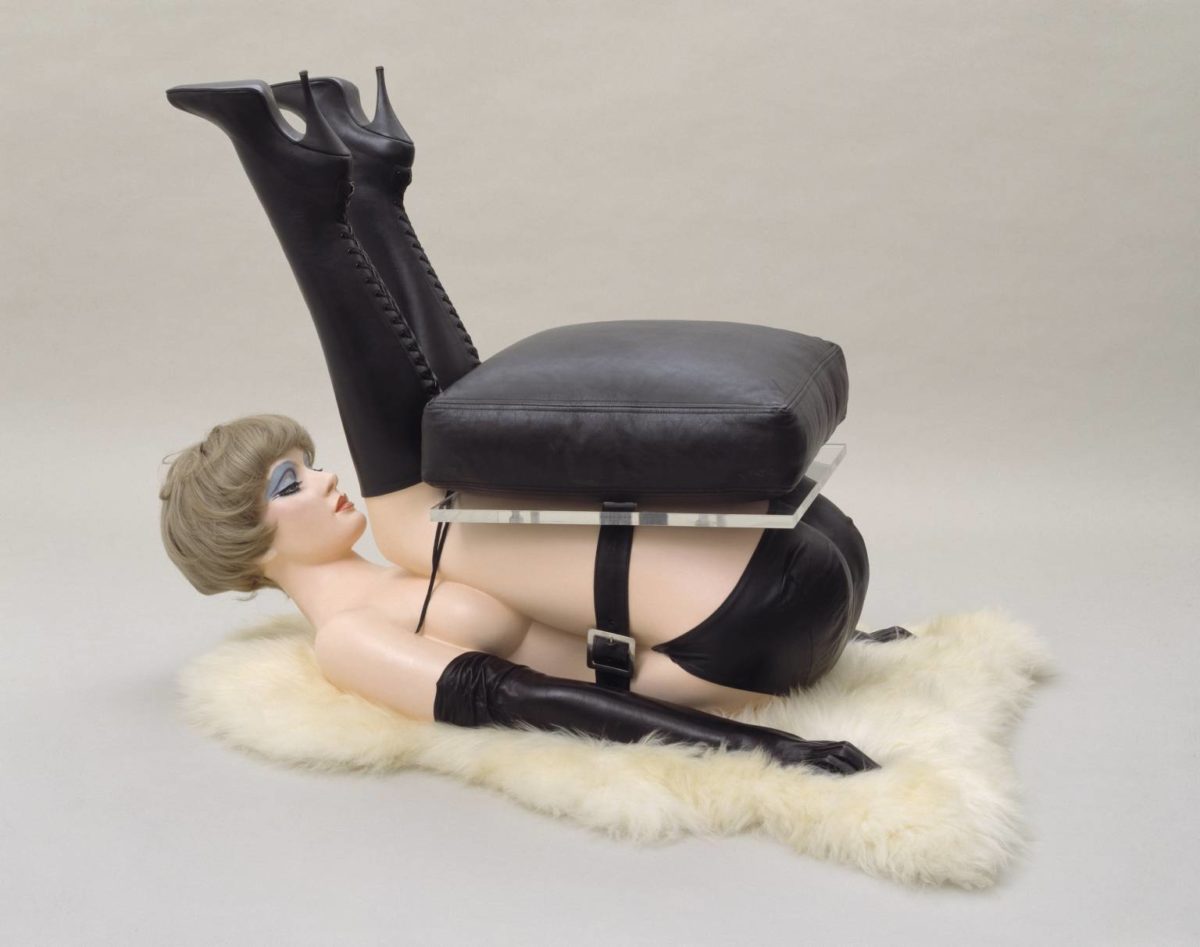 Allen Jones's provocative Chair is part of a series of 'furniture' works that show women wearing fetish clothing portrayed as objects. They caused controversy when they were first exhibited and have lost none of their power to provoke. Jones said in 2014: "The sculptures are trapped in their time but hopefully people are robust enough to see them as playful, and regard them as another way you can look at humanity."
Jonathan Anderson for Loewe || Salone de Mobile, 2017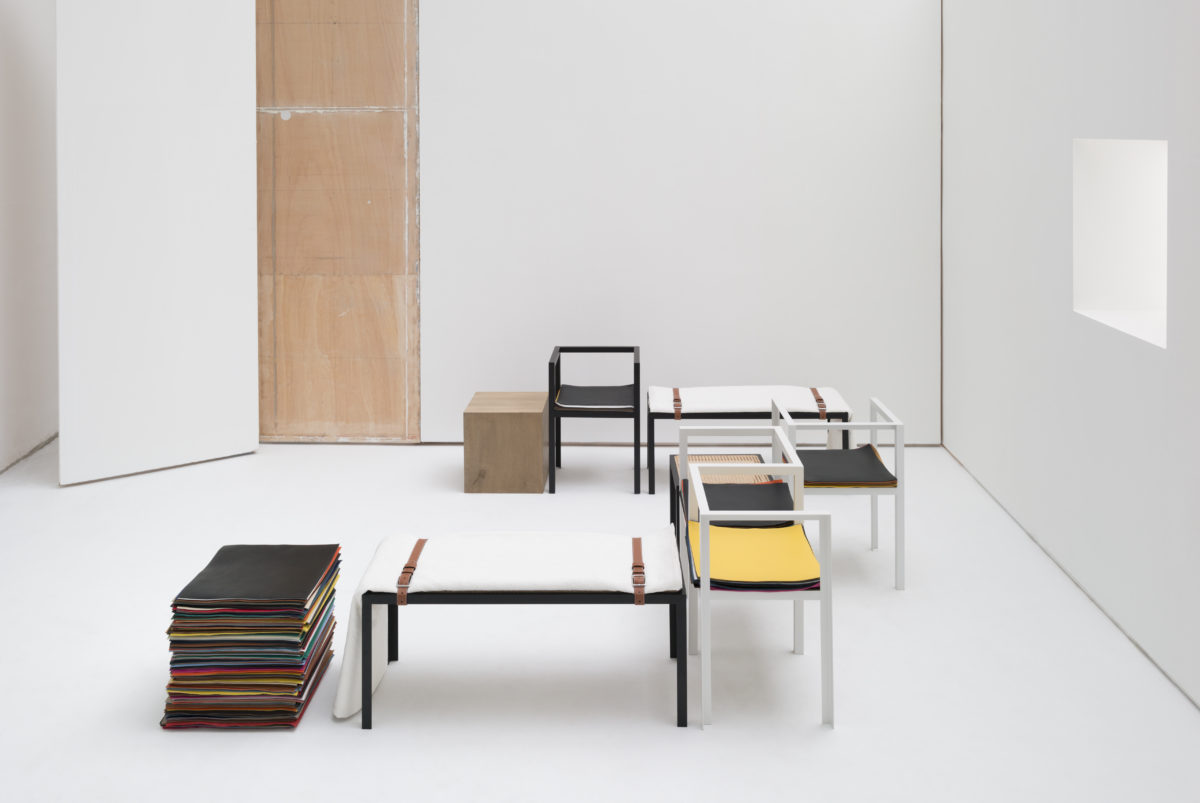 Returning for the third time to Salone de Mobile, Loewe, helmed by Jonathan Anderson, brought a diverse collection of design products to the Italian fair this year. Furniture, lamps, blankets, ceramics and cushions blur the lines between decorative and functional. The presentation included everything from knitted life-size male figures to solid oak furniture designed by Anderson and manufactured in Yorkshire by the company of Robert 'Mouseman' Thompson.
Frank Lloyd Wright || 'Peacock' Chair from the Imperial Hotel, Tokyo, 1921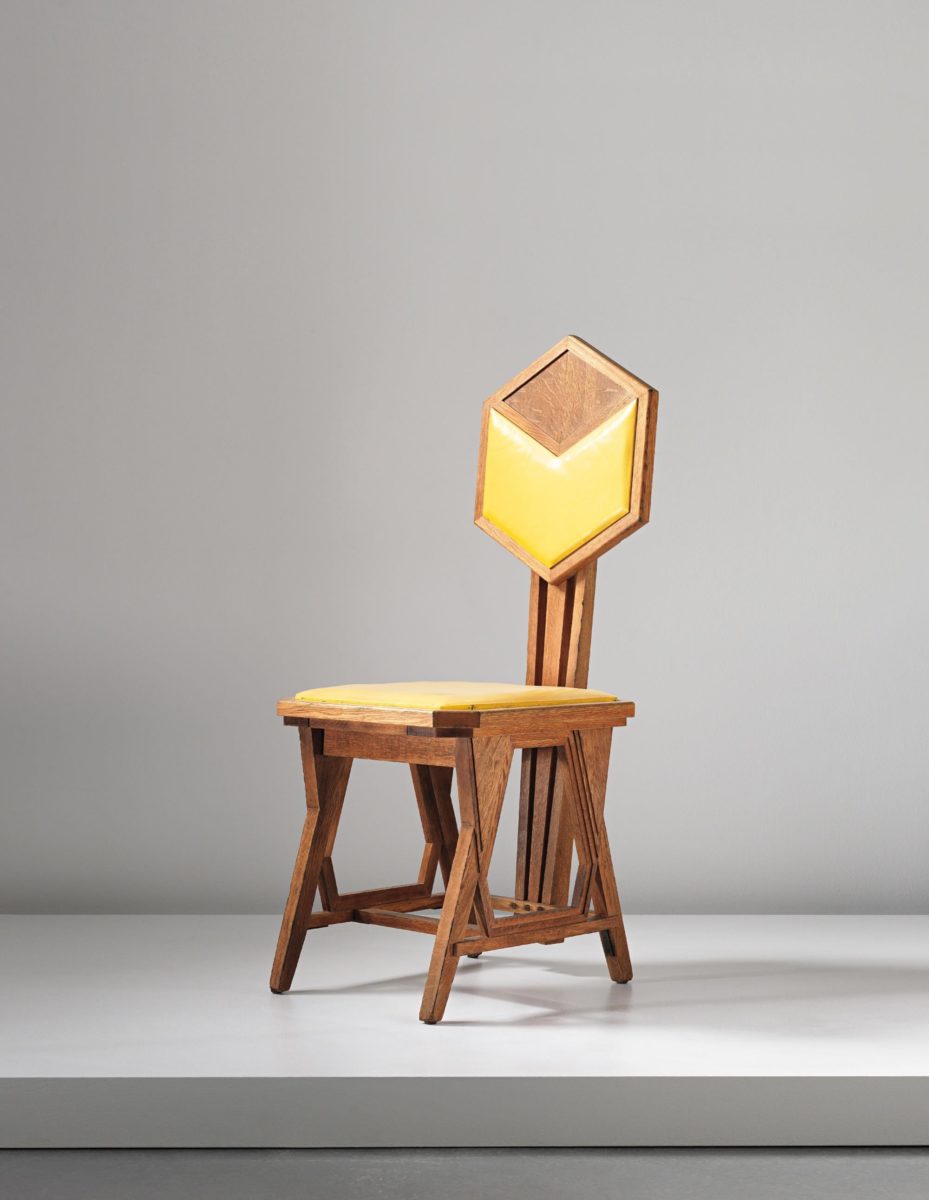 An exception among the art and fashion cohort featured, in 1916 the Japanese government commissioned Frank Lloyd Wright to design the new Imperial Hotel in Tokyo. One of the architect's standout designs, the 'Peacock' chair, was used throughout the building including in front of the fireplace in the parlour, in a special box in the theatre and in the long promenade. The hexagonally shaped back of the chair mimics the ornament of the cornice and ceiling and derives from forms found in Japanese art and design.
Ophelia Finke || Dakar, 2015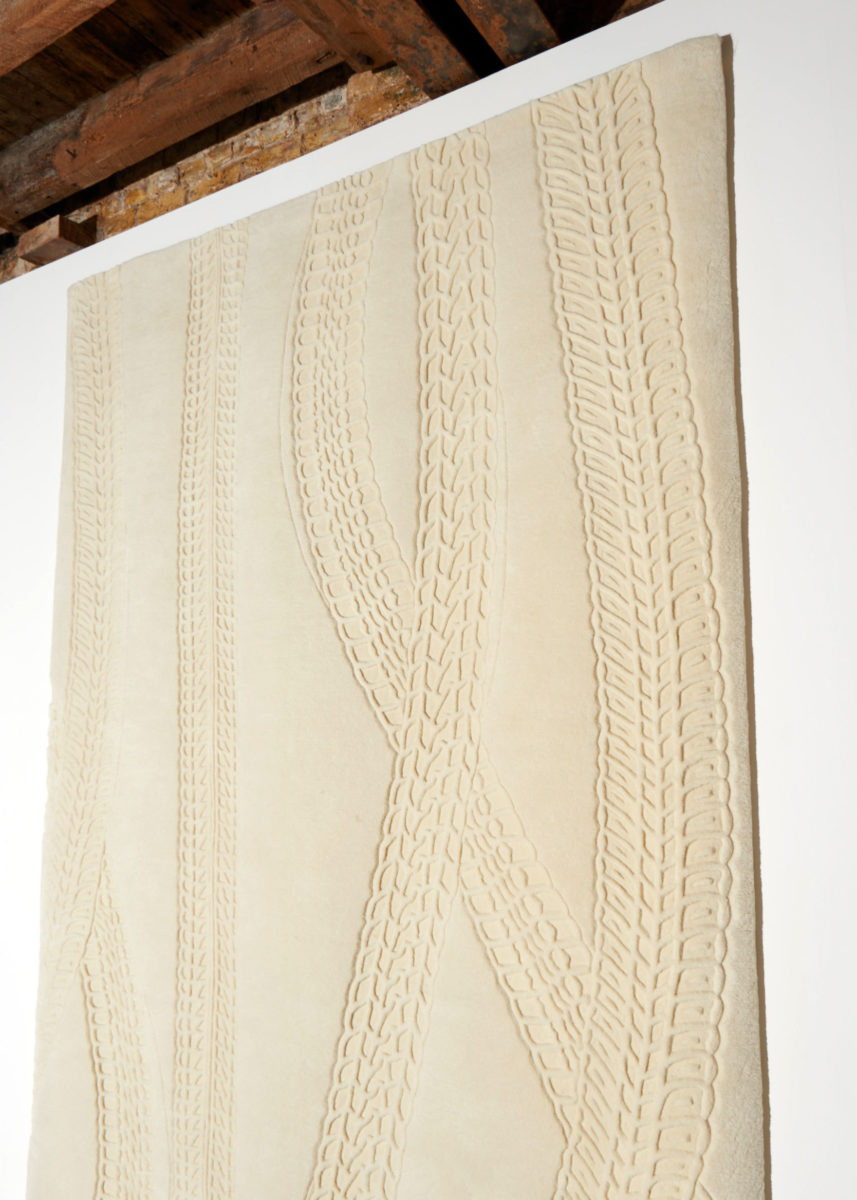 Reflecting Finke's interest in adrenalin and adventure, the Dakar rug takes its name from the famous Dakar rally, an annual race that originally ran from Paris, France to Dakar, Senegal. In recent years, the race has been held in South America due to security concerns in Africa. The rug mimics the tyre tracks of a speeding race car in the desert, unavoidable impressions that reveal a narrative of danger and speed.
Yvonne Fehling & Jennie Peiz || Stuhlhockerbänke, 2007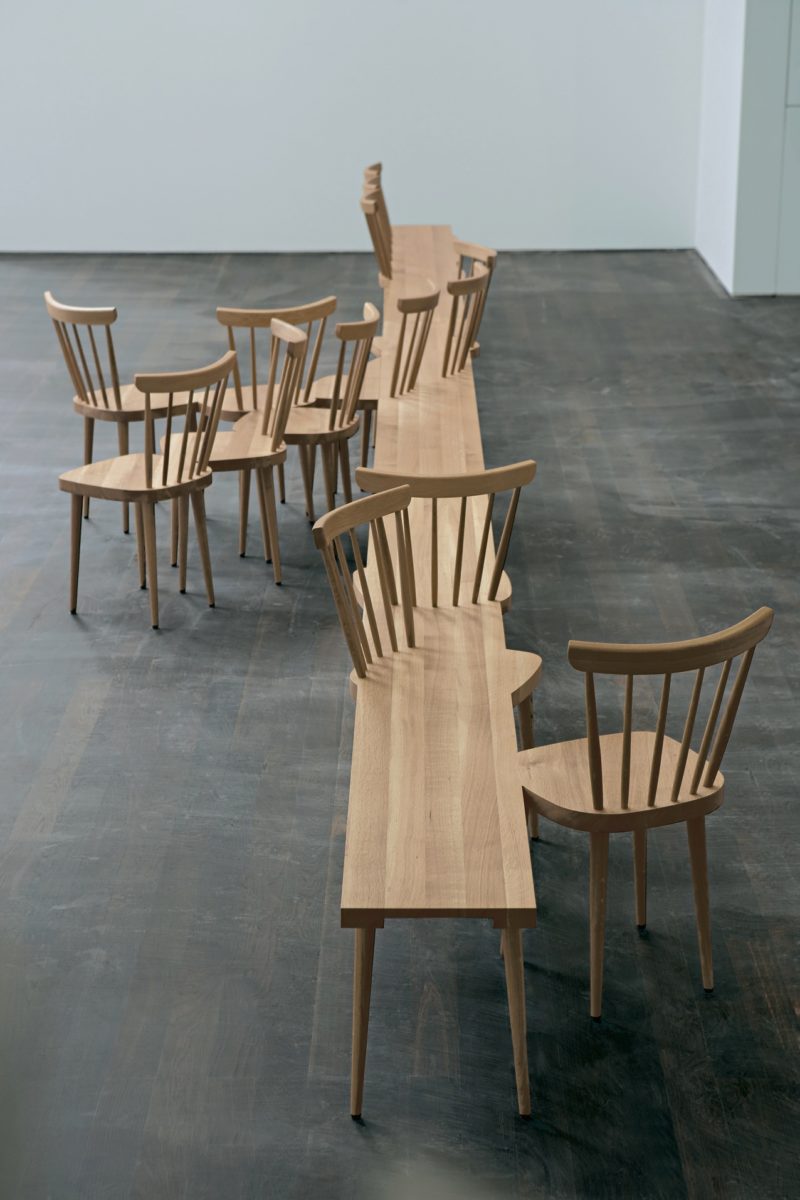 Stuhlhockerbänke is a series of seating for public spaces that approach users and viewers in a playful way. The dividing lines between different types of furniture (chair, stool, bench) are eliminated as the three types blend. The results are immobile constellations that express a person's inner stance in the particular situation. Over and above the pure purposiveness of a piece of furniture, the objects come with narrative elements. They seem familiar and yet at the same time surprising, enhanced by a bodily and poetic dimension.
Rana Begum || No. 566 Bench, 2014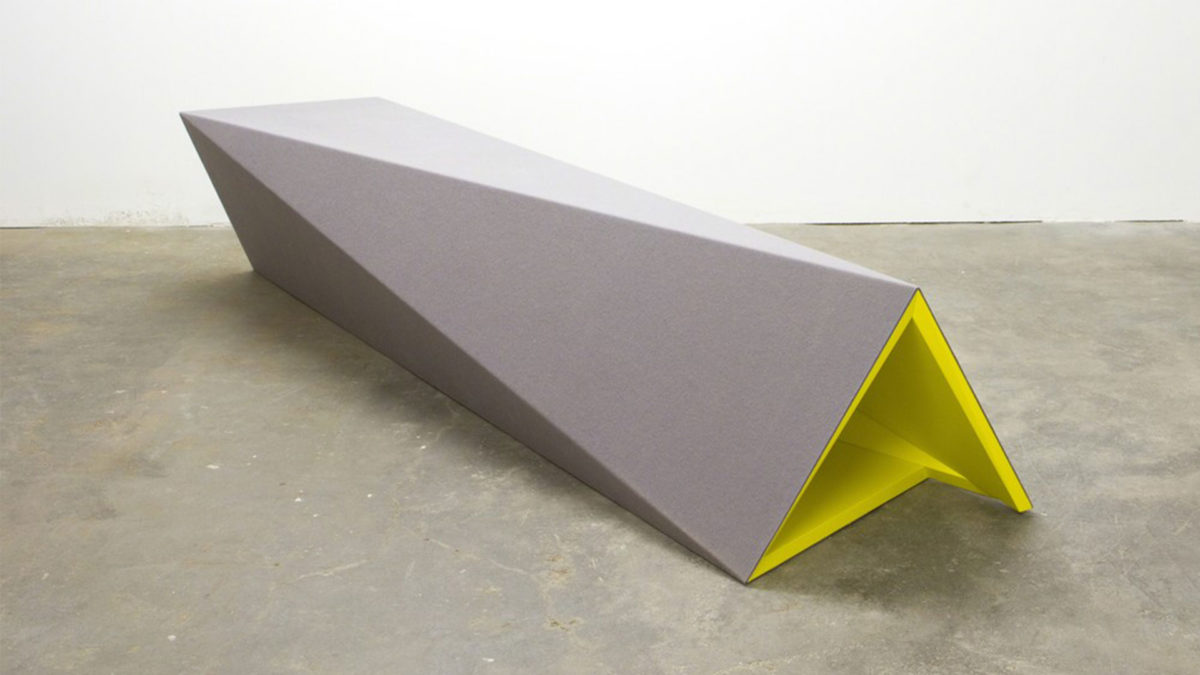 With influences from constructivist and minimalist art, artist Rana Begum's works demonstrate a sophisticated spatial and visual awareness. Working with metal and plywood, among other materials, Begum is inspired by London's built environment as well as her childhood memories, subtly referencing the geometric patterns of Islamic art and architecture in her practice.
Feature image: Rick Owens, Pavane for a Dead Princess, 2010 (via Pinterest)