Gilbert & George On THE BEARD PICTURES AND THEIR FUCKOSOPHY At White Cube
Collaborative duo, Gilbert Proesch and George Passmore, whose latest exhibition THE BEARD PICTURES AND THEIR FUCKOSOPHY opens at White Cube Bermondsey today, place themselves, their thoughts and their feelings at the centre of their practice. Interestingly, almost all of the images they use are gathered within walking distance of their home in east London. Yet their pictures convey a diverse human experience, encompassing a spectrum of emotions and themes, from rural idylls to gritty images of a degenerating London to fantastically coloured panoramas and raw examinations of humanity.
Talking of their early work, George said: "Even when we started, we believe we did a different art; we did an art where the human person was the centre, so we're able to talk to human beings about all kinds of stuff like loneliness, happiness, crying – all the things that are inside every human – it's not an abstract art, it's a humanistic one."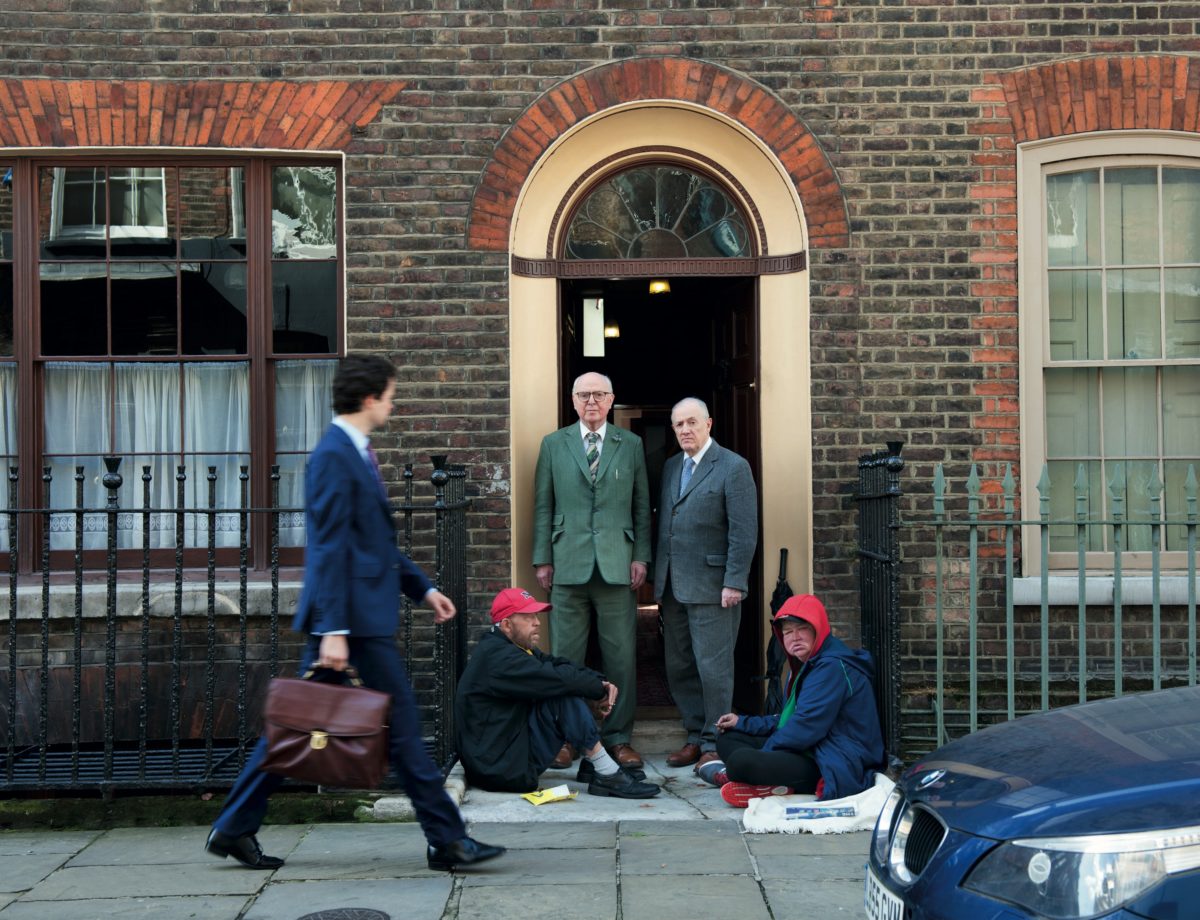 THE BEARD PICTURES are violent, eerie, grotesque, lurid and at times crazed. They show a dream-like world of paranoia, destruction and madness. Their strange colours and creeping, smashed up, absurd landscapes confront the viewer with an aggression. Gilbert & George take their place within THE BEARD PICTURES as red, staring and sinister versions of themselves. Their eyes are shadowed and bizarrely prettified. Mutant, impish explorers or dead-headed sentinels, they seem to look at, into and through the viewer. In each picture they wear beards that are surreal and symbolic – made of wire mesh, beer foam, flowers, or sometimes comprised of rabbits with snakes for tongues.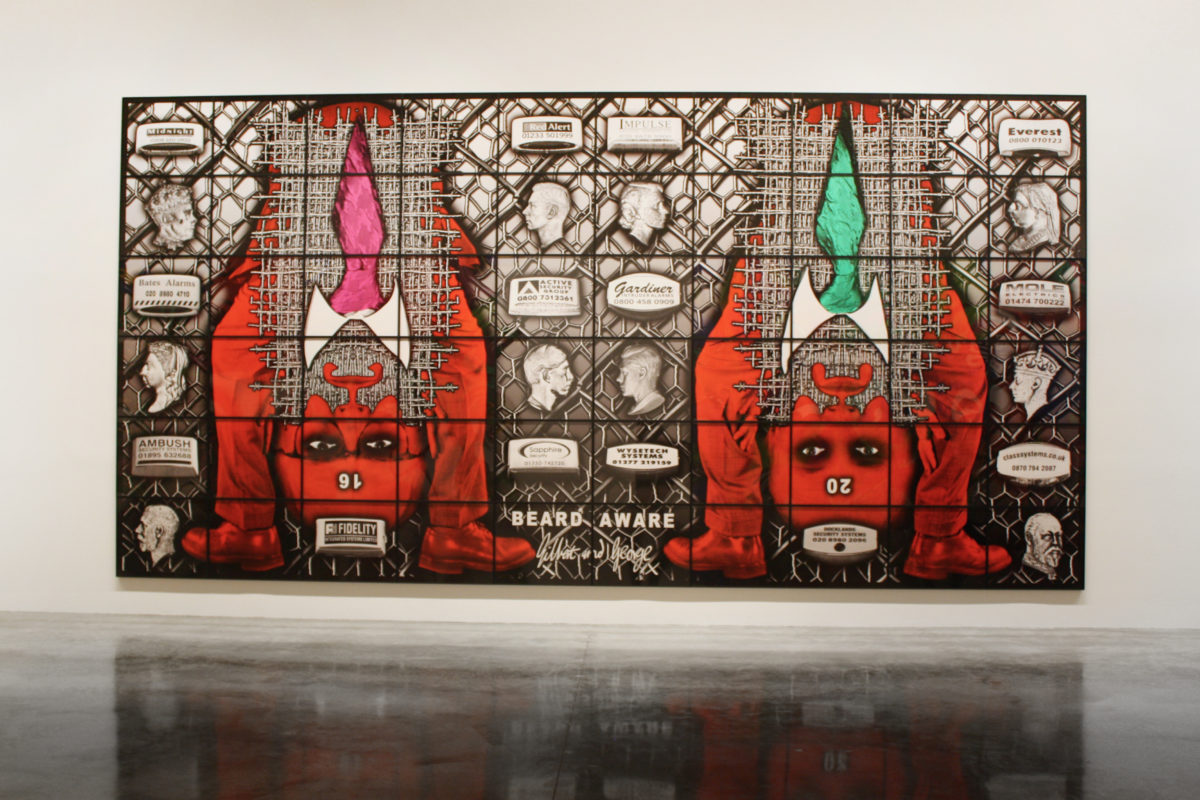 On their interest in beards, Gilbert explained: "We view it historically and in contemporary terms, as we said earlier if you had a beard when we were teenagers you wouldn't get a job and now you can hardly get a job if you don't have a beard, and of course all of the religious connotations. We live in a Muslim quarter, where all the young people have to have beards; the older gentlemen dye theirs. On Saturdays we take the 67 bus to the Jewish quarter where all the people have different beards; it's quite extraordinary, but beards can be for power, for oppression and also for freedom. It depends where you are and when it is."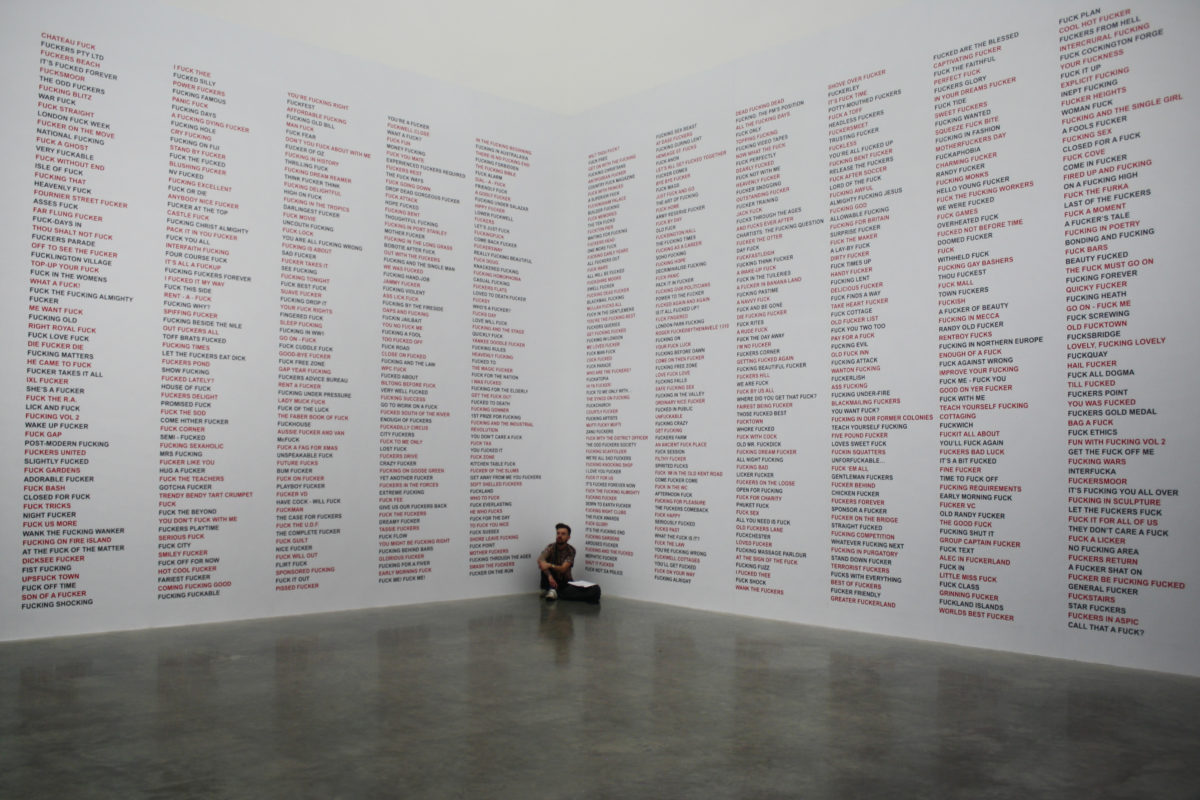 In keeping with their career-long merger of cultural and artistic provocation, the FUCKOSOPHY of Gilbert & George exhaustively employs the common yet taboo swear word to create a vast directory of absurd, unusual, amusing, bland or memorable statements covering several of the White Cube's pristine walls.
Gilbert told: "The FUCKOSOPHY is extraordinary; on a simple level, when people ask "What is it?" we say, "Well you know what a philosophy is?" and they say, "Yes of course", "Well you know what fucking is?" They're a combination. But we do believe as an artwork, it's a great work of literature that can be reached by anyone really. Because you all think and feel and hope and dream, just to sit and look at the wall is an extraordinary experience for people, so they tell it."
Gilbert & George: THE BEARD PICTURES AND THEIR FUCKOSOPHY at White Cube Bermondsey is open from 22 November 2017 – 28 January 2018.
The artists join writer, novelist and cultural commentator Michael Bracewell in conversation at Hoxton Hall, London on 28 November 2017 at 6:30pm.