London's Favourite Fried Chicken Spot Opens Permanently
In 2013, after multiple trips to New York and being inspired by David Chang's Fuku, Garrett Fitzgerald and his wife Emer set out to produce London's ultimate fried chicken sandwich, creating the street food sensation, Butchies. After much success, selling out at festivals and markets, winning Wing Fest in 2017 and many other accolades, Garrett and Emer decided it was time to settle down. They announced the launch of their first permanent residence opening on November 27 in Rivington Street earlier this month. The restaurant will be split across two floors and will accommodate 45 covers for both dine-in and takeaway, making it a great lunch spot for locals working in the area as well as those looking for a casual dinner.
The menu will feature a range of wings, chips, salads, specials, homemade pickles and hot-sauce, shakes and cocktails, as well as a wine and a craft beer vending machine, serving over 20 varieties of beer from brewers such as Cloudwater and Beavertown. They are also the first UK street food trader to use a specialty pressure fryer imported from the US, which ensures the chicken is extra crispy.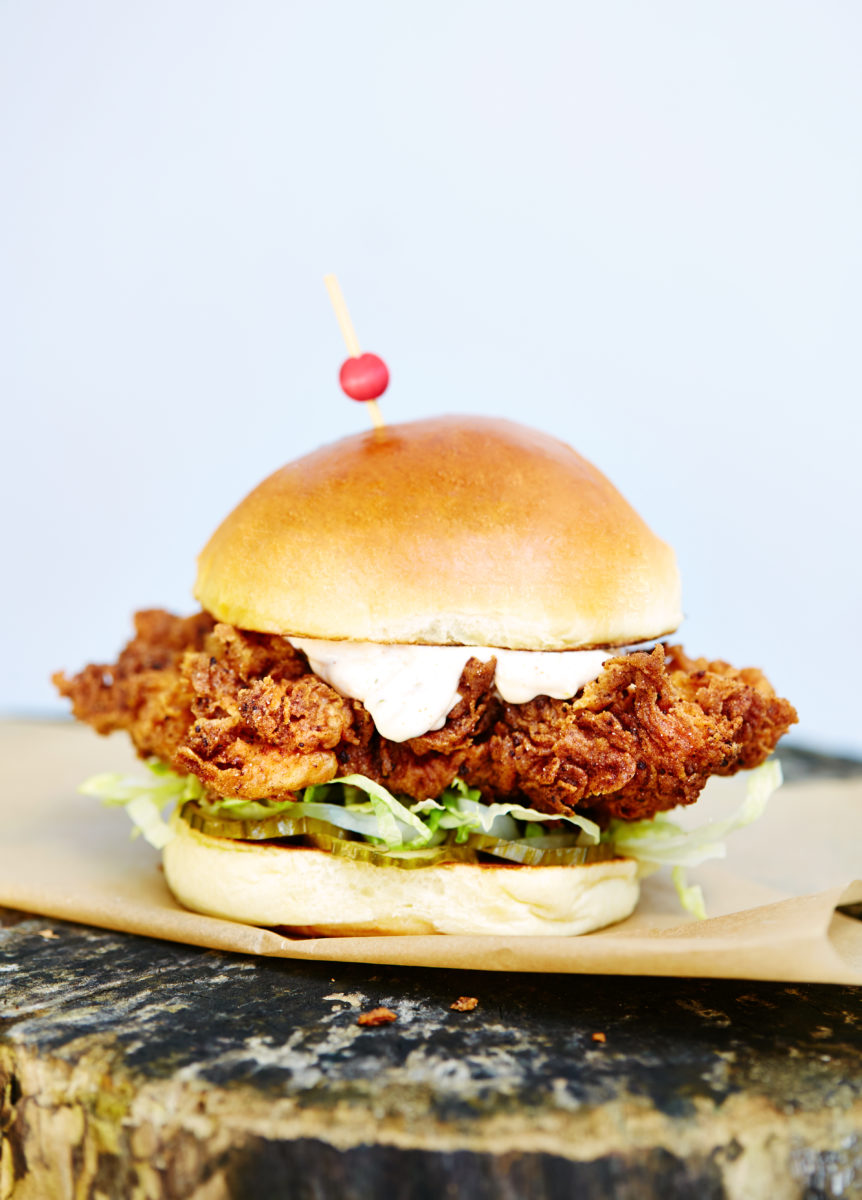 Six free-range fried chicken sandwiches all served in brioche buns will be available at the new venue. Chicken sandwiches include The Original with pickles & garlic aioli, Cheesy Rider with melted cheese and Jenny from the Block with guacamole and bacon, as well as vegetarian option The Buffalo Halloumi with buffalo sauce & blue cheese ranch. Expect quality produce, sustainable packaging and ingredients as Butchies team is working towards sourcing only premium, slow raised free-range chicken from Castlemead Poultry in Somerset.
Working with Block1 Design, Butchies will not be your average "chicken shop," with exposed brick walls and red neon signs, the restaurant aims to keep a relaxed atmosphere while still retaining the fun character of the brand. Butchies owners have worked with Adam Hyman and CODE Hospitality to help fundraise and open the new site.
Speaking about the opening, founder Garrett said: "Packing in the desk job to start Butchies four years ago has been one of the best decisions I've ever made. Bigger queues combined with selling out earlier and earlier each week at Broadway Market made us realise we were on to something really special … Having lived and worked in East London for the past 10 years, it is amazing to be giving our award winning fried chicken a permanent home in our own backyard."
To celebrate the opening Butchies is giving away 500 fried chicken sandwiches to the first customers to step through the door from 12pm-9pm on Monday 27 November.
Images courtesy Butchies | Words by Ana Alvarez