Interview: Chef-Founder Leandro Carreira On The Launch Of Londrino
A stylish neighbourhood restaurant and wine bar, the origins of Londrino can be traced back to chef-founder Leandro Carreira's 2015 Climpson's Arch pop-up named 'L.C.', which saw the chef break from the fine-dining style he had become known for and gave him the opportunity to explore Portugal with fresh eyes. Having worked in the kitchens of Lyles, Viajante and Koya, among others, Carreira showcases diverse culinary influences in his new project, using food and wine as a platform to explore cultures. Something Curated met with Carreira at the RARE Architecture-designed Southwark eatery to learn more.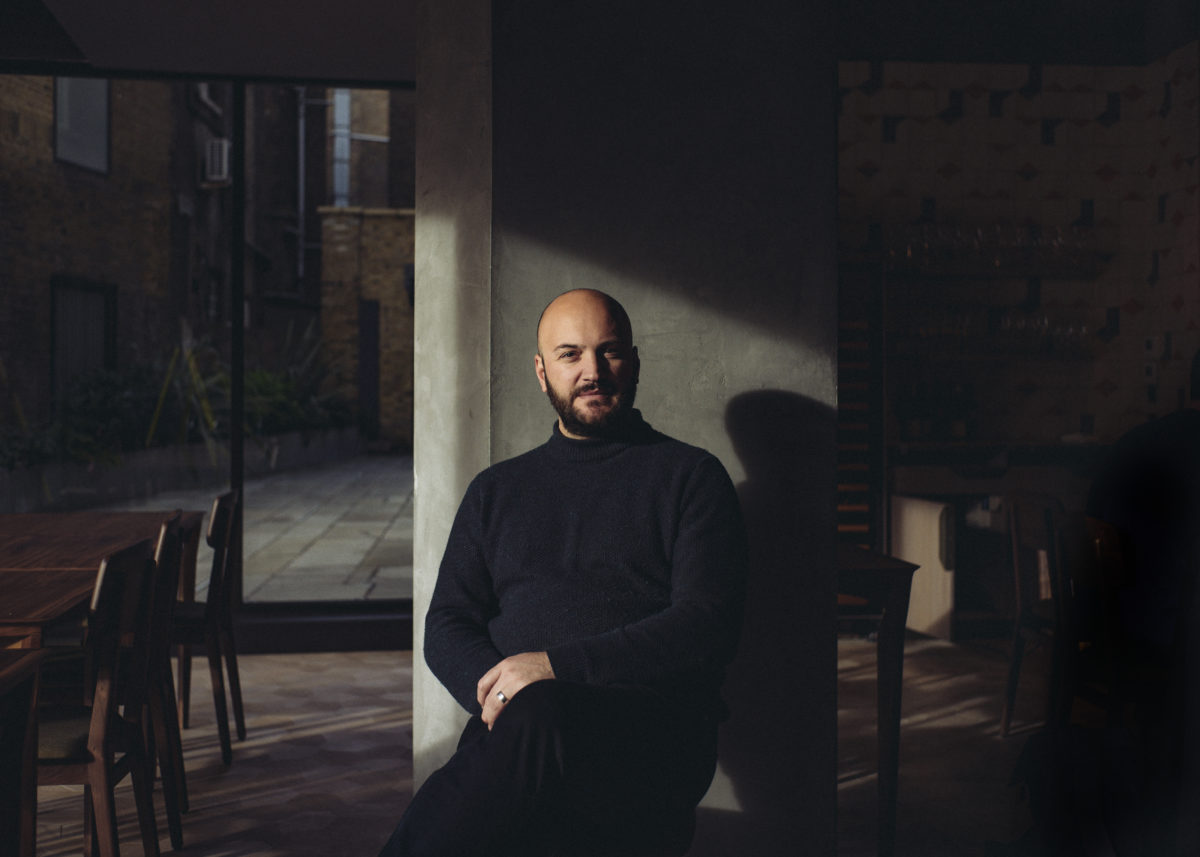 Something Curated: Could you tell us a bit about your background and how you entered this field? 
Leandro Carreira: I started a long time ago; I didn't know if I wanted to be a chef so I just went to culinary school to try something different and I learnt to like it and here I am. 
SC: You have worked in some of London's best restaurants like Lyles, Koya and Viajante – how have these experiences shaped you? 
LC: A lot actually, because you always take from others, especially here, the restaurants I've worked in London, they helped shape me and taught me that you should not give up straight away, because London is a really competitive market and it's just very easy for you to get off your main track and all of those places always stick to their guns and that's why they are so successful.
SC: You've also spent time in Spain – how did that differ from your experiences working in London kitchens?
LC: Spain was like a reset of everything – as a chef, as a person, as a cook, as an individual. It was great!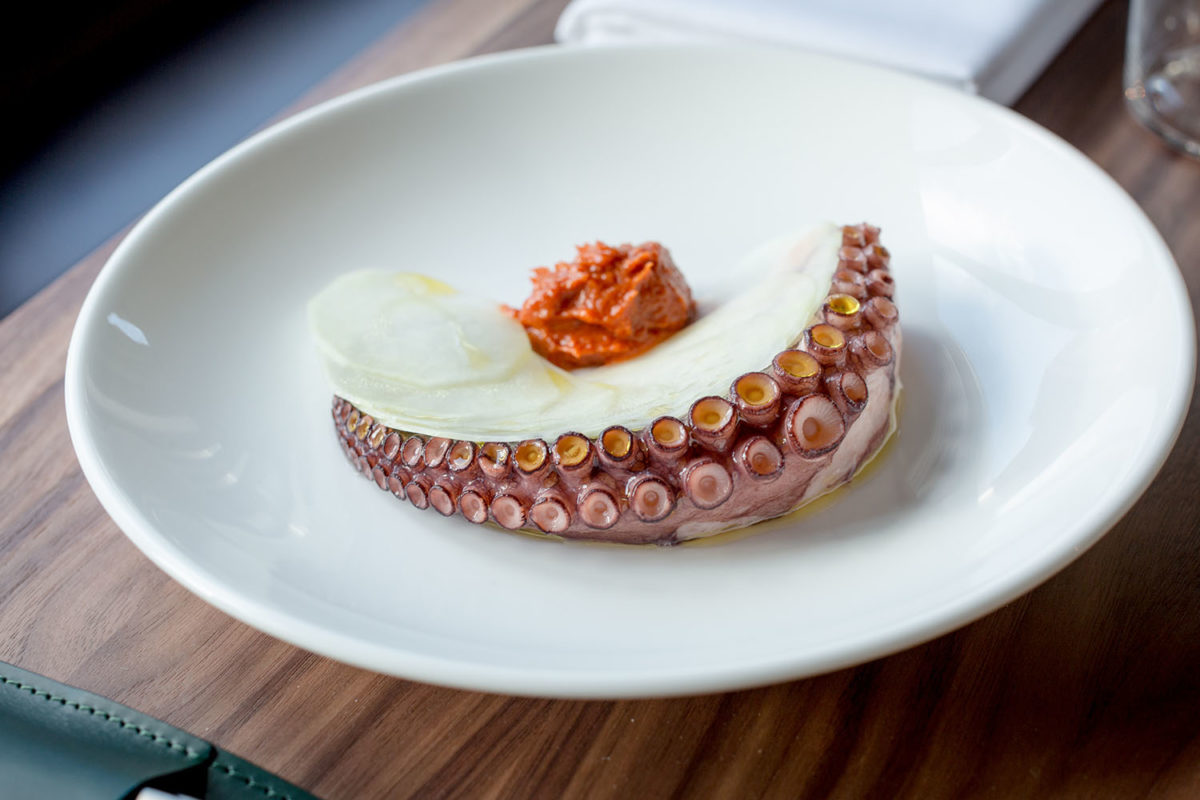 SC: How did the idea for Londrino come about?  
LC: Well the idea of Londrino started four years ago when Viajante closed, but I guess once Cameron and I went to Climpson's Arch, that's where we sort of really started creating our idea for the restaurant and that was two and a half years ago.
SC: Could you tell us more about the residency you did at Climpson's Arch?
LC: Climpson's was great for me; at the beginning I didn't want to do it, I was a bit depressed but in the end it was great because it set me free from that background of more polished dining and fine dining, and I stepped away from it a little bit. It made me realise that I wanted to do something else, something more fun, with no fuss. It was great because the space was extremely raw and the crowd was different from a normal set-up of a restaurant. I'm really pleased we did that.
SC: How did you come up with the name Londrino?
LC: It was my mother that picked it, because I didn't know what to call it. It means Londoner in Portuguese, so you say everyone that lives in London is a Londrino.
SC: How did you decide on Bermondsey as the location of the restaurant?
LC: Well after years of searching, we just liked this area and it just so happened that we found this place. This is an upcoming neighbourhood and there are a lot of new businesses opening up around here.
SC: Could you tell us about your relationship with Nuno Mendes?
LC: He's like a brother to me. At the beginning it was like any relationship – it's always a bit hard. We only knew each other from the industry but had never worked together, but after a while we realised we had more or less the same background in terms of work experience and at the time in Viajante we wanted to push this idea of bringing Portuguese identity and flavours into town. We grew up in the same way and share ideas about food and some memories of being back in Portugal; working together was just more powerful, more strength in two. I think a part from the relationship in business we are very good friends.
SC: What elements do you think constitute a perfect dish?
LC: The product, the temperature and the cooking.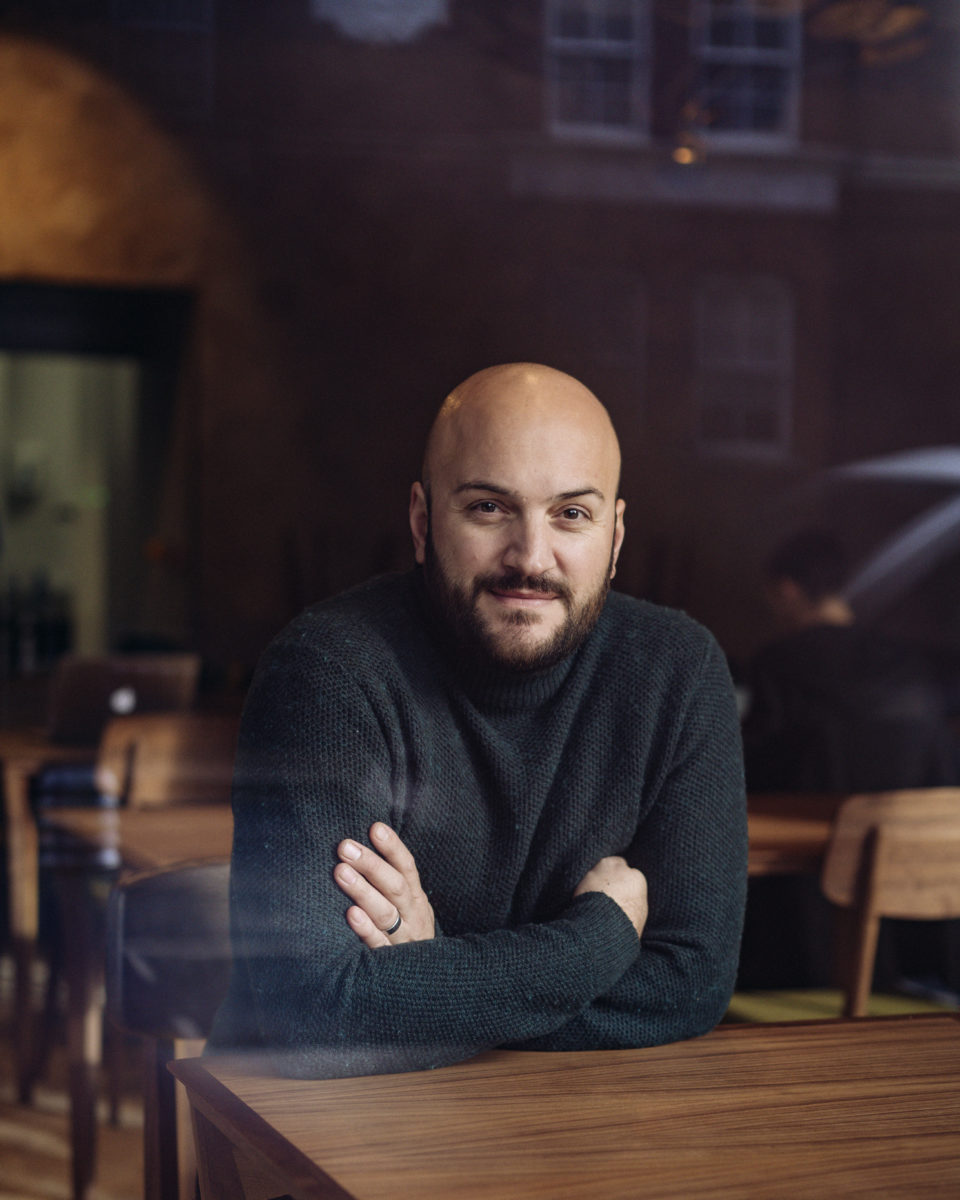 SC: Have you noticed any trends in the dining scene in the recent years, and which do you feel have longevity?
LC: It seems like having spaces or restaurants that are less fussy about the whole dining scene, I think that is were everything is moving at the moment. Less fuss, great spaces, very dynamic, great service, without having the staple of being a Michelin-star restaurant or a fine dining restaurant. More relaxed, still great cooking and great delivery in the end. I think that's the way for the next couple of years. In our case we just want a space where you can come and chill, have a dish, sit down, have a glass of wine. If you want to have ten glasses of wine and ten dishes that's cool too, but we're not doing tasting menus.
SC: Do you have any favourite ingredients or elements of Portuguese cuisine that you are most excited to showcase? 
LC: Yes, there are a few varieties of indigenous cabbages that we have in our farm in Epping, near Chingford. They're planting them for us, so we will be able to showcase them next year. We are all excited about the whole diaspora of the Portuguese, because we've colonised and travelled a lot, centuries ago, and for me that's what is interesting and that's what I wanted to showcase at some point, not so much what is traditional Portuguese food, because this is not a traditional restaurant and we're not doing just Portuguese food at all. It has a pull on some flavours but there are many things that I really like, like Middle Eastern spices or Japanese food – that is something that we have a lot of reference to.
SC: What do you find unique about London's dining scene, and what do you think it offers chefs?
LC: I think London is, as we all know, a huge metropolis, and there are a lot of opportunities for everyone here. I think in the last ten or fifteen years the dynamic has changed so much. We went from having just really high-end and expensive restaurants, to now having cool restaurants that are affordable and have a great dynamic with different concepts, upscale but also middle range restaurants. I think that gap has been fulfilled.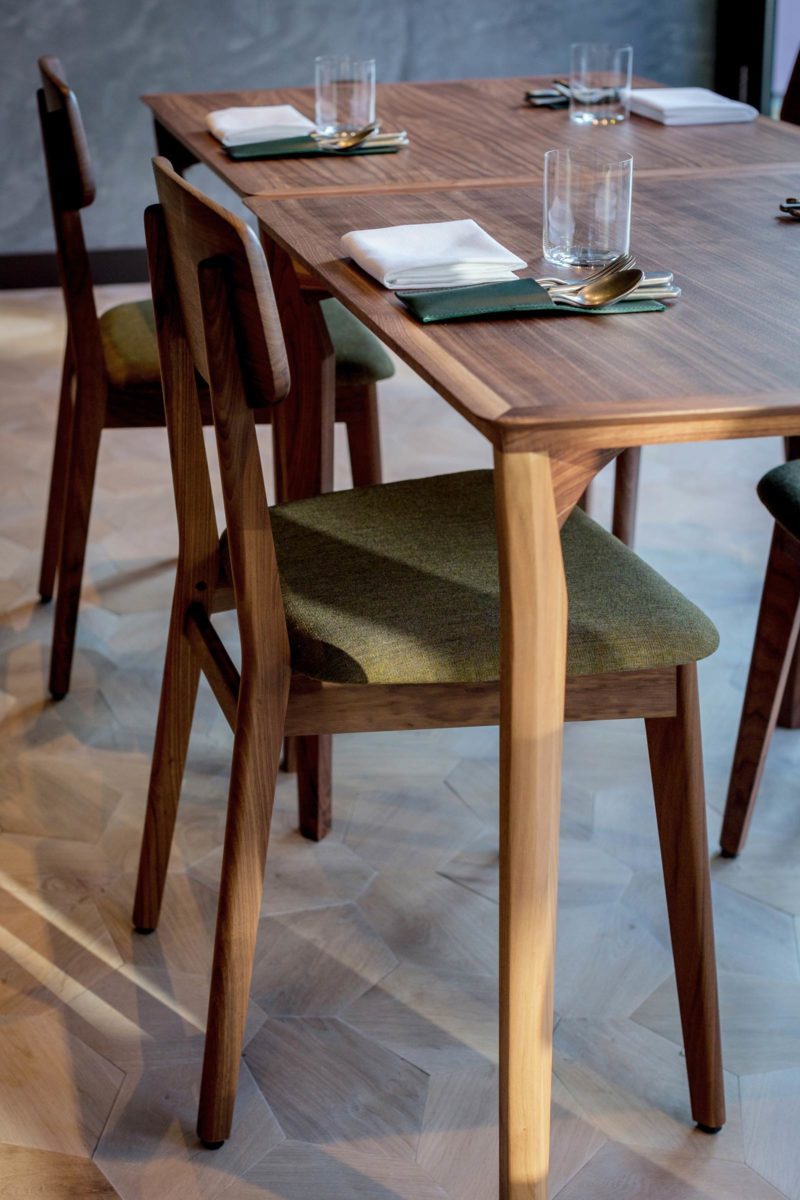 SC: How do you think about the presentation of food?
LC: It keeps changing; we don't have a set formula to present the dishes. I keep saying to the guys, "Do it as you feel like" as long as its okay and it has some dignity. I like to showcase the product, that's it.
SC: What was your approach when thinking about the design of the space?
LC: Rare Studio Design designed the restaurant. As you can see the space is huge – it's 3,000 sq. feet, but since the beginning we said we wanted a space that was very vibrant, with no extra walls apart from the existing ones, because we don't want to divide the room even more. We wanted to create a multi-space that can actually be differentiated by the offering, rather than the physical divisions of it and I think we got there.
SC: Are there any new projects you've got in the works?
LC: The farm probably, that's really going to kick off in the spring. We have this farm next to the Epping Forest as I mentioned, they're going to produce about 80% of our vegetables. But for the next couple months we don't have any projects, this is enough. We just want to focus on the running of the restaurant and see how it goes. However, we want to bring new things into play, so we might start doing Sunday lunch, around different regions in Portugal and showcase lesser known areas together with wines and with music and cultural factors. Sundays are going to be very lively this year.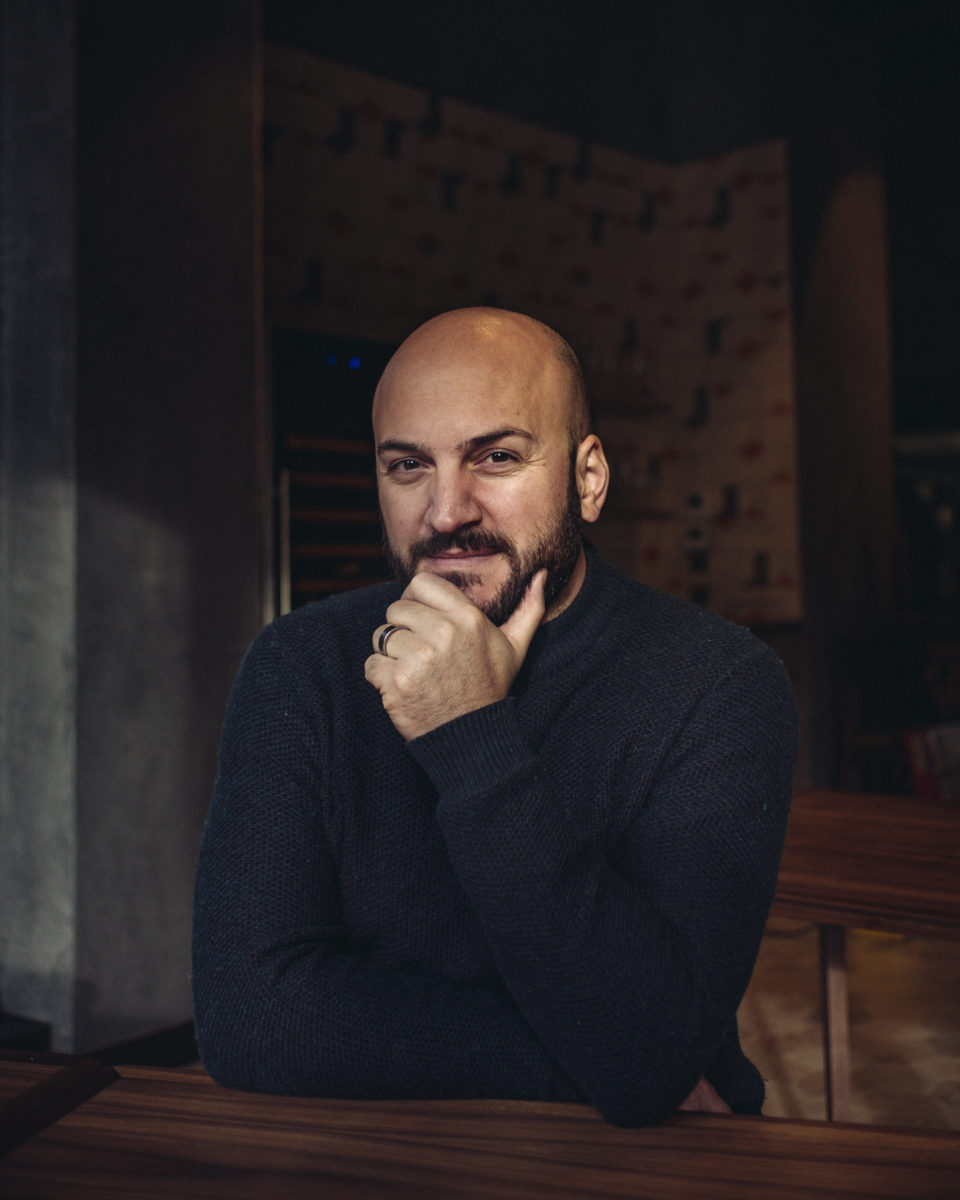 SC: What are you doing when you are not working? 
LC: I go to a lot of restaurants.
SC: What are some of your favourite restaurants in London?
LC: I love Lyle's, Black Axe Mangal, Koya, Hoppers, Laughing Heart, Noble Rot, The Marksman, among others.
SC: Favourite travel destination?
LC: The Basque Country, I love it there, I go two or three times a year and I would love to go to Asia more.
Photography by Tom Jamieson