SC Guide — Condo London 2018
Condo, conceived by London art dealer Vanessa Carlos, co-founder of Carlos/Ishikawa gallery in Whitechapel, launched its inaugural edition in January 2016. For the 2018 edition, which opens on January 13 and runs until February 10, nineteen London galleries will work together to host 27 out-of-towners, from cities as widespread as Porto, Guatemala City, and Tokyo.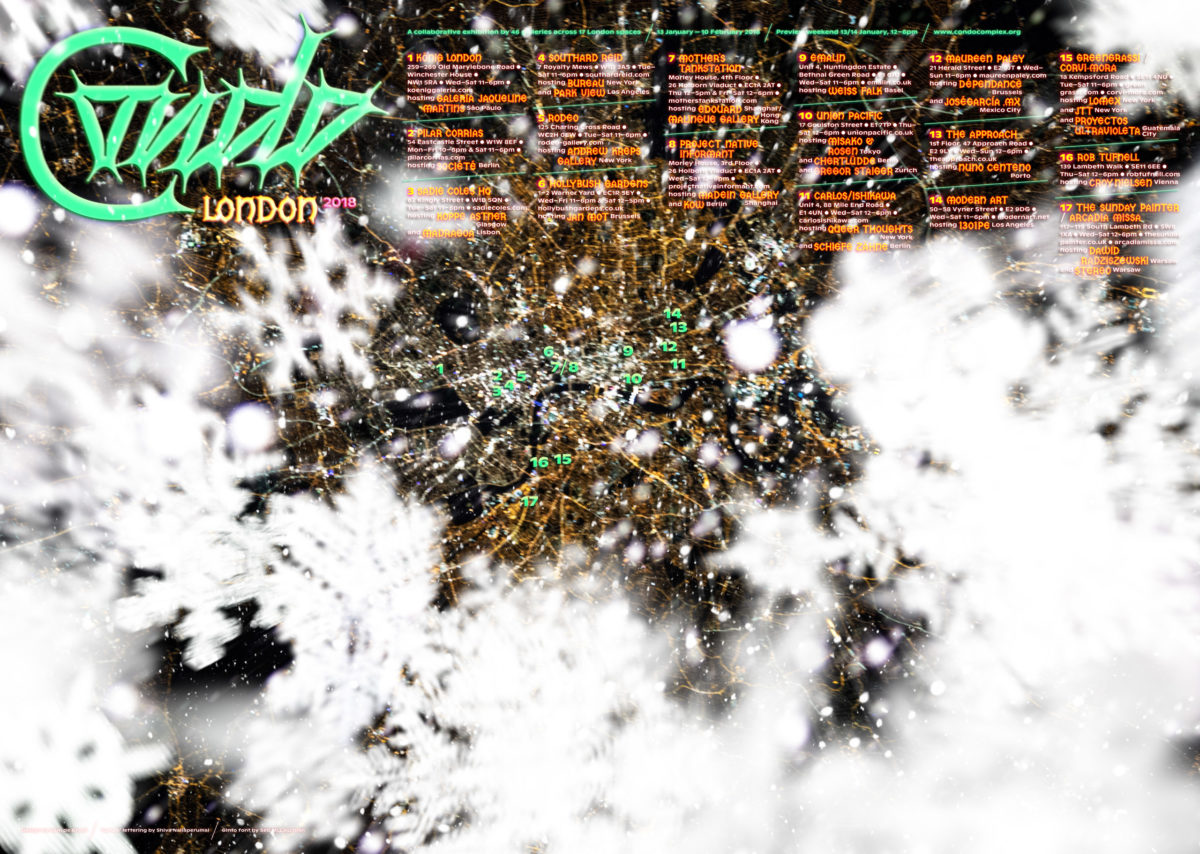 The proposal offers an intelligent solution for galleries keen to present their artists to a wider public, when the costs of participating in art fairs are immense and sales remain erratic. Her idea involves local galleries lending their spaces for a month to foreign dealers to stage collaborative exhibitions, showcasing artists from both rosters. The project is not positioned as an alternative to art fairs, but rather, as a new structure enabling galleries of a similar size to unite to promote their artists and maximise on combined resources.
This year, among the busy roster of shows, Project Native Informant will host KOW Berlin and MadeIn Shanghai. In the three channel video installation Forerunners, London-based Shen Xin uncovers the contemporary revival of eugenics via DNA testing platforms like 23&Me, which link genetics with racial identity and health. Berlin-based Tobias Zielony's new work produced in Ukraine between 2016-2017 focuses on the underground queer and techno scene in Kyiv in the aftermath of Euromaidan and the 2014 Revolution. And the paintings of Ned Vena depict blurred images of the artist's tattoos taken with his iPhone.
Dawid Radziszewski and Stereo, both Warsaw-based galleries, will be hosted by The Sunday Painter and Arcadia Missa. Dawid Radziszewski presents works created in collaboration between two artists, Alicja Kowalska and Tomasz Kowalski. Alicja, mother to Tomasz, produced the exhibited tapestries based on her son's designs.
Among the artists showcased at Southard Reid, playing host to Bureau, New York and Park View, LA, is American photographer Erica Baum. Baum directs her camera into the partially opened pages of stipple-edged paperbacks from the 1960s and '70s, capturing slivers of image and text separated by the vertical striations of adjacent pages' brightly dyed edges. Although the compositions are each the result of a single, unaltered photograph, they operate visually as collages and veer toward abstraction.
See below for the full list of participants in Condo London 2018:
König London hosting Galeria Jaqueline Martins (São Paulo)
259 Old Marylebone Rd, London NW1 5RA
Pilar Corrias hosting Société (Berlin)
54 Eastcastle St, Fitzrovia, London W1W 8E
Sadie Coles HQ hosting Koppe Astner (Glasgow) and Madragoa (Lisbon)
1 Davies St, Mayfair, London W1K 3DB
Southard Reid hosting Bureau (New York) and Park View (Los Angeles)
7 Royalty Mews, Soho, London W1D 3AS
Rodeo hosting Andrew Kreps Gallery (New York)
125 Charing Cross Rd, London WC2H 0EW
Hollybush Gardens hosting Jan Mot (Brussels)
Hollybush Gardens, London E2 9QT
Mother's Tankstation hosting Edouard Malingue Gallery (Shanghai and Hong Kong)
26 Holborn Viaduct, London EC1A 2AT
Project Native Informant hosting MadeIn Gallery (Shanghai) and KOW (Berlin)
Morley House, 26 Holborn Viaduct, London EC1A 2AT
Emalin hosting Weiss Falk (Basel)
Unit 4, Huntingdon Estate, Bethnal Green Road, London E1 6JU
Union Pacific hosting Misako & Rosen (Tokyo), Chertlüdde (Berlin), and Gregor Staiger (Zurich)
17 Goulston St, London E1 7TP
Carlos/Ishikawa hosting Queer Thoughts (New York) and Schiefe Zähne (Berlin)
4, 88 Mile End Rd, London E1 4UN
Maureen Paley hosting dépendance (Brussels) and joségarcía ,mx (Mexico City)
21 Herald St, London E2 6JT
The Approach hosting Nuno Centeno (Porto)
1st Floor, 47 Approach Rd, London E2 9LY
Modern Art hosting 1301PE (Los Angeles)
4-8 Helmet Row, London EC1V 3QJ
Greengrassi/Corvi-Mora hosting Lomex (New York), JTT (New York), and Proyectos Ultravioleta (Guatemala City)
1A Kempsford Rd, Lambeth, London SE11 4NU
Rob Tufnell hosting Croy Nielsen (Vienna)
139 Lambeth Walk, Lambeth, London SE11
The Sunday Painter/Arcadia Missa hosting Dawid Radziszewski (Warsaw) and Stereo (Warsaw)
117-119 S Lambeth Rd, London SW8 1XA
Feature image: Shen Xin, Forerunners, 2016, Three-channel video installation, 28', Still (via MadeIn Shanghai)