Jordan Wolfson: The Artist Making Subversive Works With Animatronics & VR
Visitors to the Whitney Biennial last year were left feeling stunned and disturbed by a virtual reality installation, entitled "Real Violence". The piece, though preluded by an over-18 age restriction and a warning, invited viewers to don a VR headset and noise-cancelling headphones to watch its creator beat a man to death on a Manhattan street. After being led to a metal railing by a gallery assistant, visitors to the Whitney were shown a disarming clip of the sky, before the action cut to the pavement, where New York-based artist, Jordan Wolfson, switched between beating his victim with a baseball bat and stamping his skull against the pavement. Some viewers removed the headset before the battery had reached its fatal end, whilst others stood transfixed for the full two minutes and 25 seconds, uncomfortably complicit in the attack.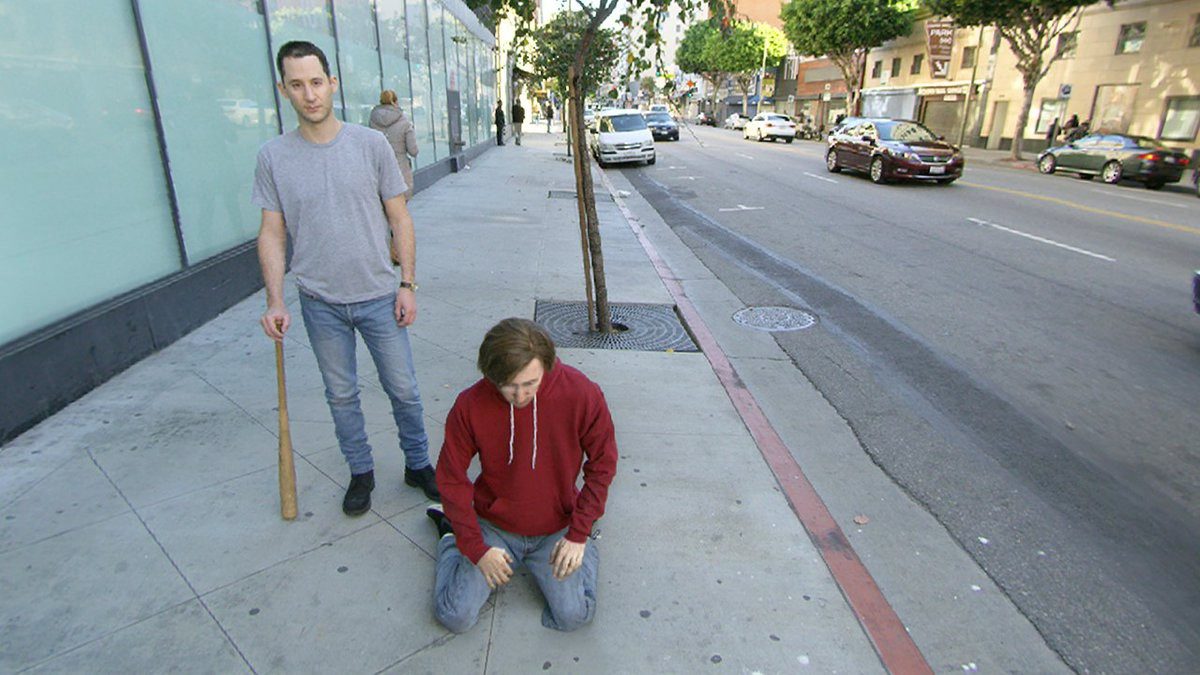 Thankfully, the victim was not "real", but a dummy, animated with CGI in order for it to appear as realistic as possible. Wolfson had practised the attack with stuntmen, but found the outcome disappointingly tame, as he had to restrain himself from actually hurting them.
Wolfson was born in 1980 in New York. In 2003, he received his B.F.A. in sculpture from the Rhode Island School of Design. With a preference for the eerily uncanny, hyperrealistic dummies regularly feature in Wolfson's installations. His 2014 piece, "Female Figure" centres around a scantily-clad, platinum-blonde female robot, wearing a white mini dress, knee-high boots and a green witch-like mask. Covered in black smears, the animatronic dummy looks as if she has been dragged across the ground, or out of underground captivity. She faces a mirror, to which she is attached by a large metal pole through her torso, and dances in a seven minute sequence to a playlist which includes Lady Gaga's "Applause", Paul Simon's "Graceland" and a version of Robin Thicke's "Blurred Lines".
Using motion-sensitive technology, Wolfson's barely-clothed dummy claps eyes with her audience, through the mirror, discomfortingly returning their gaze. The piece raises questions about performativity, as the robot speaks in the male voice of the artist, asking itself, "Now, what shall I tell them?" as it gyrates to the music.
Strangely, it was a visit to Florida's Disney World Resort in 2012 that first inspired Wolfson's preference for animatronics. On seeing a model of then in office Barrack Obama, at the Magic Kingdom's Hall of Presidents, Wolfson claims to have been emotionally affected by the likeness. So compelled was the artist, that he began to send designs to a special effects studio in Los Angeles, where his robots were developed at the cost of half a million dollars.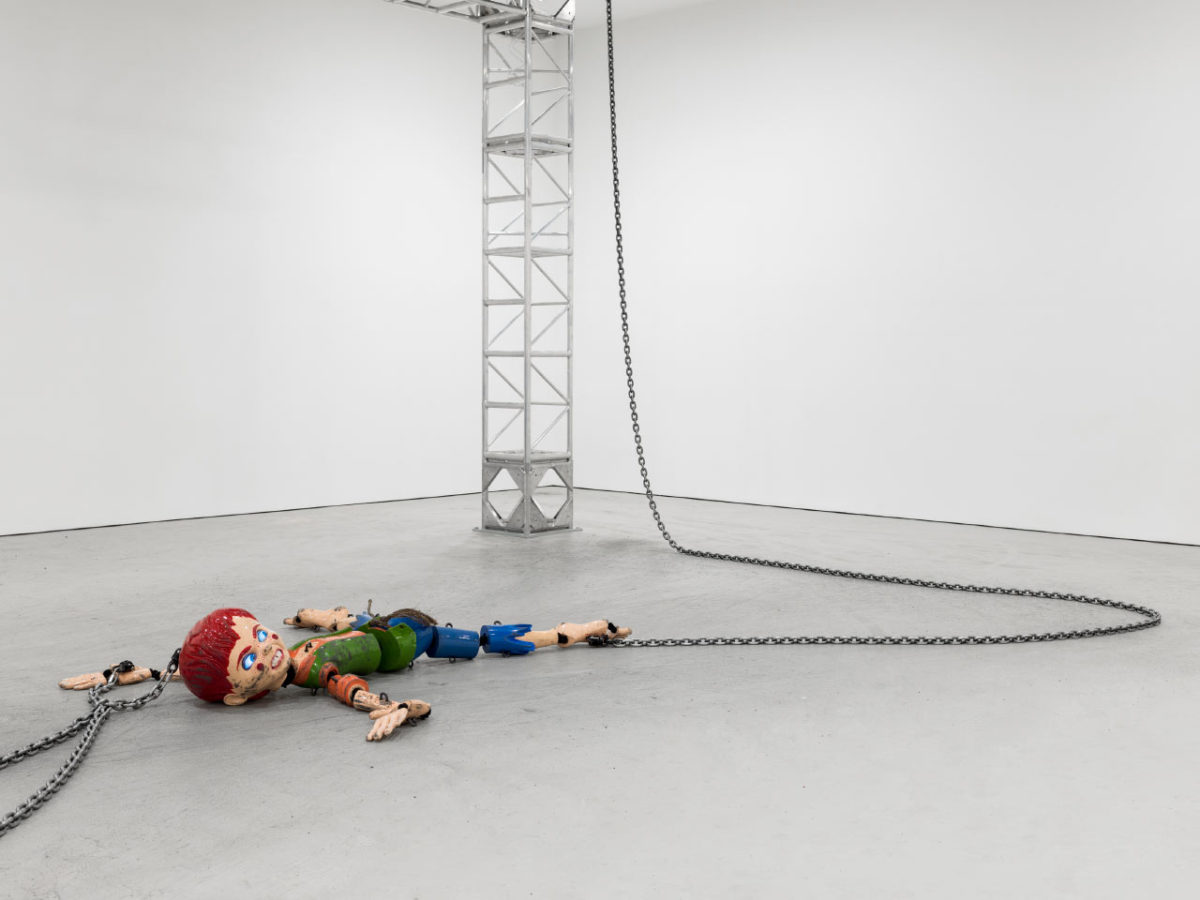 Another of his dummy's, "Coloured Sculpture" (2016), uses animatronics to drag a boy puppet around the room. The puppet's motion is accompanied by the soundtrack of "When A Man Loves A Woman" and the heavy dragging and dropping of the metal chains, from which he hangs. Like in "Female Figure", the dummy seems to make eye contact with its viewers. Visitors simultaneously feel sympathy and fear whilst watching the puppet, which bears a menacing expression, being pulled across the floor. Exposing our uncomfortable voyeuristic desires, Wolfson's art tests the limits of our morbid curiosities and our ability to project of human emotions onto unreal entities.
On his intentions when making art:
"I never set out to make melancholic, sad or violent artwork. I just found that there was a kind of euphoric physical expression one could have when looking at things that carried a certain kind of movement, a certain type of spectacle." – Kaleidoscope, 2016
On his trip to Disney World:
"I saw an animatronic version of President Obama, and I was floored. He was moving his hands—and the physicality drove me crazy. I wanted that inside my work." – W Magazine, 2014
On his critics:
"People can say what they want. I'm going to keep doing what I'm doing." – Interview, 2012
Words by Niamh Leonard-Bedwell | Feature image: Female Figure, Jordan Wolfson, film still (via David Zwirner)