Interview: In The Studio With John Booth
British illustrator and multidisciplinary artist John Booth works across a breadth of media, including painting, printmaking, ceramics and woodwork. Having recently collaborated with Roman fashion house Fendi, producing artwork featured throughout the label's past two menswear seasons, Booth studied at London's Central Saint Martins, where he later went onto lecture for a time. His emotive ceramics, which often take the form of faces, have become somewhat of a signature of the artist's. Something Curated met with Booth at his east London studio to learn more about his work, influences and upcoming projects.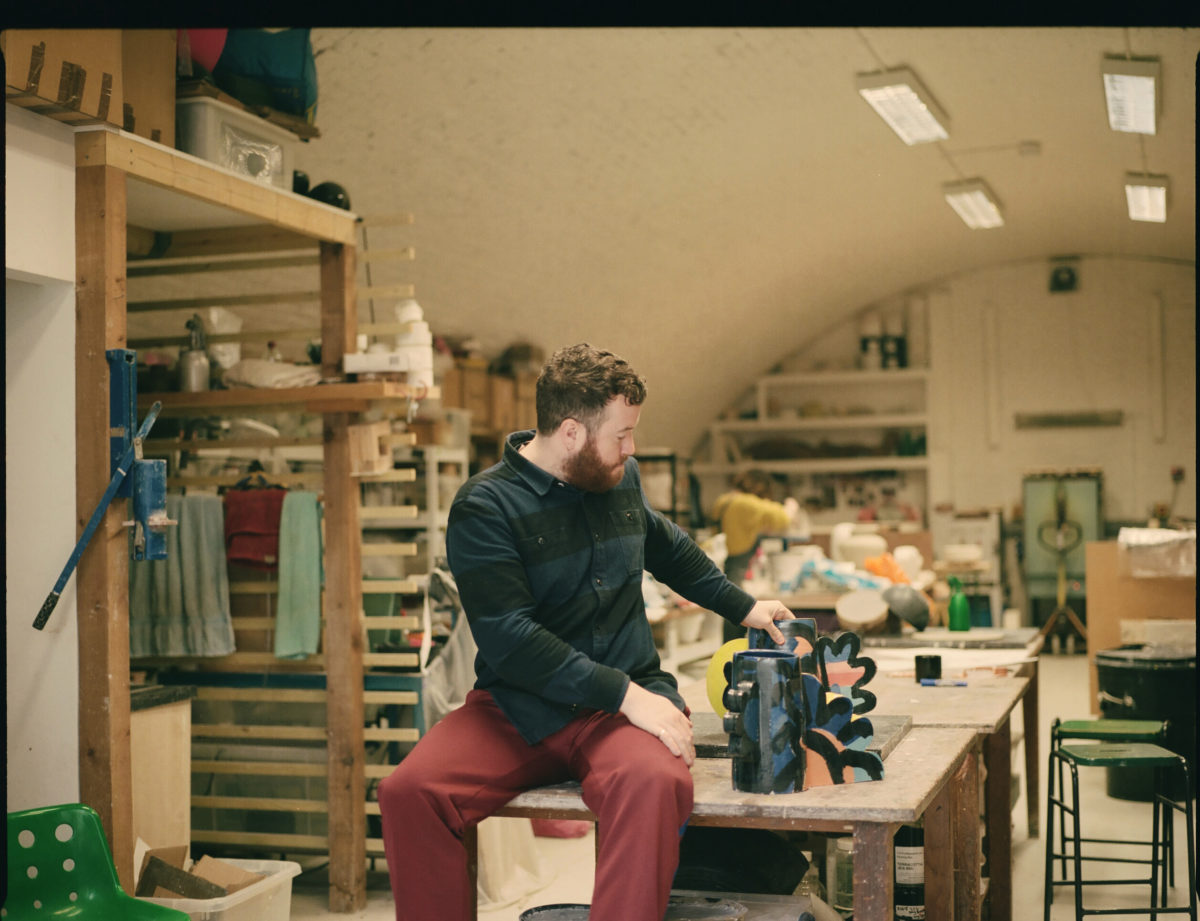 Something Curated: Could you tell us a little bit about your background and how you got into this field? 
John Booth: I've always done drawing and collaging, playing around with materials. Even as a kid, I had loads of art materials. My parents could see that I was interested in it, so they didn't push me into it, but they supported it and I think where I grew up in the Lake District, there is a sort of tradition for arts and crafts. So a lot of my schools would lean towards being quite creative. I didn't feel limited, ever.
I later studied Fashion Print at Saint Martins, from 2005-09, and that was really good. I do think that was pivotal for me. Everything was hand-done, so it was all about drawing, and I think that forms the basis of all my practice really – working with my hands. Even though that course was fashion-related, it felt really open. You could make stuff, or you were encouraged to make other things that weren't just fashion.
So, for every project, I also made some sort of jewellery piece, or accessory that went alongside it that I almost enjoyed more than the clothing part. I liked working with hardware, or working with different materials, like wood, to make these sort of extra objects. Even if it was something quite abstract, it went alongside the clothing. I think when it comes to fashion, I really look up to people when they consider the full look, so they're styling it themselves. When I was a student, I worked for John Galliano; he obviously never had an external stylist and I really liked the way that he thought of the whole look. Maybe seeing him do that influenced me.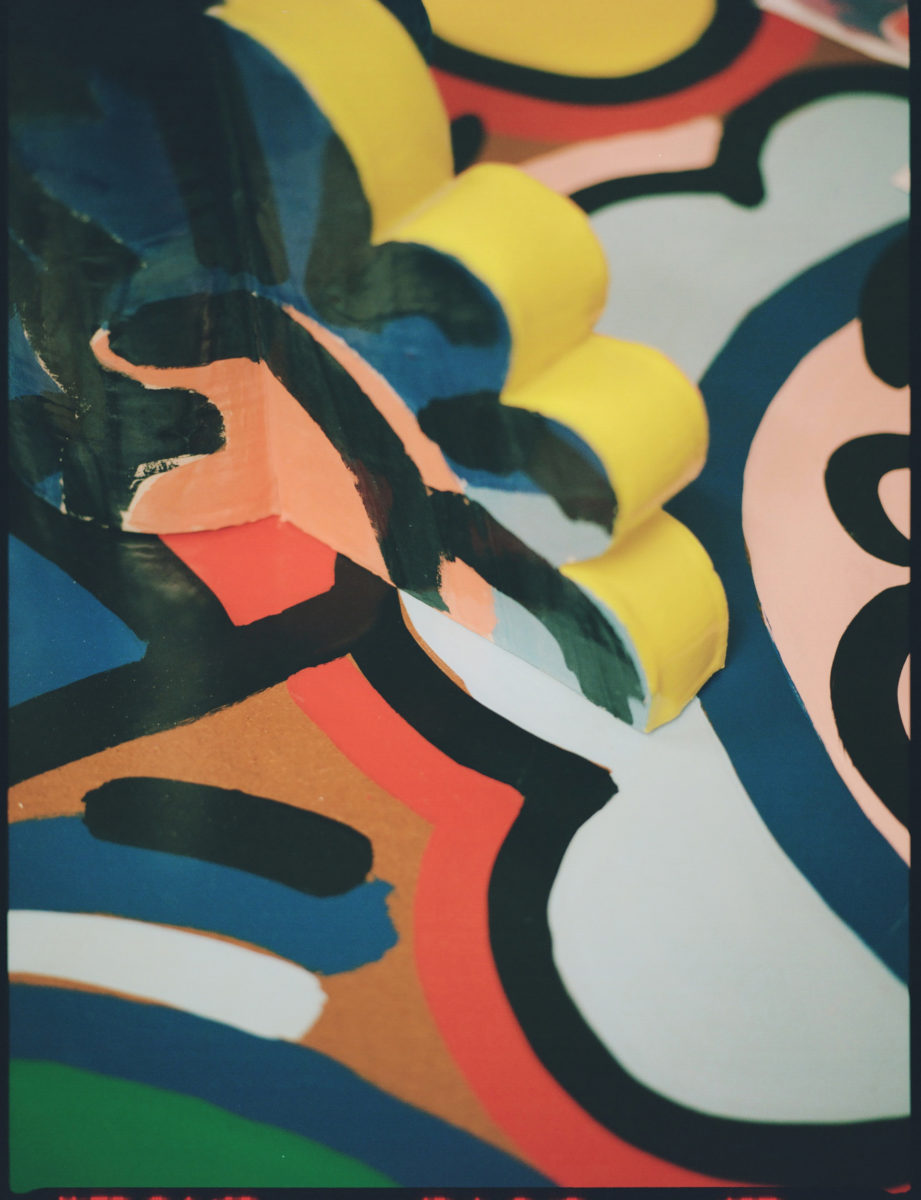 SC: When you came out of school, was there a point that you were making clothes or did you transition to illustration straight away?
JB: It was never really clothing, it was more like accessories – I did this set of rubber pieces for Selfridges early on, which was quite fun. It was always about working with different materials and different fabrics. My first job in fashion was with Ashish, you know, the sequinned-guy. I went to see his show last night. That was my first actual job in fashion, and I really liked that; I designed prints with him for a few years.
SC: In your bio, how would you describe your role?
JB: It's tricky isn't it? Because people do struggle with what it is. Illustrator? Ceramicist? Artist? I don't know. I'm not sure. I'm scared of saying the word artist.
SC: Are there any artists or other influences that have had a particularly strong impact on your work?
JB: I guess that's reflected in my interests. I do look at lots of fine artists and architects, but I'm constantly finding new resources. I found a really nice book recently that was all about playgrounds, which is great. I really love Matt Connors, in New York – I love the colours in his paintings. It's funny, sometimes people influence your work in a sort of, maybe a more subconscious way, but sometimes you look at people's work and you can see an obvious link between their work and yours. But, I think, often, when it comes to artists, I like their work because I would want one of their pieces in my house. I like Betty Woodman, who passed away recently.
SC: Have you always been drawn to working with colour? Interestingly, even though you use a lot of them, your palette remains recognisable.
JB: That's nice to hear. It's nice to know that it's recognisable because I don't really see that. I think I've always been really into it, and there are definitely things that have carried on throughout the years: lots of red and the pink. Funnily, the table here, which I made for my friends' restaurant, looks a bit like a piece I made for my GCSE artwork, but I didn't even think about it, that wasn't in my head. It was an old friend who saw it and pointed it out.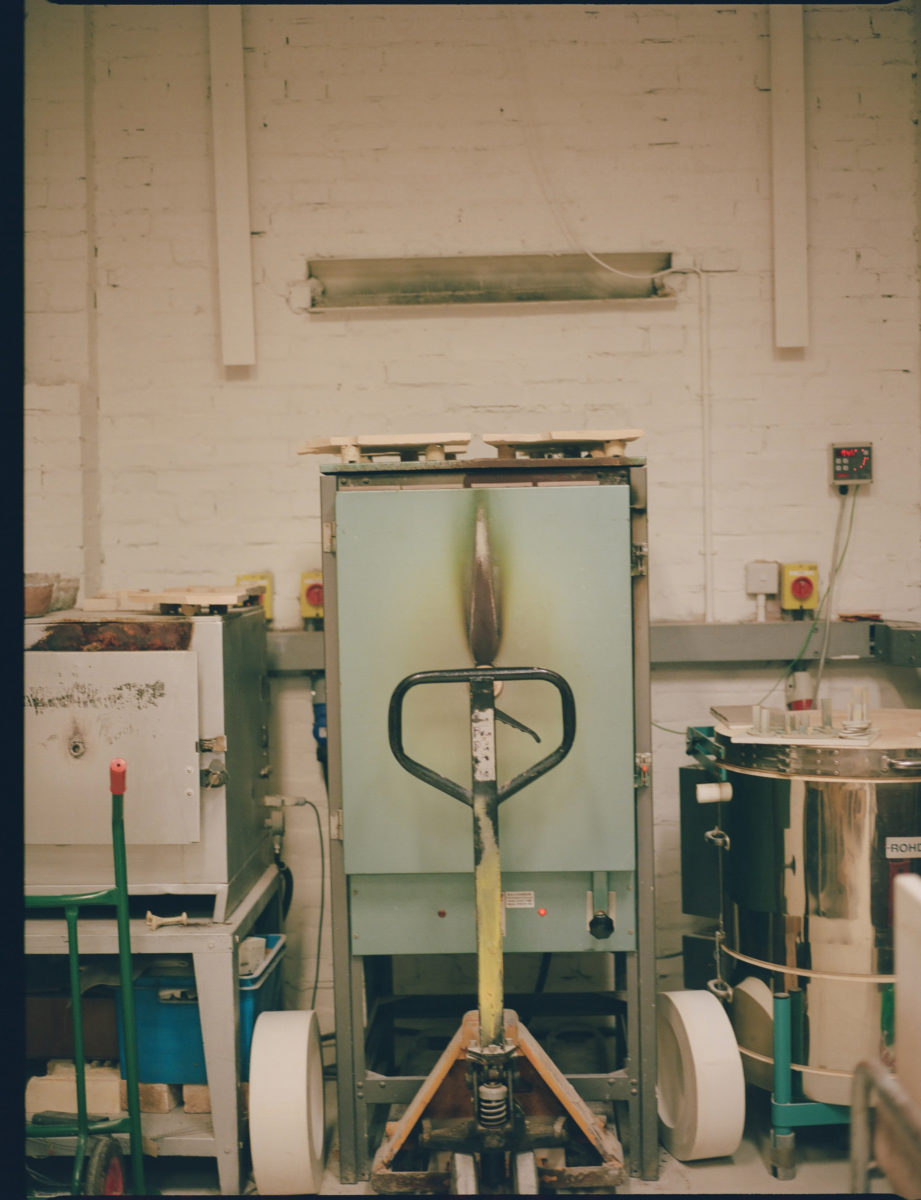 SC: You mentioned the table – is furniture something you are interested in exploring further?
JB: Yeah, definitely. I like the idea of say a ceramic tiled tabletop that still has the relationship to what I've done in all of the other areas, but could be something functional. It's not about something being totally functional, because I think a lot of my work focuses a lot on decoration and colour, but I like with the vases that you can put flowers in them, but I like them without flowers in them as well.
SC: How did your collaboration with Fendi come about?
JB: They reached out. My friend, or sort of work-acquaintance Julian Ganio was consulting for them and I'd done some projects with him for Fantastic Man. And Silvia Fendi had said something about wanting new graphics for t-shirts and things and then, I did some work for them quickly and that was just for one season and then next season they asked me back to come and actually work in-house with them, so that was really good. And then I did another season after that. It's funny because you never know how it's going to turn out.
SC: Are there any people you're interested in collaborating with currently?
JB: There are, but it's something that unfolds over time. Sometimes I might see a collection, or people doing something that I could relate to that maybe I hadn't thought about before, so it's an on-going thing. I really like Paul Smith.
SC: When did you discover ceramics?
JB: I guess it was sort of summer 2015, so coming up to three years ago, and I did an evening class in it, because I'd kept noticing more and more ceramics, just generally and then it seemed like a no-brainer. I felt I could actually make the drawings 3D, or make it in a more permanent material.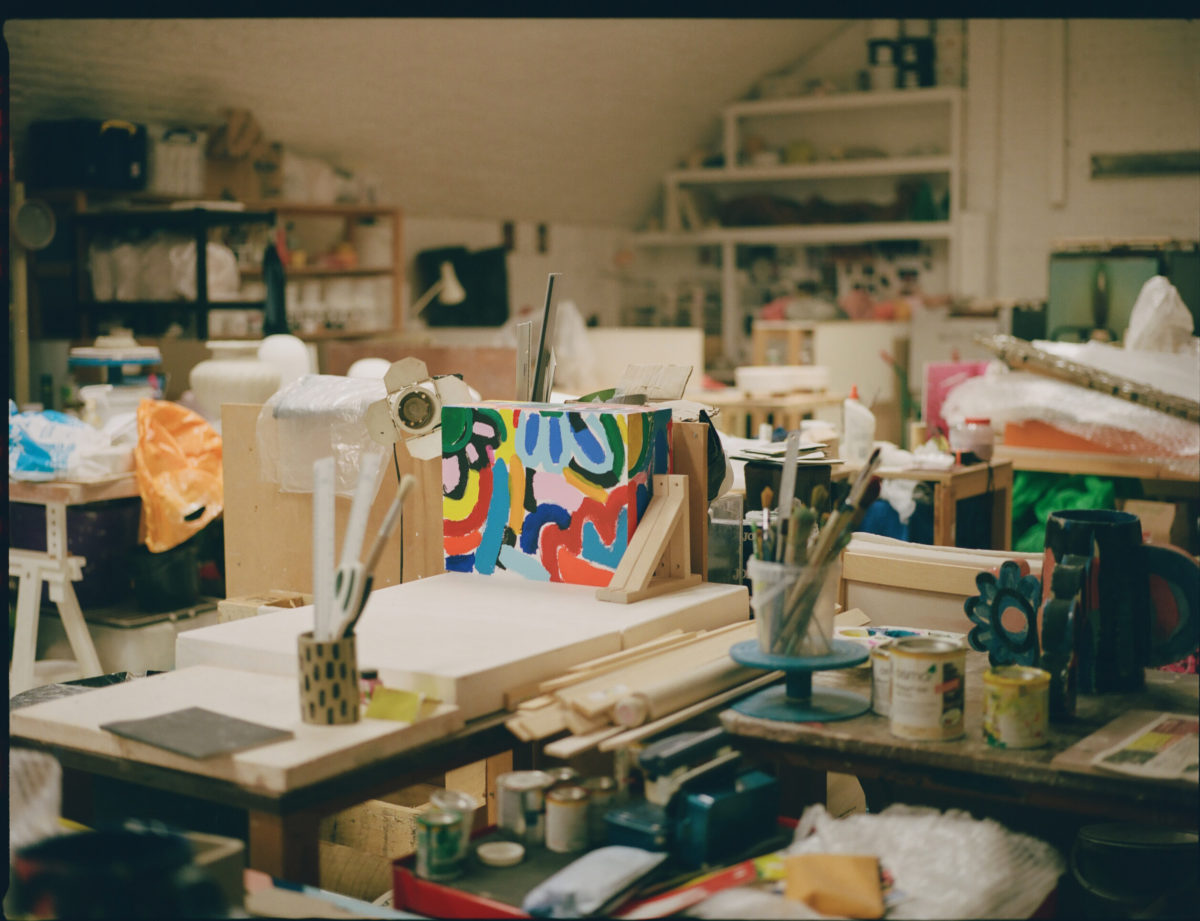 SC: I noticed that one of your vases was named 'Love's Easy Tears'. Is music an influence on your work?
JB: Yeah, definitely. That's a Cocteau Twins song and I really like The Cocteau Twins. That's quite a funny sort of tongue-in-cheek thing as well, because, I think, with the head vases they look quite sad as well a lot of the time. People quite like to attach an emotion to them, but I guess there is an emotion involved with the work.
SC: Are there any other materials that you're looking to move into?
JB: Wood. I've recently been using coloured Osmo wood stain in my work – I did an edition for The Wrong Shop. It's quite a hefty piece. It was this idea of, how could we do something that has a hand-done feel? I did the prototype that was just slats of wood that I had cut to the two different dimensions. I do see a link with that, because in the past I had done some sort of hand-painted checks or tartans, so it was almost this idea of creating a checked pattern, but with slats of wood that also have colour on, but then hand-nailed together with brass nails.
SC: I read that you're interested in bringing your products to a mass market – is this something you're working towards?
JB: Potentially, yeah. It would be nice. Somebody used the word "industrialise" what you do. I'm not talking about pumping out billions of objects, but at the minute, I'm speaking to my studio mate about cups and how do we make a cup that's easy to reproduce, but still has that sort of feel that it comes from the studio.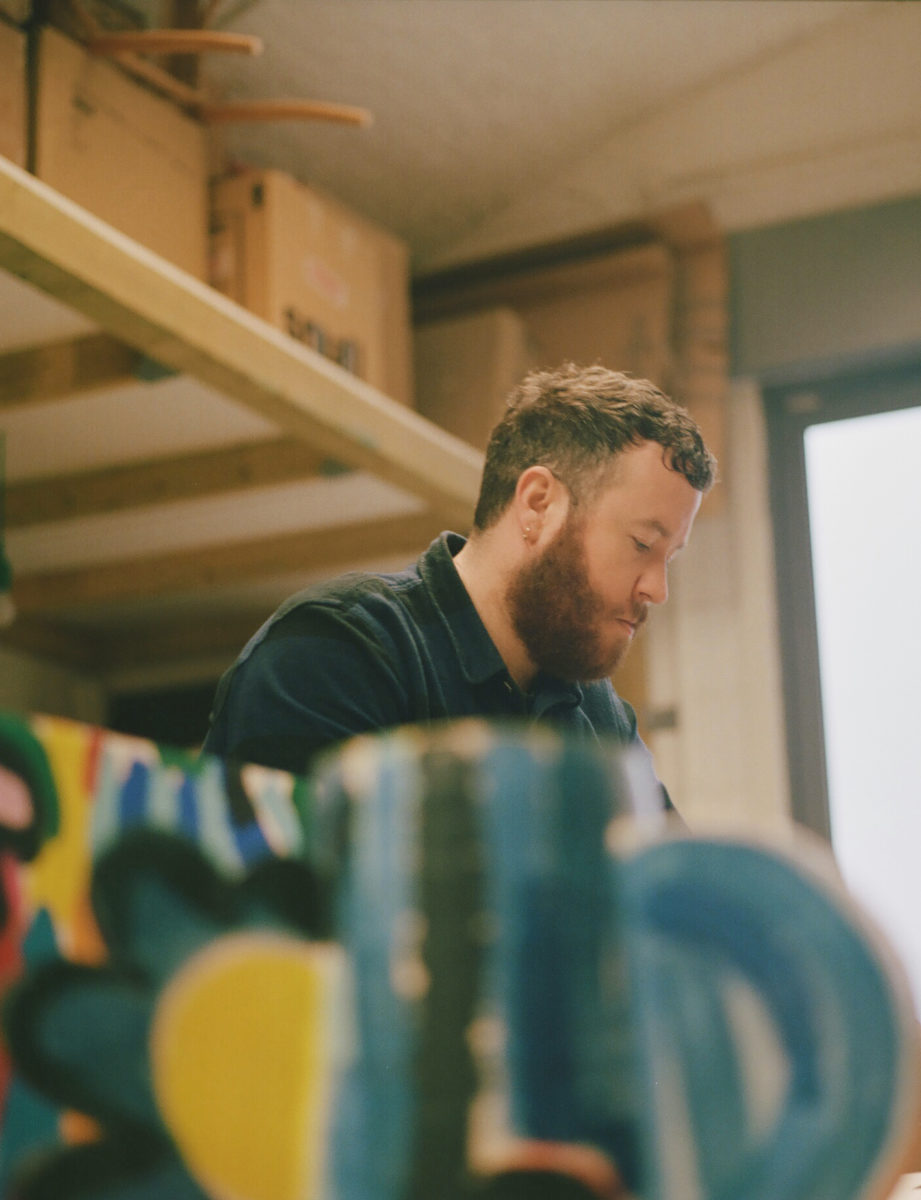 SC: Do you ever hit creative blocks?
JB: There are definitely times when you're distracted and you're not in the mood and sometimes I'm quite hard on myself, I think if something takes ages. That table was so slow and laborious. But then I think when you work for yourself, you're quite harsh on yourself in terms of time, but then, in retrospect, a few weeks later, you think, "that was nothing." But whilst you're doing it, you're thinking, "this is slow", or it feels like you're not being productive. Overall, I would say that I'm pretty prolific, but it's not like you set out to be prolific, you just want to make work.
SC: Do you exhibit your work in a fine art gallery context?
JB: No, I've never really done that. I would really like to. People ask about that quite a lot, but it's like I said, the whole "art" thing, I struggle a bit with it. I guess my connection with Voltaire is the nearest thing I've gotten to in terms of being involved with a gallery, but I don't show my work formally through Studio Voltaire – I work with their retail outlet, House of Voltaire. But they want to do something this year, which they're calling a solo project, so let's see.
SC: Is there a particular project you've worked on that's been the most memorable or seminal in your career thus far?
JB: I'm going to say Fendi. I had a lot of freedom and a lot of influence on what they did and it was so nice to have people reproduce the work in such a loving way – it's like they really took pride in replicating the artworks and thinking about how they could use it. But, also, my involvement with Voltaire, I really like – that's an on-going thing and they've supported my work a lot, so I'm really thankful to them for that.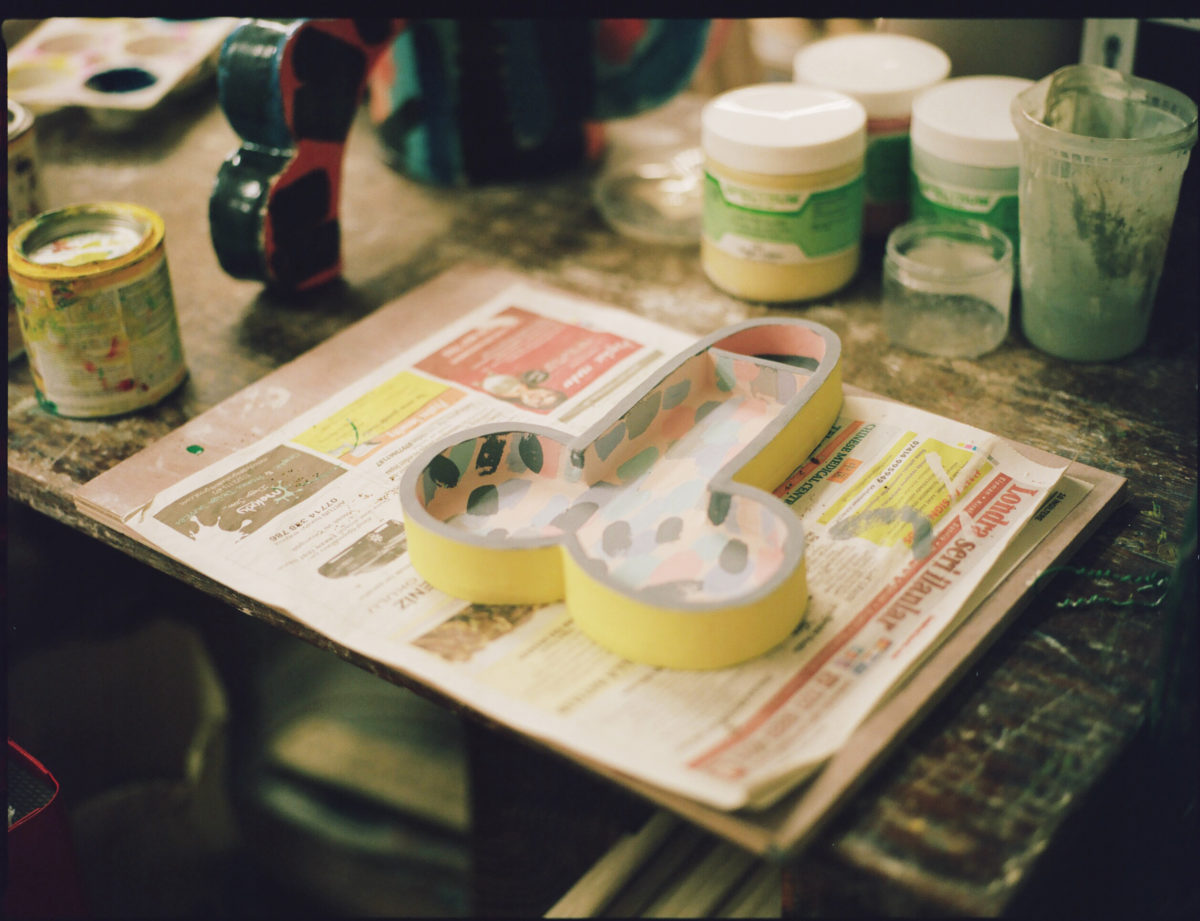 SC: Is there a particular area of London that you find the most interesting, or you feel most at home in?
JB: I really like Hampstead, because I really like the amount of red brick there. I loved visiting Willow Road – have you been to the Goldfinger house? It's really nice. It's a National Trust house. I really like Camden Arts Centre – I think that's such a nice place and I think they always have really good exhibitions. I just went to see the Giorgio Griffa one. I love east, obviously, but I've lived here for a long time and it's where I like working, but, I think, to visit a new part of town, it'd be Hampstead.
SC: Do you have a favourite restaurant in London? 
JB: I like being in Bistrotheque. I like Spuntino in Soho.
SC: Do you have a studio uniform, or are there any designers that you like to wear?
JB: They have to be two separate things, because I keep ruining nice clothes. The stuff I wear is really gross. I just wear old track pants. I really like Dries Van Noten and Acne, but I have to be so disciplined not to wear nice stuff to the studio, because it gets really ruined.
SC: What are you currently reading?
JB: I've got the Keith Haring journal on the go at the minute. I'm dying to read Chroma by Derek Jarman, that's next, but I need to finish one before I start another, because you could just have endless ones on the go. I've got to be super honest, I used to read a lot more, but the more work I do, at the end of the day, I just want to not think. I like watching First Dates.
Interview by Keshav Anand | Photography by Ana Cuba