Christo & Jeanne-Claude: Masters Of Nouveau Réalisme
Christo's early education in Soviet Socialist Realism, and his experience as a refugee of political revolution, are influences firmly embedded in the artist's practice.His 35-year long collaboration with partner, artist Jeanne-Claude, and the large-scale site-specific works they created together, continue to be celebrated and immensely influential. The pair are feted for their ambitious sculptural works which intervene in urban and natural landscapes around the world, temporarily altering both the physical form and visual appearances of sites.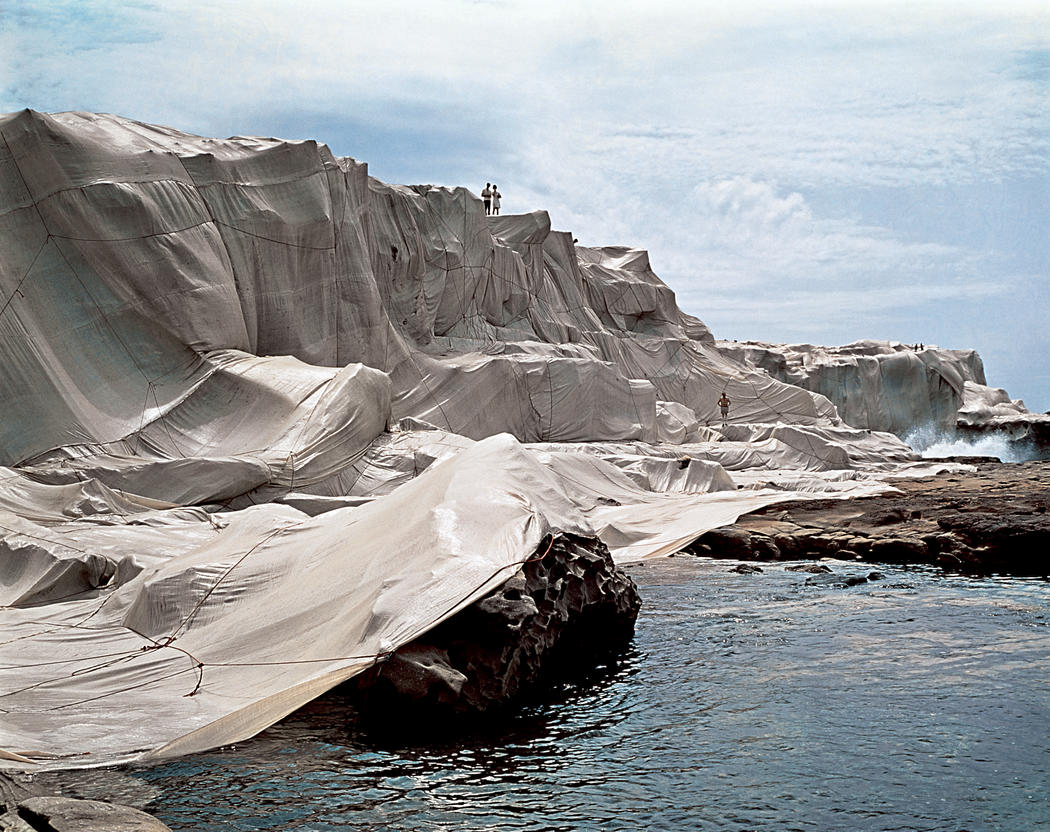 Together, the duo created monumentally-scaled sculptures and installations which often utilised the technique of draping or wrapping large portions of existing landscapes, buildings, and industrial objects with specially engineered fabric. Jeanne-Claude passed away in November 2009 in New York, and Christo continues to make work under both the artists' names. From 19 June this summer, in London, the Serpentine Galleries presents a major exhibition of the artists' work. Christo will present The Mastaba, a temporary floating sculpture on The Serpentine lake, alongside the galleries programme.
Born Christo Vladimirov Javacheff in Gabrovo, Bulgaria, the artist met Jeanne-Claude Marie Denat while living in Paris. Interestingly, she was born on the same day as her partner, June 13 1935, in Casablanca, Morocco. Jeanne-Claude graduated with a degree in Latin and philosophy from the University of Tunis, while Christo studied at the National Academy of Art in Sofia. The pair migrated to New York in 1964, where Christo continues to work, creating retail displays to help fund their early artistic collaborations. Over the following decades, the collaborators gained a burgeoning reputation through international projects and their participation in documenta 4.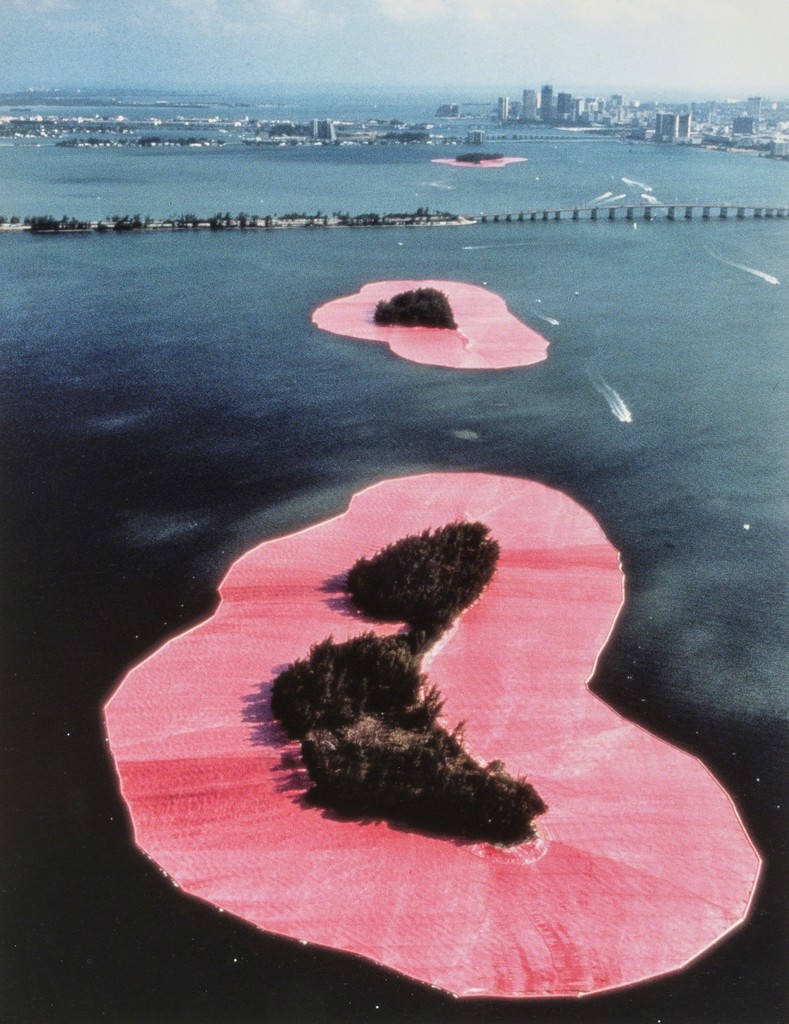 Often referred to as part of the Nouveau Réalisme movement, the artists' temporary textile interventions required dedicated planning and execution through detailed drawings. "We wish to create works of art, works of joy and of beauty," Jeanne-Claude has said. "As with every true work of art, it has absolutely no purpose whatsoever: it is not a message, it is not a symbol, it is only a work of art. And like every true artist, we create those works of art for us and our collaborators."
Some of their most well known works include The Gates in New York's Central Park, Running Fence down the California coast, and Wrapped Coast in Australia. While they often insisted that the aesthetic properties of their art constituted its primary value, reactions from audiences and critics worldwide have long recognised a broader commentary operating across Christo and Jeanne-Claude's work, ranging from issues of environmental degradation, to the history of the 20th century and the Cold War, to the perseverance of democratic and humanist ideals.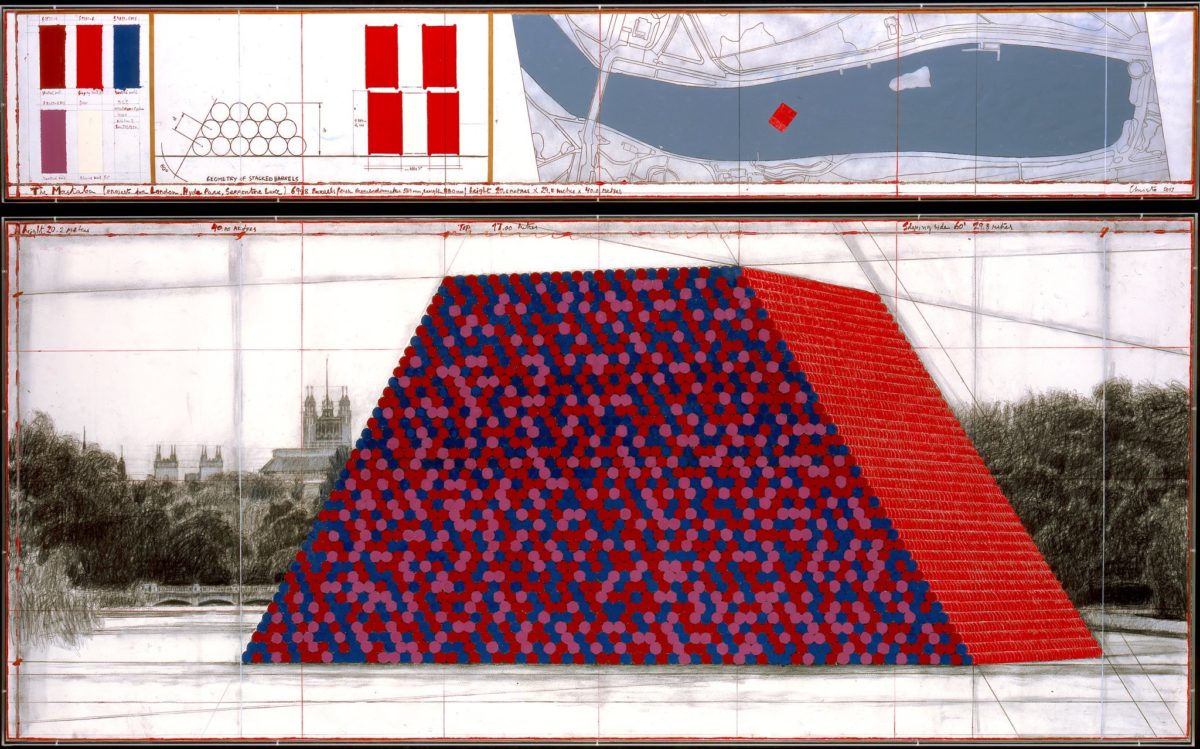 Their work smudges the boundaries of convention and categorisation, in particular the notion of sculpture as a fixed, permanent object. The Mastaba will be Christo's first outdoor, public work in the UK. The Serpentine sculpture and exhibition offer an unprecedented opportunity for visitors to experience Christo and Jeanne-Claude's diverse and rich practice, offering new perspectives on the large-scale, wrapped and fabric-based works for which they are best known. It will also trace the origins of this strand of practice, which began with wrapped paint cans and barrels and the artists' first temporary public installation in Cologne Harbour back in 1961.
On their process:
"In the studio here in New York City, in Manhattan where I am working on the top floor, I put our idea on paper using drawings, collages, scale models, anything… But the work is always decided by life-size tests on a very small section with 1:1 scale. Then when I see them in place, me and our collaborators can choose the right cables, fabric, colors, thickness, weave. And that is done for all the projects. The life-sized test is not decided by me or by her, but it's decided by that consensus with the real light, the real weather, the real site." – Christo, The Talks, 2015
On their approach to taking on new projects:
"You have to understand: we never, never, plan the impossible. It may only appear to be impossible to some people, but we are very realistic. If we start something it is because we believed that it can be done. I remember that many years ago NASA asked us to do something "up there," I did not even ask Christo. I answered, "When you have lots of people up there, call us back." There are projects for which we have worked really hard for a long time and you don't know about them because we have abandoned them. We abandoned them because we lost interest, suddenly we matured and did not feel interested anymore. There were projects that we could see we could not get permission and after a while we lost interest." – Jeanne-Claude, Journal of Contemporary Art
On the practicalities of creating their work, Over the River:
"We already spent $14 million for that project. That's when nothing is built yet—$14 million to get permission. It's so expensive just to conceive a project and that's why C.V.J. Corporation needs to have a cash flow to pay the bills. All the time, bills come from engineers, lawyers, advisors. And as we all know very well, sometimes art galleries and museums are notoriously slow payers. We cannot say to our workers, "We cannot pay you Friday because Mr. Smith, who bought one of our works, hasn't paid yet." I'm the biggest owner of our works of art. We have no gallery. Our principal storage is in Basel, Switzerland." – Christo, Interview, 2014
Christo and Jeanne-Claude: Barrels and The Mastaba 1958–2018 – Serpentine Gallery | 19 June – 9 September 2018
Feature image: Christo & Jeanne-Claude, The Floating Piers, Sulzano, Italy, 2016 (via Pinterest)