NYC's Best Independent Booksellers
The ambassador of the 2018 Independent Bookstore Day and author of Little Fires Everywhere Celeste NG says this on independent bookstores:
"Bookstores aren't just places to buy books; they're the centres of a whole ecosystem of readers, writers, and booksellers, as well as important centres for conversation and community." OR "The common thing I've discovered in [independent bookstores] is that they're full of people who love books and want to help other people find book that they'll love."
Despite the convenience of online shopping and national bookstore chains, independent bookstores and print books are thriving. Successful indie bookstores have demonstrated that in order to complete with large chains, booksellers have to offer something else; that something else often involves community building by hosting regular events, appealing to a niche readership, and offering a curated selection. NYC has an enviable number of bookstores that tick all these boxes and continue to draw crowds (and break even).
Something Curated spent a week perusing NYC's independent bookstores. While this list is far from exhaustive, it will hopefully introduce you to some of the most interesting bookstores in Manhattan and Brooklyn. If you're new to the city, or tend to stick to your regular haunts, it should also help you discover new neighbourhoods, and titles from emerging and established authors and artists. 
McNally Jackson's Independent Booksellers & Cafe
Soho, Manhattan
Soho, 52 Prince St
IG: @mcnallyjackson
On a quieter street off Broadway, McNally Jackson's independent bookseller's sits between a series of small boutique shops and cafes. The shop has two floors and a cafe that serves some solid food options to keep you going between chapters, including good coffee, bagels and pastries. For a small independent bookshop, it has a wide selection of world literature from various regions, including Latin America, the Pacific Islands, Africa, Asia and the Caribbean. It also has a small but well-curated selection of foreign language books, principally in Spanish and French, a myth and letters section, and a good selection of books on art, photography, fashion, feminist literature, history, science and literary criticism. Fiction-wise, their feminist literature section is particularly interesting, as are the staff picks (current recommendations include: Natalia Ginzburg's Family Lexicon, Roberto Bolaño's The Savage Detectives and Whatever Happened to Interracial Love by Kathleen Collins). Aside from books, McNally Jackson's sells a number of independent magazines and journals, including some imported titles like Oh Comely and Little White Lies.
Dashwood Books
Broadway, Manhattan
33 Bond St A, New York, NY 10012
IG: @dashwood_books
Dashwood Books specialises in photography books—those beautifully bound tomes that are only viewed comfortably when rested upon a coffee table. They sell a variety of books by different artists and publishers, though they are also a publisher—they've published work from the likes of Magnum photographer Bruce Gilden and Ryan McGinley, among others. The store regularly hosts book signings. Photo books usually come with a high price tag, but here bargains can be found in their bin sale.
Three Lives & Company
Greenwich Village, Manhattan
154 W 10th St New York, NY 10014 b/t S 7th Ave & Waverly Pl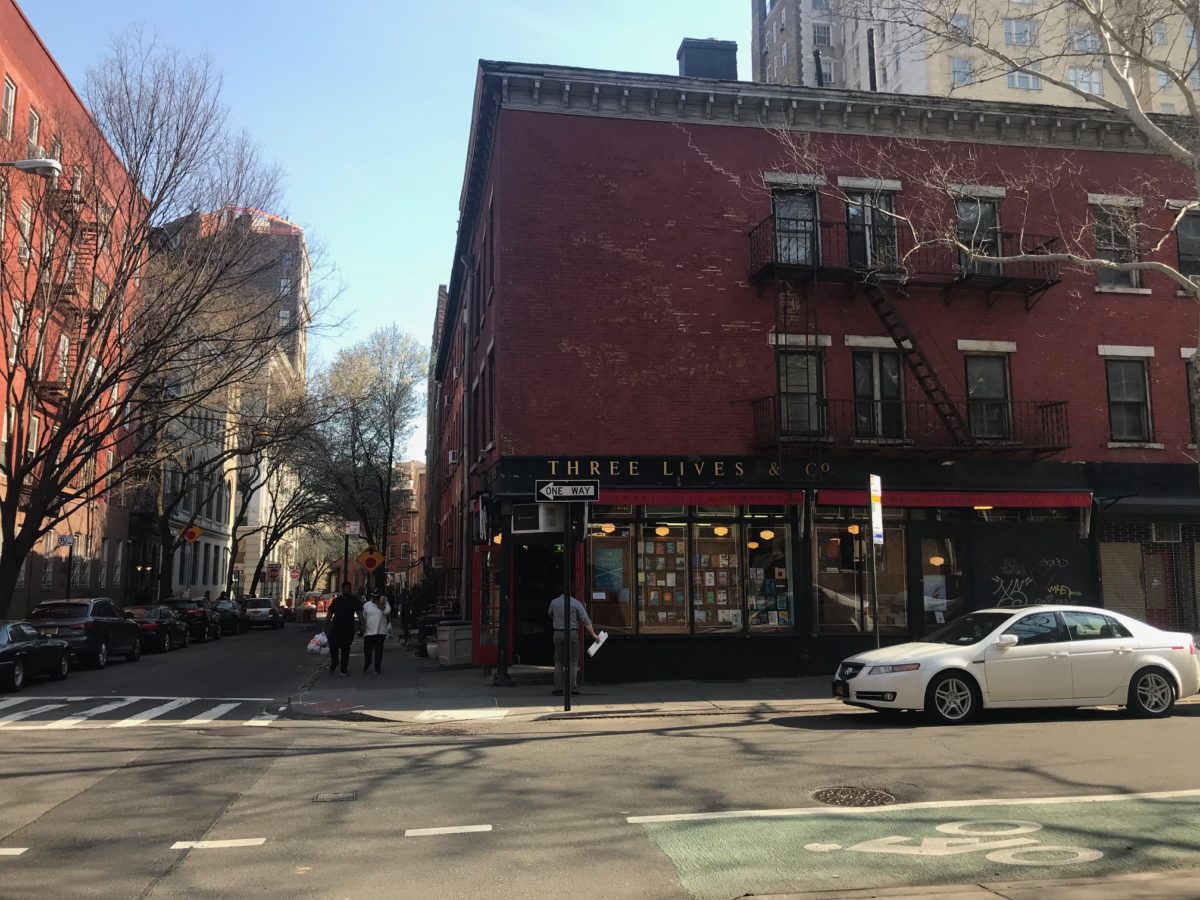 "One of the greatest bookstores on the face of the Earth," said Michael Cunningham, 1999 recipient of the Pulitzer Prize for literature, when talking about Three Lives & Company. It is located in the historic Greenwich village, a part of NYC that could almost be Europe, with its brownstone buildings and winding streets. Three Lives & Company may be small, but it has an incredibly well-curated selection of fiction and non-fiction titles, and emphasises that quality is more important than quantity. All the staff are incredibly knowledgable about their collection and are happy to recommend new reads.
Bookmarc
West Village, Manhattan
400 Bleecker St, New York, NY 10014, USA
IG: @thebookmarc
A project conceived by American fashion designer Marc Jacobs, Bookmarc offers a highly curated selection of books mainly on fashion, fine art, film and photography in a cosy space in West Village. Expect kitsch and rock n' roll. The majority of the books on display are forward-facing, which makes for some easy browsing and Instagrammable photographs. Alongside art-related books, there are also some literary titles and essays—authors featured include New York residents Joan Didion and Don DeLillo. Also on sale are some miscellaneous Marc Jacobs accessories like wallets and notebooks. There are two other branches in the world, one in Los Angeles, the other in Tokyo.
Blue Stockings
Lower East Side, Manhattan
172 Allen Street New York, NY 10002
IG: @bluestockingsnyc
Blue Stockings is a community-powered radical bookstore which hosts events almost daily. Among their sections they have black studies, gender studies, activism, indigenous studies, environment and food systems, political theory and global justice. Their current bestselling titles I'm told include Freedom is a Constant Struggle by Angela Davis, Bad Feminist by Roxane Gay and Rebecca Solnit's Hope in the Dark. After purchasing a book you can sit and read it in the store's cafe, which is vegan, organic and fair trade.
The Strand
Union Square, Manhattan
828 Broadway, New York, NY 10003
IG: @strandbookstore
The largest independent bookstore on this list, you could be forgiven for assuming this belongs to a chain. The Strand occupies three and a half floors, and its contents spill out onto the surrounding streets. The New York Times call The Strand "the undisputed king of the city's independent bookstores." The store is something of an institution for native New Yorkers, and has appeared in a number of feature films, including Julie and Julia and Remember Me, and was the setting for Joyce Carol Oates' short story Three Girls. Given the store's size, most titles can be found here, both new and used. Among the used books, there are some rare first editions, sometimes signed. The most expensive book in the collection as of June 2017 was a signed copy of James Joyce's Ulysses at $38,000.
Idlewild Books
West Village, Manhattan
170 7th Avenue South, at the corner of Perry Street
IG: @idlewildnyc
Idlewild Books is located in a beautiful, historic part of Manhattan that is reminiscent of the old world. The narrow streets are lined with trees and are often curved at angles. This bookstore reminded me of Daunt Books in London given its travel theme. Idlewild Books is small, but has a good selection of travel guides, atlases and novels that have some connection to a destination. Current bestselling titles include Lauren Elgin's Flâneuse: Women Walk the City in Paris, New York, Tokyo, Venice and London and The New York Times: Footsteps: From Ferrante's Naples to Hammett's San Fransisco, Literary Pilgrimages Around the World. Language classes are also on offer for those interested in picking up Italian, French, Spanish or German for enhancing their travel or reading experience.
MAST BOOKS
East Village, Manhattan
66 Avenue A, New York, NY 10009
IG: @mastbooks
MAST BOOKS is a small but well-curated bookstore in lower east side, Manhattan. I'm drawn in by the minimalist shopfront. It's in a quieter part of town, and there's only one other customer. In the background they're playing Leonard Cohen's Dance Me to the End of Love. The store has a selection of rare, often iconic, second-hand books and first editions on art, photography, cinema and fashion. They also carry some modern literature, poetry and artists' books. For the most part the books are forward-facing, which makes for some easy browsing. A selection of essays and fiction by Joan Didion, a New York resident and author of A Year of Magical Thinking, stands out.
Community Bookstore
Park Slope, Brooklyn
143 7th Ave, Brooklyn, NY 11215
IG: @communitybookstore
Community Bookstore is well-located for those who want to visit Brooklyn's second largest public park, Prospect Park. Like many independents on this list, Community Bookstore is small but has a well-curated selection of books. What really stands out about Community is its impressive calendar of events—there are frequent visitations from high profile authors. Recent visiting authors include Jhumpa Lahiri, Leïla Slimani, Colm Tóibín and Paul Auster. There are usually signed books leftover from events, and don't miss the small selection of rare first edition books. You may be greeted by the friendly shop cat.
Quimby's Bookstore NYC
536 Metropolitan Avenue, Brooklyn, NY 11211
IG: @quimbysbookstorenyc
Quimby's has a slightly eccentric feel to it—a taxidermy display greets you as you enter the shop, while a painting of a demonic goat sits behind the cash desk. Plants hang from the ceiling, and there's a comfortable seat over by the window. There's a small selection of novels, books on punk rock and the kitsch postcards—they stock books by Nadine Gordimer, Jennifer Egan, Chris Kraus and Ursula Le Guin, among others. "We specialise in zines," the owner Steven Svymbersky told Something Curated, "though our bestsellers tend to be novels—I'm currently out of The Underground Railroad by Colson Whitehead, and many customers come in to buy The Female Persuasion by Meg Wolitzer. People also come for our books by local writers and publishers, including poetry from The Operating System and Literally Show Me a Healthy Person by Darcie Wilder." There is also a small but well-curated selection of art and photography books.
Desert Island
540 Metropolitan Ave, Brooklyn, NY 11211
IG: @desertislandcomics
You don't have to venture far from Quimby's to find yourself in Desert Island—this inconspicuous comic bookstore is actually just next door. Inconspicuous because 'and comic booklets' was added as an afterthought to an old vintage sign that reads 'Sparacino's bakery: Italian French Sicilian Bread'. Inside it is quite the opposite, with its homemade chandelier, bold wallpaper and colourful selection of comic books and zines. Desert Island is small, but stocks everything from vintage comics to regular serials. Alongside well-known artists such as Scott Snyder, Robert Kirkman, Junji Ito and Art Spiegemen, the shop sells books and zines by independent artists, making this a great place to discover emerging talents. It also offers an eclectic selection of vintage comics, postcards, illustrated kid's books and art books.
Books Are Magic
Cobble Hill, Brooklyn
719, 225 Smith St, Brooklyn, NY 11231
IG: @booksaremagicbk
Founded by the novelist Emma Straub, Books are Magic is a recent addition to Brooklyn's Cobble Hill neighbourhood and is another bookstore which seems to work hard to bring together the local community. The space is bright and open. For its size, there's a large young adult and children's section, complete with a hidey hole soft play carpet and beanbags on the floor. The store hosts some interesting events—Colson Whitehead recently discussed his bestseller The Underground Railroad. At the time of writing, Books are Magic has signed copies of Samantha Irby's Meaty and How to Write by Alexander Chee. The staff picks are always interesting and varied—currently featured are Caitlin Doughty's Smoke Gets in Your Eyes and Becoming Uncoming by Una, among other titles.
Feature image: Photographer NOBUYOSHI ARAKI from Blue Period / Last Summer published by SESSION PRESS and DASHWOOD BOOKS (via Dashwood Books)