When Art Does Sport: 7 Artists Utilising Sport In Their Practice
Offering a form of therapeutic release, sports provide a platform in which to fight and triumph, without causing any real harm. The world of sport with its elaborate constructs of rules and regulations is fraught with symbolism, which in many ways reflect the trials and victories of human existence. Broaching a breadth of themes, contemporary art's adoption and reference to sport comes in many forms. Exploring the crossover between these two seemingly disparate fields, Something Curated takes a look at seven visual artists who have used sport as a seminal point of reference in their work.
Antal Lakner || The Power Home Transporter, 1999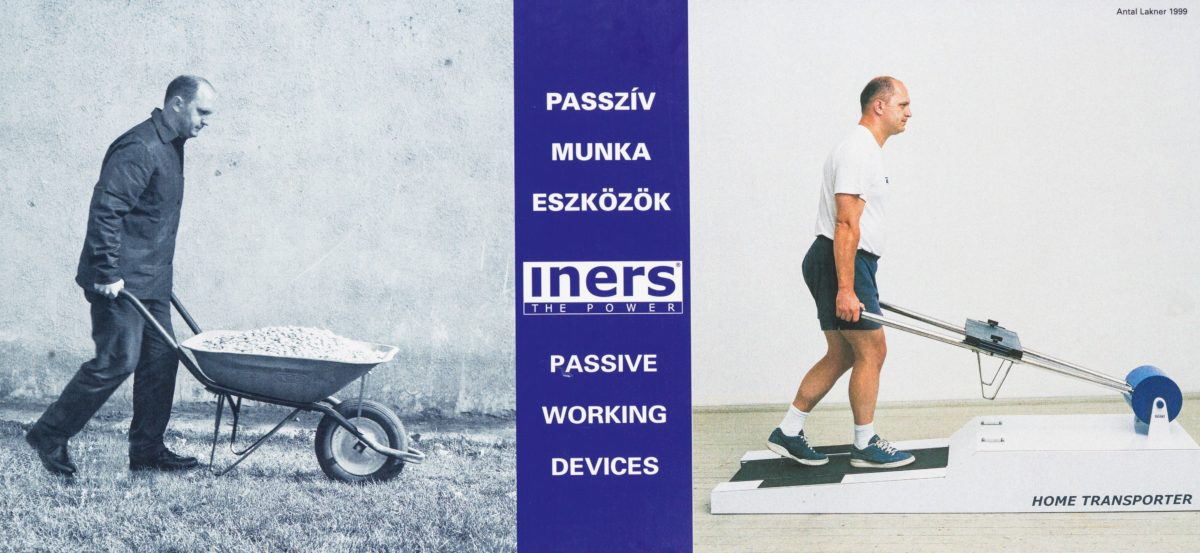 Hungarian artist Antal Lakner's works seem to be real, everyday objects, which re-tune the space around us, along with our understanding of the nature of an art object. His sports devices for use on escalators, in the subway, or in elevators, are tools specially developed for the urban passengers of our modern civilisation, who are deprived of the ability of independent movement, enabling them to perform those leisure-time activities that have become separated from workaday actions, while travelling on public transport. Rather than envisioning the creative process as the solitary work of an artist under inspiration, Lakner approaches his work with the attitude of an engineer.
Eddie Peake || Touch, 2012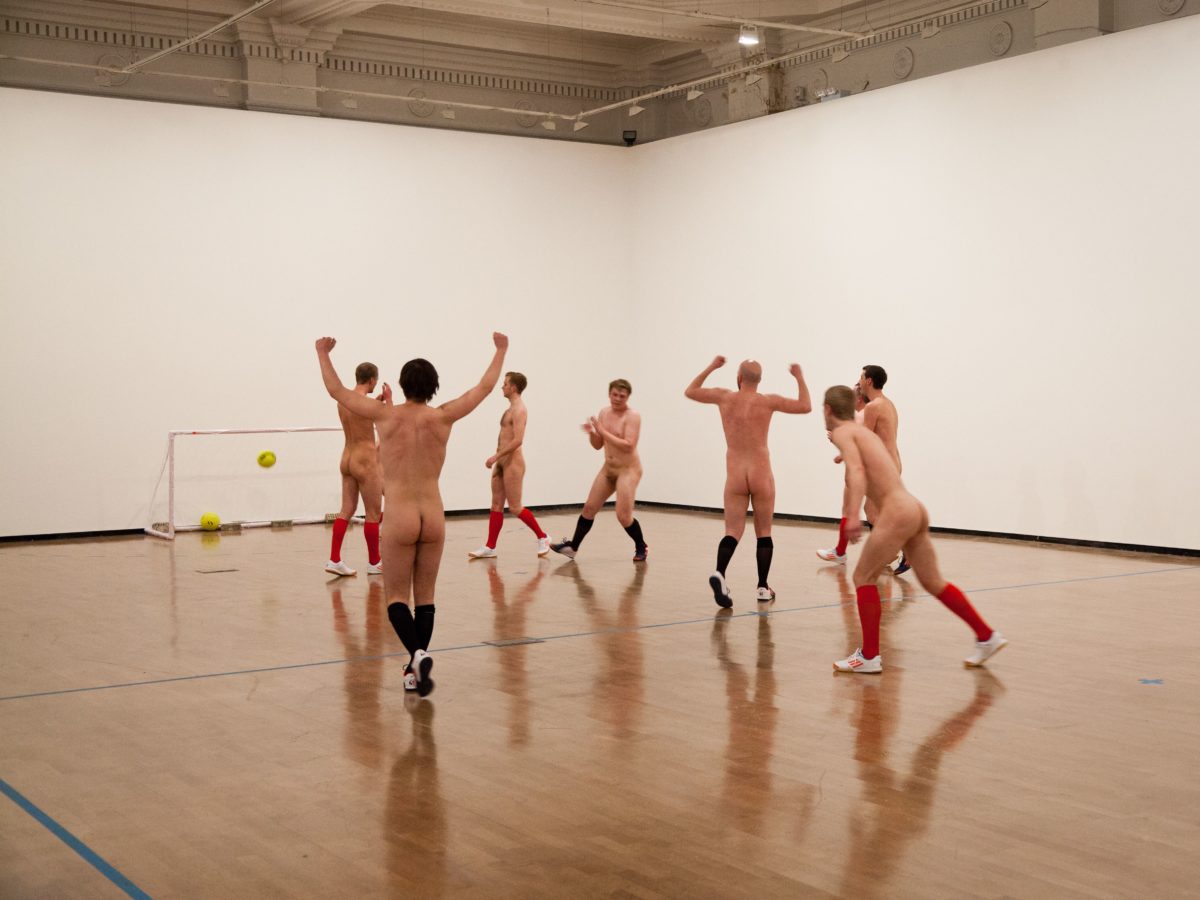 Eddie Peake first turned heads staging a naked five-a-side football match in Burlington Gardens back in 2012, while still a postgraduate student at London's Royal Academy of Arts. It had "a brash energy, a wit and beautiful absurdity" and was "discussed at length across all departments", according to Peake's Senior Tutor Brian Griffiths. Peake's work is an often-energetic spectacle in which the absurd and the erotic each find a place, and in which the artist plays a central role. His main focus lies in the lapses and voids inherent in the process of translating between verbal language and nonverbal modes of communication.
Olaf Breuning || Snow Drawing, 2014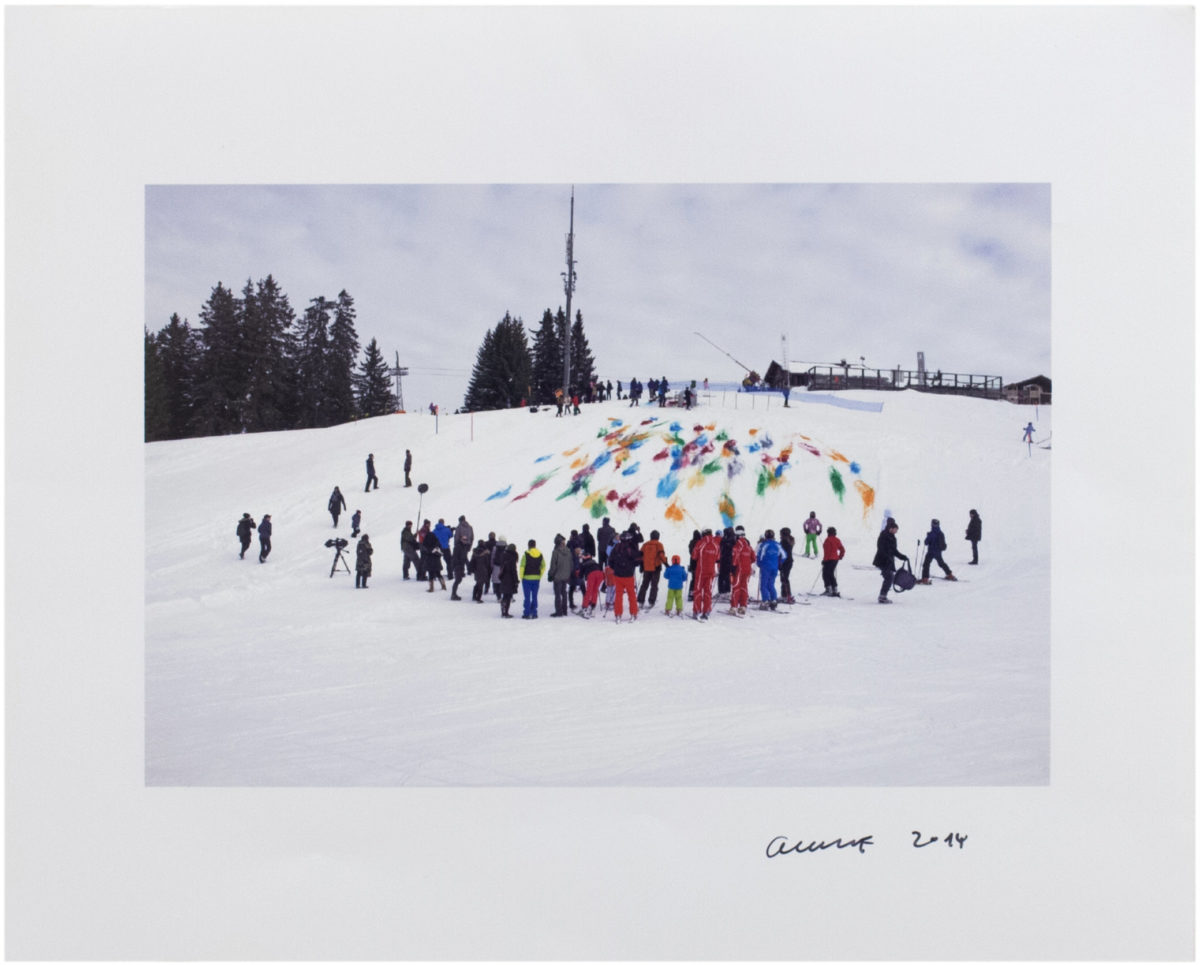 Utilising the form of the first tracks drawn by skiers as a source of visual influence, Olaf Breuning transformed a snowy mountainside in Gstaad, Switzerland into a giant, colourful canvas in 2014. The Swiss artist's ephemeral work for 'Elevation1049', a series of site-specific exhibitions set within the alpine landscape, gambles with the unpredictability and variability inherent in nature. Using food colouring, Breuning splashed and poured the liquid chroma onto the surface of snow, allowing it to slide and twist down the sloping pathway.
Chi Kai-Yuan || Triangle Table, 2014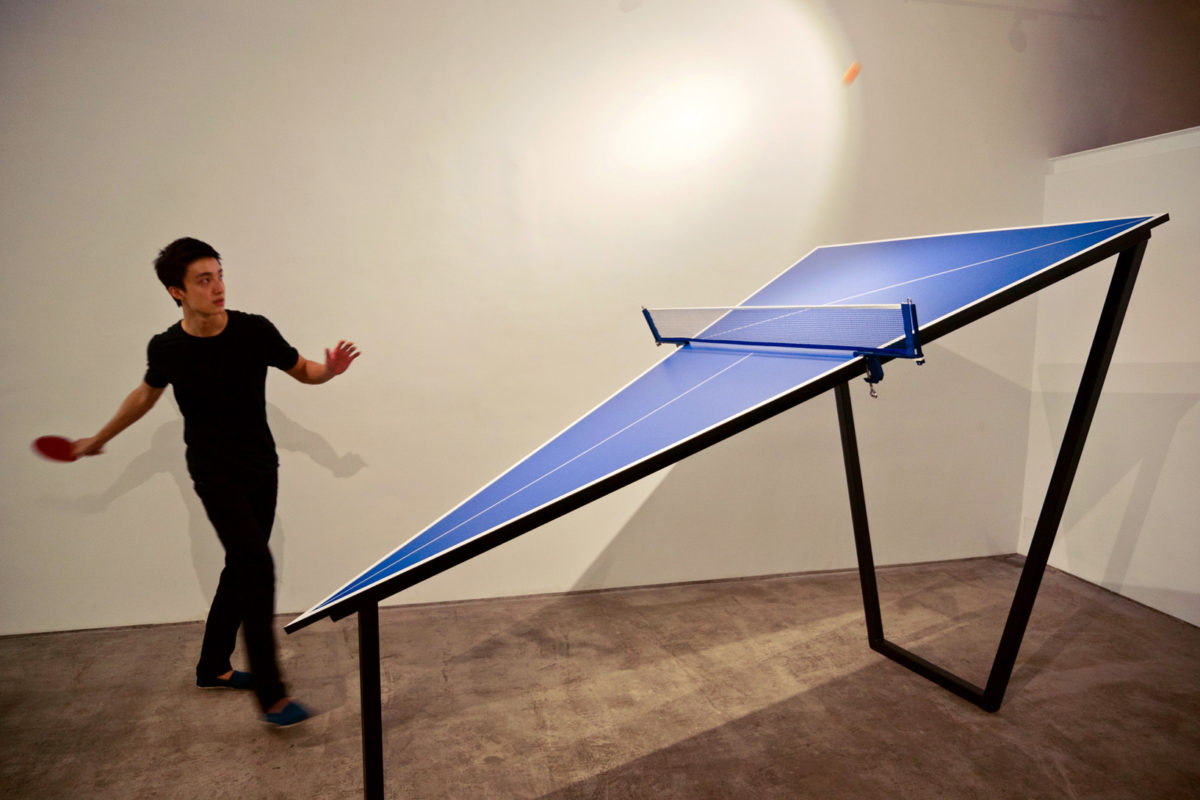 Taiwan-based artist Chi Kai-Yuan's work revolves around space, objects, and the human body. Chi's practice reflects on quotidian situations, which he approaches in his work through linguistic exchange, site-specific production, actions, and critical discourse. With his diverse projects, the artist examines how the body varies in different spaces through sports such as badminton and table tennis, among others. Through these endeavours, Chi finds new artistic interactions for each of his subjects.
Harun Farocki || Deep Play, 200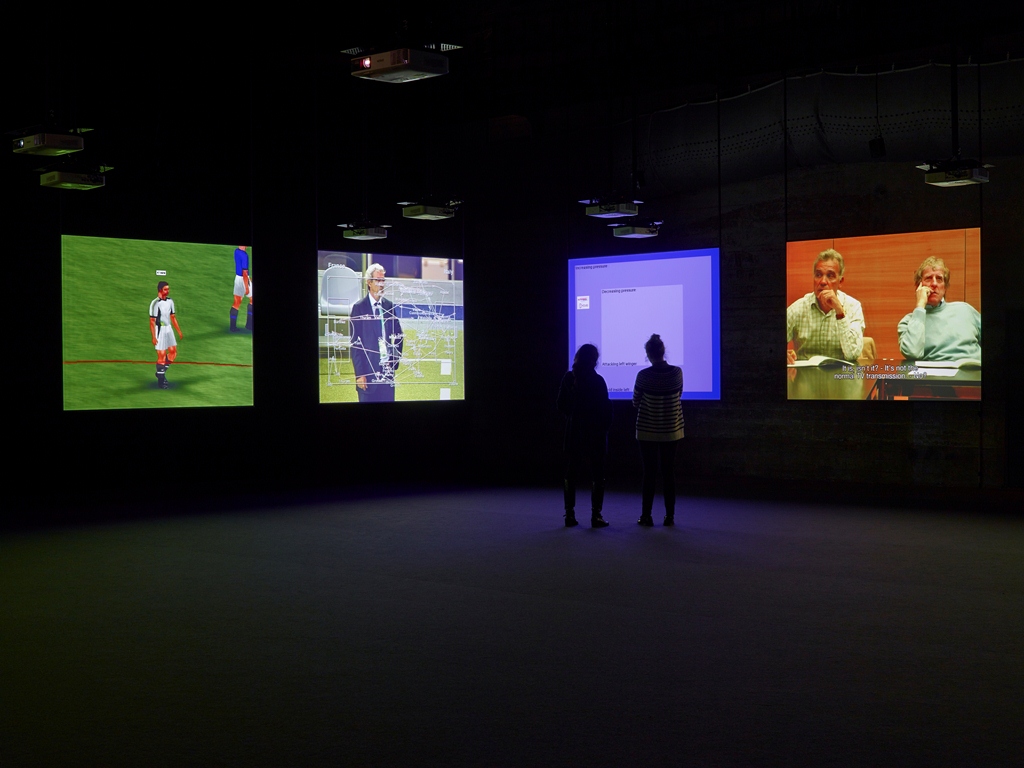 Harun Farocki was a German filmmaker, author, and lecturer in film. His work Deep Play is made of various perspectives on the final of the 2006 World Cup. Farocki uses raw material from various television networks alongside many soundtracks, ranging from the police radio to the unfiltered words of TV production teams from all over the world. We see individual players on both teams, but the computer also generates abstract representations of the flow of the game. The network of relationships among the players is one that absorbs spontaneous individual decisions as well as tactical ideas and habits rooted in the culture of the game.
Martin Schoeller || Female Bodybuilders, 2008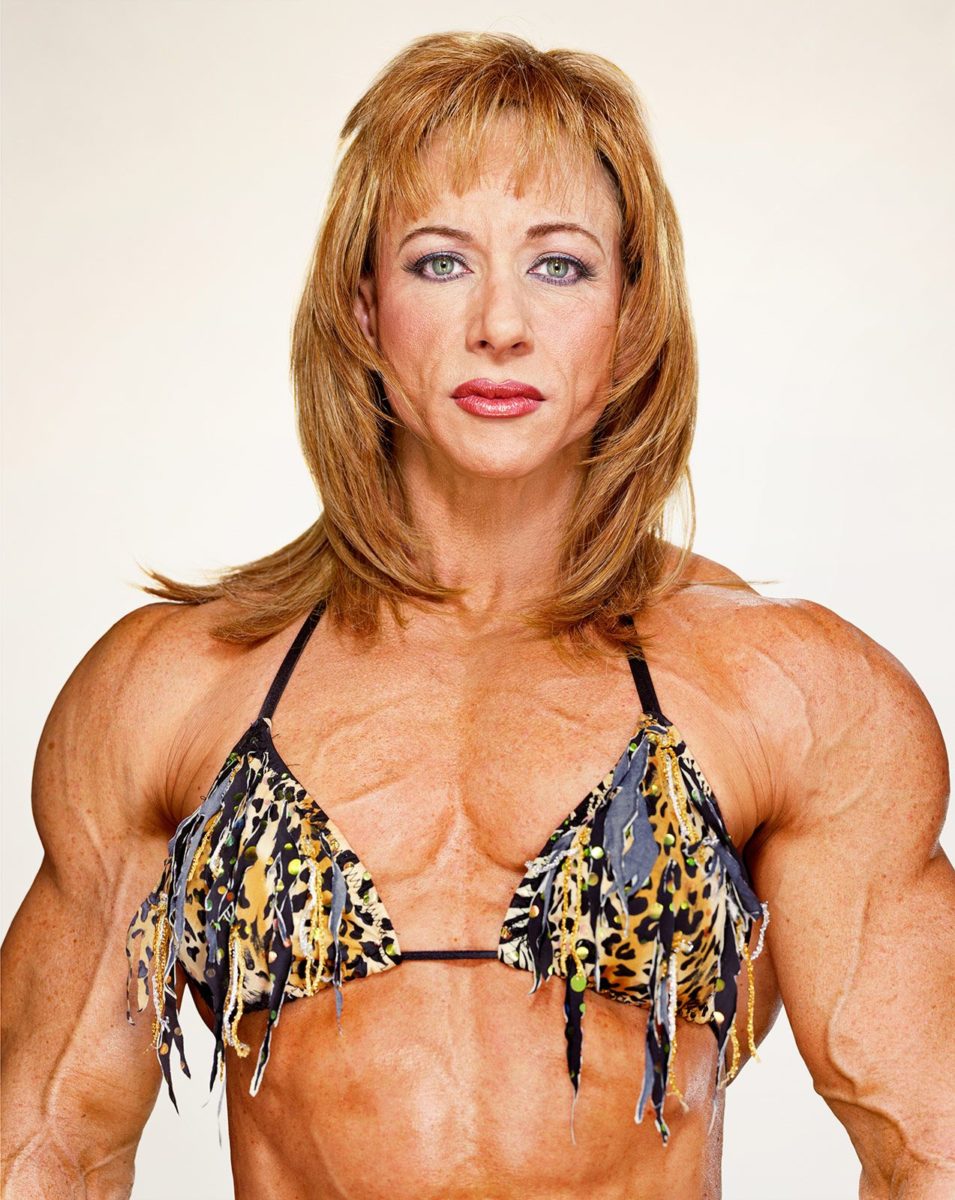 New York-based photographer Martin Schoeller's series of portraits document the extreme physiques of female bodybuilders, whilst capturing the details of their nuanced facial expressions. "The commitment levels these athletes demonstrate are as rigorous and demanding as those of any other extreme activity. And, given the public disinterest in their sport, and the practical demands of the lifestyle that makes it possible, there is a purity of purpose that few other serious athletes can match," the photographer says.
Margret Eicher || Homo Ludens 1, 2006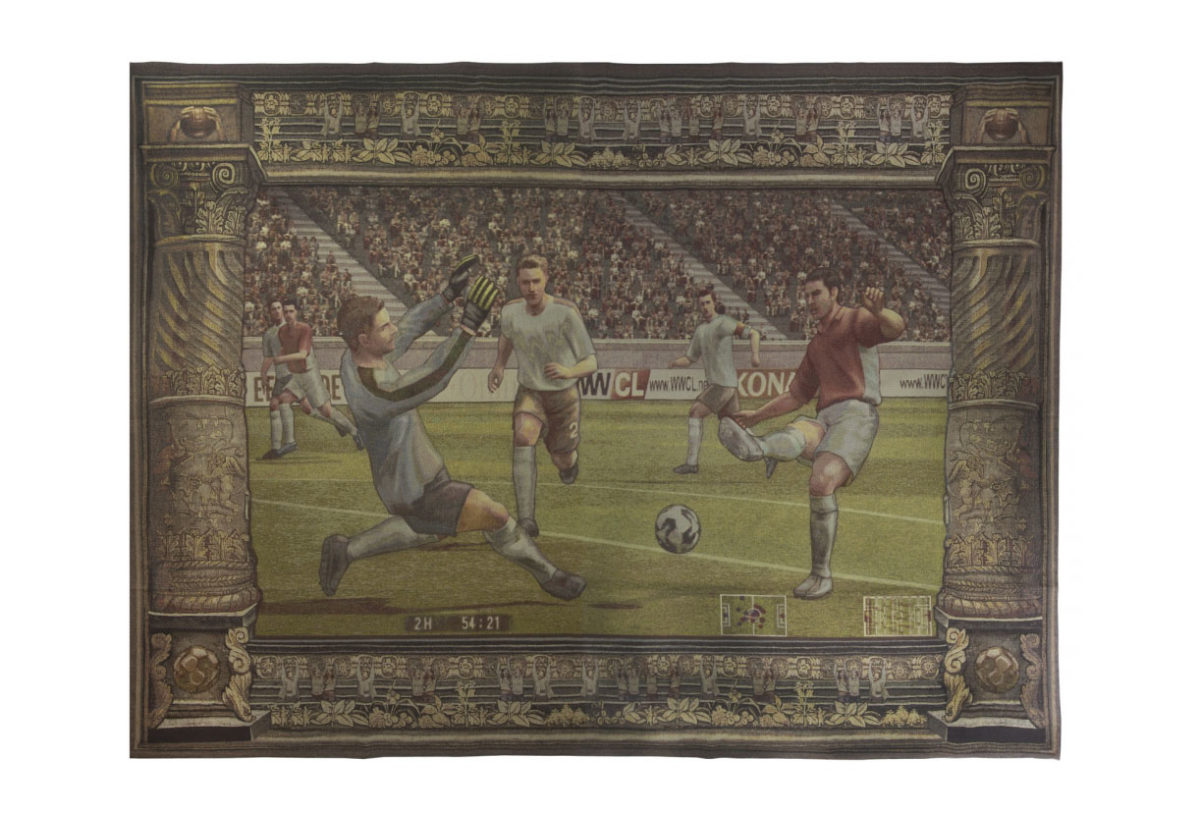 Margret Eicher is best known for her enormous tapestries, in which she combines baroque imagery with well-known and familiar images of our information saturated society. The central motifs of her tapestries relate to current images of photojournalism and advertising from print and digital media. The icons of our modern society are reproduced in a conceptually well-founded piracy of images, taken from a wide range of sources. Her art is its own kind of symbiosis, a synthesis and a blend of classical traditions and modernity.
Feature image: Kai-Yuan Chi, Blooming without Reasons, 2013, Video installation, 4:06 min. (via International Studio & Curatorial Program)