10 Spectacularly Designed Pools From Art Deco To Contemporary
The 'Great Bath' at the site of Mohenjo-Daro in modern-day Pakistan is widely considered to be the first designed swimming pool, dug during the 3rd millennium BC. Ancient Greeks and Romans built artificial pools for athletic training in the palaestras, for nautical games and for military exercises. Swimming pools became popular in Britain in the mid-19th century, and by 1837, six indoor pools with diving boards existed in London. By the 20th century, the existence of the domestic pool became much more prevalent, with designers, architects and artists creating outlandish leisure spaces for wealthy homes. Taking a closer look at some striking examples, Something Curated highlights ten extraordinary pools from the 20th century to current day.
Florida-Shaped Pool at Cypress Gardens, Florida, 1936 || Dick Pope Sr.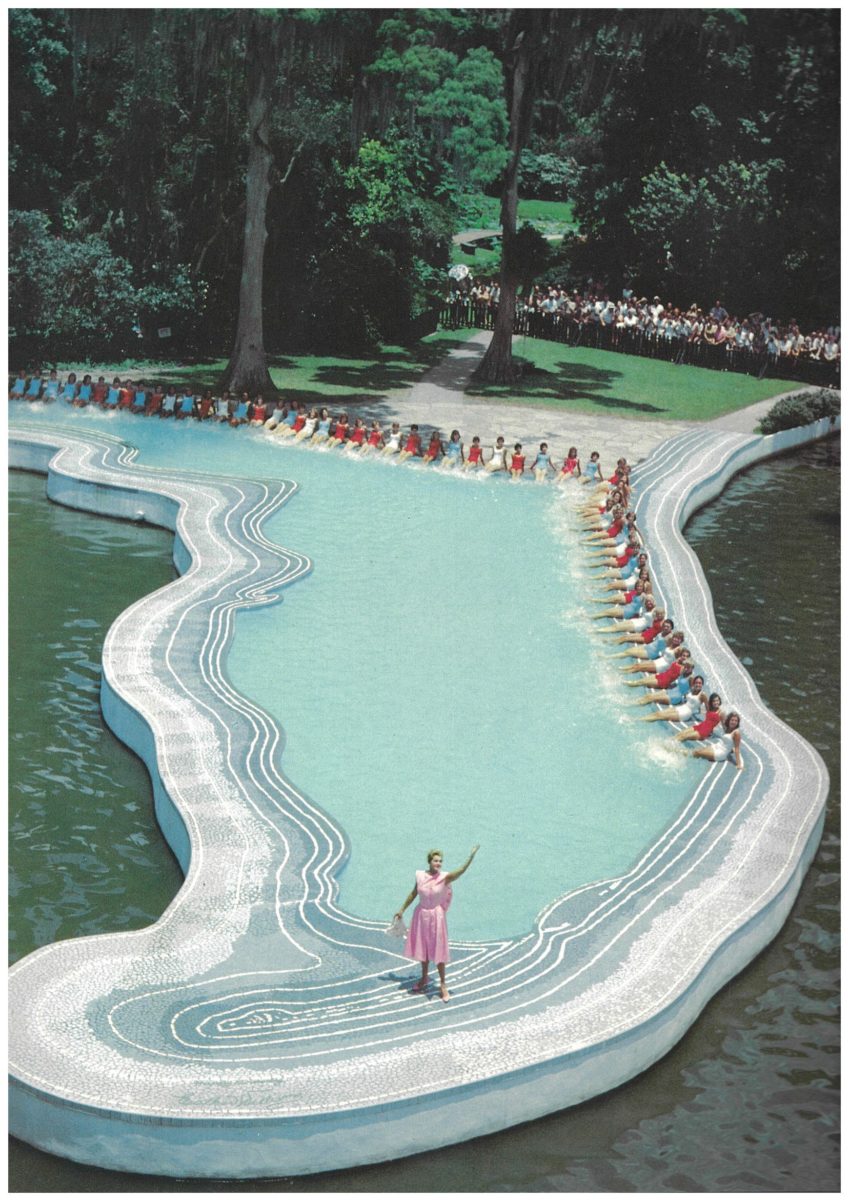 Known as the "Water-Ski Capital of the World", Cypress Gardens served as an important landmark in Florida throughout the mid-20th century. Though it is no longer open, the property boasted impeccably manicured outdoor gardens, a Southern Belles attraction where young women dressed as the crinolines reminiscent of the Antebellum South, as well as the famous Florida-shaped pool. Cypress Gardens was used to film many movies, including Esther William's film "Easy to Love" in 1953. The pool features light blue mosaic tiling and white stone detailing, enclosed by the surrounding Lake Eloise.
L'oeil d'Aramon, France || Pascal Cribier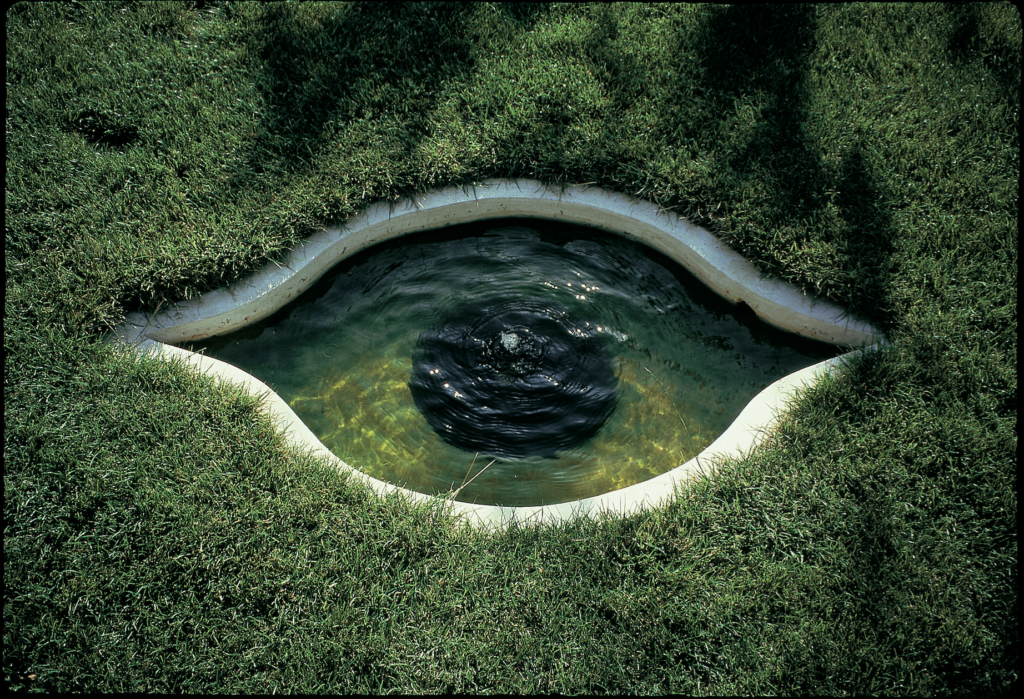 Designed by French photographer and gardener Pascal Cribier, this eye-shaped pool is completely handmade, situated in a garden complex in France. The pool is named "The Eye of Aramon", and resembles an evil eye, with a dark, striking pupil in the centre, and translucent water surrounding it. Cribier worked as an influential gardener in France, playing an imperative role in working to rehabilitate the Tuileries Garden before he died in 2015.
Lap Pool, Ormond Beach, Florida, 1991 || Steve Harris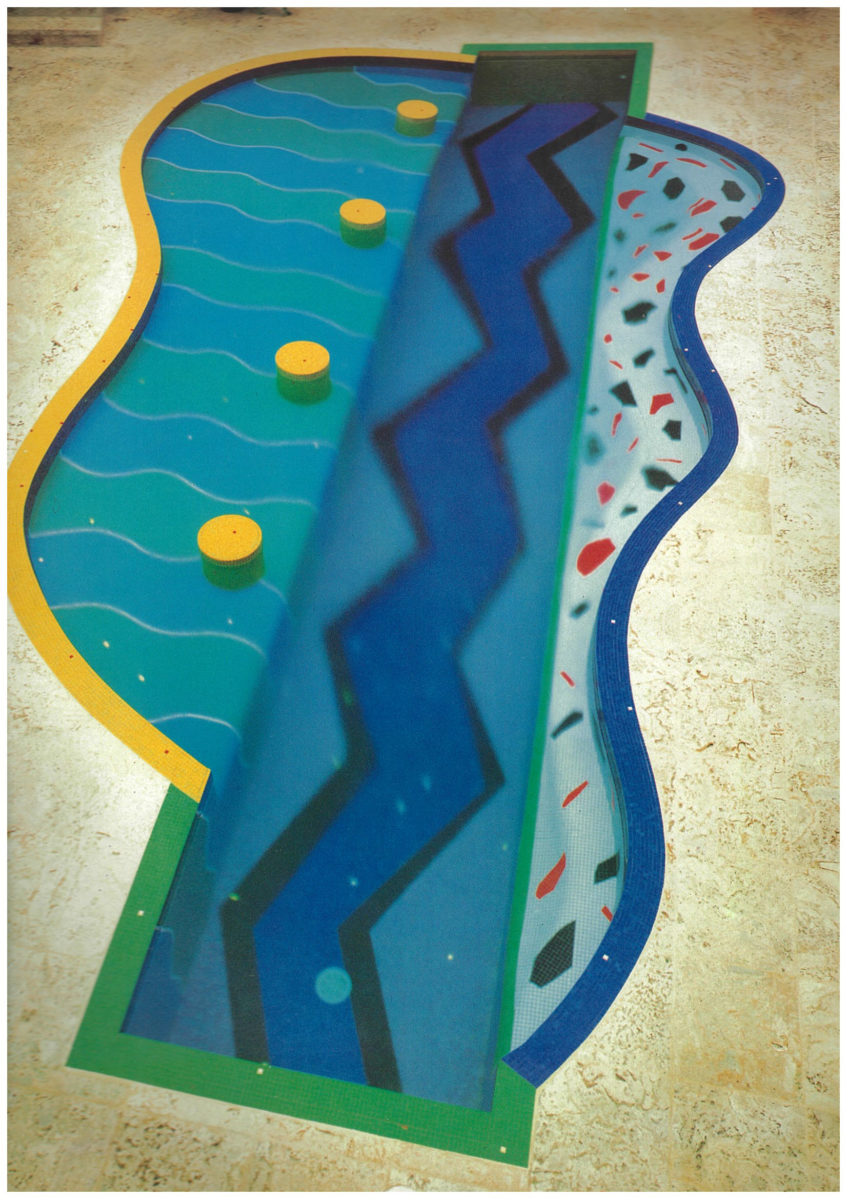 Built in 1991 by architect Steve Harris, this lap pool spans over 40 feet long, its colour scheme and design appearing to be influenced by the aesthetic of The Memphis Group. The centre of the pool features a blue-and-black zigzag, and the area is painted with a sea-green wavy line with pops of bright yellow, as well as a black, red, and white speckled ledge. All of the tile work in this pool is made from Venetian glass, giving a traditional lap pool an unexpected twist.
Pool at Amangiri Hotel, Canyon Point, Utah, 2009 || I-10 Studio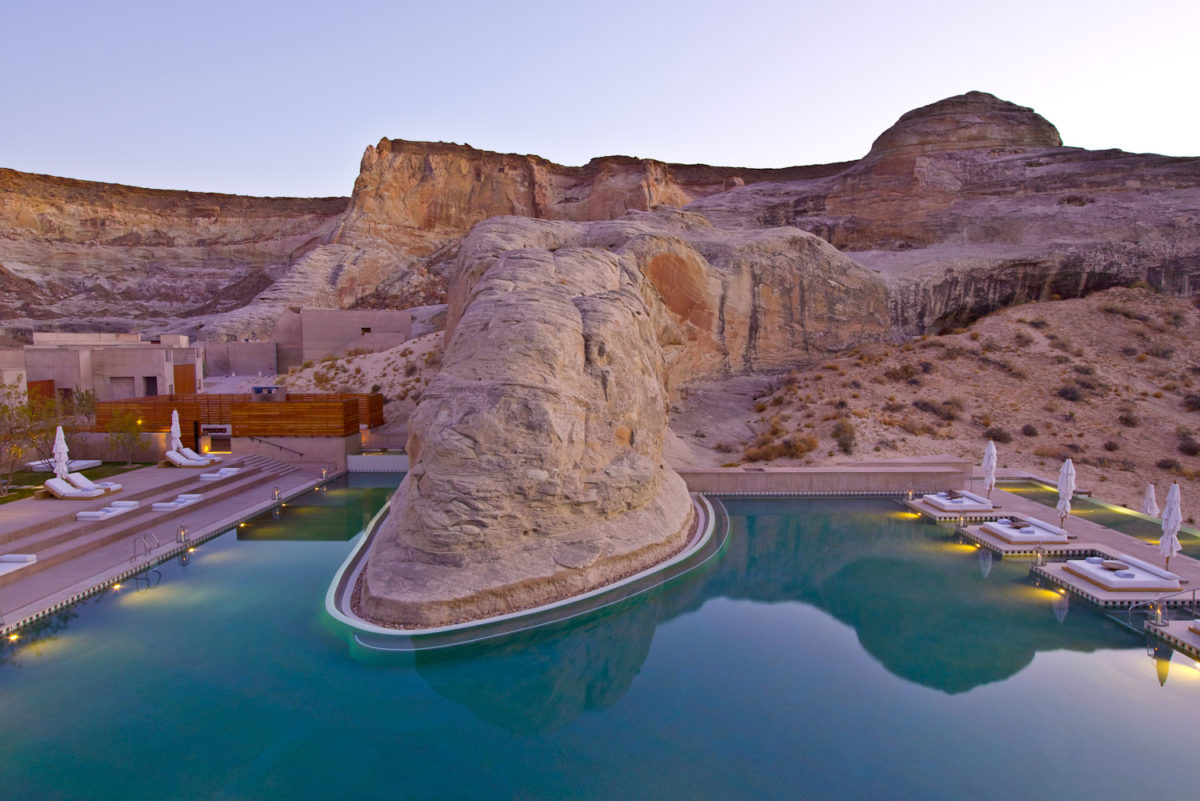 This 593-acre resort in Canyon Point, Utah, is built around the main swimming pool, backed by a lofty, rocky escarpment. Architecturally, the resort was designed to blend into the surrounding landscape by using natural hues, textiles, and materials as an aspect of the design. The pool was designed by the group I-10 Studio, comprised of architects Rick Joy, Marwan Al-Sayed, and Wendell Burnette. Using wood, water, light, and concrete, the turquoise pool is one of the main attractions at the Amangiri Hotel, and its design connects guests in a more intimate way to the grounds, so that the outdoor experience is equally as important as the interior.
Pool at The Estate of Alfonso Ossorio, Long Island, New York, 1970 || Alfonso Ossorio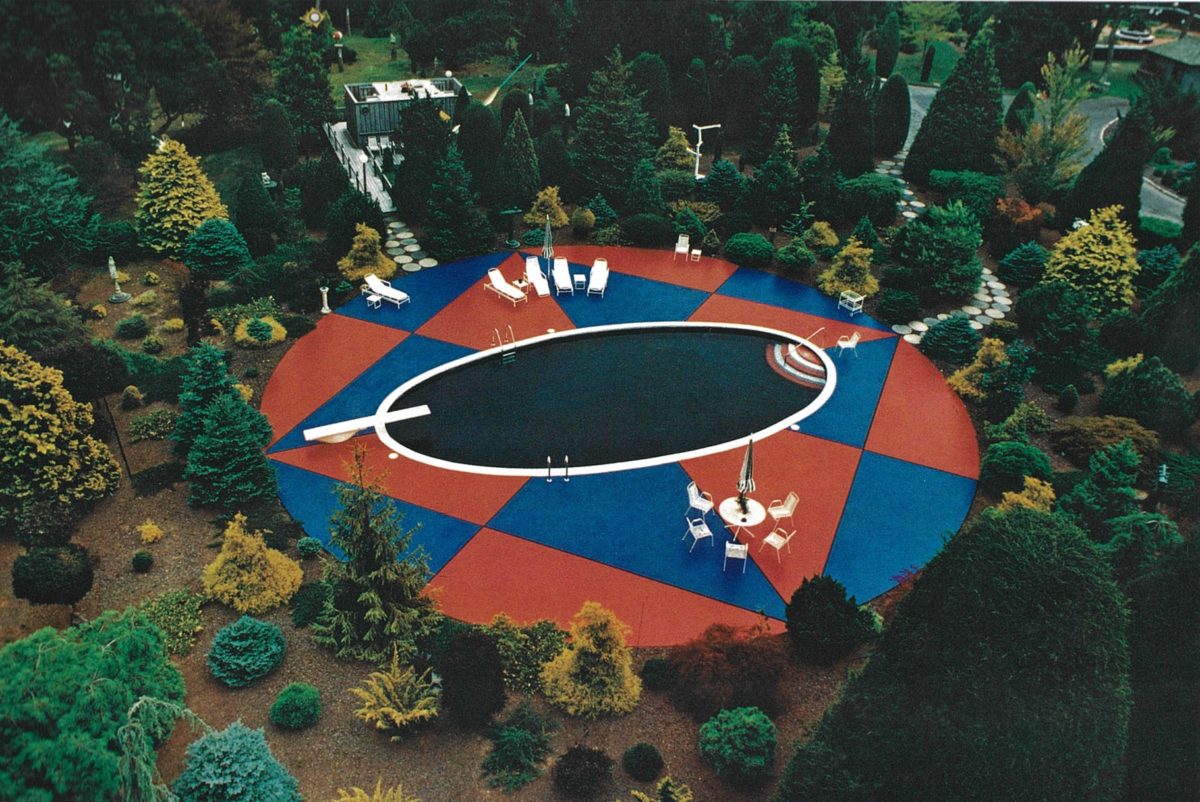 This pool in East Hampton, Long Island, was designed by the abstract expressionist artist, Alfonso Ossorio, who made unique sculptures and paintings. He created this pool as a sculpture in the natural environment, painting the inside colour of the pool black so that it could reflect the sky and attract the sun. The surrounding primary-coloured red and blue Harlequin-print represents faith, hope, and charity. The pool remains at his 80-acre East Hampton estate, now the space for the Ossorio Foundation, an organisation dedicated to preserving Ossorio's work and love of art.
Aqua Dome Tirol Therme Längenfeld, Tryol, 2004 || Schnögass & Partner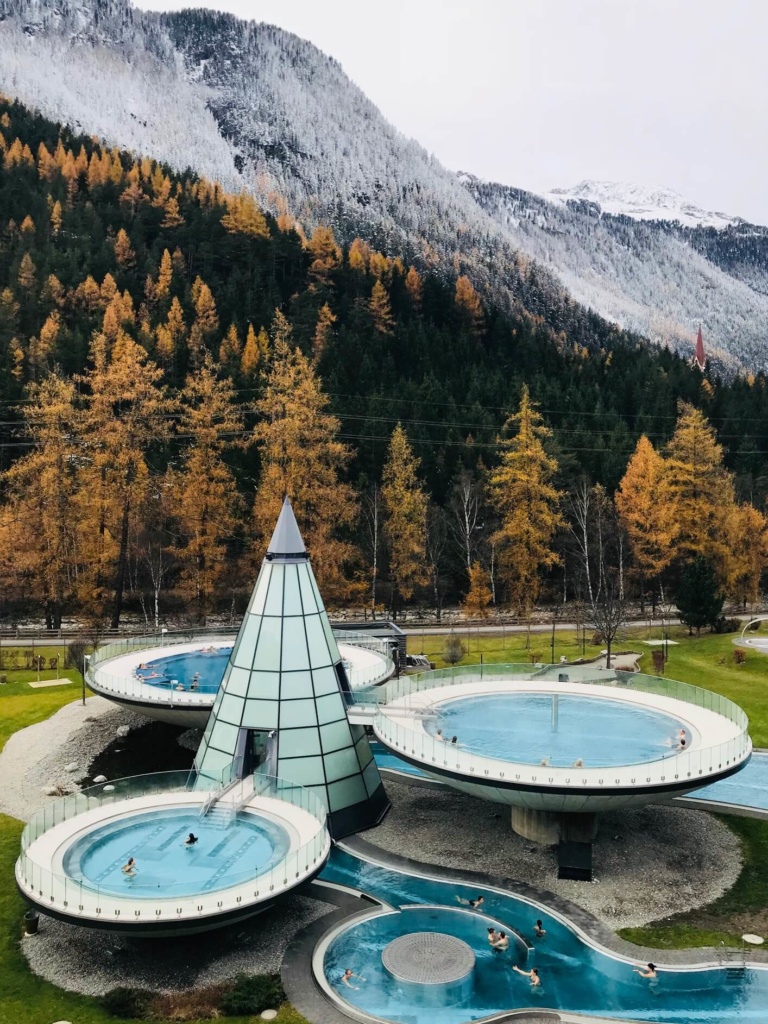 This heated pool in Tyrol covers more than 500,000 square meters, ranging in temperature from 93 – 97°F, the heat generation achieved by a bio-fuel plant. The two large, crystal-clear basins boast an encompassing waterfall, as well as high glass ceilings that provide an open view of the surrounding mountains of the Ötztal Alps. The architecture of the pools and surrounding hotel were built by Schnögass & Partner, using materials such as crystal, stone, wood, and emphasizing the available surrounding light.
Residential Pool, London, 1988 || John Stefanidis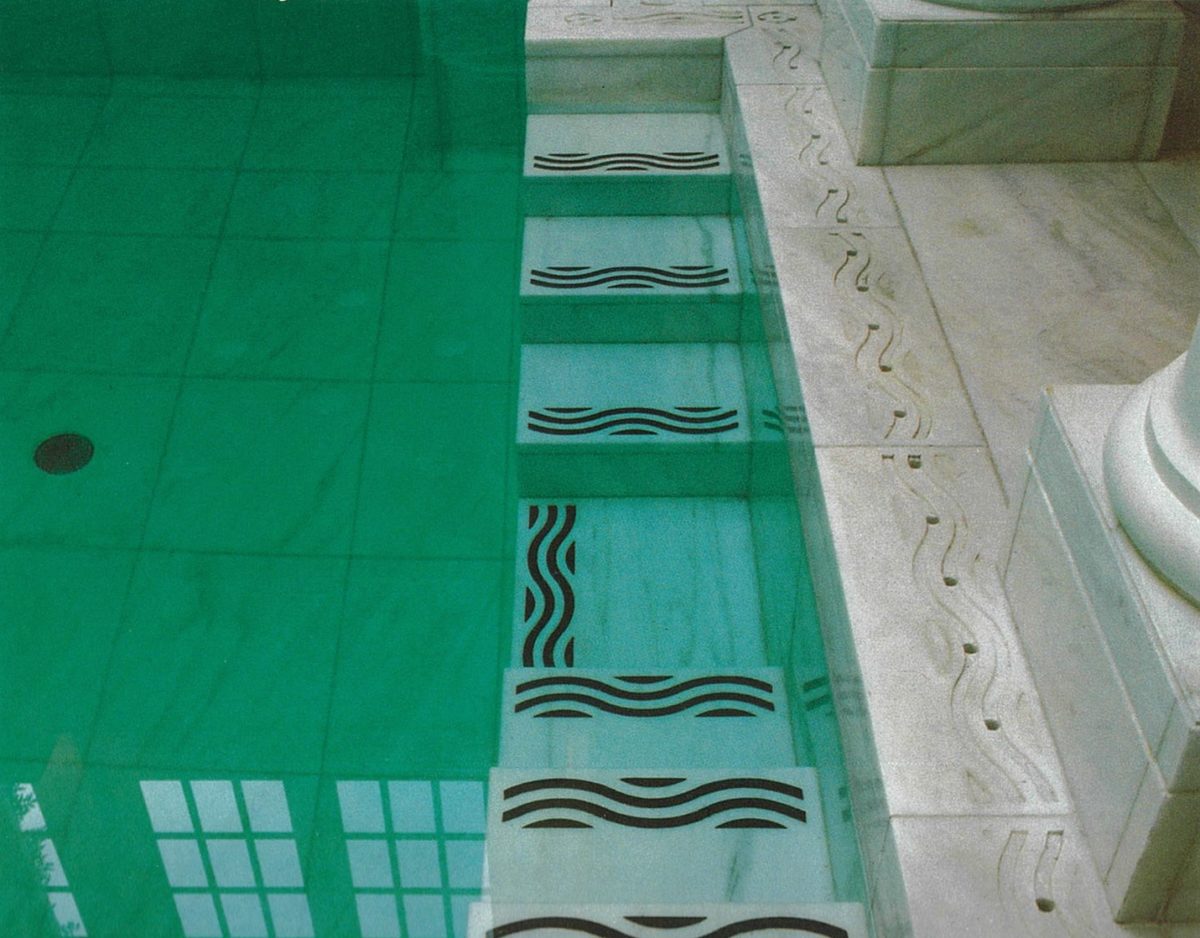 Designed for a home in London in 1988 by John Stefanidis, an interior designer and architect, this pool includes Deco detailing featuring a black stone inlay design creating a subtle optical illusion on the steps entering the turquoise-coloured water. The design also uses off-white marble and stone carvings. Many of Stefanidis' designs draw upon his childhood growing up in Egypt and work experience in Milan, using a combination of contrasting tones and ergonomic designs to achieve an exceptional appearance.
Open Air Pool Eyebesfeld, Jöss, 2009 || Pichler & Traupmann Architekten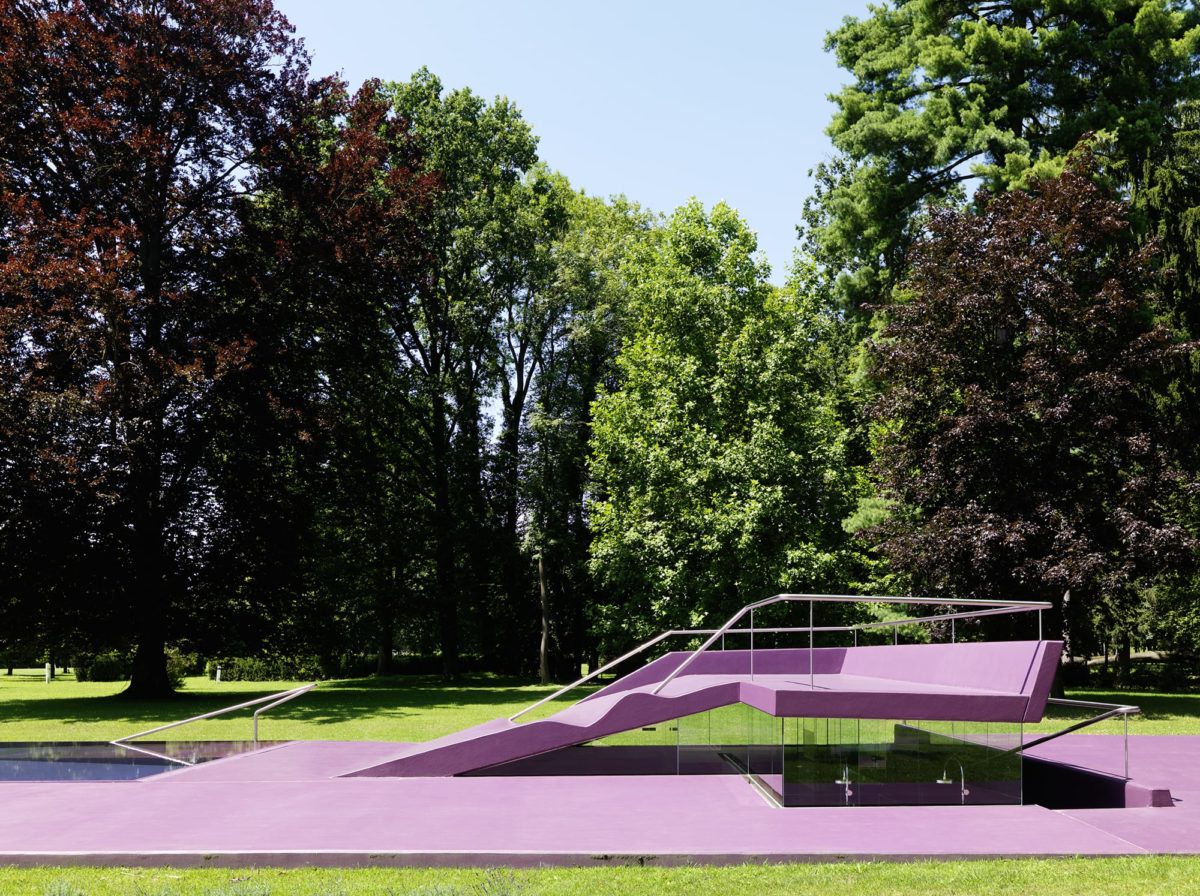 Built in the park of the 17th century Eybesfeld Castle, now an apartment complex, in Jöss, Austria, architects Pichler and Traupmann created this open-air swimming pool in 2009. The pink and purple coloured pool was originally designed to provide a new convivial base, integrated into the landscape by a surrounding underground loop in exposed concrete. The pool and sunbathing areas are coated with polyester, giving it a unique and eye-catching look.
Pool at Casa Gilardi, Mexico City, 1976 || Luis Barragán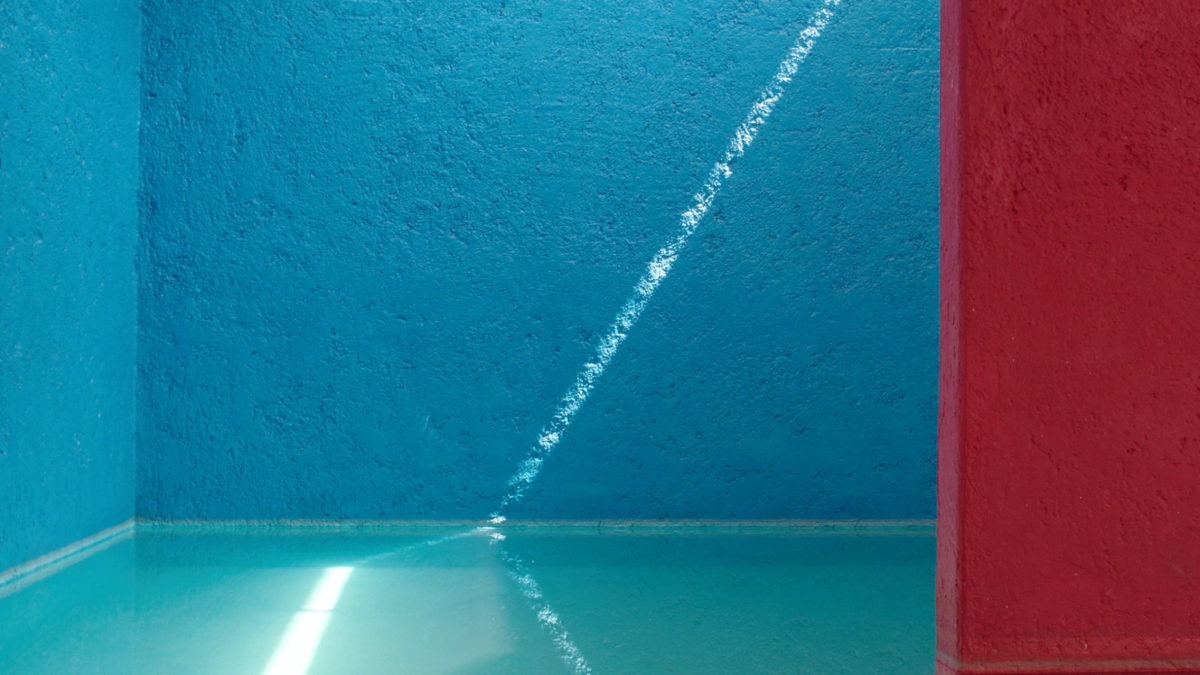 This building situated in Mexico City was the last house built by the famous Mexican architect Luis Barragán in 1976. The house is painted in a plethora of primary colours, combining Modernism with his unique, abstract style. The neon-blue coloured pool is integrated into the living space, meant for hosting dinners and parties, the structure on the same level as the floor. Barragán was a pioneer in revolutionizing Modern architecture with his use of bright colours, and worked on many projects such as the Chapel of the Capuchinas in Mexico, among others.
Pool at Home of Clayton and Modesta Williams, Alpine, Texas, 1974 || Kelvie Williams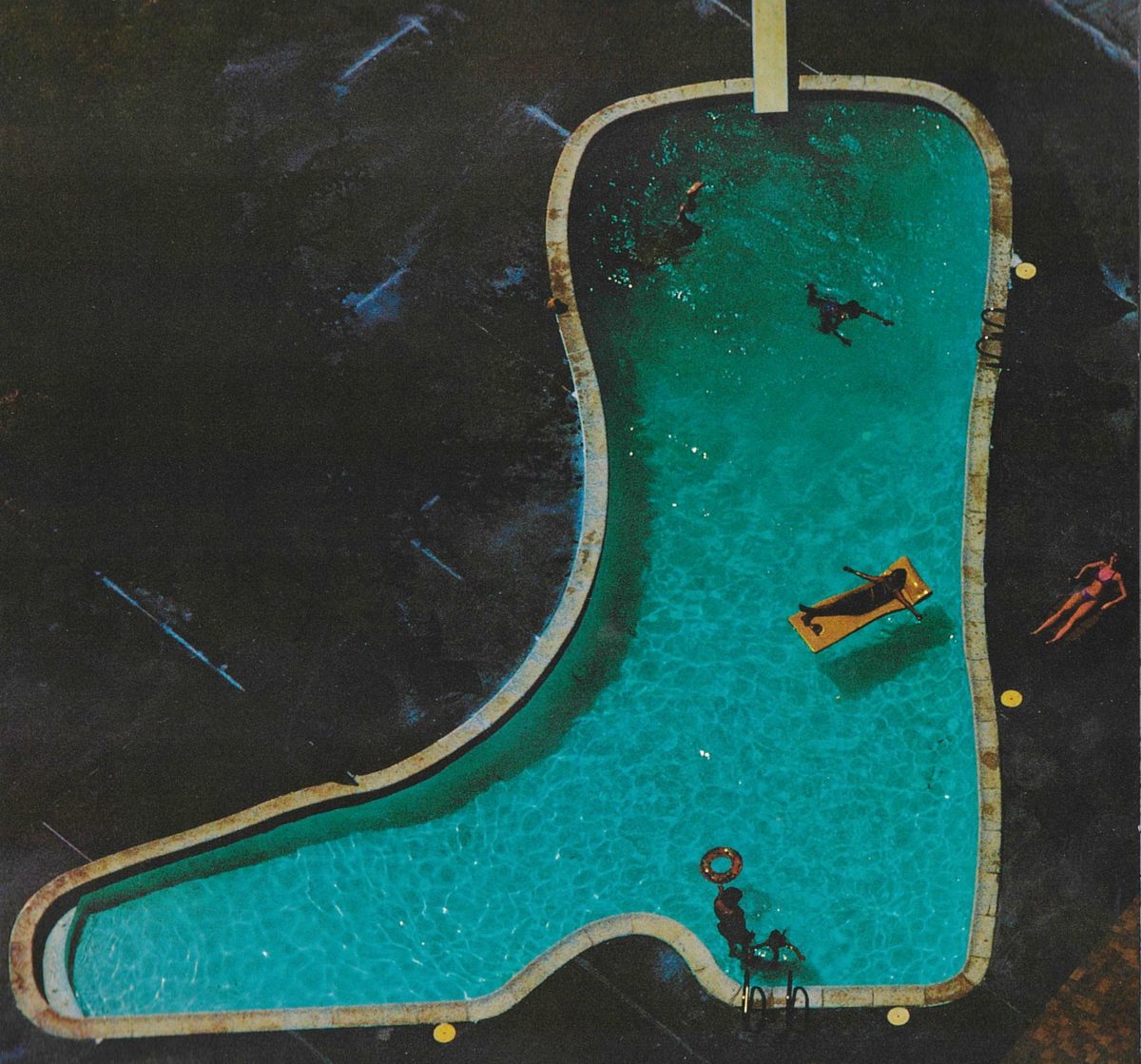 Located at the cattle ranch and home of Clayton Williams, who ran for state Governor of Texas in 1990, and his wife, Modesta, this unique pool is designed in the shape of a cowboy boot. It was designed by their daughter Kelvie, and it spans over 50 feet long and 30 feet wide. Made of concrete, the distinctively kitsch pool has a diving board, and two sets of stairs for swimmers to enjoy.
Words by Jane Herz | Feature image: Pool at The Estate of Alfonso Ossorio, Long Island, New York © Estate of Alfonso Ossorio. (via Pools by Kelly Klein)