Last Chance: Korakrit Arunanondchai's Extraordinary Show At Carlos/Ishikawa
Artist Korakrit Arunanondchai engages with a multitude of complex subjects such as history, authenticity, self-representation, and storytelling through the lens of a cultural transplant. His work seeks to find a common ground in artistic experiences through a pastiche of styles and mediums. The Bangkok-raised visual artist was a musician before he moved to the US to study art. In his eclectic videos, he often enlists the talents of fellow artists and performers who contribute to a sense of subcultural collectivity. Arunanondchai's latest exhibition, entitled No history in a room filled with people with funny names 5, is open at Carlos/Ishikawa until 22 December 2018.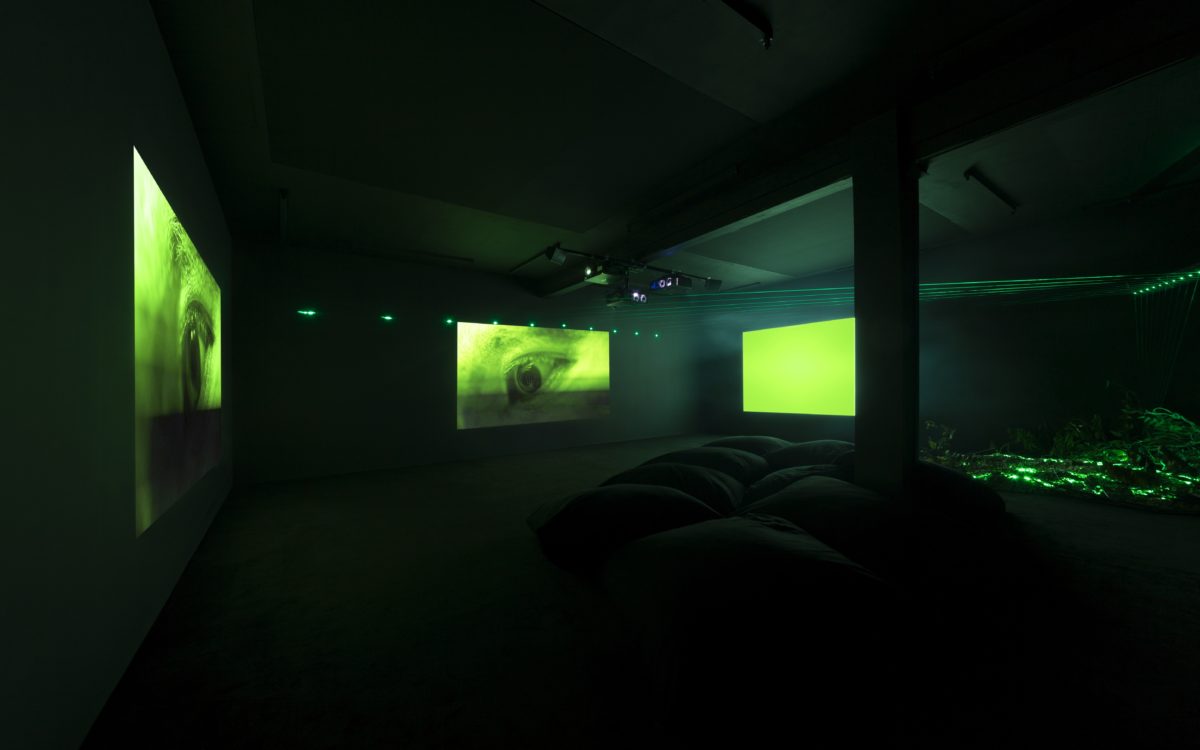 Inside the unassuming east London gallery, three screens simultaneously play Arunanondchai's films, exploring meandering narratives and at times synchronising to create an enveloping moment of overlap. The centre screen moves between images of military forces, drone footage of lush greenery, proceeding into a flashing montage of news footage of the now infamous Thai cave rescue from earlier this year, backed by the quivering soundtrack of Whitney Houston's When You Believe. Later, Californian performance artist boychild, who features in another of the films on show, as well as in the form of a half buried sculpture in the back of the exhibition space, is portrayed reclined, being seemingly worshipped by a group of disciples.
Expanding on the work's context, the artist explains: "The plight of the kids became a moment to reframe Thailand and present it to the world, but also back to itself, creating new stories with roles for the helpless and the benevolent, the caregiver and the carereceiver. In the act of letting something take care of you, you also lose a part of yourself and become that something else. In the cave story, the military performs care for the people, for the children, and for the inhabitants of this marginal borderland … Care itself becomes a symbolic act, or a story that refuses to die."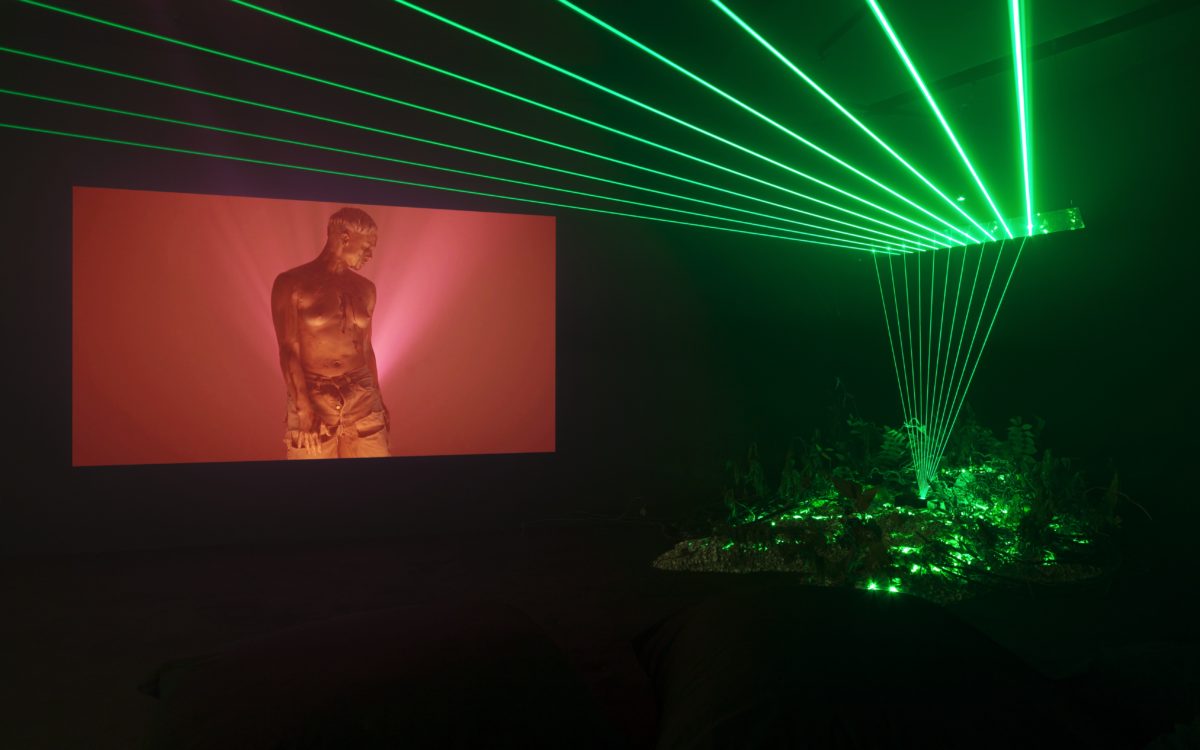 He continues: "No History refers to the human history that is recorded through verbal storytelling and other forms of myth-making that mutate over time. Ghosts, for example, occupy No History zones. The thing about Ghost stories is that they are often the product of localized subjectivities, united by geographical, regional or internet niches, coming together to create a story that is passed on over time. Often, ghosts and spirits are tools for resisting oppressive power from empires or dominant tribes of people. A local ghost in the forest areas of Southeast Asia made American soldiers sick if they dared to enter the forest or failed to pay respect."
The immersive nature of the artist's latest London show is bolstered by the presence of a numinous and futuristic appearing altar, installed in the back corner of the darkened room. From this assemblage, comprising shells and lush looking synthetic plants, exudes a lurid green light in the form of winding obscured tubes and perhaps most strikingly, dramatic laser beams, like those you'd expect to find in a nightclub, refracted across the space. The artist tells: "This work tries to draw relationships between these people and events through the metaphor of touch. Touching a green light, the light transforms into a story in a dark, opaque place. The green light becomes the green light of the movie screen or the green screen in a movie production. The movie itself as an event in which light is abstracted into story."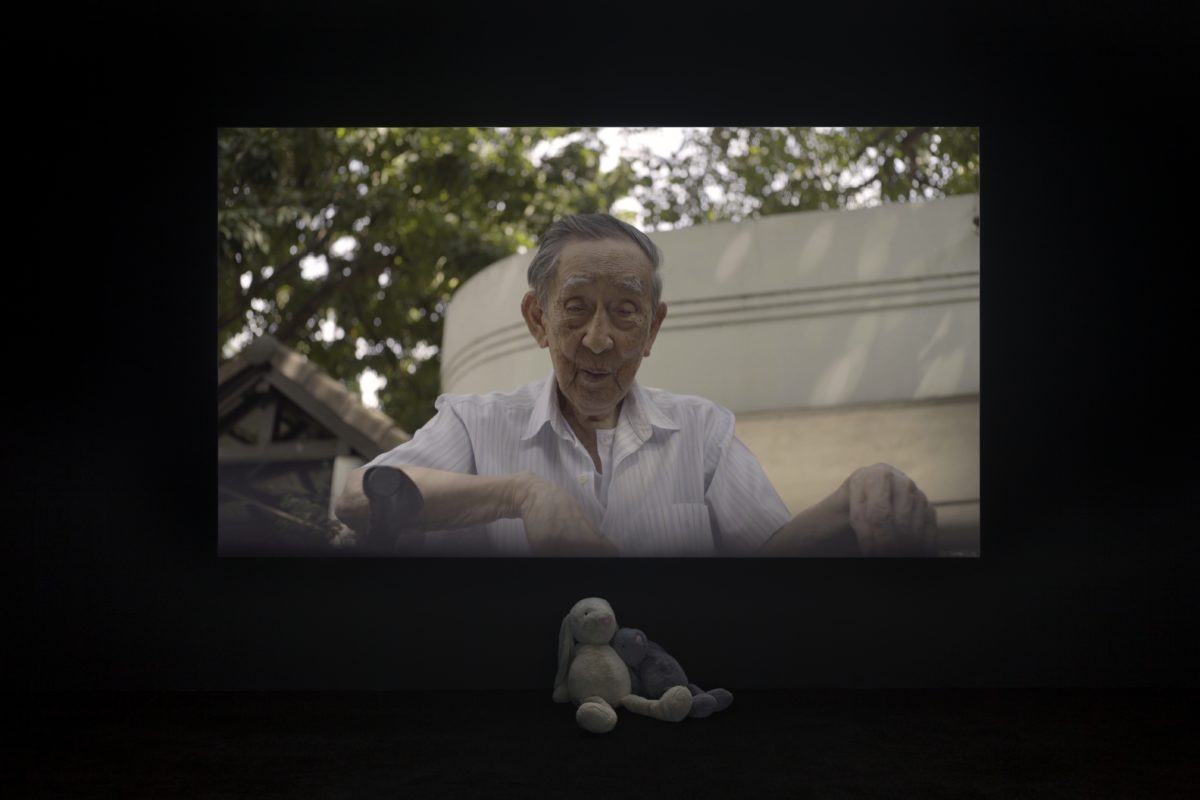 Arunanondchai developed his interest in art during school, when he saw Olafur Eliasson's Sun on a visit to London. Soon after, he moved to the US to attend the Rhode Island School of Design and Columbia, where he studied under the influential Rirkrit Tiravanija. Embracing collaboration, a second screen in the show depicts a performance by artist and long-time collaborator, boychild. Arunanondchai notes: "Performing with boychild, is the memory palace of the relationship I have with my friend and collaborator … Stories created with bodies being in a room together. A way to speak without speaking." The mesmerising performer, painted golden-green, takes on an almost deity-like role through the show. Dense with references and unpredictably poignant, Arunanondchai's No history in a room filled with people with funny names 5 is most certainly worth a visit before the exhibition closes this weekend.
Korakrit Arunanondchai, No history in a room filled with people with funny names 5 – Open until 22 December 2018 at Carlos/Ishikawa, Unit 4, 88 Mile End Road London E1 4UN.
Words by Keshav Anand | Images: Korakrit Arunanondchai, No history in a room filled with people with funny names 5, 2018, Installation view, Carlos/Ishikawa, London. Copyright the artist, courtesy Carlos/Ishikawa, London