Barka's Sugar and Water at Serena Morton Gallery
A refreshing counter to the pastel terraced houses on the streets surrounding the Serena Morton gallery in Notting Hill, Barka's colourful portraits lining the walls within are near-citric in their vibrancy.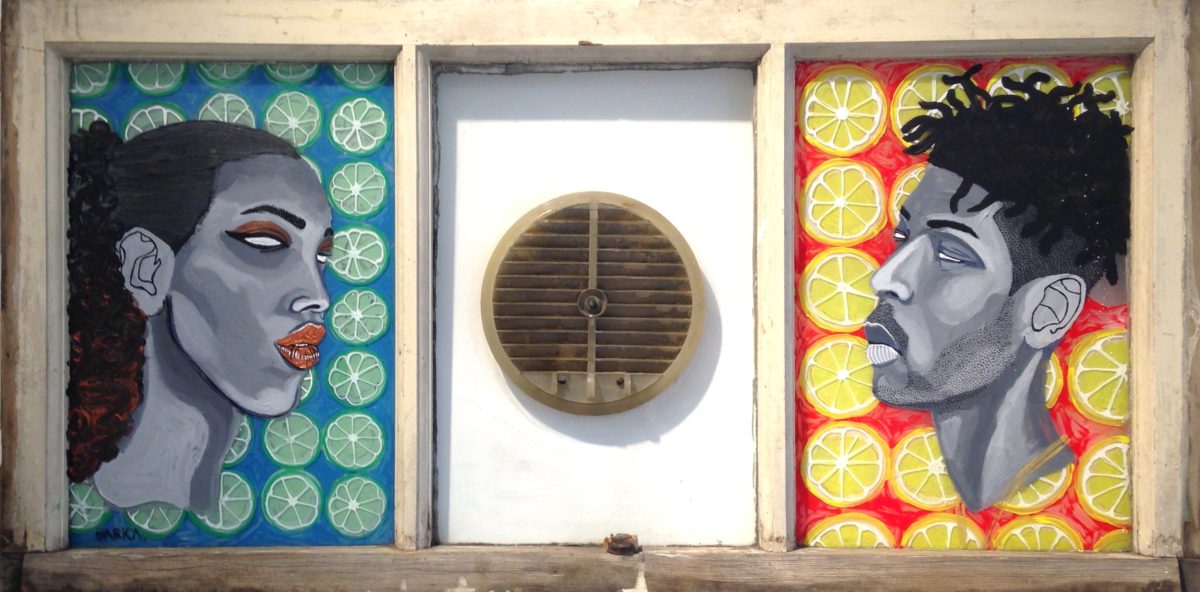 Barka is a 29 year old graduate from the University of the Arts, a self-professed Black Romantic, and a native Londoner. Seeking to document the black experience of London in his latest exhibition, Barka paints his subjects directly onto reclaimed windows and glass doors, discarded as old social housing is made more marketable to private buyers. Through these found materials, Barka frames – in both a figurative and a very physical sense – the black British identity within the context of an increasingly gentrified capital.
The title of the exhibition, Sugar and Water, refers to the mass migration of people after WWII to the UK from the Caribbean, known for its role in the sugar trade. Wanting to portray both his Jamaican heritage and contemporary British ideals, Barka integrates relics of Afro-Caribbean culture with contemporary fashion and design in his paintings.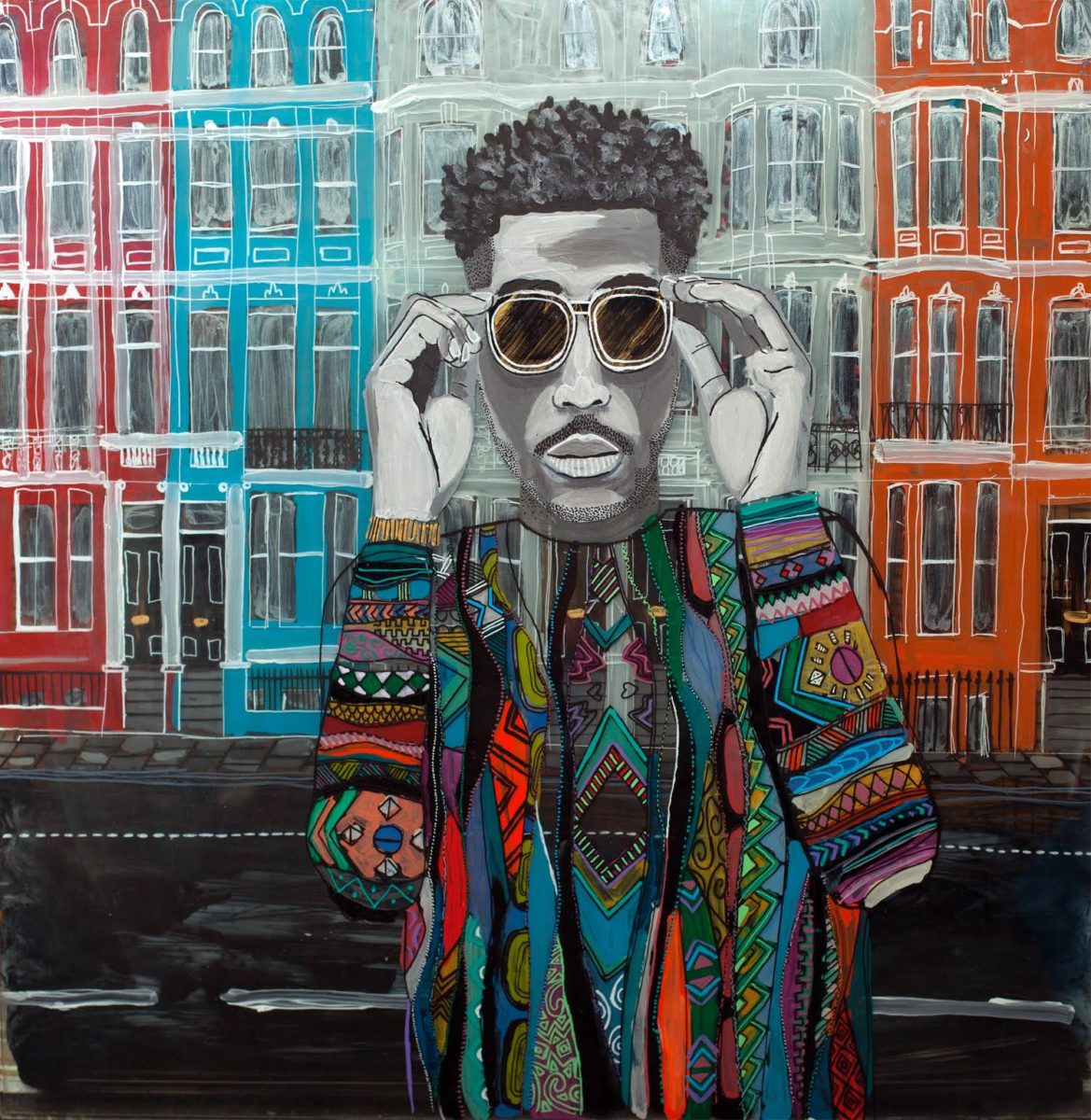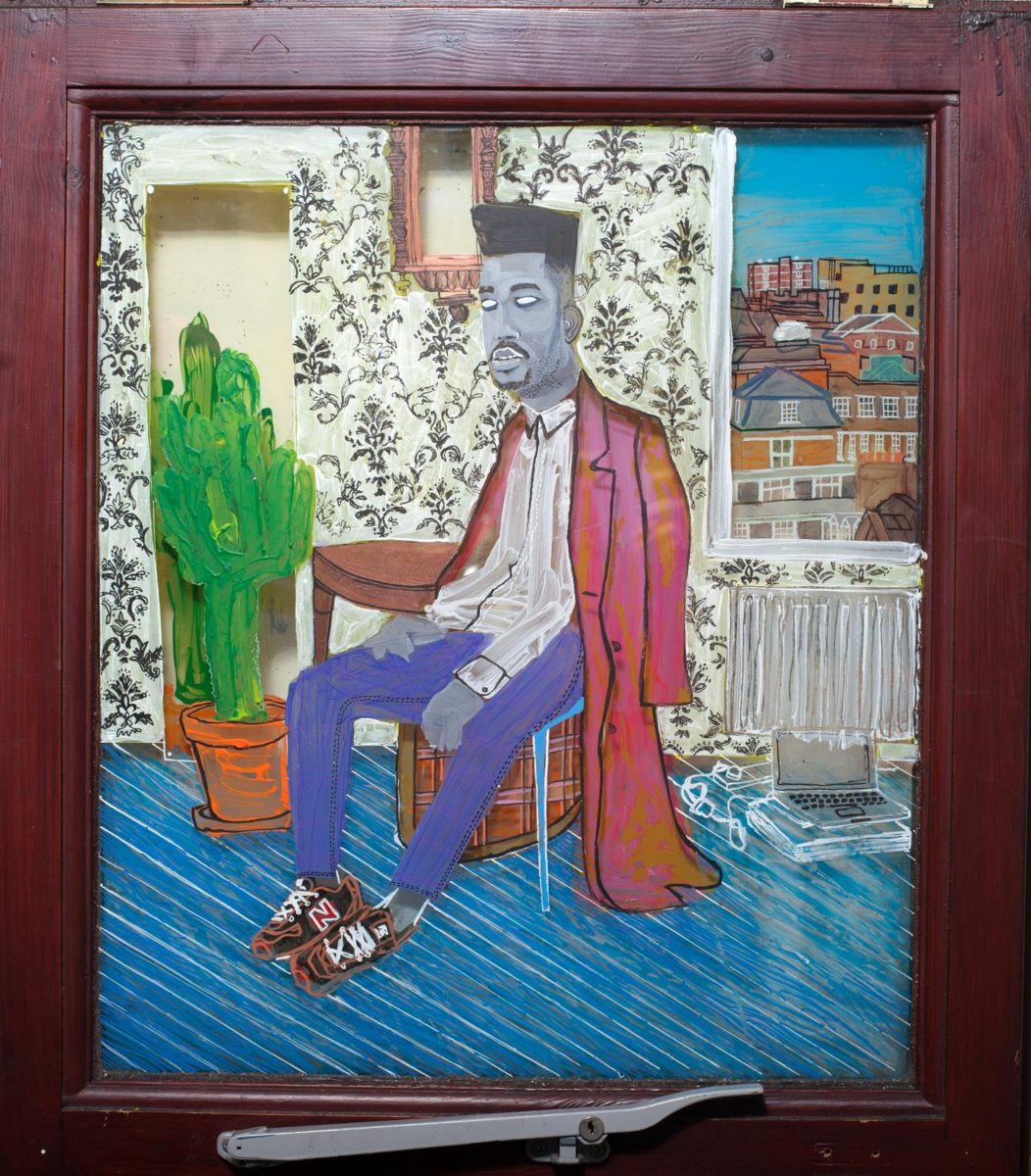 Though Barka himself does not describe his work as political, he has been repeatedly positioned in the media as a "challenging" artist, perhaps simply because he does not marginalise his black subjects. Instead, the young black Brits in Barka's work – who, in his words, are "funky, fly, and don't give a fuck" – stand proudly and unapologetically in the foreground of their own urban landscapes.
Furthermore, Barka's use of colour and pattern is both culturally-specific and defiant. It is a mark of a community refusing to be hidden and refusing to be displaced. Just as the Notting Hill Carnival emerged in the 1960s as a reaction to the race riots in the area, so Barka has now emerged for the glorification of black British culture in the sallow face of gentrification.
Notably, Barka includes Trellick Tower in one of his paintings, a Brutalist landmark in the Notting Hill area. Brutalism has become increasingly fashionable in recent years, as the call for social housing is ever more relevant. However, ironically Trellick Tower has itself now become somewhat of an emblem of gentrification, as privately-owned flats in the Tower have sold for up to half a million. Barka calls the piece 'Gold Finger', playing on the name of the architect, Ernő Goldfinger, to suggest the Midas effect of London's current regeneration.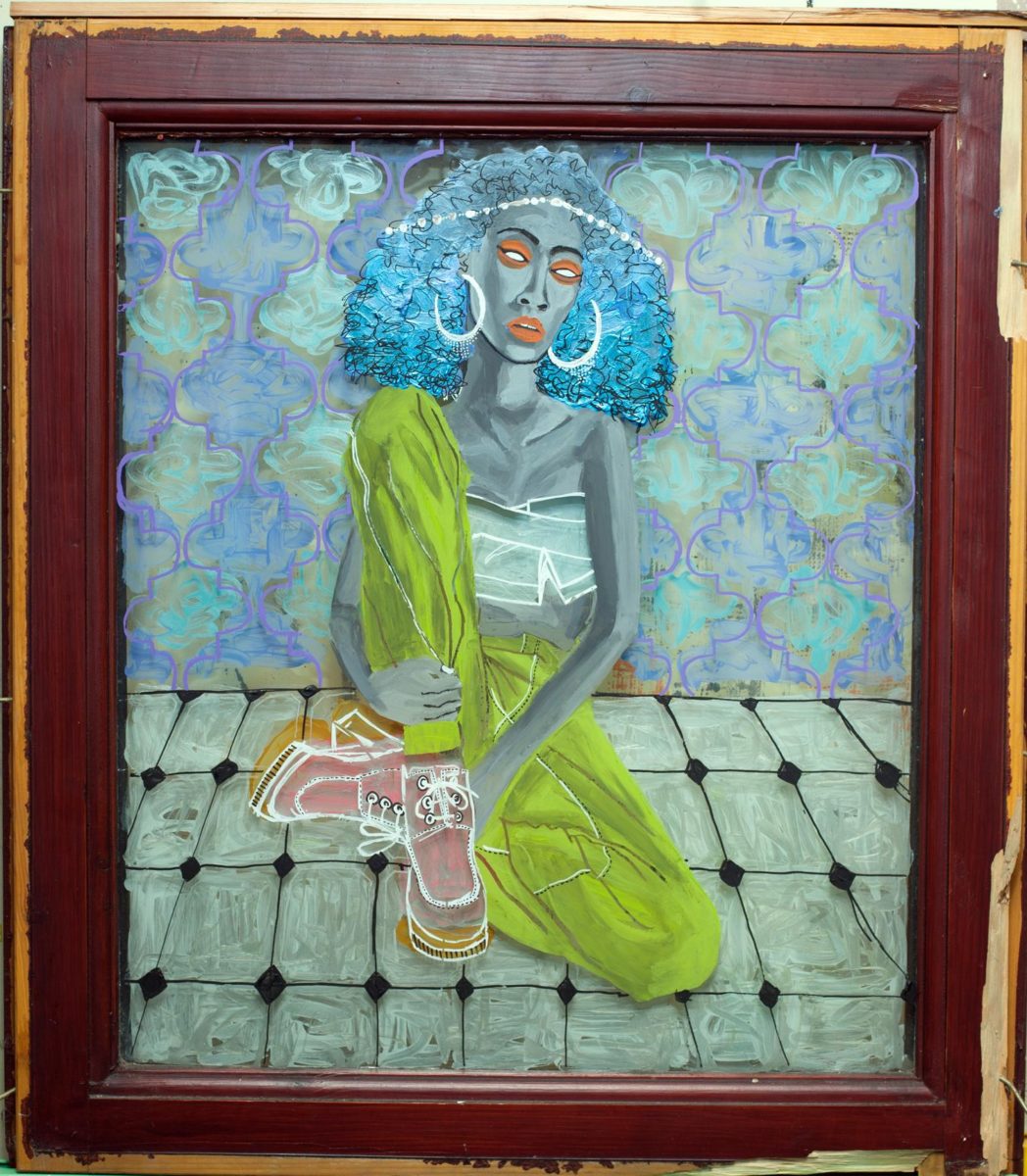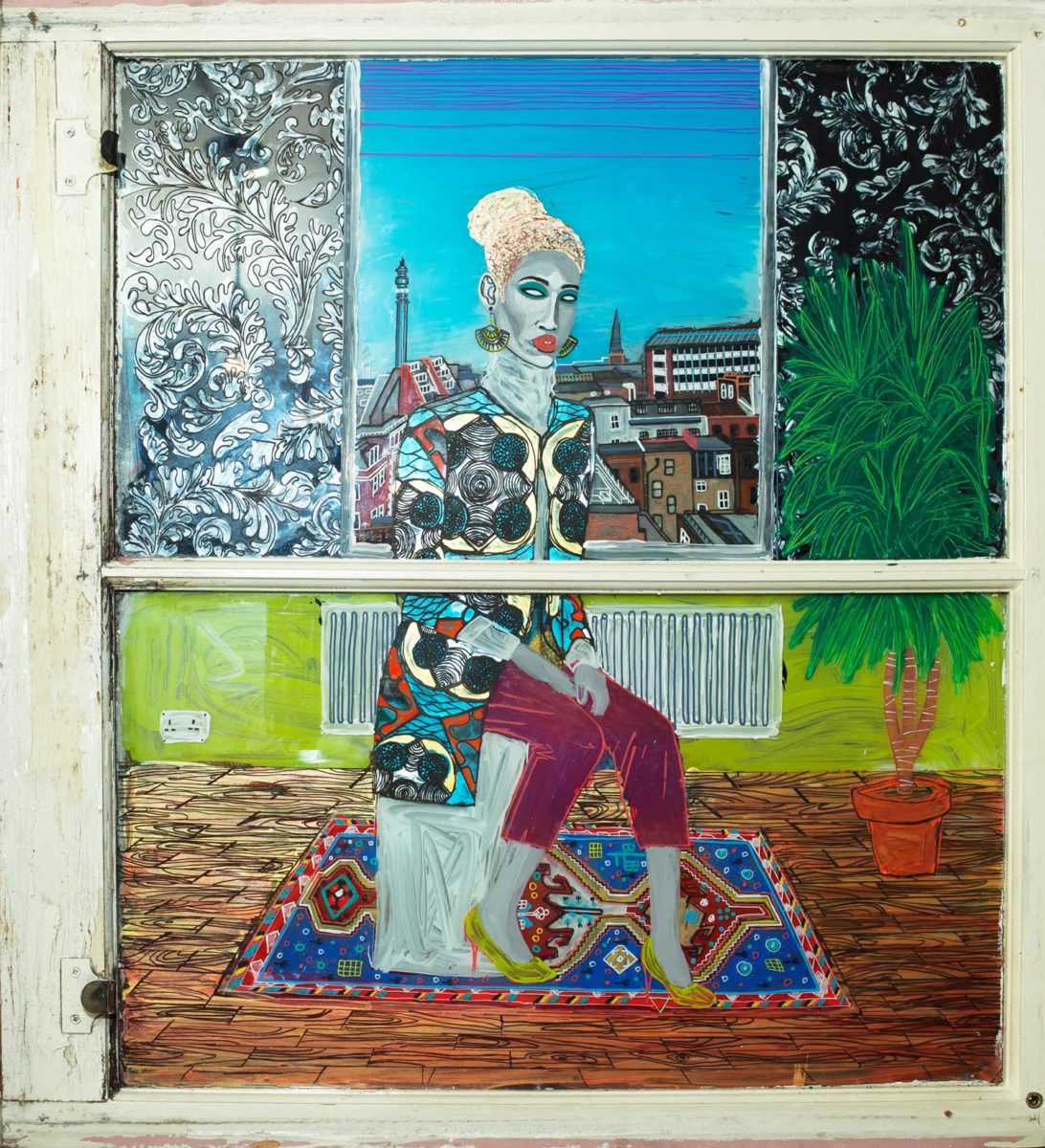 However, Barka also acknowledges his indebtedness to the gentrification process, the debris of which has become his artistic material. In an interview with Widewalls, Barka says, "gentrification has allowed me to access the materials, so in an abundance of material one must simply react, just create, sometimes just because you can." Barka thus utilises the very thing which threatens his community precisely in order to represent that community: their clothes, their faces, and even their fruit, lemons and limes, which is a common trope throughout his work.
In his paintings at this exhibition, running until the 23rd July at the Serena Morton gallery, Barka, out of the wreckage, with his lemons, with his sugar and water, makes lemonade.
Words by Ella Bucknall