What To See At Frieze London 2018
Until 7 October, the 16th edition of Frieze London, under the direction of Victoria Siddall, platforms more than 160 leading galleries from 31 countries, showcasing ambitious presentations by international emerging and established artists, supplemented by a curated programme of artist commissions, films and talks. Something Curated highlights eleven must-see exhibits at this year's fair.
Hardeep Pandhal || Jhaveri Contemporary, Mumbai (Booth H33)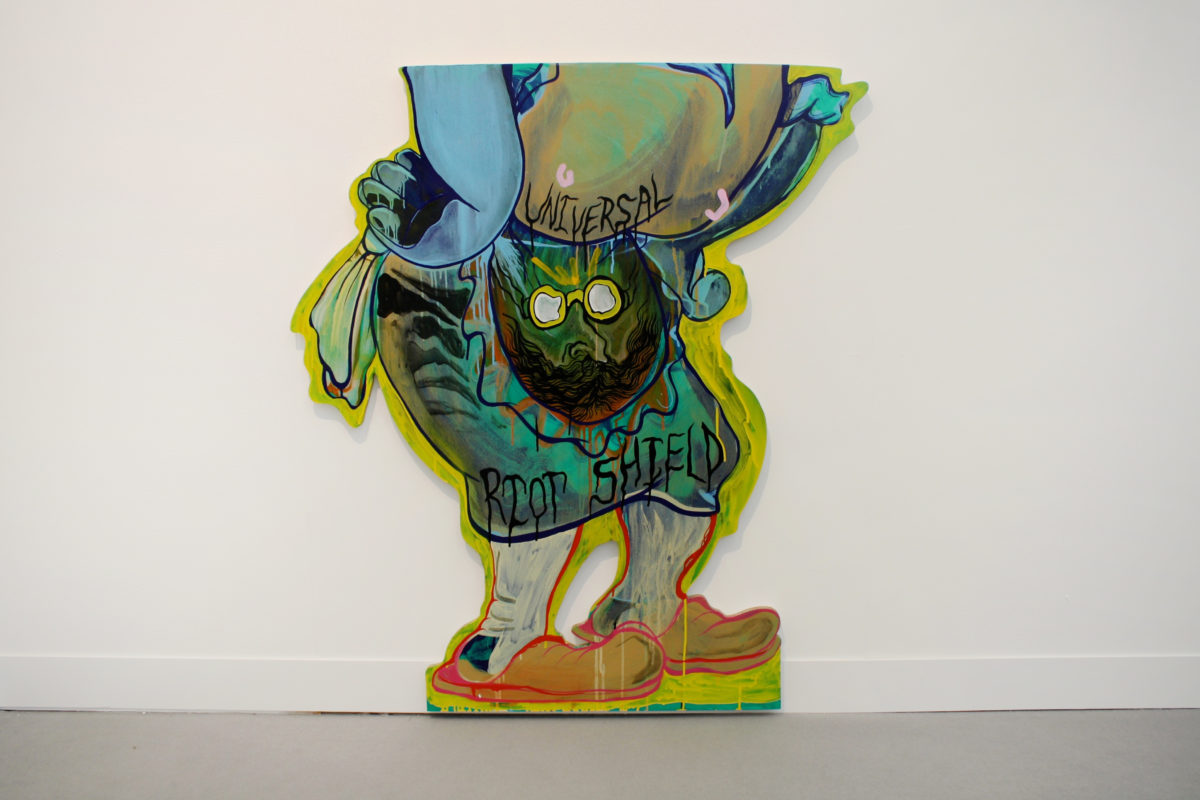 Jhaveri Contemporary presents a new immersive installation comprising ink drawings, textiles, painted signs and a video by Hardeep Pandhal. The artist, who currently has work on display at the South London Gallery, works with non-linear forms of digital video which layer lurid hand drawn cartoons, psychedelic and disorienting narratives with his own deadpan rap music, presenting them within wider installations and wall drawings. Pandhal takes the cultural taboo that prevents an Indian wife from naming her husband directly as a starting point to confront post-colonial traumas with uneasy humour.
Andrea Galvani || Revolver Galería, Lima (Booth H17)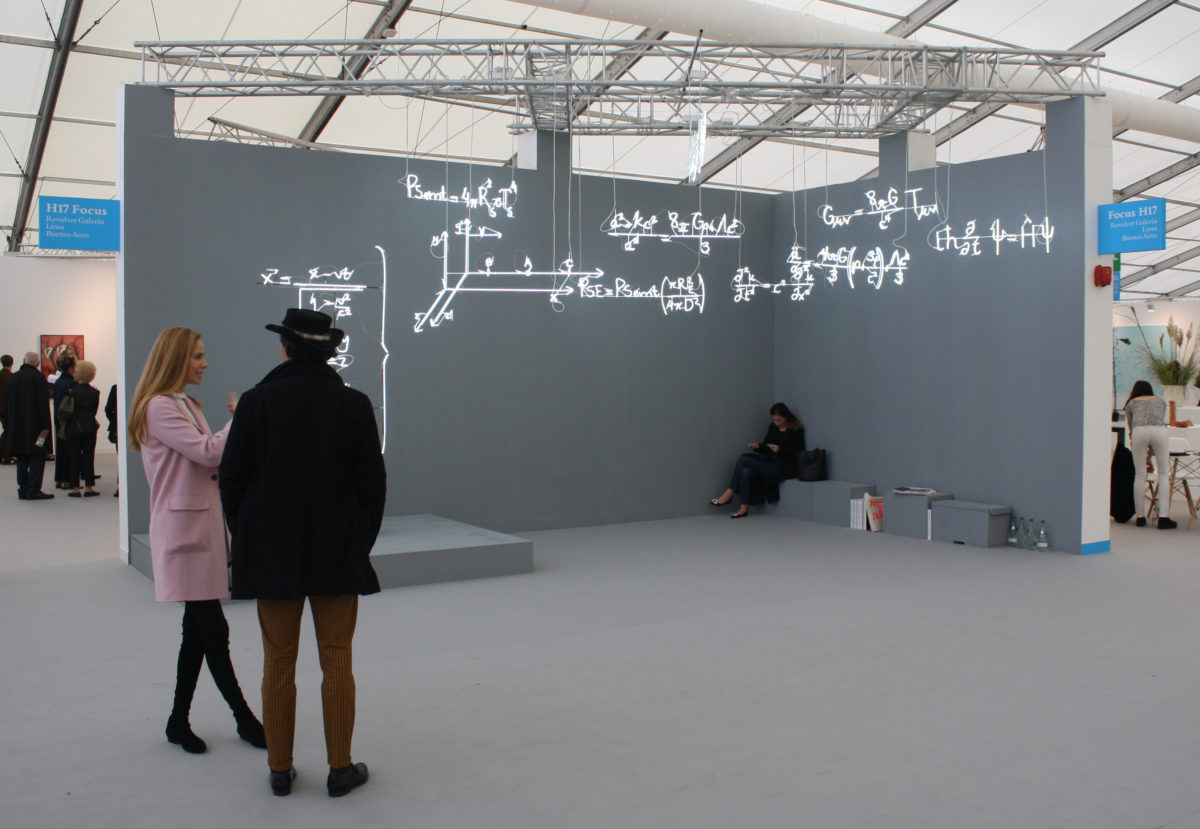 Adopting a cross-disciplinary approach that often draws upon scientific methodology, Andrea Galvani's conceptual research informs his use of photography, video, drawing, sculpture, sound, architectural installation, and performance. Increasingly collaborating with the scientific community over the past few years, the artist generates site-specific installations. Investigating relationships between visibility and invisibility, stability and flux, Galvani pioneers a conceptual language in the fusion of art and science.
Julia Scher || Esther Schipper, Berlin (L6 Live)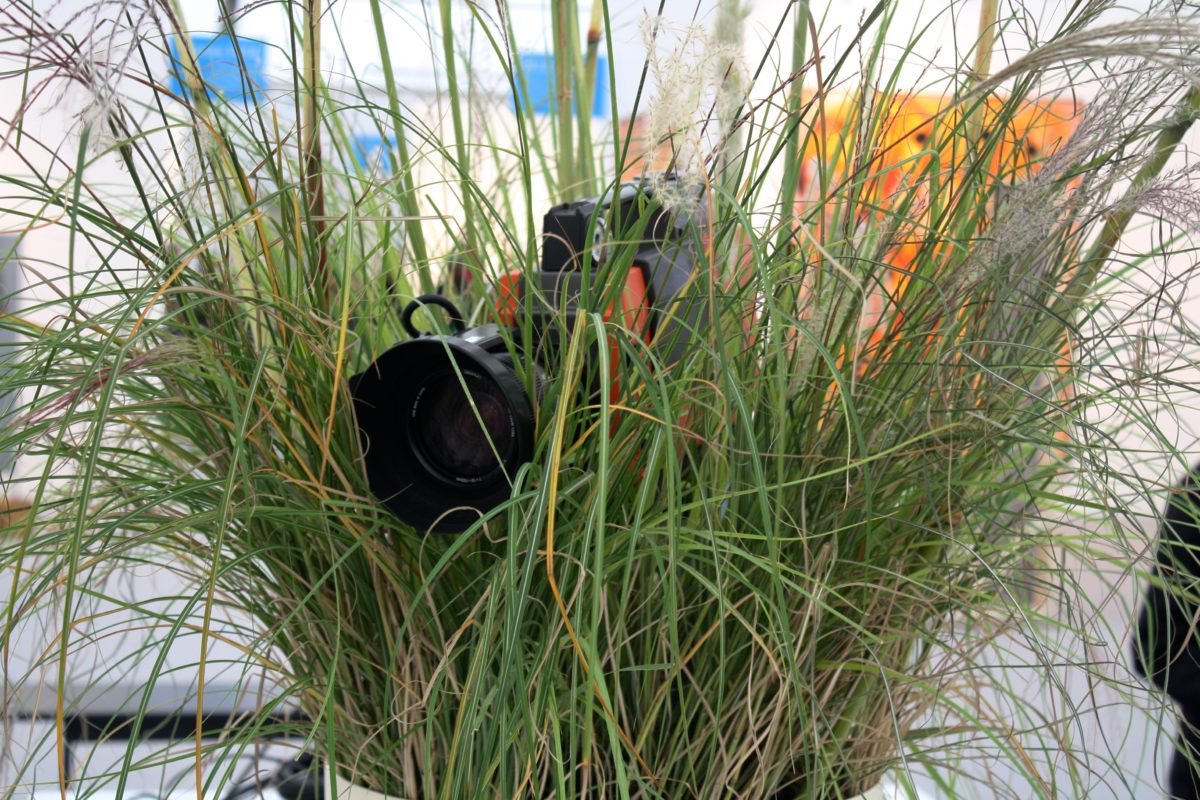 Emerging in the mid 1980s as a precise but playful analyst of social and technological changes, Julia Scher's work presciently addresses surveillance both as a concrete phenomenon of control, including its apparatus and architecture, as well as its impact on private and public sphere. Scher's performance involves a pair of elderly women, dressed in the artist's signature pink hybrid security guard uniforms, roaming the fair and interacting with visitors. The accompanying installation of conspicuously hidden vintage security cameras, further renders visible elements of surveillance at the fair, encouraging us to question the state of the world.
Ernesto Neto || Tanya Bonakdar Gallery, New York/Los Angeles (Booth E7)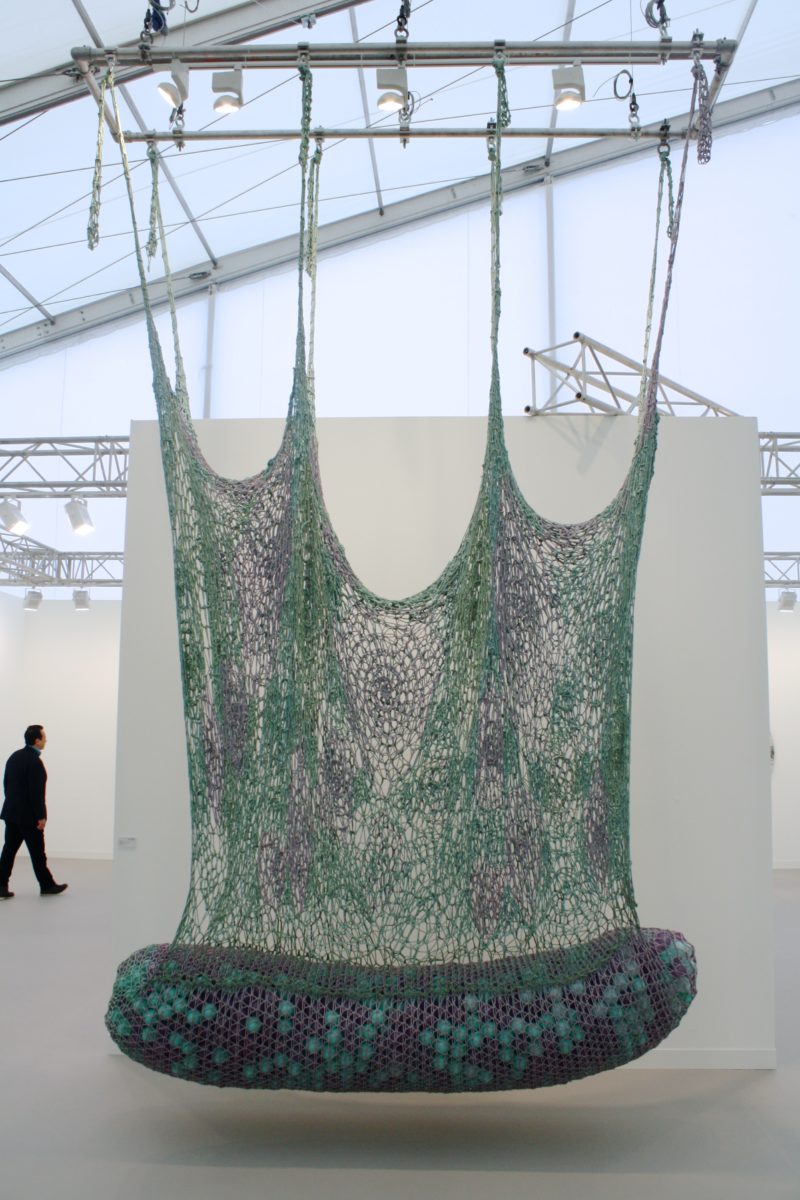 Crochet has become an important part of Ernesto Neto's formal vocabulary over the last two years, and the artist has translated this craft traditionally done by women on a small, delicate scale to structures of massive proportions. These new works continue Neto's practice of using gravity, weight, and tension to dictate form as plastic balls in different shades provide a counterweight for the crocheted sheets. Like giant paintings that the visitor is invited to climb into and move through, the installations provide an opportunity to experience the surrounding space from the inside of the artwork itself.
Athena Papadopoulos || Emalin, London (Booth H8)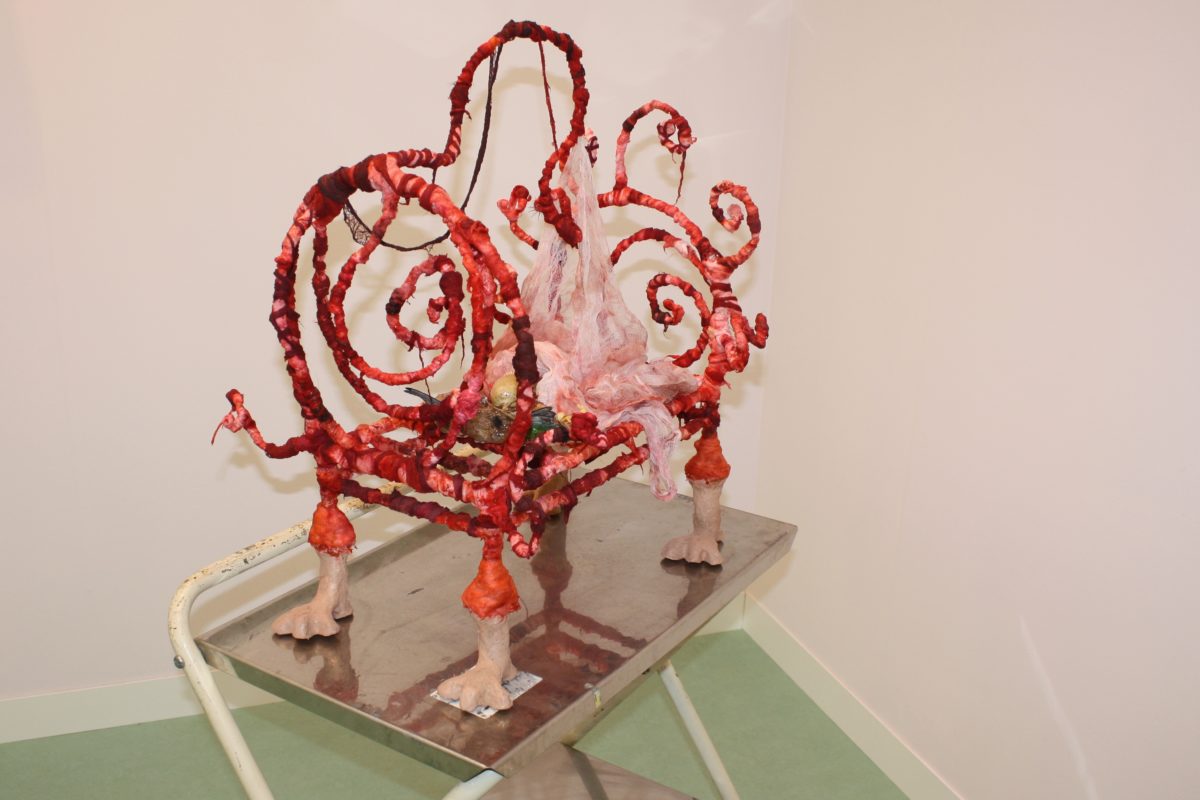 At the centre of Athena Papadopoulos' presentation is a configuration of seven beds forming a cluster perched on cocktail and medical trolleys. In Papadopoulos' infirmary, viewers take sticky steps across a clinical floor to explore miniature single beds of wrought-iron steel curlicue presenting the mysterious inner worlds of the girls who once occupied them. To peer into these is to encounter fictionalised dreamscapes verging on nightmare: pillowcases, gauze and glues are modelled into fleshy forms, saturated with cosmetic, edible and medicinal fluids.
Mathieu Malouf || Greene Naftali, New York (Booth C4)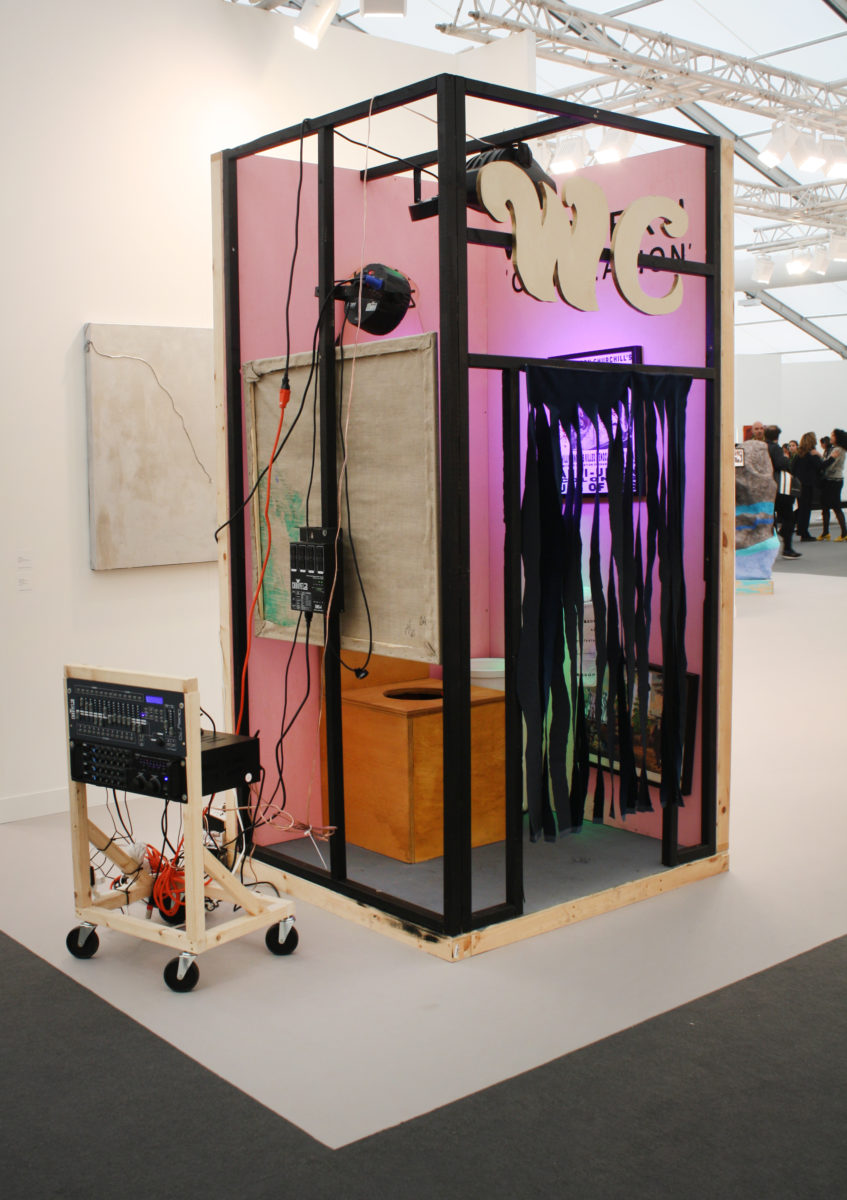 Mathieu Malouf's Western Civilisation comprises a complex psychedelic multimedia bathroom stall loosely based on the decoration inside a powder room at the Wing, a women-only social club located in Flatiron, which the (cis male) artist cannot visit in person. Also on display at the fair, Malouf's paintings ventriloquize their subjects, bringing in vernaculars from pop art, post-capitalist realist German painting, and internet art without committing to any one particular strategy.
Tony Oursler || Lisson Gallery, London/New York (Booth B5)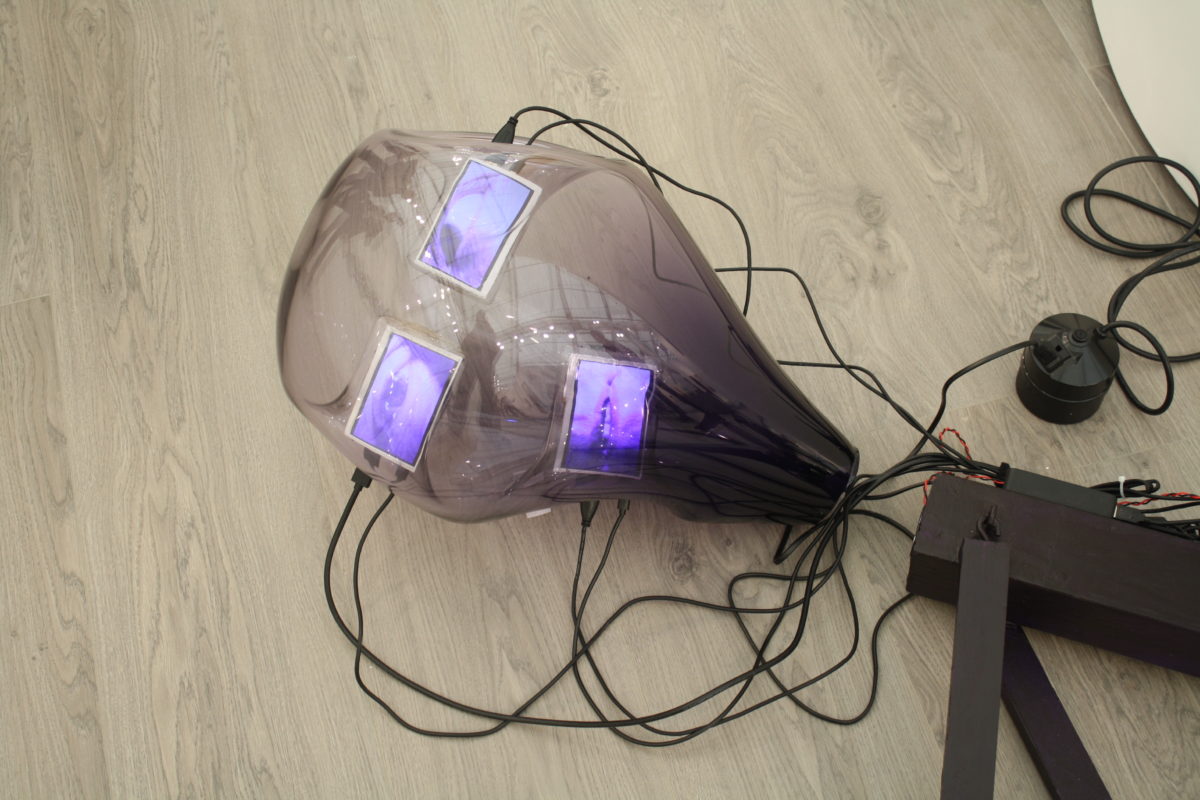 Tony Oursler returns to the deceptively simple device that made him famous whereby he constructs an elaborate installation of comically ghoulish faces through digital means. The real success of these works is due to the fact that though they are highly entertaining to watch, they also captivate on an emotional level by the sheer poignancy and familiar angst of their internal monologues. They are at once seductive yet vaguely unsettling, gripping the viewer in their disorientating psychological mini-dramas.
Tatiana Trouvé || kamel mennour, Paris/London (Booth A2)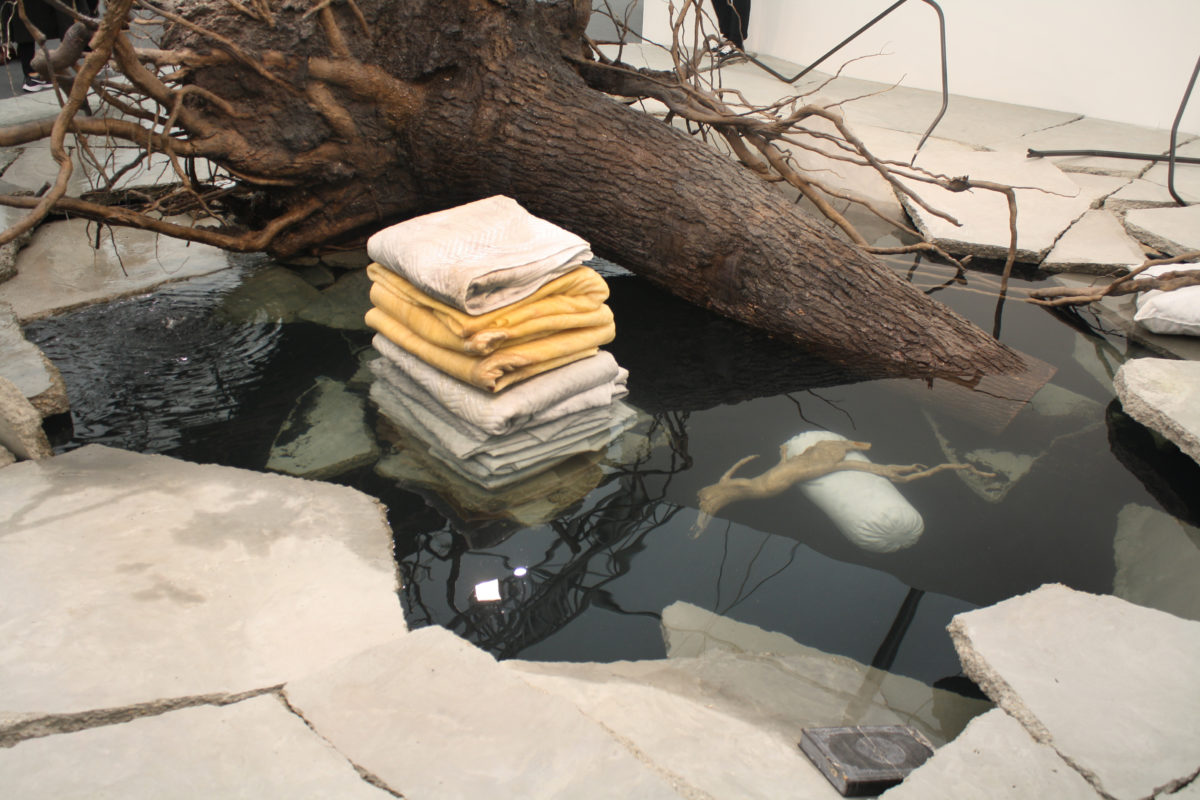 Italian-born, Paris-based Tatiana Trouvé is known for her sculptures, installations and drawings often brought together in precisely-scaled architectural installations which suggest the possibility of underlying narratives. Frequently using cast materials, such as concrete, marble, copper and bronze, she transforms everyday objects into poetic architectural forms. On view for the first time at Frieze London, a new large-scale fountain installation features water falling from an uprooted bronze tree surrounded by a cracked concrete floor, allowing visitors into an immersive experience.
Josh Kline || Stuart Shave/Modern Art, London (Booth A5)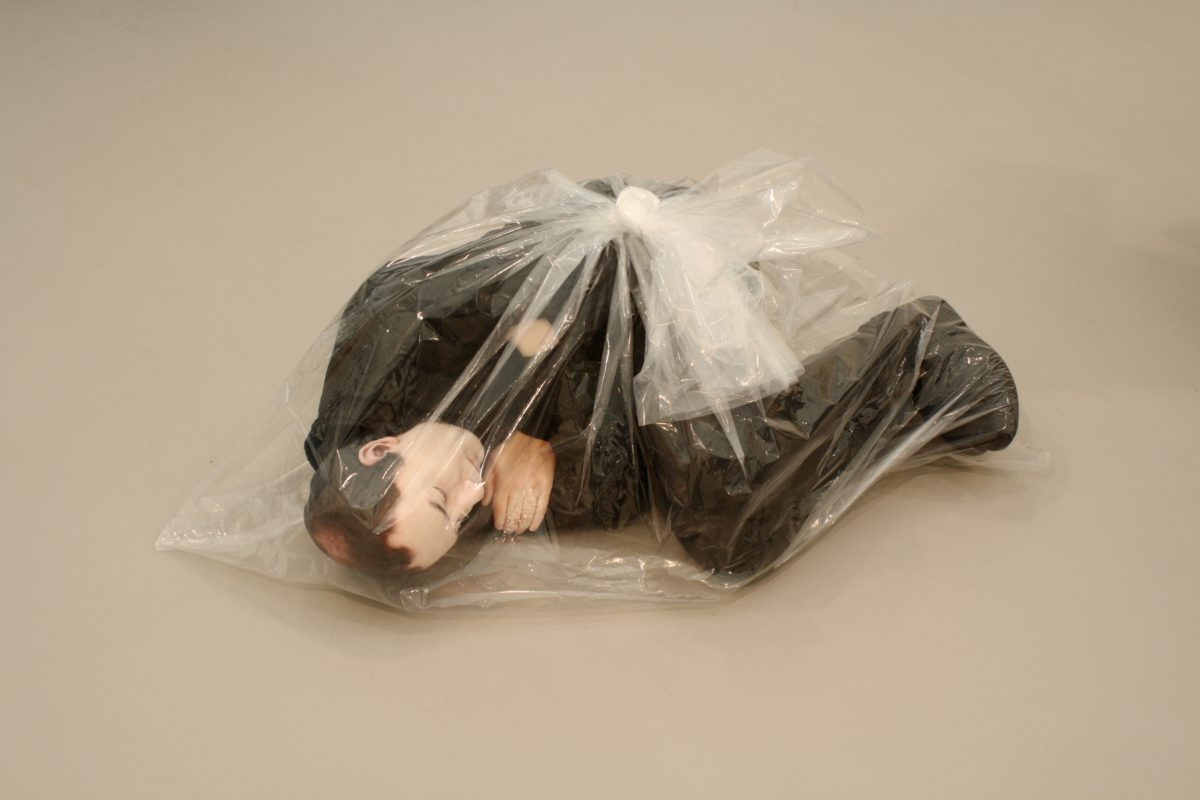 In 2016 American artist Josh Kline presented an exhibition entitled Unemployment at the 47 Canal Gallery in New York, in which he imagined life in 2031, where computers have taken over and a relentless capitalism powered by automation has made most of the middle-class and middle-aged superfluous. The sculpture presented at Frieze, Dave, is a continuation of the works featured in that show – a 3D printed plaster figure in the foetal position, appearing to be discarded, wrapped in a clear plastic bag.
Martin Eder || Galerie Eigen + Art, Berlin/Leipzig (Booth A11)
Conducting an almost scientific enquiry into his medium, Martin Eder has dedicated his career to exploring the illusory possibilities of painting and its meaning. Eder's paintings examine beauty and ugliness, depicting kittens and wide-eyed puppies alongside uncompromising nudes and more sinister and surreal encounters. Informed by diverse movements, including the Baroque and Surrealism, his paintings place the sentimental, squalid and the sublime side by side, recasting the tropes of classical history painting.
Cécile B. Evans || Galerie Emanuel Layr, Vienna/Rome (Booth H13)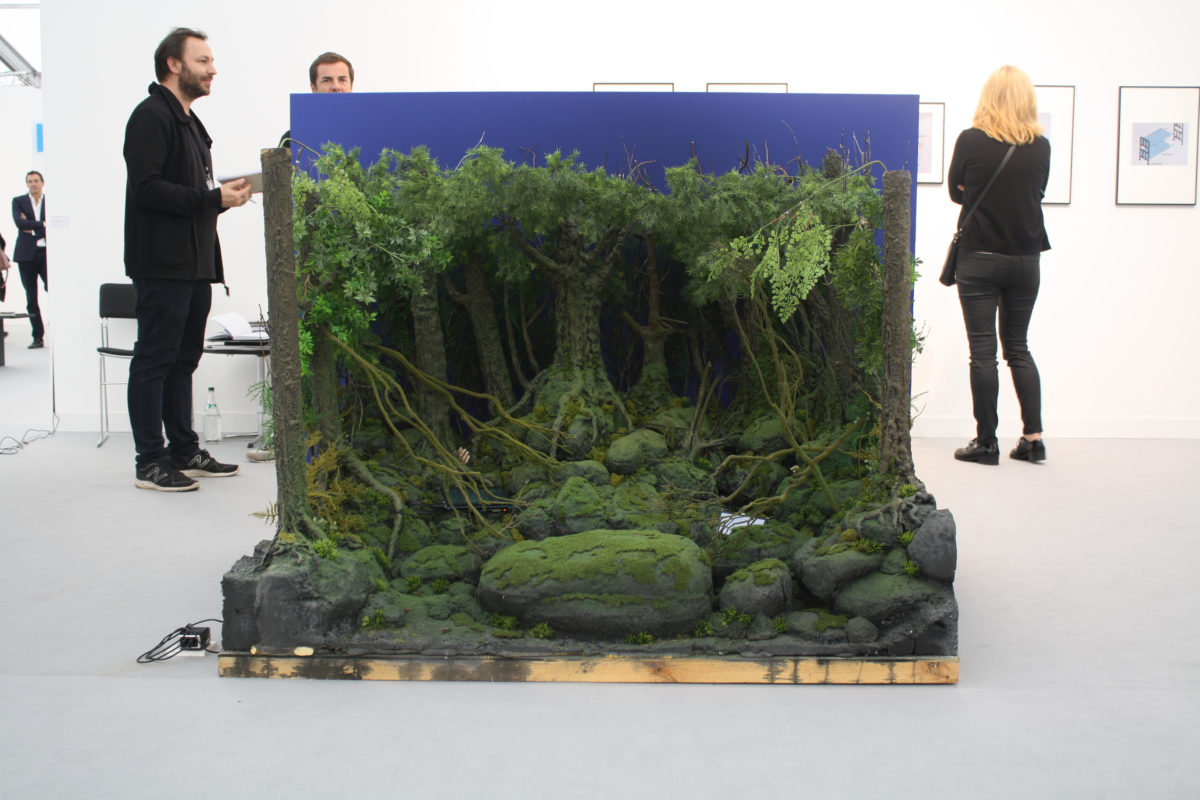 Cécile B. Evans presents sculptures from Amos' World, a fictional TV series chronicling a socially progressive housing estate and its architect, as an allegory for power structures in networked systems. The sculptures are made from set pieces used in the final episode, the fragmented remains of Amos' constructed world displayed as three-dimensional collages. The artist's sculptures perform as equal protagonists alongside the living and digital characters of Amos' World.
Words & Photography by Keshav Anand