Interview: 69herbs Founder Jade Marks On Queer Health & Accessible Herbalism
New York-based herbalist Jade Marks is the resourceful mind behind apothecary and design project 69herbs. As Marks puts, 69herbs "aestheticises a dream of collective healing by blending fantasy, faggotry, and folk herbalism." The colourful apothecary's blends focus on trans and queer health, accessibility, and harm reduction, and all their herbal creations are handmade in Brooklyn from locally and sustainably grown plants whenever possible. Beautifully packaged and artfully labelled, from drops, to smoke blends and teas, Marks' creations range from immunity boosters and sleep aids, to anxiety support and allergy remedies. To learn more about 69herbs, how Marks became interested in herbalism, and what's next, Something Curated spoke with the healer.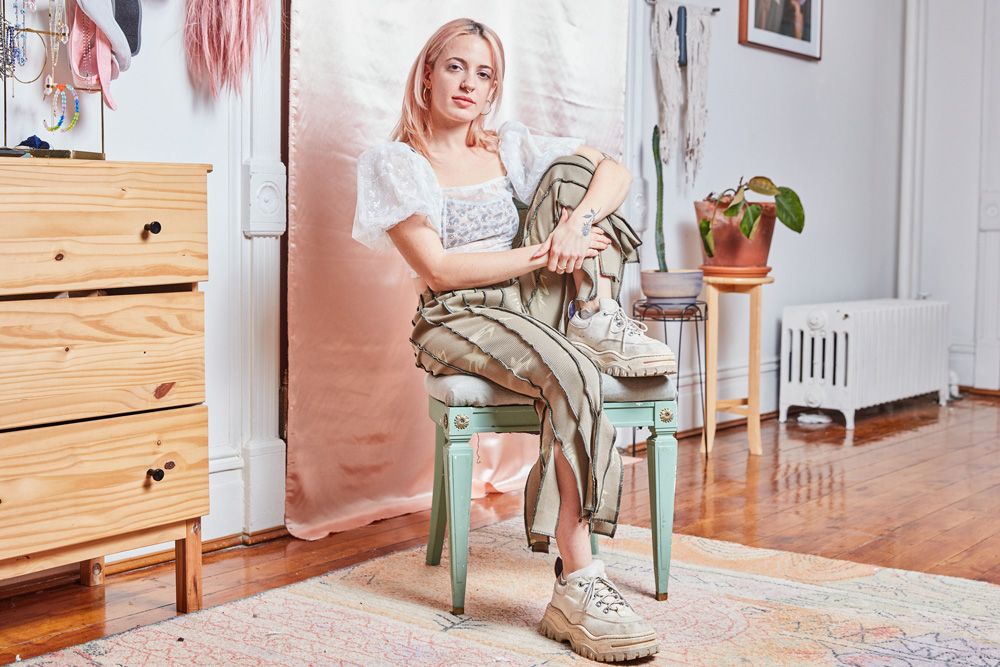 Something Curated: Can you give us some insight into your background; how did you enter this field?
Jade Marks: I've been obsessed with plants since I was a kid. I was always a huge nature freak and was super into hanging with frogs and fairies and bugs… I was the dork at summer camp who was in "nature club" learning toad mating calls or whatever while everyone else was waterskiing. When I was in college in Vermont, I got really into organic farming and permaculture and then spent 5 years urban farming in New Orleans and NYC. I have always loved farming but wanted to expand my knowledge and connect to plants beyond food crops, and production farming was burning me out physically really fast. I became more interested in herbalism and healing work when my mom got sick and died in 2017. I was really looking for grief medicine and found that plants were able to witness and support me so gently and powerfully. I enrolled in herbalism school shortly after that.
SC: How was 69herbs born?
JM: I was fooling around with kitchen witchery, making lots of medicine for myself and loved ones and it just grew from there. The project has always been very aesthetic-driven which feels sort of sneaky, like, we're going to get these herbs out there by making you want to take the medicine because it's cute and delicious. It evolved really organically and in the most casual way, but now feels like such a fixture. The project keeps shifting and serving as a vehicle for lots of different forms of creative projects, which I love. 



SC: Can you expand on your focus on trans and queer health? 
JM: There's this joke that trans and queer people are always Venmo-ing each other the same $5 back and forth to cover medical expenses. The healthcare system was never made for us and we've always had to figure out ways to meet each other's needs outside of it. Herbalism and "wellness" are not meant to be these exclusive, fancy industries – they are meant to belong to the people, especially people who have historically been denied access to more conventional forms of healing. I'm always pushing back against the ideals of purity and respectability in the wellness scene. I want to invite us into healing work in all our messy fullness.
There's a ton of wisdom about how to care for each other in our communities, because we've been doing it forever – think of legacies of care around living and dying with HIV/AIDS, supporting each other through gender affirming surgeries, knowing how to bring someone down from a panic attack, street-based medic work during protests, and so on. With 69herbs I hope to keep that spirit of community based healing alive by making the medicine accessible, in both cost and ingredients. I also aim to center trans and queer people in the products, by making blends that are specifically for dysphoria, depression, anxiety, and embodied sexuality.



SC: How do you approach your visuals and packaging?
JM: Photoshop is like Candy Crush to me, I can get lost in it for hours. I'm completely self taught with my design work, which used to feel limiting or intimidating but now actually feels liberating in a way. I don't feel bound by any "traditional" design principles because I never learned them. My process for designing the visuals and packaging is very playful and intuitive. I pull graphics from the internet, I watch a lot of YouTube tutorials. I'm obsessed with 70's illustration and political propaganda, and old runway collections. I think about colour and texture a lot, how I want something to feel in your hands, how to relate to the products as art objects. I drift back and forth between minimalism and maximalism.
SC: What are you currently working on and how has the pandemic affected the way you operate?
I just released a new set of stickers as a fundraiser with my friend Ren Cook, and we're raffling off a full set of herbs to raise funds for mutual aid in Beirut. I've been editing a really fun promotional shoot that will drop soon, in collaboration with Fleurotica, shot by MaryV. I'm doing a bunch of Zoom teaching and freelance design work. Also working on an herbal hand sanitizer that will be sold at Cafe Forgot. The pandemic forced us to abruptly move studios mid-spring, so things have shifted and slowed down, but I'm definitely grateful to still have work. People are needing a lot of herbal support right now – nervous system and immune support, specifically – and it feels good to be able to keep offering that.
SC: What do you want to learn more about?
JM: I'm crazy about mycology lately – fungi is a whole new world for me that I'm stoked to learn more about. I'm also getting into 3D animation and working on bringing my design skills to the next level.



Images courtesy 69herbs