Investigating Alessandro Michele's Love Affair With Britain
Alessandro Michele was appointed as Gucci's creative director back in January 2015. With the backing of Marco Bizzarri, the label's CEO and president, Michele has brought his distinctive sense of eclecticism to the Italian fashion house. Born in Rome, the designer developed an acute appreciation of aesthetics, influenced by his mother's interest in cinema and his father's collection of art. As an adolescent he engaged with the energetic youth culture of post-punk Europe, visible in his designs today. His unique vision was recognised less than a year into his new position by the British Fashion Council, who awarded Michele the 2015 International Designer Award at the BFAs. In 2016, he was presented with the International Award by the CFDA for his creative contribution to the international fashion stage.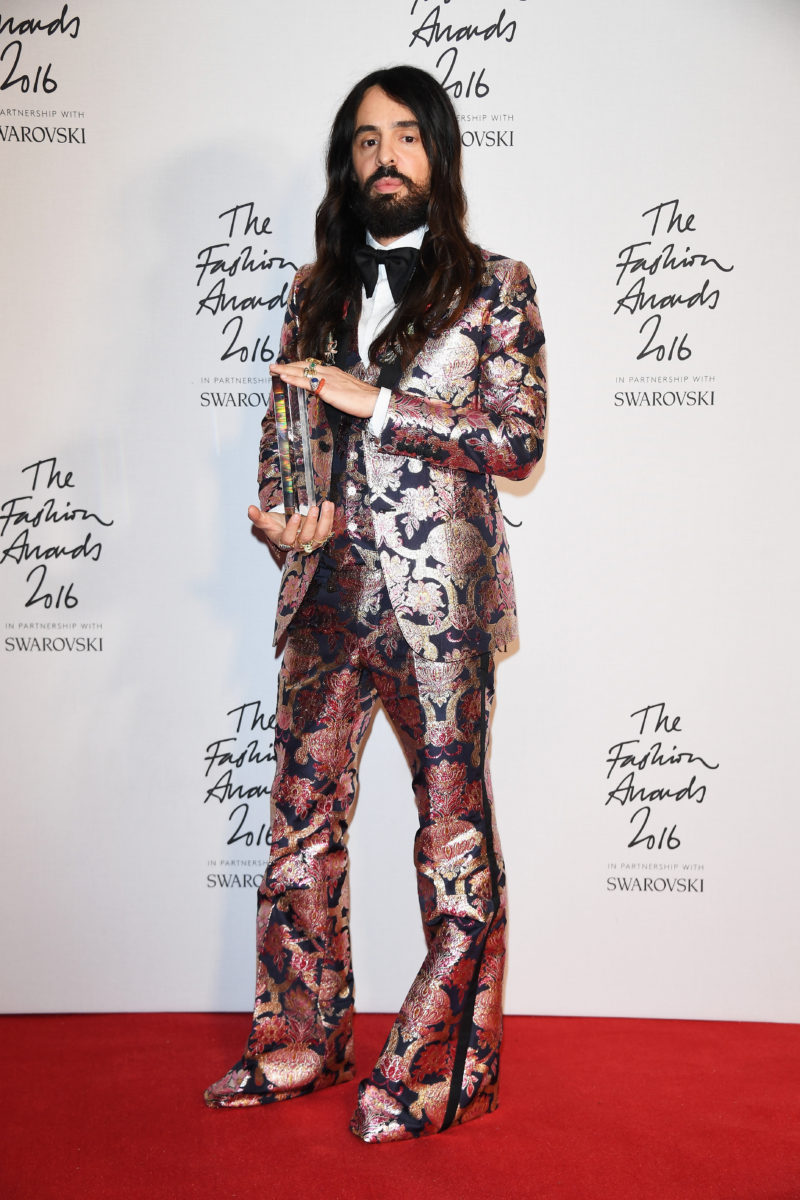 After studying costume design at Rome's Academy of Costume and Fashion he joined the Italian knitwear brand Les Copains. Following this, Michele began to work under Karl Lagerfeld and Silvia Venturini Fendi at Fendi, where in the late 1990s he helped the firm achieve commercial success with its leather goods. Tom Ford employed him to design accessories for Gucci in 2002, where he has been working ever since, becoming associate designer to Frida Giannini in 2011, before being invited to take up his current post.​ While working with Ford, Michele resided in London for several years, commencing his longstanding penchant for British history and culture. In a statement relating to Gucci's Cruise 2017 offering, the designer said: "London is always on my mind and in my memories. I'm obsessed with British culture, past and present."
Michele presented the mentioned collection at the Cloisters of Westminster Abbey last year; this was the first time the 13th century Gothic church had staged a fashion show. Flamboyant and skilfully executed, the designer's takeover brought a rise in Gucci's sales for the first time in two years. Juxtaposed against the striking austerity of the Cloisters, the collection was eclectic and extravagant. Michele's "love letter to England" certainly felt British in many parts, with Union Jack motifs across knits and loafers, and plenty of tartan, whilst maintaining the brand's Italian approach of unapologetic luxury. Rain-hats made from silk brocades, embroidered bomber jackets emblazoned with twin cross-stitched King Charles Cavaliers, kilts, punk bondage drainpipes, high necked Victorian style dresses in pink, frilled suits, and boaters, all featured.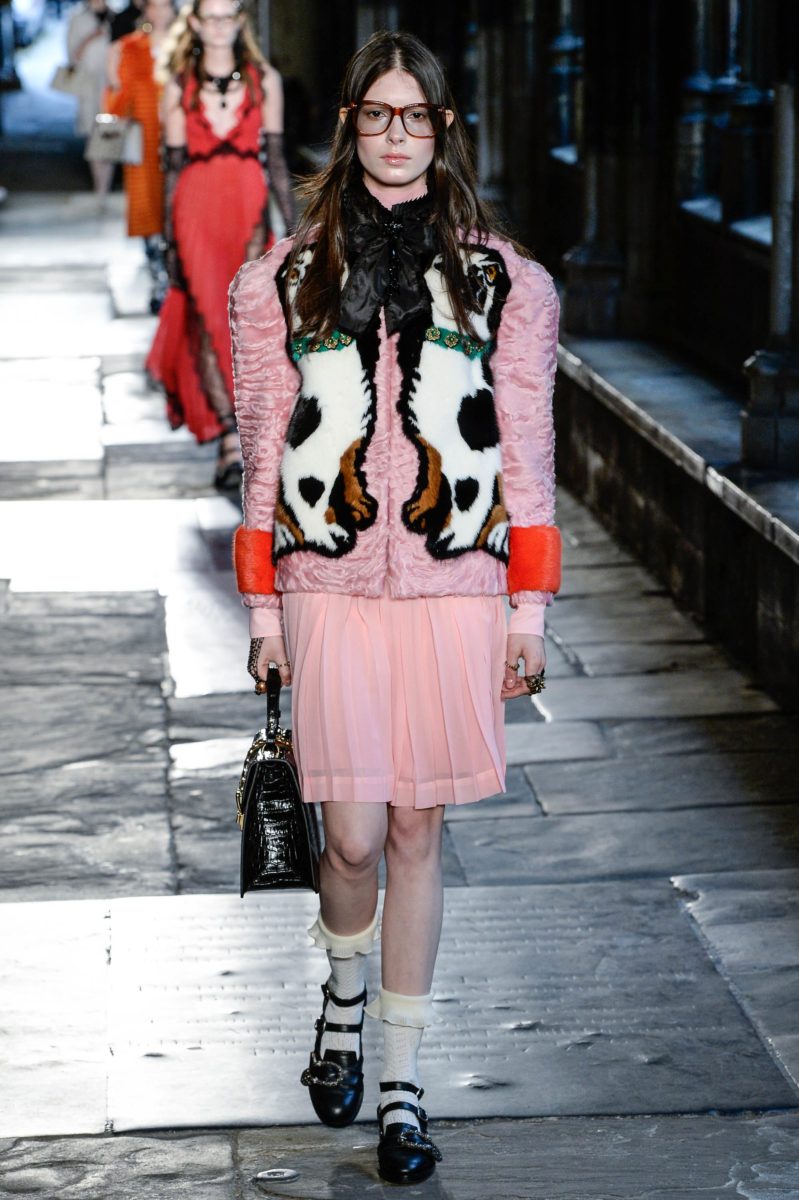 Since his appointment, Michele has utilised seasonal campaigns as an occasion to do more than just show clothing and accessories, developing considered and immersive narratives. He has previously used a serene Japanese garden as the backdrop for the label's AW16 line, and later introduced a bold dose of eccentricity into a metro station in Berlin. More recently, following the British-inspired aesthetic that was heavily featured throughout Cruise 2017, Michele turned to the lush grounds and decadent interiors of Chatsworth House, the 16th century home of the Duke and Duchess of Devonshire. Reflecting on the luxury marketplace, particularly fashion, it is clear that a company's legacy is a key asset. In the same way that a collector is likely to be more comfortable investing in an artwork by an established artist than an emerging talent, the proven track record of a name goes a long way in fashion. In playfully blurring the lines between the Italian house's history and British heritage, Michele intelligently heightens a sense of prestige surrounding the label's transformation.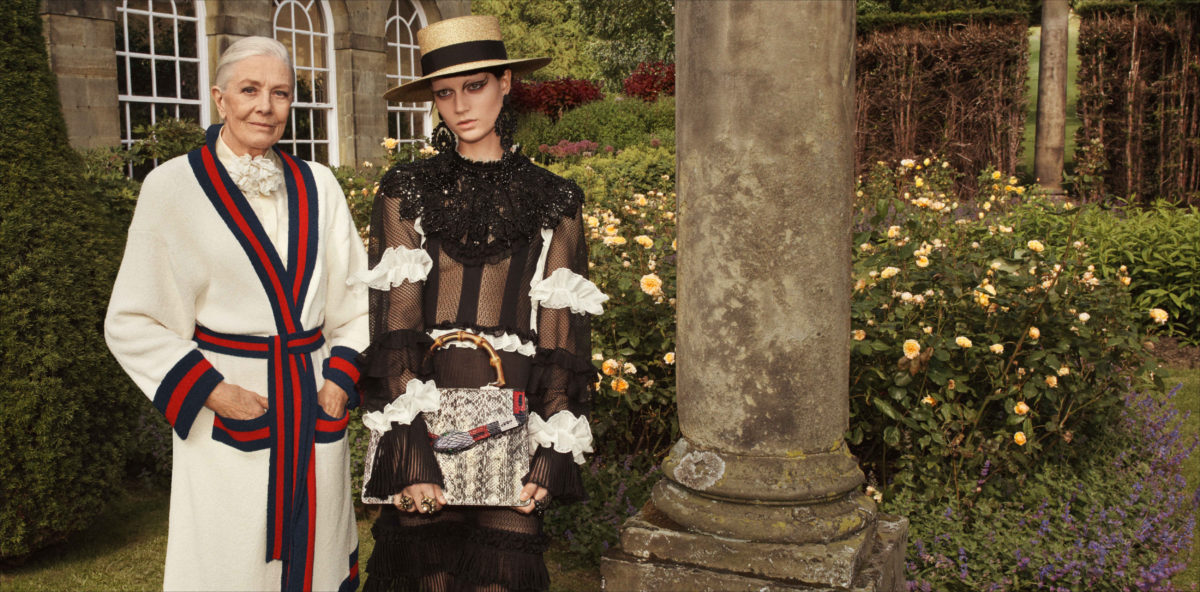 Shot by British fashion photographer and film director, Glen Luchford, a favourite of Michele's, the campaign documents a troupe of models enjoying the magnificent grounds and rooms of the English manor. Images include whimsical characters tending to bright gardens of roses, feeding chickens, riding horses, and reclining indoors on hefty sofas and detailedly embroidered chairs. The campaign also stars lauded British stage actress Vanessa Redgrave. Concretising his love affair with Britain, Michele announced Gucci's plans to partner with the historic Chatsworth House until 2019 on a cultural programme that will focus on fashion and style.