Meet Monster Chetwynd, The Artist Behind The Tate's Giant Christmas Slugs
British artist Monster Chetwynd's diverse practice encompasses performance, sculpture, installation, video, and more recently, a return to painting. She was Christened as Alalia Chetwynd, and raised as Lali; in 2006, she changed her first name to Spartacus, and in 2013 she changed it to Marvin Gaye. The artist currently goes by Monster. Chetwynd was born in London and studied Anthropology at University College London before training as a painter at the Slade School of Fine Art followed by the Royal College of Art. She is perhaps best known for her makeshift-style performance pieces, which often feature handmade costumes, sets, and props. The artist's work has been shown in numerous eminent institutions and galleries such as the Tate and Sadie Coles HQ, and she has participated in residencies at The Resilience Lab in Bristol and Monteverdi in Tuscany, among others.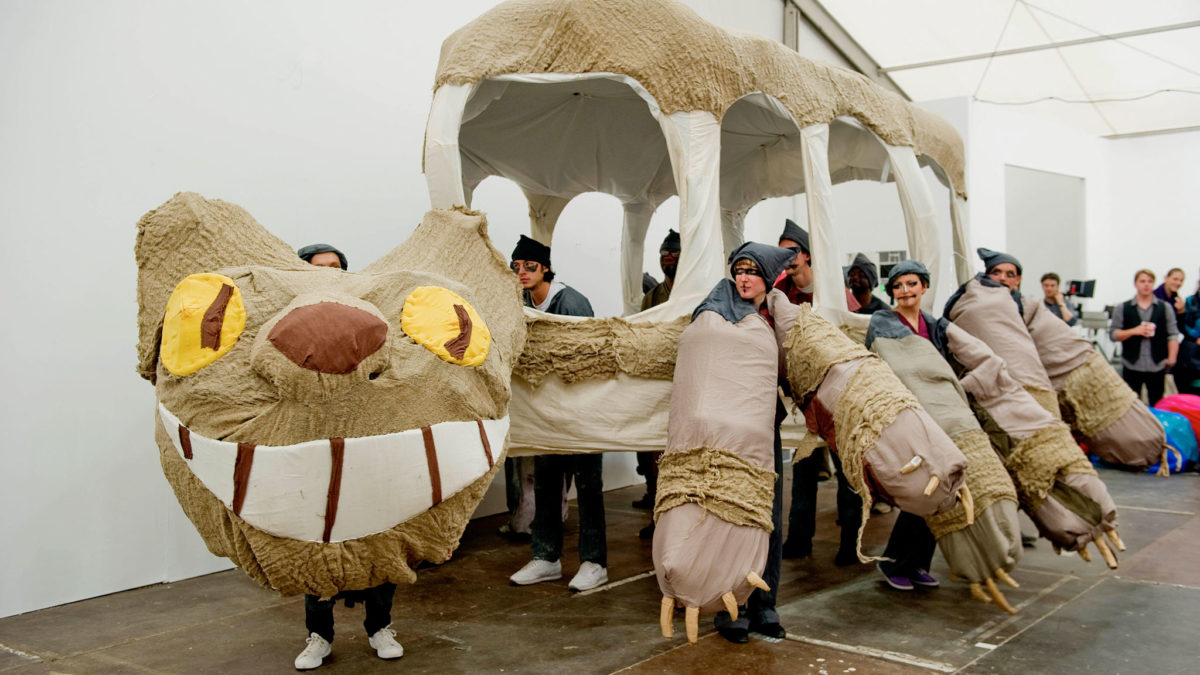 Now based in Glasgow, Chetwynd first gained attention hosting whimsical and extraordinary parties in her flat, with themes ranging from Surrealist dress-ups to complete nakedness. The parties were always inspired by something she was annoyed by, such as a particular advert or something happening in the Political world, or in her everyday life. Chetwynd's handcrafted costumes, built from papier-mâché, latex, and cardboard, combined with her love of pop culture, have helped to shape a practice that is rooted in performance. Early in her career, she presented an exhibition with sculptor Jess Flood-Paddock at Malta Contemporary Art, entitled, The Grid System. Together, they questioned the benefits of parameters, routines, and regulation to creativity, fostering a general curiosity about how things are made. The critically engaged exhibition featured a variety of screenings, talks, workshops, and performances.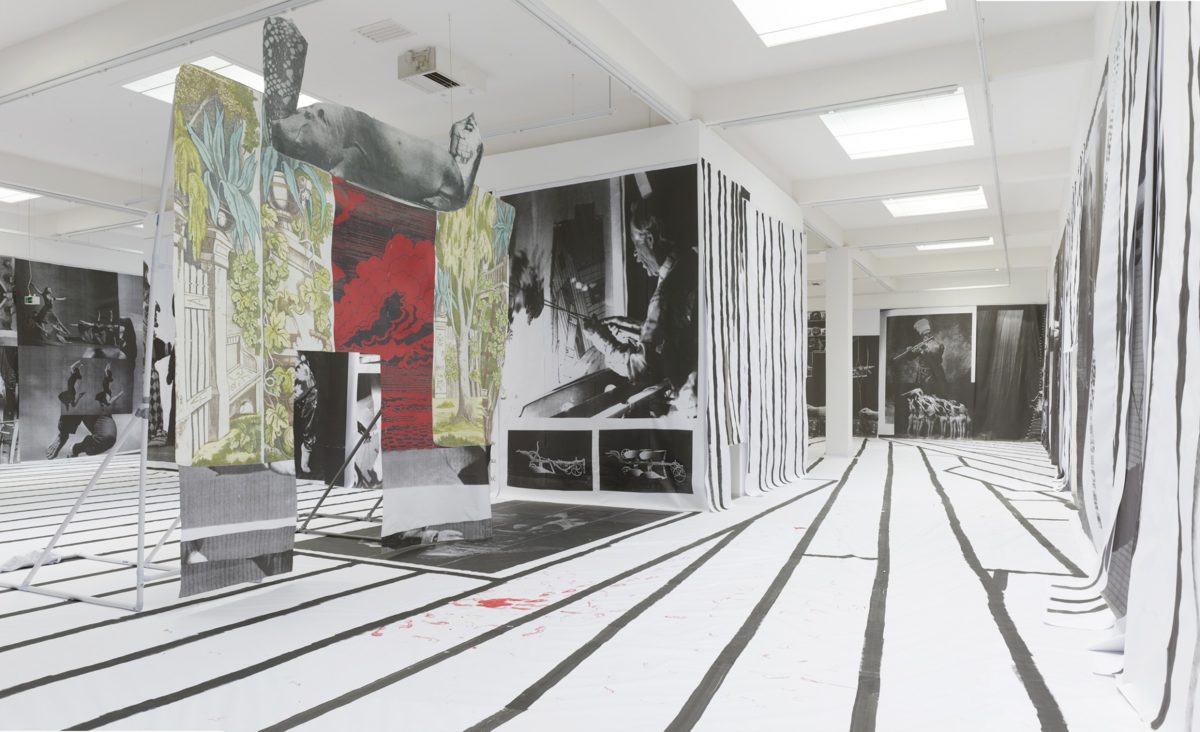 In 2012, Chetwynd was nominated for the Turner Prize, awarded to British artists for their recent contributions to contemporary art. She was nominated for her solo exhibition at Sadie Coles HQ, entitled Odd Man Out. In this piece, Chetwynd performed a play that ran for five hours, revolving around ideas of democracy, the right to vote, and the disincentives against engaging in politics. The one-woman mime drama was a kind of punishment or purgatory, seeking to be demonstrative, pushy and preachy, much like the theatrical Christian 'Hell Houses' of the American south that persuade an individual to turn to Christianity. Odd Man Out portrayed non-conformism and aimed to promote freethinking out of its audience.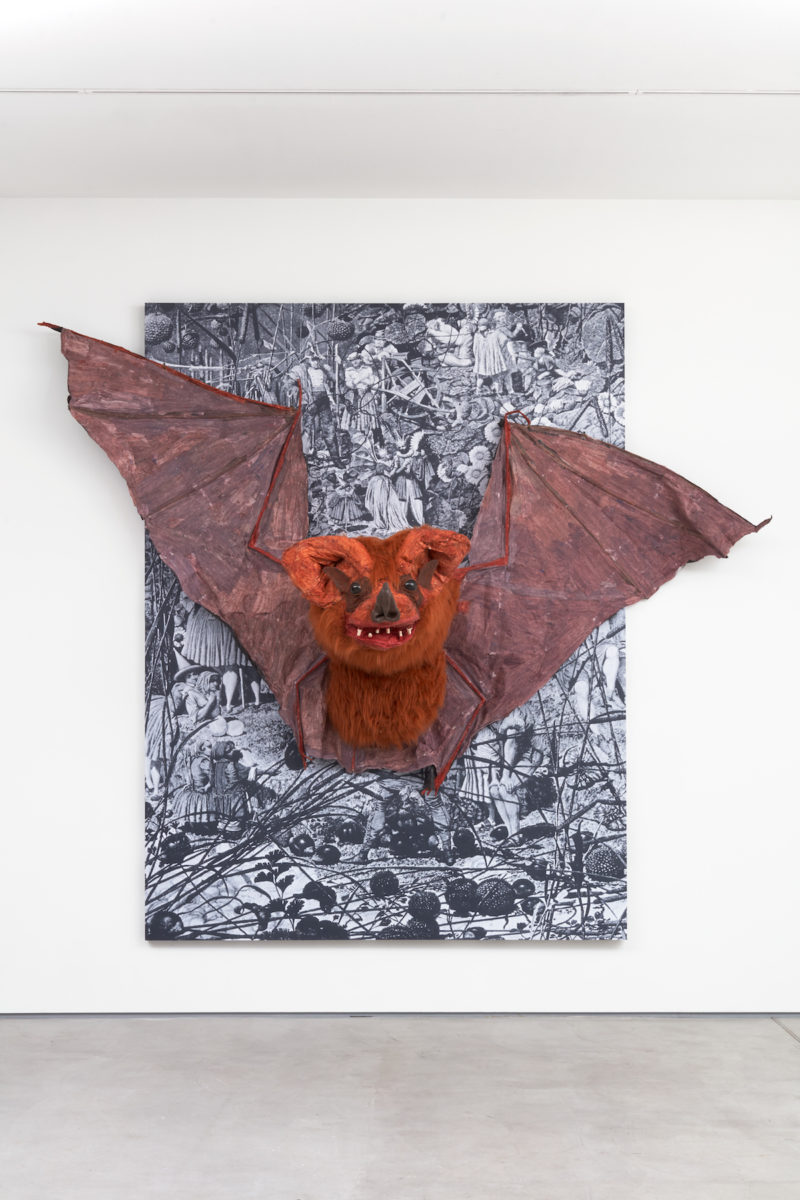 Earlier this year, Chetwynd presented a new body of work in an exhibition, entitled Ze & Per, at Sadie Coles HQ. In contrast to previous projects, where appropriated imagery spread across the surfaces of an entire gallery, Chetwynd's recent paintings condense and compress the cacophonous subject-matter of her larger installations within their borders. In the process, painting itself is envisaged as a kind of static and contained performance, but equally as a fluid entity. Most recently, the artist designed the Christmas decorations at the Tate Britain, currently on display, installing two large and illuminated sculptures of slugs outside of the museum. The sculptures are made of recyclable hessian and wicker, each slug over 10 metres long and accompanied by trails of blue and white LED lights across the building's exterior. Something Curated spoke with Chetwynd to learn more.
Something Curated: What inspired the giant slugs for this year's Christmas decorations at Tate Britain? 
Monster Chetwynd: My initial idea was to paint Tate Britain with algae, as I was inspired by a futuristic aspiration/proposition of the Science centre in Glasgow announcing that 'in the Future' all public buildings will be lit by Bioluminescence rather than beacon lighting! I asked the Tate team if we could investigate this and the result of the research was the sad state of bioluminescence as a source of lighting, not being that developed yet. As a product 'to buy' it is limited to 'saches' or small pouches of water or larva lamps. The reality of suspending all these pouches and for it to be visually stunning both during the day and night seemed unlikely.
In the next meeting with the Tate curator I showed the clip of the Slugs making Love from 'Life in the Undergrowth'. The Slugs form a radiant, glowing, blue flower shape suspended on a strand of slime from a tree branch. It was through this ecstasy that we developed the idea of the Slugs 'conveying the concept' rather than Bioluminescence itself being present. We were sure that two huge Slugs in sculptural form appearing to have smeared slime trails all over the Tate facade in fairy lights, would be more impactful and warming the soul then any currant use of actual Bioluminescence. The next meeting was how to make sure the scale of the Slugs was right and how to avoid any 'Spinal Tap – Stone Henge' failures!
SC: In your exhibition of new works at Sadie Coles HQ, Ze & Per, earlier this year, painting itself was envisaged as a kind of static and contained performance – could you expand on this idea? 
MC: I love painting as a static and contained performance. I was asked by a GSA student during a movement workshop if I thought that my performances were exploded paintings and if I had ever wanted to make a painting explode off the wall. The answer is yes! I love the paintings of Picabia which were linked to events where the participants had a party and the paintings where made as a result. I love the paintings of Watteau and the extension of the theatre in the outdoors. I love the film 'Les Enfants du Paradis' (1945) where there is a mime, within a play, within a film.
SC: What is the thinking behind continually changing your first name?
MC: It is instinctive, strategic and pleasurable. I recently read a book on Hokusai and felt exonerated. (Hokusai was known by at least 30 names during his lifetime. Although the use of multiple names was a common practice of Japanese artists of the time, the numbers of names he used far exceeds that of any other major Japanese artist. Hokusai's name changes are so frequent, and so often related to changes in his artistic production and style, that they are useful for breaking his life up into periods).
Feature image via Tate