ELLISS Champions an Elegant Approach to Sustainable Fashion
ELLISS, the label founded by London-based Central Saint Martins graduate Elliss Solomon, is a ready-to-wear brand that creates clothing with a distinctive voice, joining luxury fashion and activism with the aim of making thought-provoking pieces. Born from a desire to create garments using comfortable, natural fabrics in contemporary silhouettes, Unconscious Clothing, Solomon's A/W16 collection, is a celebratory study of women in both execution and design.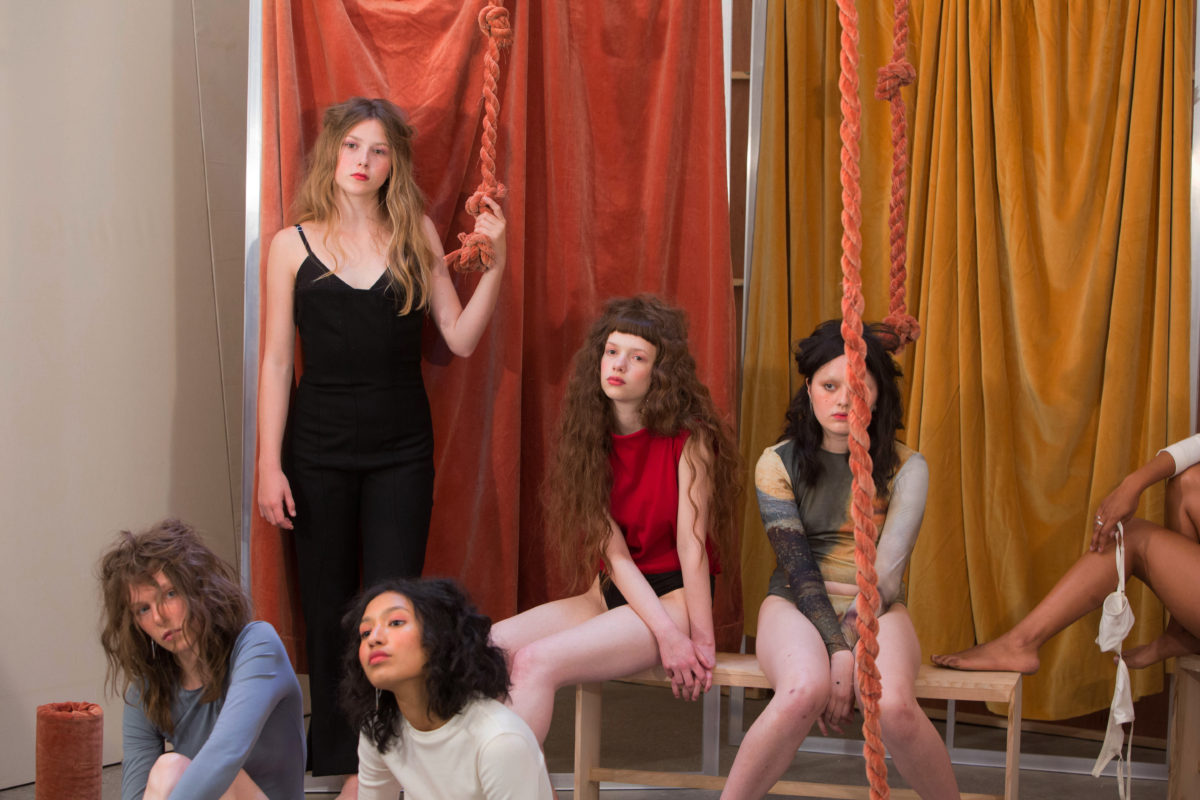 Focusing on detailing and print, the young designer's garments are proudly sustainable, championing organic and ethically sourced materials. The clothes are designed to flatter, subtly toned in soft nudes and blushing reds, featuring sweaters, t-shirts, and a whimsical bodysuit and underwear set adorned with a painted female's face. The label's latest collection, produced in England to maintain a low carbon footprint, will be available online from this September.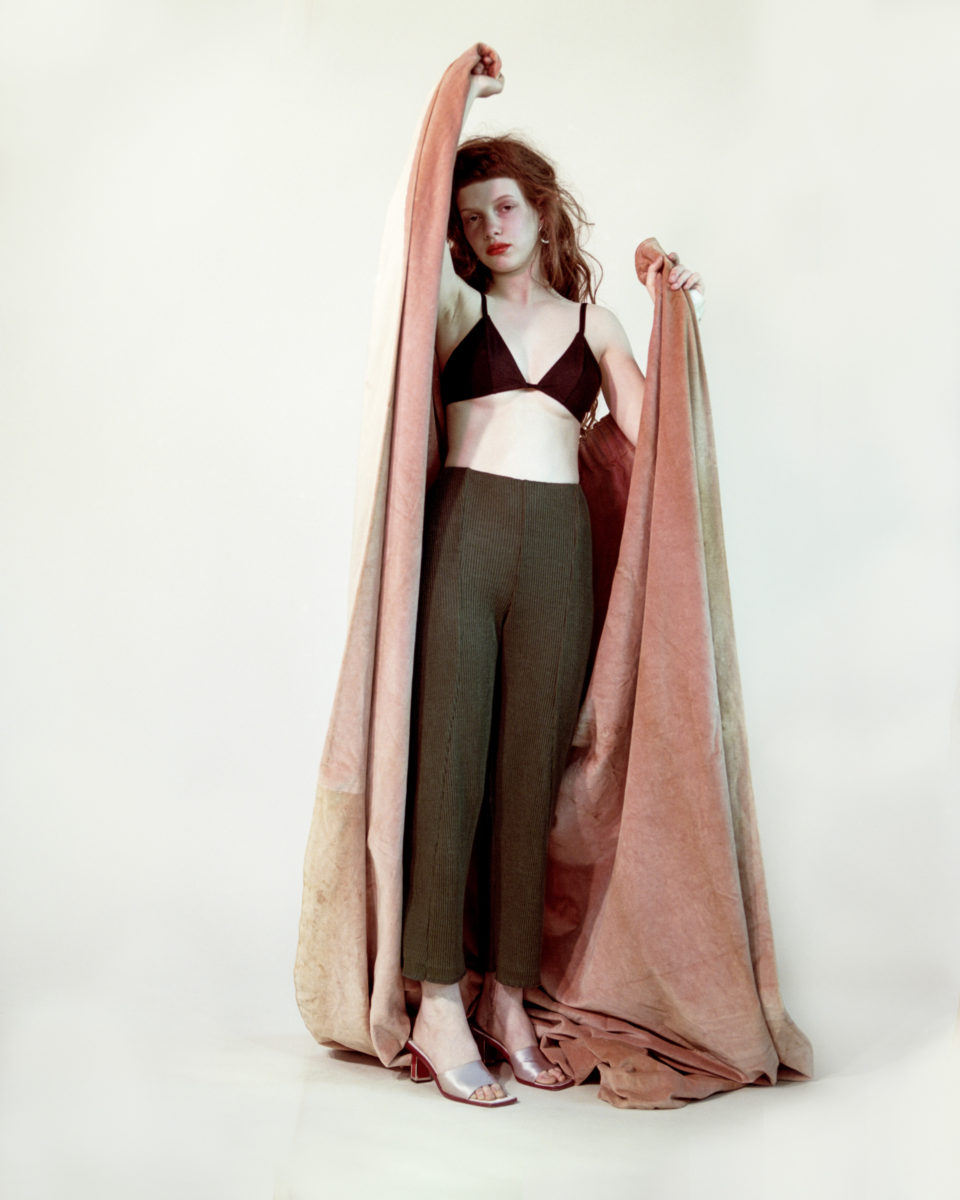 Solomon challenges complex subject matters in her designs through subversive and visually elegant means. Youthful and considered, her work is driven by current events as well as the historical figures who spoke out when others wouldn't, whom she pays homage to. Decidedly keen to avoid an aggressive approach in her work, ELLISS opts for a subtler and hopefully more effective means of communication. Her graduate collection saw liquefied logos of fast-food chains and poultry rendered in bright, synthetic hues onto plush fabrics and gossamer sheers, offering a dissident allegory of factory farming.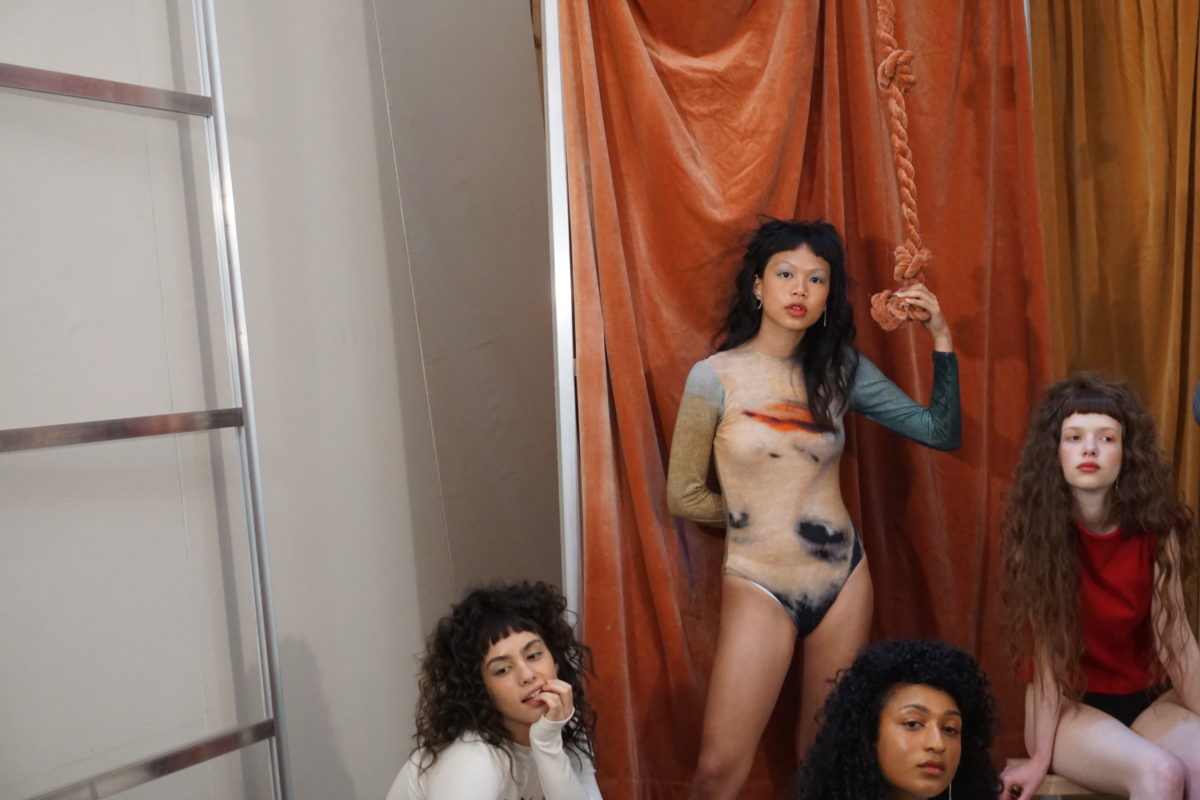 Beautiful and woven carefully with a political message, the recent graduate's eponymous label certainly seems promising. Something Curated caught up with the designer at her brand's launch earlier this month in Hackney to discuss the vision behind ELLISS and what working in London means to her.
Something Curated: Tell us about the vision and ethos behind the brand? 
Elliss Solomon: The brand revolves around the idea of the 'unconscious consumer'. I want the women who buy my clothes to not necessarily be looking for something eco friendly, to choose a piece because of the design – to unconsciously be conscious. The fabrication is very important, it must be sustainably sourced and be soft and luxurious. For the presentation we created a disused luxury gym, playing on youth nostalgia. The brand is about everyday wear that you can move and stretch in but in elegant, flattering shapes. This was communicated with velvet curtains twisted into ropes and gym mats clad in velvet.
SC: What are you currently working on?
ES: I am focusing on the production of my recent collection for the online shop – which is made in England allowing the brand to maintain a low carbon footprint and support local factories. I'm also working on new ideas and shapes for the next collection.
SC: What does London offer you as a designer?
ES: London offers me options and opinions. It is a creative, vibrant, fashion capital with so many personalities. I've met many inspiring people in the industry that have enabled me to open up my practice in new ways.
SC: What does Hackney offer you as the site of your studio?
ES: I am based in a studio with a group of other creatives, which is great as we all have different disciplines. I love being surrounded by people who are working in a totally different way to myself – it is important to seek inspiration from unlikely places. Anousha Payne, the set designer for my presentation, and I, share a studio space. We are able to work together on ideas and inspire each other through our different practices.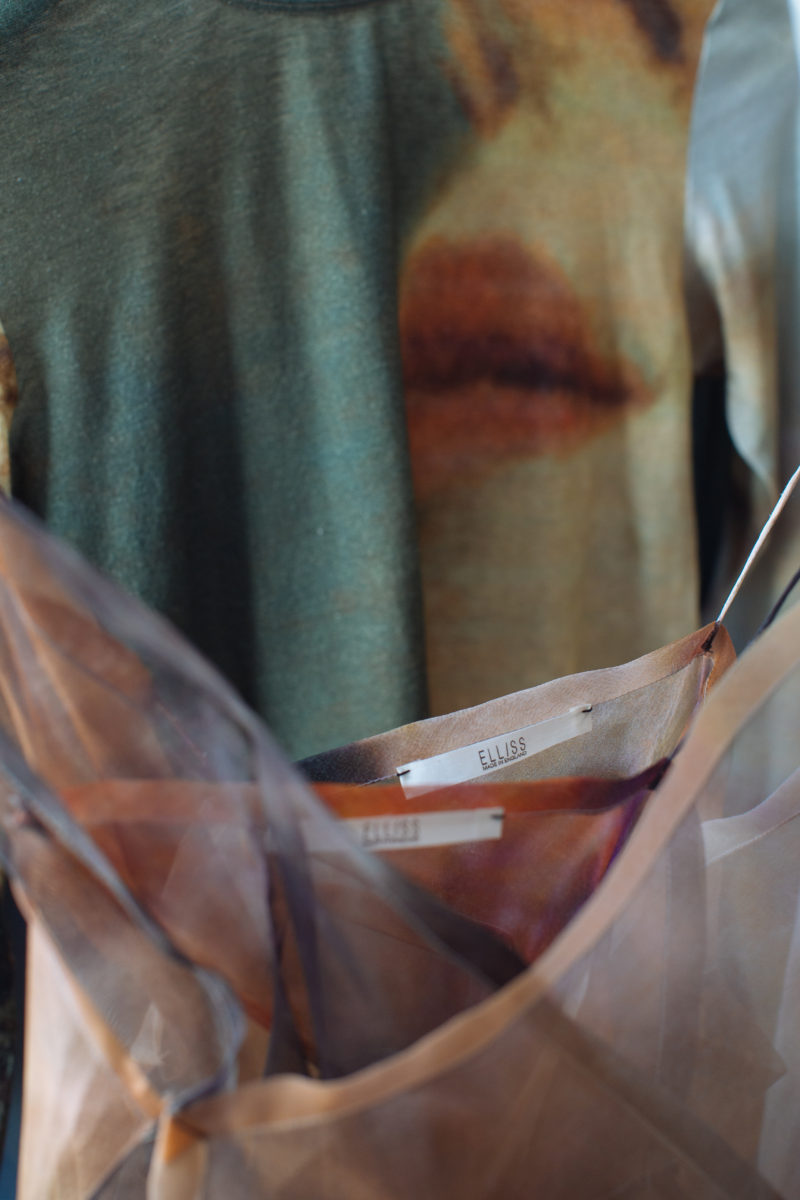 SC: What are you finding is the most challenging thing about setting up your own label?
ES: Doing everything on my own, from the pattern cutting to the more organisational side of things – sourcing for production is definitely a challenge but it is becoming easier and more efficient all the time.
SC: What do you hope the future holds for ELLISS?
ES: I hope to keep a close hand with the making of the clothes and to continue to be a brand for people who are looking for something well made and thought through – from the design process to the make and lifetime of each garment.
SC: Can you tell us a little bit about where you source your materials from?
ES: Each fabric is individually chosen for its properties and no individual supplier has everything that I want. The printed fabrics are printed in the same location as they are grown and woven. All organic fabrics are GOTS (Global Organic Textile Standard) approved, and lingerie fastenings are Oeko-Tex standard 100 certified.
SC: As a designer, how is your approach unique?
ES: I aim to create clothes that are flattering while still having an unusual element. As a new brand you have to be realistic and think commercially as well as remaining creative. I have been inspired by the everyday, stretch and wearability of each garment. Clothes are to live in so it is important to think of the lifetime of the pieces. Where will someone wear it and how will they feel when they do.
SC: Having recently graduated, what is a piece of advice you would give to those currently studying fashion?
ES: Enjoy it and be as creative as possible. That freedom is incredible and rare to find after university. Try to talk to as many people as possible, and people who have different disciplines. These are the people you will be working with when you graduate. If you are interested in sustainability, ask your tutors for advice. Take the opportunity to use the facilities that are in front of you.
Text by Keshav Anand