Running alongside the headline fair, Frieze Projects, established in 2003, is a non-profit programme of artists' commissions presented annually in London. With support from the LUMA Foundation and Arts Council England, the initiative provides an important platform for contemporary artists to present new, site-specific works. This year, Raphael Gygax, Curator at Migros Museum für Gegenwartskunst in Zurich, has been selected as the new leader of Frieze Projects, taking over from Nicola Lees, who directed the programme for the last three years. Gygax has explored performance, dance and body politics through diverse academic and curatorial activities, including a recently completed PhD at the University of Berne.
As Curator at the Migros Museum, Gygax has worked on numerous exhibitions, including shows with eminent artists, Xanti Schawinsky, Carey Young, Spartacus Chetwynd and Cory Arcangel, among others. The Swiss native has had a longstanding relationship with Frieze, as a contributor to the publications, as well as having been an advisor to the Frame, Focus and Live sections, for emerging galleries and performance art, at previous editions of the fair in New York and London.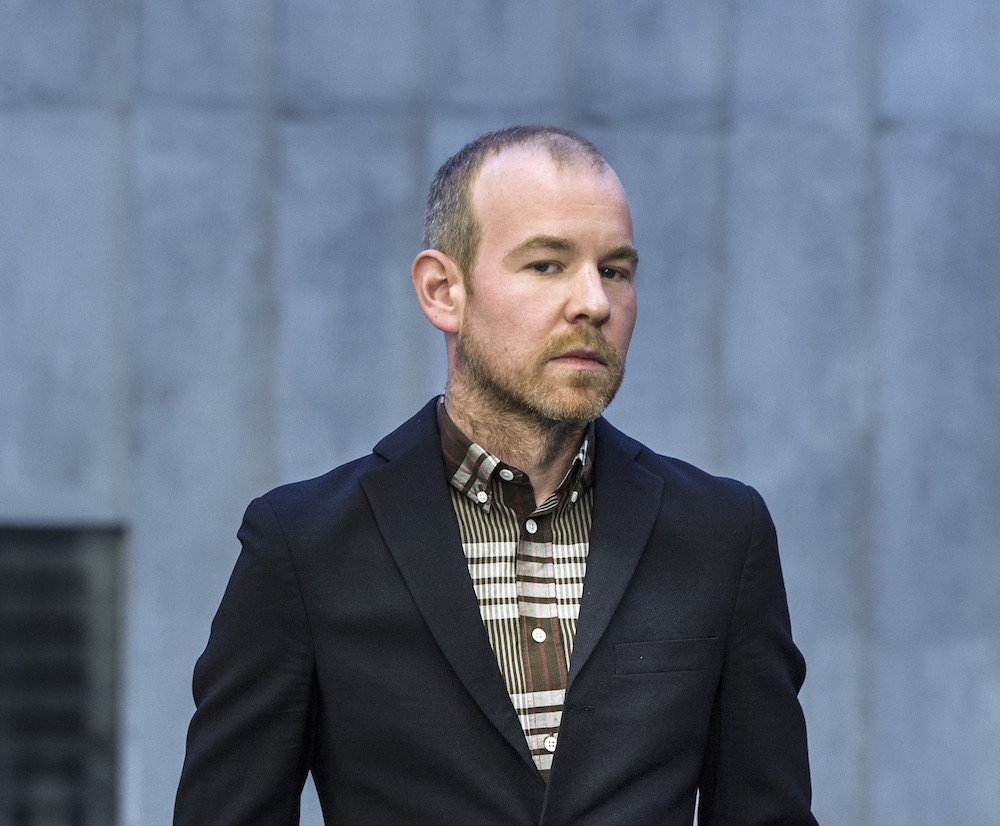 For his inaugural programme, Gygax has commissioned works from a breadth of international, multidisciplinary artists, including Julie Verhoeven, Coco Fusco and Martin Soto Climent. The curator says: "It's an incredible opportunity for me to work with such an interesting organization that manages to stay so dynamic, curious and enlightened – and I feel honoured. I would like to use the international visibility that this platform offers to work with artists from different generations and art fields. Diversity, transformation, hospitality and otherness will be important key terms that will accompany me on this journey."
Gygax is the fifth curator to hold the position, after Lees, Sarah McCroy, Neville Wakefield, and Chisenhale Gallery Director Polly Staple. The appointment indicates that organisers may be seeking a fresh interdisciplinary approach to Frieze Projects. Something Curated takes a look at some of this year's most promising commissions, and the artists behind them.
Sibylle Berg & Claus Richter || Wonderland Ave.
Wonderland Ave., an experimental puppet show, is a first-time collaboration between Cologne-based writer Sibylle Berg and visual artist Claus Richter. Berg is one of the most widely recognised contemporary authors in the German-speaking world. His commissioned play takes an experiment in the near future, in which machines take over control of humankind, as its starting point. Set in an environment designed by Richter that resembles a modular living unit, the play features a narrative co-directed by the artists along with German director Sebastian Nübling, involving actors and puppets in several parts, as well as musical breaks.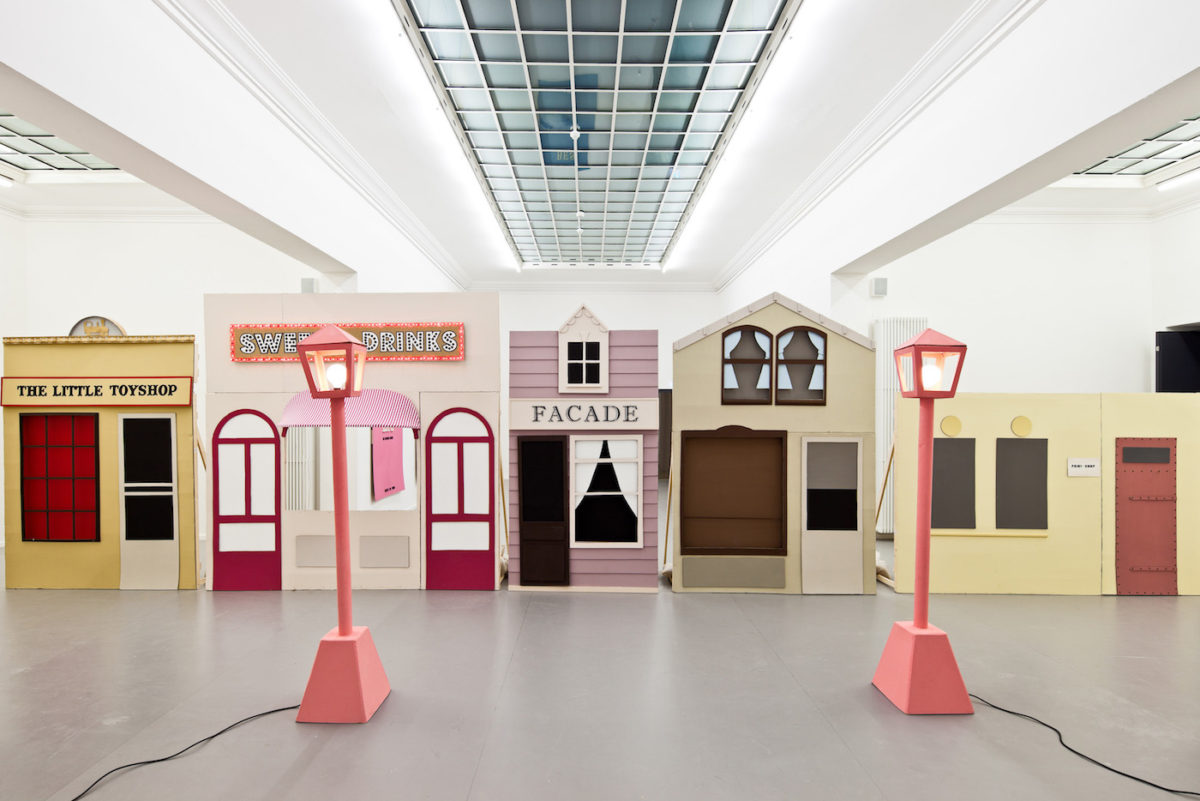 The iconography and materials of Claus Richter's sculptures and theatrical installations hail from the world of toys, amusements and fantasy. He often focuses on historic playthings such as puppet shows, meticulously reconstructing them and activating them in his performances. The daily performance at Frieze London promises a critical but also humorous view of our globalised and digital world.
Martin Soto Climent || Frenetic Gossamer
For his new work, Frenetic Gossamer, Martin Soto Climent utilises one of his key reoccurring materials, tights, to transform the entrance of the art fair into a miraculous dream-like web. For the first time, the Mexico City-based artist will incorporate a performance element to his sculptural piece, with the intervention of regular animations by live acrobats.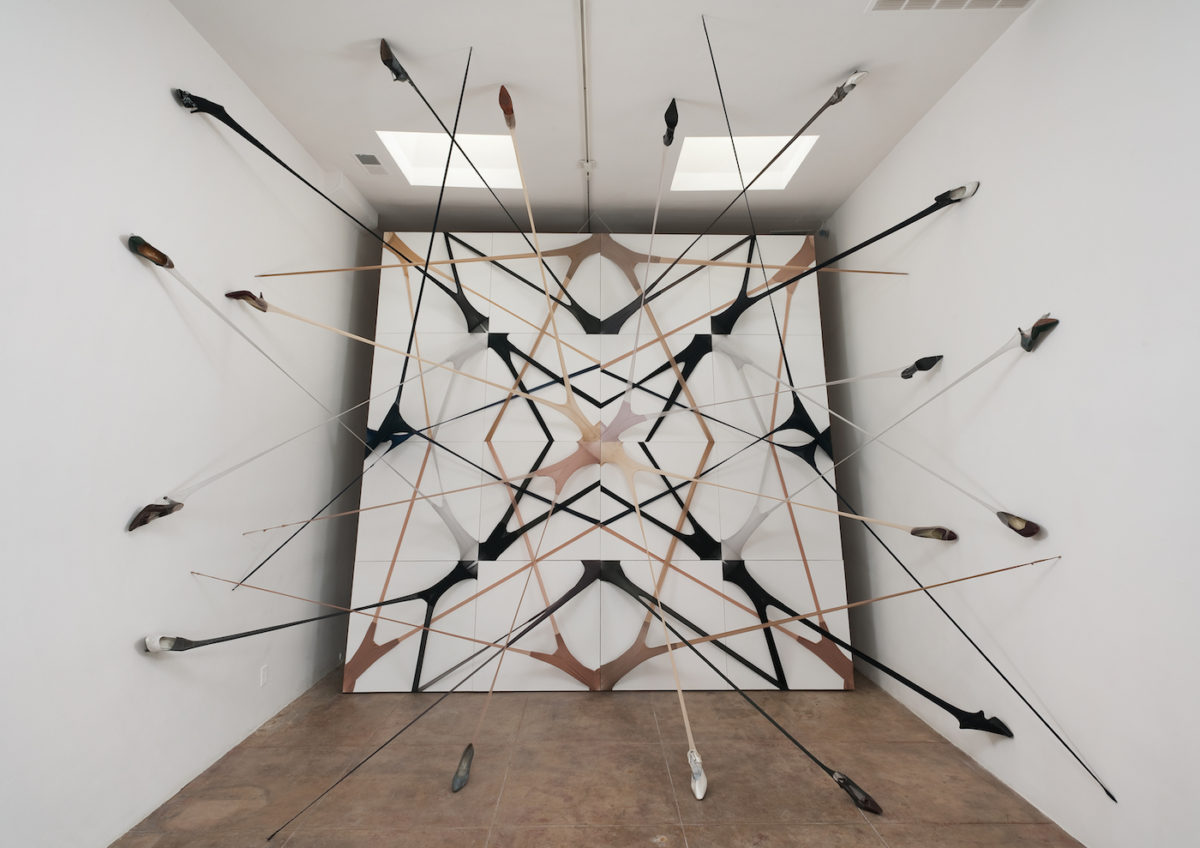 In his objects and sculptural installations, the artist works with readymade and found objects, arranging these items in new constellations to create sculptures and assemblages. Interestingly, it is often the case in Soto Climent's work that any of the objects he modifies can be returned to their found state. Informed by the Surrealists and their relationship with the object, the artist's re-contextualisations draw on and develop upon the movement. Soto Climent's work is also currently on show at the Palais de Tokyo in Paris.
Coco Fusco || Observations of Predation in Humans: A Lecture by Dr. Zira
New York-based Coco Fusco is an interdisciplinary artist and writer who explores the politics of gender, race, war and identity in videos, performances and installations. Her practice incorporates large-scale projections, closed-circuit television, web-based live streaming performances, as well as performances at cultural events that engage with the audience. Fusco's work has been included in numerous celebrated exhibitions, including the 56th Venice Biennale last year.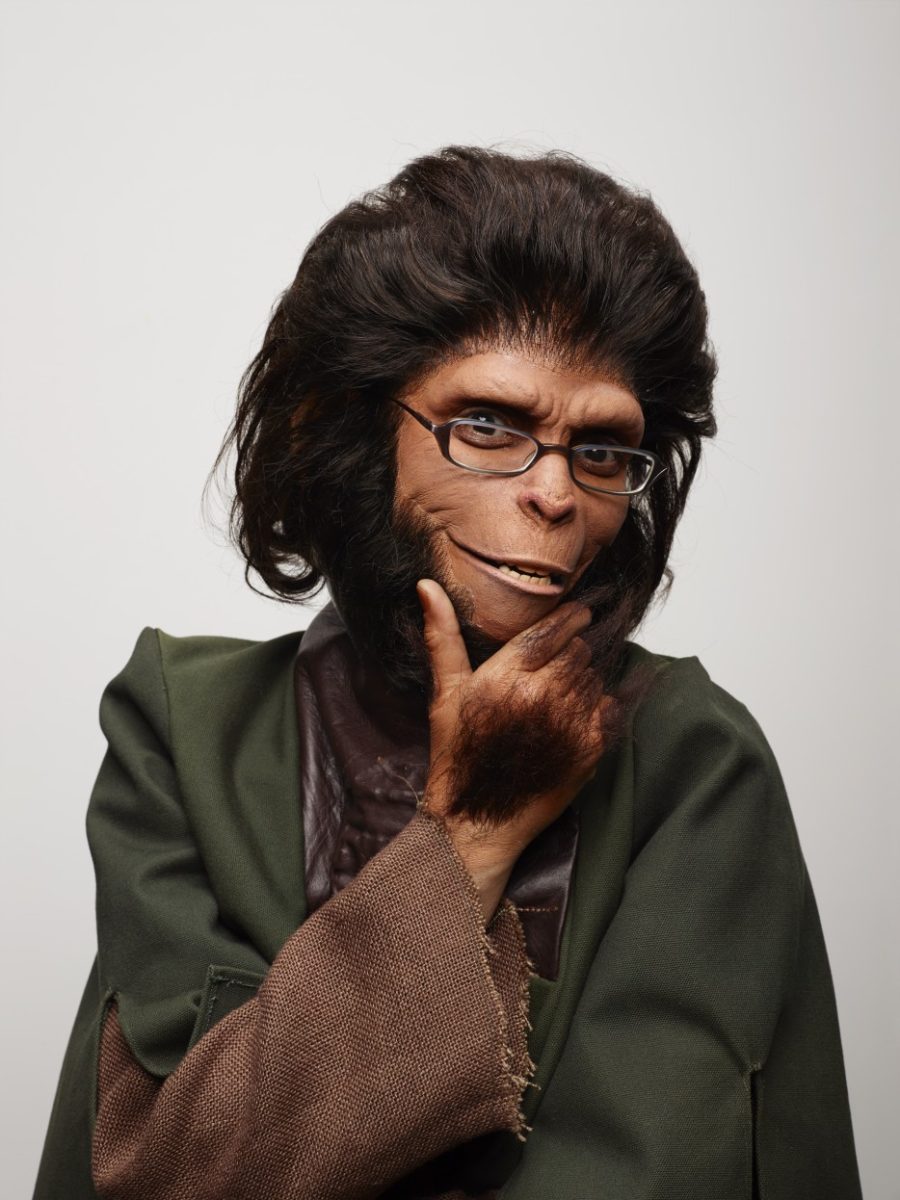 Frieze will present the UK premiere of Fusco's Observations of Predation in Humans: A Lecture by Dr. Zira, co-commissioned with Liverpool Biennial. Drawing from primatology, neuroscience and evolution, the lecture provides a commentary on contemporary forms of aggression and predatory behaviour relating to the desire for resources in post-industrial societies. The premiere will take place in the auditorium at Frieze London on Thursday 6 October.
Aino Laberenz || Operndorf Afrika (Opera Village Africa)
Operndorf Afrika (Opera Village Africa) is an arts project, initiated by German director and artist Christoph Schlingensief (1960-2010) and located near Ouagadougou, the capital city of Burkina Faso. Since 2010 Aino Laberenz has been the director of the non-profit project. After studying History of Art, Finnish-German Laberenz worked as a photographer and costume designer for short films, and at several theatres, including Schauspielhaus Zürich. Notably, she designed the German pavilion together with Susanne Gaensheimer at the 54th Venice Biennale and was honoured with the Golden Lion Award.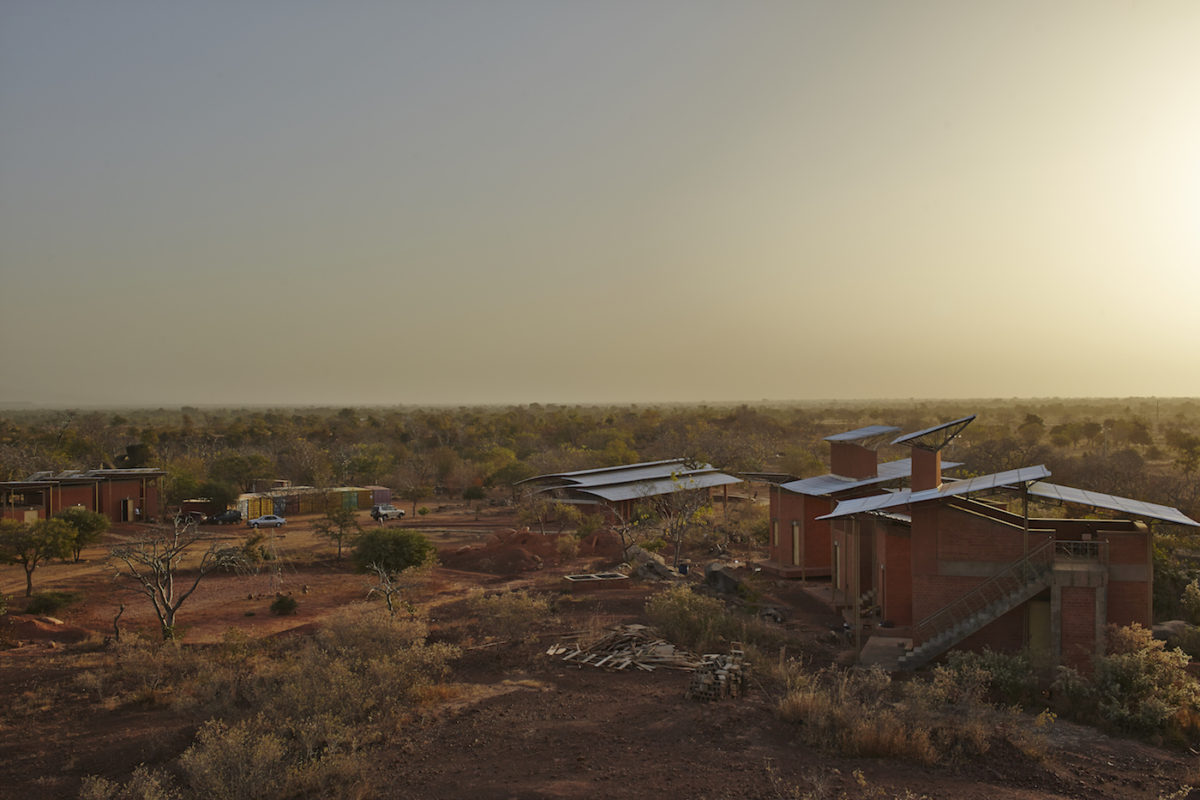 The presentation at Frieze London will be a multimedia, participatory installation exploring the Operndorf Afrika with various artistic contributions that are all related directly to it. Central to the presentation will be a sculptural piece by Andy Hope, which will serve as a live satellite to the Operndorf Afrika, and regular conversations with a Burkinabe artist, actively involved in the project. Cabin-like elements from the stage set of Schlingensief's last theatre piece, Via Intolleranza II, will be used in films by Burkinabe filmmakers.
Julie Verhoeven || The Toilet Attendant… Now Wash Your Hands
London-based Julie Verhoeven's artistic practice traverses art, fashion and design. After studying fashion, she worked for various designers including John Galliano, Martine Sitbon and Louis Vuitton. Alongside her activity in design, she has developed artwork in collaboration with other artists, including Jimmy Merris and Turner Prize 2016 nominee Anthea Hamilton, working across media. In these works, she has established an iconographic system distinguished by its experimentation with form, colour and texture, as well as its references to art history.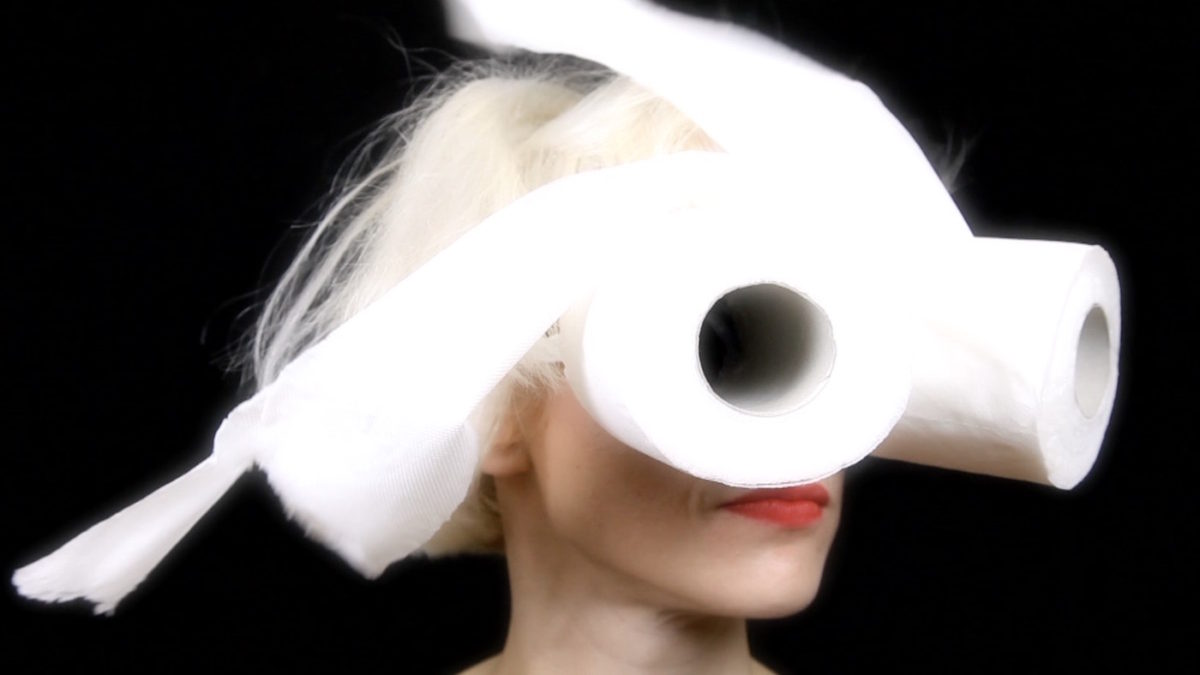 Her works always have a political dimension, often rooting in feminism and class equality, as well as showing how different ideologies deal with a repertoire of forms. Her Frieze Project The Toilet Attendant… Now Wash Your Hands will be a performative intervention in one of the washroom complexes at the fair. Verhoeven's playful architectural and performance interventions will not just create a more hospitable environment but will also open up space for critical thinking on the invisibility of certain working groups and labour ethics.
Samson Young || When I Have Fears That I May Cease To Be, What Would You Give In Exchange For Your Soul
Samson Young's When I Have Fears That I May Cease To Be, What Would You Give In Exchange For Your Soul is a multimedia, sensory walk. The narrative of the journey is presented through site-specific films, music playlists, photographs and a collection of research materials. Hong Kong-based Samson Young is a trained composer and practicing sound artist, having received a PhD in composition from Princeton University.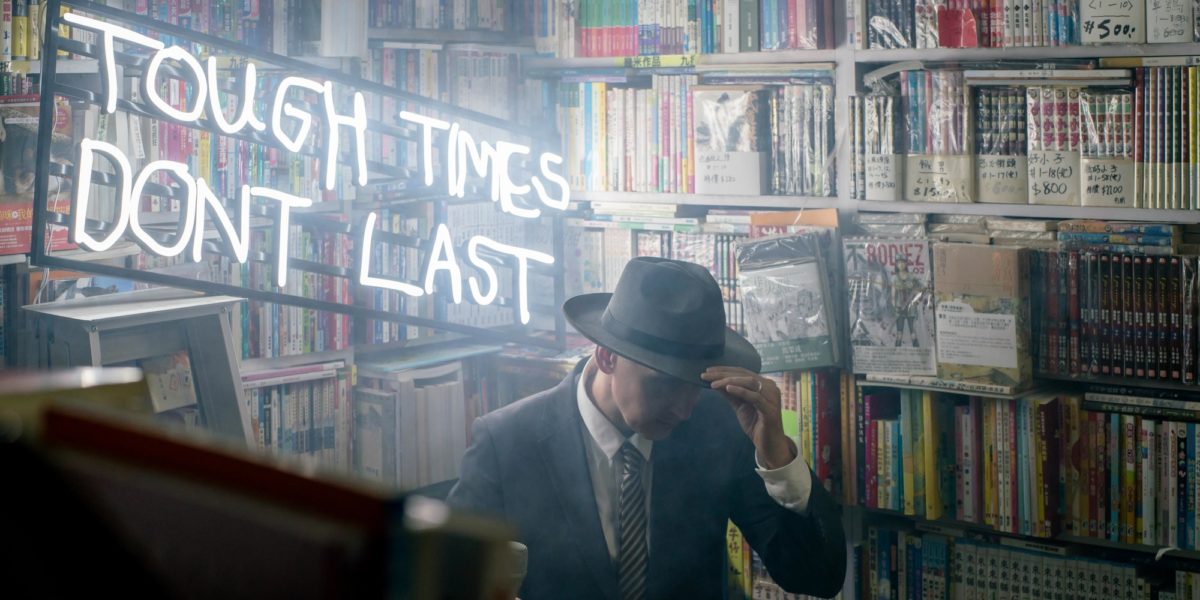 Based loosely on Graham Greene's Ministry of Fear, the fictional world of the walk unfolds in a series of surveillance reports on Lok, owner of a bookstore that specialises in tales of personal confession, and appropriates the physical structure, processes, and people that make the fair possible. Lok is convinced that he is being pursued by foreign agents, and had pre-emptively commissioned a private investigator to document and research into his imminent disappearance.
Frieze London – Regent's Park from 6-9 October 2016
Feature image: Taste as a Political Matter – Coco Fusco on the Guerrilla Girls (via Walker Art Center)