Interview: Dennison Smith, Founder of The Baldwin Gallery
Founder and Creative Director Dennison Smith established The Baldwin Gallery as a place for bringing contemporary art into European home life, with a distinct focus on indigenous North American artists. Smith was inspired by the Native American perspective of art as who you are and where you live, and thus created a home-based gallery, where art is a fully integrated experience. The Baldwin Gallery launches with Mobile Forms: Parisian Abstraction to Amerindian Pop on November 5th, followed by a series of literary and musical dinner-salons, aiming to create a sense of community and expand the appreciation and understanding of contemporary art. Something Curated met with Smith in the run up to The Baldwin's inaugural show to discuss the vision behind the space, her interest in First Nations art, as well as her plans for the gallery's future programme.
Something Curated: Could you tell us about The Baldwin Gallery, the vision and ethos behind the organisation?
Dennison Smith: My intention is to create a dialogue between European art traditions and First Nations Canadian art, and, specifically indigenous Northwest Pacific Coast. That art tradition is very complex. It's so sophisticated, and it has rarely been experienced outside the British Museum in England. I don't think it's ever been experienced in the context of London's contemporary art world. I'm looking at those First Nations' artists whose work stands on an interesting cusp between the traditional and the contemporary, and putting them into dialogue with established European artists who have a strong sense of place. That's one of the subtexts – relationship to place and to identity born out of place.
SC: Could you tell us a bit about the current exhibition?
DS: There are three primary artists in this exhibition. First, Alexandra Roussopoulos, who is a Parisian abstract artist. The Baldwin is focusing on her 'mobile forms', a distillation of self to its most amoebic shape or abstracted geometry. We put her work in dialogue with Sonny Assu and Steve Smith, who are both Kwakwaka'wakw artists, a Northwest Pacific Coast band (in the States you'd say 'tribe'). What Sonny calls 'Interventions on the Imaginary' are interventions upon the colonialist gaze and the myth of the empty continent. He distils Northwest Pacific Coast communal identity, or tribal identity, down to a 3D iconic form, influenced by pop art sensibility and sci-fi. He digitally imposes these forms (in Northwest Coast vernacular, they're called form-lines) upon famous colonialist paintings of First Nations people, some of whom are actually his people.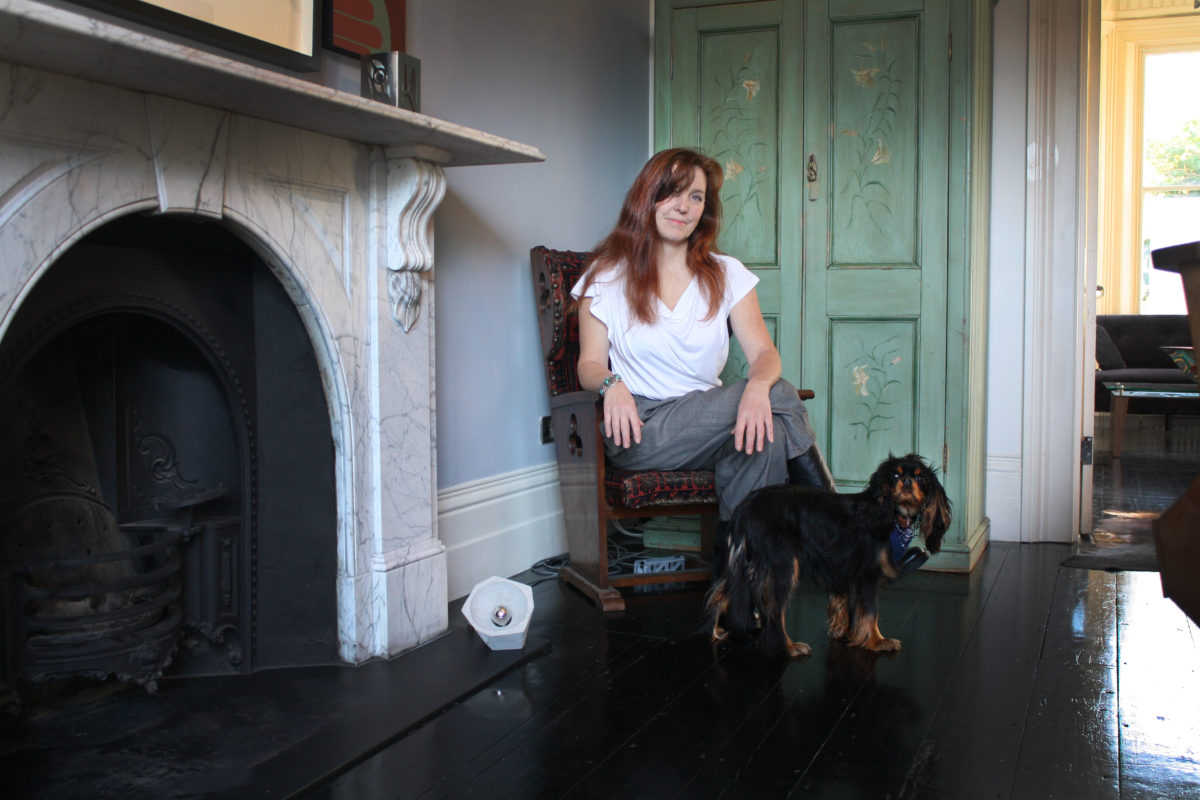 The Dulwich Picture Gallery recently curated an exhibition of Emily Carr's paintings. Though Emily Carr is to Canada what Barbara Hepworth is to England, and what Georgia O'Keeffe is to the United States, amazingly, Carr had never before been exhibited in Europe. Her work was London's first 'fine art' exposure to the exceptional art of the Northwest Pacific Coast, because Carr, as an Anglo-Canadian, was considered to have recorded a vanished or vanishing people. Now, at The Baldwin, we have Sonny Assu digitally intervening with Carr's paintings – paintings which are of his own great grandparents' forests, homes and art. He reinserts the living presence of his people. He says, "We haven't vanished, we are very much still here.' His work is political, postcolonial and playful at once: the First Nations form-line, hovering above colonially- fictionalised Indians, like an alien spacecraft.
Steve Smith, on the other hand, works from the heart. He was trained by his father and originally followed the strict codes of Kwakwaka'wakw art. In his massive drum paintings, he is subtly extending traditional form while continuing to restrain himself to the accepted colours of red, black and white. By the time you get to 'Trout Heads', however, Steve's work explodes in colour. And while his vocabulary remains linked to his father, his work has become autobiographical. His colour palette exploded when, quite literally, his heart became unclogged. At a young age, he had a massive heart attack and triple bypass. The yellow and blue dots in his paintings refer to the vision he had when he flat-lined. I'd say all three artists, Roussopoulos, Assu and Smith, are, in a sense, engaging with what Alexandra calls 'free and mobile forms' or – in the Northwest Pacific Coast vernacular – free and mobile 'form-lines' to find a transformative instant between the personal and the communal.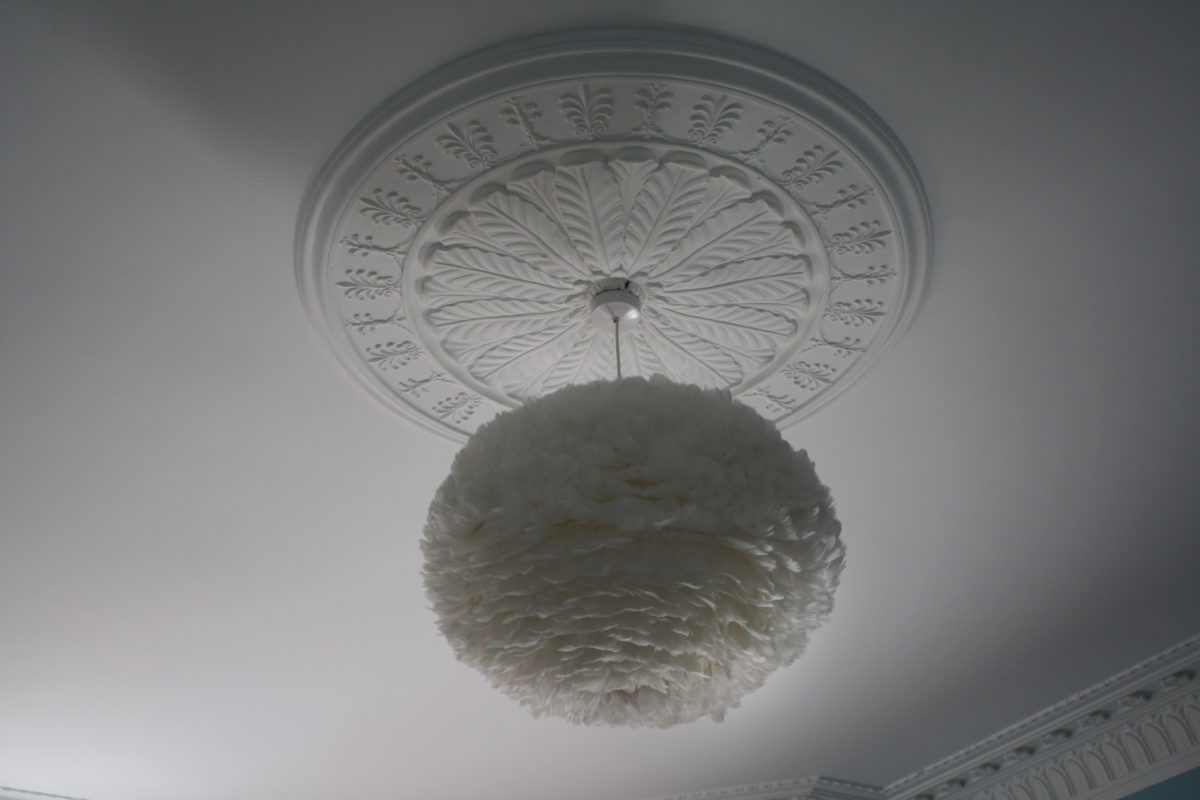 SC: What interested you in the idea of exhibiting work in your home?
DS: It was a coming together of practicality, intention and inspiration. Practicality – I looked for spaces to rent and realised nothing I could afford was anywhere near as beautiful as where I lived. My house looks like it was made for art. High walls. Wide open spaces. Great light. Unifying black floors. I looked around it and thought, Why not use this space? Intention and inspiration came next. I realised a home-based gallery was entirely in keeping with First Nations art traditions. And in keeping with the disposition towards art that I want to foster: art as home, art as the inspiration of community rather than commodity. I want to move away from the shop-front idea, move away from the white cube, into the idea of integration: art as part of your wider world and your personal and intimate world. Art as the place we dwell.
In Northwest Pacific Coast First Nations communities, art was historically so prevalent there often wasn't a word for it in the language. You've probably seen totem poles – there's one at the Horniman Museum – some were grave markers, but many of them were house poles. You walked through art to enter into your home. Art and architecture were united. You were actually living inside art. When I thought about the living functionality of art in indigenous tradition, a home-gallery made sense.
SC: How has the building's structure and unique features influenced your use of the space? And has the domestic setting affected your choice of artworks and artists?
DS: I don't want to limit my definition of 'the domestic'. In fact, in autumn 2017, our exhibition will be Art is Home: War, with Tim Shaw RA, well known for Casting a Dark Democracy, and Michael Sandle RA. You probably know Michael's Mickey Mouse machine gun at the Tate? We'd also like to bring over an installation from Canada called The REDress, about the disappearance of aboriginal women. Hundreds of red dresses would hang all over my house. It wouldn't be the easiest show for me to live with, but I think it's very important: the censored underpinnings of violence behind 'home'.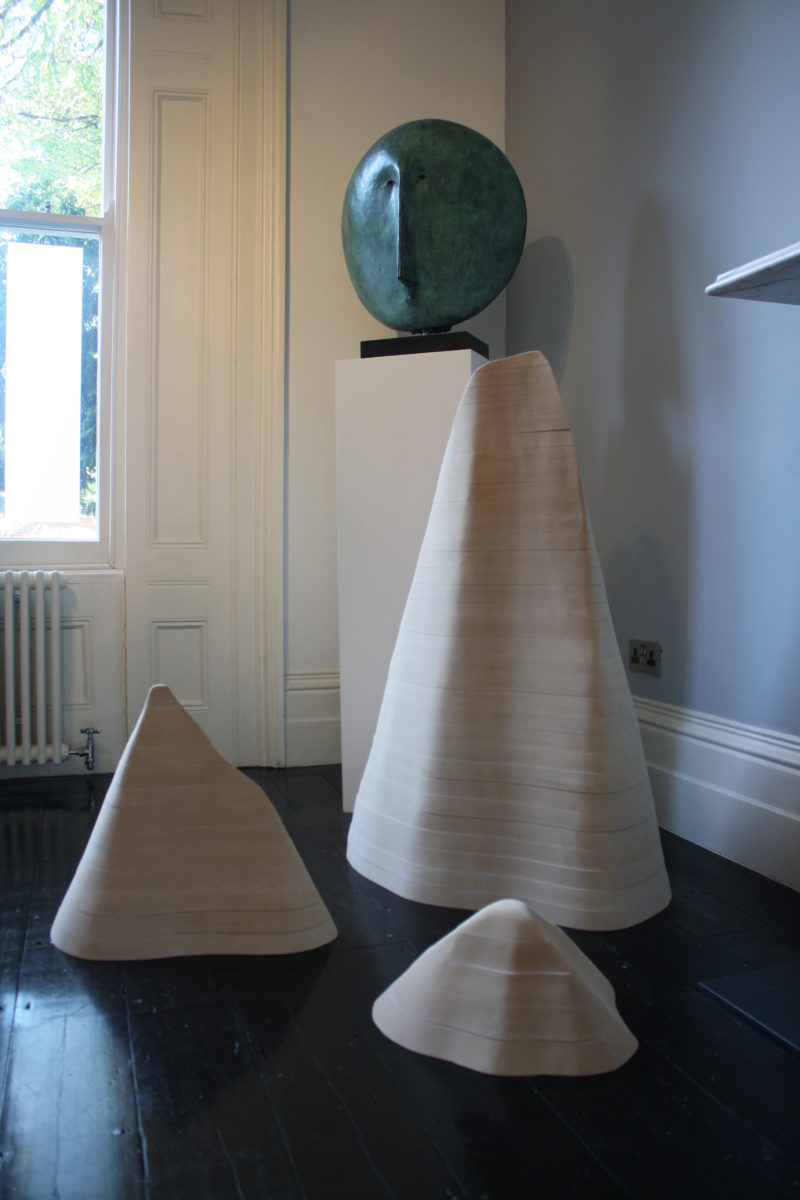 Generally, living with the work is wonderful. I get to dwell with it for several weeks before an opening, giving time for the work to shift and change and grow and move about. The more time I spend with the art the more connections I make, and the more I wake up to how the home can change to accommodate or 'speak' to the work. A white cube gallery is a blank canvas, and on a blank canvas you immediately think, Well, anything can go anywhere, because you are working from complete neutrality. But, in a home, you're working from a lot of specificity, and you've got to loosen that up in order to find the possibilities. There are givens, there are limitations, but the home remains a highly flexible space. Not everything can turn upside down, but much can. In our current show, Mobile Forms, I'm actually using my bedroom to exhibit a number of pieces. There's an intimacy about Alexandra's work that I allows for a seepage into private spaces.
SC: How is The Baldwin Gallery unique from other art spaces in the city?
DS: One of the unique properties of the gallery is, of course, the bringing over of contemporary indigenous North American art that Europeans have rarely seen before. Rebecca Hossack did something very similar with Australian aboriginal art. Another unusual property is the interdisciplinary salons. We are contextualising our exhibitions through a series of intimate dinner salons: basically, an hours performance or reading, followed by a home cooked meal with a prominent literary or musical figure. Our first salon is on the 15th of November with Amit Chaudhuri. Then December 4th with Julio D'escrivan and the Ensemble Klem performing 'Interventions on Ravel'. The title speaks for itself: its easy to start to imagine the overlap between D'escrivan's work and Sonny Assu's. I'm interested in non-literal translations between art forms, and particularly in synesthesia.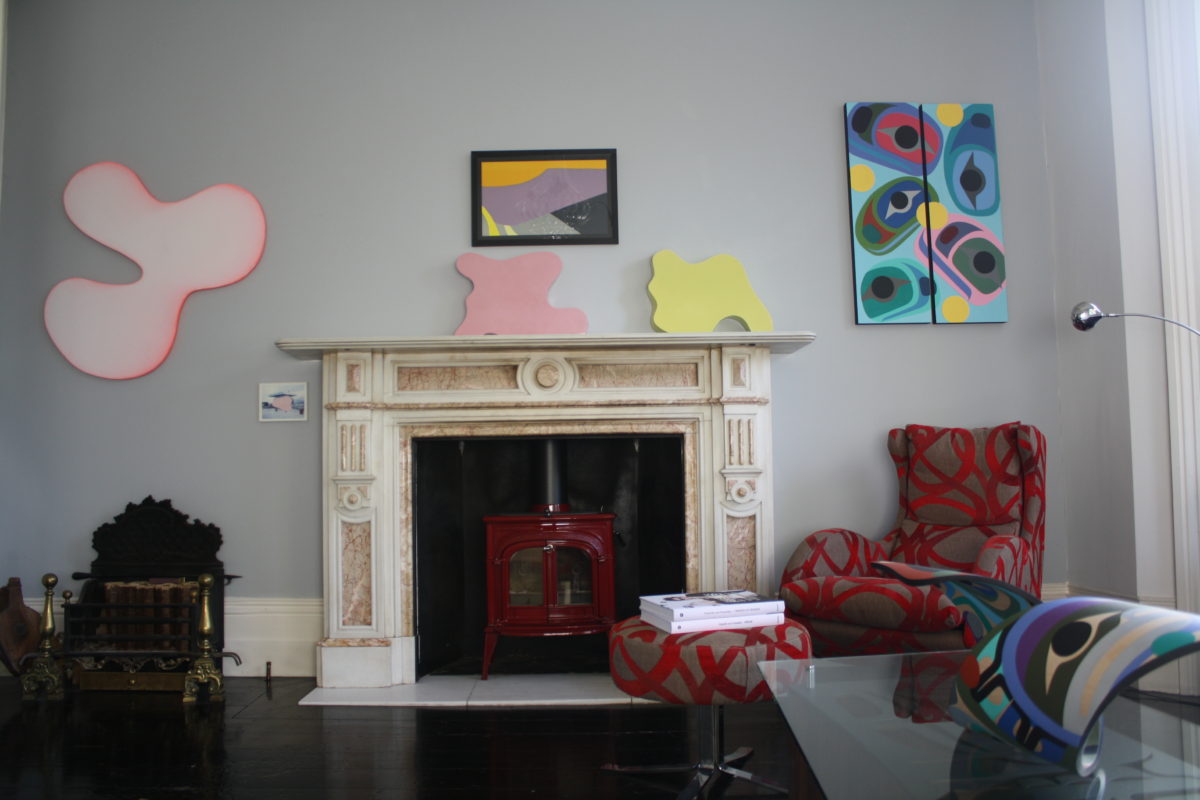 SC: What are you currently working on?
DS: Mobile Forms: Parisian Abstraction to Amerindian Pop opens November 4th and runs through the winter. Then, our spring show is The Sublunary World with Cree artist Meryl McMaster, Canadian photographer David Ellingsen and sculpture by Tim Shaw RA. And next autumn: Art is Home: War. I'm also starting to plan toward a solo show for Canadian Haida artist Robert Davidson.
SC: How do you go about discovering and selecting artists to exhibit? Are there any platforms you look at to find emerging talent?
DS: One person leads to another. You follow the trail of images. I found Meryl McMaster – Cree performance artist and sculptural-photographer – through an article sent to me by a friend. Most of my artists have had major museum shows, and you come across their work in publications. Sonny is about to have his work in the Smithsonian Magazine. Somebody I haven't mentioned yet is Sabina Hill, whose furniture is a coming together of First Nations iconography and contemporary furniture. I saw her work first at Canada House. Someone else I haven't mention: Nicole Smith. An English ceramicist whose work I've known and loved for twenty-five years. She's made a ceramic series in response to Alexandra Roussopoulos's art, and it appears in Mobile Forms.
Certain artists, like Robert Davidson, are household names in Canada. We're really privileged to be representing him in London. When I phoned Robert for the first time, it was a little frightening – he's a hero. I have deep connections with my European artists – Tim Shaw is one of my oldest friends and Alexandra Roussopoulos I've known for 25 years. We were starving artists together when I was just starting out as a writer. And I met Michael Sandle through Tim. And on it goes. What's most important to me is the integrity of the work. Sure personal taste comes into it, but I like the challenge of reaching beyond my preferences.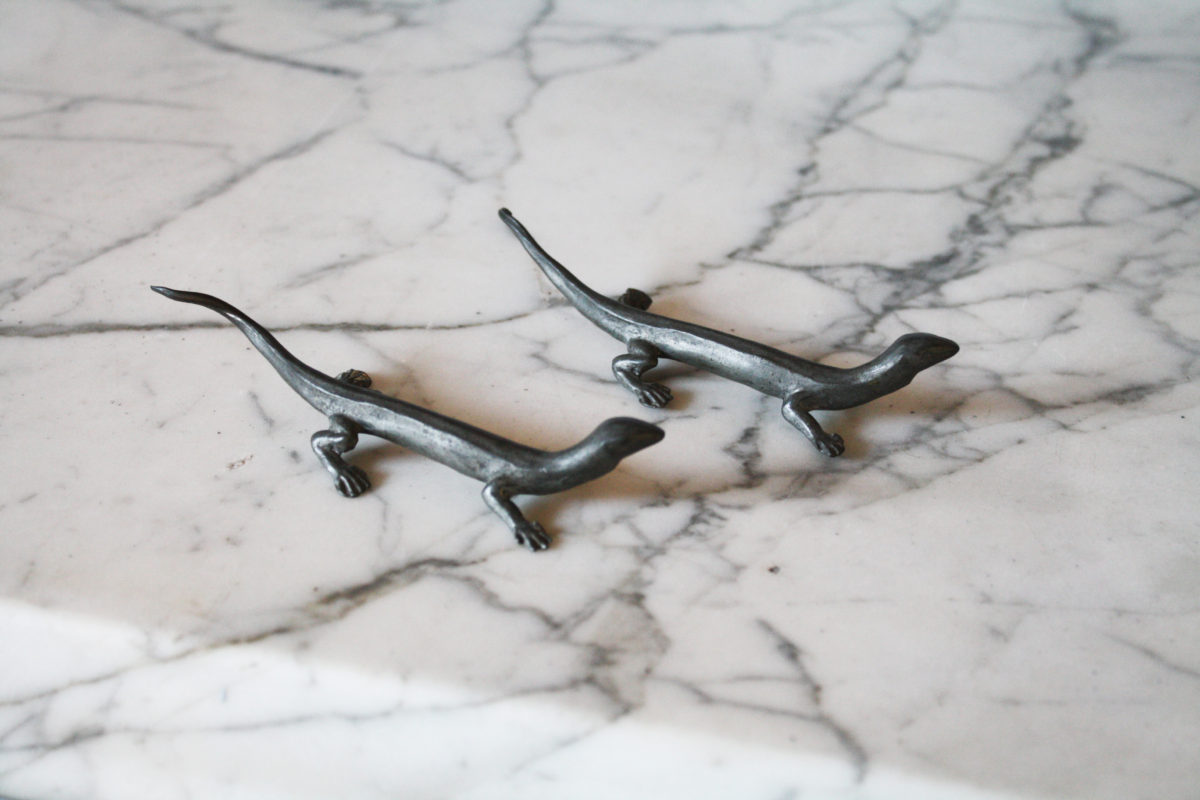 SC: Though home galleries have existed for a long time, there does seem to be a recent insurgence of such projects. Do you think this is a movement that has longevity and what do you think is responsible for the increasing number of these initiatives?  
DS: A lot of people feel it's time to say something different in the art world. Artists, audiences, curators, everyone is a bit fed up and disillusioned by the commodification of art. And maybe the home gallery is one of the answers to the question, "How can we do this differently? How can we get back to why we make art in the first place?"
SC: Do you have any favourite museums or galleries in London?
DS: I think the Dulwich Picture Gallery is amazing. Too often it's unsung. But everyone should go there. Their curation is intelligent, precise and beautiful.
SC: How did you get into this industry? What was your journey?
DS: I'm a novelist, a poet, and a playwright, but I've always had an entrepreneurial side. When I still needed a day job, I owned a theatre company and yoga studio – even then, walking the fine line between a practice I believe in and a business that pays the bills. My last novel, The Eye of the Day, came out in England about a year ago, and I'm now finishing my next novel, The Westward Hours. I'm also working on a libretto, and producing an interdisciplinary performance piece with an Inuit throat singer and several extended-voice singers in Canada.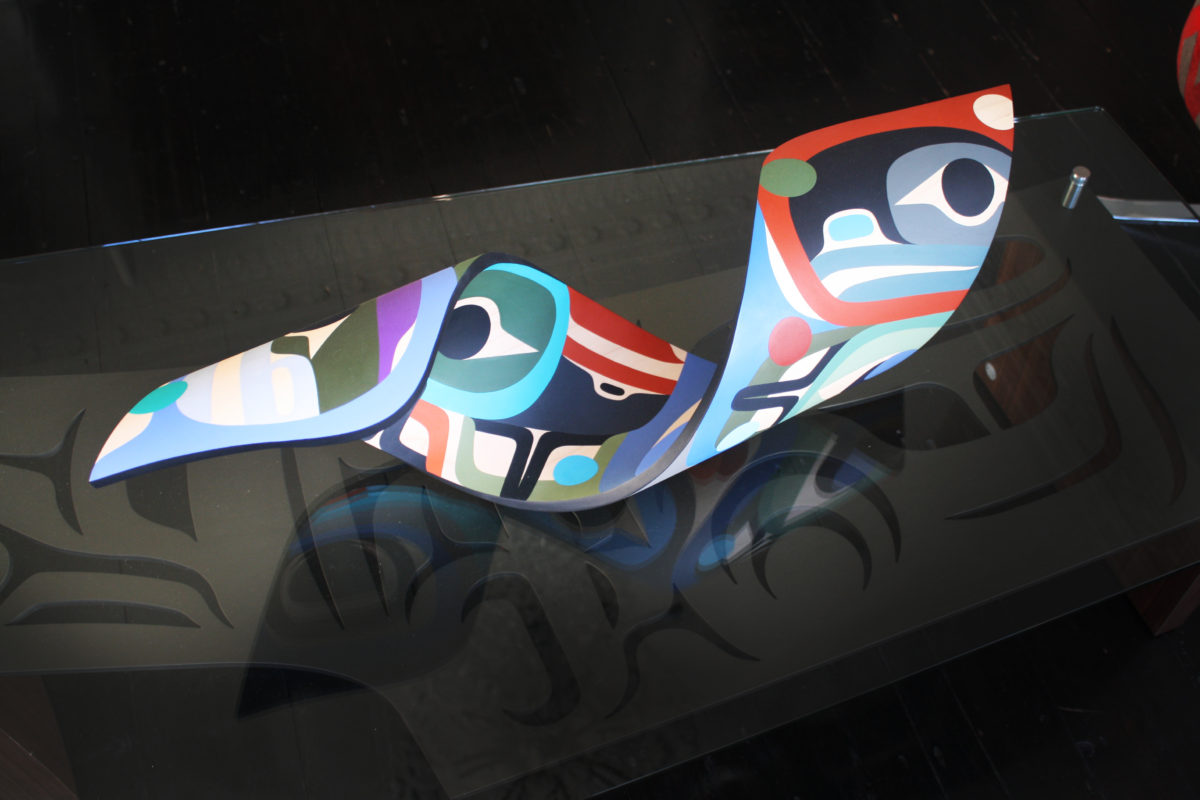 So it's a crazy time for me to open a gallery. But I'm in England on an entrepreneurial visa, and as far as the government is concerned, being a novelist is not entrepreneurial. So, you might say, necessity met desire. I've always collected art, and creating an art gallery is not a great stretch from directing a theatre company. And the government gave me a push. And the University of East Anglia, where I just completed my PhD in Creative and Critical Writing, is giving me three years of business support. All the pieces came together. I do, however, take the summers off to write.
SC: Why First Nations art?
DS: Scroll back thirty years. I'd just graduated second in my class from Northwestern University in Evanston, Illinois. Then I just took off. I hitch-hiked alone across the USA. Maybe it was an insane thing to do as a young woman alone, but I wanted to know that people were good, and I found that people were good. I got picked up by a Navajo woman who suggested – I think jokingly – that she teach me how to weave blankets. She then dropped me off where I was going. I carried on to LA for interviews as a screenplay writer, and I didn't like LA. I thought, Well, I'm going to go back and find that old woman and learn to weave, so I hitchhiked back again. On the reservation, I got a lift with a very drunk Navajo man who'd been a prisoner of war in WWII; he was also very kind.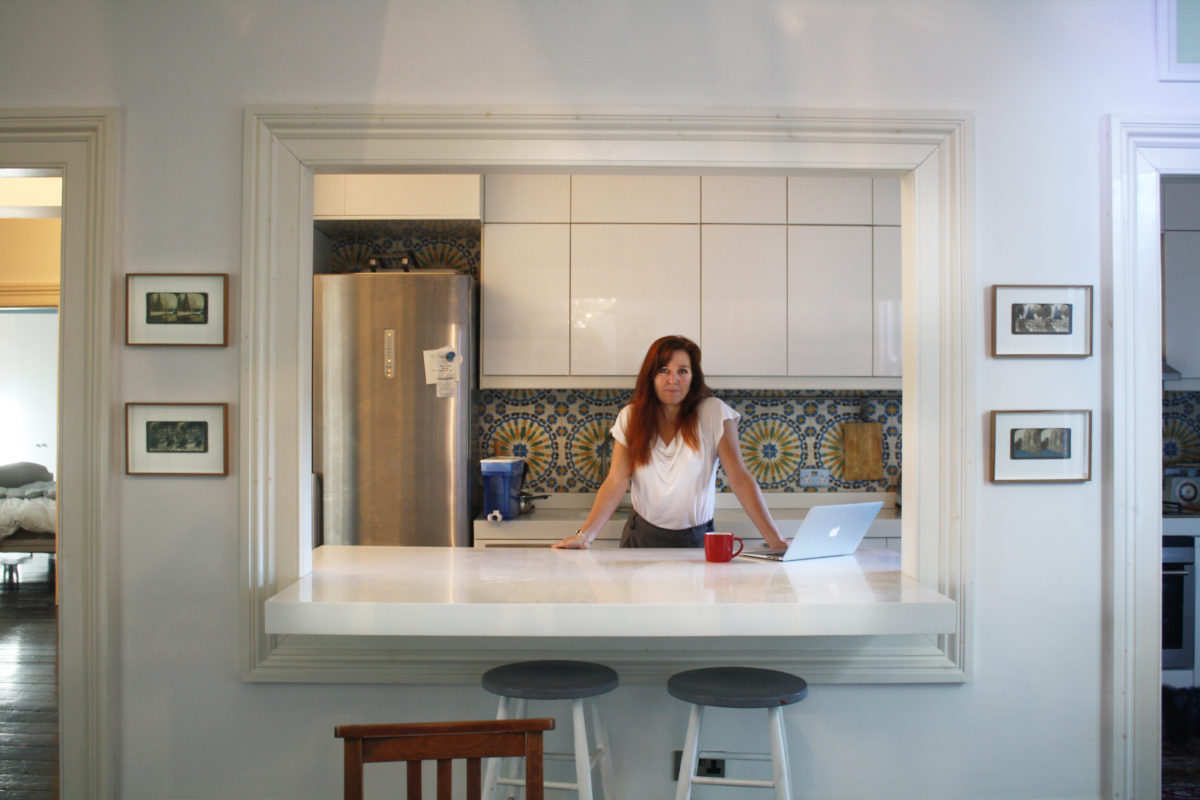 You have to understand, the Navajo reservation is about the size of England. At the time, it was very much a third world country in the middle of the United States. Most places had no electricity, no running water, no sewage. I knew roughly where the old lady lived. So the drunk man and I pulled up to a tiny store, where he spoke in Navajo to someone leaning against the wall. The fellow pointed up a mountain. We drove up it. There he dropped me at a mud and juniper hut and drove away. The woman wasn't home, so I waited. There I was, just sitting on her doorstep when she arrived. And I asked her to teach me to weave, and she did in exchange for my shepherding her sheep. Later, more importantly, I became a part of another Navajo family and was initiated into the traditional Navajo ceremonies. It was a really immersive experience that changed me in many ways and has influenced all my work.
In all my novels, there is always an element of Native American culture and thinking and the philosophy behind it. I spent years studying it, trying to understand what I'd been a part of. I did my PhD on constructions of time and space in Cormac McCarthy's desert writing from the perspective of Navajo philosophy. It has been deeply important to me, and it led me towards paying close attention to Native American art. Then, when I moved to Canada, I was suddenly exposed to a truly extraordinary tradition of art in the Northwest Pacific Coast.
SC: What would be a piece of advice you would give to someone interested in setting up their own creative platform?
DS: Get a great team. My team is excellent. My tendency, being a novelist, is to do everything myself because, as a writer, I am in charge of absolutely everything until the publishers and editors step in. At The Baldwin, I have three amazing women working for me. One of them is my daughter, who has an MA in Curation and Museum Studies. She regards the gallery as the family business, which is wonderful for me. It's great to have someone to phone at 11pm, who actually really cares about whatever little thing went on at work, no matter what time it is.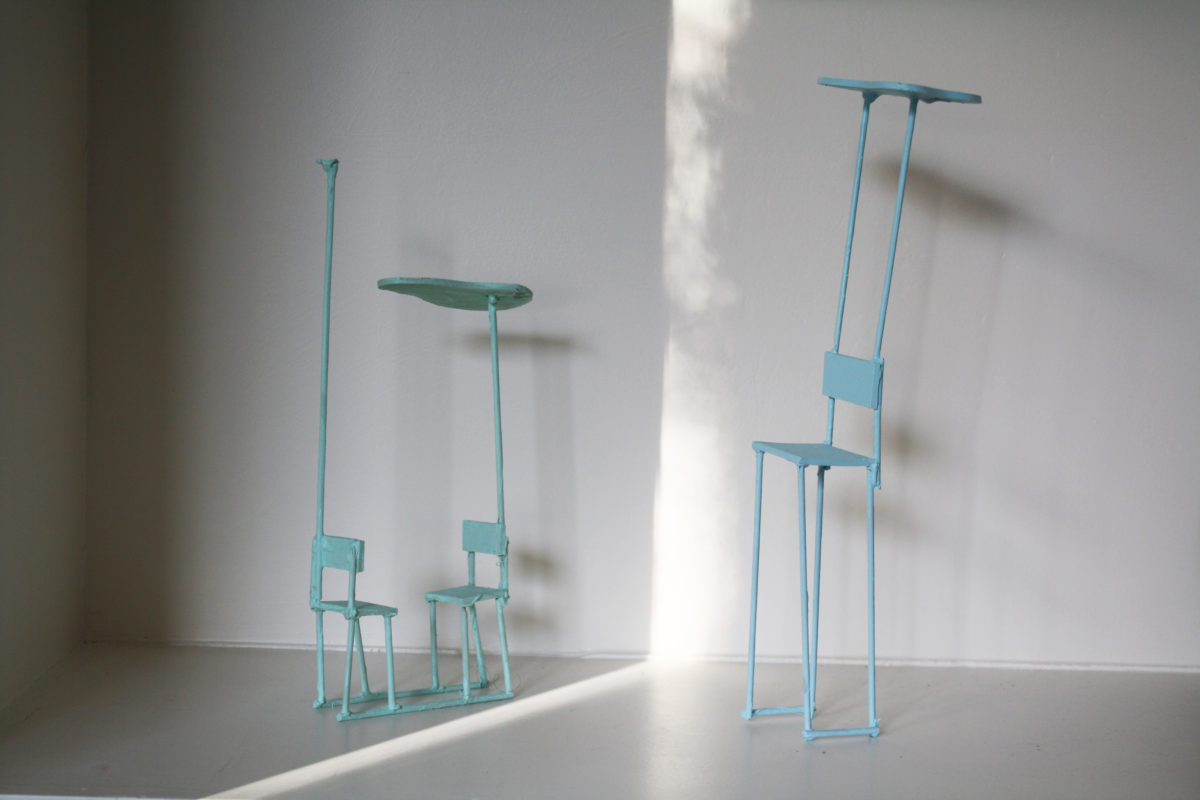 SC: What does London, and this area in particular, offer you as the site of your organisation?
DS: Being in Blackheath is beautiful but definitely one of my challenges. If I were in Notting Hill, it would be far easier to draw people through the door. Yet Blackheath is gorgeous. One of London's hidden treasures. It's well worth coming out for the day, making an appointment to come to the gallery and explore the heath and walk down to Greenwich. It's only thirteen minutes train from Blackheath to London Bridge. But Londoners are tube-centric. So there's a perception of distance that simply isn't true. I need to keep working with that.
SC: What drew you to this area?
DS: I wasn't planning on opening a gallery when I bought this place. I chose it because it is an amazing space. And because I'm a bit of a country girl. I can't live in a city without feeling open space and hearing birds. I first looked in Hampstead and realised I couldn't afford a shoebox. So then I looked in Blackheath. I chose it because it's open, it's light, it has room for family and friends. It's a detached mansion which was converted laterally, which is very unusual, and the front door is all mine.
SC: Favourite place to relax? 
DS: Definitely the parks, I'm always out walking. I like to walk over the heath to Greenwich and down to the Thames. You see people digging in the old middens and coming up with lots of wonderful objects. Digging in the 16th century trash heaps during low tide. They spend hours sifting through, bringing up old coins and chips of pipes.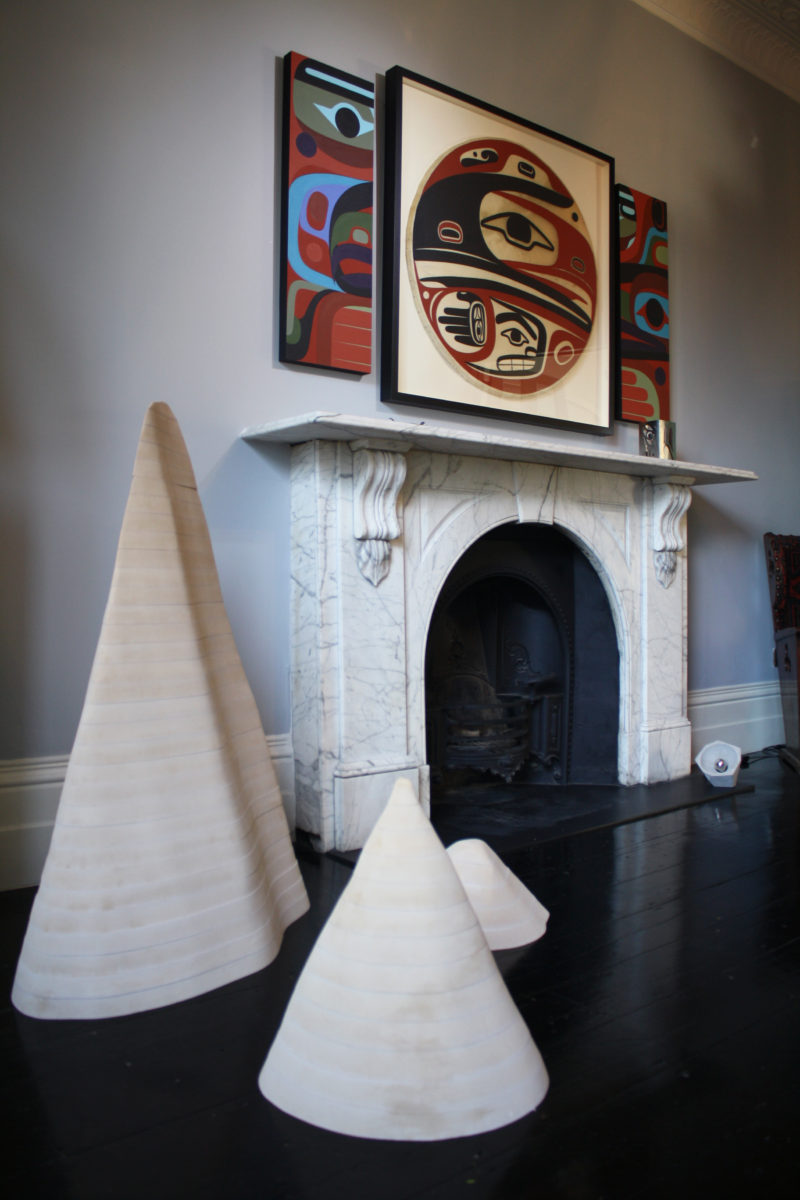 SC: Favourite place to shop?
DS: Mary's Living and Giving is my favourite place to shop. There are a number of them. They're a charity shop with gorgeous high-end clothes. There's one in Blackheath and there's one in Primrose Hill, the two that I know. I like the thrill of the find much more than I like the high street.
SC: Favourite restaurant?
DS: I love Buenos Aires in Blackheath.
SC: Any favourite places nearby The Baldwin Gallery?
DS: Buenos Aires, and there are a number of darling cafes too. I like Handmade Foods.
SC: Favourite holiday destination or where would you live if not London?
DS: Well, in the summer, I live on a faraway island in the Northwest Pacific Coast in Canada. It's called Cortes. If you could drive to it – which you can't – it would be about three hours north of Vancouver. There are rainforests and wolves and cougars and whales off the shore. In the summer, the population is about 1,000, many of whom are amazing people – lots of writers and artists. In fact, a lot of my connections to First Nations artists came from Cortes. The island holds a wonderful, chilled-out community of fascinating people from across the globe.
Mobile Forms: Parisian Abstraction to Amerindian Pop
The Baldwin Gallery, Eltham Road, London SE12
5 November – 4 December 2016 (Visit by Appointment: Tuesday – Saturday 1pm to 8pm)
Interview and photography by Keshav Anand