Interview: In The Studio With Nicole Coson
London-based Filipino artist Nicole Coson works in a range of media, notably championing analogue printmaking processes. In 2014, she graduated from Central Saint Martins with a bachelors in Fine Art. The same year, she was nominated for the Saatchi New Sensations Award, and has gone onto exhibit her work internationally, with solo shows in London, Manila and Rome. Examining intersections between absence and presence, the unfamiliar and known, Coson's prints sensitively register outlines, impressions and movements. Working with a restrained palette, her works are often refined documentations of fleeting encounters and experiences. Something Curated met up with the artist at her east London studio to learn more about her work, life after art school, and her plans for the future.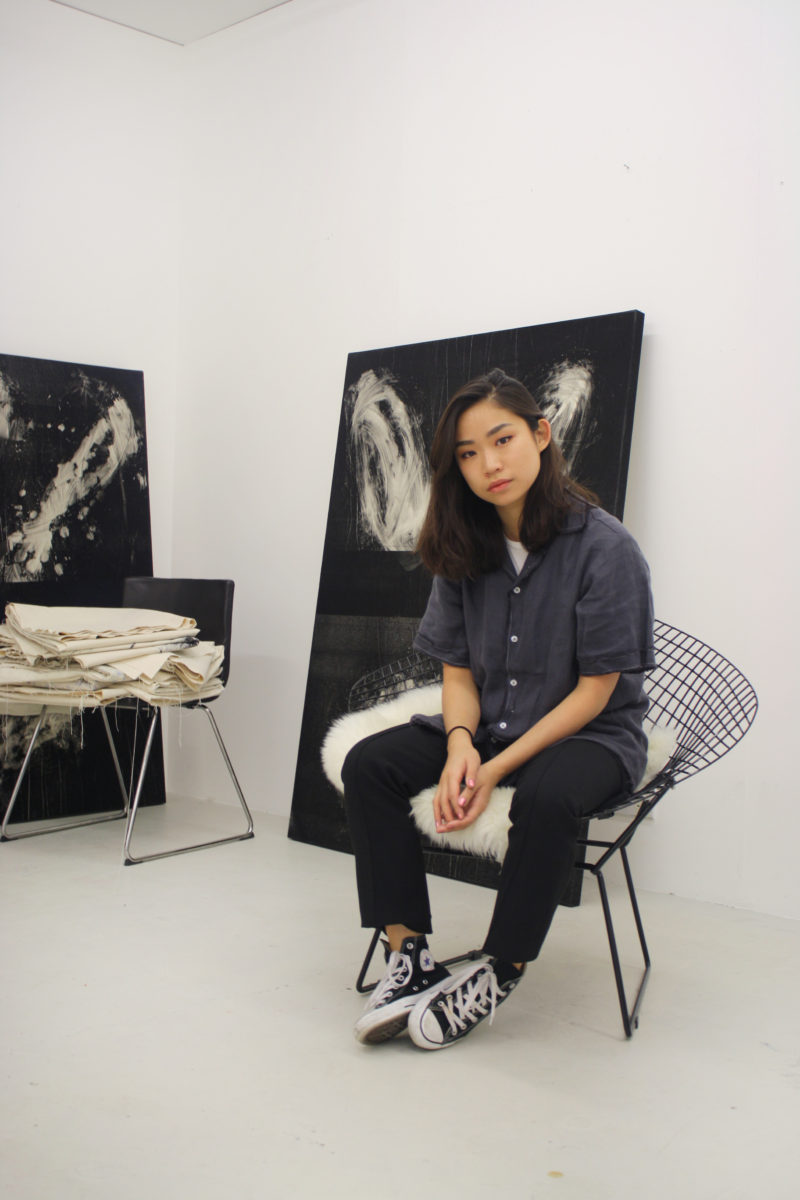 Something Curated: Can you tell us, broadly speaking, about your practice and the themes you address in your work?
Nicole Coson: My practice revolves around natural or organic forms and our relationship with these objects and images historically. What immediately comes to mind when we see cloud or rock formations? What stories are we able to extract? My last show was titled Process of Elimination. I became interested in ambiguous designs, such as Rorschach tests. I find their elusive nature beautiful in its ambiguity and the ability of the image to seem open ended and limitless. It was during a time when I attempted to remove place or origin from my work as I felt it was important for my practice to regain a sense of autonomy. To start again from scratch, you must eliminate and that to me was looking back at nature and specifically geology.
Whilst none of my work is actually reproducible, I would describe my work as print based. Monotype printmaking has constantly opened more and more doors for me in terms of new ideas and outcomes. I see it is a way of capturing a moment never to be repeated again; the image made becomes the residue of an event. Afterwards, the plate is washed and can be used to make a new print. No invasive or corrosive treatment is made on the plate, the process does not involve engraving or acids therefore once the ink has made its way from plate to paper, you end up with tabula rasa.
SC: Are there certain materials you gravitate towards and why do you think that is?
NC: More than a particular material, I guess what is consistent in my work is that they're all products made using this enormous old etching press (one of London's largest) in my studio by Broadway Market. Rather than applying paint directly onto canvas, there's this machine that intervenes between me and the surface. I apply an even layer of ink onto a metal sheet and from there I wipe away at it with rags and solvents to create marks. The image on the metal sheet is then transferred onto the canvas as it's fed through the press. It almost feels like producing work requires interaction with this third entity, where in most cases, I do not have complete control. I also use natural wool to produce the "Wool Series" prints. The process is slightly different, however also categorised as monotype printmaking. It leaves wonderful marks, one for each fibre, microns thin caught in a complex twisted bundle. The step by step, technical aspect of it like turning the wheel, pulling back the blankets, the rolling on and wiping away of ink on a metal plate is hypnotic to me. I enter this state which is one of the only times that I feel a real clarity.
I am constantly trying to further my understanding of printmaking as a resource of communication and its potential within contemporary art and the field of painting. Historically used as a tool for the mass spread of knowledge and later propaganda, its use has now been transformed and renegotiated for the purpose of contemporary art. I find that really interesting.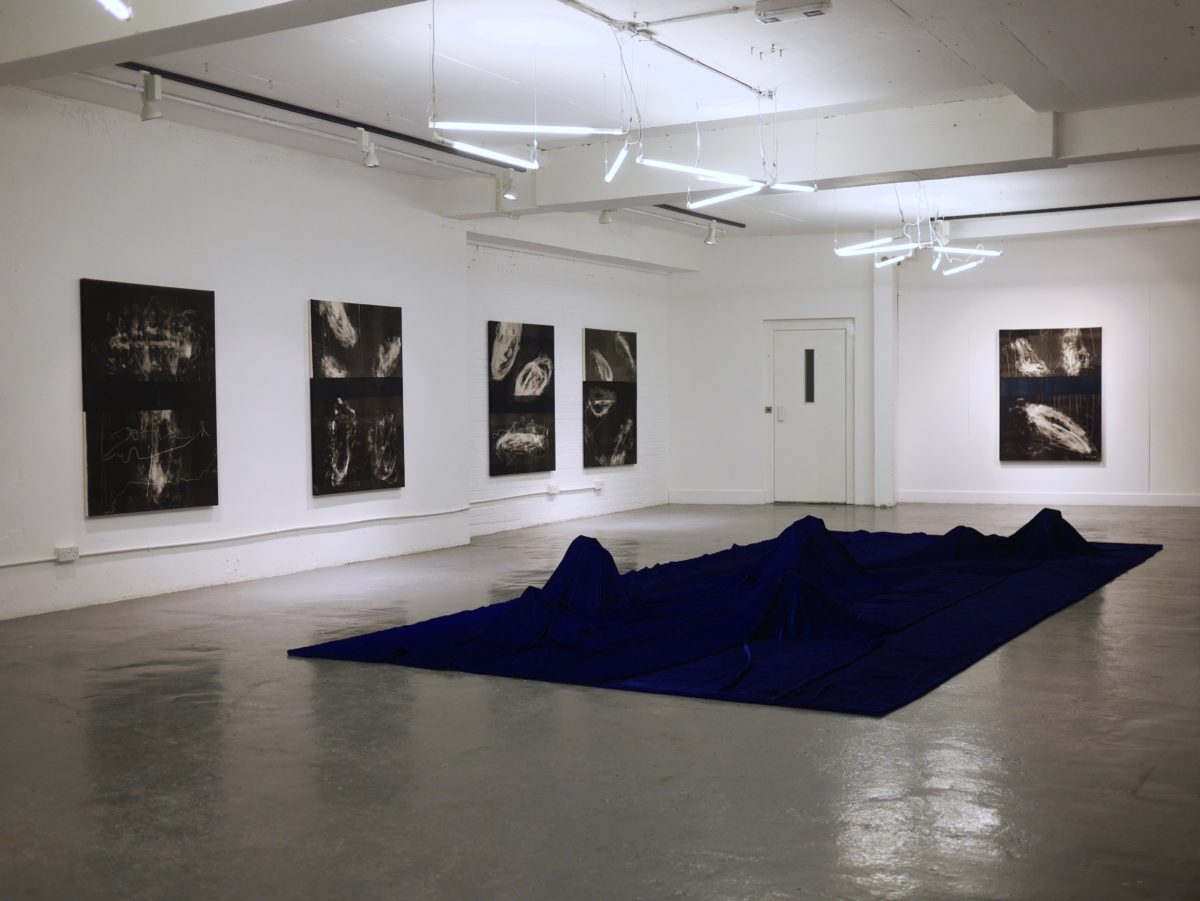 SC: You generally work with a fairly minimal and recurring palette – could you tell us a bit about your use of colour?
NC: My works are normally black and white with a few exceptions. I believe working without colour lets the subjects appear more interchangeable as well as appear photographic especially with this particular technique. Fewer colours seem to contribute to my intention of allowing the subject to remain uninvested nor trapped in a singular identity, to instead float freely as it shuffles between instances of recognition and unfamiliarity.
SC: Who inspires you in the art world in London or elsewhere?
NC: The person who inspires me most is my sister, Mara Coson. She's coming out with a novel with Bookworks next year. I talk to her about my work every day even if she's all the way in the Philippines. She's a great multi-tasker and taught me that if you really want something, you can make time for it. It can sometimes feel like she has more hours in a day than everyone else. I'm trying to pick up these habits from her.
SC: What are you currently working on?
NC: I am currently working on a few private commissions but mostly taking time off after a busy year. I'm using this time to reevaluate my practice in preparation for next year. I'm exploring ceramics at the moment and I'm really enjoying it. I need to be constantly enriched by a new skill, it's important for me to keep my mind and hands moving.
SC: You recently showed your work at the third edition of START art fair at Saatchi Gallery – could you tell us a bit about how that came about and how you chose works to exhibit?
NC: The gallery I was represented by was due to close because of issues surrounding the property. The Director of START, Niru Ratman had visited my last show and insisted that we participate despite not having a space anymore, which were very encouraging words to hear at the time. It was a great opportunity to have my work hang in such an incredible space. Museum lighting is everything! The works chosen were a mix of recently exhibited pieces, which I took down from the walls of my home, and a few new pieces I made for the occasion. It was my first solo booth at an art fair and I wanted it to feel right and I believe it achieved that. I was very pleased with it in the end and still am so grateful for the opportunity to have my work up at the Saatchi Gallery.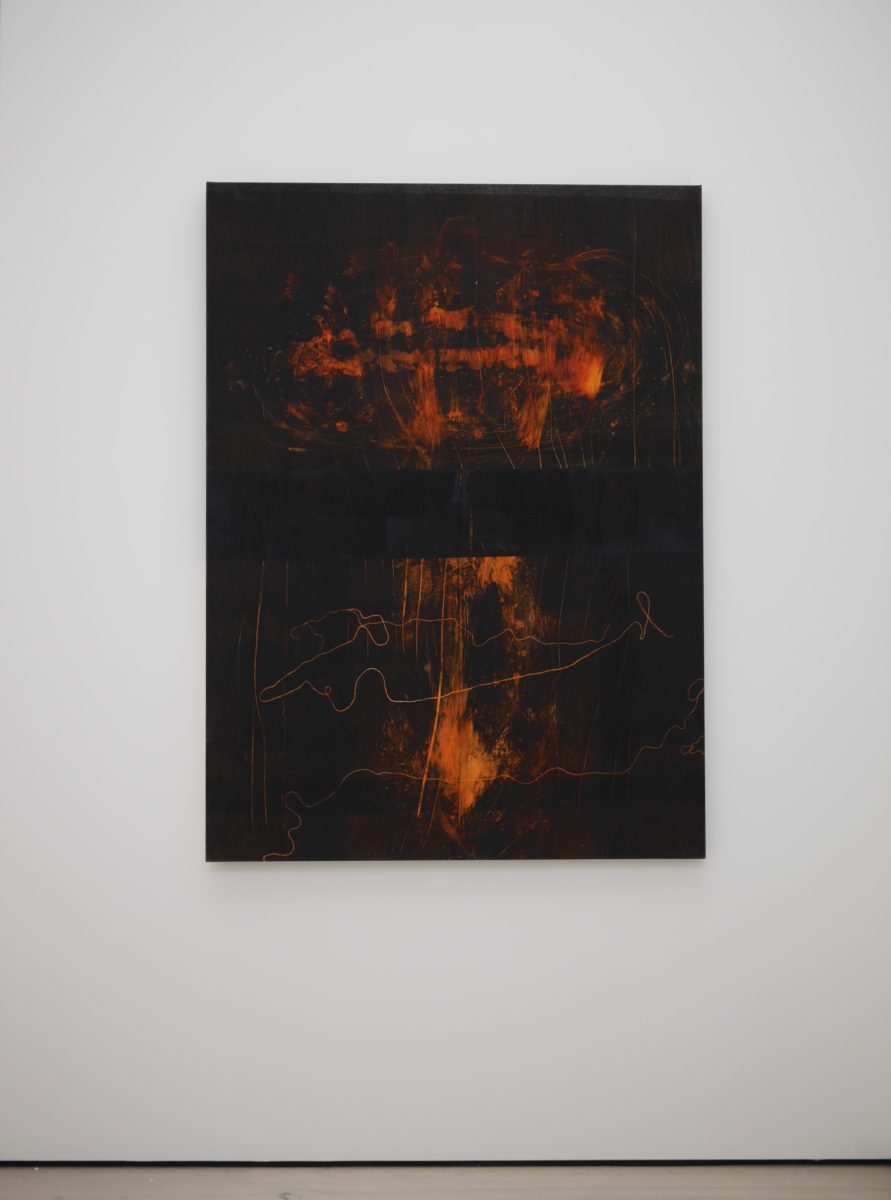 SC: How do you feel your Filipino identity and upbringing influences the work you make?
NC: It was in the Philippines that I met my grandfather's best friend, a Spanish painter named Juvenal Sanso who is now 87. We used to spend long humid afternoons outside in his garden painting rocks, twigs and leaves. He painted massive landscapes with intense bright colours, but when we were together, we'd eat cake and paint rocks all the time in black ink with a crunchy old brush. At the time I felt like it was an introduction to something; he was really teaching me how to look at these objects.
SC: What do you think is unique about London's art scene? And what does London offer you as an artist?
NC: London's art scene is so vast. It seems like there's a space for all kinds of artists at different stages of their careers. The area which my studio is in has already seen an increase in artist-run spaces and small galleries over the last few years.
SC: What are you finding is the most challenging issue with your practice right now, practically speaking or conceptually?
NC: In the last two years since my graduation, I have been constantly working towards a show, and so in terms of experimentation, time has been limited. Now that I have a longer break between now and the next one, I have more of an opportunity to really think, reevaluate, practice new skills and plan new directions I want to take with my work.
SC: Could you tell us about some of your most memorable projects or exhibitions?
NC: Last year, I was given the opportunity to give a talk that was accompanied by a show at Asia House, a cultural institution linking the UK and countries across Asia through a vibrant arts and learning programme. I was given the chance to talk about what it's like to be a young artist from the Philippines working in London. I sometimes feel that people almost assume that because the work is by an "Asian artist," the work is expected to be culturally or politically engaged in a particular way, which can be problematic. I wanted to address that, and I feel very fortunate that I was given the opportunity and the correct platform to do so.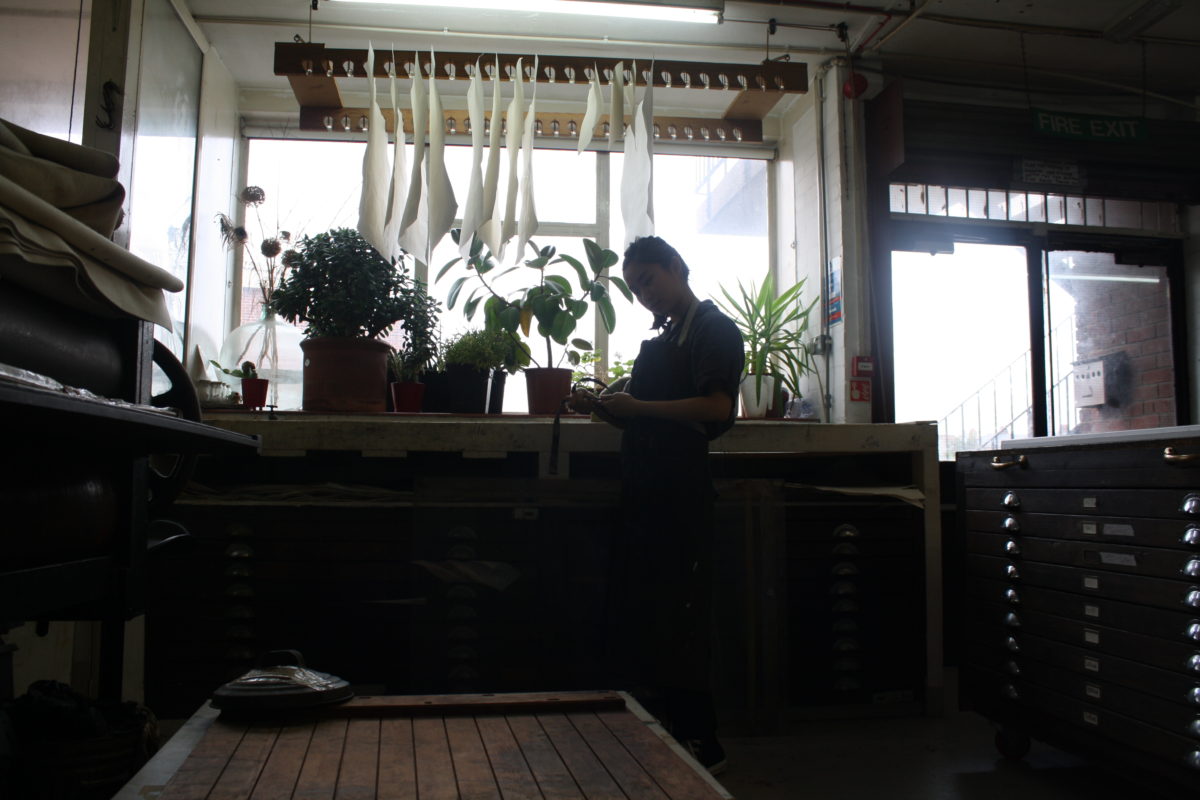 SC: What is your daily routine like? Do you work mostly in this studio or tend to move around a lot to produce your work?
NC: I start off the day with an hour session of boxing about four times a week. I found that it's really beneficial to my productivity in the studio. Without meaning to sound like one of those "gym people", boxing wakes me up and reduces my stress and anxiety levels and improves my focus. If I'm printing that day, I'll spend my day in the print studio otherwise I'll be two floors above at my own studio where I do most admin work, storing, photographing and stretching canvas. When working towards a show, I work with an assistant as using a press this size is a two man job. So we grab lunch first, burgers, because nothing is more of a hindrance to productivity than hunger as it can be quite physically demanding. Then we'll put on a good tune and get to work.
SC: Having relatively recently graduated from CSM, what is a piece of advice you would give to those currently at art school?
NC: I would advise students to begin looking for a studio as soon as possible. There is such a demand for artist studios and not enough spaces available at reasonable prices unfortunately. It was through the printmaking technicians at CSM that I learnt about the printmaking studio that I belong to now, so use these connections to your advantage.
SC: Where are you based in London and what do you like about the area?
NC: Both my printmaking studio and my private studio are in a building adjacent to the decommissioned gas holders by Regents Canal. I think it's one of the best parts of my set up and I love sharing the view with studio visitors or just watching the grass around it change with the weather. I spend a lot of time looking at the hollow structure, past its glory days yet still it stands beautifully like a skeleton of a place of worship. When I'm working on a Saturday, It's also easy to refuel at Broadway Market. Best part of my Saturday afternoon is walking around drinking from a coconut with my friend Marissa before going back to work. The area has everything I need.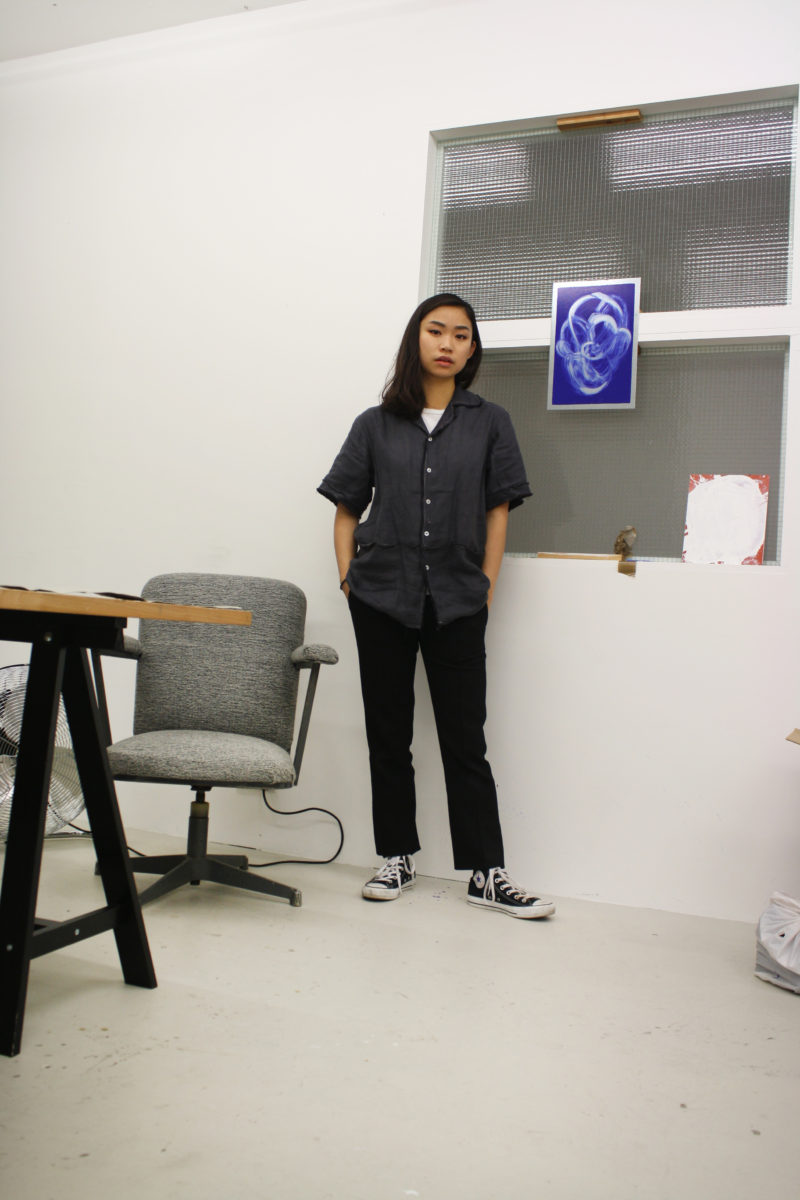 SC: Favourite restaurant or bar in London?
NC: Bao and Koya Bar in Soho.
SC: Work uniform?
NC: I prefer to wear loose fitting dark clothing in the studio to minimise the chances of visible ink stains and having freedom of movement as I'm constantly reaching over the table when I'm working on plates.
SC: Favourite place to shop in London?
NC: Dover Street Market.
SC: Favourite holiday destination or where would you live if not London?
NC: Tokyo.
Interview and photography by Keshav Anand