10 New York Cultural Events Not To Be Missed This April
Looking ahead at the next month, Something Curated highlights some of the most exciting cultural events taking place in New York this April, spanning exhibitions, theatre, music, film and more.
Receptor-Binding Variations at Bridget Donahue || Sean Raspet (Until 22 Apr)
By targeting specific olfactory receptors in the body, Sean Raspet's exhibition presents a range of "primary scents" along the lines of basic or primary colours. At the same time, it presents a cross-section or typology of a range of specialised molecules developed by the flavour and fragrance industry (in which Raspet has also worked professionally), and in turn, the patterns of human olfactory receptors that they activate.
Club 57: Film, Performance, and Art in the East Village, 1978–1983 at MoMA || Ron Magliozzi & Sophie Cavoulacos (Until 8 Apr)
Only running for a few more days, this is the first major exhibition to examine the scene-changing, interdisciplinary life of this seminal downtown New York alternative space. The exhibition taps into the legacy of Club 57's founding curatorial staff—film programmers Susan Hannaford and Tom Scully, exhibition organiser Keith Haring, and performance curator Ann Magnuson—to examine how the convergence of film, video, performance, art, and curatorship in the club environment of New York in the 1970s and 1980s became a model for a new spirit of interdisciplinary endeavour.
Yerma at Park Avenue Armory || Simon Stone (Until 21 Apr)
Federico García Lorca's 1934 devastating drama is radically reimagined by Australian director and dramatist Simon Stone, who transforms the achingly powerful tale of a provincial Spanish woman's desperate desire to have a child into a parable of modern life. Having won 2017 Olivier Awards for Best Revival and Best Actress for Billie Piper when staged at the Young Vic in London, this full-blooded production is transported to the Armory for its highly anticipated North American premiere.
Yaeji & Friends at Elsewhere || Kathy Yaeji Lee (7 Apr)
https://www.instagram.com/p/BgFWXWcnzGT/?hl=en&taken-by=kraejiyaeji
Kathy Yaeji Lee, known professionally as Yaeji, is a Korean-American electronic music artist based in Brooklyn. Yaeji has 11 of her favourite artists in tow for a huge two-room showcase, with a special emphasis on live electronics and leftfield pop. Her style blends elements of house music and hip-hop with vocals sung in both English and Korean. Elsewhere is a new music venue and arts space in Bushwick, built by the team behind the former Glasslands Gallery.
How to Do Nothing with Nobody All Alone by Yourself at Pace/MacGill Gallery || Yto Barrada (5 Apr – 5 May)
Moroccan-French artist Yto Barrada, who is currently also showing her work Agadir at London's Barbican, studied history and political science at the Sorbonne, and later photography in New York. Her work, including photography, film, sculpture, prints and installations, often explores the situation of her hometown Tangier. Barrada presents a new body of work at Pace/MacGill Gallery, running for one month from early April.
Objects as Friends at Gavin Brown's Enterprise || Jos de Gruyter & Harald Thys (Until 22 Apr)
In Jos de Gruyter and Harald Thys' show, a potentially infinite world of objects and object-relationships unfolds before the viewers' eyes, made immortal by the medium of photography. Each speck of dust is captured precisely in these photos, the backgrounds' colours rendered so accurately as to create a sense of hyper-reality, of science-fiction fantasy.
Jonas Wood: Prints at Gagosian Gallery || Jonas Wood (5 Apr – 25 May)
In Jonas Wood's domestic worlds of plants and household objects, vases, flowers, and basketballs overlap within skewed perspectival schemes, bristling with an abstract charge and confounding expectations of scale, perspective, and colour. Tracing the evolution of Wood's unique visual vocabulary through his printing practice, this exhibition reveals his deep attunement to the interplay of content and form, line and shape, colour and space.
Co-natural at The New Museum || Alexandra Pirici (Until 15 Apr)
Alexandra Pirici's work, Co-natural (2018), is an on-going action with live performers and a holographic image. The work considers the increasing fragmentation of presence and self, enabled by digital technologies, financialisation, and, more broadly, by modernity's division of nature from culture, body from mind or spirit, and individual from collective.
Moléculas at The Whitney || Juan Antonio Olivares (Until 10 Jun)
This exhibition by Juan Antonio Olivares presents his 2017 video Moléculas, along with a suite of related drawings. Moléculas relates a highly personal narrative that is part autobiographical, part fantastical reality. The film explores fundamental questions about family, loss, separation, and contemporary politics, as well as the ways in which memories acutely and even painfully live on, long after events have passed.
Frendzone at Good Room || Golden Donna, Octo Octa & Kellam Matthews (20 Apr)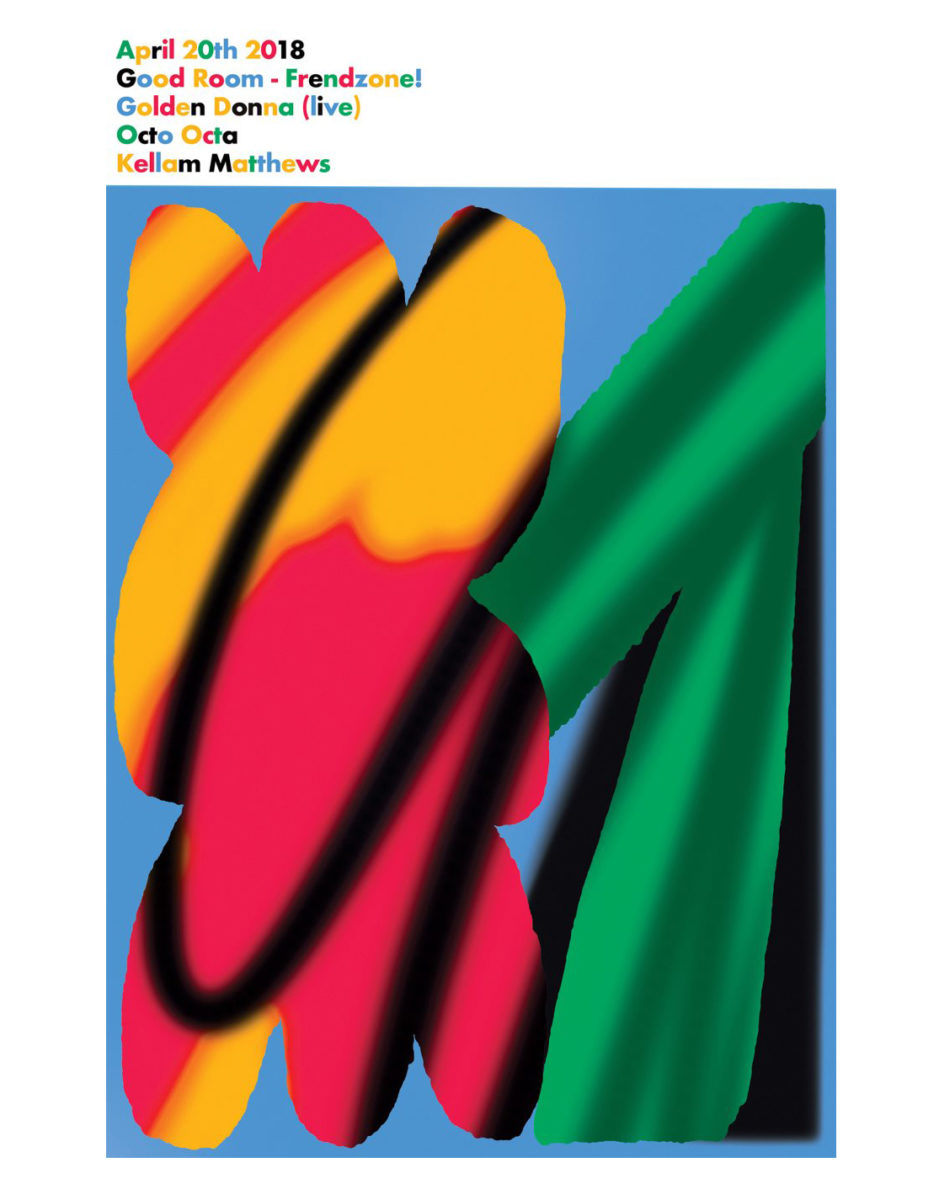 Frendzone returns to Good Room this month with special guest, Golden Donna. Hailing from Madison, WI, Golden Donna has released tapes and records for labels like 100% Silk, CGI Records, Not Not Fun, Micronesia, Digitalis, and more. He'll be joined by Good Room resident Octo Octa, who is known for her rich house music, as well as Kellam Matthews, fellow Good Room resident and creative force behind Frendzone.
Feature image: Club 57: Film, Performance, and Art in the East Village, 1978–1983 (via MoMA)