SC Edit — What To See At London Design Festival 2018
The London Design Festival celebrates the achievements of designers who are making a difference to our lives through their innovation and originality. Established in 2003, the London Design Festival is a citywide celebration that brings together a global community of designers, artists, architects, and retailers to activate projects responding to the transformative power of design. Now in its sixteenth year, the Festival will be returning to venues and institutions across the city between 15-23 September 2018. In the run up to its launch, Something Curated highlights a selection of projects we're particularly excited to see.
Assemble's Sugarhouse Open Studios (21-22 Sep)
Sugarhouse Studios, a creative workspace run by Turner Prize-winning collective Assemble, will be open to the public as part of LDF18. Sugarhouse Bermondsey is located on the former site of a school, which is due to be demolished to make way for a large, developer-led housing scheme. In the interim, Assemble's aim is to provide workspace for artists, designers and fabricators around a core of common facilities that enable and support co-working and collaboration. Explore work from a diverse range of artists, designers, fine furniture makers and more.
Why Materials Matter Book Launch + Exhibition by Ma-tt-er (15-23 Sep)
Join Ma-tt-er in celebrating the launch of their newly published book 'Why Materials Matter' (Prestel 2018) during this year's London Design Festival at Brompton Design District. Furniture, objects and a series of one-of-a-kind bookends by those who have been featured in the publication captivate the space, which looks towards a future of responsibly designed environments.
Henrik Vibskov: The Onion Farm (15-23 Sep)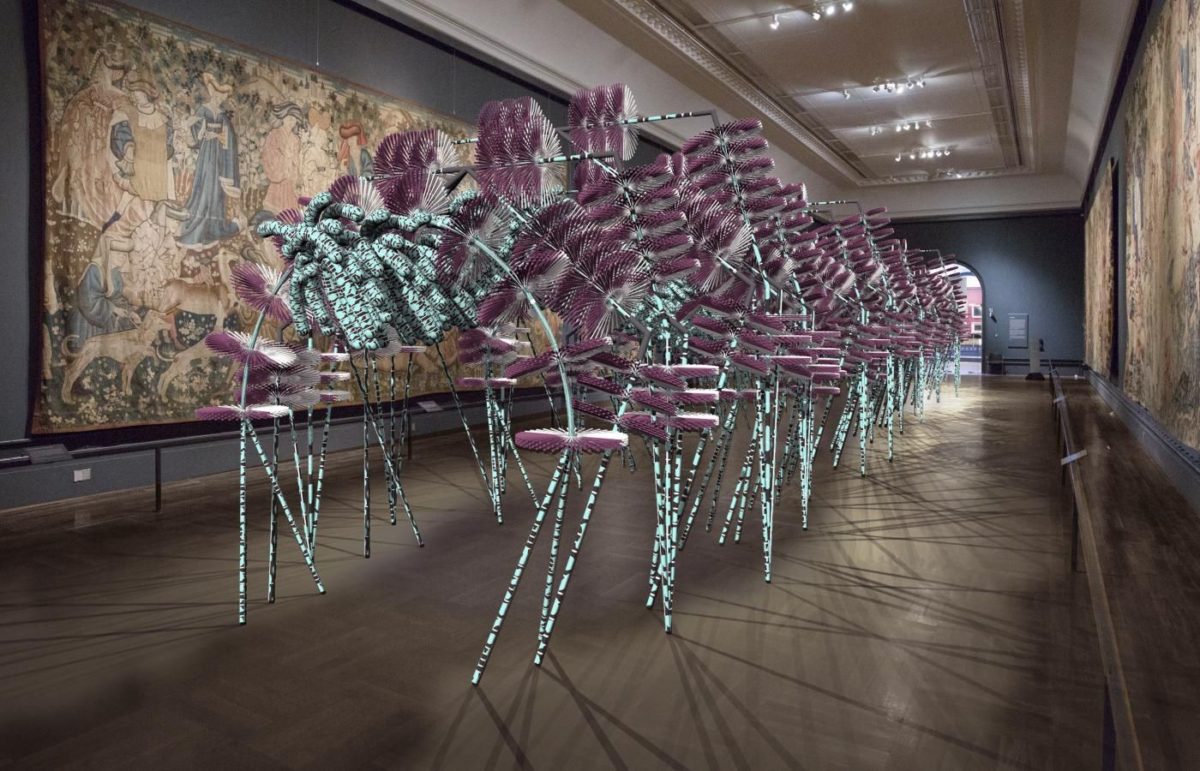 Danish fashion designer Henrik Vibskov will create The Onion Farm in Room 94 of the V&A's Tapestry Galleries. The length of the room gave rise to the idea of a long installation; around 25 metres from end to end. The Onion Farm is a light, dynamic structure, that spins along the gallery. Industrial, colourful brushes and red textile 'onions' are seemingly hanging and growing from the structure.
Craft in the Digital Age: Make your own Typeface with Alexandra Lunn Studio (19-21 Sep)
https://www.instagram.com/p/BnlVhxNFtN3/?hl=en&taken-by=alexandralunnstudio
In this series of six, half-day workshops, participants will learn how to build and construct their own typeface from scratch. The process will be simple, therapeutic and collaborative. Guests will walk away with a tangible result that can be used in the future. The process will be documented and kept by Alexandra Lunn Studio who will then create a collective font from the 3 day period which will be shared with participants as a souvenir of the project.
Konstantin Grcic: VOLUMES at Galerie kreo (15 & 17-22 Sep)
Galerie kreo presents VOLUMES by Konstantin Grcic, an alphabet of six distinct forms referencing, without defining, their functions. The works are sculpted into solid Bleu de Savoie marble and are defined by a rough finish which highlights the inner paradox between the natural and the man-made.
Waugh Thistleton Architects: MultiPly (15-23 Sep)
Waugh Thistleton Architects and Arup have collaborated with the American Hardwood Export Council to create MultiPly, an interactive modular maze-like installation in The Sackler Courtyard at the V&A. The pavilion confronts two of the age's biggest challenges – the need for housing and the urgency to fight climate change – and presents the fusion of modular systems and sustainable construction materials as a possible solution.
Es Devlin: Please Feed the Lions (18-23 Sep)
Please Feed The Lions is an interactive sculpture in Trafalgar Square by artist and designer Es Devlin, who is known for her innovative projection-mapped sculptures that fuse light, music and technology. The project follows a year-long collaboration between Es Devlin and Google Arts & Culture. Exploring the parameters of design and artificial intelligence, the installation incorporates a deep learning algorithm developed by Ross Goodwin, creative technologist at Google.
Kellenberger-White: Alphabet (15-23 Sep)
Known for their playful approach to typefaces, Kellenberger–White has designed a new series of alphabet chairs as a Landmark Project at Broadgate, supported by Festival Headline Partner British Land. Visitors are encouraged to explore, interact, move, and make words with the letters, which consist of 26 bespoke colourful alphabet chairs popping up in Finsbury Avenue Square.
Architecture Social Club: Trace (15-23 Sep)
Trace is a suspended installation designed to draw the viewer's attention to the power of the natural world as it interacts with the built environment. Regent Street, named after the Prince Regent, was built under the direction of the architect John Nash and its Grade II listed facades represent some of the most distinguished architecture in London. The iconic curve of the street and height of its impressive Regency buildings means Regent Street has its own unique wind patterns.
Fortnum's X Frank Presents John Virtue (10 Sep–20 Oct)
Fortnum's X Frank, the artistic collaboration between Fortnum & Mason and eminent art collector, Frank Cohen, sees over 60 large-scale works by British artist, John Virtue placed across the floors of Fortnum & Mason, the artist's largest solo show in the past 10 years. Virtue's abstract landscapes of landmark sites are created using a mix of white acrylic paint, black ink and shellac and provide an intriguing juxtaposition among Fortnum's colours and gilt.
Feature image via Waugh Thistleton Architects