The Philistine: The Very Best Of London Culture This November
Something Curated highlights the unmissable arts and culture happenings taking place across London this November, from Patrick Staff's new Serpentine Galleries commission, to Björk's long awaited return to London, via Close-Up Cinema's celebration of West German filmmakers from the 80s.



Exhibitions

A Snake Without A Head Is Just A Rope at Sim Smith || Sebastian Hammwöhner, Dan Mandelbaum, Vojtěch Kovařík & Stefan Rinck (7 Nov  – 21 Dec 2019)
Sim Smith presents A Snake Without A Head Is Just A Rope, an exhibition featuring works by artists Sebastian Hammwöhner, Vojtěch Kovařík, Dan Mandelbaum and Stefan Rinck. The worship of snake deities was present in several ancient cultures, particularly in religion and mythology where snakes embodied the entities of strength and renewal. In exploring how and why new rituals come into being, the artists in this show borrow logic from the ancient and reflect not only what they see in their waking life but also possibly what they hope and dream to see in the future.



Best of The Drawing Year 2019 at Christie's || The Royal Drawing School (8–12 Nov 2019)
Hosted at Christie's, The Royal Drawing School presents an exhibition of drawings and works on paper by students studying on The Drawing Year postgraduate programme. The exhibition offers a range of work, rich in observation, imagination and storytelling. The graduating artists come from a range of backgrounds and artistic disciplines including painting, printmaking, architecture, photography and illustration. The exhibition moves to the Royal Drawing School's gallery in Shoreditch, which will exhibit an expanded collection of over 400 drawings from 29 November 2019 – 15 January 2020.



Patrick Staff: On Venus at Serpentine Galleries || Patrick Staff (8 Nov 2019 – 9 Feb 2020)
For their newly commissioned exhibition at the Serpentine Galleries, Patrick Staff presents a site-specific installation exploring structural violence, registers of harm and the corrosive effects of acid, blood and hormones through architectural intervention, video and print. Through a varied and interdisciplinary body of work, Patrick Staff interrogates notions of discipline, dissent, labour and the queer identity. Drawing from a wide range of sources, Staff's work cites the ways in which history, technology, capitalism and the law have fundamentally transformed the social constitution of our bodies today, with a particular focus on gender, debility and biopolitics.



Corporeal Materiality at Marlborough || Magdalena Abakanowicz (12 Nov – 21 Dec 2019)
Spanning 40 years and working across a wide variety of material, Marlborough's upcoming show stands as testament to a towering figure of 20th century art.  A relentless innovator, MagdalenaAbakanowicz's alchemical transformations of humble materials like rope, burlap, stone and sisal into monumental, moving expressions of power, loss, violence and healing bespeak both her resourcefulness and ambition. Working in these mediums, which were often all that were available in Soviet-controlled Poland and at the time pejoratively associated with craft, the artist claimed a transformative power inherent in the feminine that courses through these works and transcends physicality.



KIMA: Noise at Tate Exchange || Stephen Stansfeld, Analema Group & More (20–24 Nov 2019)
KIMA: Noise will combine geometric sound sculpture, large-scale, real-time projection and live streaming of urban noise from around Tate Modern. Following a year-long development with Stephen Stansfeld, Queen Mary University of London, KIMA: Noise presents the outcome of this collaboration between research and cutting-edge, participatory art at Tate Exchange to the public. The project brings together scientists and artists with local communities and the general public to open a discourse on the impact of noise on wellbeing. Through innovative art practices, the collective Analema Group will highlight the effect of urban noise on health.



Dan Flavin: For Prudence at BASTIAN || Dan Flavin (21 Nov 2019 – 8 Feb 2020)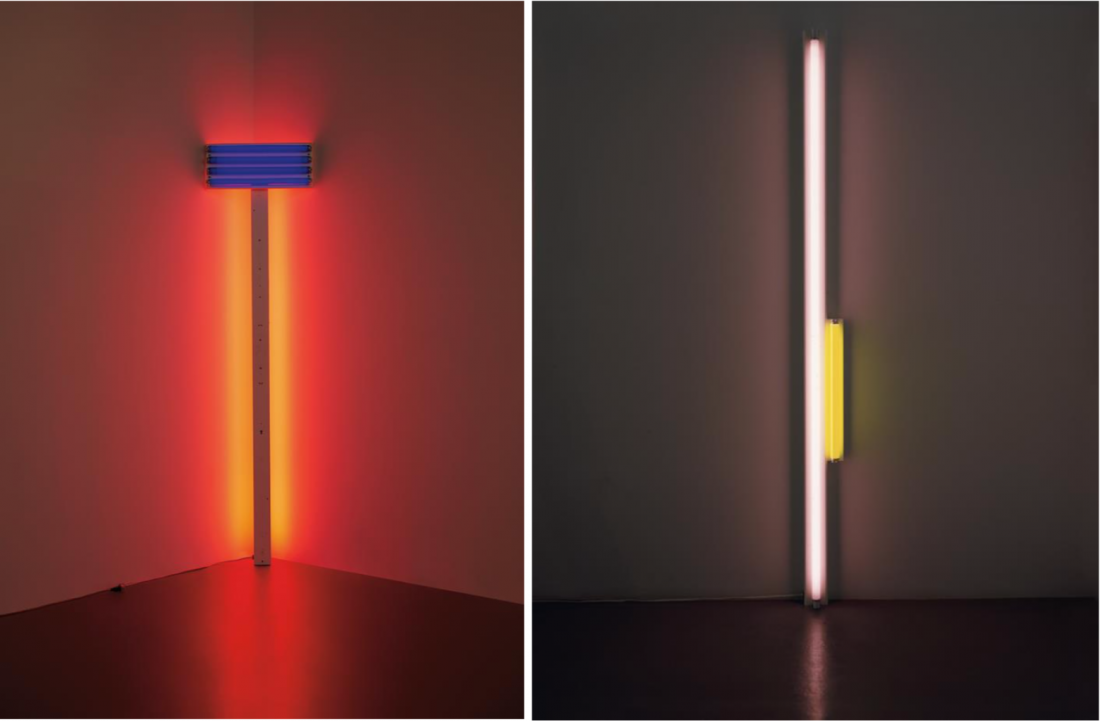 BASTIAN presents a solo exhibition from the late pioneering American minimalist Dan Flavin, exhibiting two significant works for the first time in the UK. The show demonstrates the artist's interest in the relationship between space and light while also exploring the humanity in Flavin's work. The title of the exhibition is taken from one of the works on show at BASTIAN, Untitled (for Prudence and her new baby); this light sculpture from 1992 is dedicated to Prudence Fairweather, his studio manager from 1990 until his death. Flavin often dedicated his works to friends, family and inspirations.



Film & Performance

Lucrecia Dalt, David Blamey & Lotte Andersen at Whitechapel Gallery || Lucrecia Dalt, David Blamey & Lotte Andersen (8 Nov 2019)
The latest in a series of sound and performance nights features a live show by Berlin-based experimental Colombian producer Lucrecia Dalt, David Blamey's film Rice (2017) documenting the choreography of rice production in India followed by a DJ set in the gallery, alongside work by interdisciplinary artist Lotte Anderson. This event will take place in the atmospheric Gallery 2 space and the intimate Zilkha Auditorium at Whitechapel Gallery.



Berlin Super 80: Films from the West German Underground at Close-Up Cinema || Walter Gramming, Christoph Doering, Die Tödliche Doris, Lorenz Lorenz & More (2 Nov 2019)
Close-Up Cinema hosts a programme of eighteen short films shot in Super 8 by West German experimental filmmakers between 1978 and 1984. Presented in parallel with Close-Up's retrospectives on Rainer Werner Fassbinder and Jürgen Böttcher, organised to mark the 30th Anniversary of the fall of the Berlin Wall, Berlin Super 80 is part of a selection of disparate works that delve into Germany's recent socio-political past. Using Berlin as a starting point these films explore themes of exclusion, statelessness, memory, oppression and resistance, from the National Socialist Regime to the aftermath of reunification in the 1990s.



Cornucopia at The O2 || Björk (19 Nov 2019)
Björk is bringing her Cornucopia shows to the UK this winter. Over her four-decade career, she has developed an eclectic musical style that draws on a range of influences and genres spanning electronic, pop, experimental, classical, IDM, and avant-garde music. The Icelandic artist developed the immersive theatre show Cornucopia last year, debuting it with an eight night run at Manhattan's The Shed. Setting her sights on Europe, Björk will take the theatrical performance to London's O2 Arena on the 19th, a rare return to the capital.



Assembly: Christian Marclay at Somerset House Studios || Christian Marclay (8–10 Nov 2019)
For the second ASSEMBLY season, resident artist Christian Marclay curates a series of intimate musical performances in the Lancaster Rooms responding to the sounds and acoustics of the street outside the Neoclassical building. Pedestrians, traffic, roadworks, protest, the corner of Somerset House where Waterloo Bridge meets Embankment is a hive of often unpredictable activity and noise. Acknowledging and working with this to define a compositional framework, Marclay invites a series of guests to collaborate in bringing the outdoor inside for an evolving series of electro-acoustic performances.



Events

Queers Read This (4) at ICA || Richard Porter, Isabel Waidner & More (7 Nov 2019)
The ICA hosts an evening of readings by Clay AD, R. Zamora Linmark, Richard Porter, Alison Rumfitt, Shola von Reinhold, and Isabel Waidner. Presented by artist Richard Porter and writer Isabel Waidner, the latest instalment of Queers Read This features readings of texts spanning prose and poetry, critical and creative writing. Themes range from rolling the r's and queerness in Honolulu, feminist healthcare and collective intimacy, the erasure of black writers from the Western 20th century canon, trans identity, tyranny and the end of the world, queer modern poetry, planes and ocean floors, and novels in progress. The event celebrates the on-going work of innovative LGBTQI+, Black, POC and working-class writers.



Sound Healing at Zabludowicz Collection || Florentina Lam-Clark (7 Nov 2019)
This special evening with Florentina Lam-Clark reveals the calming and healing possibilities of sound. The workshop will start with a short introduction and guided meditation before singing bowls' resonance provides a sonic immersion. Lam-Clark has been working in the healing arts for over 20 years and teaches yoga, meditation and reiki and seichem. Fascinated by the healing power of sound, she is training in sound healing and has seen the profound effects that the singing bowls have on mind, body and spirit. She incorporates healing sounds in her yoga classes and workshops at Yogahome in Stoke Newington.



Feature image: Patrick Staff, Weed Killer, video still, 2017. Courtesy the Artist and Commonwealth & Council, Los Angeles.