Interview: In The Studio With Artist & Designer Dom Sebastian
London based artist and designer Dom Sebastian graduated from Central Saint Martins in 2018, where he studied Textile Design. His graduate collection 'Gel Futures' distinctively explored experimental print design through silicones, thermoplastics and polyurethane systems, merged with photography and graphics. Sebastian has a background in creative direction and photography, having already worked with the likes of Nike, Camper, and Kanye West. For Spring/Summer 2020, the versatile creative presented a ready to wear interpretation of his graduate experiments, during London Fashion Week, at the ICA. Following his captivating debut, Something Curated spoke with Sebastian to learn more about his work.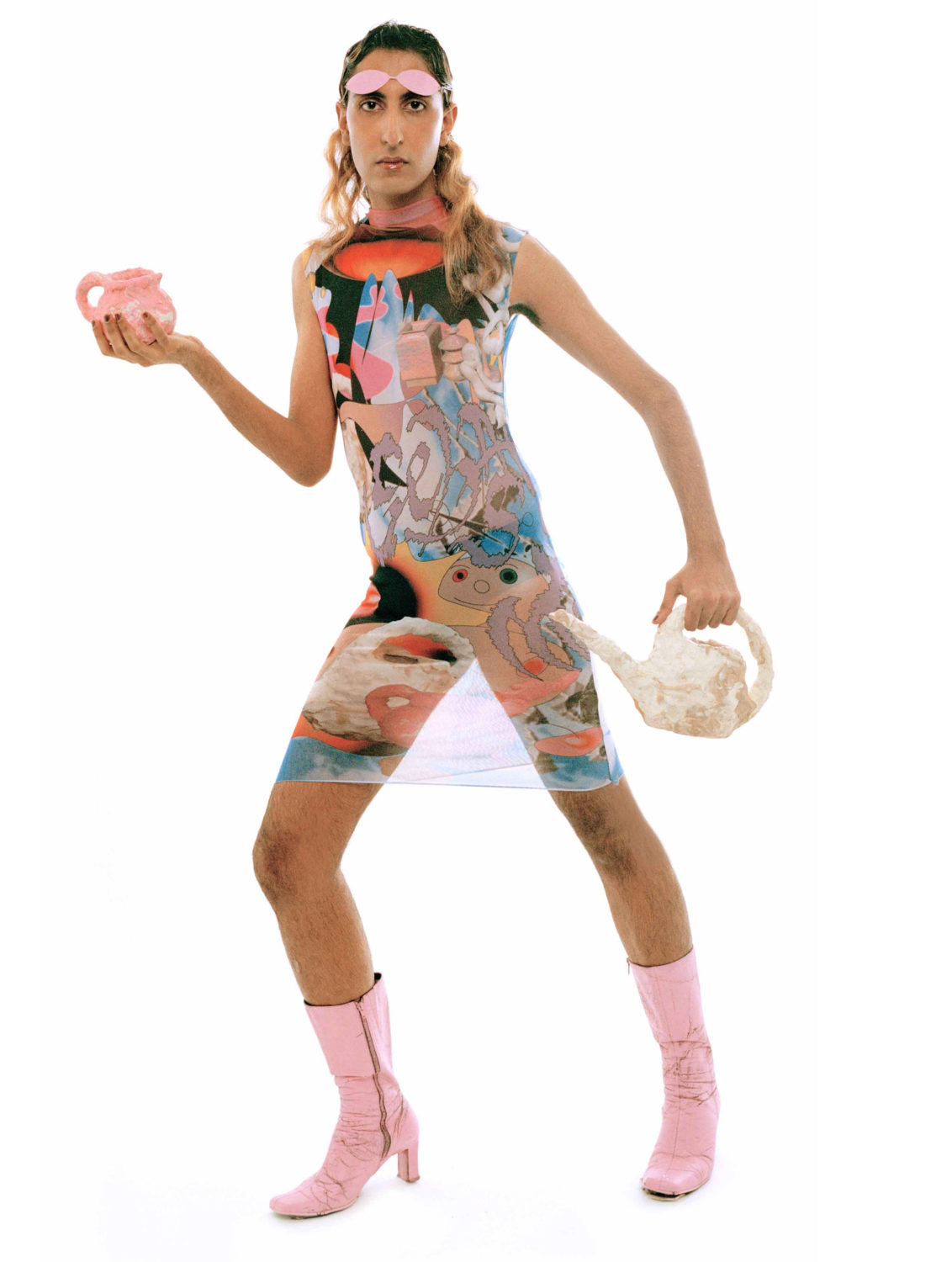 Something Curated: Can you give us some insight into your background? How did you enter this field?
Dom Sebastian: Throughout school I was always into art and music. When I was around 14 I remember becoming very aware of visual communication, things like album covers and film posters really captured my attention and I guess that was like the 'spark' moment. In my final years of secondary school I studied fine art and really just focused on hyperreal oil painting, and a bit of photography and graphics. I think when you focus on painting like that you really gain a kind of unspoken deeper understanding of colours and texture which can be transferred to areas like graphic design.
I do remember, as I went to a very academic grammar school, there being a slight moment of being pulled in different directions between the arts and science – I remember being shocked when I was accused by a teacher of purposely flunking my chemistry exams. Eventually though it all fell into place and after school I then went on to study the Graphic Design Foundation at Central Saint Martins and then did one year of the Graphic Design degree. Throughout this time I was exploring fashion experiments on the side; I made a few small capsules of digital print garments over this period.
I ended up more interested in these endeavours than what I was studying really. However during my time studying graphics, I really fell in love with image making, mainly still life photography. And then seemingly out of nowhere, I ended up having this career alongside my studies. I was asked to direct campaigns and editorials for brands like Camper and Nike, and I really enjoyed it, I still do. But I still wasn't satisfied – even though there was a definite feeling of tactility and sensuality in my photos, I yearned for something more physical than the final image being on a screen. I transferred to Textile Design, which was kind of unexpected, but it turned out to be a perfect fit.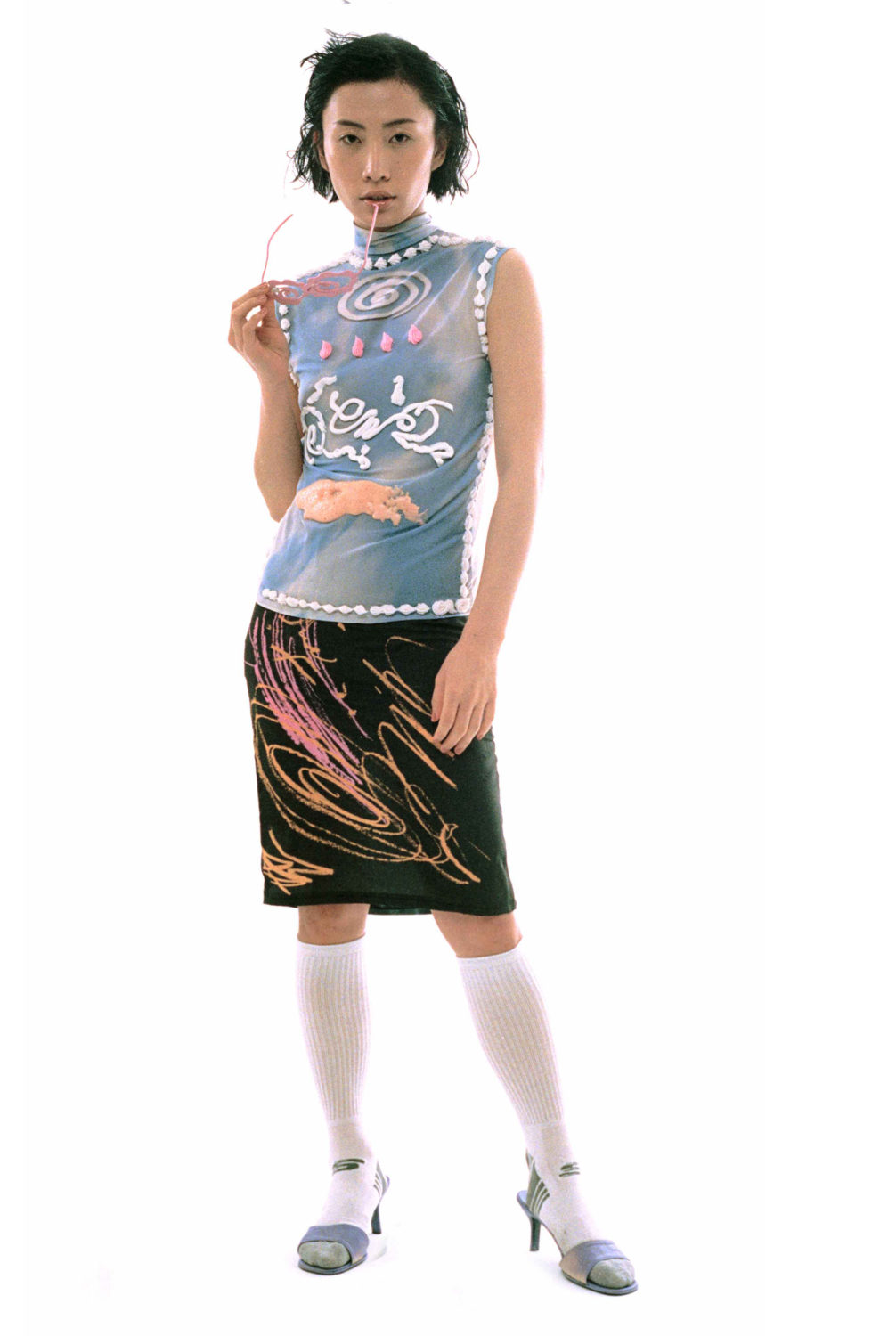 SC: Is there an approach or sensibility that ties together the various strands of your diverse practice?
DS: The tactile qualities and the idea of trying to engage all the senses. I have an obsession with cohesion. Each time I make something, I want it to fit into the world I have created. I remember doing a shoot once for an editorial and I had this concept planned out and then I saw the shoes and realised it wasn't going to work with my concept. I am a bit of a perfectionist and had this moment of realisation that if I wanted to make the perfect image I would have to create everything including the shoes.
It is hard to describe my approach or process because I am just doing what feels natural to me, following my instincts, letting ideas flow and develop, and they translate naturally between the mediums. I think the approach I take to the different areas is not that different, which I guess is strange, because you might think, how can you approach still life photography and fashion design in the same way? Maybe it's more the merging of these different areas into one project that interests me. For example, in my graduate project, I brought together everything I'd learned over the years leading up to it – the still life photography, the graphic experiments, and then adding them to the mix of textile design and fashion design; it just became this crazy, self-referential world.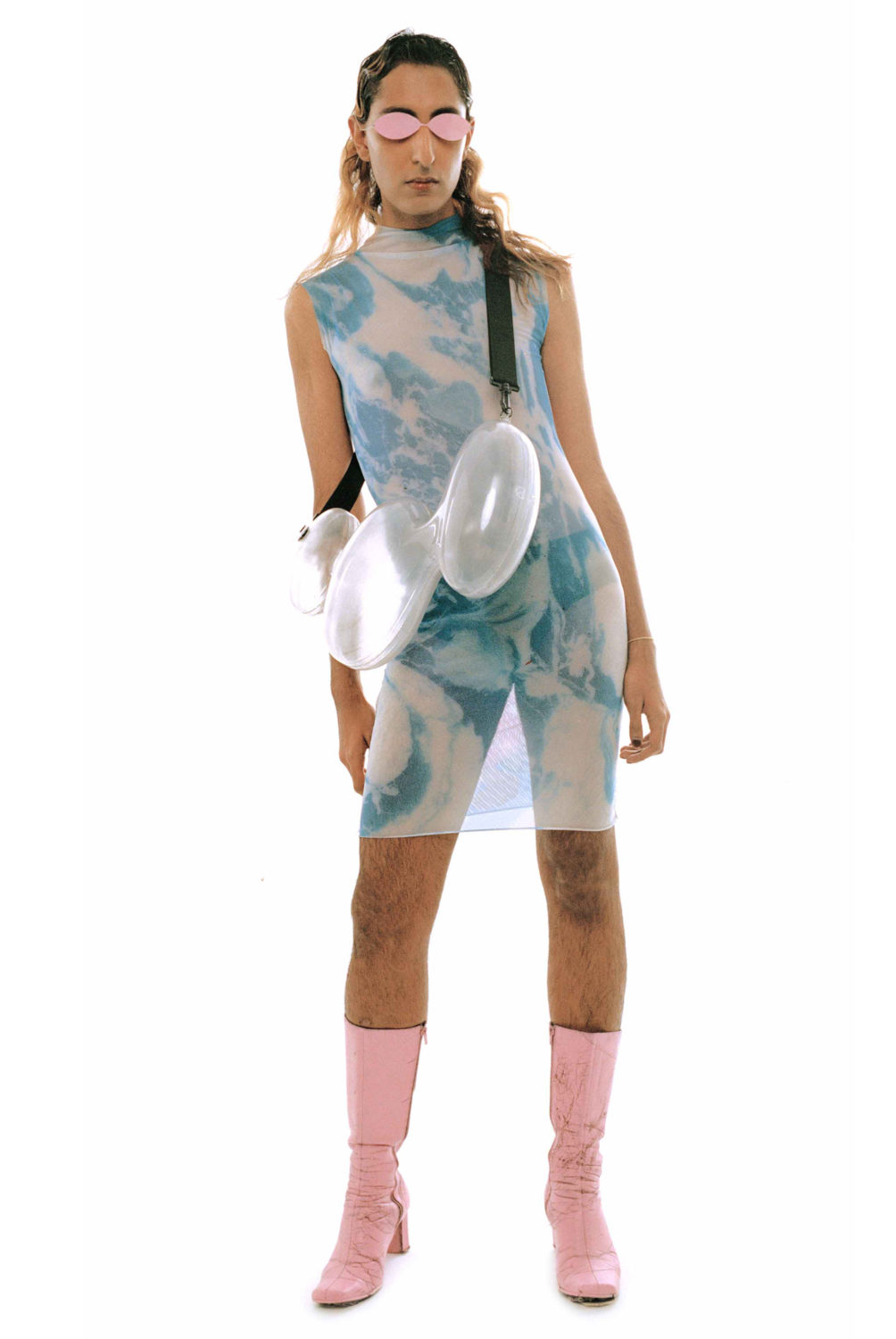 SC: Can you tell us about your SS20 collection?
DS: This collection is a translation of my graduate collection 'Gel Futures' into ready to wear pieces. That collection was a vast range of textile experiments in mainly silicones and plastics that were like half garments, not really functional, more concept based. I just wanted to fully explore ideas without having to think about the practicality of them – I guess if you don't do that at university, when are you going to? This was different to every other project I had done before, as it was long enough that I explored all the different possibilities and avenues. So there is a world that you can immerse yourself in, something with a real sense of depth and exploration. I want it to be like a journey or a ride. It takes you through a range of moods and atmospheres, from the quite intense dark hellish imagery, then ascending up into an airy calmness.
Then there were also the more graphic and photography elements of the project, which I combined with the 3D elements. I used a lot of symbols in the collection; I feel the ambiguity of them and what they (can) mean fits quite nicely with the ambiguity of the prints and the pieces themselves – I particularly like the spiral and its various interpretations. For 'Gel Futures', I restricted myself with the colour palettes, only using two colours per look for a lot of the project. After this I really needed a colour-based release, and just freely built upon these prints without overthinking it. It feels quite honest doing that.
SC: As well as the garments and accessories you presented, you also designed the set – what was the concept behind this?
DS: The idea was to create a life-size version of my still life world, which the models would be within. In a lot of my work there is this sense of ambiguity between real and not real. The backdrop was a seven-metre print of one of my still life photographs – to then use that as a background with real objects on top of it creates a really interesting tone for me. Pretty much all of my set design work before this had been on a smaller scale so this was really a challenge with loads of planning and not really knowing how its going to look at the end. It wasn't until an hour before the show started that I put all the elements of the set together and saw it for the first time.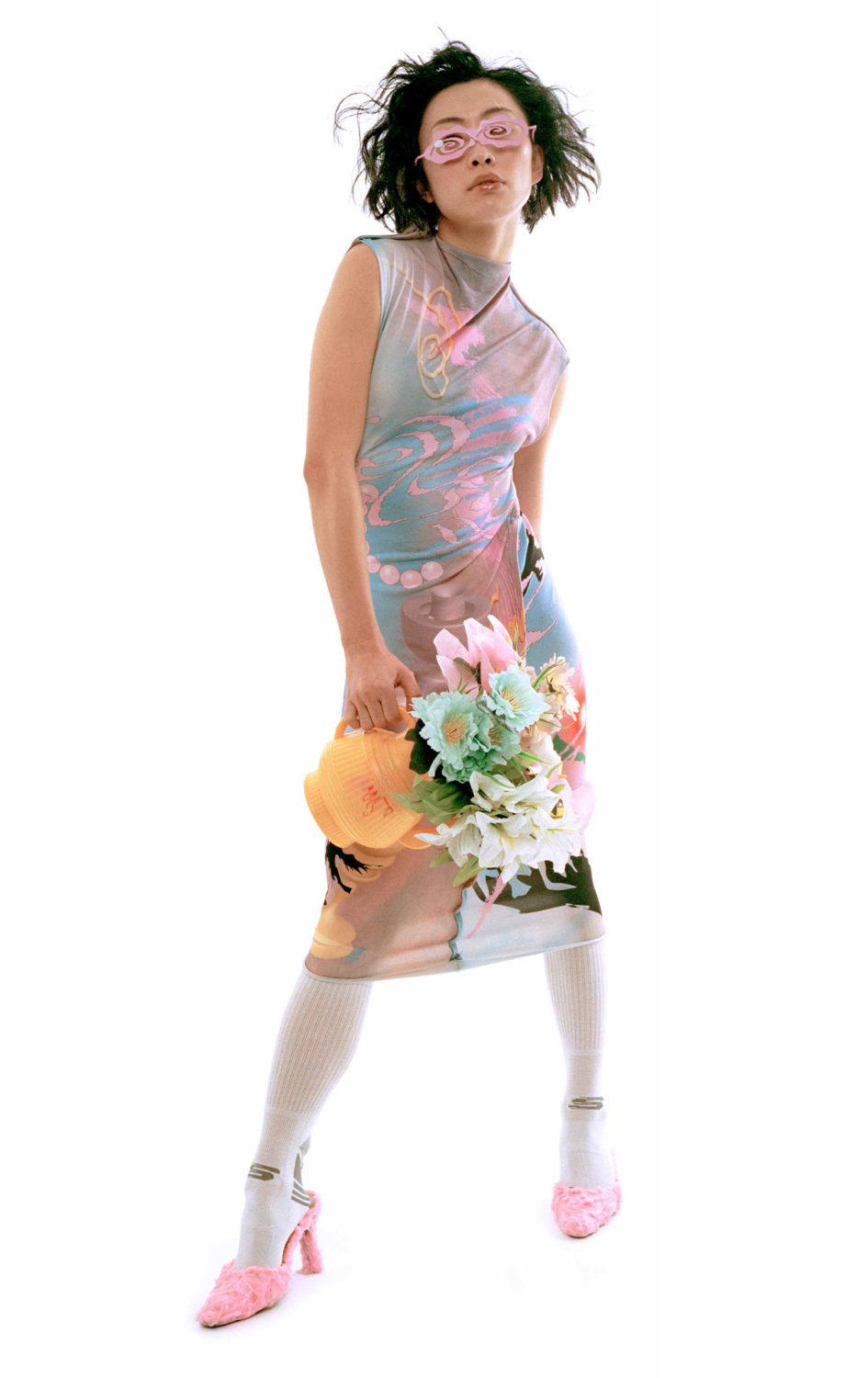 SC: You have a very distinct approach to print and colour – can you tell us about some of your influences?
DS: I am mainly inspired by music, the way it can set an atmosphere, in the way visual art doesn't. I wanted to create imagery that has the effect of music, if that even makes sense. Growing up I was very inspired by the artwork of Goldfrapp and M.I.A. and the way they connected sound and image. In terms of film, I am always inspired by horror; I remember the visual communication of horror films in the mid 2000s being particularly notable, and really anything that gets my attention and keeps me thinking about it, I admire. As an adult, I have been very into the New French Extremity movement. Particularly Marina De Van's film In My Skin – I remember being completely stunned by it. The imagery is so visceral and I really like when ideas are taken to the extreme. I also love objects and I'm definitely a hoarder – I keep everything. My favourite objects include mid century furniture and glassware. I am also really interested in design history, particularly 60s to now. How certain design relates to a particular zeitgeist and the reasons behind it – I find all of that really interesting.
SC: What attracts you to working with silicone?
DS: Silicone is my favourite substance. It's very versatile as its characteristics can be altered during the process. You can engineer it to feel like it's somewhere between liquid and solid – I like the ambiguity of that. It also has a skin like quality. Creating textiles from the raw liquids and building it up from scratch is a really seductive process. I think it was quite addictive, experimenting and seeing what the result would be.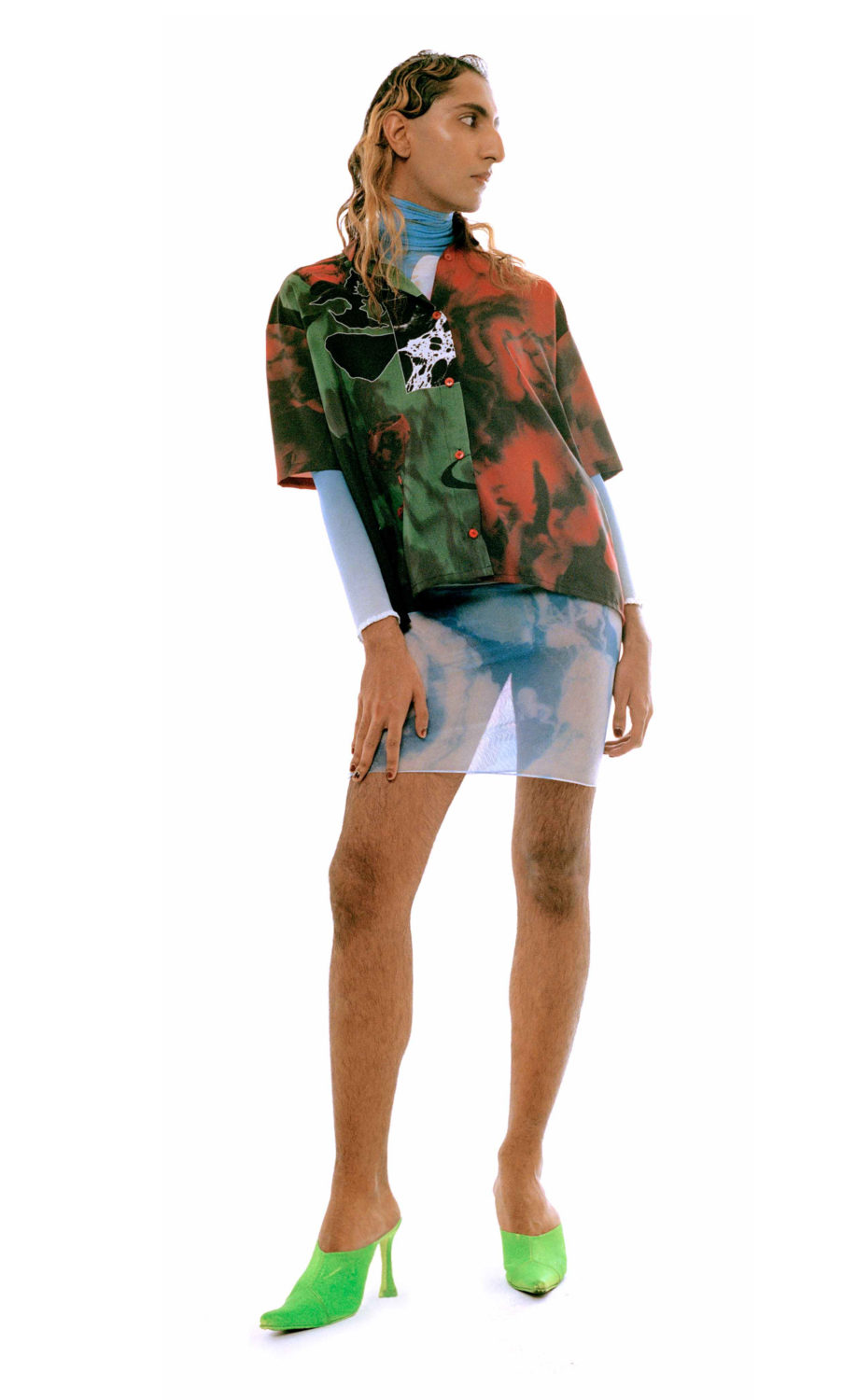 SC: How did your time at Central Saint Martins affect your way of working?
DS: During my time at CSM, my work became more complex. I developed more analytical skills – thinking about my work more, thinking about why I was making certain artistic decisions, then testing out the opposite of that, changing it around, and generally just pushing my ideas further.
SC: What are you currently reading?
DS: I'm reading about nootropics and Dennis Nilsen.



Interview by Keshav Anand | Images courtesy Dom Sebastian