The Aesthete's Wish List: 10 Of The Best Things You Can Buy This January
Covering January's new drops, restocks, and promising auctions, Something Curated has compiled a list of ten of the most coveted items available for purchase this month, spanning art, fashion, home and more.



Art
Untitled (Abstracted Landscape with Horse and Rider), 1960-1963 || Martín Ramírez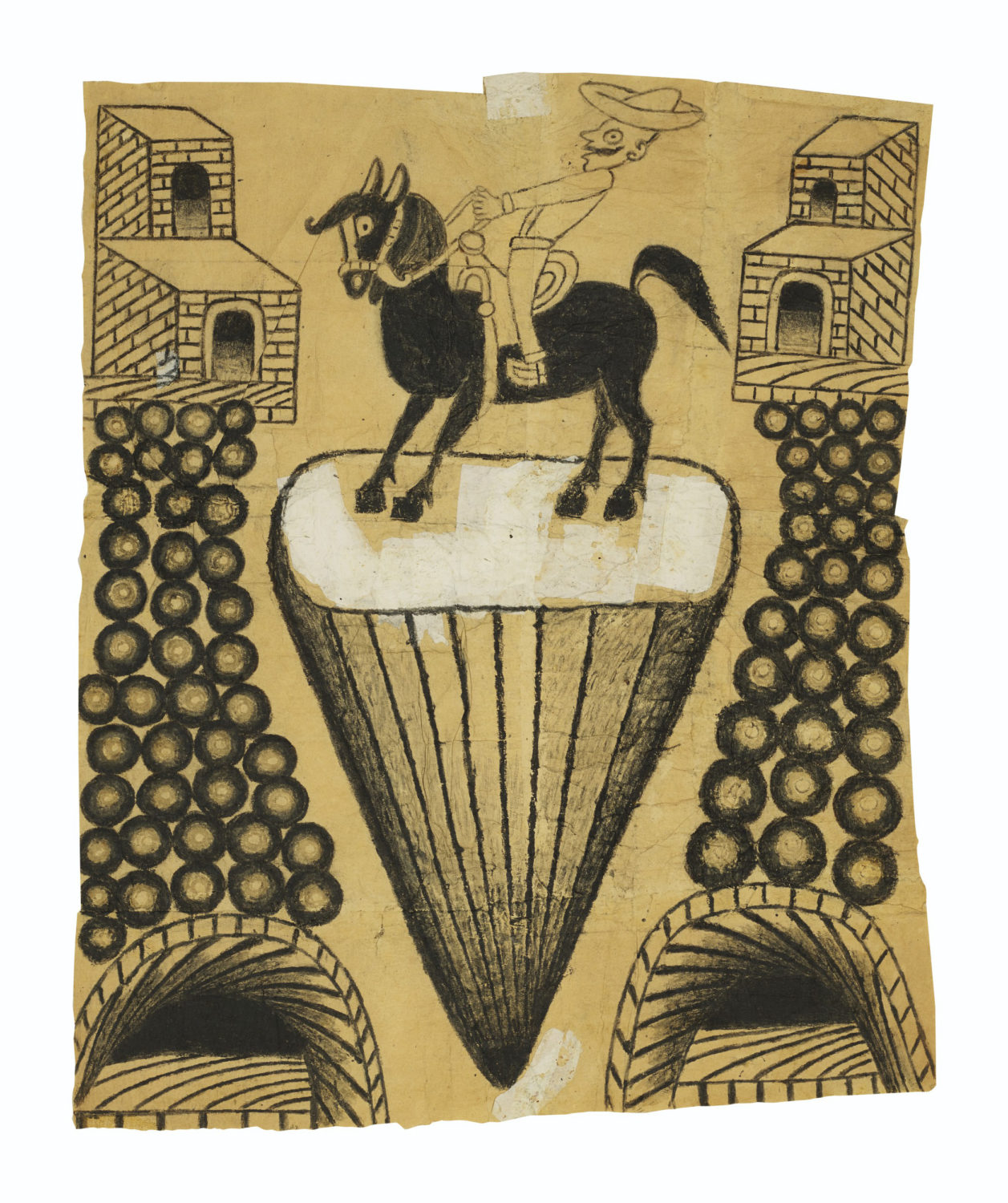 Martín Ramírez was a self-taught Mexican artist whose intricate drawings melded religious iconography and figures into surreal spaces. His idiosyncratic works were made on salvaged paper bags and postcards pieced together with a glue composed of saliva and potato starch. After six years of working on the railroads, he like other labourers of the era, lost his job during the Great Depression. Homeless and unable to explain his situation in English, he was taken to a medical facility by police where he was diagnosed with catatonic schizophrenia. In 1948, after moving to the DeWitt State Hospital outside of Sacramento he began creating the works for which he is now remembered. It was a professor of art and psychology, Tarmo Pasto, who first took an interest in Ramírez's practice. Available at Christie's.



Sticker Sheet || The Neo Naturists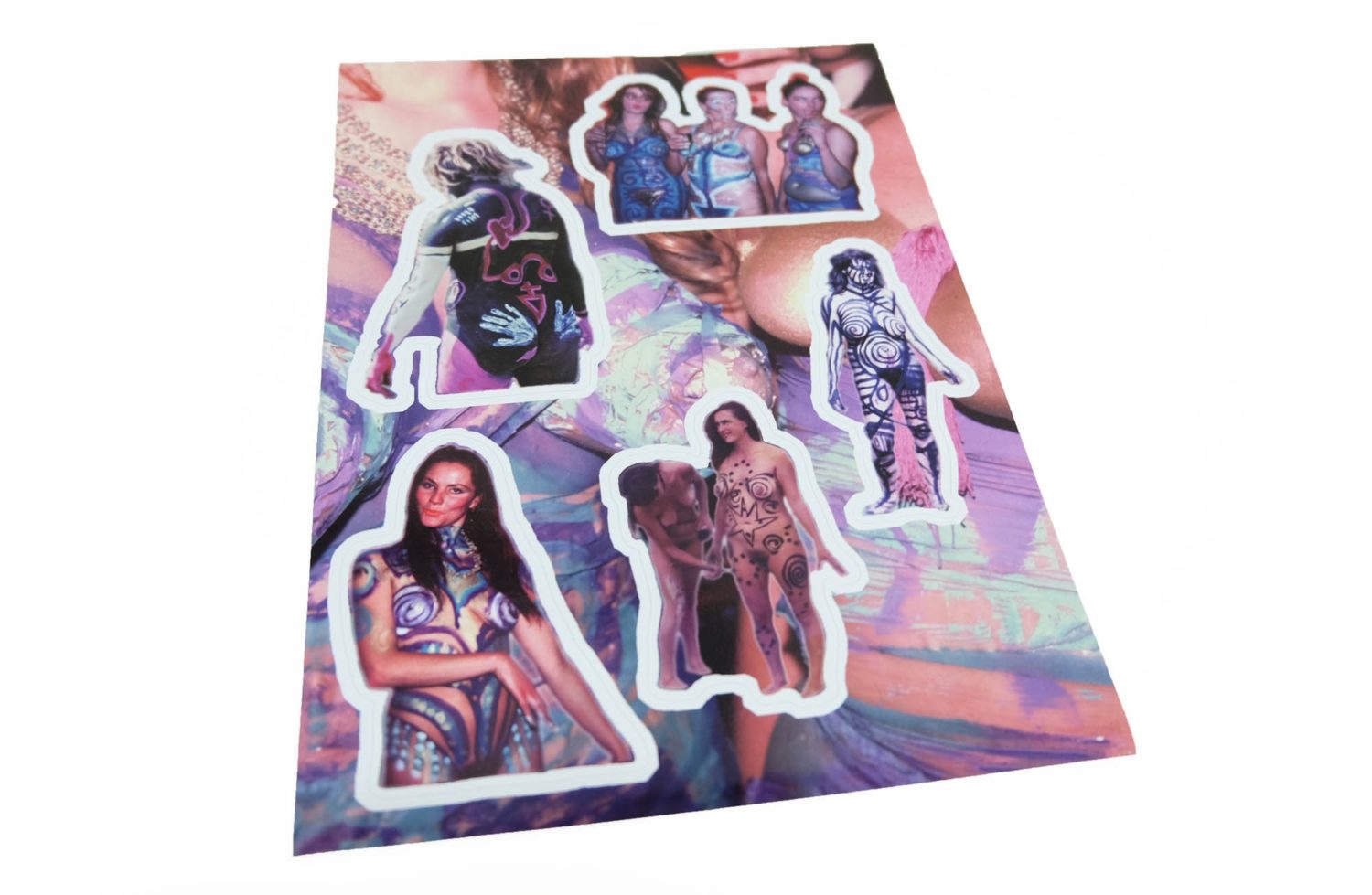 A live art collective initiated in 1981 by Wilma Johnson and sisters, Jennifer Binnie and Christine Binnie, The Neo Naturists emerged as a part of London's subculture that arose from the squatting community in the aftermath of Punk and the emergence of the New Romantic club scene and the advent of Thatcherism. During this time a creative energy developed in the UK that sat outside established institutional practices of the time, creating its own network of activities, events, economies and personalities. The collective were a part of a cultural network of collaborators and peers that included figures such as Leigh Bowery, Derek Jarman, Princess Julia, Dencil Williams and Cerith Wyn Evans. Available at House of Voltaire.



Accessories
I32 Water Bottle Crossbody Bag || Innerraum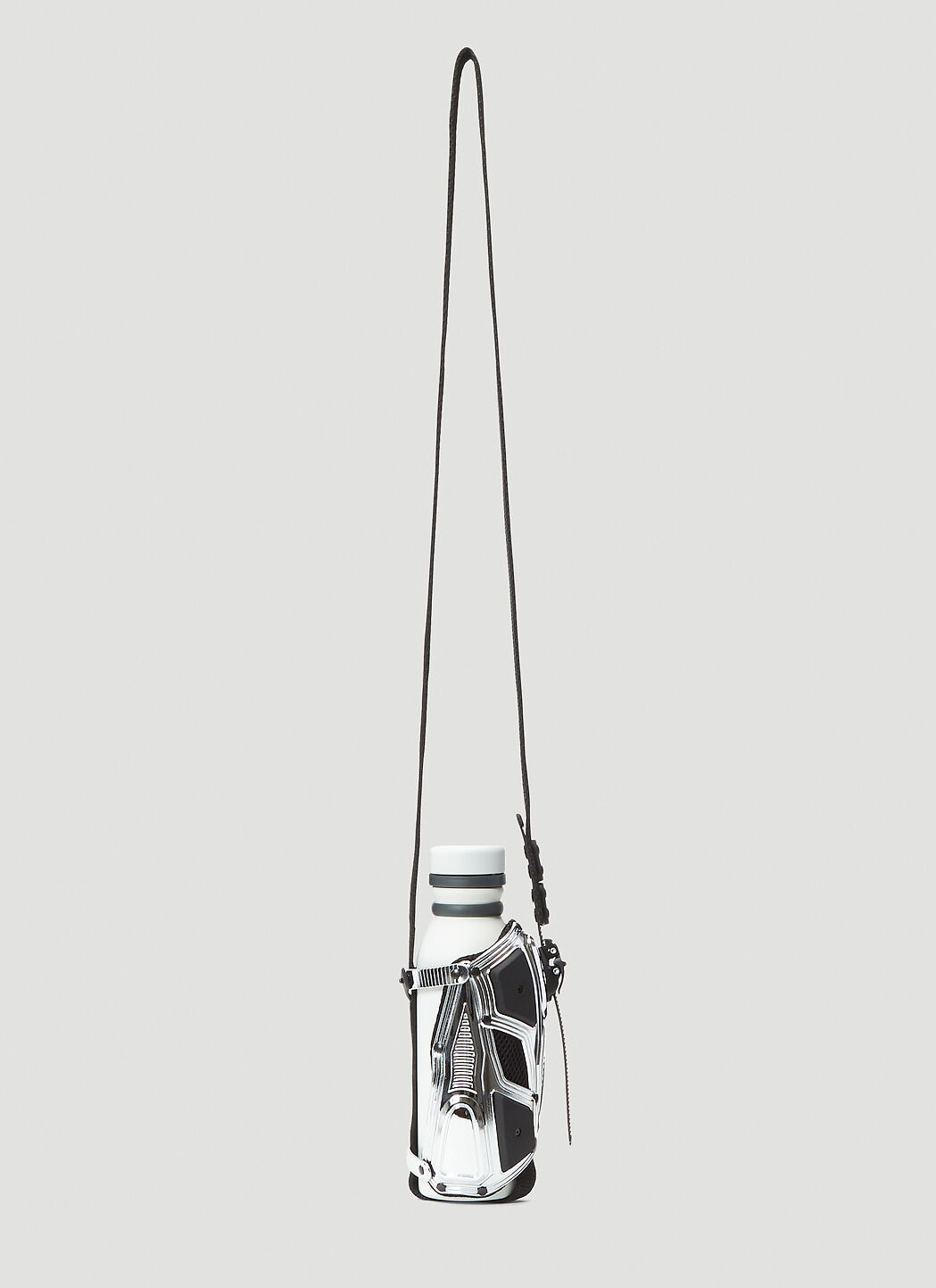 Kuboraum founders, artist Livio Graziottin and anthropologist Sergio Eusebi, are behind the project Innerraum. Innerraum explores futuristic aesthetics, a new vision of luxury translated into single sculptural objects. The I32 Water Bottle Crossbody Bag is crafted from a technical fabrication in a padded mesh weave, featuring metallic silver and black plastic overlay panels, zip-fastening pocket and adjustable woven shoulder strap. Available at LN-CC.



Bogner || Agimo Leather Gloves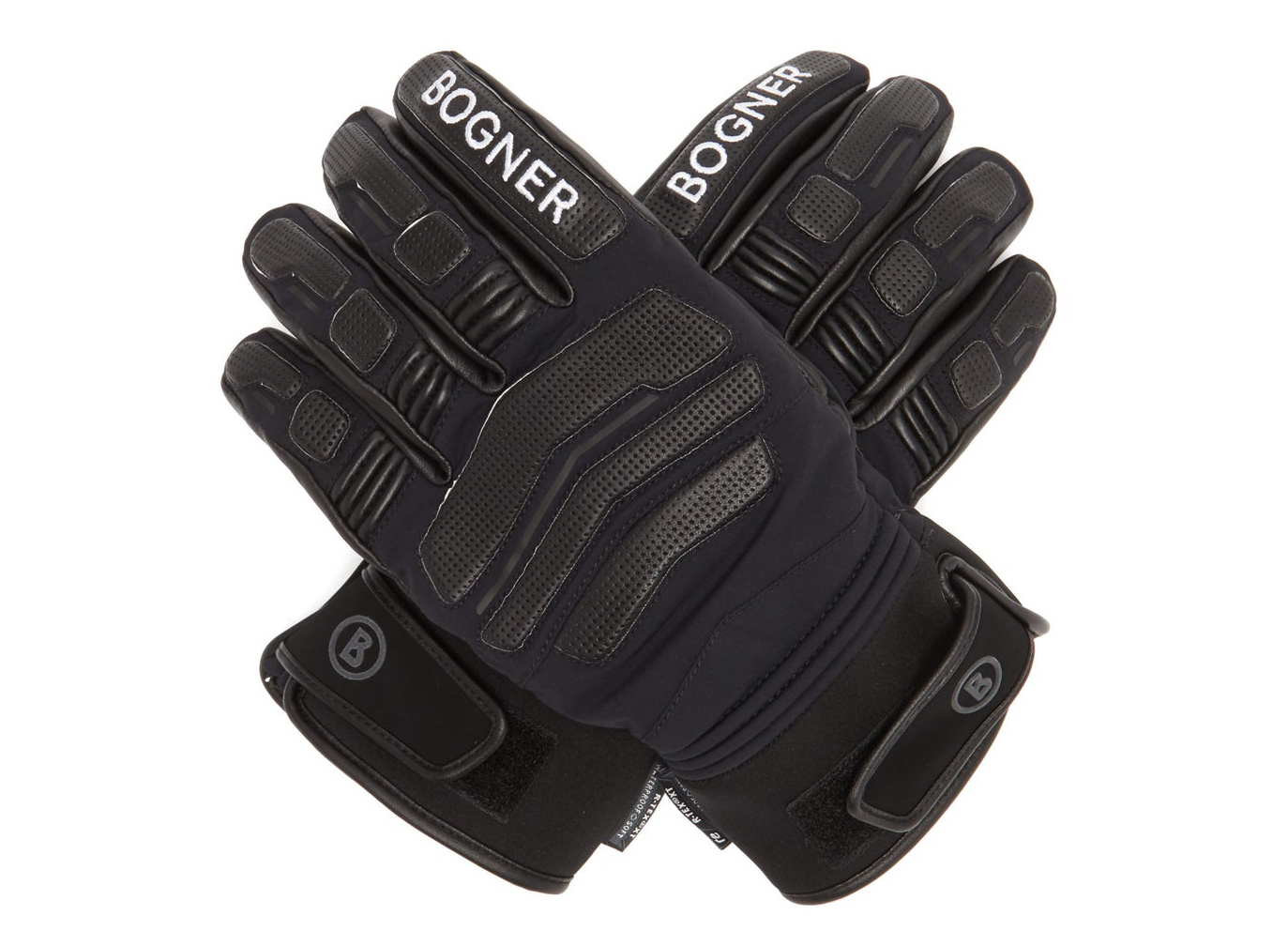 German ski and sportswear fashion company Bogner is steeped in a rich family history spanning several generations. The label's black Agimo gloves are made from a considered mix of materials including a waterproof soft-shell, plush faux shearling lining and topstitched leather palms. They are shaped with articulated fingers for improved grip and have elasticated cuffs to retain heat, complete with adjustable Velcro straps for a secure fit. Available at MATCHESFASHION.



Fashion
Vintage Pinstripe Corset Top, 1990s || Romeo Gigli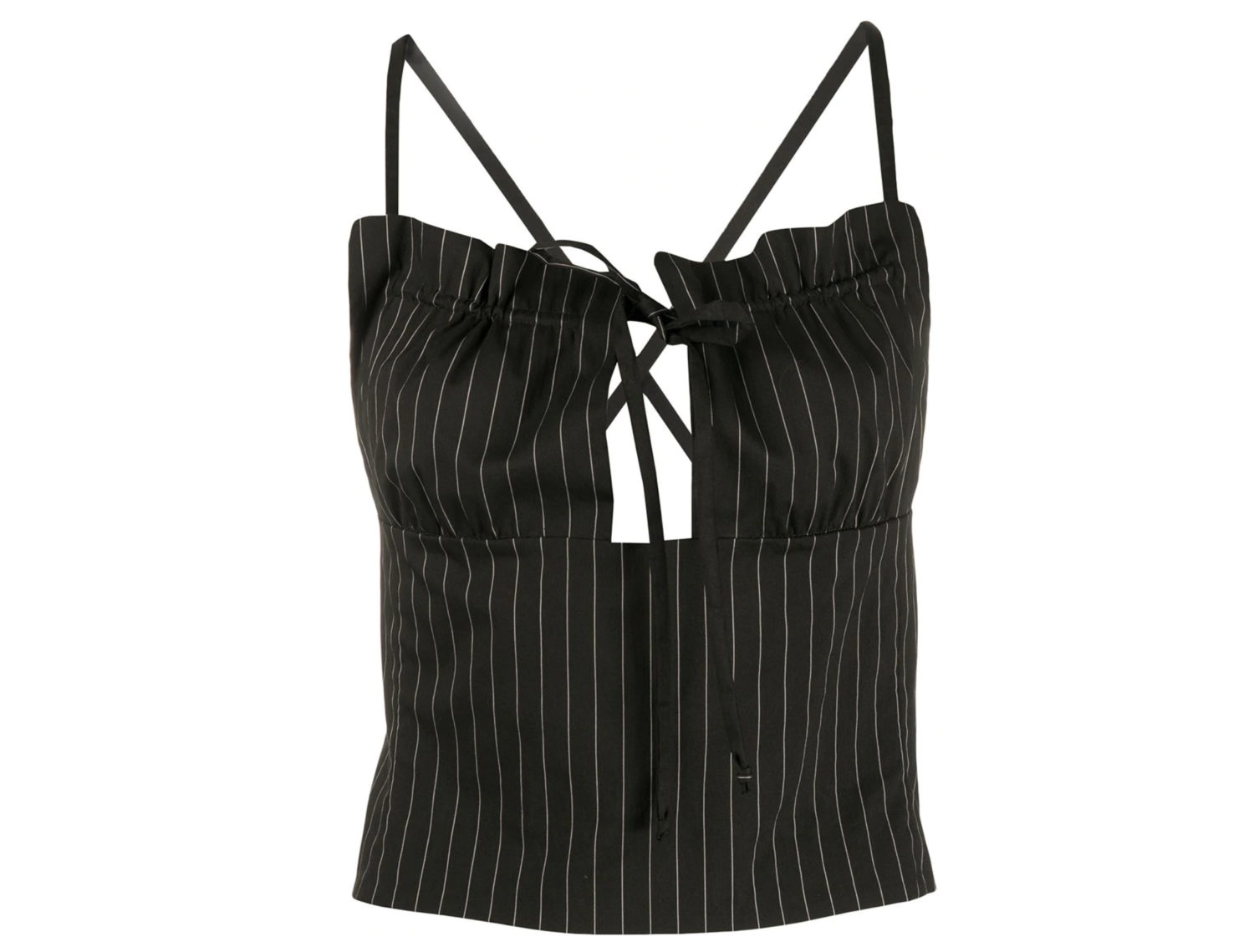 Romeo Gigli was born in Italy and later settled in New York where he started designing his own clothes in the late 1970s. He was interested in developing new ways to celebrate the female form with natural lines and deconstructed tailoring, in stark contrast to the structured jackets and padded shoulders commonly found in the 1980s. Working mostly in stretch linen, silk and chiffon, his clothes have been referred to as "pre-Raphaelite." This archive black cotton corset top made in the 1990s by Gigli, features a square neck, pinstripe pattern, tie fastening and back crisscross straps. Available at Farfetch.



Release Combo Lupetto Tank || Rick Owens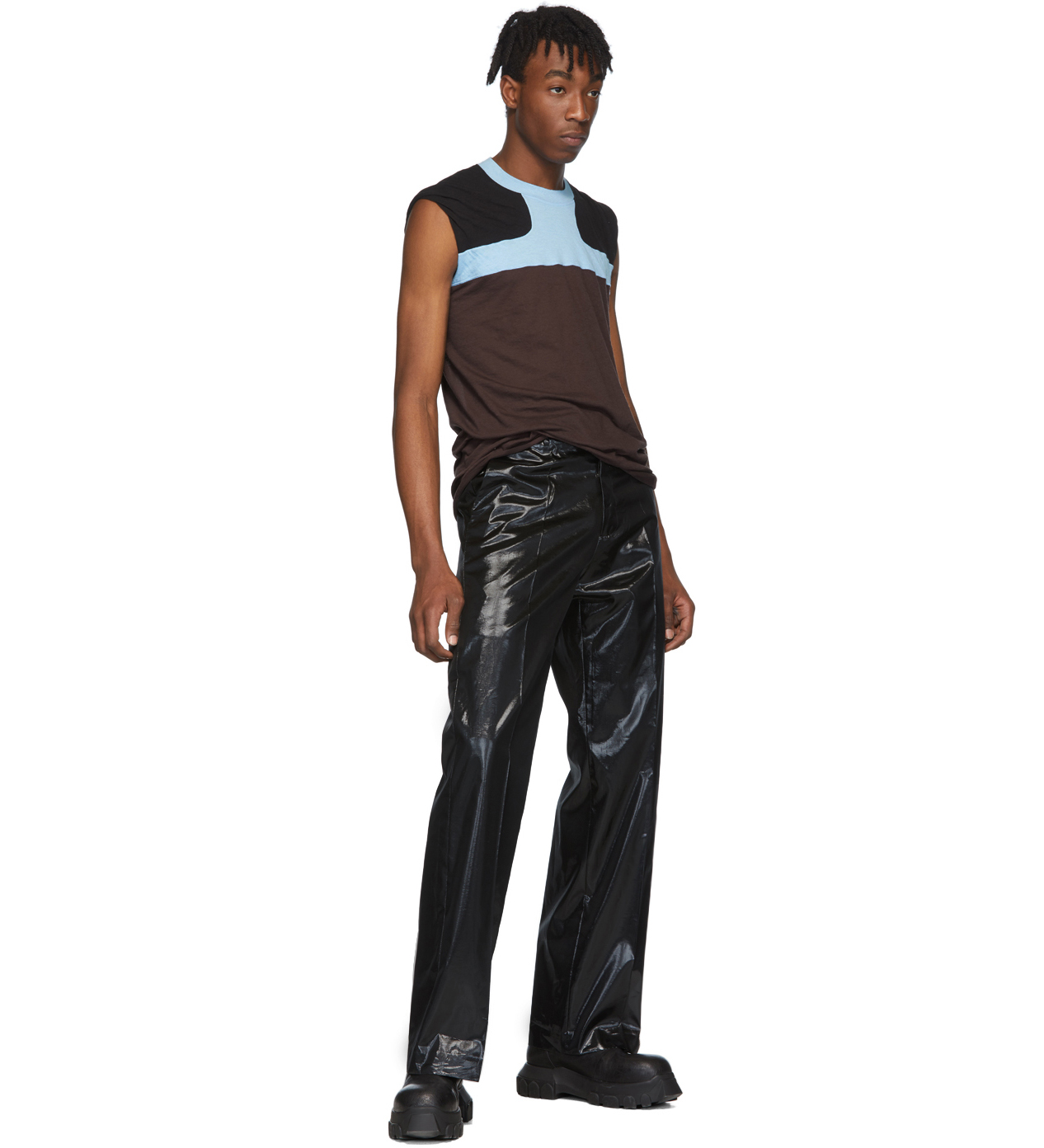 Southern Californian Rick Owens began designing after a two-year stint in pattern cutting school in Los Angeles, where he founded his namesake line in 1994 and remained largely under the radar, with a small but dedicated underground following. The fashion industry eventually took note of his ability to marry a gothic, distressed sensibility with couture-like sophistication, and in 2001 Owens moved production of his label to Italy and relocated to Paris. This sleeveless panelled cotton jersey top is colour-blocked in light blue, burgundy, and black, featuring a rib knit crewneck collar and raw edge at hem. Available at SSENSE.



Home
Nobody's Perfect Bookcase, 2003 || Gaetano Pesce for Zerodisegno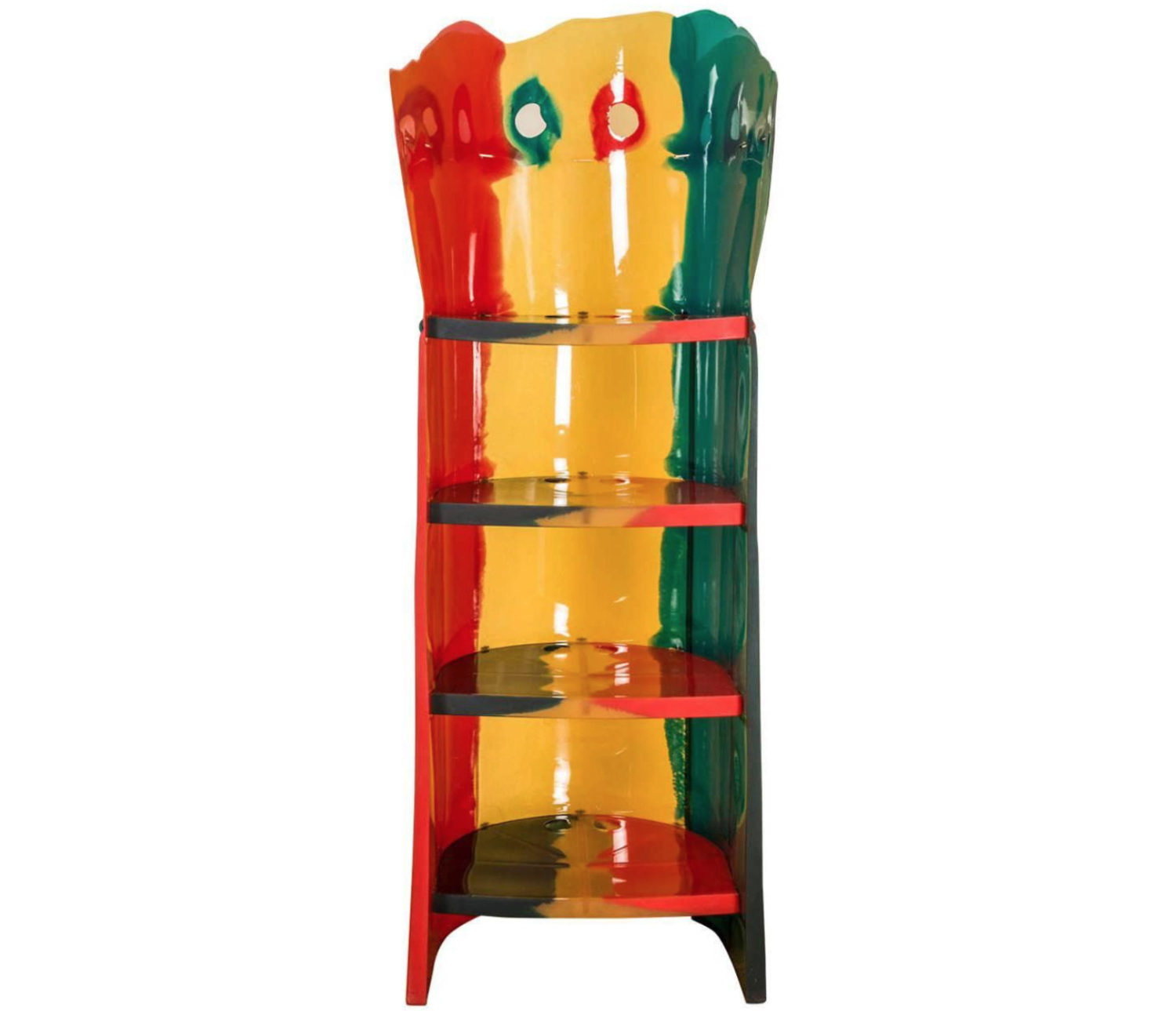 "I like beauty full of mistakes because we are human. Perfection is for machines, it is obsolete, gone," Italian designer Gaetano Pesce has said. Throughout his career, Pesce's vibrant work has experimented with colour and industrial materials like polyurethane foam, resin, and plastics. Recent projects have been inspired by natural forms, like a couch that looks like a mountain range and tables that call to mind bodies of water. This bookcase is part of the Nobody's Perfect series created by Pesce for Zerodesigno in 2003. Four adjustable shelves offer flexibility for storage, while the use of blended coloured resin makes each edition of the bookcase unique. Rear openings on each back shelf and in the back of the bookcase allows the passage of electric wires. Available at Pamono.



Wallis Building Penthouse, Penfold Street || Wallis, Gilbert and Partners & Terry Farrell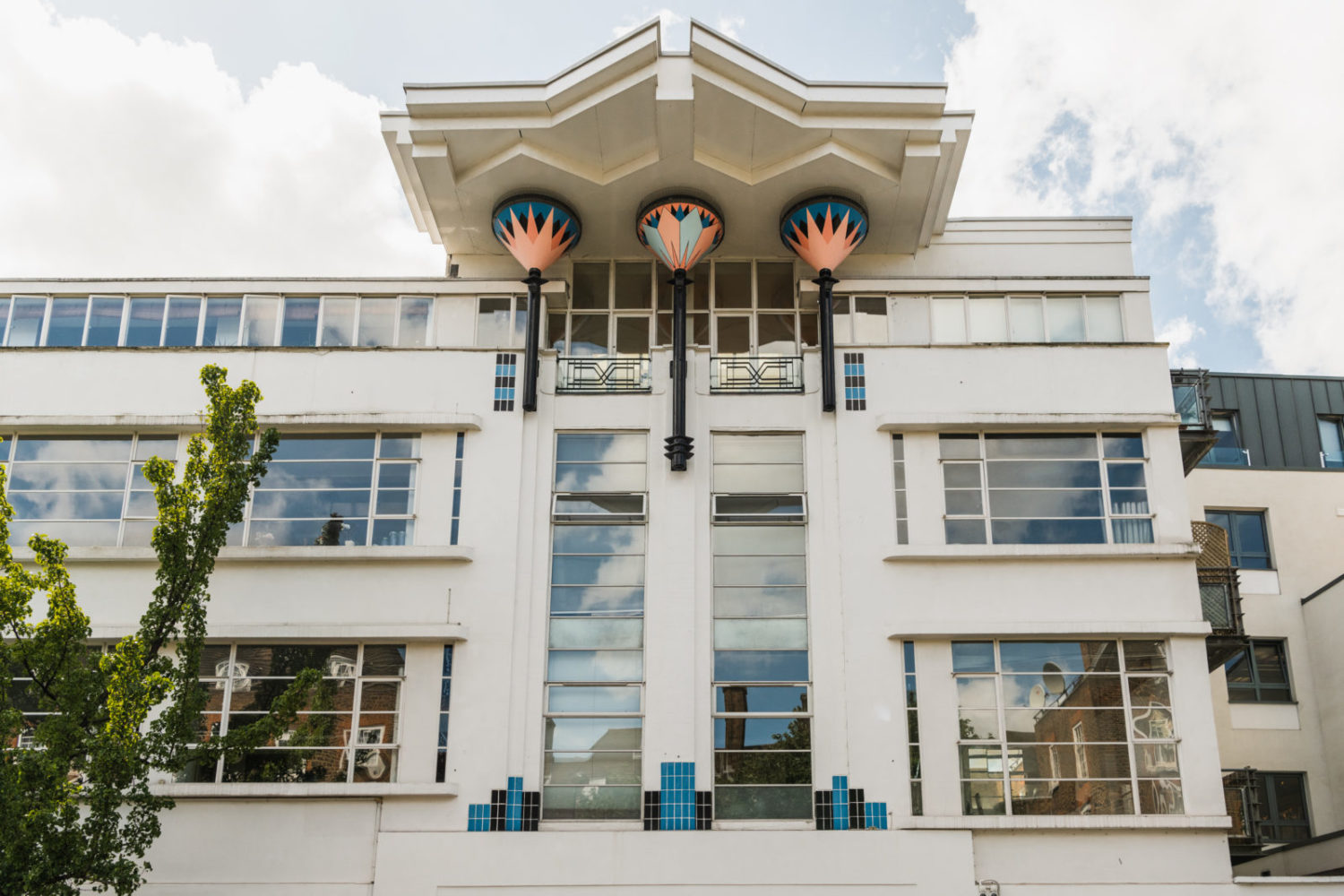 Configured across four floors and a fifth floor roof terrace in the Wallis Building, this two-bedroom penthouse apartment, with covered off-street parking, embodies the seamless marriage of two of the twentieth century's most exuberant architectural styles. Originally designed in 1938 by Wallis, Gilbert and Partners, the eponymous building was entirely refurbished by Terry Farrell in the mid-80s. Wallis was one of Britain's principle proponents of the Art Deco style, famed for his Egyptian-inflected Grade II-listed Hoover Building in Perivale. Between 1985-88, the bold Art Deco foundations were revamped by Sir Terry Farrell, one of the founding fathers of architectural Post-Modernism. Available at The Modern House.



Books
MY FAMILY, 2020 || Nick Sethi
After growing up in Florida, Nick Sethi's family moved to India, the birthplace of both his parents, for his senior year of high school. It was in India that Sethi began photographing as a way to connect with the new people and places surrounding him. Throughout his work, Sethi employs his empathetic practice of exploration and connection through photography. He immerses himself with his subjects and surroundings, surveying complexity with rawness and beauty while brilliantly capturing the immensity of the human spirit. Sethi's latest photo book, MY FAMILY, is published by Kaleidoscope Magazine and Los Angeles-based Little Big Man Gallery. Available at Nick Sethi.



Japanese Woodblock Prints (1680–1938) || Andreas Marks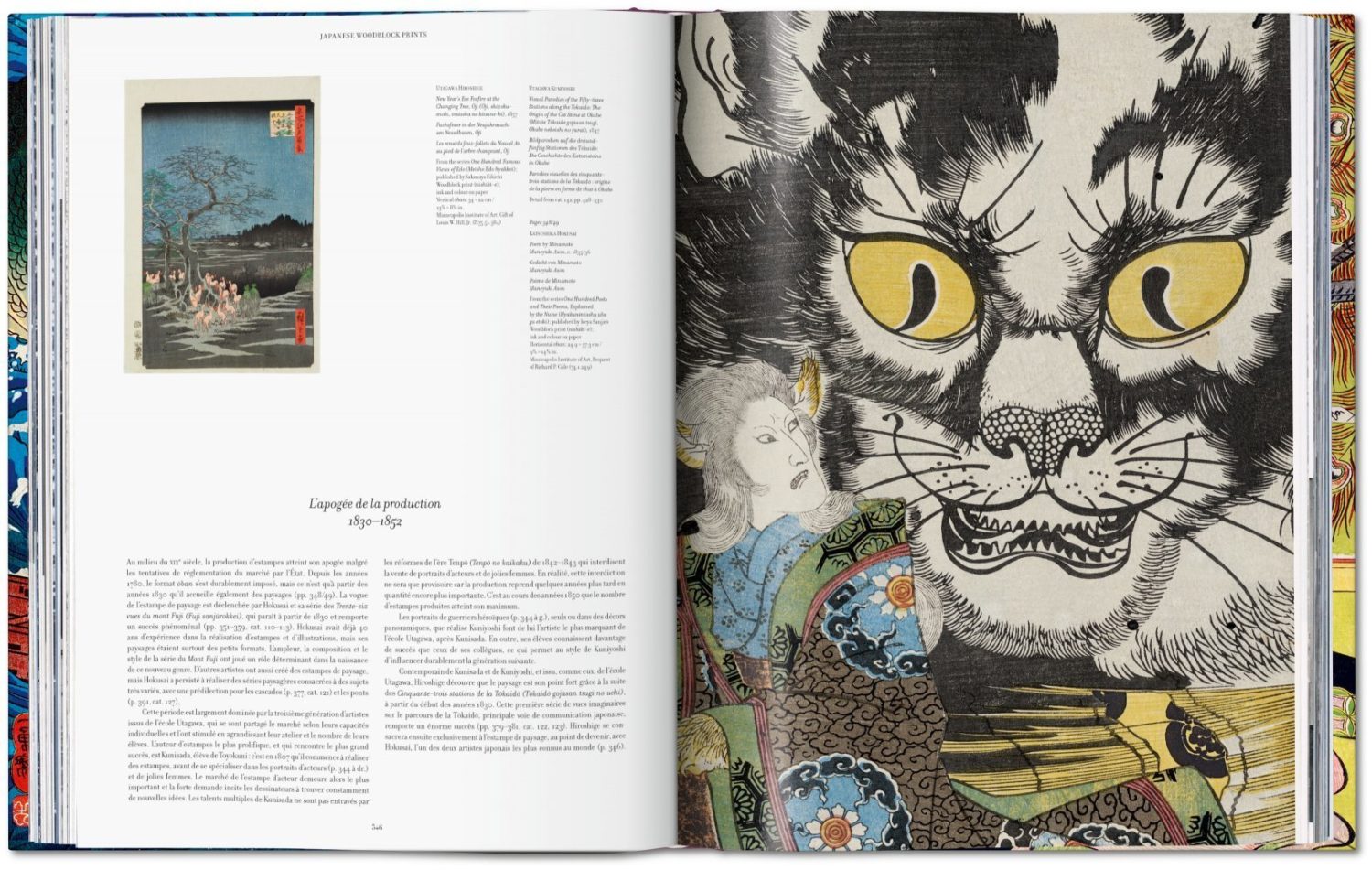 The Japanese woodblock print is a phenomenon with no Western equivalent, one where breathtaking landscapes exist alongside blush-inducing erotica; where demons and otherworldly creatures torment the living; and where sumo wrestlers, kabuki actors, and courtesans are stars. This XXL book lifts the veil on a much-loved but little-understood art, revealing the stories and people behind the 200 most exceptional prints from 1680–1938. Drawing from the finest impressions in museums and private collections around the world, it features the work of 89 artists as well as 17 fold-outs. Available at Taschen.



Feature image via Nick Sethi