The conversation pit's popularity peaked in the late 1950s, appearing across Europe and North America until the late 70s, though the concept's origins hail much further back. It evokes a number of social gathering sites in the history of domestic design, from the ancient Chinese kang, a communal platform seating area and bed heated to stay warm throughout the day and night, to the Spanish estrado, a raised dais covered in rugs and cushions that was influenced by the Muslim presence in the medieval Convivencia period. These pieces of furniture and centralised room layouts could accommodate large groups, offering spatial efficiency as well as encouraging a convivial spirit.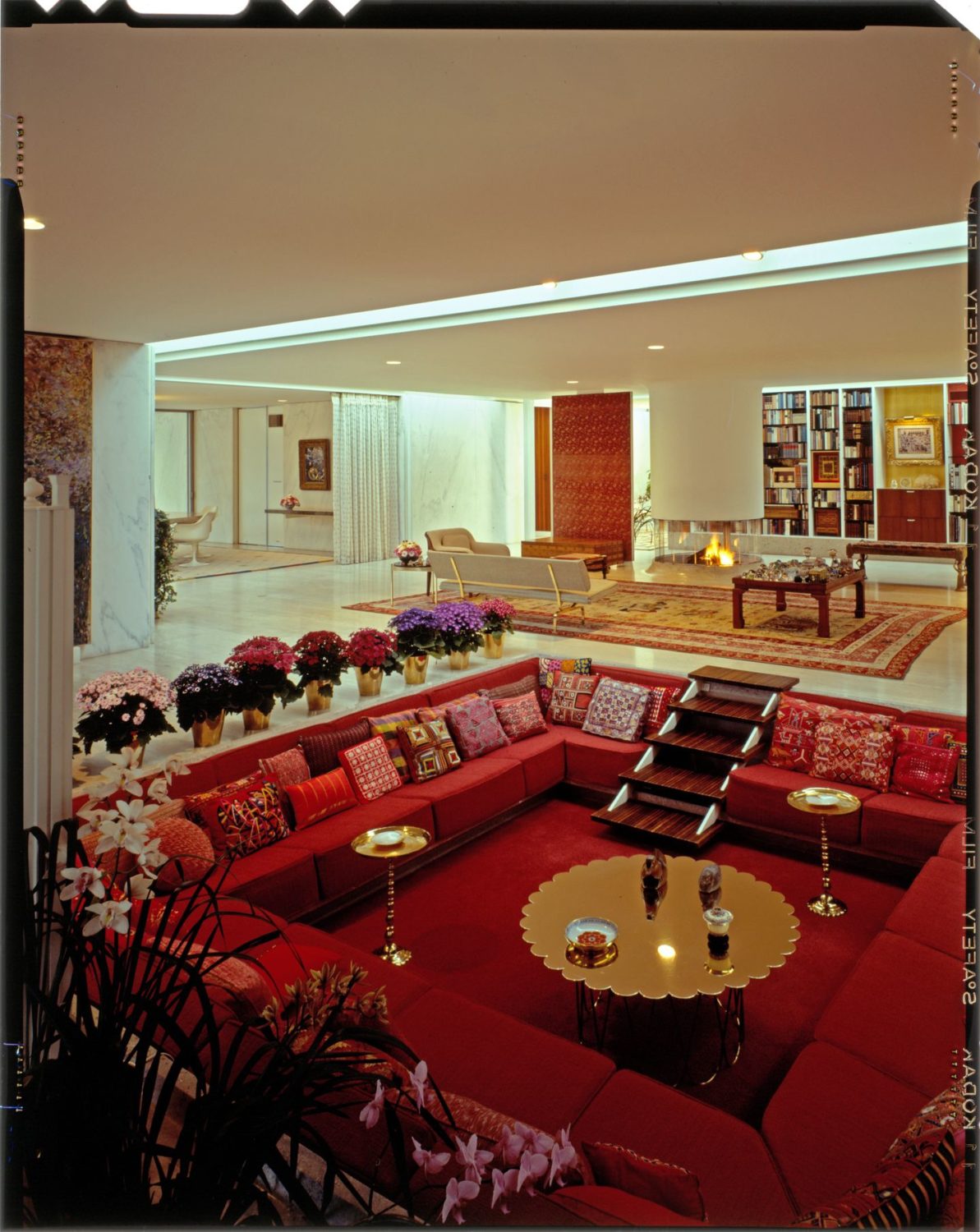 An architectural feature that incorporates built-in seating into a depressed section of flooring within a larger room, a conversation pit's seats typically face each other in a centrally focused fashion, bringing the occupants closer together than freestanding tables and chairs normally would. In residential design this proximity can facilitate comfortable conversation, lively dinner parties, and table-top games, among other activities. One of the earliest documented, and undoubtedly the most well-known and celebrated of conversation pits lies in The Miller House, Columbus, Indiana.
In 1952, the modern architecture patron J. Irwin Miller and his wife Xenia commissioned an extraordinary trio of architects to create their private residence in Columbus. The Miller House was designed by Eero Saarinen, the landscape by Daniel Urban Kiley, while Alexander Girard conceived the interior. As an architect and textile designer, Girard utilised his skills to transform the bright airy space into a welcoming home. The house, landscape and interior were finished in 1957, and by this point Girard had become a close friend of the family and continued to be a part of the Millers' life over the decades, greatly influencing their approach to living.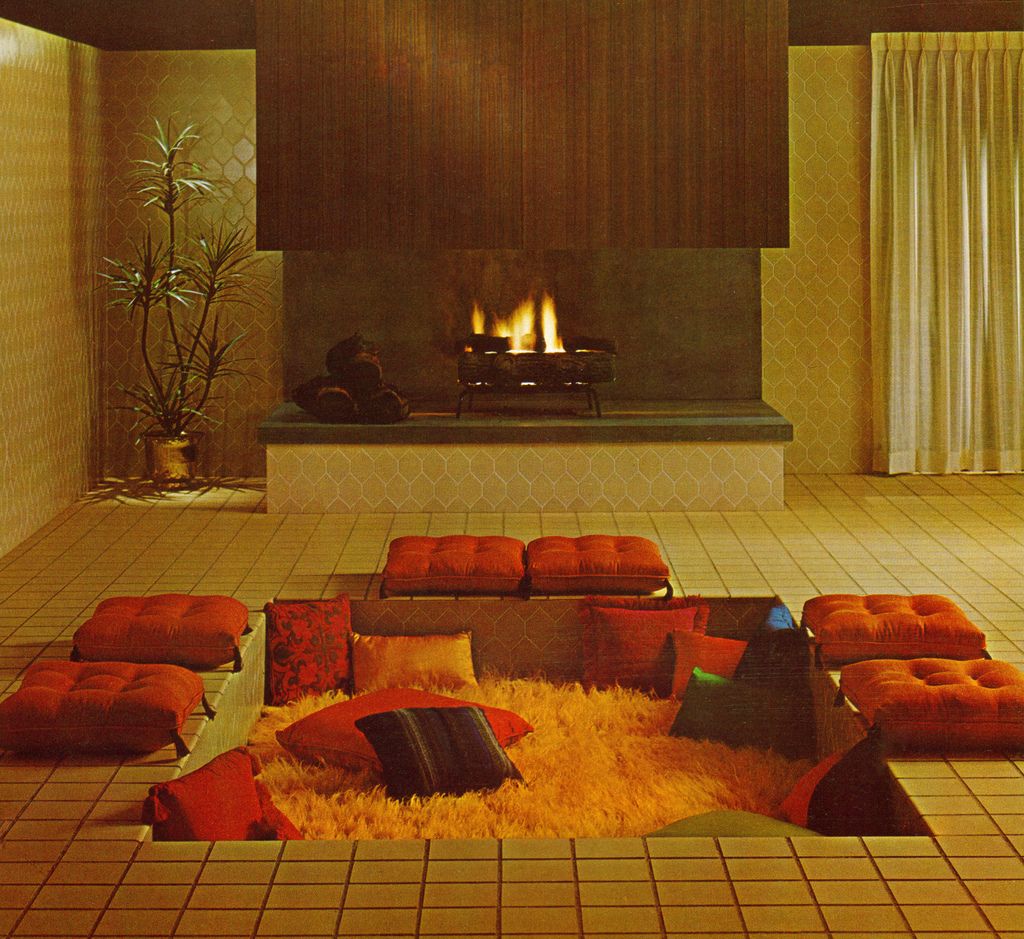 The heart of the spectacular home was a sunken lounge lined with stone, fitted with cushions and generously topped with colourful pillows. The pit was accessed by four steps, with no railing, and was intended to encourage socialising without interference from autonomous furniture. While not detracting from the meticulously considered decor, the conversation pit proposed a more intimate space to converse, while providing a new vantage point from which to admire the living environment. Stepping into a devoted space for conversation added an entirely novel dimension to the engagement with guests, both physically and socially.
Within just a decade, by 1963, the reputation of the conversation pit had become somewhat tarnished, to the point that Time magazine actually published a short piece called "Fall of the Pit," arguing that its zenith was already over. The article mercilessly pointed out the seating arrangement's numerous blunders and awkward hazards. But today, once again, conversation pits find themselves being objects of allure and interest, vestiges of an era when living space was arranged not around a flat screen television, but rather, focussing on looking at one and other, and socialising IRL.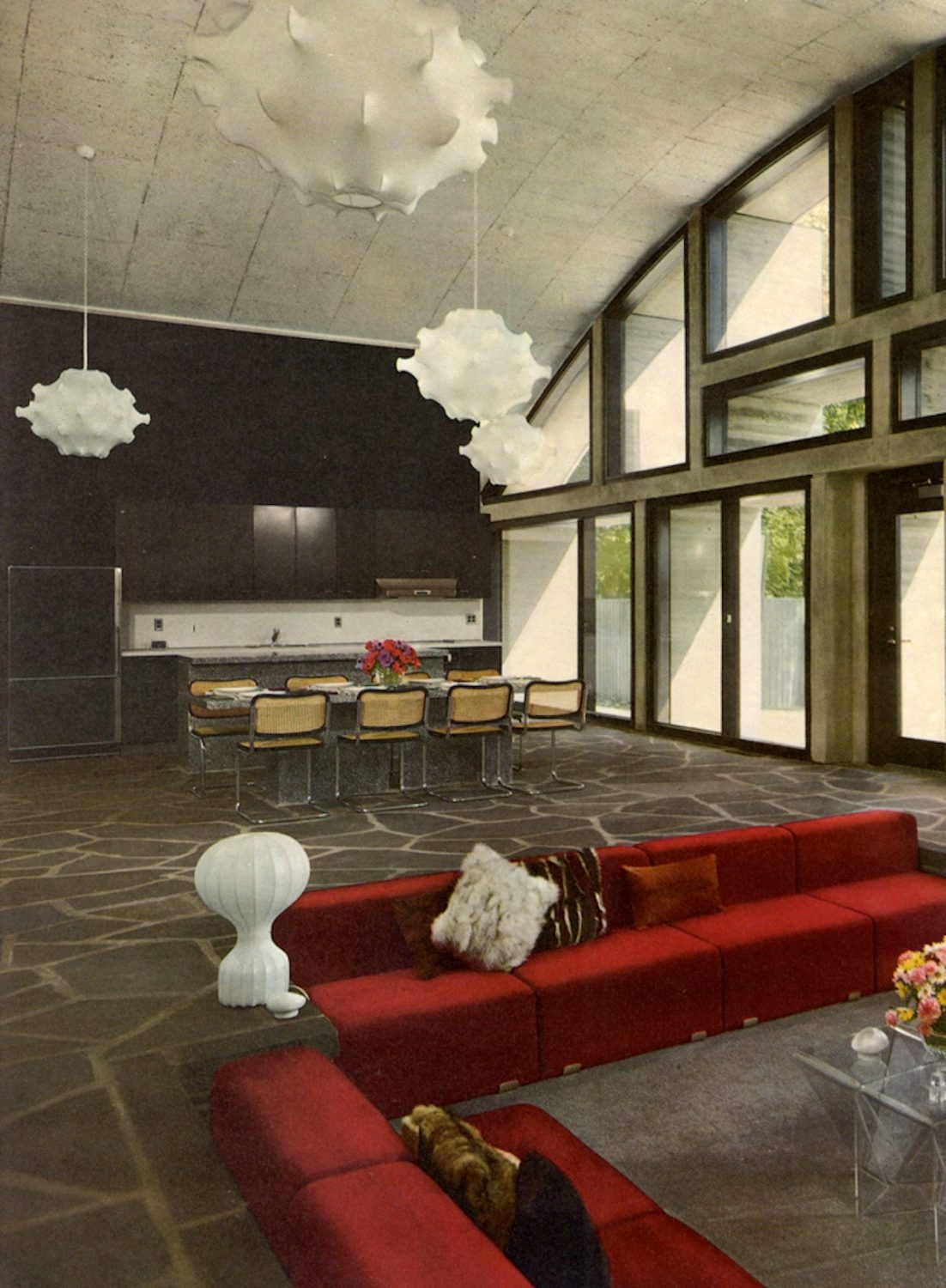 Design historian Alessandra Wood observes, "Historically, the conversation pit was about connecting with people, having personal conversations, and creating a more intimate environment to get to know someone or spend time together. While older generations might see the pit as a marker of dated design, younger generations are likely drawn to its novelty and ability to create a safe and intimate space in a world that's increasingly full of impersonal experiences." Today, The Miller House is one of the most highly regarded examples of mid-century Modernist design. The home and garden complex was declared a National Historical Landmark in 2000 and is open to the public through the Indianapolis Museum of Art.



Feature image: Conversation pit at The Miller House, Columbus, Indiana, 1957 (via Indianapolis Museum of Art)