Decolonising The Dance Floor: DJ Duo & Record Label Discostan Share Their Essential Listening
Los Angeles-based Discostan, helmed by Arshia Haq and Jeremy Loudenback, are crate diggers, DJs, and, most recently, record label owners. The duo tell Something Curated, "We started this space 10 years ago, well before there was anything quite like it in the US. Just days before the pandemic shut down California, Discostan was preparing to host multimedia artist and producer Fana Fellahin and the tweaked club sounds of Nar at our club space. Though that event and many others were cancelled, we are continuing to work across radio shows, art installations and now a record label. Our first release, an Urdu-language synth-pop masterpiece from 1984, comes out later this fall." As well as creating a special listening list for Something Curated, Haq and Loudenback speak with SC, giving further insight into the birth of Discostan and what we have to look forward to.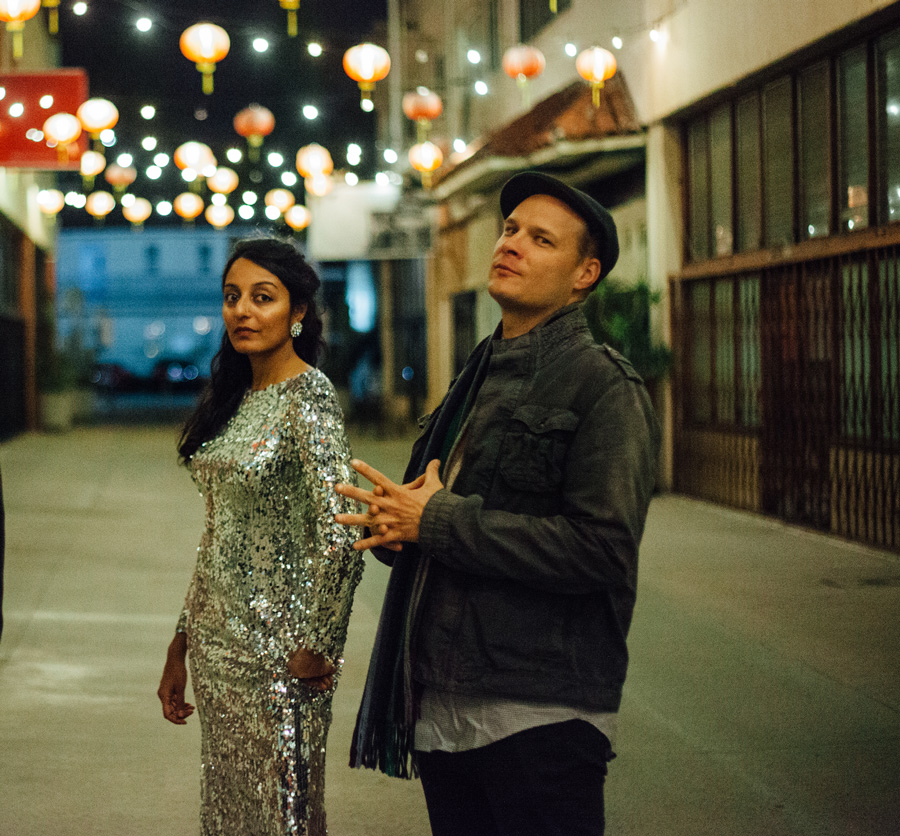 Something Curated: Can you tell us a little about your respective backgrounds and how you got into this field?
Arshia Haq: Discostan came into being organically, as a sort of on-going love letter to my own origin story as an immigrant from India in the 80s. It forms a bridge between where I come from, where I am, and where I wish to be – a weaving together of past, present and future landscapes as a map of survival and a dynamic and on-going relationship to identity.
Jeremy Loudenback: As a compulsive crate digger, Discostan is an opportunity to connect threads across the musical tapestry of the larger Arab world, the Subcontinent, Iran and points in between, like pop music produced in the diaspora. In Los Angeles. for example, there's a rich history of Iranian and Armenian music production. We've got equal parts respect for the custodians of ancient rhythms and those who are relentlessly reinventing those traditions for new dancefloors.
SC: How was Discostan born?
AH + JL: We were both collecting music for years and doing radio shows around town, and it slowly became clear that there was a diasporic community that was hungry to hear these sounds played out. At the time, post 9-11, there wasn't any other space in the US drawing connections between the regions of South and West Asia and their diasporas. Drawing on the genre of disco, "disco" as club, and also the root of disc, which refers to the medium such as a vinyl record or a compact disc, Discostan – the land of disco – is an imaginary migratory homeland. From this personal place, it's grown into a space for community and collaboration, and reinventing our narratives. Since we started this work, there's a lot of spaces that have been directly (former collaborators) or indirectly inspired by this movement and framework to start their own projects.



SC: What do you hope to achieve with the project in the future?
AH + JL: The live event has been happening for 10 years and it's grown into something more than just a party, it's a place where really groundbreaking performance and collaborations have happened, the club space allows for that kind of fluid, dynamic collaboration. Right now, we are about to launch our record label with the reissue of a forgotten Urdu new wave synth pop masterpiece, Disco Se Aagay (one of the songs featured here).
SC: What is the thinking behind your listening list for Something Curated?
AH + JL: We think a lot about the transnational aspect, it's critical in considering our shared pre and post-colonial cultural history. So we find connections between South and West Asia, North Africa, and even Southeast Asia. We love the throwback sound but we also think it's important to consider the living tradition of music in these places, so we wanted to put together a list of songs that reflected that. In a way, we think of our sets as connecting past, present, and future soundscapes from these regions. It was hard to pick just a few songs to represent the full range of the Discostan sound! But here are 5 essentials for any one of our nights …



RUNA LAILA – DISCO PREMEE



This one is kind of the one where it all began – Arshia picked this cassette tape up when she was a kid in India and it's iconic for us. The perfect marriage of the Balearic sounds that were taking the world by storm in the early to mid-80s with the signature South Asian sweetheart vocals. Plus Runa also did a whole range of songs from disco to devotional, a fluidity that is essential to the Discostan soundtrack.



MUSTAPHA OUMGUIL – TIWLT ATARBAT WNAM IRA LKHTR



The music of Berber master Mustapha Oumguil is a riot of trance-inducing violins, drums and tilting synths, but the whole enterprise reaches another level with autotuned vocals, a favourite of producers across the Maghreb. (For more on the history of the autotune here, check out Jace Clayton's essay on it in his Uproot book). The sound of a centuries-old folk sound taken into the future is something we love at Discostan.



MONA ABD EL GHANY – ASSHAB



As you might guess from our name, the spirit and glamour of disco is never far from our hearts. Mona Abd el Ghany is one of our favorite throwback Egyptian divas. During the 1980s, legendary blind maestro Ammar El Sharei took her under his wing, and she went on to record scores of pop hits like this infectious groover.



NUSTALIGA – MEZMAR



This song from the Cairo crew Nustaliga is what we might play as the night winds closer to midnight. At Discostan, we love to spotlight contemporary artists from all over the world that are reworking the roots of age-old music into new forms. Mahraganat music, like this double-barreled celebration of the traditional double reed instrument, takes the dance floor to just a whole other level of catharsis.



SABRI BROTHERS – TISHNAGI KO JHINJOR DETE HAIN



Essential listening in Discostan. The Sabri Brothers are a legendary musical family from Pakistan that has produced ecstatic devotional music for decades, and their music is a bottomless source of treasure. The track Tishnagi Ko Jhinjor Dete Hain from their S/T LP is an unexpected scorcher, departing from traditional qawwali territory with swinging jazz percussive rhythms before building to a catharsis. It was such an amazing discovery for us when we learned that we could play these 10-15 minute tracks at the end of a night and hold a dance floor. It's a testament to how much has changed in the nightclub and how we and our audience have grown together.



NERMIN NIAZI – SARI SARI RAAT



A chance encounter with a mysterious record from 1984 in a second-hand New York record shop ten years ago led to our inaugural release on our label (coming out this fall). Fittingly titled Disco Se Aagey, or Beyond Disco, that record sounds like nothing else from that year. Created by two Pakistani teenagers in Birmingham, UK, the record features swirling synth lines and the sweet sounds of 14-year old Nermin, who swoons her way through new wave songs in Urdu like a precocious Kate Bush. It's all capped off by the huge dance floor winner Sari Sari Raat.



Feature image: Artwork from Runa In Pakistan (Ghazals), Runa Laila, 1980