Interview: Antonia Showering On Her New Show At White Cube Gallery
The territory between accurate recollection and false memory is explored in the richly toned and layered paintings of London-based artist Antonia Showering. Combining elements of her cultural heritage with personal experience, the paintings' fluid forms, both figurative and abstract, point to the deeply subjective nature of representation. Showering's process begins with the application of distemper onto raw canvas placed flat on the floor, loosely brushed across the surface. The first coats of paint pigment react with this ground, creating fluid, abstract forms in pools of colour. Rather than work against these, Showering uses them as the basis for scenes that emerge through subsequent layers; sometimes suggestive of landscapes that meld her Swiss and Chinese heritage, at others, evocations of domestic scenes or events.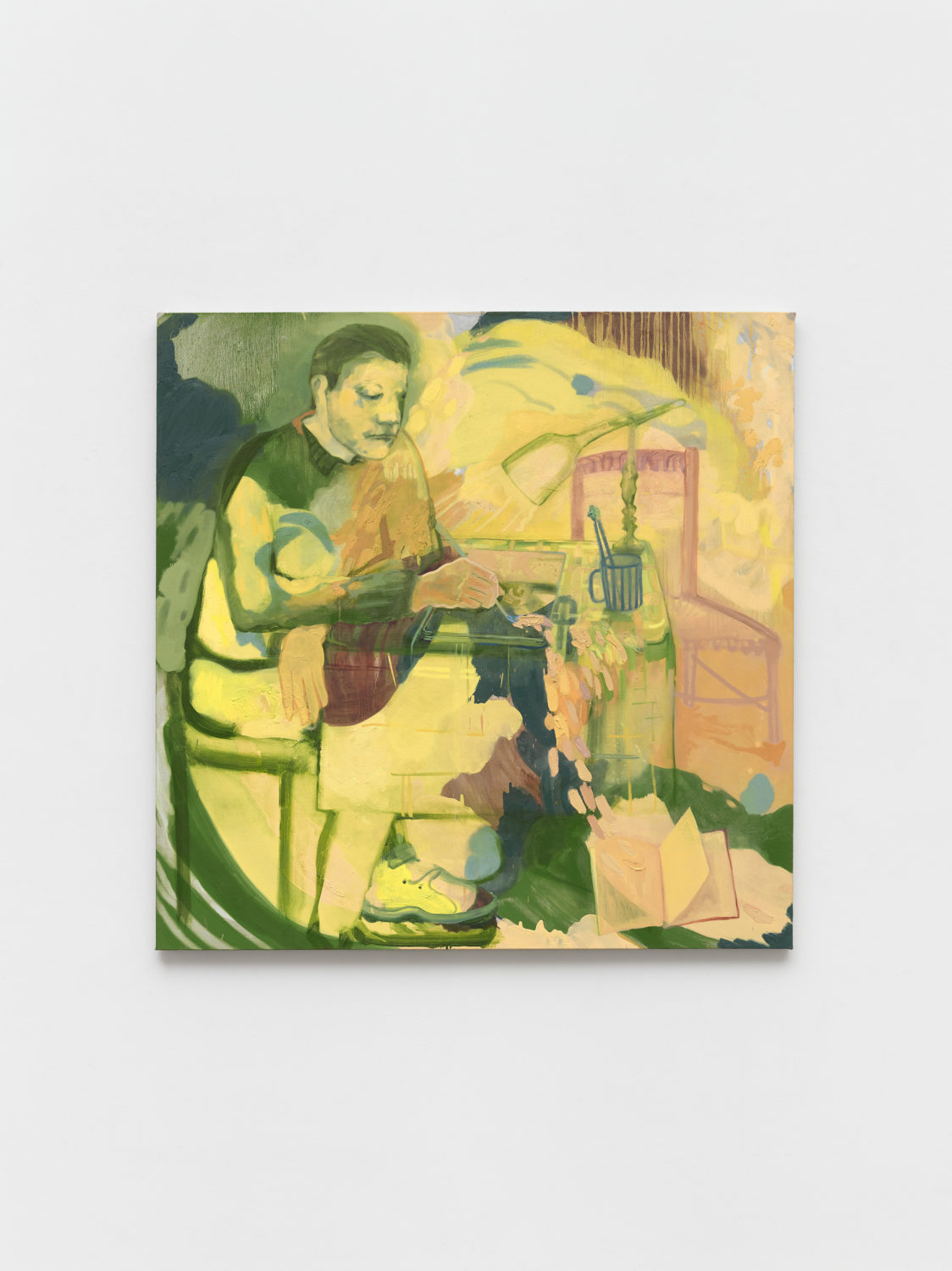 Showering's latest exhibition, Introductions, presented by White Cube and available to view online until 3 September 2020, brings together a new suite of paintings by the artist. Expanding on the thinking behind the show, Showering tells Something Curated: "All the works included explore different ways of expressing intimacy. It's interesting seeing how being totally starved of any human contact impacted my practice. Some of the earlier paintings in this body of work explore lived or imagined embraces recreated with paint but as the months of lockdown continued I stopped desiring the human touch and painted my first totally solitary figure in a very long time; it is of a man sitting alone at his desk, looking perfectly content (The Teacher)."
Offering insight into her very particular employment of colour, Showering explains: "I do not pre-plan which colours my paintings are going to have but constantly deliberate when applying paint to the canvas where I want the colour to sit within the image, with cooler hues naturally pushing areas behind and warmer ones bringing them forward. Colour relationships are important to me; sometimes they need to sit harmoniously with one another and other times a slither of it's complimentary colour can enhance or detract from the atmosphere of the painting, depending on what is trying to be said. I have set colour pairings I love seeing together: pink and green, ochre and orange – and when these are coupled I get a strange, excited feeling in my stomach. So colour choices are half reflective of my mood (chosen intuitively) whilst being conscious of how these choices will affect the image, constantly questioning if I put the right colour down or if I should rub it back."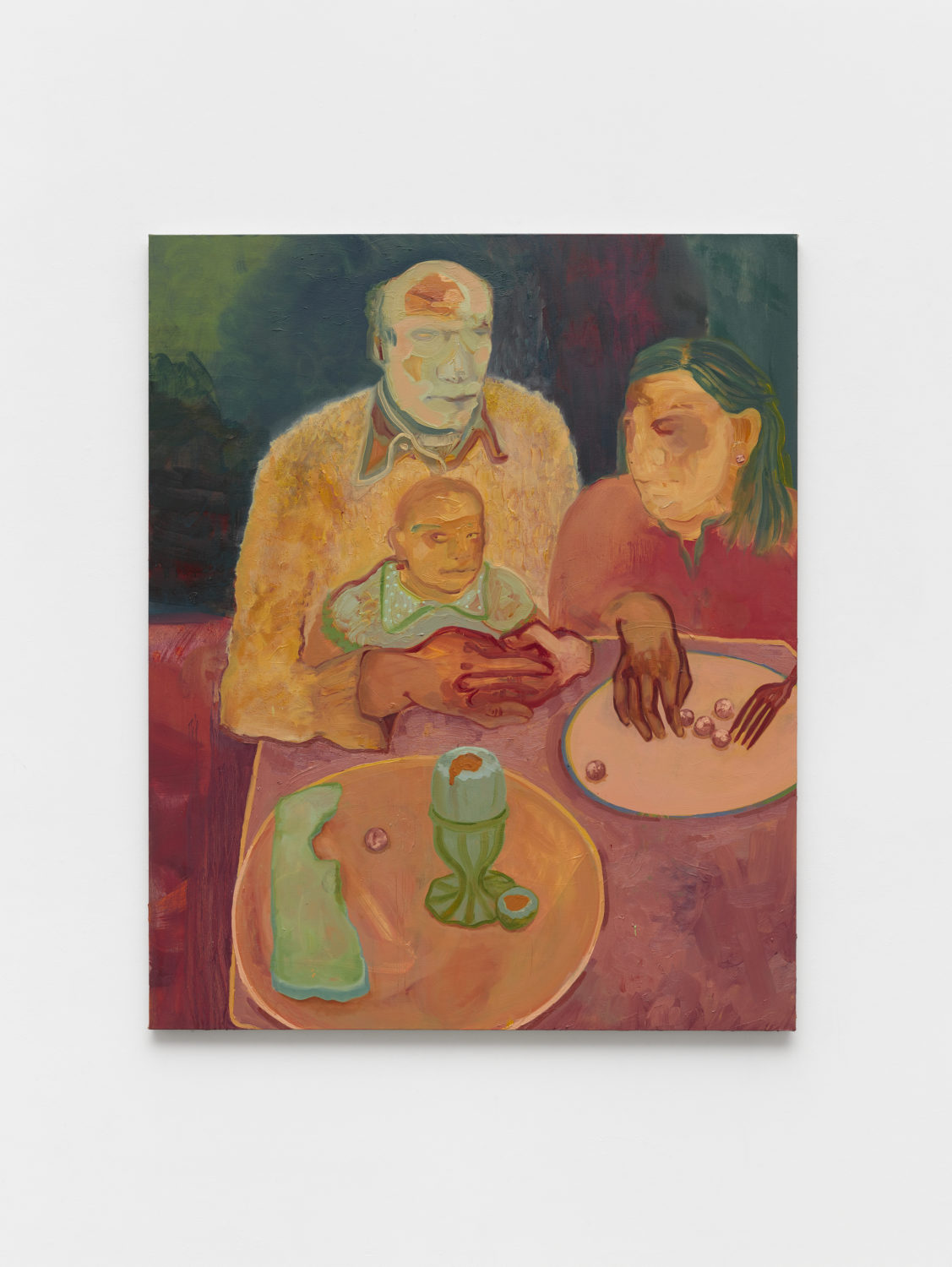 Pentimento – the visible trace of earlier marks that have been painted over – becomes the organising principle for the works included in the new show, with Showering also rotating the canvases throughout the process as a way of de-familiarising herself with the imagery and a means to find harmony and balance in the colour relationships. Narratives then materialise, of "stacked recollections," in which a simple motif with a particular association or kinship, is overlaid with new motifs, to build the scene as a whole. For Showering, the paintings occupy the interstice between recent encounter and deep-rooted memory. Many of the works in the exhibition were made during a period of complete isolation.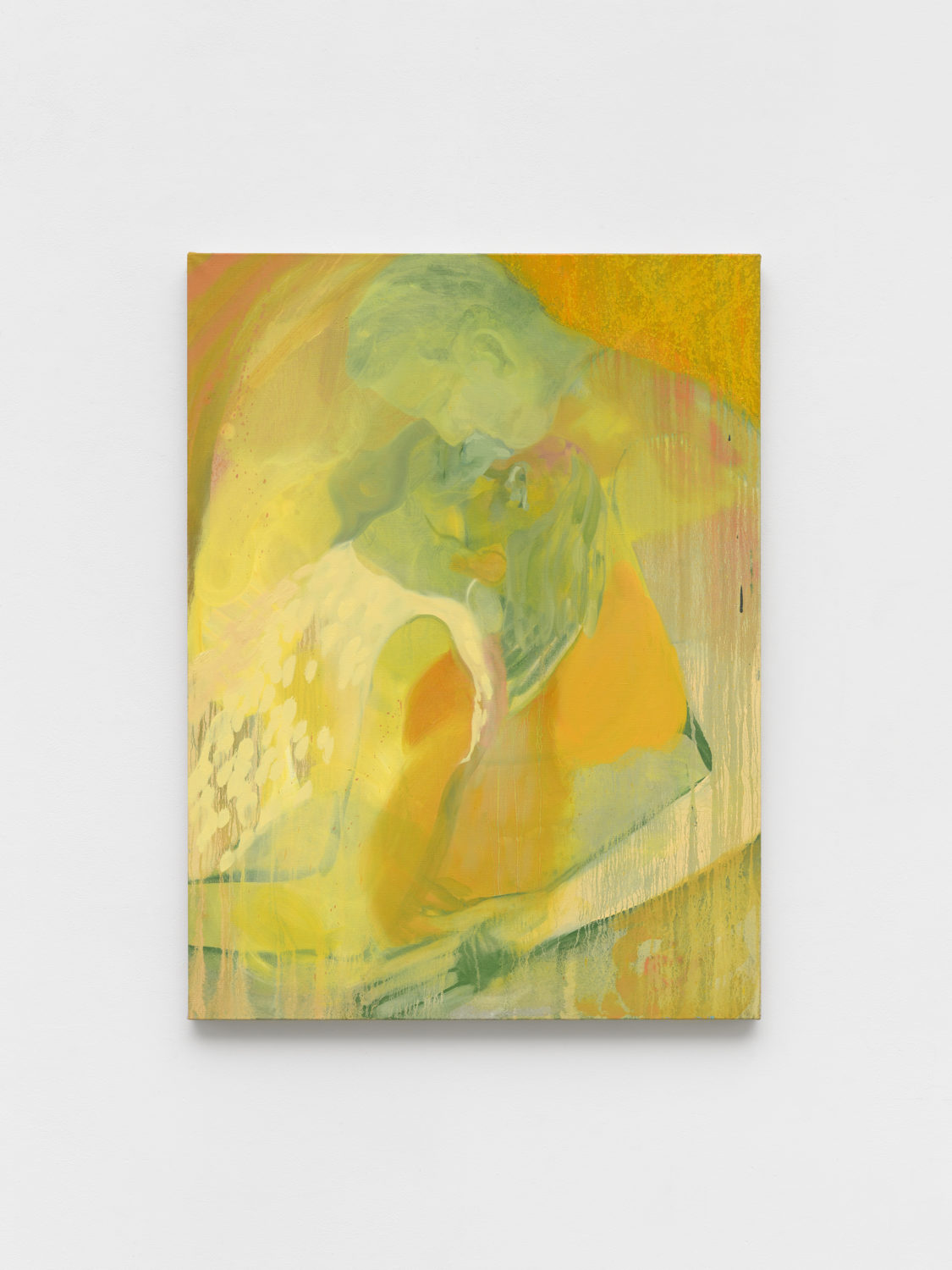 Further discussing how the lockdown and time in Somerset influenced her work, the artist tells SC: "The pandemic allowed total uninterrupted focus, with absolutely no social obligations and endless time in the studio. Weekend or weekday — it didn't matter, yet I've never had more of a routine. All I would do was eat, paint and when I couldn't stand anymore I would go to sleep – one night my younger brother came up to the studio to try and find Comet Neowise with me but instead we saw the sunrise. Time stopped being important, it didn't matter if it was 1am or 1pm as I had no plans to see anyone the next day, galleries and museums were still shut… it was quiet but focused. So I'm now currently adjusting to my new studio and this feeling of normality slowly returning. The new space is in London and I'm getting used to having neighbours that are people rather than woodland creatures. I'm excited to see how this new context will affect my practice."



Feature image: Antonia Showering, Maisie, 2020. © The Artist/White Cube. Photo: Ollie Hammick.