Director Meruyert Kaliyeva On Kazakh Gallery Aspan's First Project In The UK
Aspan Gallery, based in Almaty, Kazakhstan, presents its first project in the UK: a duo exhibition by two of Central Asia's most prominent contemporary artists, Almagul Menlibayeva and Yerbossyn Meldibekov. The exhibition is part of the inaugural programme at Cromwell Place, a first-of-its-kind hub for the arts in the heart of South Kensington, which opens today, 5 October 2020.
Meruyert Kaliyeva, founder and director of Aspan Gallery tells Something Curated: "At a time when being uprooted and feeling isolated has become such a global phenomenon it is important to look at the artists – like Central Asian Almagul Menlibayeva and Yerbossyn Meldibekov – whose work is deeply embedded in their local histories. They are researching forgotten or overlooked historical facts and myths, showing us how distant geographies, eras, and completely unknown to each other individuals can be interconnected. While we increasingly feel the need of belonging, creating connections with far away times and places is vital to understanding who we are and where we are heading as a human race."
The exhibition titles come from a phrase by an instrumental Soviet avant-garde artist Sergey Kalmykov (1891-1967): "It's difficult to be a point – it's easy to be a line, as everything in our world is moving". Kalmykov moved in the 1930s from Moscow to Almaty, where he was able to paint his imaginary parallel universes with fantastical creatures, far removed from the Socialist Realist constraints imposed by the Soviet State. Kalmykov was a significant historical figure, and whilst under-recognised, the fact of his existence itself had a tremendous impact on the development of the contemporary art scene in Central Asia.
For Meldibekov, the existence of Kalmykov is one of many events, like the re-naming of a single mountain three times in the course of a century, depicted in the Lenin Peak installation (2007-2014), or 10 monuments replacing each other on a 300m2 square in Tashkent, documented in Transformer (2013) and Contest (2010), which could have happened only in Central Asia. Time flows differently in the region, according to the artist, and that's why all kinds of strange events happen there. In his artistic practice he explores these occurrences through video, photography, installation and performance.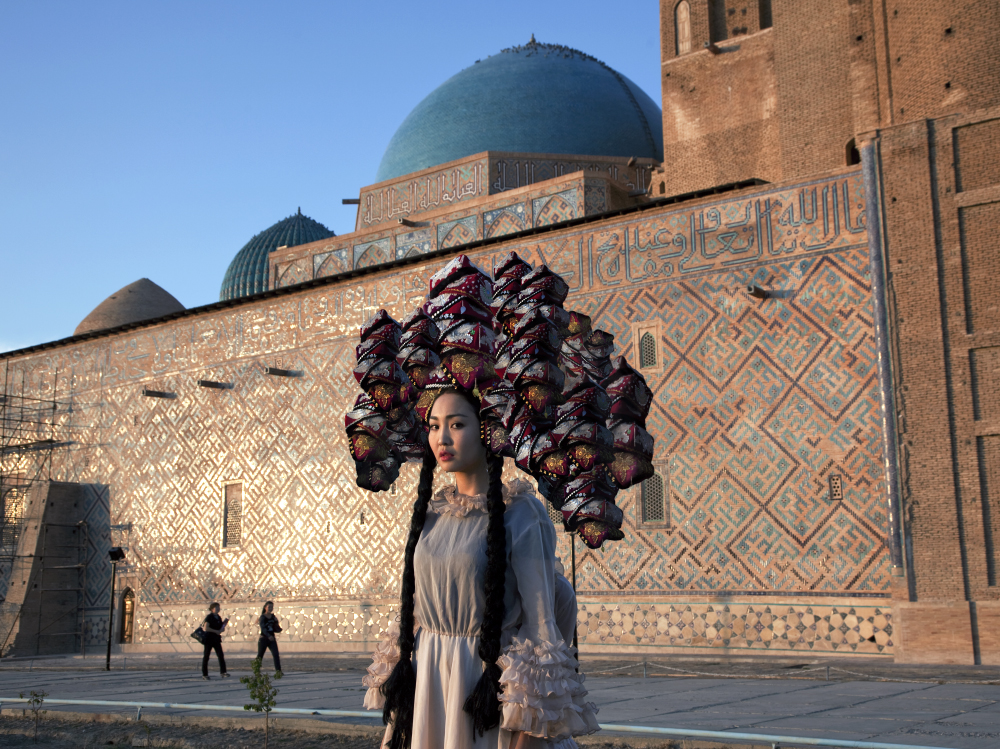 "During the struggle between the colonies of Britain, Russia and China in Central Asia, there was one city that had a strategic importance. Transport nodes of Central Asia, the blood circulation of the whole body took place, were connected at one point in the city center. This point is 300 m2 in size. From this place constantly emanated impulses, similar to the heartbeat, and sometimes magnetic storms. They gave out all the biological movements of a large monstrous organism," Meldibekov reflects.
Menlibayeva also explores the painful histories of Central Asia in her video and photography work. In her seminal video Exodus (2009) female spirits dressed in black are seen thrashing their hair against the backgrounds of concrete ruins of former concentration camps, mixed with the images of a large number people packing up their yurts and leaving, reminding not only the myth of Moses leading his people out of Egypt, but also the current migration crisis.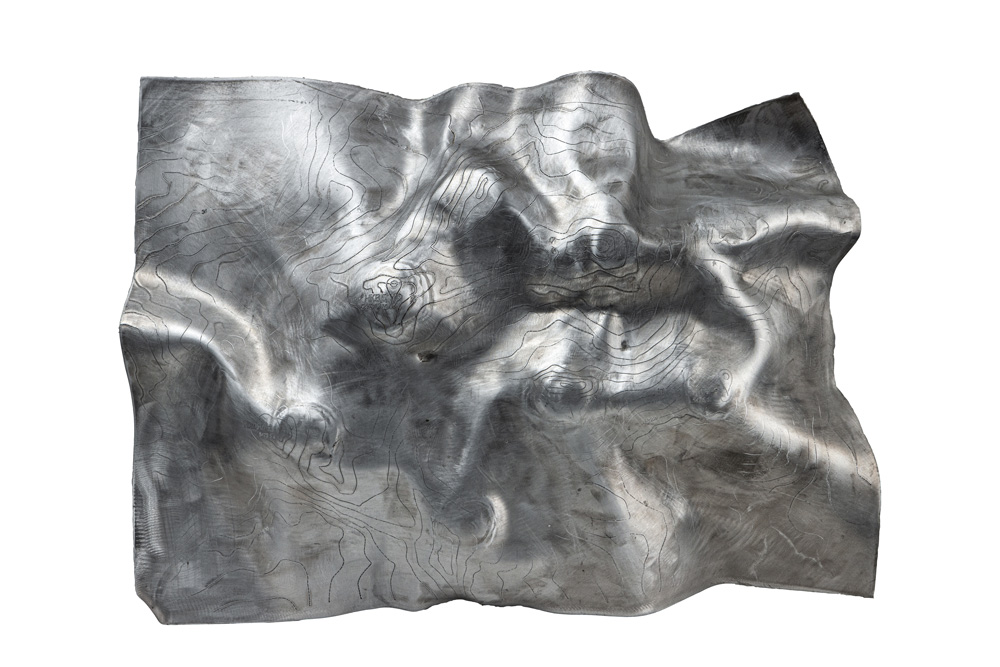 In her work, Menlibayeva often draws parallels between lines and forms she finds in the steppe with the female body, comparing low round tables used in the yurts to breasts, or scarce steppe vegetation to the body – in parts smooth, in parts hairy. For Menlibayeva, fluidity is one of the main characteristics of her work and female identity. "Working with the mediums of video and photography made me an observer of endless realities, it transformed my relationship with the surroundings. Textile, felt and threads taught me fluidity. They are complicated architectural materials, that can connect distances and create spaces, become a black hole, bend spaces without corners, and spread out like a huge projection," the artist explains.



Almagul Menlibayeva: It's Easy to Be a Line / Yerbossyn Meldibekov: It's Difficult to Be a Point — 5-18 October 2020



Feature image: Almagul Menlibayeva, Children of Peri, 2008. Courtesy the artist & Aspan Gallery.