Interview: Painter James Bartolacci On Queer Nightlife As An Art Form
This spring, London gallery Taymour Grahne Projects is set to present Life Without Night, the first UK solo show by New York-based artist James Bartolacci. The exhibition draws from Bartolacci's personal experience of queer nightlife in New York City prior to the pandemic, as well as current and on-going scenes staged in friends' bedrooms, which evoke the ambience, intimacy and intensity of queer nightclubs. Bartolacci earned his MFA in Painting and Printmaking from the Yale School of Art in 2020 and has since exhibited in group and solo exhibitions at Galerie Perrotin and Taymour Grahne Projects. Filling the London space with new oil paintings and pastel drawings, Life Without Night asserts how nightlife venues and spaces provide meaningful parameters for solidarity, social affinity and self-affirmation. Believing nightlife is an art form in itself, the painter honours the production of an evening out with each work. To learn more about the artist, his upcoming exhibition, and how the pandemic has affected his practice, Something Curated spoke with Bartolacci.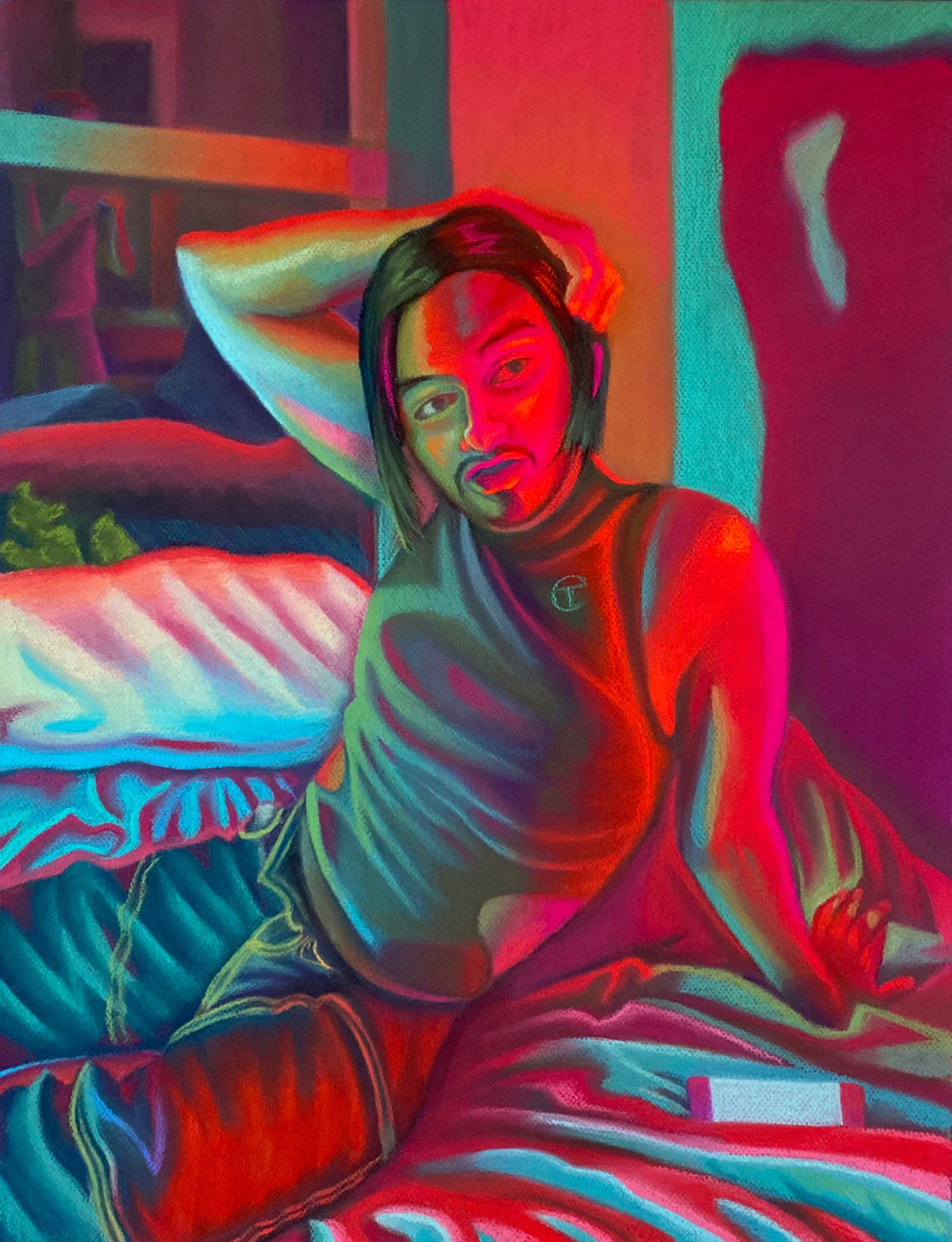 Something Curated: What is the thinking behind the selection of works included in your upcoming exhibition at Taymour Grahne Projects?
James Bartolacci: I want to make work that engages with the present, rather than the past. Since my work is sourced from my experiences in NYC's queer nightlife, that's obviously been complicated. I have three loose themes in mind: scenes staged in friends' bedrooms that recreate the lighting and colour conditions of nightclubs; paintings that somewhat erase the figure, resonating with the current absence of nightlife – instead you catch glimpses of figures that you can't quite grasp, and focus is placed on atmosphere and movement; and straightforward figurative paintings of dance scenes from before the pandemic that act as reference.
SC: Could you expand on your exploration of nightlife as an art form?
JB: I think that queer nightlife is an art form – the way that people create events, how they stylize themselves with fashion and makeup, the way that a space looks: there's an artform to it all and it's so central. It's been an essential part of my life in New York, whether it's making friends and connections or having a space that feels removed from the monotony and chaos of the everyday. I wanted to give that place a sense of reverence, especially since many queer spaces end up closing. As a painter, I want to show the range of emotions besides just ecstasy and inebriation: moments of intimacy, connection, belonging, but also loneliness, isolation, or not fitting in.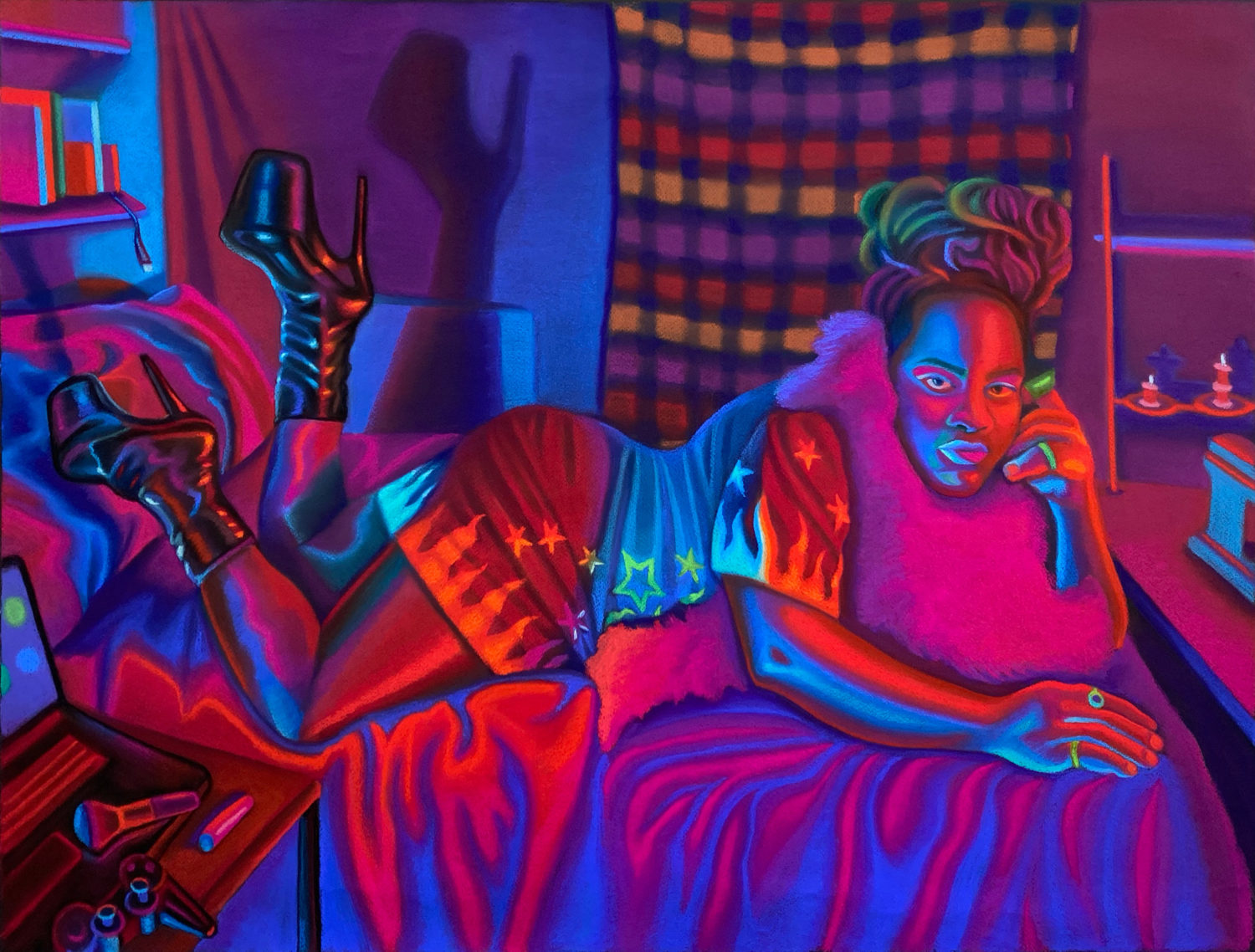 SC: How has the pandemic affected your way of working?
JB: I've been staging photoshoots with friends, instead of using my old photos and video. They choose their own fashion and makeup, as if they're about to go out, as well as the colour of lighting. The idea was to give people a moment to feel joy and an opportunity to express themselves in terms of self-styling, similar to the excitement that you feel in the build-up to going out. Additionally, I ask questions about their experiences in nightlife and what it means for them via video. I've also been drawing much more than I used to.
SC: What interests you in using the bedroom as a stage or backdrop in your paintings?
JB: The bedroom is where the night begins and ends. It's where we get ready, pick out an outfit, put on makeup, and where we eventually return, alone or not. It also tells so much about a person through their décor and personal items. It felt like a very logical setting to create a richer image of those in my paintings beyond figures on a dancefloor.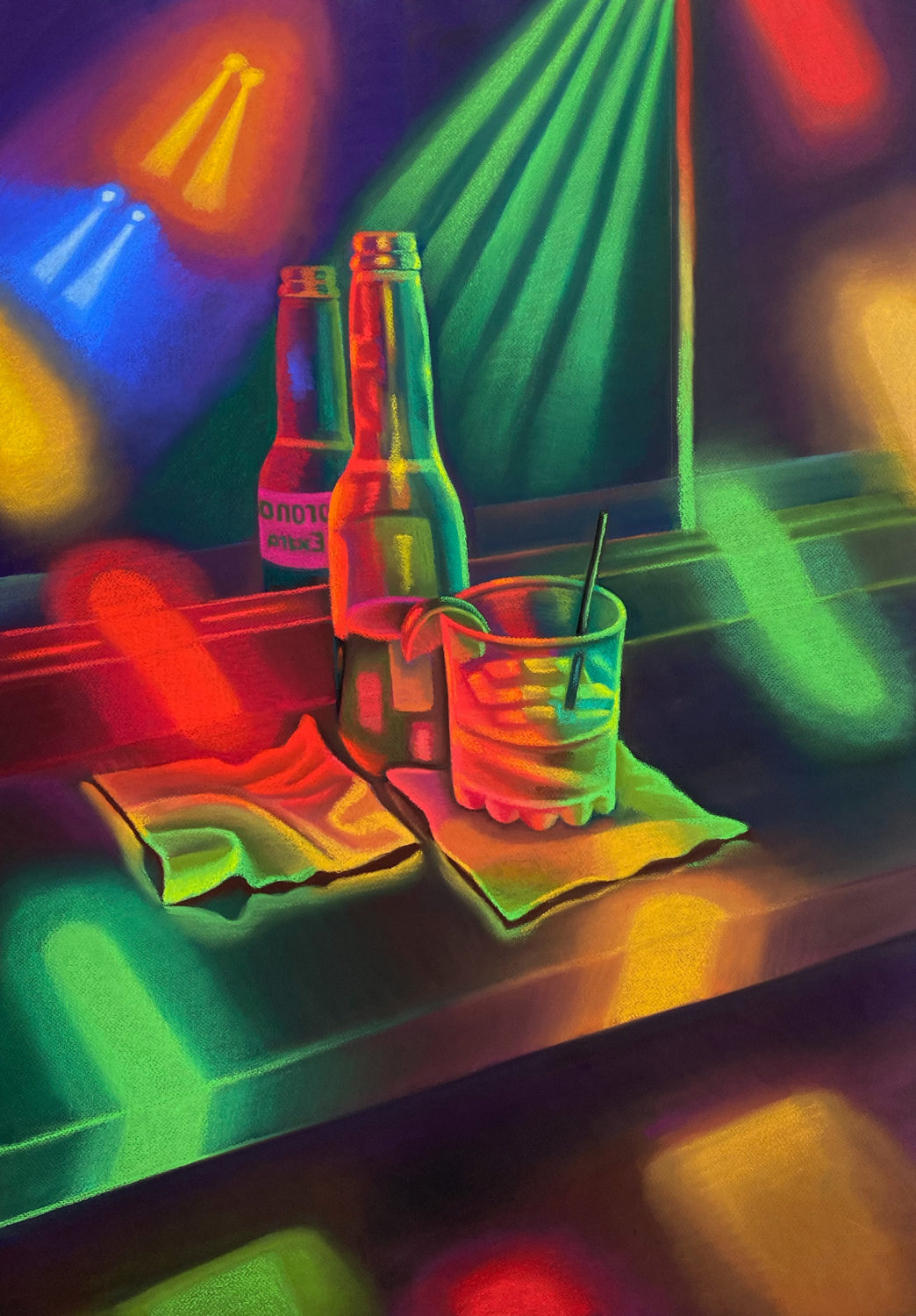 SC: You work with a very particular palette — what influences your use of colour?
JB: My colour choice is intentionally loud, much like the neon laser lights found in the spaces I depict. I think that nightclubs are often seen as tacky or lowbrow, in terms of design, but I've always found the lighting colours to be transformative, like a signal that you are entering some other space. So, I really wanted to hold onto that and embrace the garish. I think the full spectrum of colour in my paintings also reflects larger ideas of fluidity and queerness.
SC: What do you want to learn more about?
JB: It's tough to say right now; the pandemic has made taking in new things difficult. I want to continue learning more about political organising and mitigating the multitude of ongoing crises that we face in the US.



Feature image: James Bartolacci, 444 Club, 2019. Courtesy of the artist and Taymour Grahne Projects.