Interview: Floral Artist Ren MacDonald-Balasia On Survival Instincts & Hawaii's Plant Life
Behind floral design studio Renko, artist Ren MacDonald-Balasia creates fantastical living sculptures with an emphasis on local, seasonal and unexpected materials. Working between Los Angeles and Honolulu, the Hawaii native's mesmerising creations intertwine everything from lush green foliage, tendrilous string beans and striking banana blossoms, to prehistoric-looking Mink Protea flowers and sumptuous fruits from carambola to generous bunches of sweet rambutan. Uninhibited and intense, MacDonald-Balasia's colourful arrangements evoke feelings of wonder and fascination, appearing at times as though they were discovered in their state in nature. To learn more about how Renko came to be, MacDonald-Balasia's love of plants, and how she's handled life during the pandemic, Something Curated spoke with the brilliant floral artist.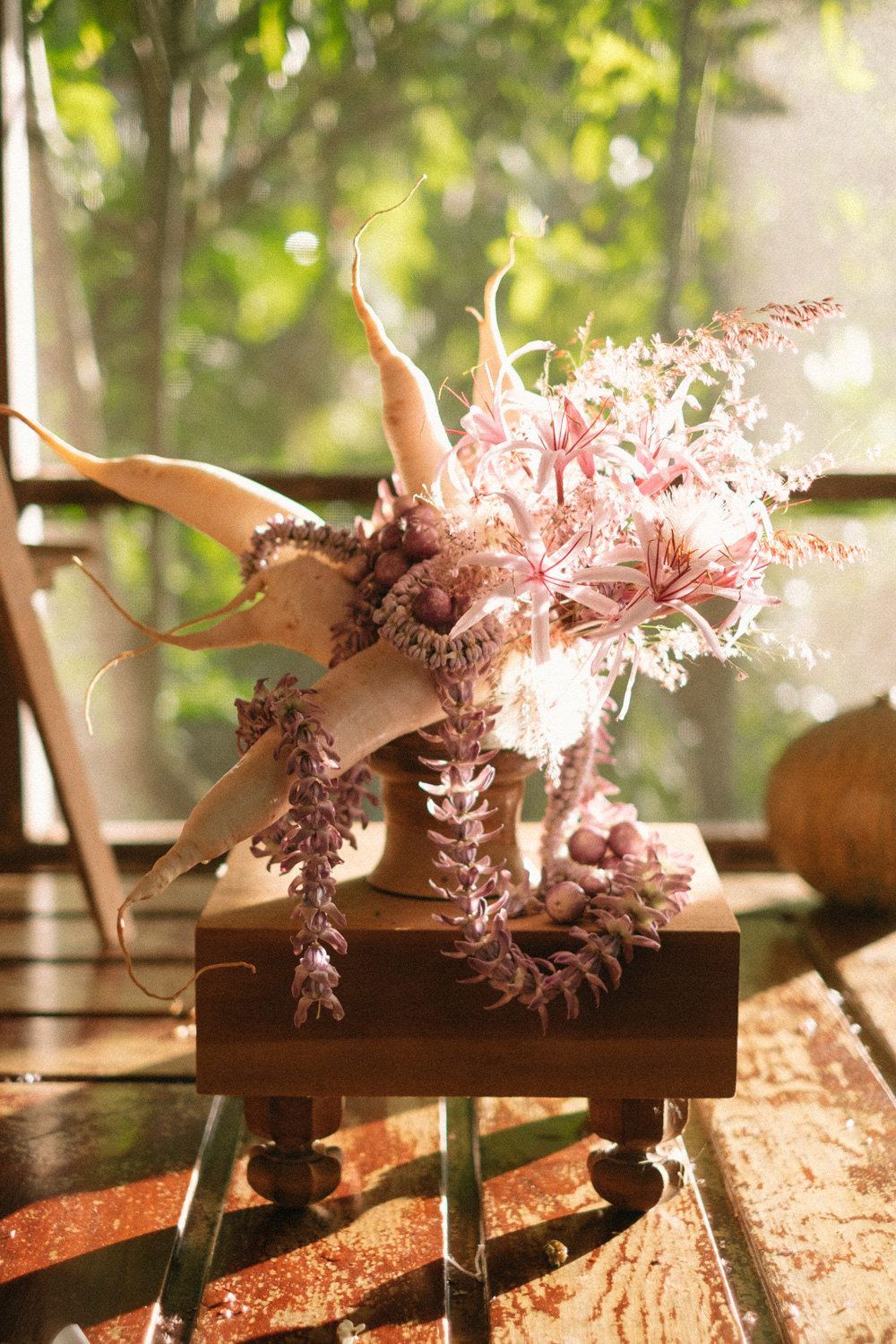 Something Curated: Can you tell us a little about your background and how you entered this field?
Ren MacDonald-Balasia: It's funny, I'm writing this from Hawaii, and Oahu is the island where my love of the natural world began. I am back home in Manoa Valley, away from the flower industry's never-ending hustle, finally with a free hour to spare, surrounded by the screens that enclose and protect my Grandmother's house. The wire screens give way to the trees creaking in the wind, birds chattering in the dark moments of the morning, the cool breeze, and inescapable but necessary bugs. This house is an extension of the jungle it sits in, and a safe haven for creativity within its bounds.
Our house was co-designed in 1960 by my Grandmother and a Frank Lloyd Wright protégé turned friend named Stephen Oyakawa. My mother and I were both raised in this house, a gift that spanned generations. I spent my childhood among the trees, learning all that I could. The jungle had so much to offer: the blood red sap of an ironwood tree that smelled like gas and looked like amber; the thick vines of the philodendron clinging to the Schefflera tree trunks with little millipede-esqe roots; mangoes that dropped to the ground in a rotting orange mess in July. Perhaps my favourite discovery was the deciduous Plumeria tree that shed all its leaves in December, leaving it skinny and naked as a skeleton.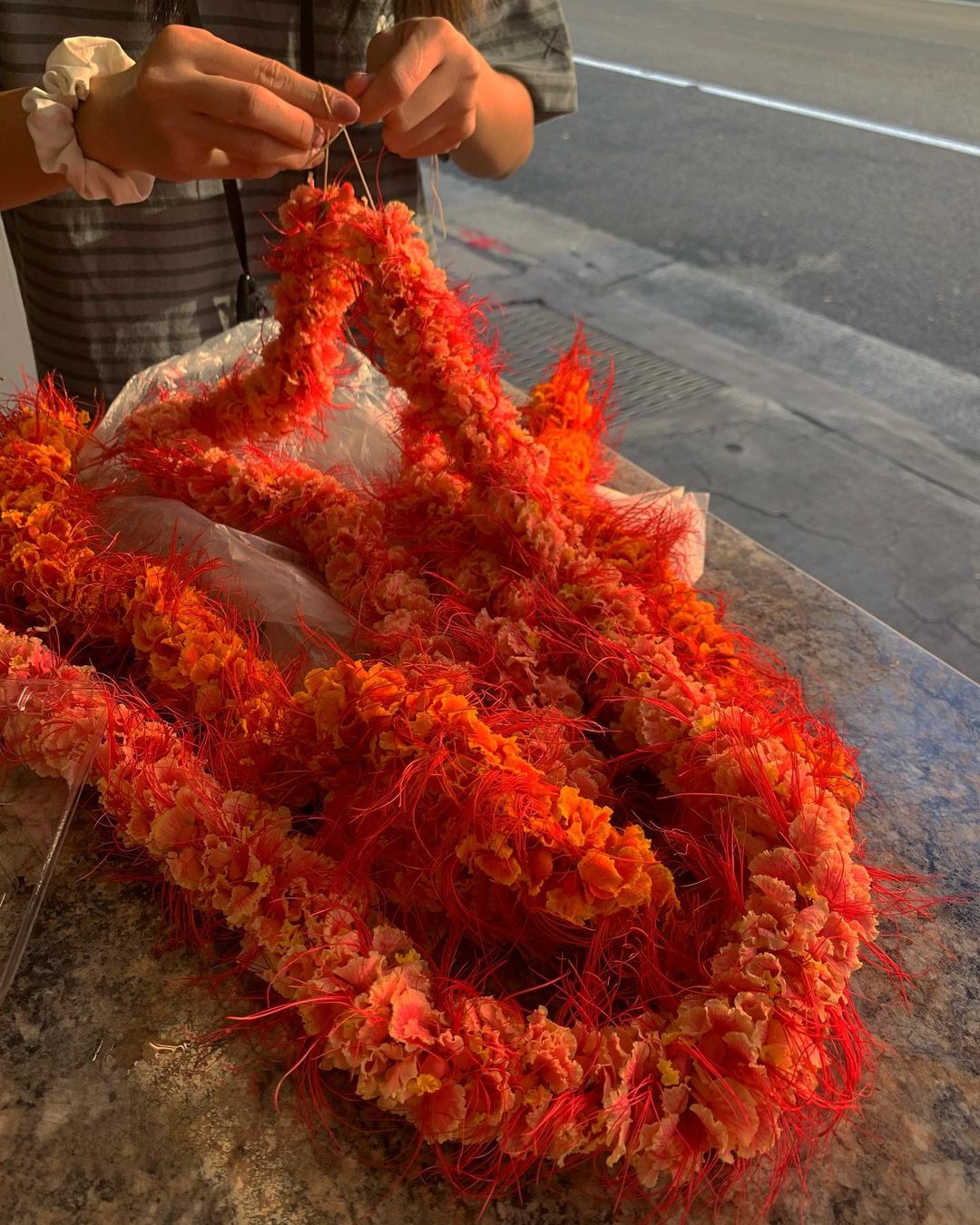 I felt that Plumeria's vulnerability in those winter months, and my interest in flowers and plants has always been based in empathy. Their silence speaks volumes through nothing more than existence, and I use this as a constant reminder to be present when I'm caught up in the mire of routine. I aspire to a flower's unapologetic presence. I recently read a paper on why people are attracted to flowers. In ancient times humans (and animals) realised that flowers eventually led to fruit. Flowers meant nourishment, meant energy for the family unit. A fragrant symbol of survival. Our genetic disposition, imprinted since the dawn of humankind, draws us to flowers. How fascinating it is now, to see how the evolution has transpired to present day where we still need to satisfy that instinctual ode to our ancestor's survival. What more of a reason do we need? I certainly don't need any more reason to survive than a single hibiscus.
SC: What inspired you to start Renko Floral, and how would you describe its ethos?
RMB: I started Renko out of necessity. I needed an outlet to profess my love to the natural world, and more specifically my love to the misfits and curious oddities within it. Our mission is to be a voice for those strange leaves, those forgotten weeds, and those cast away seedpods and bring their beauty to light. There is so much to be seen and so many ways of seeing.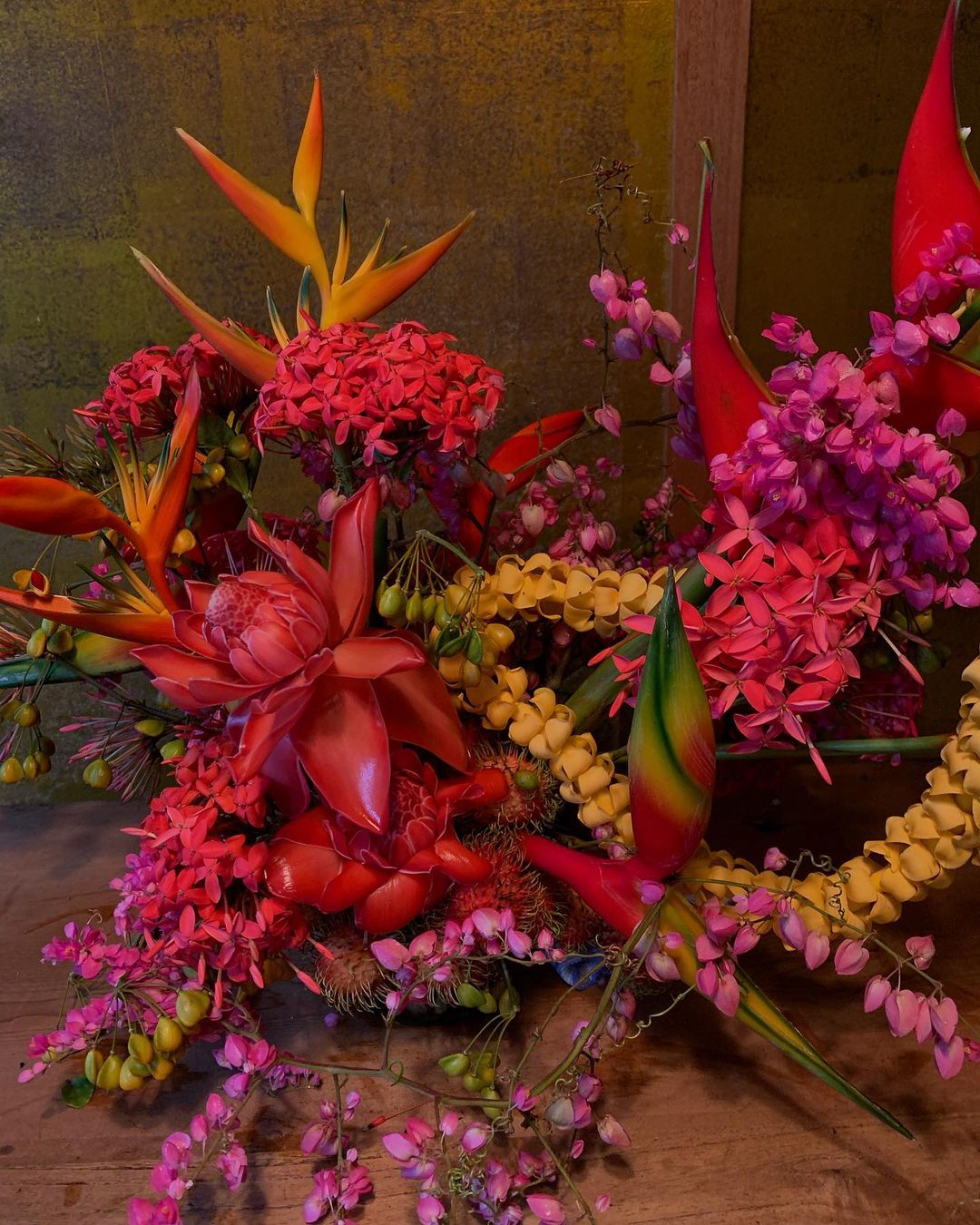 SC: At present, are there any particular plants or materials that you are especially enjoying using?
RMB: I have especially enjoyed the brief seasonal stay of the Jade Vine, Strongylodon macrobotrys. A special find on Oahu if you're lucky, it only blooms from February to April, and when it does it casts turquoise iridescent chandeliers down around you in an otherwise dark green landscape. About a year ago, I got up the courage to knock on the door of an unknown neighbour who had it in his yard. Since then that neighbour, a soil scientist at the University, has become a dear friend and pen pal and has aided me in clipping a few Jade for my work. The Jade is an incredibly precarious material to work with, as all the pods seem to fall off the stem almost within minutes of its decapitation from the plant. But I enjoy this challenge, as it gives me a reason to prove that I deserve to work with it.
SC: You work with a very striking palette – how do you approach using colour?
RMB: I really try to emphasise the wonder of the natural world, so it's important for me to use natural materials as much as I can. Finding the most insane hot pink or bright yellow flower that comes from the earth itself blows my mind in a way spray paint never could. I don't think I ever really approach colour from a scholarly technical perspective, I just always think to myself, "What material would honour this?"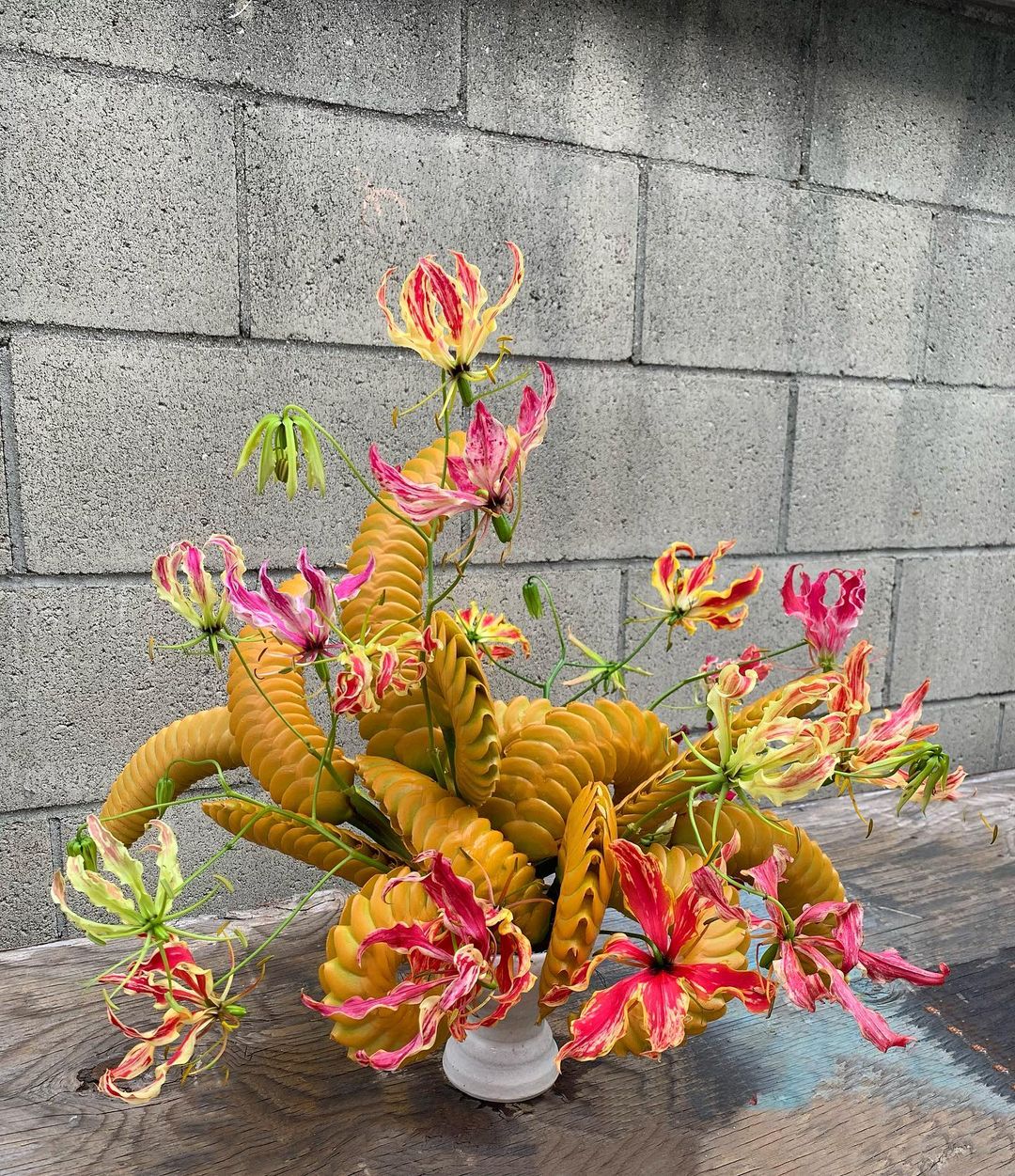 SC: What are you working on currently, and how has the pandemic affected your way of working?
RMB: I am currently working in between Los Angeles and Honolulu, continuing my event and delivery services, as well as planning events into the future for a hopeful 2022. The pandemic has drastically changed the floral business since so much of our work and installations depend on human interaction and events. But in resiliency, more of our work has shifted towards deliveries and small celebrations of love and happiness between people from a distance. The silver lining of it all is perhaps that joy that people still have for flowers and that instinctual need to survive.
SC: What do you want to learn more about?
RMB: Mistletoe mimicry. Look it up.



Feature image courtesy Renko Floral