Alvaro Barrington's New Paintings Pay Homage To Musical Greats From Erykah Badu To Biggie
Presented by gallery Thaddaeus Ropac and running until 17 April 2021, You don't do it for the man, men never notice. You do it for yourself, you're the fucking coldest is Alvaro Barrington's first solo exhibition in France. Shown across all four floors of Ropac's Paris Marais gallery, Barrington's new paintings reflect the cross-pollination of many influences, among which fashion, music and art history play a primary role. In addition to paintings incorporating yarn, for which he is best known, Barrington introduces a new series of multi-layered works on carpet framed with concrete. His approach to painting remains essentially inclusive – embracing non-traditional materials and techniques – and infused with references to his personal and cultural history, as well as our current state of isolation.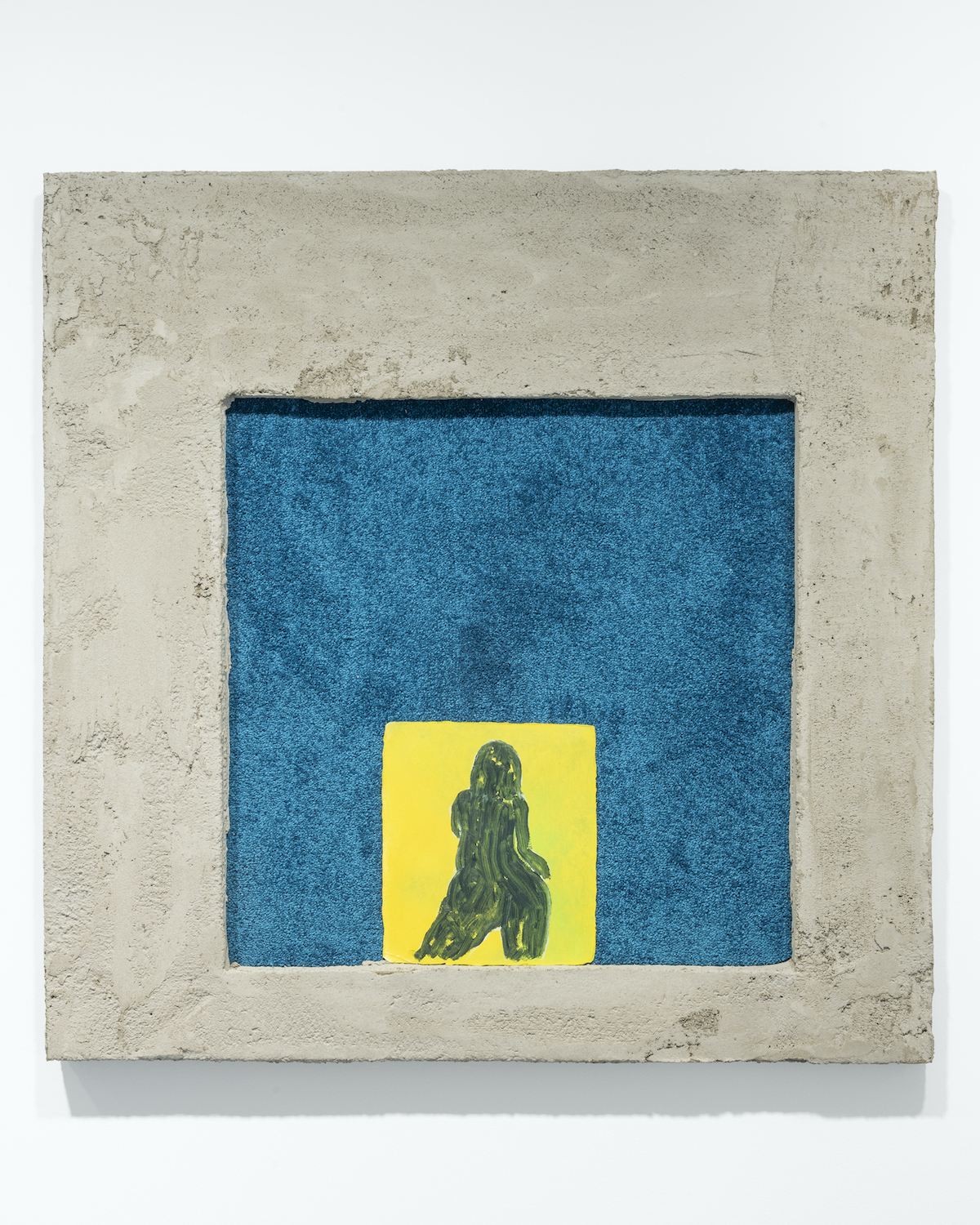 Born in Venezuela to Grenadian and Haitian parents, Barrington was raised between the Caribbean and Brooklyn, New York, before moving to London where he is currently living. Combining references to street culture, traditional craft techniques and the history of modernism, his art conveys the breadth of his varied life experience and influences. Barrington studied at Hunter College, New York, and The Slade School of Fine Art in London, where he started lecturing in 2019. His practice nods to various personal touchstones including 1990s hip-hop culture, jazz and the Harlem Renaissance in the 1920s, Jamaican political activist Marcus Garvey, modernist icons such as Willem de Kooning and Louise Bourgeois, and his art-world peers. The title of his new Thaddaeus Ropac exhibition is taken from a song by Canadian rapper Drake, demonstrating the centrality of popular music as a constant source of inspiration in his practice.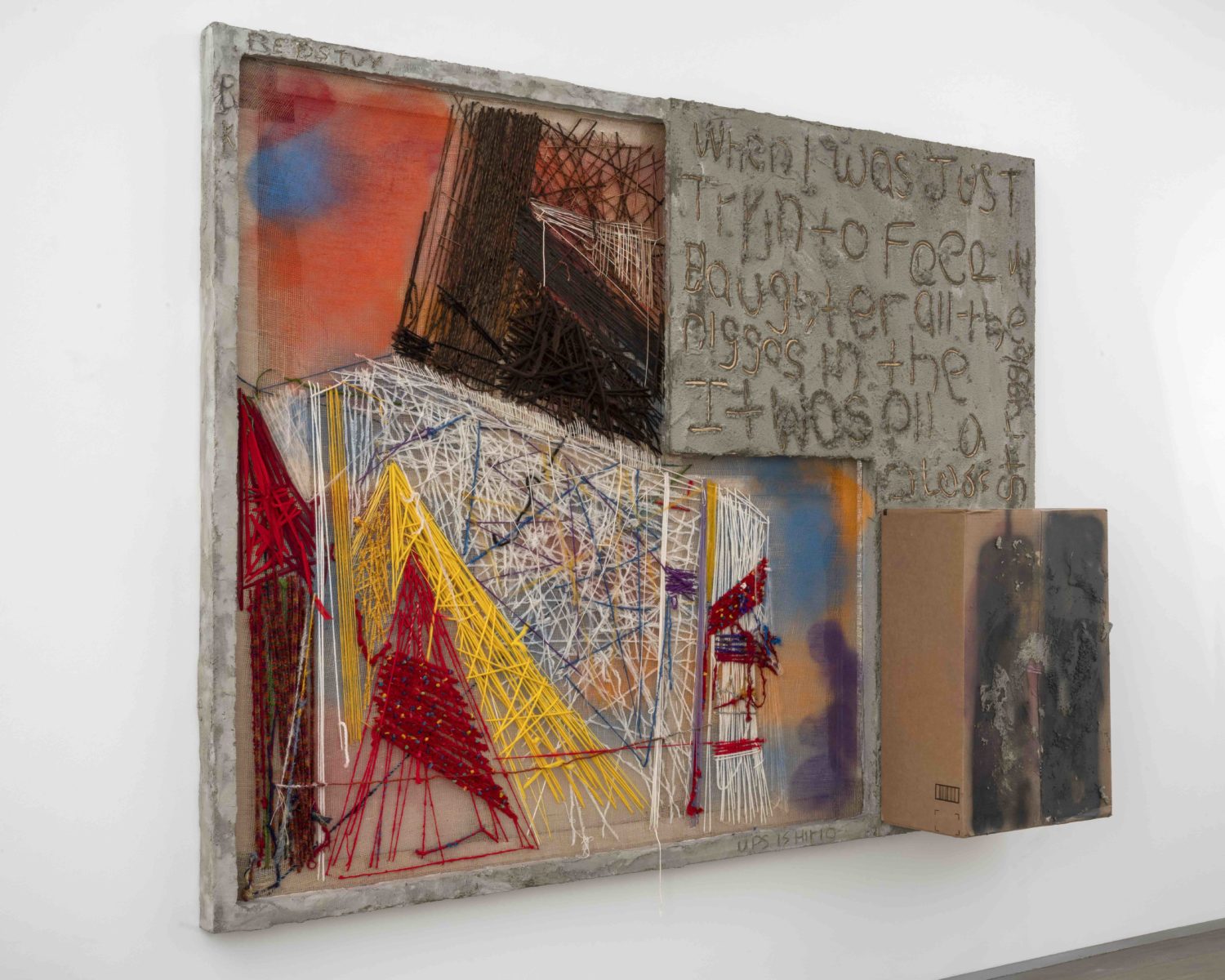 The close relationship between visual art and music has been a foundational element of abstraction since the early 20th century, tracing back to Wassily Kandinsky's Compositions and Joseph Albers' interest in rhythm and harmony that informed his Homage to the Square series. With these predecessors in mind, Barrington revisits the history of modernism in a new series of square canvases made with the velvet textures of rugs, on which he draws dancing silhouettes against an abstract background. Frozen in motion, these solitary figures were inspired by our current period of confinement, during which bans on parties and gatherings have challenged our sense of community. The structure of these new works combines references to Joseph Albers' compositions and the album cover of Mama's Gun (2000) by neo-soul singer Erykah Badu.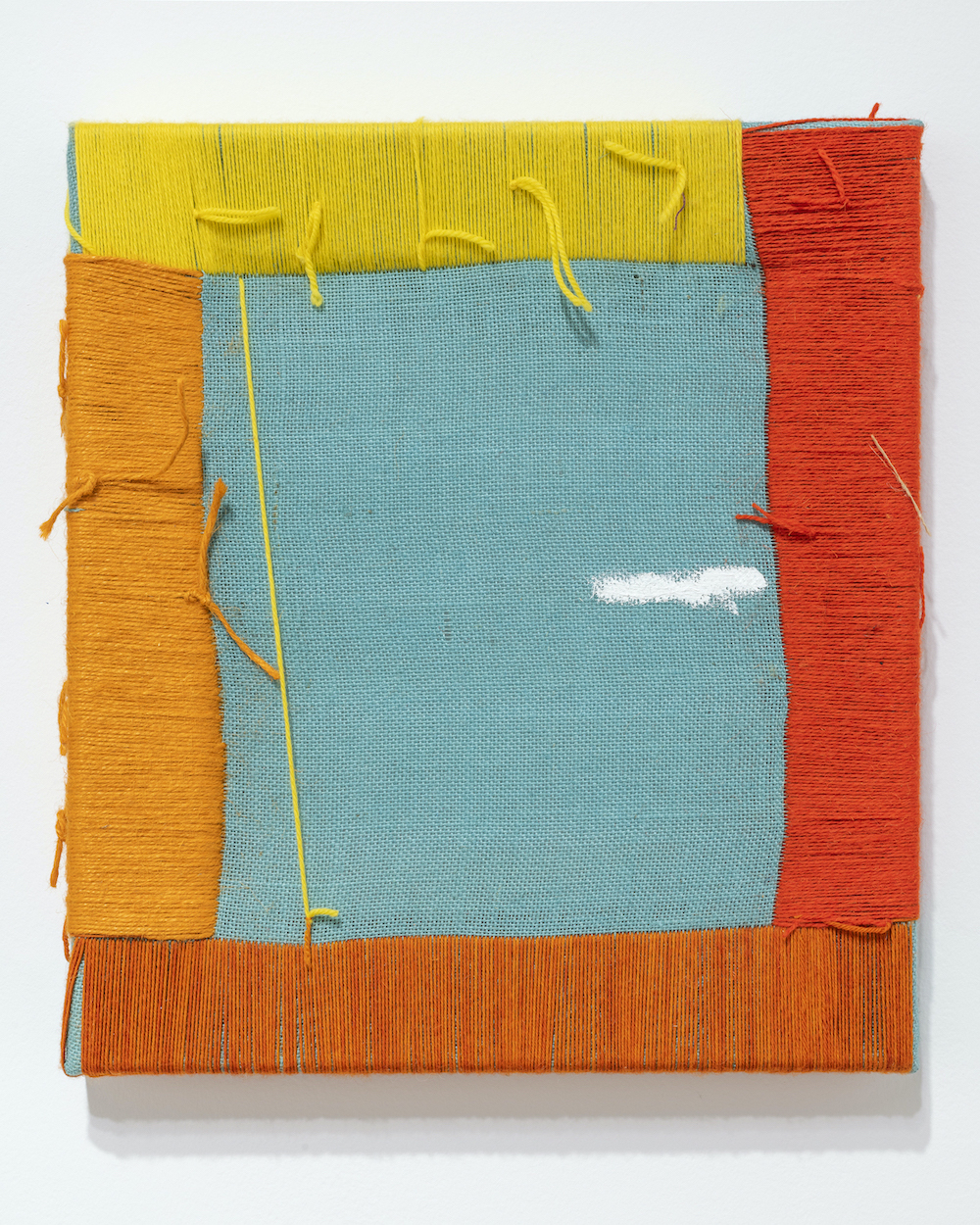 "I always think of a show as an album with 2 or 3 pop songs and more experimental songs," says Barrington. The use of rugs in this new series is a way to further explore the potential of fabric – and the references associated with it, in this case domesticity – while pushing the boundaries of the material to give it painterly qualities. The dancing silhouettes superimposed on the abstract background are inspired by the first Apple iPod ads where animated silhouettes were dancing alone on a bright coloured background. This series also introduces custom-made cement frames, which convey a Brutalist aspect and impart a sense of gravity to the paintings, connecting with the idea of an urban landscape. Barrington has long been interested in frame making and has often created frames for his own works or for his friend's, allowing the painting to become a fuller version of itself.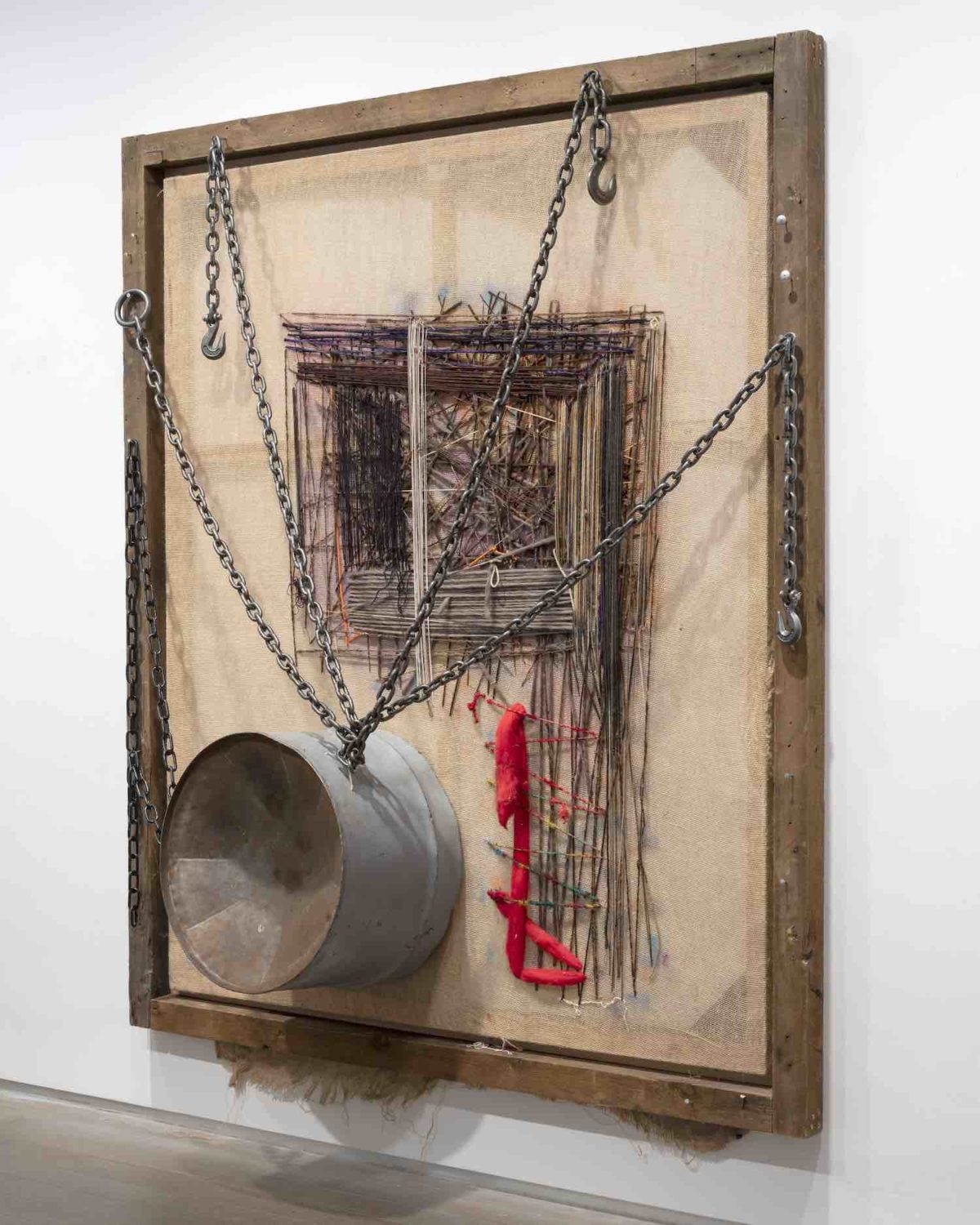 Drawing on formative experiences with his grandmother in Grenada, Barrington has also created richly textured mixed-media paintings on the burlap fabric used in Caribbean cacao production. The artist's use of stitched yarn combines the traditionally gendered craft traditions passed down by the women in his family with his love of fashion. Incorporating cardboard, chains and musical steel pans, this group of assemblage paintings also references Black musicians, including American rappers Tupac Shakur and Biggie. Often inspired by the lyrics of specific songs, which he inscribes or stitches on the canvas, the artist conceives these works as abstract portraits. The structure of the yarn used in the portrait dedicated to the Notorious B.I.G is inspired by the texture of the Coogi sweater worn by the rapper in a photograph where he poses in front of the Twin Towers.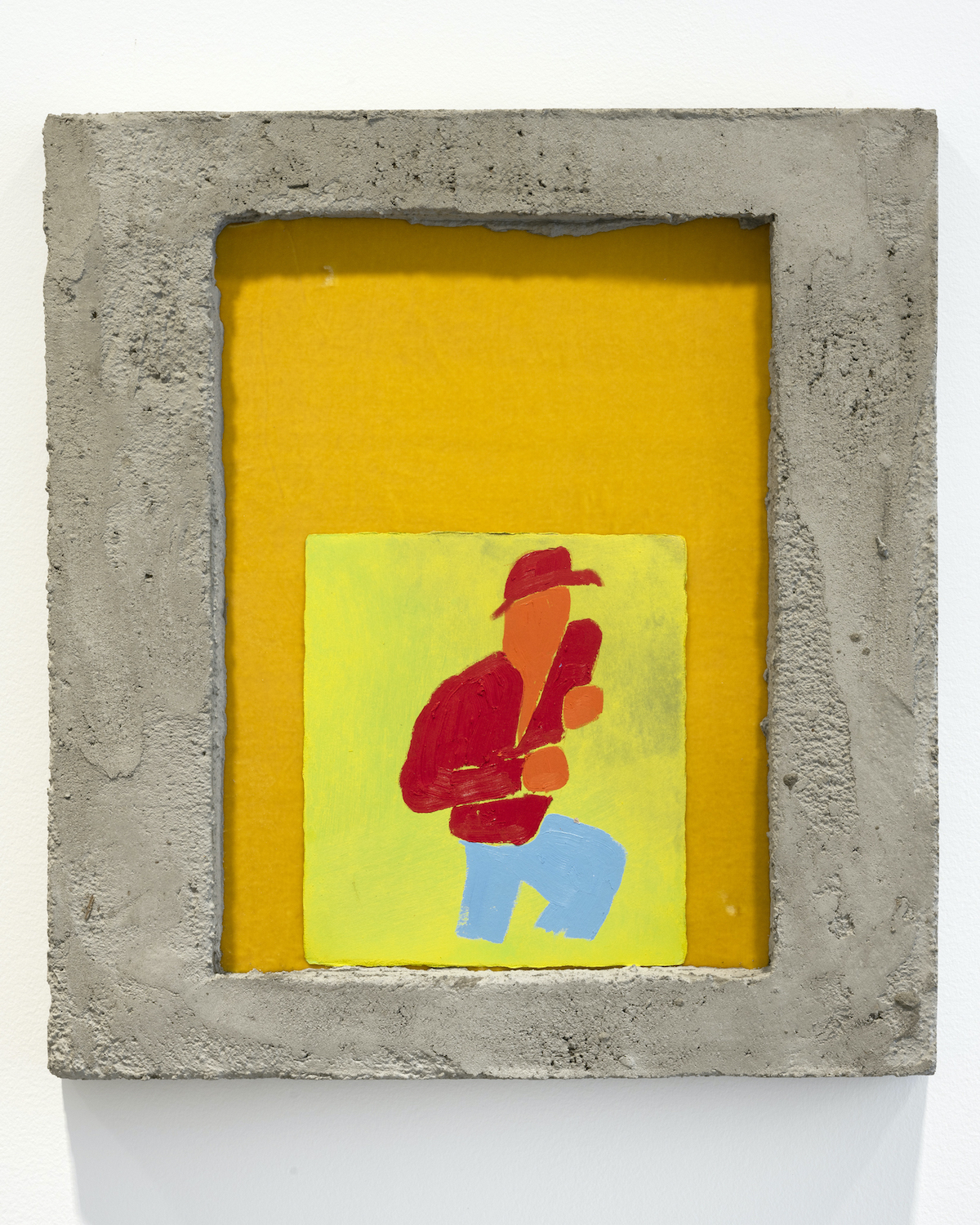 Across his different bodies of work, Barrington considers diverse approaches to abstraction through the outputs of his predecessors. Experimenting with the "logic found within these other artists'" work, he translates it into his own idiom through simplified palettes, grid forms and expressive brushstrokes. The introduction of a varied set of references within the formal canon of abstraction produces ramifications that evoke a Poetics of Relation, a phrase coined by Caribbean thinker and poet Edouard Glissant, to turn the concrete particulars of Caribbean reality into a complex, energetic vision of a world in transformation. In Barrington's work, the notion of identity constructed in relation and not in isolation can be related to discussions of Caribbean creolization but also to our understanding of multiculturalism at large.



Alvaro Barrington. You don't do it for the man, men never notice. You just do it for yourself, you're the fucking coldest | Until 17 April 2021 at Thaddaeus Ropac, Paris and online



Feature image: Alvaro Barrington, They have They Cant, 2021. © Alvaro Barrington. Photo: Charles Duprat. Courtesy Thaddaeus Ropac