South African Artist Gabrielle Goliath Subverts The Dedication Song To Interrogate Rape Culture
In her video and sound installation This song is for… South African artist Gabrielle Goliath revisits the convention of the dedication song, in collaboration with groups of women and gender-queer musical ensembles. Goliath's artistic practice exposes and unpacks the epidemic of gender-based violence in South Africa and around the world. Each song is dedicated to a survivor of rape – groups of whom Goliath worked with over an extensive period of time and invited to contribute a song, colour and text to the work. The project creates a powerful space for reflection and aims to unsettle the "normalcy" of rape culture, a condition presently recognised by the UN as a "shadow pandemic" following a worldwide increase in domestic abuse during the ongoing health crisis. The 12-channel video is the centrepiece of a new group exhibition opening at Talbot Rice Gallery, Edinburgh, on 18 May 2021. To learn more about the powerful work and Goliath's approach to collaboration, Something Curated spoke with the artist.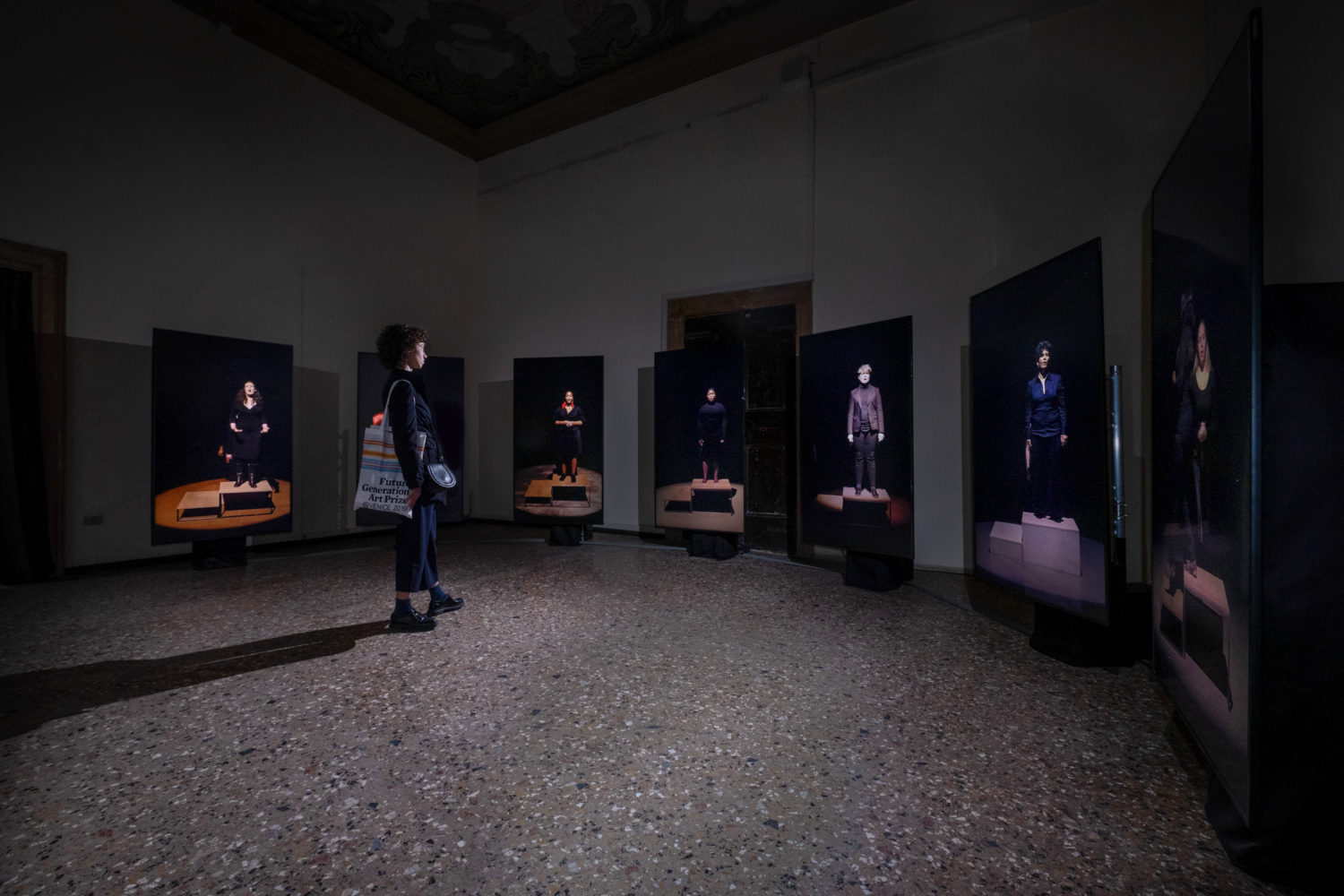 Something Curated: Can you give us some insight into your background; when did you first become interested in artmaking?
Gabrielle Goliath: I came to art by way of fashion. I was studying fashion design and making garments that were increasingly conceptual, and to be honest, unwearable. The shift to art felt natural, although stepping into an art school did not. Suddenly I was surrounded by others who were already painting, drawing and deeply engaged in art history and theory – or at least it felt that way at the time. But I connected with some good people, like Thembinkosi Goniwe, who as a scholar and curator who was at that time just entering the very white-dominated space of the South African art academy. With his support, and others, I started exhibiting quite quickly, and since then it's been very much about staying interested in art – holding to a course I feel to be creatively but also politically enriching. So that's my official answer… but, to be honest, the more I think about it – as this is a question I am regularly asked – my interest in art has been grounded in the ways in which, as a child growing up in the segregated small-town context of Kimberley, I recognised how for my parents and family, creative practices – be it music-making, listening or even reading – allowed them to imaginatively inhabit alternative life worlds. Art has that capacity for me, not in the sense of escapism, but in how it allows for a radical, even transformative re-imagining of the world. And this remains an urgent task in a present context of planetary crisis, marked by the violent afterlives of racial slavery, colonialism and apartheid.
SC: Could you expand on the thinking behind your work, This song is for…, soon to be presented at Talbot Rice Gallery?
GG: This song is for… is an immersive sound and video installation that calls audiences into a deeply implicating but hopefully also transforming relation to the normative violence that is rape culture – not only in South Africa, which is regularly touted as a rape capital of the world, but transnationally. Approaching this work, I was looking to convene a different kind of aesthetic encounter, to do a work that in some way refused and worked around the kinds of representational violence through which Black, brown, femme bodies are routinely fixed as objects of "witness," sites of abjection, forensic traces of dispensable life. For me, this demanded from the start a subject-centred approach, invested in community and collaboration, and also in the agential life claims of those survivors who, despite the death-dealing violence of rape, continue to aspire towards and courageously cultivate hope, dignity, faith, even joy. This is why I would not consider This song is for… to be a work about violence as such, but rather one located within a crisis of quotidian, "non-spectacular" violence (read rape culture), but nevertheless asserting a certain political re-inscription of Black femme life. The thinking behind the work was then, for all of these reasons, worked through a process of dialogue and relation, in which I personally engaged with a community of survivors – hearing from them, receiving the offerings they made of songs, colours and textual reflections. And then, collaborating closely with a selection of women and genderqueer-led musical ensembles to creatively re-perform the dedication songs that are at the heart of the installation.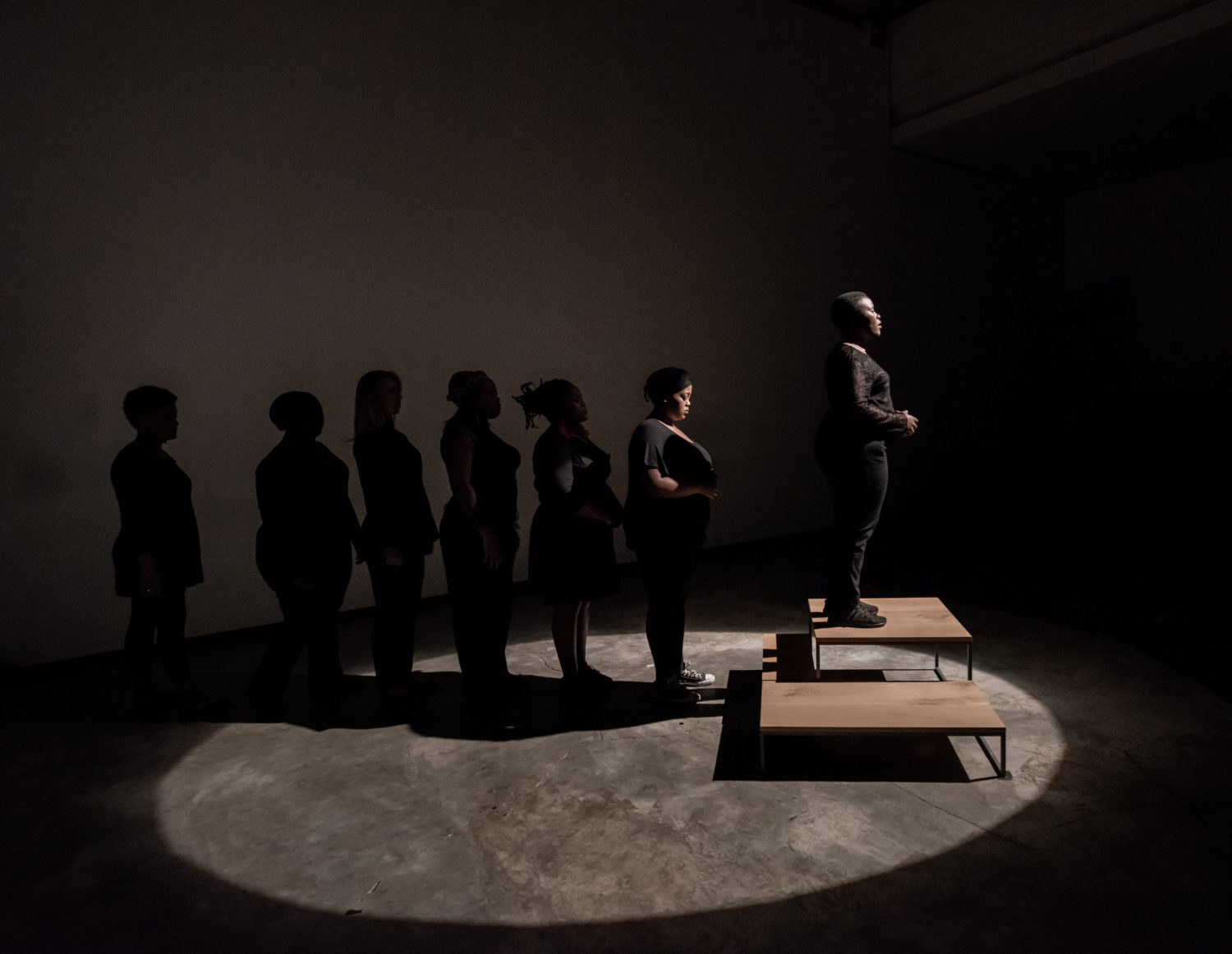 SC: How would you describe your approach to collaboration when it comes to working with other artists?
GG: For me, collaboration is about finding ways to work relationally and in community, and in a certain productive refusal of the monolithic drudgery and violence I associate with the still entrenched model (and economy) of the singular, male, and historically white "genius" artist. There is an accountability that comes with relation, through collaboration, and which is, for me, very much a part of embracing and practicing in my art process a decolonial, Black feminist politics.
SC: Could you tell us about your ongoing Elegy series — do you have any further iterations planned in the near future?
GG: Elegy is a long-term performance project I initiated in 2015, in response to the endemic crisis of femicide in South Africa. Ritualistic in form, each Elegy performance calls together a group of seven women vocalists who collectively enact a work of mourning. Sustaining a single note over the course of an hour, they invoke the absent presence of a named woman or genderqueer person subjected to fatal acts of gendered and sexualised violence in South Africa. Performances have been held in South Africa, Brazil, the US and Europe – most of them responding to contemporary cases, but some calling to remembrance women enslaved in South Africa, and killed by their intimate partners. These performances are not at all suited to the conditions of a pandemic, as they call for a certain kind of close gathering, but Elegy does also show as a 7-channel video installation, and will shortly be installed in Rouen, as part of the Africa Season in France. A single-channel video installation of a performance has been showing for almost two years now at the Iziko Slave Lodge in Cape Town (South Africa), and another will shortly be exhibited at the Australian Centre for Contemporary Art in Melbourne.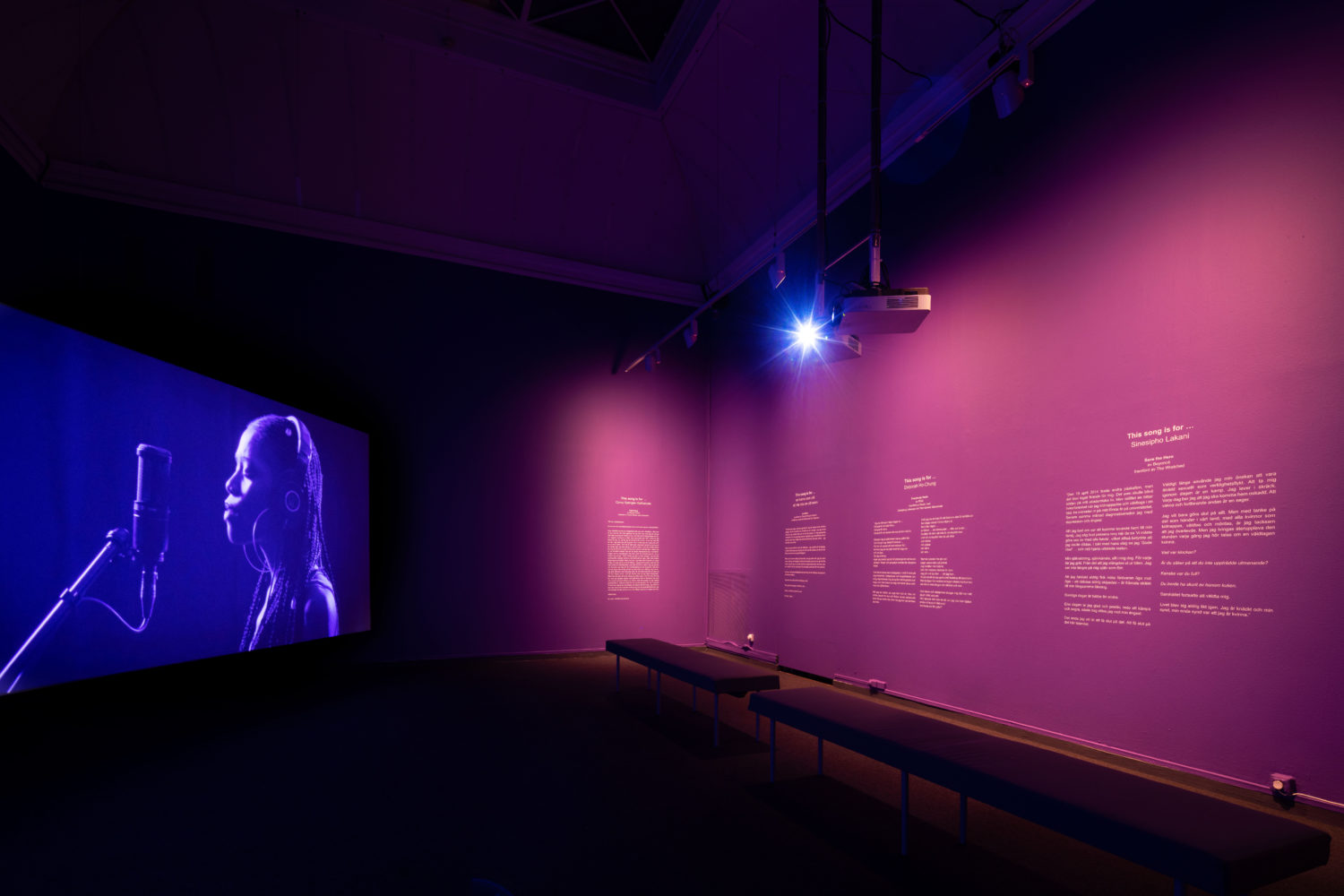 SC: How has the pandemic impacted your way of operating?
GG: Well, I have become quite accustomed to online installations, which is a real shift as I am usually very present and attentive to every detail, as a matter of care. But I have worked with some truly wonderful curators and teams who, in different contexts, have taken on that labour of care, and made every effort through email, WhatsApp and Zoom to bring me into the process. The team at Talbot Rice have exemplified this – we have spent hours in dialogue, and whilst it pains me to not experience the installation in the real, I can almost feel it sounding in that rather beautiful and expansive space. In terms of my practice, despite the deferrals that have challenged so many artists and arts organisations, the pandemic has pushed me deeper into what is already a research-intensive approach, and the slow-time formulation of "new" works. The economic impact here in South Africa has been severe, and many artists have been rendered even more precarious – so I feel deeply blessed to be working on numerous projects at the moment.
SC: What are you currently reading?
GG: Right now, I'm spread between Ayo Coly's Postcolonial Hauntologies, Katherine McKittrick's Demonic Grounds, and Black Feminism Reimagined by Jennifer Nash. For fiction, Go Tell It on the Mountain, has been sitting on my bedside table for too long now… time for a weekend off perhaps.



Feature image: This song is for…, Göteborgs Konsthall, Gothenburg, 2020, Installation view. Photo courtesy Göteborgs Konsthall