Interview: Step Into Sedrick Chisom's Iridescent Post-Apocalyptic World At Pilar Corrias
London gallery Pilar Corrias presents Sedrick Chisom's first solo exhibition in the UK, showing paintings and drawings portraying a post-apocalyptic America. Sitting within the Afrofuturist tradition, Chisom's imagined future is a mystical, speculative narrative which considers the histories of racism and otherness. In Chisom's world all people of colour have elected to leave earth, while the remaining people have become subject to a disease which is altering the pigmentation of their skin. The artist's style is defined by a folkloric quality that is mystical and macabre. Strange yet familiar landscapes are peopled by haunting figures that are at once defiant and pitiable. Bold, iridescent colours communicate the peculiarity of the post-apocalyptic scene and offset the ghostlike figures, which are variously crippled, headless or zombie-like. Chisom's imagined future exposes the racialised otherness that has dominated the history of western thought, creating new myths and new constructed realities in a fantastical and bewitching science-fiction. To learn more about the artist's practice and his first solo presentation in London, Something Curated speaks with Chisom.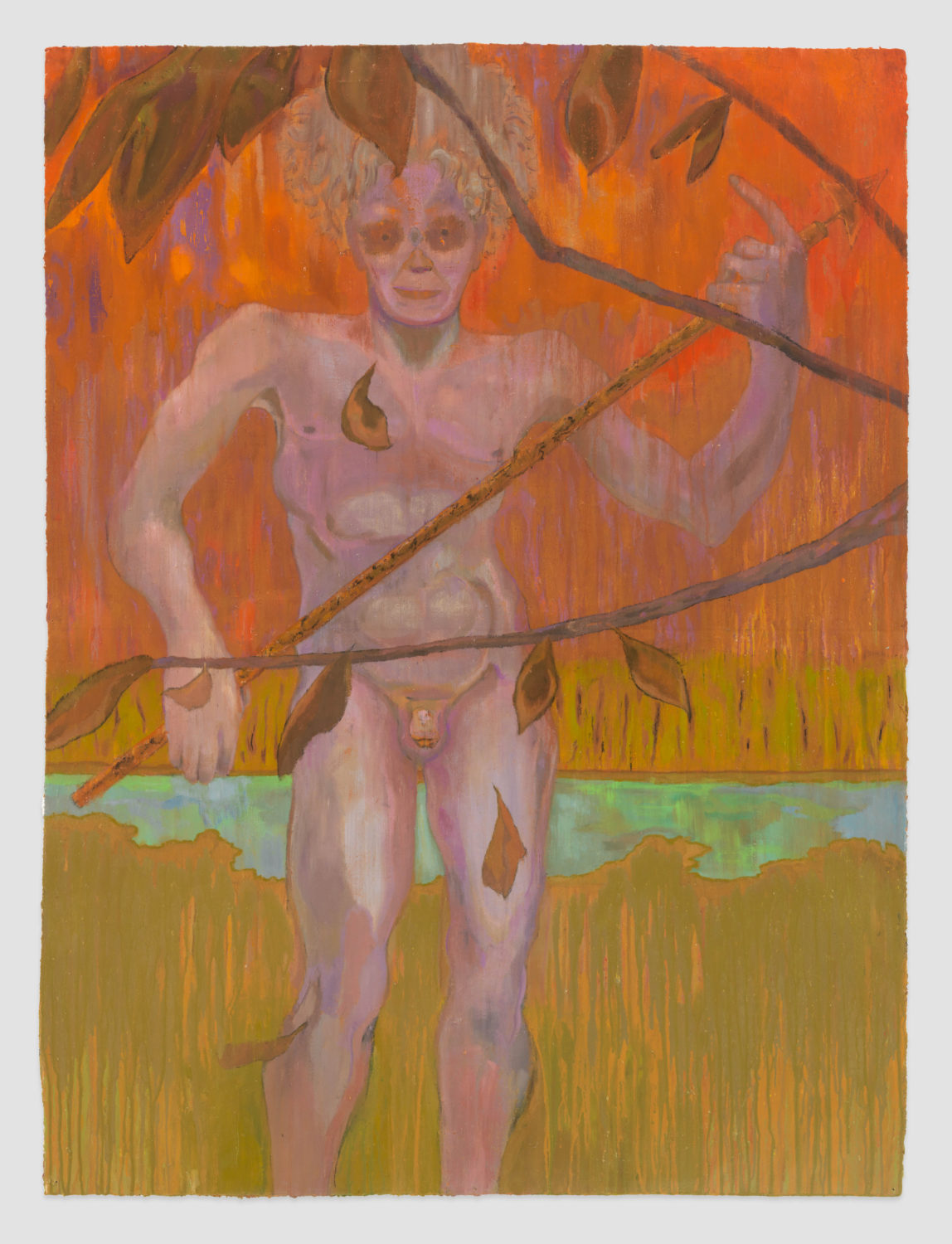 Something Curated: Can you give us some insight into your background and how you became interested in painting?
Sedrick Chisom: I'm from Philadelphia, PA. For my undergraduate education I studied at Community College before transferring to Cooper Union. I did my MFA at Rutgers and participated in the 2019 session of Skowhegan. I honestly wasn't always interested in painting and had a very generalist jack of all trades attitude to my education. Initially, when I was in Community College at Philadelphia, I was frustrated that my drawing ability (which at the time was very uptight and rigorously academic) didn't translate into painting at all for me. It required a need for me to get invested with mixing colour, paint handling, and the materiality of paint (in other words painting in its own material terms) for me to develop a real love of painting. This happened during my first semester at Cooper Union in New York.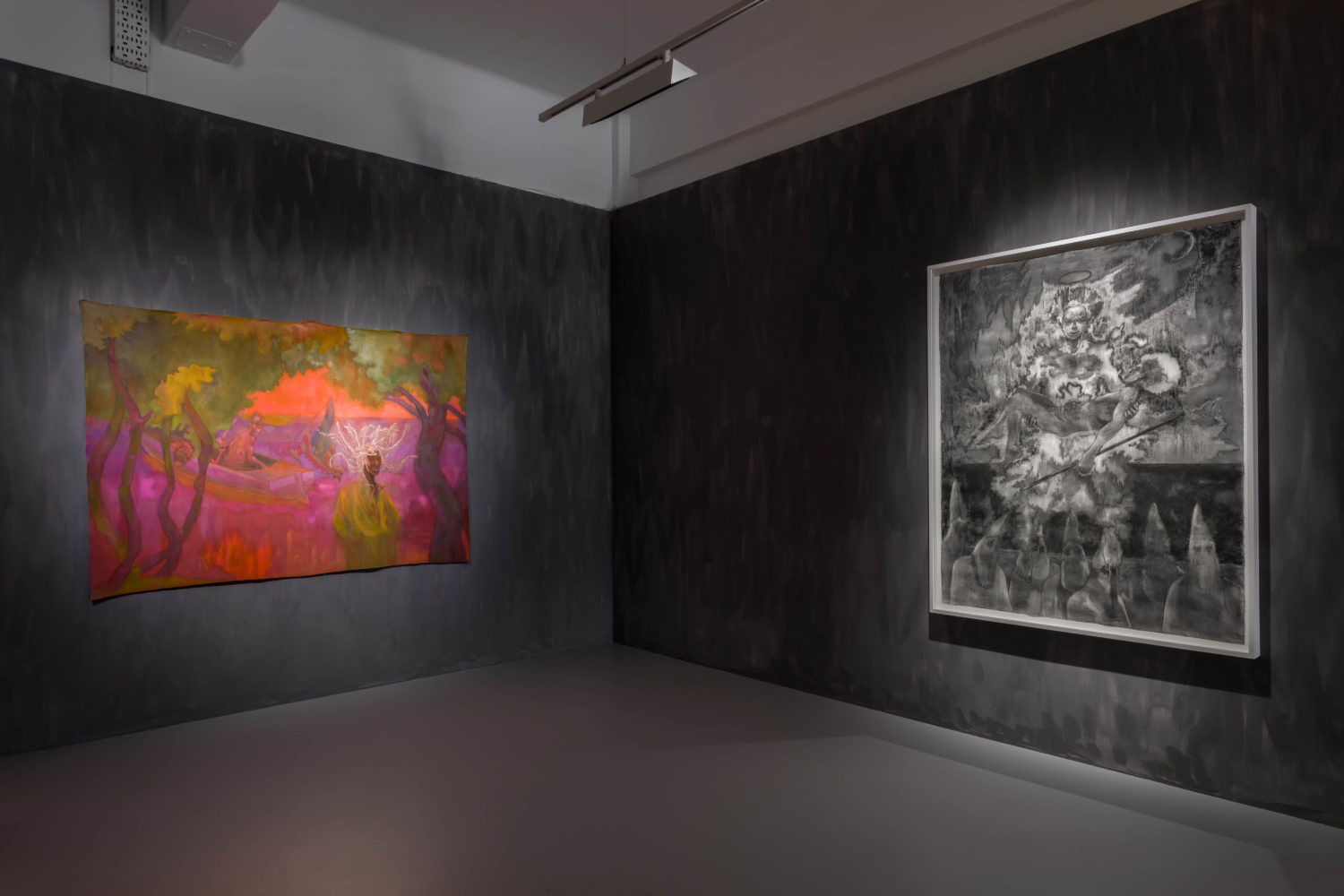 SC: What is the thinking behind the selection of works included in your new exhibition at Pilar Corrias?
SC: Since 2018 all my paintings have existed in the same sci-fi apocalyptic world. This show is no different. The title of the show, "20,000 Years of Fire and Snow", is taken from a line from a play I wrote in grad school (that takes place in the same world). The line obliquely refers to a post-fallout world consumed by nuclear radiation and climate driven environmental collapse. This suite of paintings for the most part all take place near or along the coast of the "Occidental Tower", the symbolic base of power of the "Altrightland". The Altrightland occupies the same territory in the future as the United States and is a play on "Altneuland" a canonical zionist novel that white nationalists in the USA somehow use to model their desire for a realised white ethnostate. The painting "the Occidental Tower The Capitol Citadel of The Alt-Rightland was Naturally Situated Over a Lake of Fire" essentially anchors the entire show and establishes the entry point for the viewer into the lives and material conditions of the characters that make up the fictional society in these paintings. The figures are all based on western historical/mythological references but find themselves variously mutated and afflicted beyond a threshold of contemporary racial recognition.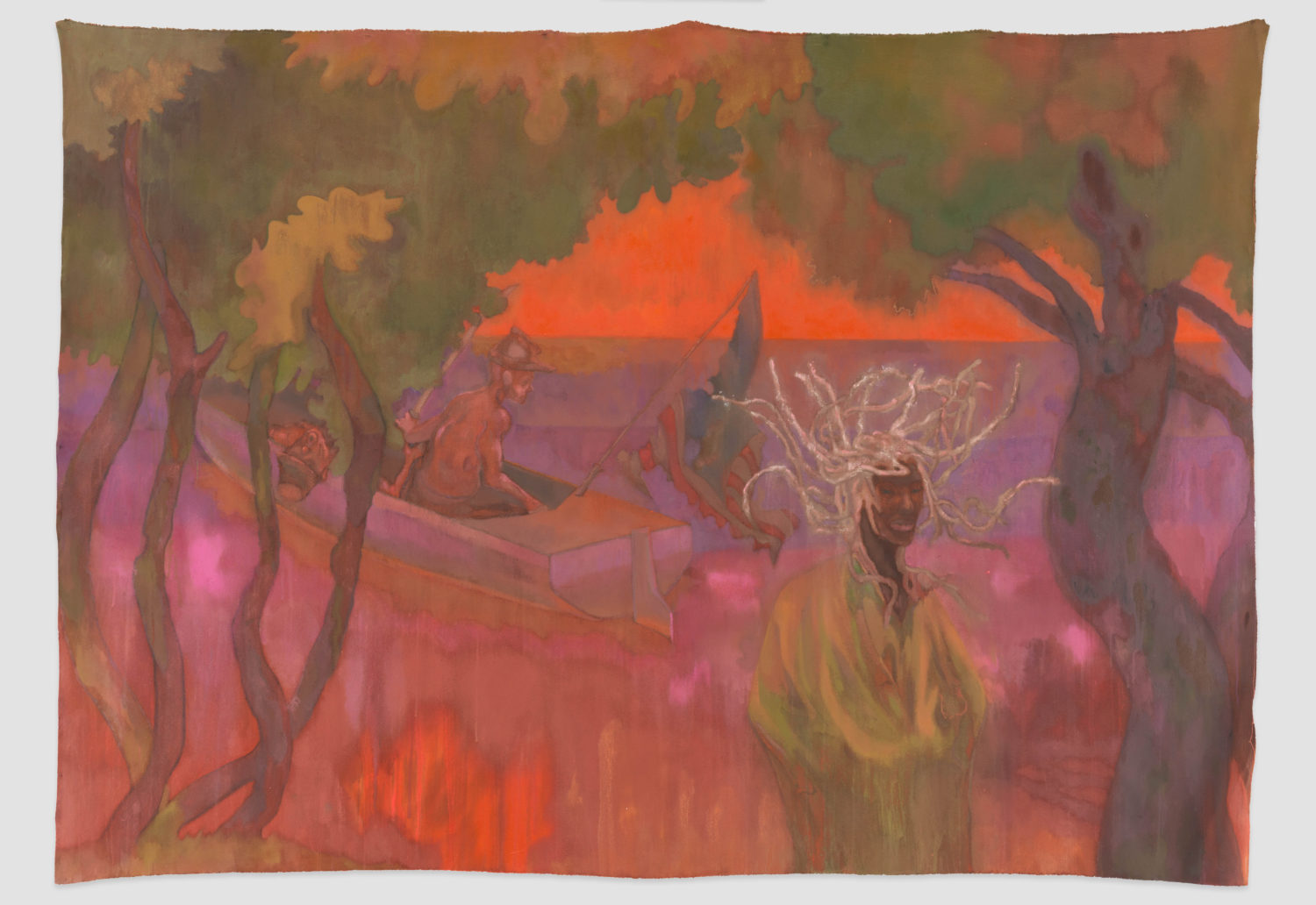 SC: Could you expand on your exploration of a post-Apocalyptic America — what draws you to this landscape? 
SC: For my whole life I've understood America as an empire in decay. And I'm drawn to fiction that articulates this decay, for example "Parable of The Sower". On an emotional level I tend to gravitate towards ambience, eeriness, dread, melancholy, decay and dreamy or hallucinatory trappings. One of my favourite scenes is the opening sequence in Apocalypse Now, and a more recent example of what I'm talking about was the atomic breathe scene in Shin Godzilla (2016). But it's funny that I'm referencing scenes from movies where things blow up because really I'm more drawn to slower moments that show what is left after the destruction. In my own work I typically return to images of lonely soldiers who fail at survivalism in a desolate landscape where there are only fragments of things that render America as a setting legible.
SC: How do you think about your work in relation to art history?
SC: "The Course of Empire" by Thomas Cole is a series of paintings I look at a lot. If someone looked at my work and thought "this guy must look at a lot of symbolist painting" they wouldn't be wrong as I'm obviously drawing from that lineage but more broadly I connect myself to world building practices. I constantly look at Goya's "Los Caprichos" etching series, Redon, Breugel, and Grunewald's work. In some instances, my paintings will specifically appropriate a canonical painting and reimagine its historical or symbolic context within my own world building to the point of alien resemblance to the initial reference. For example the painting of the Occidental Tower references Breugel's "Tower of Babel", but instead it is more about the decay and collapse of the society in my own world. The painters that most convince me of the efficacy of painting are those who simultaneously archived the society they operated within in their paintings yet also constructed a world for the viewer to be totally immersed in. For example Bruegel's "Massacre of the Innocents" or Gentileschi's "Judith Slaying Holofernes". Ideally, I would want my work to do the same.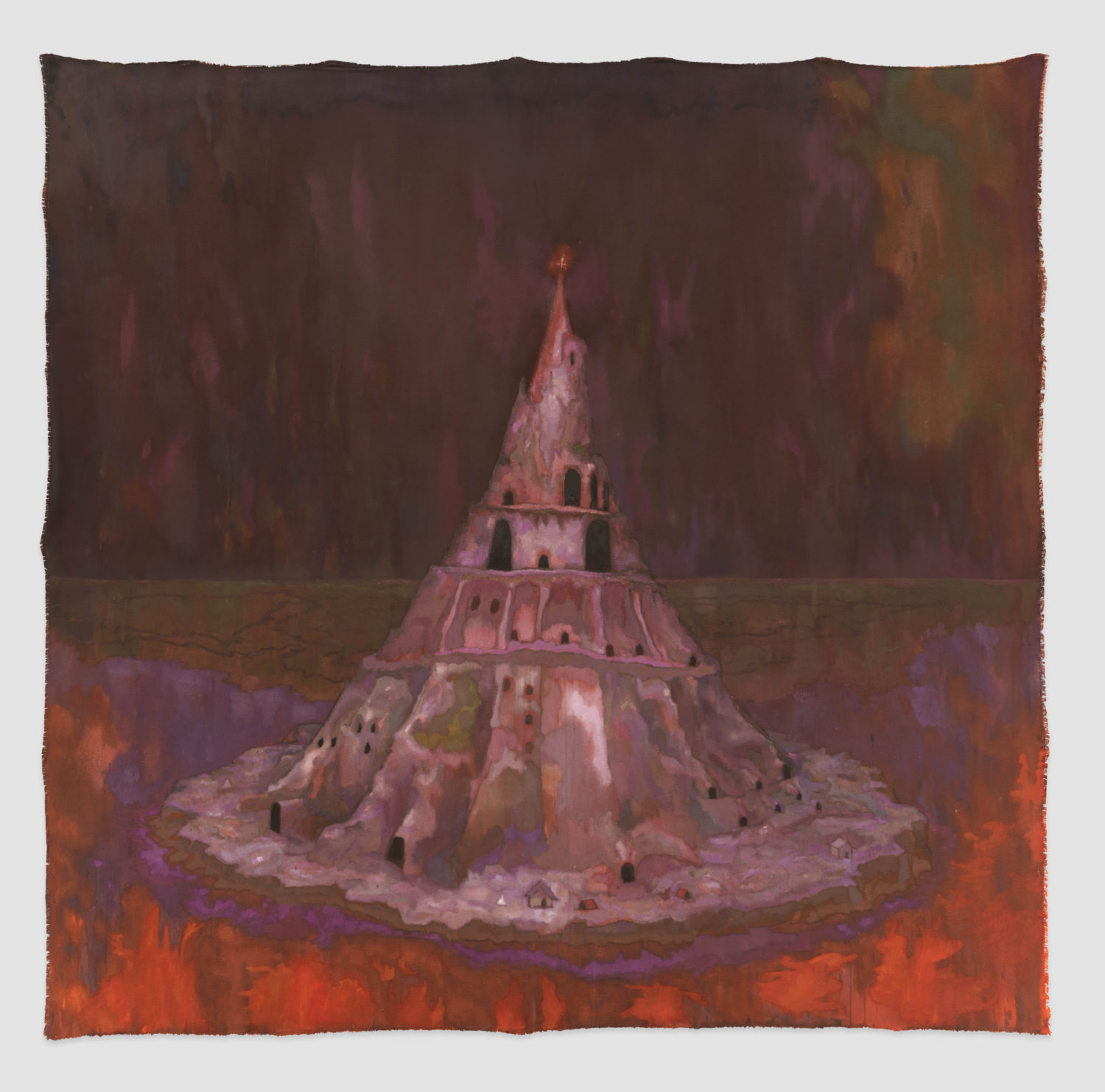 SC: You utilise a very particular palette — can you talk about your employment of colour? 
SC: I conceive of colour as really ominous stuff. It's one of the main ways I imagine someone reads my paintings as apocalyptic. A red sky is disquieting. All black eyes is the stuff of horror. Subconsciously people are always policing colour from being in a state of excess because colour works on an affective level similar to music. I.e. just as people noise police, people also colour police the world into mostly browns and greys, allowing for an occasional controlled burst of a hue. In other words, underneath this world of muted tones is the anxiety of disorder, infection, and excess. I'm interested in pushing colours to a near random combination of hues like if you picked up a kid's kindergarten crayon drawing but nonetheless the colour will have harmonic colour relationship principles underlying their arrangement and modulation. For a long time, between 2018-2019, I was using an extremely cold palette of violets, blacks, whites, and greens. In the summer of 2019 I decided to shift to as warm and heady and dreadful of a palette as I could conjure. The palette that resulted to me felt so hot that the figure or trees or ground looked like they could catch on fire if left in that environment for too long.
SC: What are you working on currently and how has the pandemic impacted your work or way of operating?
SC: Well I'm always painting and drawing and writing so I'm still doing all of that and I guess I'll sort out what I'm presenting where when my crazy deadlines come up. One of the main ways that the pandemic has changed how I worked is that I started thinking more actively about how I work. I started thinking about environmental conditions that make it hard for me to paint what I want to paint. Since in addition to my imagination, I work from archives of images I realised it's of paramount importance for me to always have good printed sources for me to sketch from. So now I have hundreds of books for any reference I might need. In the past it would frustrate me when I couldn't find what I was looking for online because it was too obscure, or the image was low resolution etc, and now I'm happy to say that problem no longer exists for me.



Sedrick Chisom, Twenty Thousand Years of Fire and Snow is showing at Pilar Corrias Eastcastle Street until 21 August 2021.



Feature image: Sedrick Chisom, Twenty Thousand Years of Fire and Snow, Pilar Corrias Eastcastle Street, 15 July-21 August 2021. Photography: Mark Blower. Courtesy of the artist and Pilar Corrias, London