Try Palestine Hosting Society Founder Mirna Bamieh's Rummaniyeh Recipe At Home
Palestine Hosting Society was conceived in 2017 by artist and chef Mirna Bamieh as an extension of her art practice, which looks at the politics of disappearance and memory production. Bamieh creates artworks that unpack social concerns and limitations in contemporary political dilemmas, and reflect on the conditions that characterise Palestinian communities. Bamieh's live art and culinary project explores traditional food cultures in Palestine, especially those that are on the verge of disappearing. Palestine Hosting Society brings these dishes back to life over dinner tables, talks, walks, and various interventions. Offering further insight into one of her favourite dishes, Bamieh shares with Something Curated her recipe for Rummaniyeh, a traditional Palestinian dish comprising lentils, aubergine, pomegranate and tahini. The below are her words.
Rommaniyeh is a Palestinian dish that derives its name from pomegranate. This dish is traditionally from Jaffa and Lod but with political and social changes in these cities, and the expulsion of many from coastal cities to Gaza due to its geographical proximity, the dish is almost forgotten in Jaffa and Lod, but preserved in the Gazan kitchen. It is cooked to this day, especially during the sour pomegranate season, with the addition of spices favoured by the Gazan palette, including dill seeds and red tahini.


Rummaniyeh / Habbet Rumman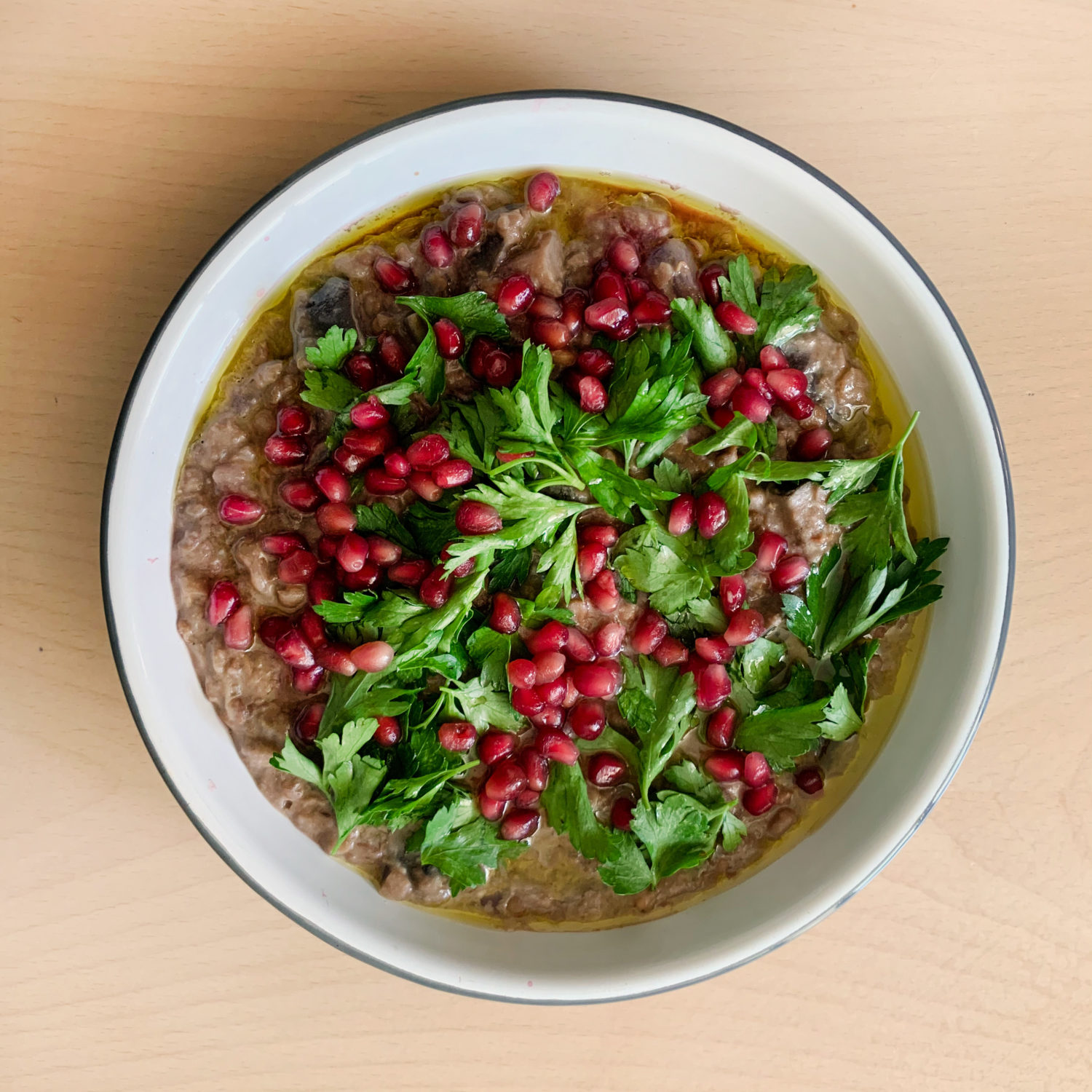 Ingredients:
4 cups water
1 cup brown lentils
6 cups 2cm diced half peeled eggplant
1 cups sour pomegranate juice or sweet pomegranate juice with 3 tbsp. lemon juice OR 2 tbsp, pomegranate molasses with 3 tbsp. lemon juice
2 tbsp. flour
1 tbsp, chilli flakes
1 tsp. dill seeds
1.5 tsp salt (adjust to taste)
6 cloves garlic
1 tsp. cumin
1 onion, finely chopped
½ cup olive oil
½ cup pomegranate seeds for garnish
½ cup parsley leaves
2 tbsp. tahini diluted in 2 tbsp. of lemon juice (optional)

Method:
Boil lentils in 5 cups of water, until tender but not fully cooked.
In a cup, combine the pomegranate juice and flour. Blend in a food processor and add flour until smooth.
In a mortar, crush the salt with dill and chilli, and add garlic.
In a pot, add the eggplants to the lentils and stir over medium heat for 15 minutes.
Then add the spices and leave to simmer for 30 minutes. Add the pomegranate juice and keep stirring until it thickens and is fully cooked.
Top with fried onions, parsley, and pomegranate seeds.



Feature image courtesy Mirna Bamieh