Interview: Arthur Timothy Injects Colour Into Scenes Of A Newly Independent Ghana
Opening tomorrow, 28 August, and running until 1 October 2021, Accra's Gallery 1957 presents a solo exhibition of new works from painter Arthur Timothy. Born to Sierra Leonean and Ghanaian parents in Accra in 1957 – the year Ghana gained independence from colonial rule – Timothy is an artist and architect, whose works depict close family members and autobiographical events, specifically in Accra, where the artist was born, and Freetown, where he lived until the age of 9. His large-scale oil paintings are inspired by an archive of black-and-white photographs – found amongst his father's papers – which he brings to life with vibrant colour, from both memory and imagination. Co-curated by Ekow Eshun, the works on show are a result of Timothy's recent re-examining of the post-colonial African life that informed his early years. In fresh washes of colour, Timothy's found photographs are transformed into lush paintings that marry the personal and the political, encouraging considered and nuanced responses to moments frozen in time. To learn more about his imminent exhibition, Something Curated spoke with the artist.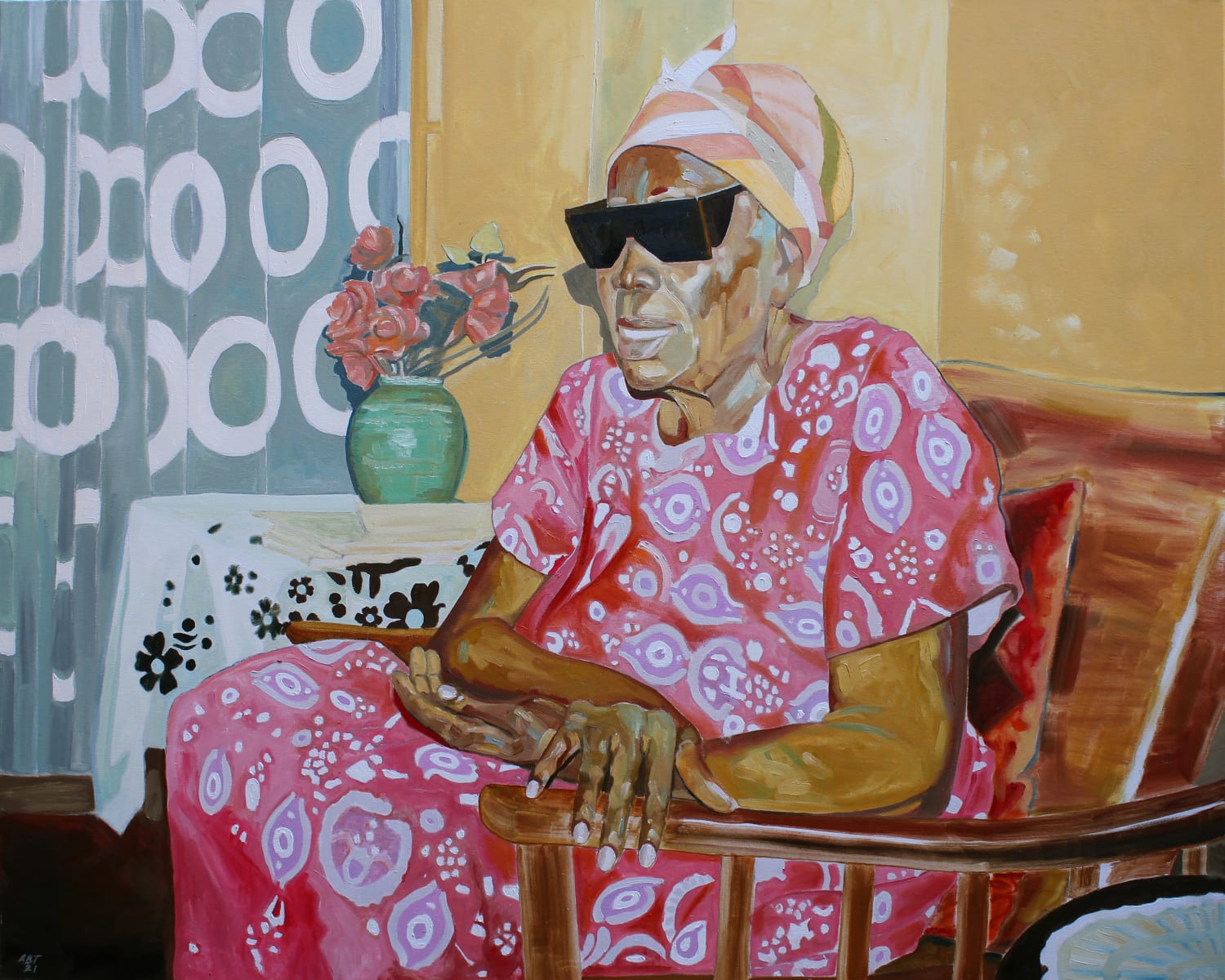 Something Curated: Can you give us some insight into your background and how you first became interested in painting?
Arthur Timothy: I was born in Accra, Ghana to a Sierra Leonean father and Ghanaian mother. My father was a journalist and editor of the Daily Graphic newspaper and my mother was a seamstress. My father was critical of the excesses of President Kwame Nkrumah and was subsequently deported (the deportation order was later rescinded) and my family moved to Sierra Leone. My family relocated to the UK in 1966 due to my father's new job in London and my brother, Desmond and I were sent off to boarding school in Somerset. I first became interested in painting as a child in Sierra Leone. My brother and I would spend time with our mother in her dressmaking studio, making drawings and paintings of cowboys and Indians.
When we arrived in London, I was given a small set of oil paints as a present, and I painted a landscape on hardboard. We lived in Bayswater, opposite Hyde Park and every Sunday artists used to display their work for sale along the railings. I was intrigued. I thought that I could paint as well, so one Sunday I took my landscape painting and stood alongside the other artists, holding my picture up for all to see. Many people stopped and spoke to me because they were intrigued to see a little boy there by himself… but no one bought it! At school I loved art classes and often won prizes. I would have like to go to art school or to study history but my father wanted me to go down a professional route. I have always painted, but it was more of a hobby as I went on to study architecture.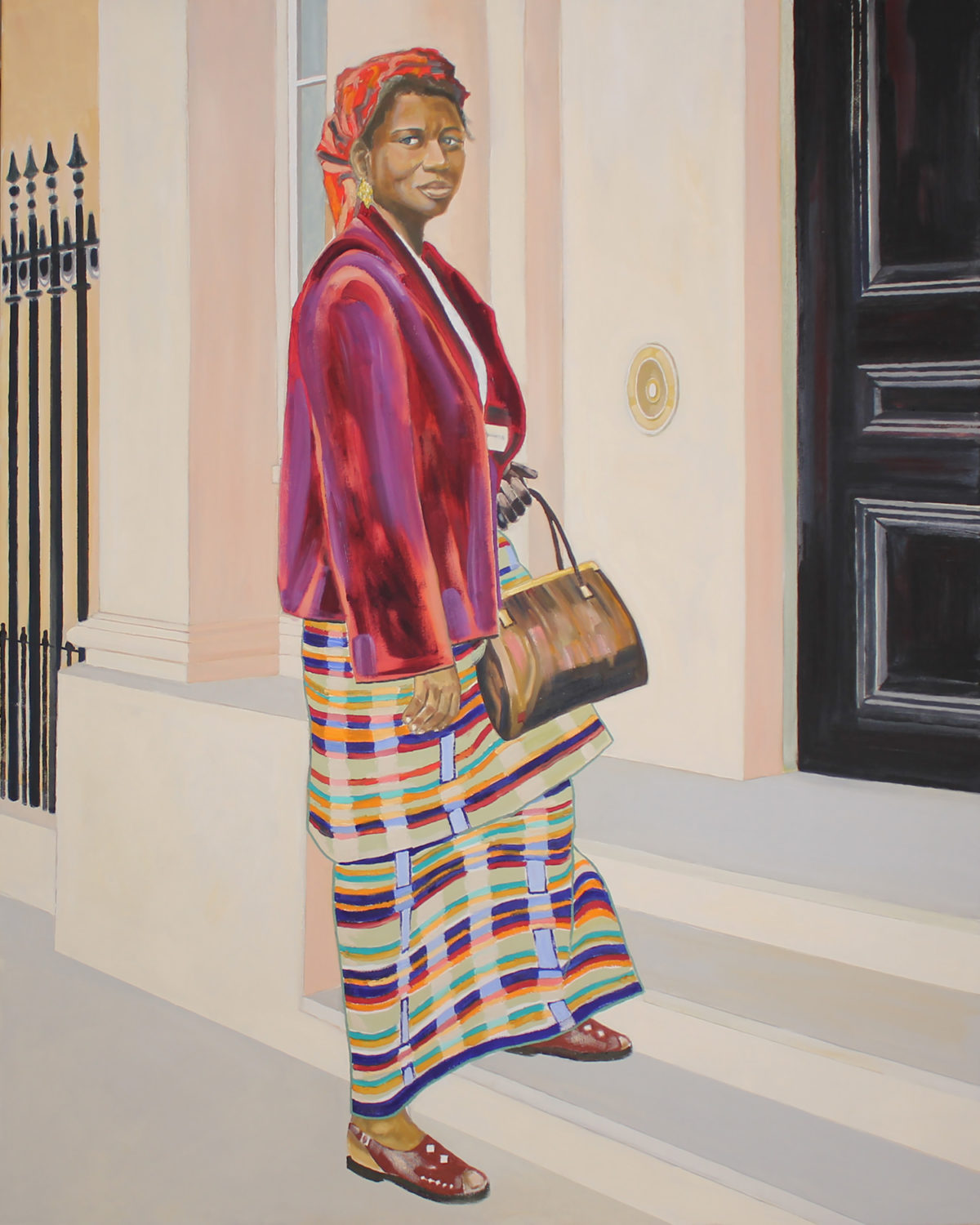 SC: What is the thinking behind the selection of works included in your upcoming exhibition at Gallery 1957?
AT: I found a large number of mainly black-and-white old family photographs in a trunk amongst my late father's papers. Many of them were taken during the period leading up to Ghana's independence from the United Kingdom and it was an exciting time for my parents to witness and be part of the birth of a new nation, free of the colonial yoke. There were also some lovely photographs of my parents before I was born, and some of my early years. I was interested in explaining this period through my paintings. The paintings feature my family members and some politicians of that era.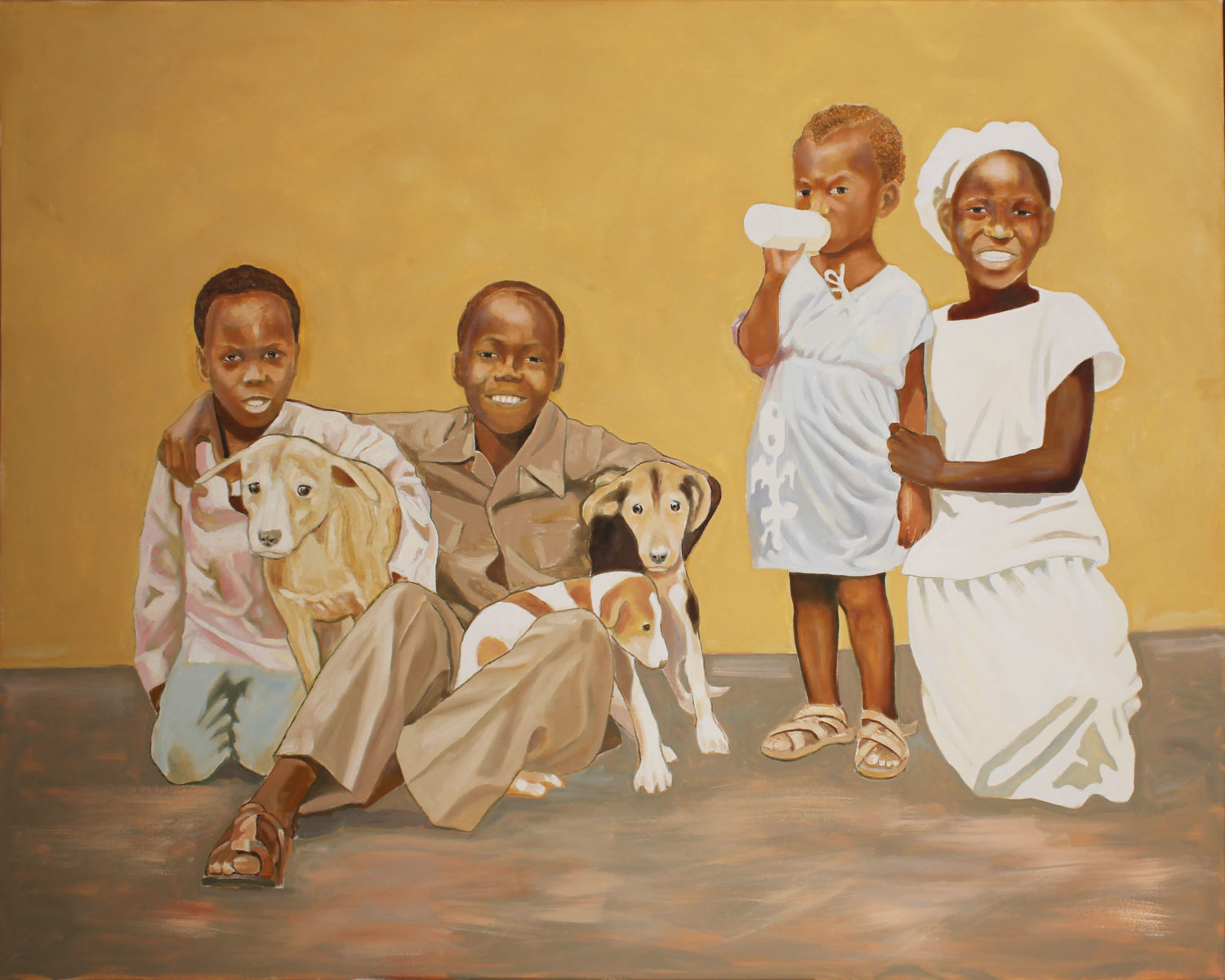 SC: What draws you to these particular archival images?
AT: I am drawn to the confidence, deportment and character of the people in the photographs. In some ways the process gave me the opportunity to engage with some family members who have since departed. It has resulted in me researching many of my family members who have led very interesting lives. The experience of painting a large canvas from a small black-and-white photograph is quite extraordinary. By examining the picture in order to paint it, more and more information comes to light that I was not aware of at first glance. It is like stepping into a room with the people featured and being a part of the action. I believe the paintings bring the images to life.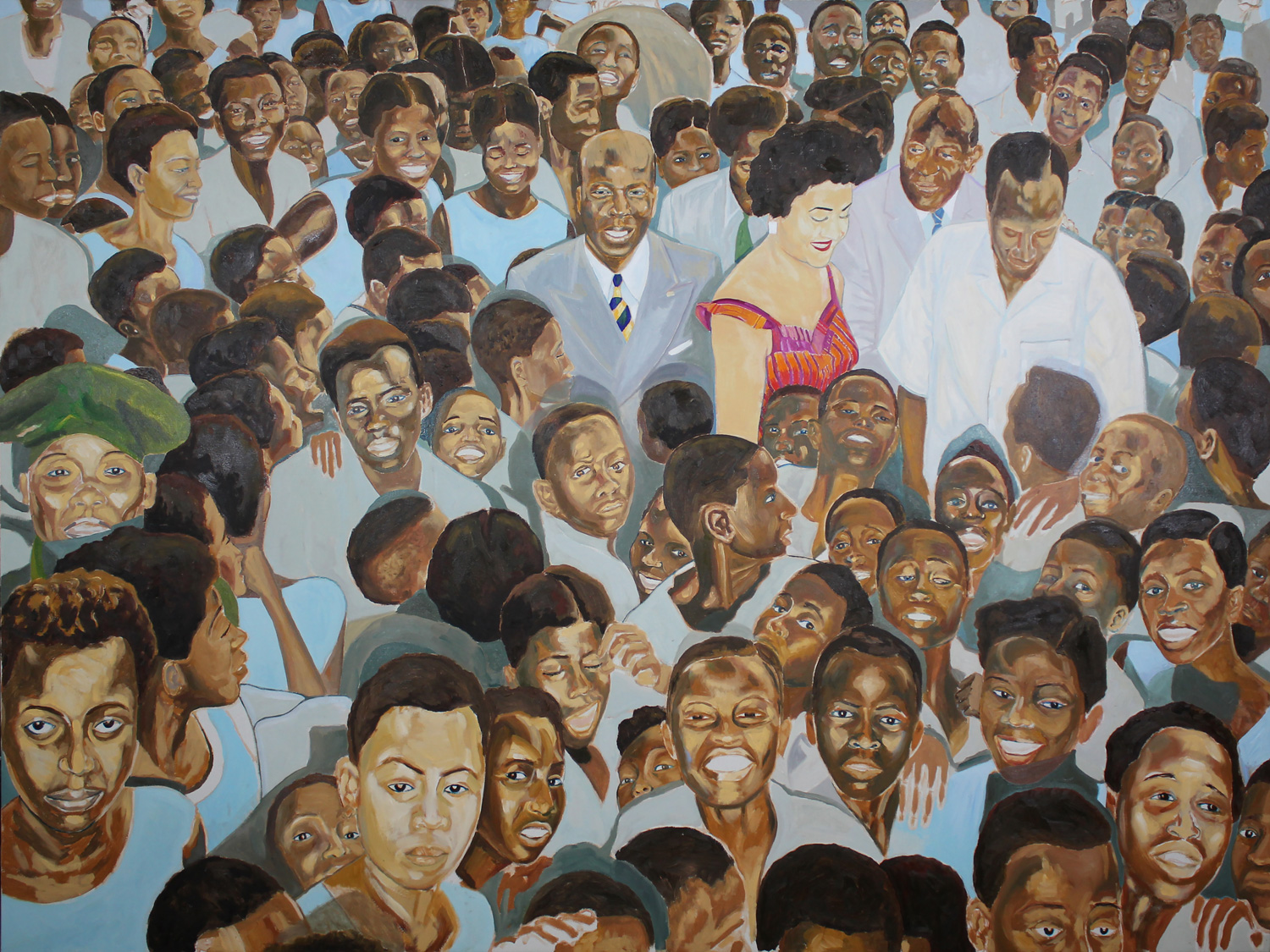 SC: Can you expand on your dynamic employment of colour?
AT: The colours I used in these paintings are often based on memory of scenes when I was present. In many paintings, particularly ones depicting family members in Ghana before I was born, the colours are taken from my imagination, but there is often a factual basis which reflects the bright colours, patterns and sunshine in the tropics. In several paintings the images have been embellished with imagined backgrounds relating to Ghana or Sierra Leone, or sometimes with reference to Gaugin paintings that I admire.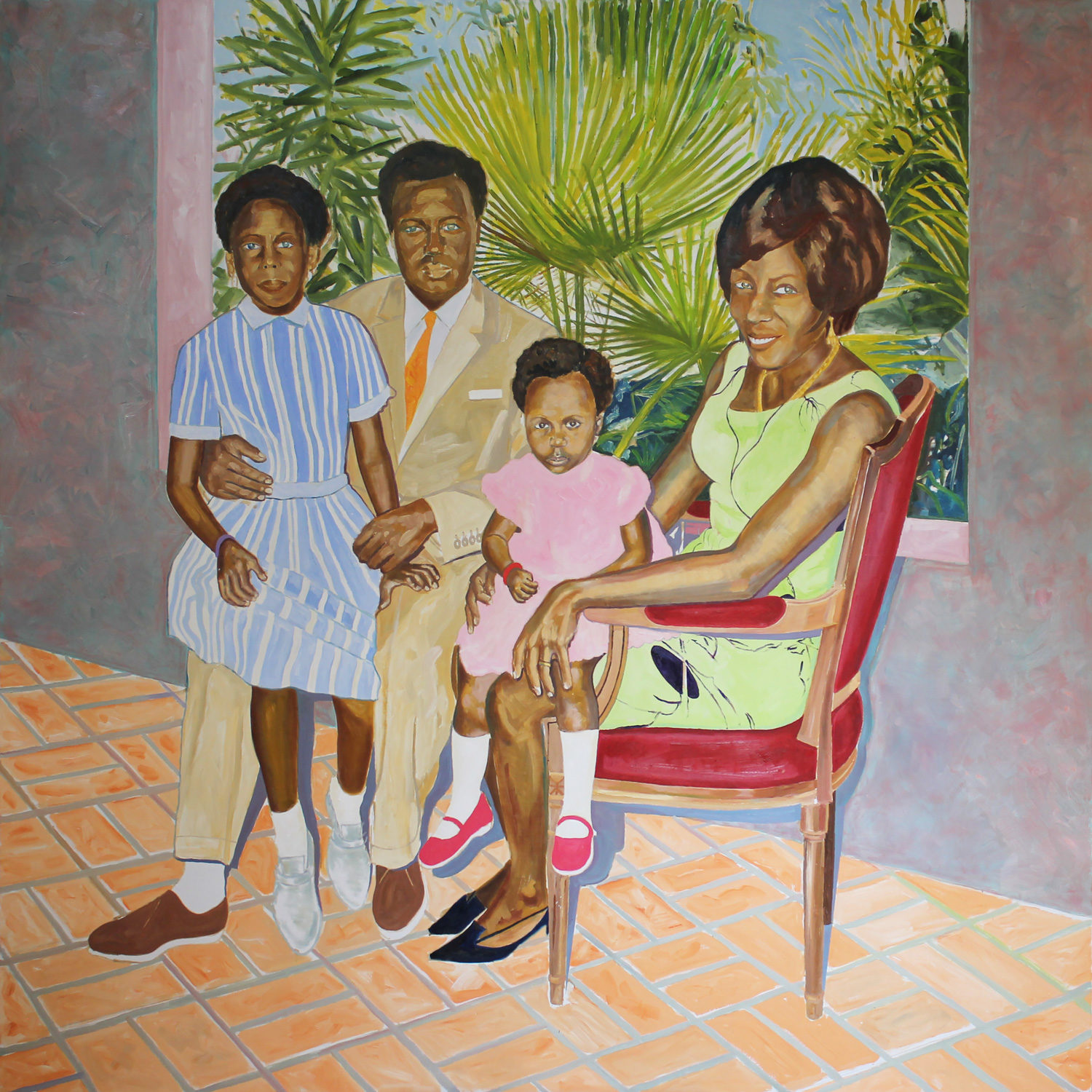 SC: How do you think about your work in relation to art history?
AT: Art history is, for the most part, Euro-centric and like history in general, has tended to exclude the achievements of many earlier civilisations. In a small way, I see my work in the context of documenting my personal family relationships during and after the colonial period. I think that we are perhaps entering a new period now where traditional art history will be expanded by the emergent voices and experiences from the Black Diaspora.
SC: What are you currently reading?
AT: Rembrandt's Eyes by Simon Shama; At Night all Blood is Black by David Diop; W.E.B Du Bois – A Biography by David Levering Lewis; Black Gold of the Sun by Ekow Eshun; The Complete Works of Velazquez by Jose Lopez-Rey.



Arthur Timothy: Grandma's Hands at Gallery 1967, Accra | 28 August – 1 October 2021



Feature image: Arthur Timothy, RUBICON, 2021. Courtesy the artist and Gallery 1957