Celestial Peach's Jenny Lau On The History Of Sweet & Sour
Jenny Lau is a British Chinese Londoner with roots in Hong Kong and Malaysia. She founded Celestial Peach as a platform to tell stories about Chinese food in the diaspora, and the people and cultures behind it. Her output encompasses personal and collaborative expression in the form of writing, researching, events and fundraising, touching the hyperlocal as well as global community. Celestial Peach is a reference to the legend of the Peaches of Immortality, which grow in the gardens of the goddess Xi Wangmu. One single bite bestows humans with eternal longevity. Expanding on the history, evolution, and mutations of the Chinese classic, sweet and sour, Lau shares with Something Curated her compelling perspective on the dish, alongside a mouth-watering Celestial Peach recipe to try and home. The below are her words.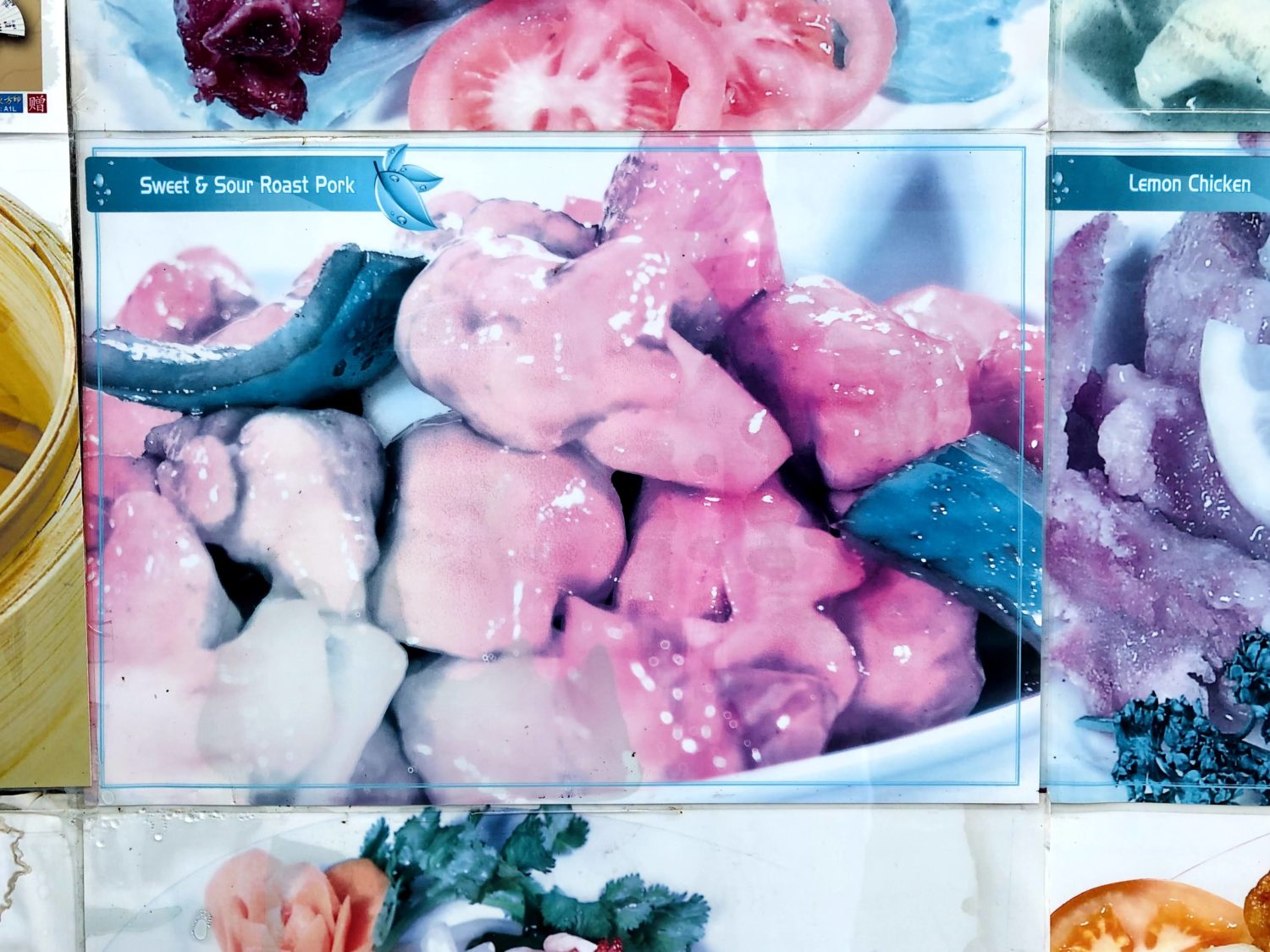 "The sauce was made from Fanta. I would be told to go and buy 6 or 8 bottles of Fanta for the next night. If I remember correctly, they would put the Fanta in the tub, add some more items, and then leave it on [the] hob for a while. Stir with ladles, then put [the] lid on and leave it for the next night shift. I asked why they used soft drinks and was told 'time and money'." The secret to cooking sweet and sour sauce, from one British Chinese takeaway worker, left as a comment on Felicity Cloake's Guardian article, "How to cook the perfect sweet and sour pork."
Somewhere on its journey to the gastronomic West, sweet and sour lost its mojo. The iconic flavour profile – the pairing of two of the five fundamental Chinese flavours – is one of the most recognised and beloved by exogenous consumers of Chinese food. But in sweet and sour's assimilation journey, it dropped its tang. All sweet, no sour. Those well-versed in the evolution of American Chinese or anglicised Chinese food will know how it came to be a dish that was "the colour of David Dickinson, and tasted of a cross between Tizer and orange-flavoured Nurofen" (in the words of Jay Rayner, fondly recalling his local takeaway's version in the 70s). Tweaked and simplified to suit Western palates, sweet and sour became the victim of its own success; takeaway customers' demands for junky thrills at low prices meant Chinese chefs had to find the easiest and cheapest way to make the sauce – and keep people coming back.
I would never go so far to say that this version is any less 'Chinese,' just as I find that 'authentic' has lost any real meaning when applied to food. Cuisines evolve with time and circumstances, their dishes as fluid and slippery as diasporic accents. However, it would do a disservice to this iconic British Chinese takeaway dish if we did not pay homage to its elegant Cantonese roots.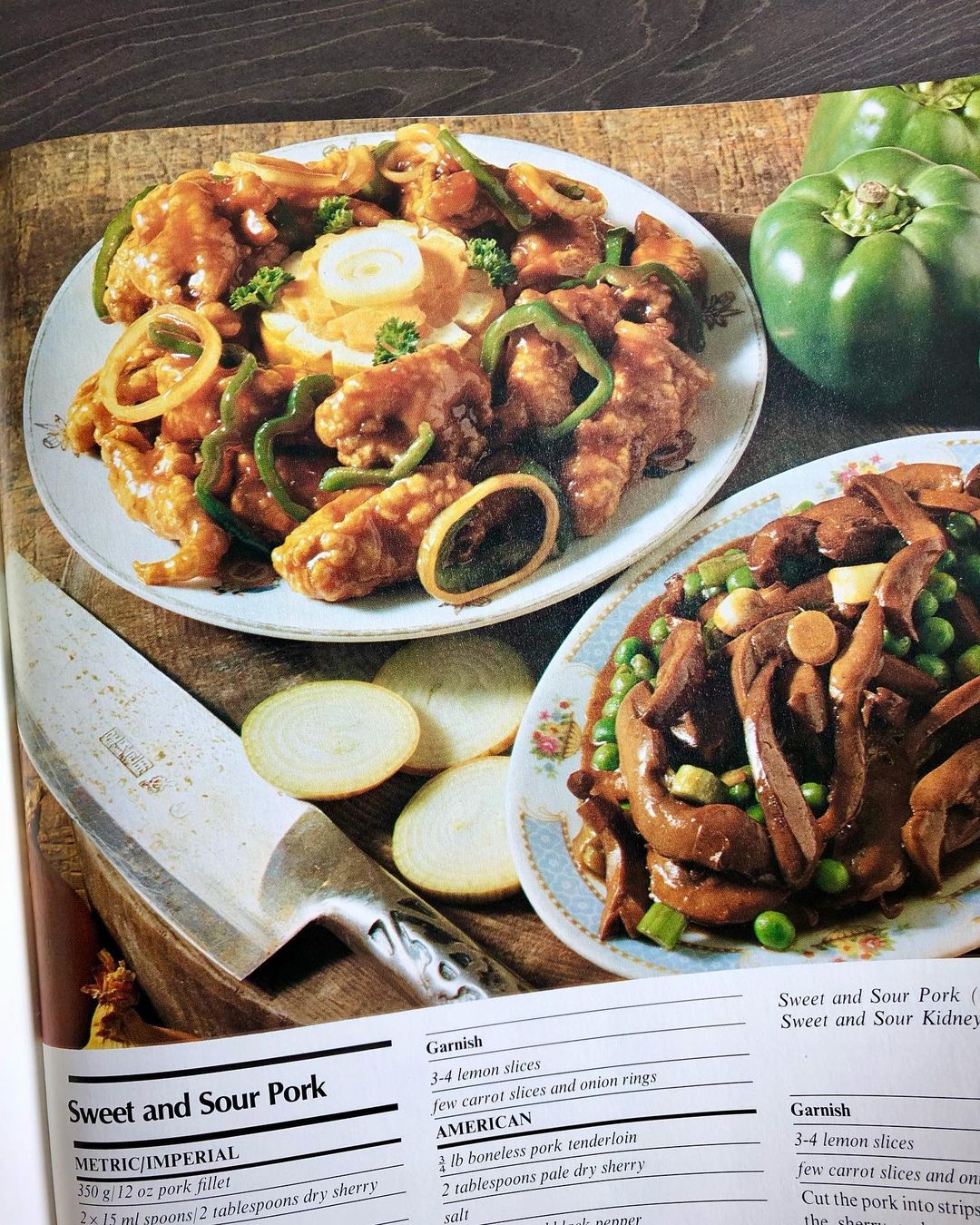 A well executed sweet and sour should strike a balance between those two of the five fundamental Chinese flavours. The typical Hong Kong version contains a recipe for its multicultural identity. Michelin-starred chef Alvin Leung, who has opened restaurants in London and Hong Kong, makes his sauce with white rice vinegar, hawthorn candy, ketchup, Worcestershire sauce, and dark soy sauce. In this formula alone, we get a glimpse into Hong Kong's diverse culinary influences. From the use of old-fashioned Chinese snacks, to colonially imported Worcestershire sauce (itself an appropriation of Indian fermented fish sauce, encountered by the East India Company in the 1830s), to ketchup – whose 17th century Chinese origins made its way via Malaya as 'kicap' to the British aisles and back again in its repackaged new identity to every Hong Kong-er's larder – where it's used in more recipes than you realise.
Say what you will – pineapple very much belongs in this dish; tropical fruit is abundant in Cantonese cooking and thus often integrated into meat dishes. Indeed, I have a theory that people who grew up eating fruit with their meat have no prejudice against Hawaiian pizza at all.
What about its Cantonese name, 'gu lo yuuk' (咕老肉)? A curious origin story; while 'yuuk' means meat, 'gu lo' has a more obscure meaning. Some say gu lo is a phonetic phrase that describes a gulping sound, made when the fragrant dish arrives at the table. Others say gu lo means that the dish has ancient origins, since the words for ancient are also pronounced gu lo (albeit in different tones). Its roots can probably be traced back to a sweet, vinegary spare rib dish from Jiangsu province. Just as there is a Hong Kong version of Cantonese sweet and sour sauce, so there are countless Chinese regional variations. Zoom out and pan across the globe, and we find that every cuisine has a sweet and sour sauce to its name. There's a reason sweet and sour has adapted and mutated so far from its origins, like an edible game of Chinese whispers. Everyone loves sweet and sour, and long may it stay that way. 

 
Celestial Peach's Naturally Sweet & Sour Sauce


I'm adamant that people should never buy bottled sweet and sour sauce, because if you read the list of ingredients you would realise that it's mostly water and sugar. I like to make my own sweet and sour sauce with no added sugar, using fruit juice instead for sweetness, which sets off nicely with the tartness of vinegar.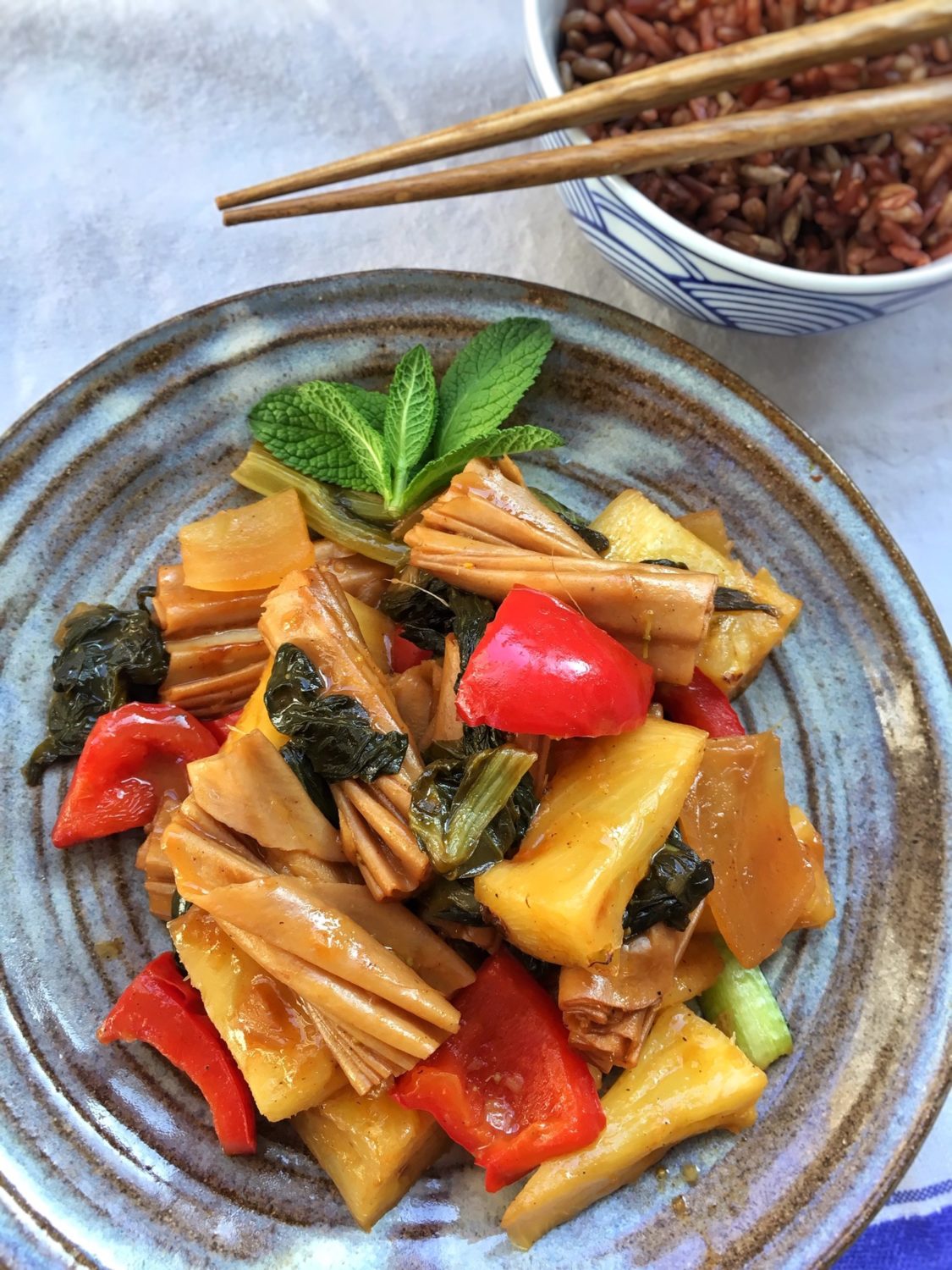 Ingredients:
• 1 tbsp vegetable oil
• Half an onion, diced into even bite size pieces
• A few slices of ginger, peeled and smashed
• 1 medium chilli pepper, chopped (optional)
• 2 bell peppers in different colours, diced into even bite size pieces
• 200ml orange juice
• 1 tbsp Shaoxing rice wine or dry sherry
• 1 tbsp light soy sauce
• 1/4 cup rice vinegar
• 1 tbsp cornstarch
• 300g pineapple, diced into even bite size pieces
Method:
• Heat the oil in a large saucepan or wok to smoking point.
• Stir fry the onion on medium/high heat, keeping everything moving until translucent.
• Add the ginger, chopped chillies and bell pepper and continue stir frying for a few minutes.
• Add in all the wet ingredients, bringing everything back up to a boil before lowering to a simmer.
• Mix the cornstarch with water to make a slurry, then slowly add into the pan until the sauce is of a desired consistency.
• Add the pineapple. Keep everything moving, but be careful not to break up the pineapple chunks. We want it to caramelise in the pan but not get overcooked.
• Your sauce is now ready to pour over your protein of choice.




Feature image: Dish with Peaches and Bats, Qing dynasty (1644–1911), Yongzheng period (1723–35), 18th century, China. Photo: The Metropolitan Museum of Art