Try Making Chef Louis Korovilas' Comforting Genovese Ragu At Home
Louis Korovilas, formerly of London dining staples Locatelli and Bancone, is set to open Noci in February 2022, a new neighbourhood pasta restaurant in the heart of Islington. Overlooking Islington Green, Noci, which translates to walnut in Italian, will draw inspiration from Korovilas' travels across Italy and the rich, regional specialties of the country with a short and varying menu of pastas and a modern take on Italian street food snacks. As in Italy, dishes will change with the seasons, using only the freshest available ingredients delivered daily from local suppliers. Nodding to Sicily's bustling markets and street friggitoria vendors, a range of deliciously hot and salty snacks will be on offer to kick-start any appetite. And among the heartier dishes available, a classic Neapolitan Genovese ragu, traditionally known as 'poor man's ragu' due to its overwhelming ratio of onions to meat, will offer a robust sauce of veal, pork and onions tossed with tubes of paccheri. Ahead of the new restaurant's launch, Korovilas shares with Something Curated his recipe for this delightful dish. The below are his words.



Paccheri, Veal & Pork Salsa Genovese Ragu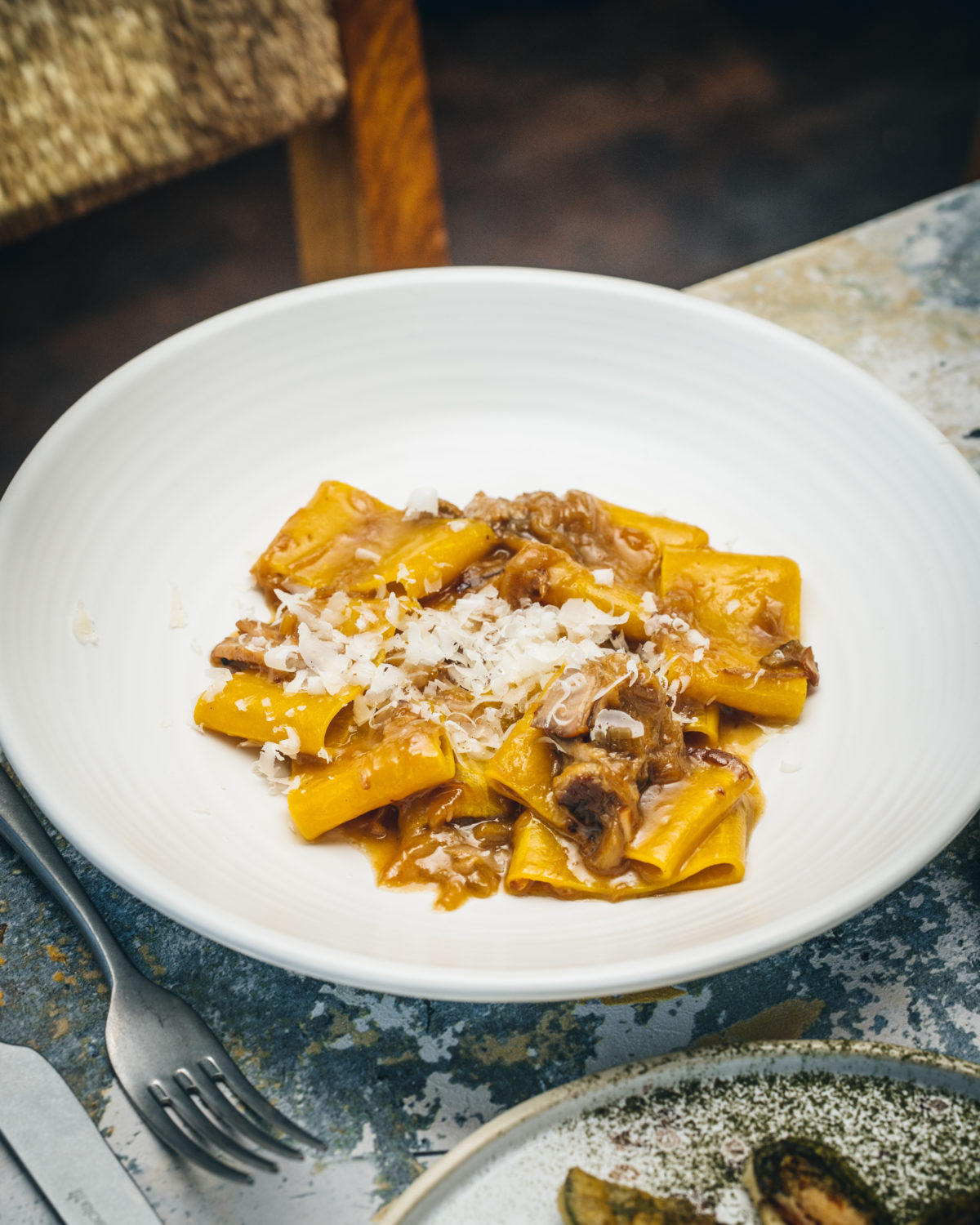 Our Genovese ragu is made with a ton of slow-cooked onion along with pork and veal, although it takes time to simmer slowly it creates the richest, slightly sweet sauce for pasta. It doesn't require much attention and is super simple to make.


Ingredients for ragu:
100ml olive oil
200ml dry white wine
2 sticks of celery – finely sliced
1.5kg of white onions – finely sliced
3-4 bay leaves
1 litre of quality chicken stock
150g pork neck
150g veal silverside
Salt and pepper
600g fresh paccheri pasta


To finish:
100g cubed butter
100g freshly grated parmesan or pecorino sardo


Method:
1. In a heavy based pot or casserole dish add the olive oil and heat to just below smoking point
2. Season your pork and veal well with both salt and pepper on all sides
3. Add the meat to the hot pan, sear about 2-3 minutes on each side until golden brown all over
4. Remove meat from the pan – there should be some caramelisation on the bottom from the meat – keep this!
5. Add the wine and using a wooden spoon mix the caramelisation into the liquid
6. Reduce the wine until there is almost nothing left
7. Add meat back to the pan and cover with onions, celery, and bay leaves – do not mix
8. Allow the bottom layer of onions to catch slightly (this helps create the rich colour later on)
9. After 2-3 minutes stir the mixture together, then turn the heat up to max for about 1 minute
10. Place a lid on top, then turn the heat down to the lowest flame on the smallest hob – leave to braise for 5 hours, check every 20 minutes to ensure it is not catching. Adding chicken stock if needed
11. Once the onions are completely broken down, shred the meat and mix together – the meat should be super tender
12. In a separate pot add salt to boiling water
13. Add the pasta to the salted water for 1-2 minutes until al dente – then drain but make sure to reserve a good amount of pasta water
14. Add the pasta to the ragu and mix together, adding pasta water until your desired consistency
15. Finally add your cubed butter and grated cheese, stirring vigorously – be careful not to let the butter split
16. Taste for seasoning and adjust as desired
17. Serve with extra cheese if preferred



Noci will open on Islington Green in February 2022. Ahead of the restaurant's launch, Louis Korovilas is hosting a pop-up at Mortimer House from 24-27 November 2021, with reservations available now.



Feature image: Paccheri, Veal & Pork Salsa Genovese Ragu / Courtesy Noci