Celebrate The Year Of The Tiger With Bun House Chef-Founder Z He's Mouthwatering Recipes
Z He, alongside her husband Alex Peffly, is behind London's Bun House, Wun's, and most recently, Pleasant Lady, a to-go crêperie. Bun House opened in Soho in early 2017 with a focus on traditional Canton-style steamed buns and house-made Chinese pickles. The eatery moved to Lisle Street in Chinatown in 2019, and the former Soho site now houses Wun's, a late-night restaurant and bar that captures the spirit of 1960's Hong Kong, featuring nostalgic dishes from Z's childhood. From 31 January, Wun's will be serving a Chinese New Year feasting menu, with a line up of traditional festive dishes alongside classic Cantonese favourites. And then in February, Bun House are launching a special menu inspired by the year of the tiger, comprising a selection of their much-loved themed buns alongside smaller snacks. To celebrate the imminent approach of the Chinese New Year, Z shares with Something Curated the recipes for three sumptuous and suitably festive dishes to try at home. The below are her words.



Smoked Eel or Mushroom Egg Drop Soup
Egg drop soup is my family tradition to have usually on the third day of Chinese New Year (CNY) after a couple of big meals in a row at the beginning of the festivities. We would save the odd bits or ends of chopped vegetables or meat and throw it in the soup. We call the egg drop soup "egg flower" soup in Chinese. Though egg drop soup isn't a typical CNY tradition, we have created one in our family because my grandma told me "flower" also means "blooming" and "blossom," so it is a lucky soup to have! The below recipe serves 8.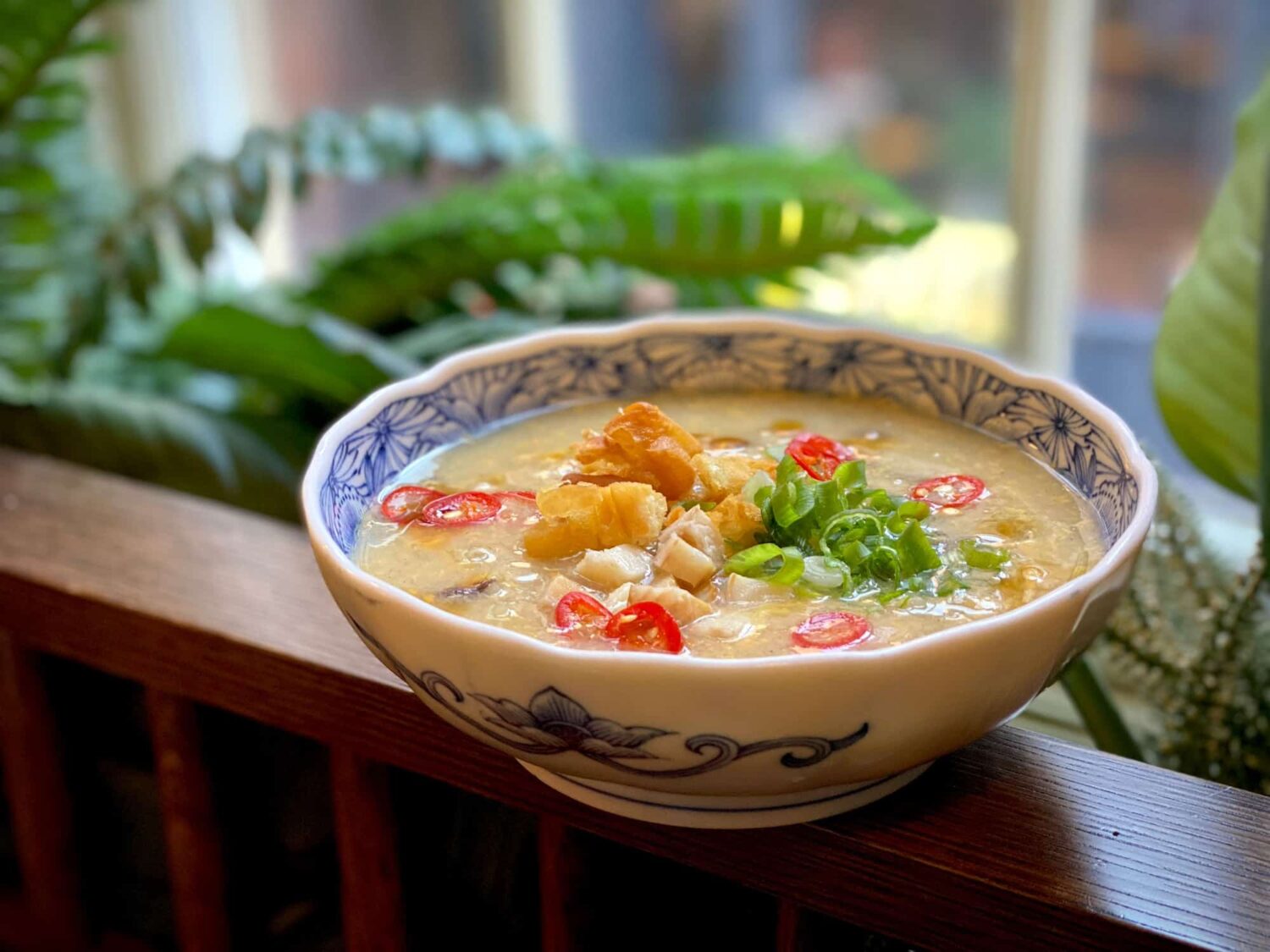 Chicken stock ingredients:
2.8l water / 150ml water / 30ml water
1kg chicken bones and carcass
1 knob sliced fresh ginger
3 Szechuan pepper corns
2 star anise
6 St Ewe rich yolk eggs
90g cornstarch
10ml sesame oil
10g white pepper
12g salt
40g wood ear fungus
40g white fungus or snow fungus
15g dried shrimp
Garnish ingredients:
50g smoked eel
50g fried Chinese doughnut (youtiao)
1 bunch spring onion sliced finely (green parts only)
Method:
Begin by making the chicken stock. Place bones or carcass on a roasting tray and bake in the oven at 200°C till browned. Transfer all ingredients into a heavy bottom pot and fill with cold water. Bring it up to heat and simmer until stock is reduced by half. Then pass through a fine mesh sieve and allow to cool. Separate fat that rises to the top and discard.
Next start by rehydrating both dried mushrooms in boiling water for 20 minutes. Once done, squeeze and drain them. Roughly chop both and set aside.
Place your chicken stock back on the heat. Whilst it is warming, create a cornstarch slurry by whisking cornstarch with the 150ml of water. Then slowly incorporate the cornstarch into the warm stock, stirring constantly. Over a minute or so it will start to thicken. Once done, add hydrated mushrooms, sesame oil, dried shrimp, white pepper and salt.
Crack your eggs and whisk thoroughly with the 30ml of water, this helps bring the egg together and helps with pouring. Get your mixture into something that is easy to pour. Once ready, begin to stir the soup in a circular motion to create a vortex and in a steady stream add the egg. As you do so you will begin to see ribbons of egg appear. Be careful not to have the soup on too hot as the egg can quickly overcook.
Garnish with slices of crumbled eel and fried donut and a sprinkling of freshly sliced green onion.



Char Sui Sugar Skin Iberico Pork
Char siu is such a classic dish, however our version is slightly elevated which is why we love it so much. The sugar skin crust gives the dish a light crunch to balance out the fatty belly cut whilst enhancing the juiciness of the meat. Char siu is a very common dish eaten for lunch or dinner. When I was little our family would always order in char siu and a portion of roast duck from our local roast shop when we had guests over. It is such a delicious dish always guaranteed to bring people together, which is why I have kept the dish on our CNY menu, as this time of year is a time for friends and family to come together and celebrate the prosperous year ahead!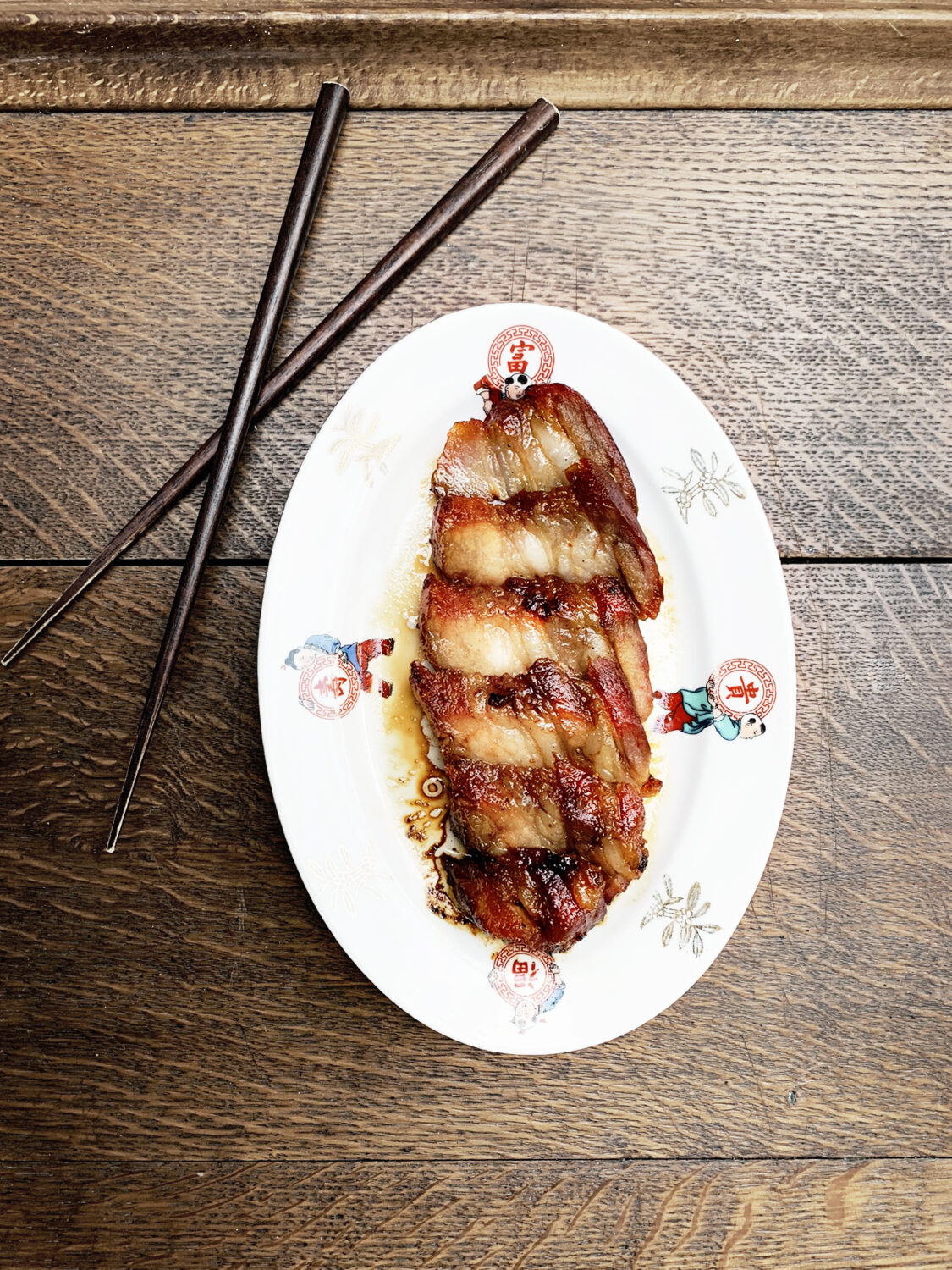 Char siu sauce ingredients:
75g nam yu (red fermented tofu)
100ml hoisin sauce
100ml fermented bean sauce
100g sugar
60ml oyster sauce
Char siu sauce method:
Combine all ingredients and mix well. Char siu sauce can be pre-made and stored in jars for future marinades. To make a smaller batch simply reduce the ingredients in ratio.
Marinade ingredients:
50g sugar
10g salt
400ml soy
200-250ml char siu sauce
50ml honey
Other ingredients:
1kg Iberico pork belly (skinless and boneless)
Sugar skin dust ingredients:
100g sugar
10g salt
10g chicken powder
10g 13 spice
5g sand ginger powder
Method:
Cut pork belly into approx. 6×2 inches long thick strips.
Combine all marinade ingredients (except the honey) and mix well.
Add pork into sauce and marinade for minimum 2 hours or overnight for a better result.
Preheat the convection oven to 200°C.
Mix all sugar skin dust ingredients together and set aside.
Place pork on a rack and roast for 23 minutes.
Take the rack out of the oven and flip all the pork; brush honey on all surfaces of the pork.
Put it back into the oven and roast for another 20 minutes or until edges are lightly charred with a shiny and lightly golden finish.
Set aside to cool. Before serving, coat the cooled-down pork strips with sugar dust. Put back into the oven for 2 min or until sugar dust melts with a slight char on the edges.
Let the pork cool until the sugar crisps up then serve.



Lo Hei Salad
Lo Hei, is a Teochew style raw fish salad of tossed vegetables, pickles, cured seabass, and roasted peanuts. This tangy dish – named the 'Prosperity Toss Salad' – is traditionally tossed with chopsticks, with the higher the toss indicating the better luck that person will have in the New Year. The salad is topped with roasted peanuts, an auspicious snack in China, symbolising longevity, vitality, wisdom and prosperity.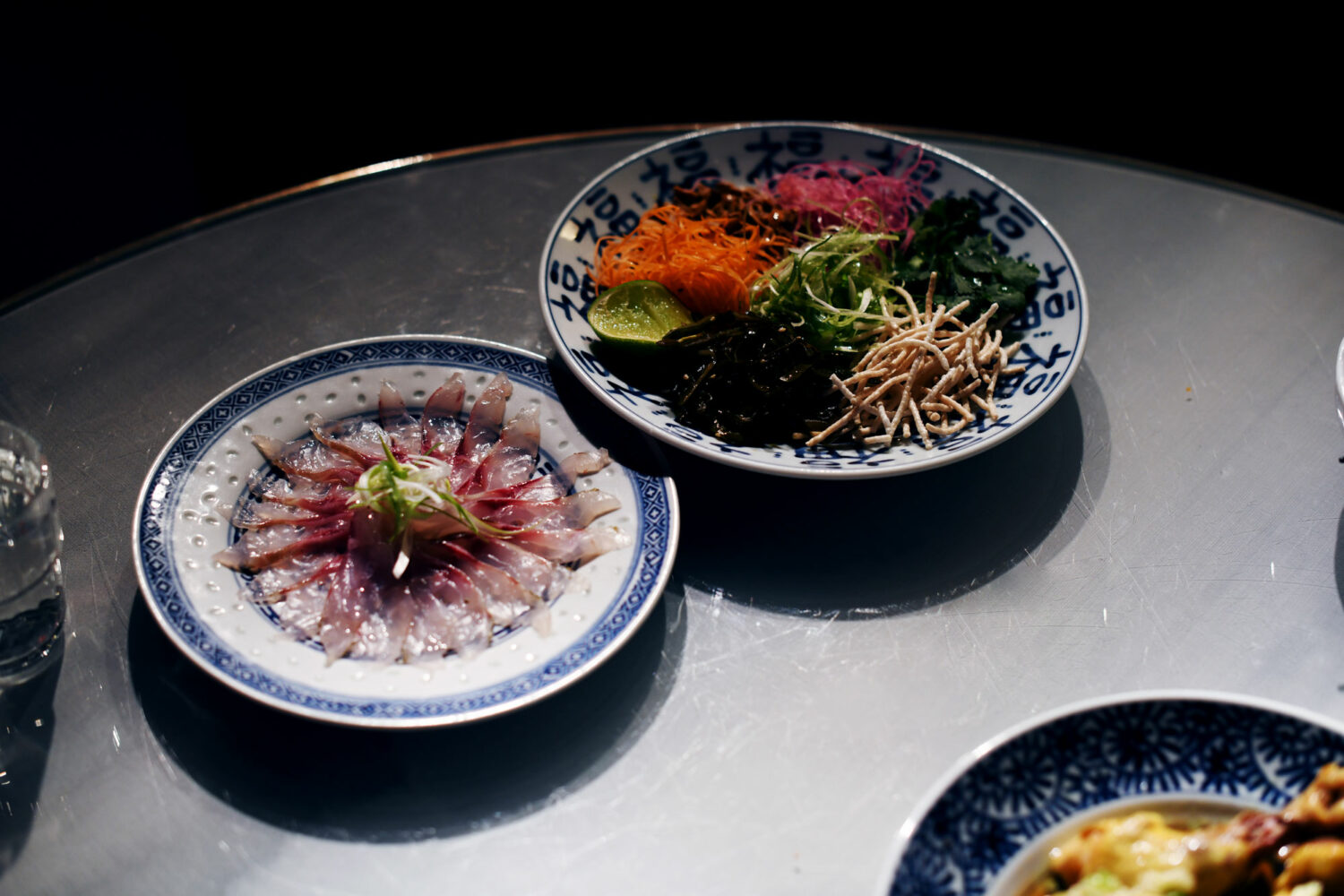 Salad ingredients:
3 spring onions (greens only), sliced length wise into strips
½ carrot, spiralised or fine julienne
40g daikon spiralised or fine julienne.
A good handful of coriander leaves, leave some stem attached for texture
2-3 large spoonfuls of crushed and toasted peanuts
20g pickled ginger
20g pickled kelp
15ml plum sauce
½  a lime
(Optional: 40g cubed pomelo)
Fish cure ingredients:
A fish fillet of your choice 100g–150g (deboned and skinned)
100g sea salt
10g caster sugar
10g green Szechuan peppercorns
Zest of 2 limes
1-2 tbsp. baijiu
Method:
Lightly curing your fish, take your fillet, and brush it with baijiu. Let it stand for 5 to 10 minutes.
Meanwhile, blitz your peppercorns into a powder and combine it with sugar and lime zest and mix until you have a fairly aromatic sugary mixture.
Add this mixture to the sea salt and pound it lightly with a pestle and mortar until incorporated.
Place some of the salt on a tray and lay the fish on top.
Cover the fish with the remainder of the cure and place in the fridge; allow it to cure for 30 to 40 minutes depending on the size of your fillet.
Toss your salad:
Meanwhile assemble your vegetables, coriander, peanuts, and pickles in a neat circle on a large deep plate.
Rinse your fish from the cure, pat dry and slice it into thin strips. Place the fish on top of the assortment of ingredients.
Spoon over the plum sauce and give it a squeeze of lime juice.
Toss all the ingredients together and enjoy.


Feature image courtesy Wun's Tea Room