Why David Hammons Sold Snowballs On The Streets Of New York
On a chilly winter's morning in 1983, beside various other street vendors in New York's East Village, artist David Hammons peddled snowballs of various sizes to curious passers by. He carefully arranged the icy spheres out on a woven rug in graduated rows and spent the day acting as a salesman. He dubbed the short-lived and unannounced street happening Bliz-aard Ball Sale, inscribing the performance into a body of work that, from the late 1960s to the present, has utilised ephemeral actions and found materials resonating with Black culture to comment on the art world and race in America. Though Bliz-aard Ball Sale has been frequently cited and is increasingly influential, it has long been known only through a mix of eyewitness rumours and a handful of photographs. Interestingly, Hammons never spent time publicising the now celebrated performance. The pictures his friend Dawoud Bey took of the artist selling snowballs remained unknown for a long time before going onto make Hammons an internationally recognised artist.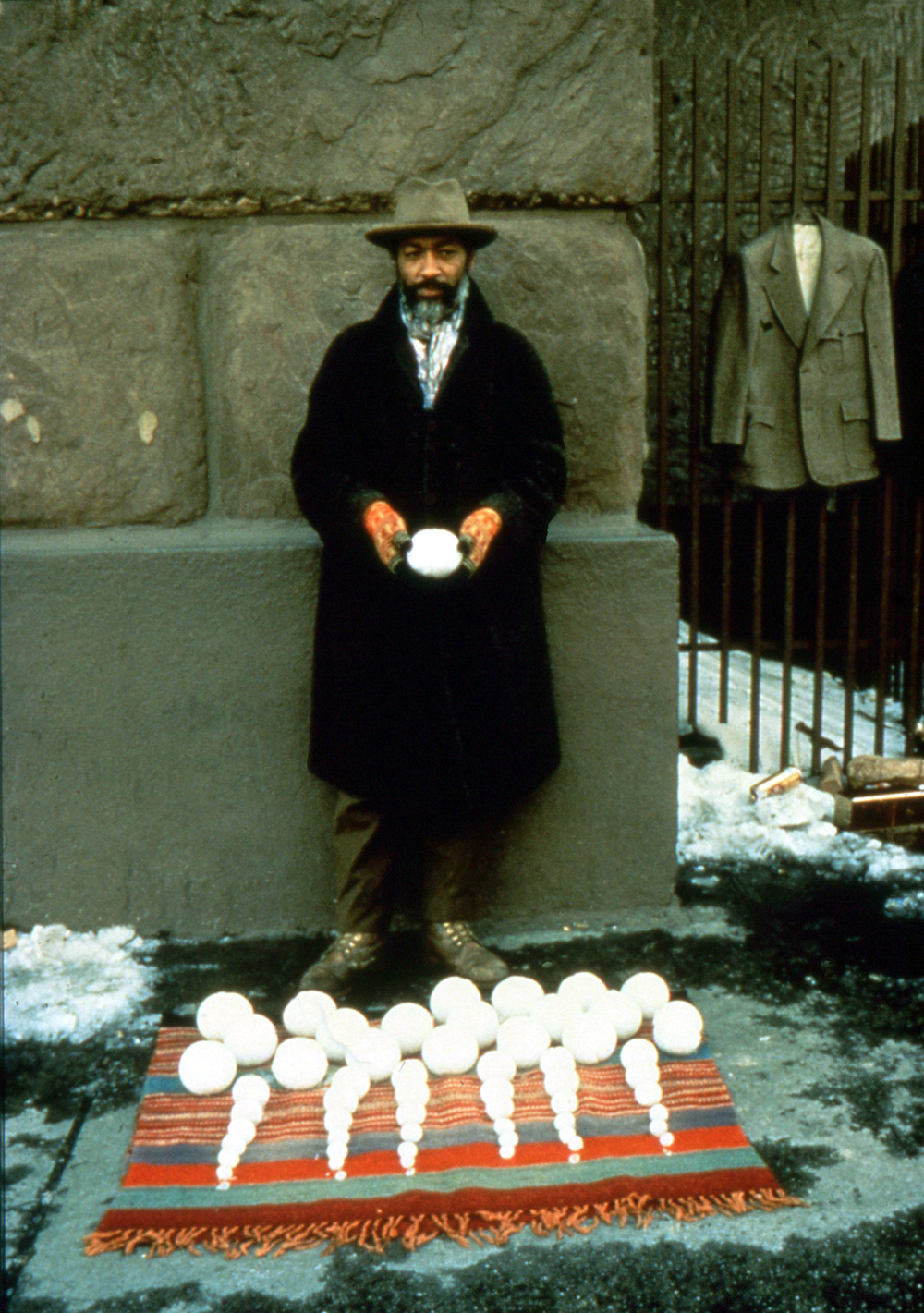 The work's details were as enigmatic as the artist himself, even its exact date was unrecorded. Like so much of Hammons' work, it was conceived, it seems, to slip between our fingers, to evade the grasp of the market, as well as of history and knowability. Of the work, art critic Steven Stern wrote: "The photos portraying Hammons with his neatly arranged rows of snowballs for sale are probably the most frequently reproduced images in the artist's oeuvre. The piece has become iconic, the single ephemeral work – a work that is essentially about ephemerality – that has come to stand for his entire practice. As it comes down to us in documentation, it is a portrait of the artist as an anonymous and disreputable pedlar, an absurdist street hustler. Hammons' notion of an artist includes a constant flirtation with notions of the illicit and the fraudulent – the ever-present suggestion that the whole business might be a scam. What, after all, could be more of a scam than selling snowballs in winter?"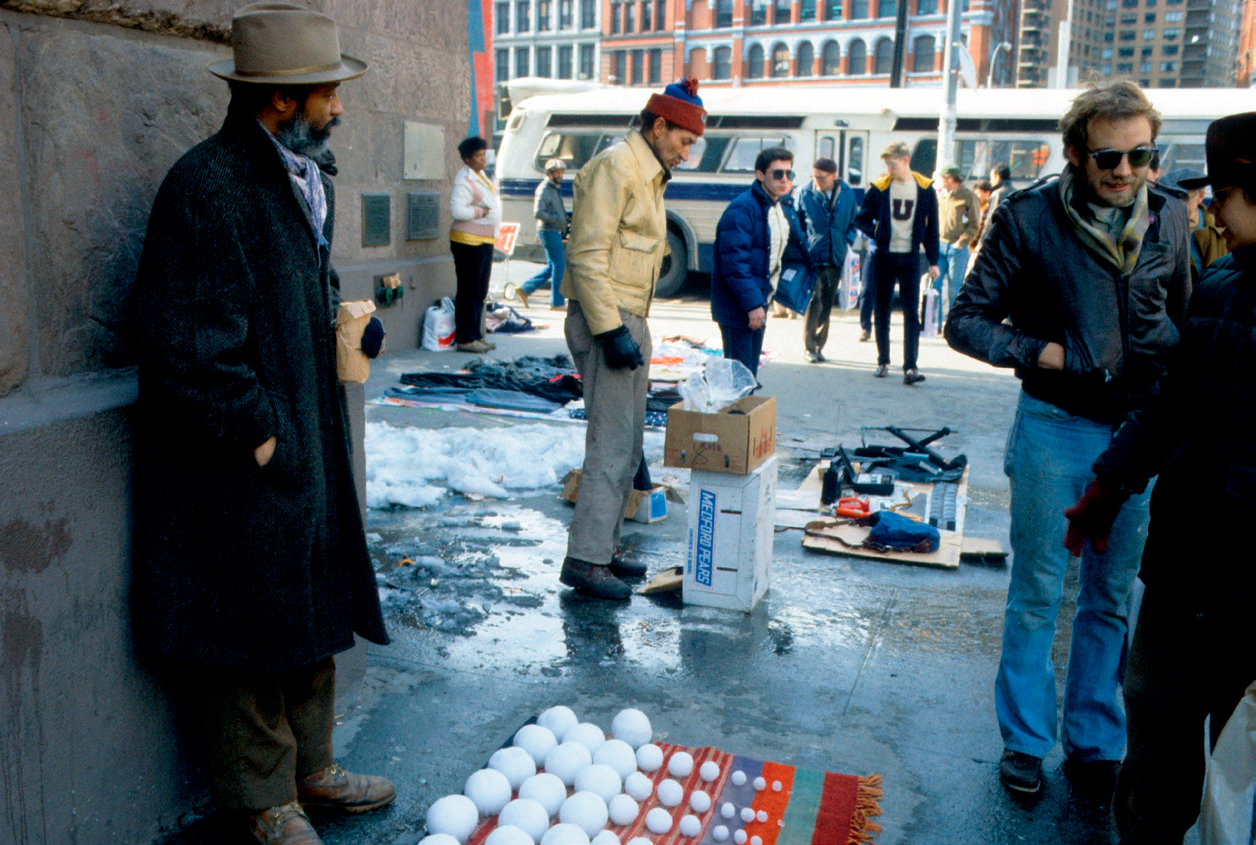 Curator Juana Berrío observes, in the performance work, snowballs provide a vehicle for strangers to have a conversation or a negotiation in the midst of a context where everybody is "nobody." On the street, people are invisible, until they are acknowledged by someone else. But Hammons did more than simply provide a context for a series of casual interactions; he and Bey also provided us with the illusion that we can imagine, understand, and construct the meaning of all that is not visible in the few photos that exist from that day. In Bliz-aard Ball Sale, speculation and personal anecdotes play important roles in the construction of the work – all the possible theories and stories about what happened and did not happen during the performance that day. The photographic documentation establishes some kind of factual foundation but most of the story remains open to interpretation and to collective construction over time.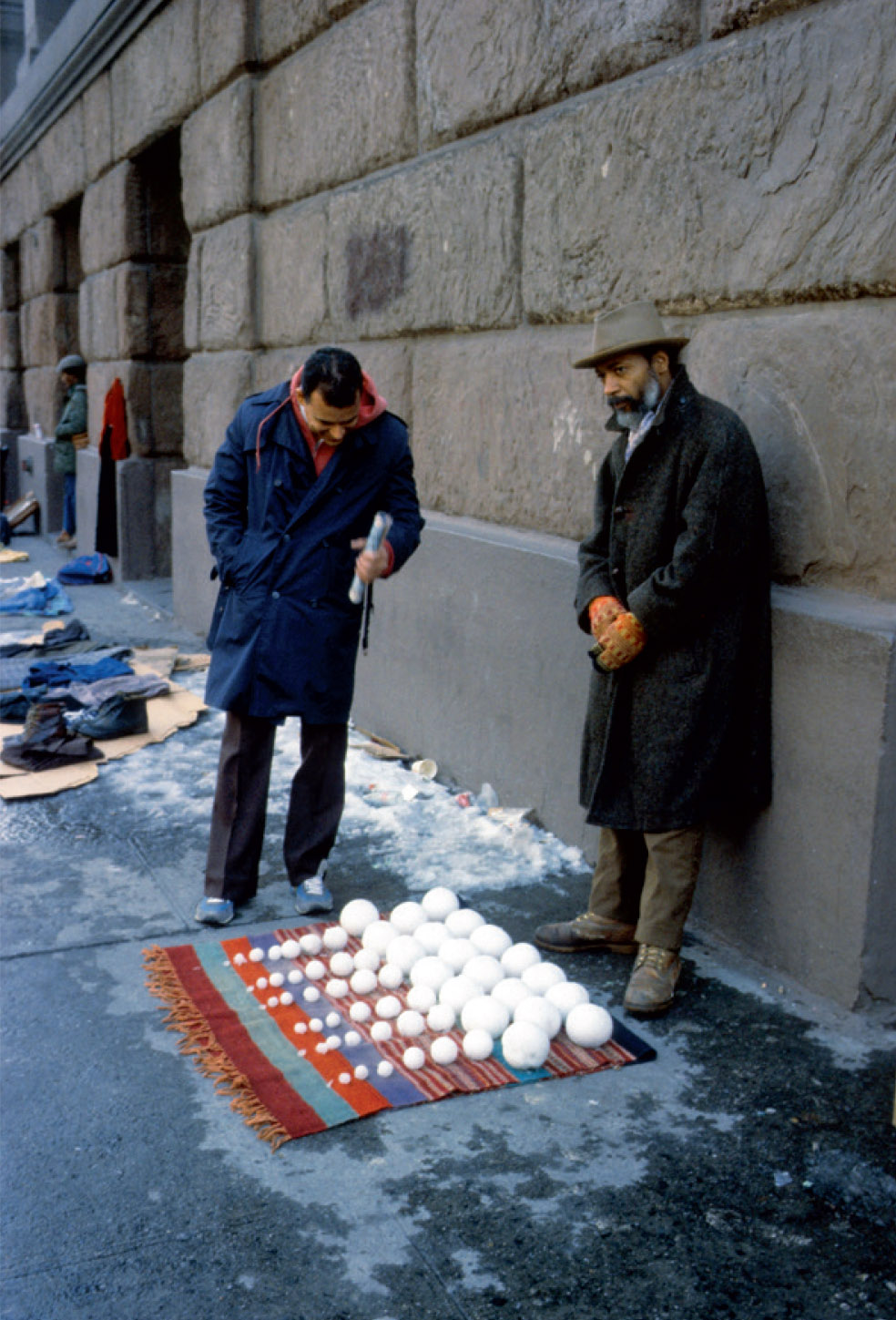 Born in 1943 in Springfield, Illinois, Hammons moved to Los Angeles in 1963 to study art. After stints at Los Angeles City College and the Los Angeles Trade and Technical College, he began taking night classes at Otis Art Institute with realist artist and activist Charles White. Although he would finish his art education elsewhere, graduating from Chouinard Art Institute in 1968, Hammons retained a deep respect for White's work and the example of his approach to art making. While he did not choose to work in a traditional realistic style, Hammons translated White's socially committed, hand-drawn realism into a contemporary realism of found objects and materials. Starting from the late 1960s, he began to use his own body, greasing it, imprinting it on paper, and sprinkling the result with pigment and graphite to make his Body Prints.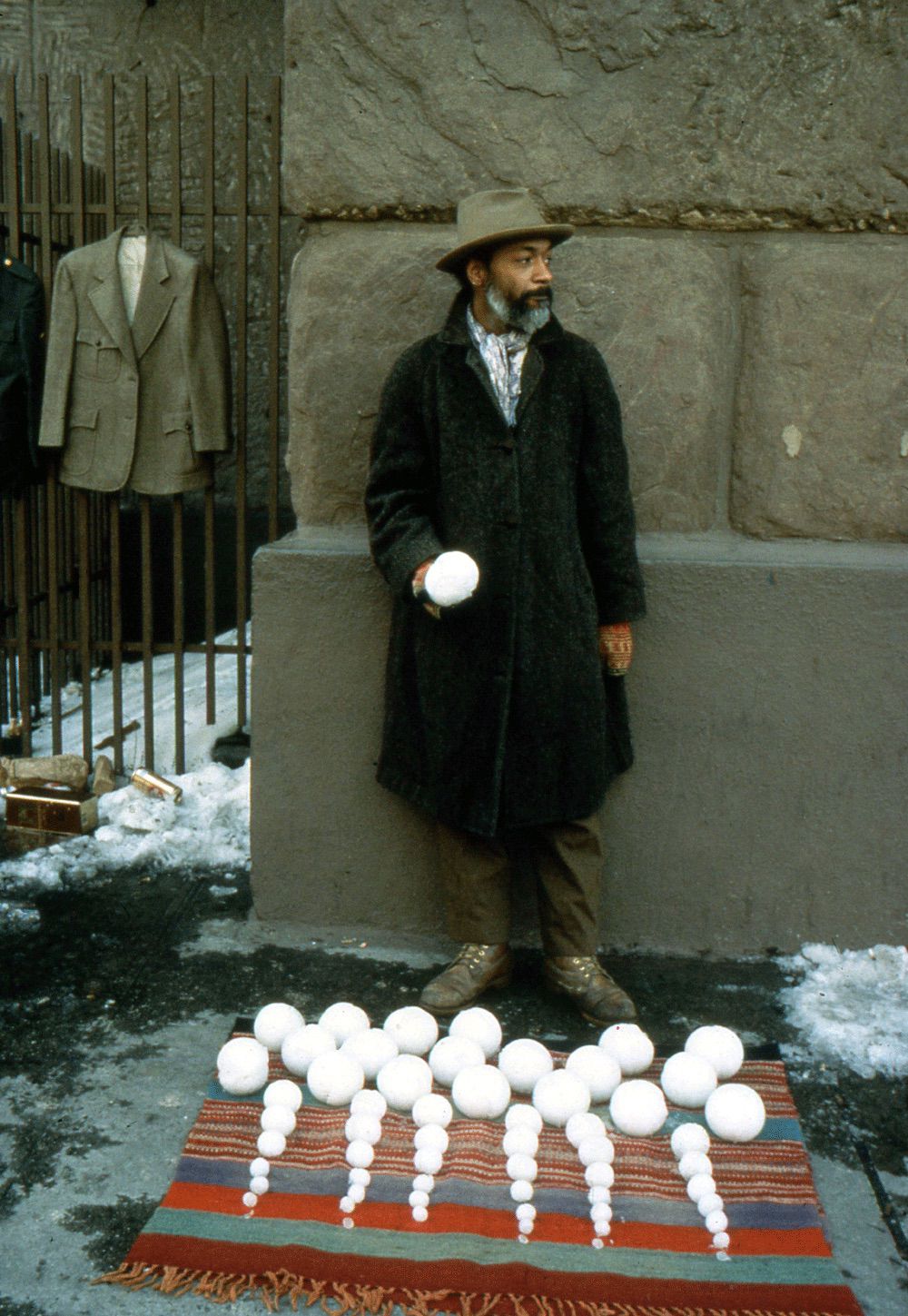 Following his move to New York in 1974, Hammons started to create sculptures from the symbolically laden debris of urban African American life, working with everything from hair gathered from barbershop floors and chicken bones to empty alcohol bottles. Public installations like Higher Goals, 1983/1986, a group of soaring basketball hoops adorned with metal bottle caps bent to look like cowrie shells, or In the Hood, 1993, a sculpture made from a hood cut from a used sweatshirt and mounted on the wall like an African mask, are simultaneously iconic examples of American Conceptual art as well as powerful critiques on the clichés of growing up as an African American in the US. Averse to participating in exhibitions of his own work, Hammons has actively protected his status as a cultural outsider, while synchronously continuing to produce work that reinforces his reputation as one of the most relevant and influential living artists today.



Feature image: David Hammons, Bliz-aard Ball Sale, 1983. Photo: Dawoud Bey