Interview: South African Painter WonderBuhle On Spirituality & The Rejuvenating Effects Of Colour
In his captivating paintings, South African visual artist WonderBuhle's muses are presented with an appearance of youth, serenity, and self-possession, guided by the moon's light and protected by the abundant flowers that adorn their faces. The figures stand immersed in a sea of carefully selected colours, cleansing themselves of negative energies and, as the artist puts, fortifying themselves with the wisdom to face the future. Since 2010, WonderBuhle has been living and working in Durban, the capital of KwaZulu-Natal, the most eastern province of South Africa. Giving space to his traditional upbringing, whilst acknowledging forms of oppression in the post-Apartheid era have been occupations central to his practice. Open now and running until 1 May 2022, Galerie Ron Mandos, Amsterdam, presents uNyezi, an exhibition of new paintings by WonderBuhle, curated by Azu Nwagbogu, Director of the African Artists' Foundation. Exploring his position within his family and the South African community at large, the artist seeks to create a state of peace through his new works. To learn more about his practice and the new show, Something Curated spoke with WonderBuhle.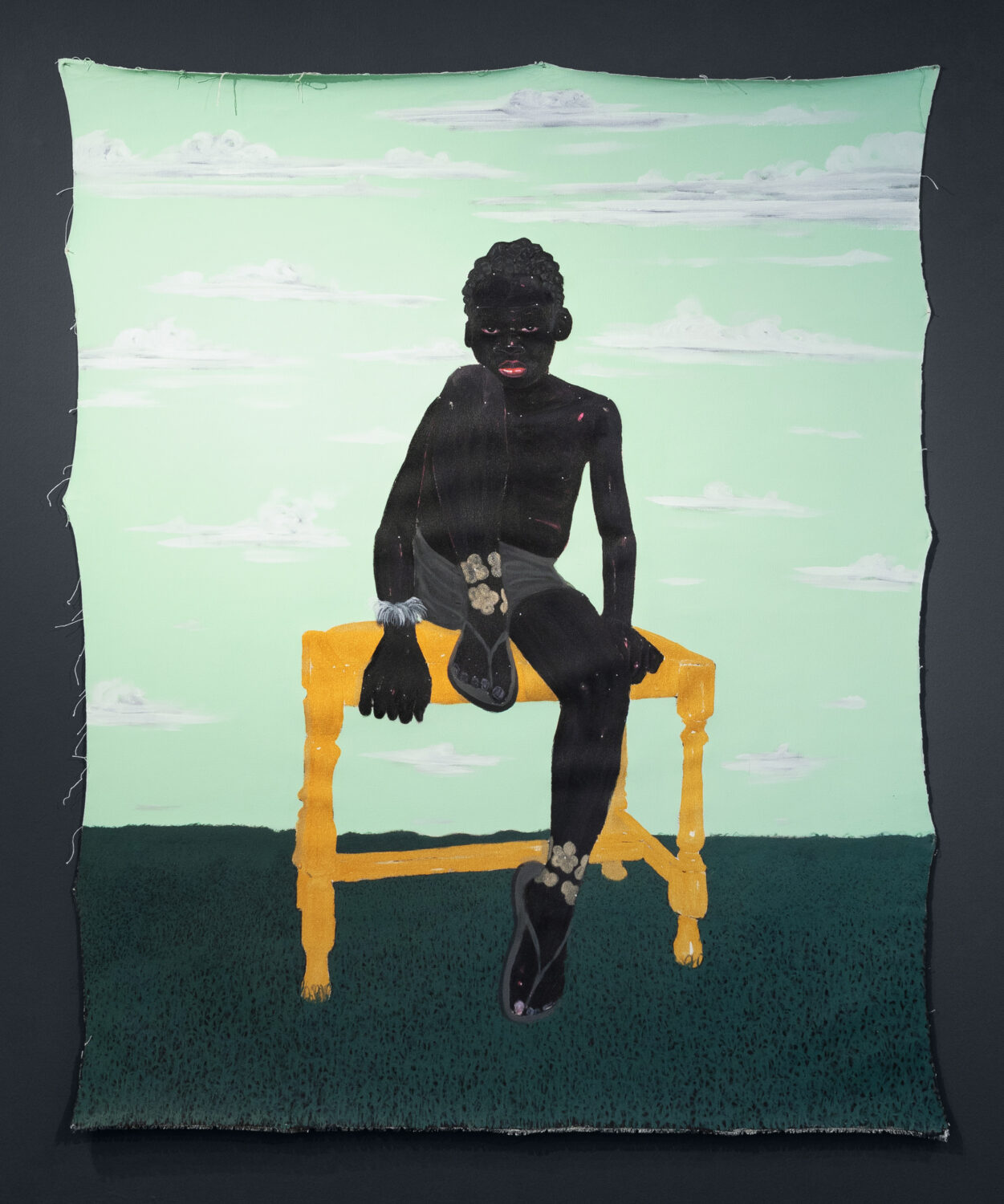 Something Curated: Can you give us some insight into your background and journey to art-making?
WonderBuhle: It all started in about 2010 when I moved out of home in Kwa-Ngcolosi in search of an art school; my artistic talent had already been spotted when I was still young and living in the countryside. So I came to Durban and found a place called the BAT Centre, which inspired me a lot – it's an artists' studio, an art centre, and also a school. So there are a lot of activities and events going on around the site. There, I got to see a perspective of where I would go if I stuck with my practice. I was always a creative kid – I would make charcoal drawings all the time – but I think in terms of my professional practice, that's where everything really started for me.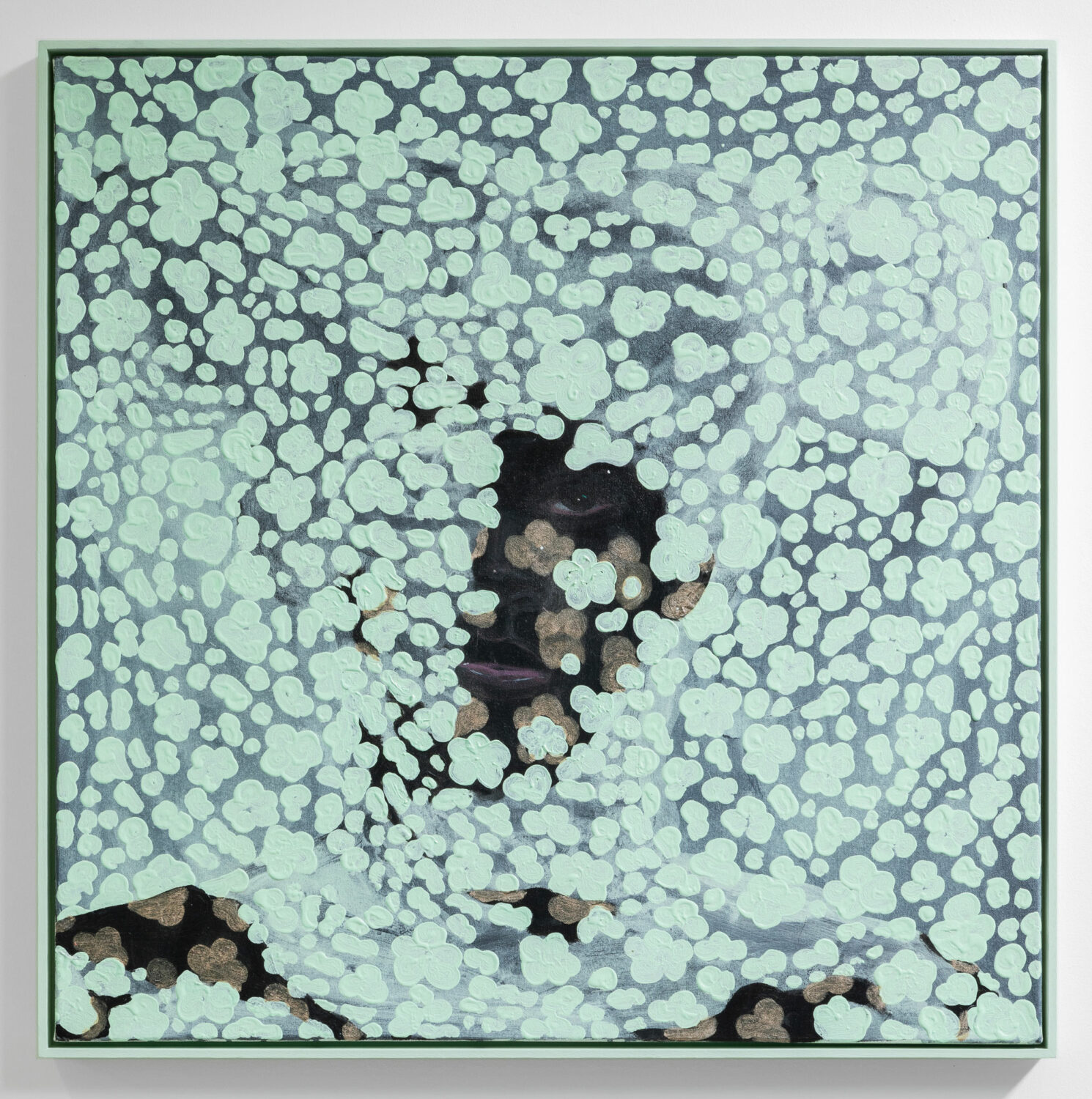 SC: Could you expand on the compelling figures you depict — what influences their forms and the contexts you place them in?
WB: First of all, the figures in my works are influenced by the people that are living within my community. At the same time, I'm also fascinated by nature and the elements, in particular, the sky and the moon – these very powerful elements that we share energies with, and which reflect on us. I also have a big interest in trying to understand the relationship between us, humans, and other living things. And how all these living forms influence our daily lives in a spiritual way.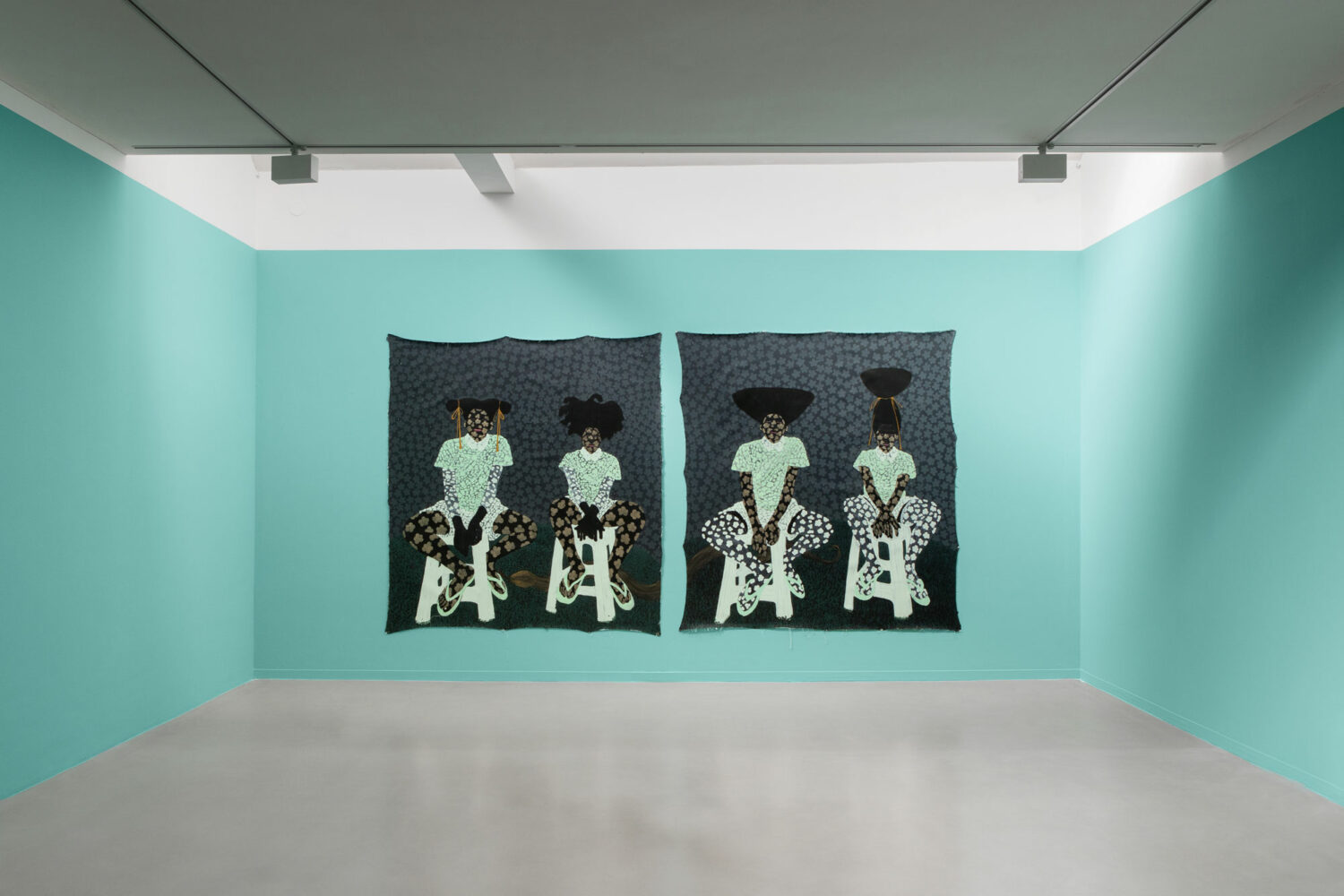 SC: You work with a very particular palette — how do you approach using colour?
WB: The colours I use are also borrowed from my community, where different colours identify different purposes in the spiritual realm. For instance, there is a colour, like a turquoise blue, which important houses are painted in where I am from; these houses are seen as special places, where people go to cleanse themselves and communicate with their ancestors' spirits. So I took that colour in my works to create a sense of belonging, as well as for aesthetics.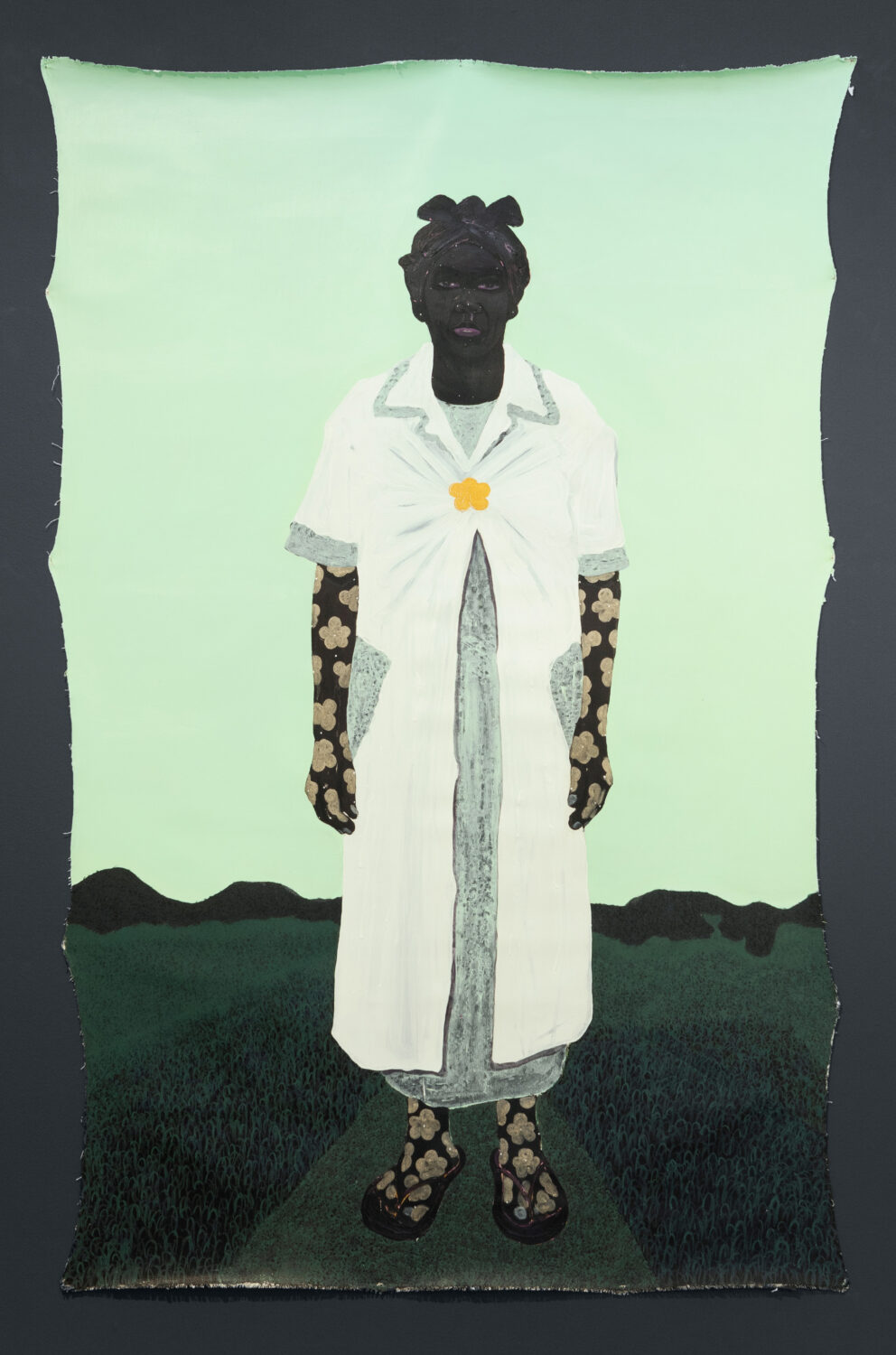 SC: What is the thinking behind the selection of works included in your new presentation at Galerie Ron Mandos?
WB: It's a very concentrated project because it's coming from a place of darkness in a way. I wanted to create beauty out of this dark place. So I decided to create a sense of calmness and peace, which we need after a pandemic and going through wars, with people losing jobs – it's been hard for everybody, even myself. In my country, South Africa, we experienced a great unrest where people felt it was enough now and they just started to loot, taking food from the shops, violence followed – and here in my province especially, it was crazy. And for me as an artist, I'm here in my studio, and I'm looking at all of this.
Nearby, there is a place call Phoenix, which is mostly made up of Indian and Black residents, and there was so much brutal violence between these races who had been living peacefully together for so many years. But this unrest triggered something. So the work in the show is coming from a place of serious pain but I wanted to create a healing space, a rehab, for the times we are experiencing. We can start to dream again – it's more like how I wish for us to come back from these difficult events. So the idea behind the show is to bring a sense of calmness, and wishing for more wisdom when approaching our differences.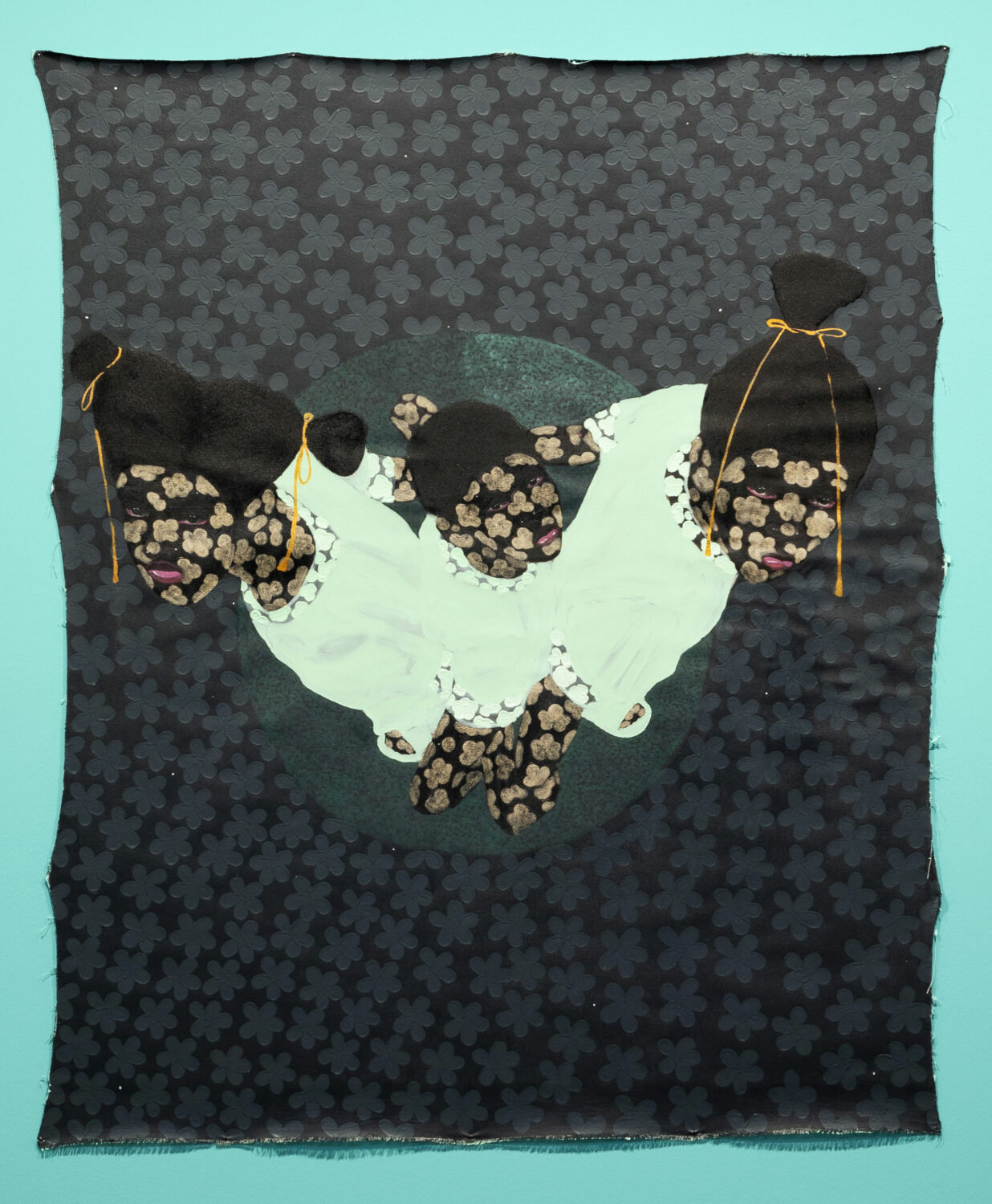 SC: What are some of your favourite cultural spaces in Durban?
WB: The BAT Centre, the Killie Campbell Museum, and the Durban Art Gallery, which gives you more context about the city's history and how Durban was formed. Then there is a place called Sibaya Casino, the architecture of which feels like you're in the Shaka Zulu times – it's interesting to experience. I hardly go out to be honest – I spend most of my time at my studio and at home.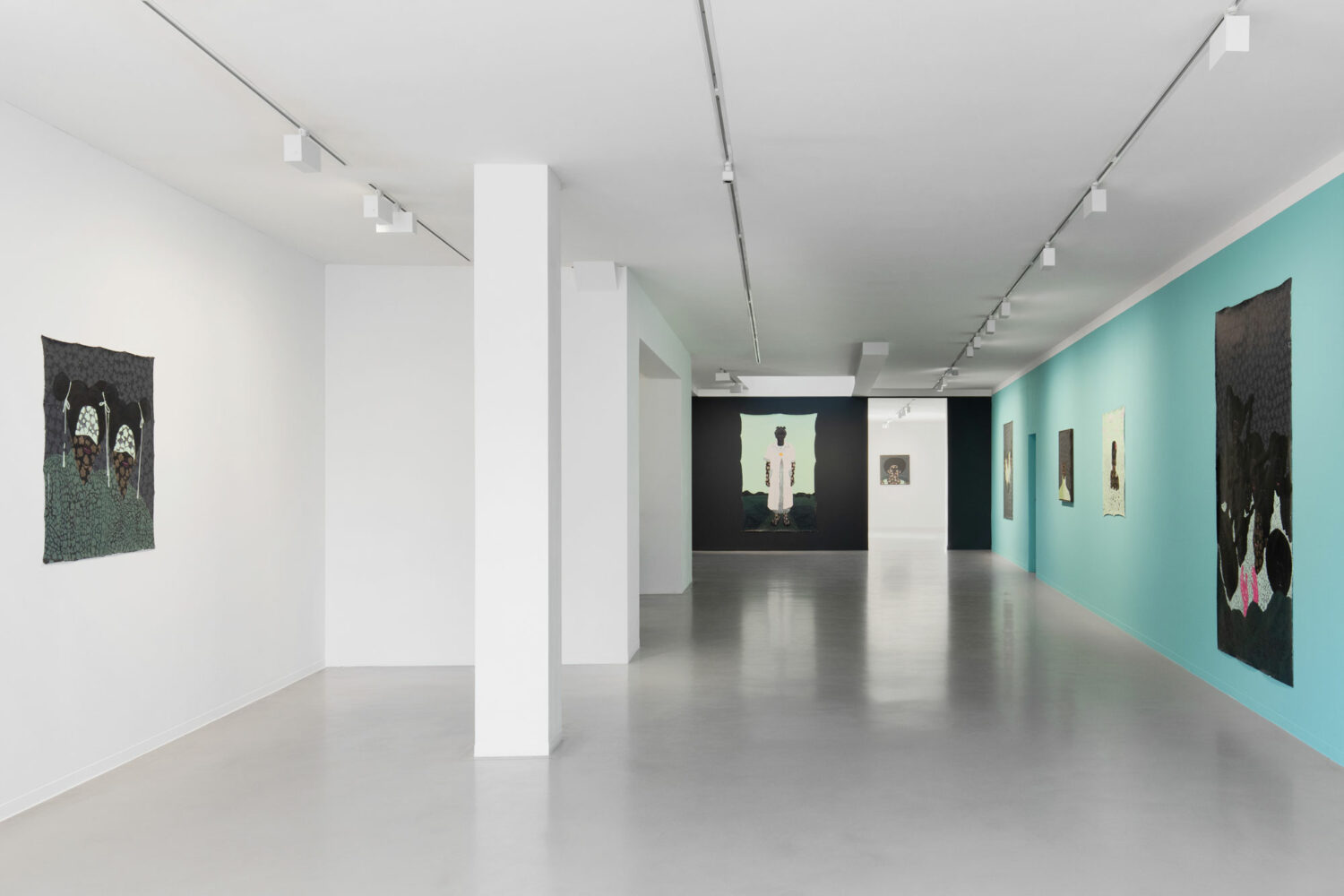 SC: And what are you working on at present?
WB: I'm actually trying to take it easy because I was very busy with the Ron Mandos project. I've been working on it since October last year, and tried not to put anything in between it, so I could just totally focus on preparing for the show. Since it opened, I've participated in a lot of talks, done interviews, it's been a long itinerary, so now I'm just taking a couple of weeks to calm down and reflect. But I do think I will be extending this project, perhaps making another five or six paintings before I turn the page on this chapter.



WonderBuhle, uNyezi runs at Galerie Ron Mandos, Amsterdam from 26 March – 1 May 2022.



Feature image: WonderBuhle, uNyezi, Installation view at Galerie Ron Mandos, 2022. Courtesy the artist and Galerie Ron Mandos, Amsterdam