Interview: Ernesto Neto On Gravity, Togetherness & The Value Of Indigenous Knowledge
An enduring enquiry into space, volume, balance and gravity, since the 1990s, Brazilian artist Ernesto Neto has produced an inimitable body of work that is in equal parts informed by sensuality and spirituality. Inspired by the Brazilian Conceptualists Lygia Clark and Hélio Oiticica, as well as biomorphism, Minimalism and Arte Povera, Neto's works engage all of our senses while asserting the human body as an artistic site through the encouragement of participation. In 1997, Neto made his first Nave work, filling a vast space with suspended sheets of translucent cloth, the interior of which visitors were invited to navigate and touch. As radical models of the social environment, the artist's pieces reimagine the boundaries between the artwork and the viewer. Hailing from Rio de Janeiro, where he continues to be based, Neto's fascinating work has been the subject of numerous museum exhibitions worldwide, and his pieces are well represented in the collections of the MoMA, the Guggenheim, Centre Pompidou, and Tate, among many others. Open now and running until 16 June 2022 at Tanya Bonakdar Gallery in New York, Neto's latest exhibition, Between Earth and Sky, is, as ever, an ambitious exploration of symbiosis. To learn more about Neto's instrumental practice, his influences, and the new show, Something Curated spoke with the compelling artist.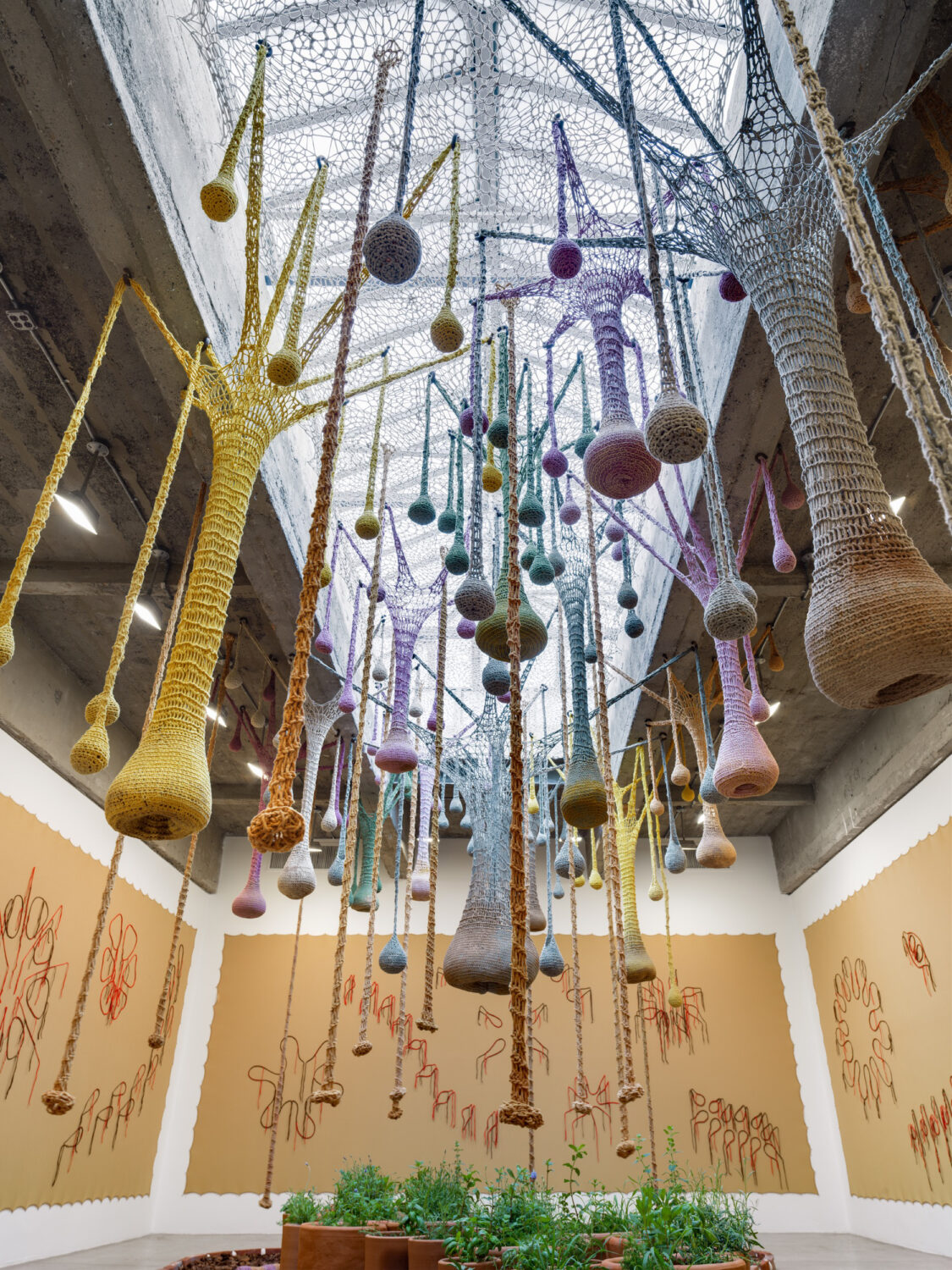 Something Curated: What is the thinking behind the selection of works included in your new exhibition at Tanya Bonakdar Gallery?
Ernesto Neto: It wasn't really a selection because when we started, we didn't know where exactly we were going. The piece upstairs draws from an exhibition I did previously in Bahia, where I had a work called Yaya Kui Arã Naia. It was a piece made with crotchet and spices. I had been working on this piece for a while, and the day after the opening, I had this chant come into my mind – "Yaya kui arã naia, yaya kui arã naia, yaya kui dau arã naia" – and I realised this was the title of the piece. "Yaya" would be the perfumed body, strong, upright and grounded, full of life. "Kui" would be the spine, the connection between the sky and the earth. "Arã," which comes from "aranha," the word for spider in Portuguese, is our force to work. As an entity, there is an aspect of the spider within all of us – the fingers that make us weave, the movement that allows us to make things with our hands, like the crotchet. "Naia" is the dance, us moving together, our collective activity.
I've exhibited many times at Tanya Bonakdar Gallery over the past 25 years, and I believe the first exhibition I did there was in 1998. The gallery has this skylight, which is very strong. I had this idea of hanging the Yaya Kui Arã Naia's, along with some other elements, from the gallery's ceiling, like vines. I wanted many of them together, like you are in a forest, when things sprout collectively, or like in a coral reef, or inside of us with all the flora and bacteria. I wanted to have this vibration, with a great quantity of them falling down from the ceiling. And on the ground, there is a cell-like shape made with bricks and little crotchet balls, each full of lavender and chamomile, joining together to create a sort of spine or snake, a necklace or cell membrane. And then there are pieces of bark creating the content of the environment – my work is always about content and continent. We always have a type of skin and a content inside, whether it's a stocking and spices, or a bag and earth.
Relationships are very important in my work – everything exists in a balance. In the centre of this cell, there is another group of elements, a colony of clay pots full of earth and little plants, including mint, pepper, chamomile, rosemary, lemongrass and various types of basil – the types of plants with which you can make tea, or use for bathing, eating and healing. The use of herbs is particularly important in the ancestral Afro-Brazilian culture, which we should know more about. In a country like Brazil, that doesn't really know how to tell its own story – where we only study European culture, where we don't study African and indigenous cultures, which we are too, culturally and biologically – this lack of knowledge makes us weak. But back to the exhibition – so we have these herbs, and on Saturday, before the opening, we invited people to come plant them with us. All the choices in the exhibition are related to how we can sprout an idea of nature, the symbioses between animal and vegetable. In different ways, I've been trying to express that for 30 years.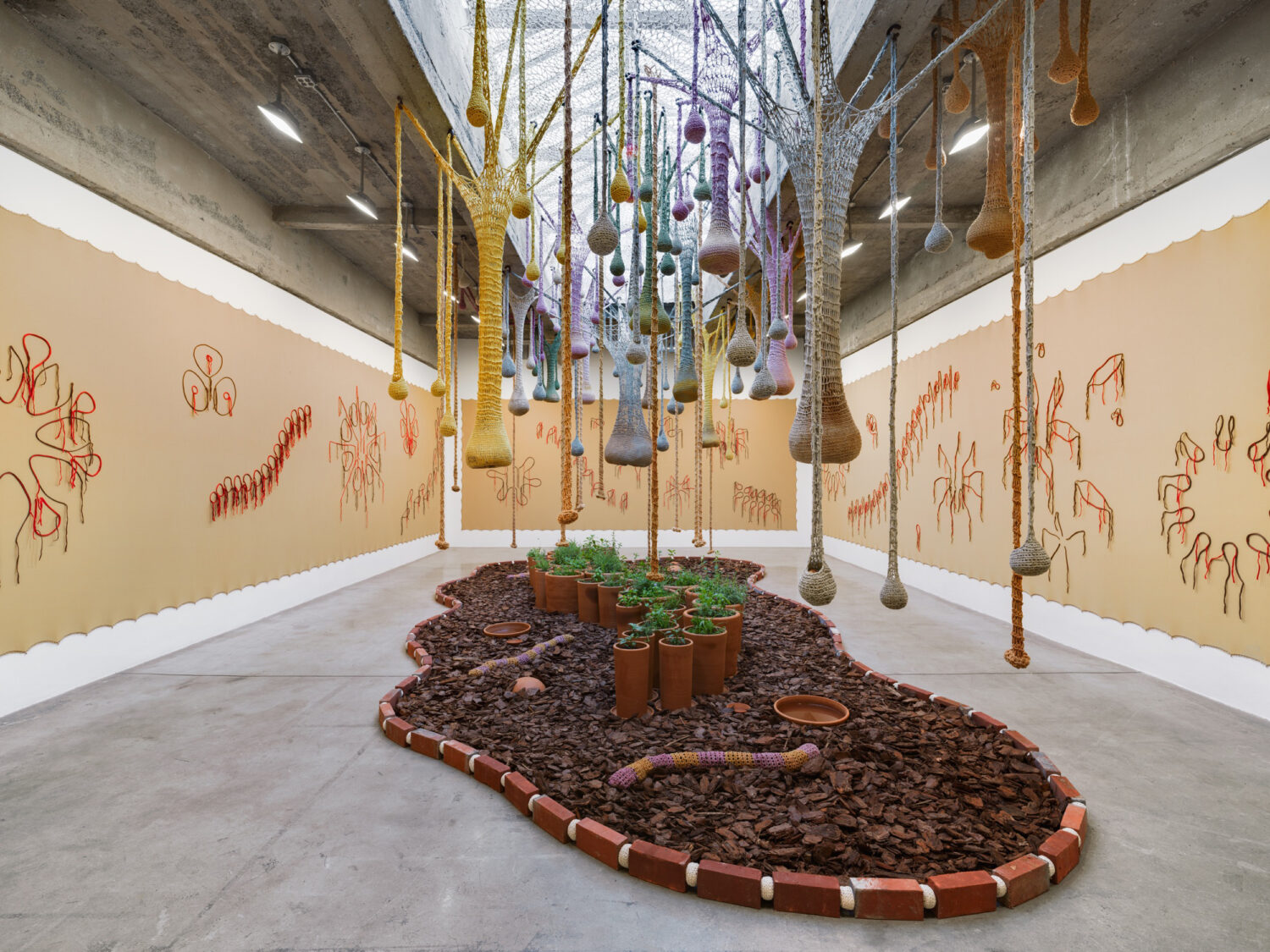 SC: Your pieces feel closely connected with the spaces in which they are installed; how did you react to the gallery's architecture in this instance?
EN: What really made me make this artwork was the light coming down from the gallery's skylight. The energy of the sunlight coming down in some way brought me this idea of the Yaya Kui Arã Naia's falling down and these herbs growing up. The sun, this ball of fire, is the original god. Every plant is a kiss between the sun and earth. Every plant, every tree, has one arm in the darkness of the earth, and the other arm looking up, reaching to the light of the sun. The roots are looking for the water and the leaves are looking for the fire. And the other piece in the show, in the main room downstairs, has this ground and these leaves, and there is a drop coming down from the sky into a sort of mouth, the mouth of the earth. There is a light blue on the lower part and a kind of orange on the top, also representing the joining of these water and fire energies.
The crotchet piece downstairs is made from cotton, similar to that used to make t-shirts, which we dyed in the studio. We cut the textile into long strings to work with – it's been a long time since I worked with this material, I think I did a few pieces with it back in 2015. In the ground of the work, there is a raw cotton that we brought from Brazil, to make it soft and enjoyable to laydown and lose our time inside the piece. In the central drop coming down, we have bay leaves, and in the outer ones, each is filled with various herbs including rosemary, parsley and thyme – so there is a very strong smell in the room. We painted the walls in a green-blue, and we have these little carpets mounted, made with a very traditional knotting technique that I have used in many other works of mine. Their placement mirrors our steps walking. Some people's feet are open when they walk and others more straight, so on the four walls, we have the feet of four people based on pictures I took.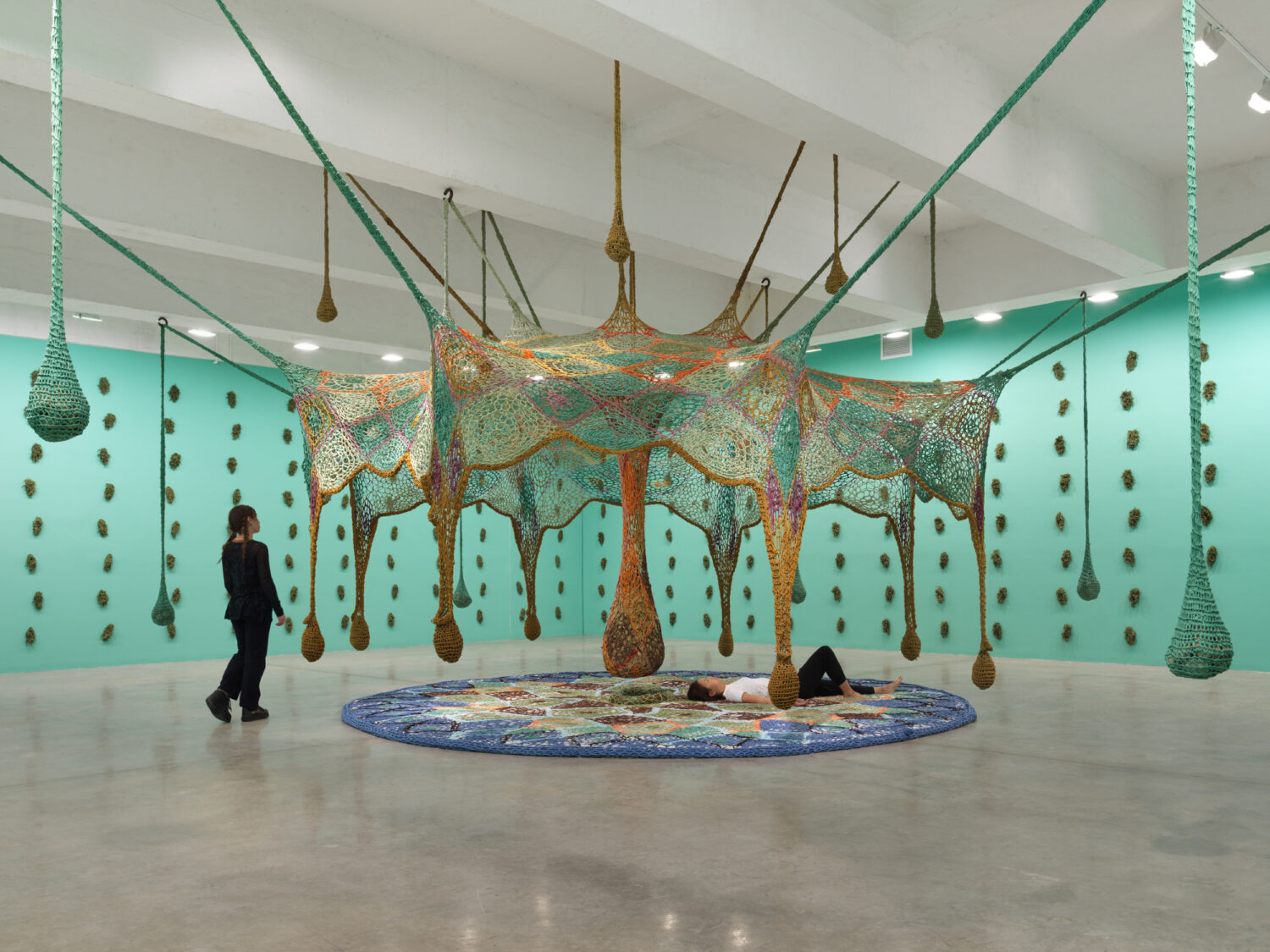 SC: You are well known for your immersive environments of vibrant colour, scent and sound, redefining the boundaries between the artwork and the viewer — when did this idea of immersion first become important in your practice and where does it stem from?
EN: This is something that began to grow naturally. With a sculpture, you touch the artwork. And when you work with textiles, trying to show the force of gravity, it begins to become something very sensual, body to body. So the idea of touching it came very organically. We have a strong tradition in Brazil of touching and interaction, which is very natural to us – when you think of samba, there are going to be a lot of people sitting down on tables, someone playing a guitar, pandeiro, caxixi, lots of little instruments, people standing around, lots of singing and dancing – it's something that you are all doing together. It's not like the artist is on the stage and the audience is on the ground. When you think about the indigenous traditions, it's always inclusive; they will invite you to join the dance or the ceremony, at least from the experiences that I have had. So with these cultures as a context, the idea of me doing something with togetherness was always there.
One day, I was enticed by the smell of this spice shop, and I bought some turmeric for my studio. After sometime, I became dizzy from the smell of just turmeric, so I went back to the shop and I got other spices – it kind of balanced the environment. It's not an intellectual decision, you are captured, captivated, swallowed by the energies, which then sprout through the art. As an artist, I am more the fruit of the environment than the fruit of intellectualism, though reading books is super important for me. I am reading a fascinating book about fungi right now. Nature, the more you learn about it, intellectually, scientifically, shamanically, the more you get hypnotised by the force and wisdom. The idea of immersion has always interested me, perhaps partly because of living in Rio de Janeiro. I live near the beach and when you dive into the water, and are fully submerged, its presence and our relationship with our surroundings feels so strong.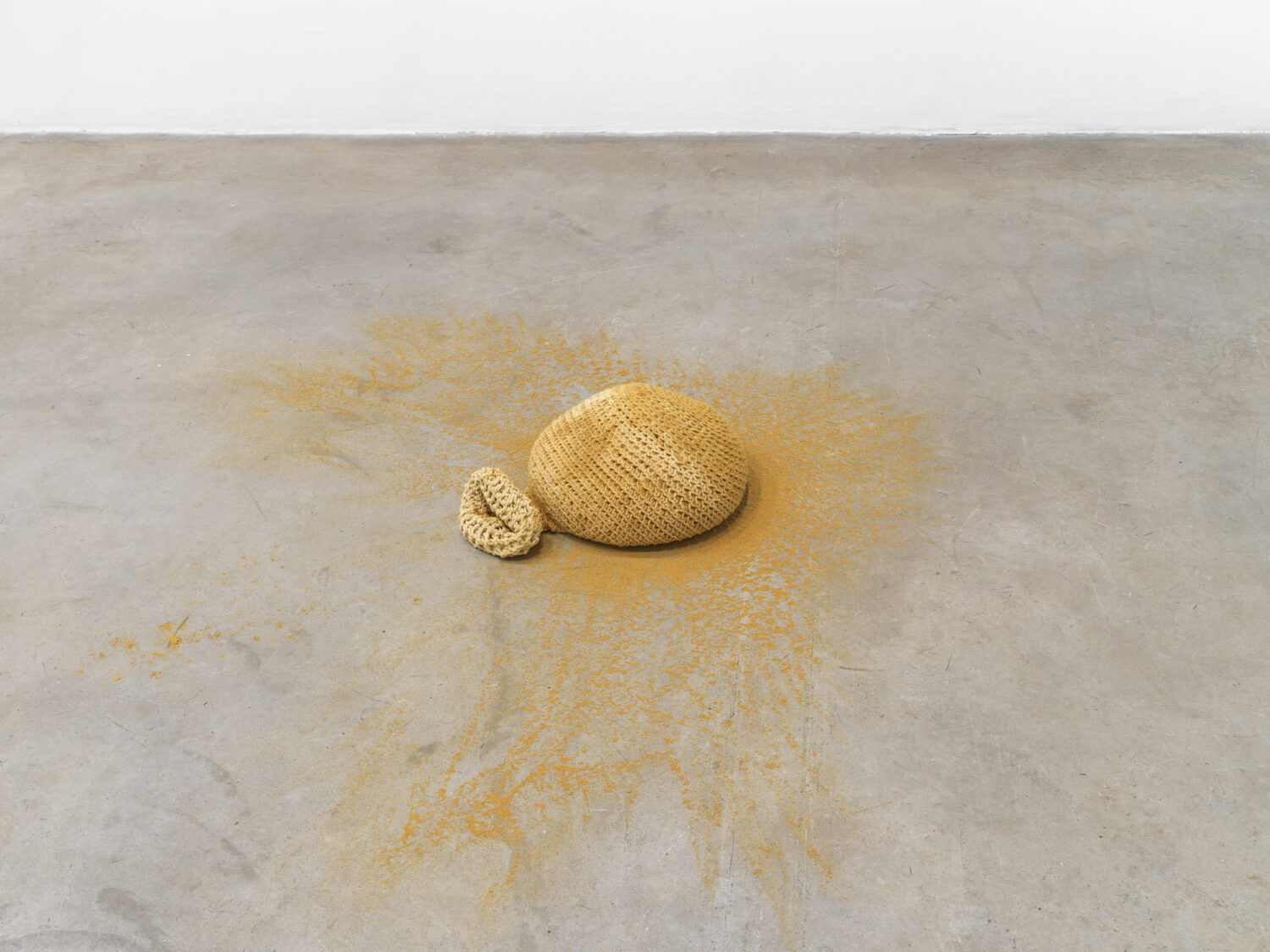 SC: How do you see the role of the artist, or more specifically, your role as an artist?
EN: This is a very good question. It's not a simple question. An artist is someone that is diving into the planet, going deep into it and experiencing all the forces that are squeezing us. While you are walking, there are all of these elements that balance you, shape you. We try to receive all of it – all the forces of social life, politics, time, history, the future. It's like we're touching everything at the same time without being able to see what we are touching. We deal with a level of invisibility, which sprouts in the artworks and creates a space in which to debate things – every artist approaches this differently. In my case, I want to hug the people, to give them time to be connected with their own selves. For many years I have said, "I want people to lose time." Because we are in a society that is so focussed on productivity, and you have to be very quick. I want people to get inside the work, take their shoes off, and just take time. When people tell me that they took a nap in the sculpture, I really like it. If someone can take a nap in it, it means they feel so comfortable, protected, secure enough to be able to sleep in a public space. And when a person sleeps, they are connected with their dreams – so I think it's a great exchange with the piece.
SC: You touched on this briefly earlier and I wanted to pick up on it — could you expand on the idea of inviting the public to engage in the process of planting the sculptural garden in the new show?
EN: The very important thing about planting nowadays is agroforestry – the very opposite of a monoculture – an agriculture that's really in conversation with the plants. All plants are connected with each other and we begin to understand which ones like to be near to one and other, and which animals can help them grow. When I put all these herbs together and invite people to collectively plant them, I want to express this idea of life being more important than the individual. I had a piece which we installed in Doha some months ago which had a lot of plants, and the day before the opening we began to plant everything with the support of the organisation, the Qatar Museum. And I thought, we should invite everyone to come here and plant with us – it was a very spontaneous thing. And so this time, when I did the piece at Tanya Bonakdar Gallery I wanted to invite people to come plant before the opening. So we sent out invitations for people to join us on Saturday at 11am, and began this planting ceremony, and at 6pm we opened the show. We are life planting life – something we've been doing for millennia. The plant is the mother.
SC: You often use weight and gravity to dictate form in your works — what interests you in this method of making?
EN: I'm a sculptor; I deal with matter and gravity. Matter and gravity are inseparable. Gravity makes the matter of the earth spin around the sun. Gravity is the god in a way. Gravity is the force that gives us a sense of being here. Sitting here right now in this chair, I feel my weight. When I can't see or hear or smell anything, my feeling of reality is the feeling of my weight. Gravity is everything and everywhere, and remains one of the most invisible forces to us, intellectually. There is something still very mysterious about gravity.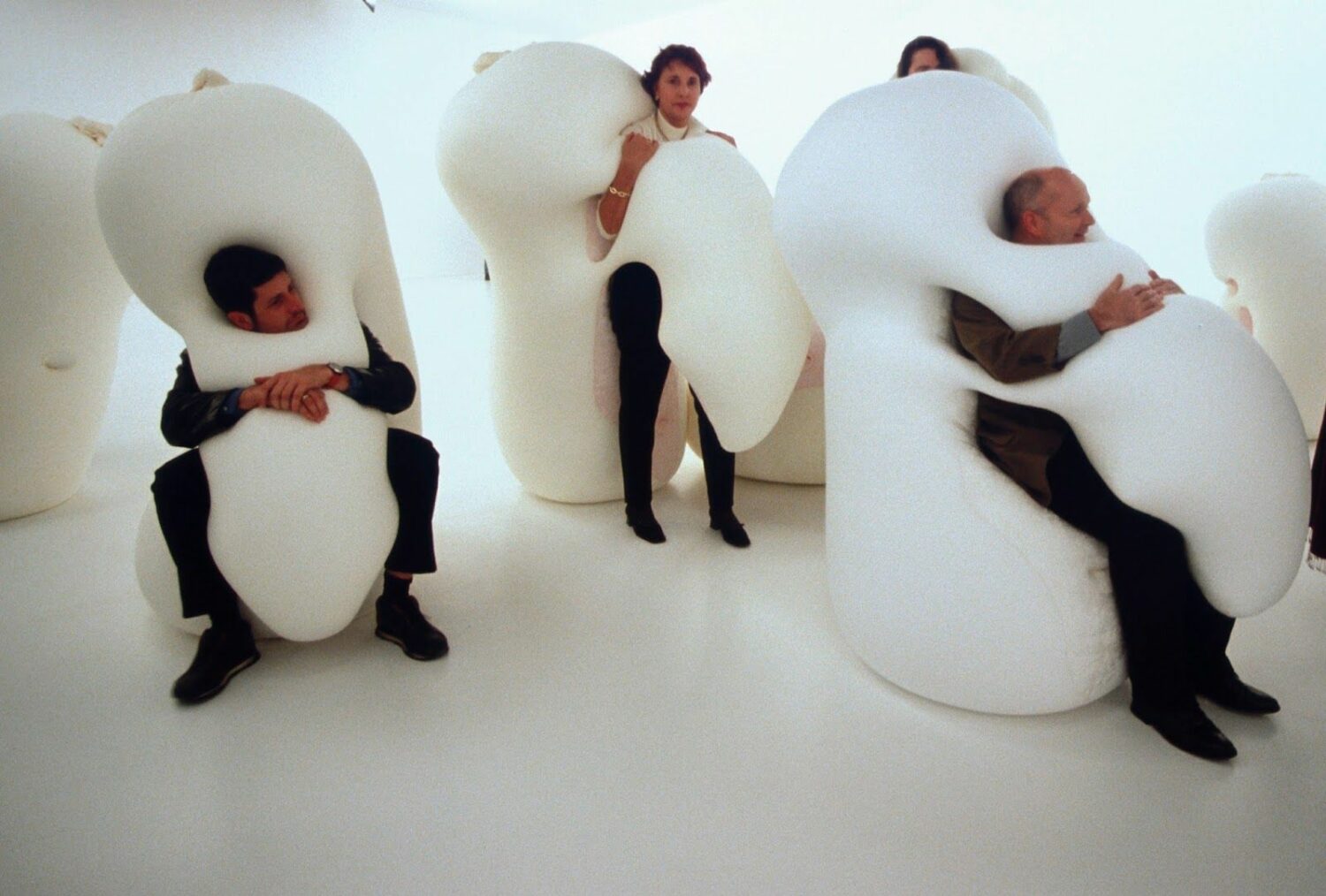 SC: Shifting from the new exhibition for a moment, your 2001 work Humanóides has been a long-time favourite of mine. I'm curious to know how the idea for the series came about.
EN: The Humanóides came out of an exhibition I had at the Kölnischer Kunstverein, for which the curator Udo Kittelmann suggested I make some works to be dressed. It was a good idea. I already had these works, the Ovaloides, and what came to me was to dress these sculptures. I had made these boiler suits and I would then attach the Ovaloides to them – but it was not working. I remember there was a seamstress there, and we were trying to dress the pieces but they were not fitting. And suddenly I thought, what does it mean to dress something? I thought about the negative of the body. When someone is wearing a shirt, we are looking at the outside of the clothes; it is the face that we see. But the face that touches us is the inside of the shirt. With that understanding, I picked up a tube and I picked up a shirt, I cut out the sleeves, and then I put this shirt inside the tube. And then I sewed the outside of the shirt in the inside of the Ovaloide – so we could wear it. And from there, the Ovaloide began to grow. We realised we could sit on it, we could hug it – it was such a revelation this sculpture. There was this one guy that would go every second day to the exhibition to sit down and meditate inside the Ovaloide.
SC: And finally, what are some of your favourite cultural spaces in Rio de Janeiro?
EN: We are a bit low at the moment. We're living in a kind of cultural and political crisis in Brazil but what I see that is active right now is the Museo de Arte de Río; Rato BranKo; Lanchonete; Galpão Bela Maré; A MESA at Morro da Conceição; and Atelier Sanitário. There is also A Gentil Carioca, which I am a co-founder of.



Ernesto Neto's Between Earth and Sky is on view at Tanya Bonakdar Gallery, New York until 16 June 2022.



Words by Keshav Anand | Feature image: Ernesto Neto, earthtreelifelove, 2022. Photo by Dan Bradica. Courtesy the artist and Tanya Bonakdar Gallery, New York / Los Angeles