On Art's Fascination With Ice
The ephemeral quality of ice has long fascinated cultures and artists through history. Though the earliest civilisations of Canada and Greenland began to build snow shelters some 4000 years ago, the first known instance of ice being used in a decorative way is believed to have occurred in China. During the 17th century, fisherman working in the Chinese province of Heilongjiang froze water inside buckets then hollowed out the resulting blocks of ice, so that they could be used as candleholders. These can still be seen today at the Harbin International Ice and Snow Sculpture Festival, which dates back to 1897. Affording an impactful metaphor for temporality, and in a contemporary context, a fairly literal representation of climate change, in recent decades, the material in its physical state has appeared many times in Conceptual Art practices from around the globe. Exploring art's fascination with ice, Something Curated takes a closer look at seven compelling examples.



Francis Alÿs, Paradox of Praxis 1 (Sometimes Making Something Leads to Nothing), 1997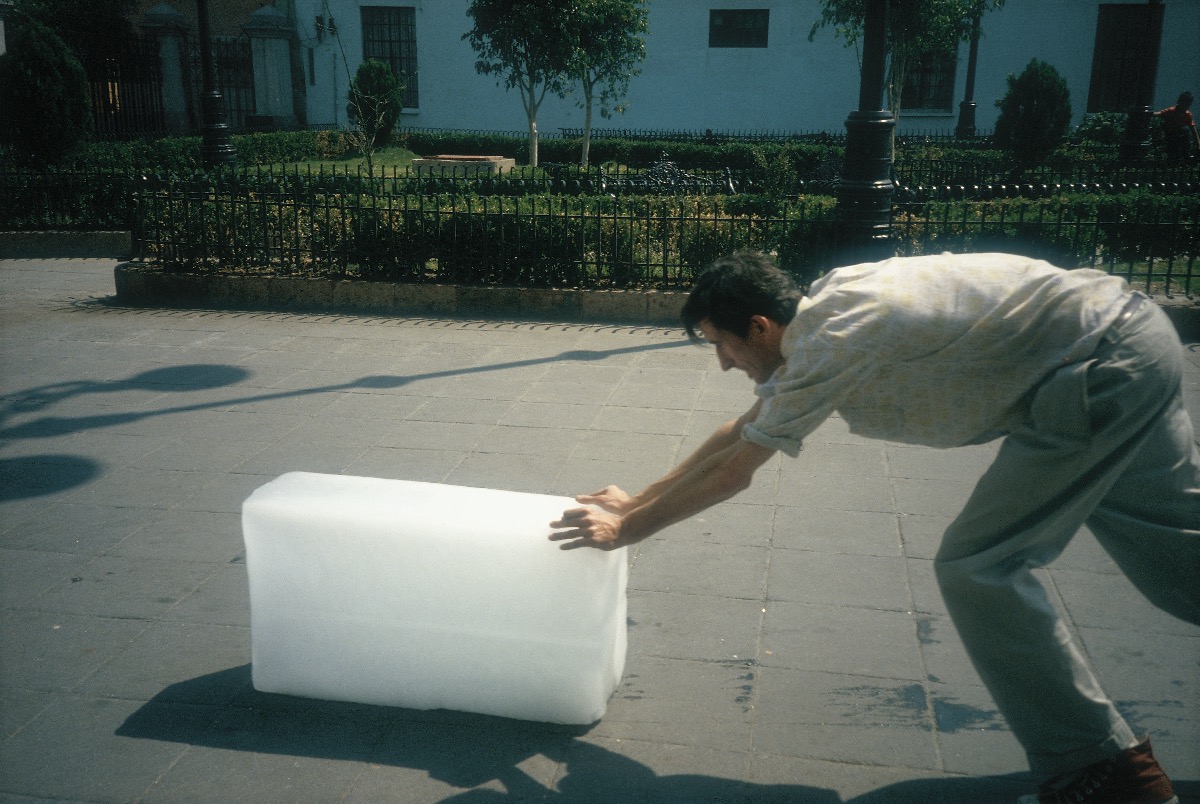 Belgian-born Mexico-based artist Francis Alÿs is known for his use of metaphorical techniques to broach and critique complex political and social realities. His seminal work, Paradox of Praxis I (Sometimes Making Something Leads to Nothing), 1997, a four-minute fifty-nine-second long video, documents Alÿs pushing an enormous block of ice around Mexico City until it melts. During the process, as the ice block becomes smaller and smaller, Alÿs begins pushing it with his feet and hands until it consequently disappears. In total, Alÿs pushed the block of ice for nine hours before it melted. However, the final copy of the video was edited and condensed to just a few minutes. The work's poetic appeal has proven to be compelling decades after its making, inviting interpretations that can be both disorienting and liberating.



Néle Azevedo, Minimum Monument, 2005-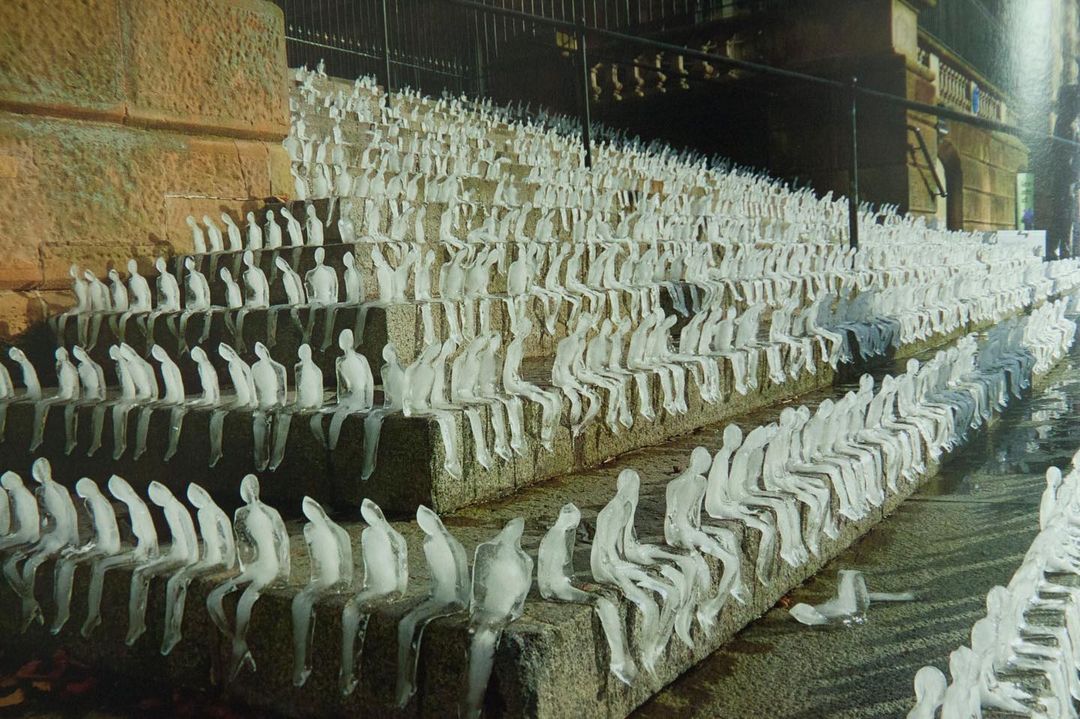 Brazilian artist Néle Azevedo is best known for her work Minimum Monument, an ephemeral assembly of miniature ice figures. First exhibited in São Paulo in 2005, the installation, which Azevedo describes as an "urban art action," has been presented in Paris, Belfast, Lima, and Porto. For each iteration, the artist creates hundreds of 20cm tall figures seated with their legs crossed and positions them together atop outdoor steps and in public spaces. The sculptures gradually trickle and pool into puddles as time passes, which initially was Azevedo's way of critiquing public monuments and taking "into account the history of the defeated, the anonymous, to bring to light our mortal condition," though with the intensifying climate crisis, the piece has acquired new significance.



Martin Margiela, Spring/Summer 2006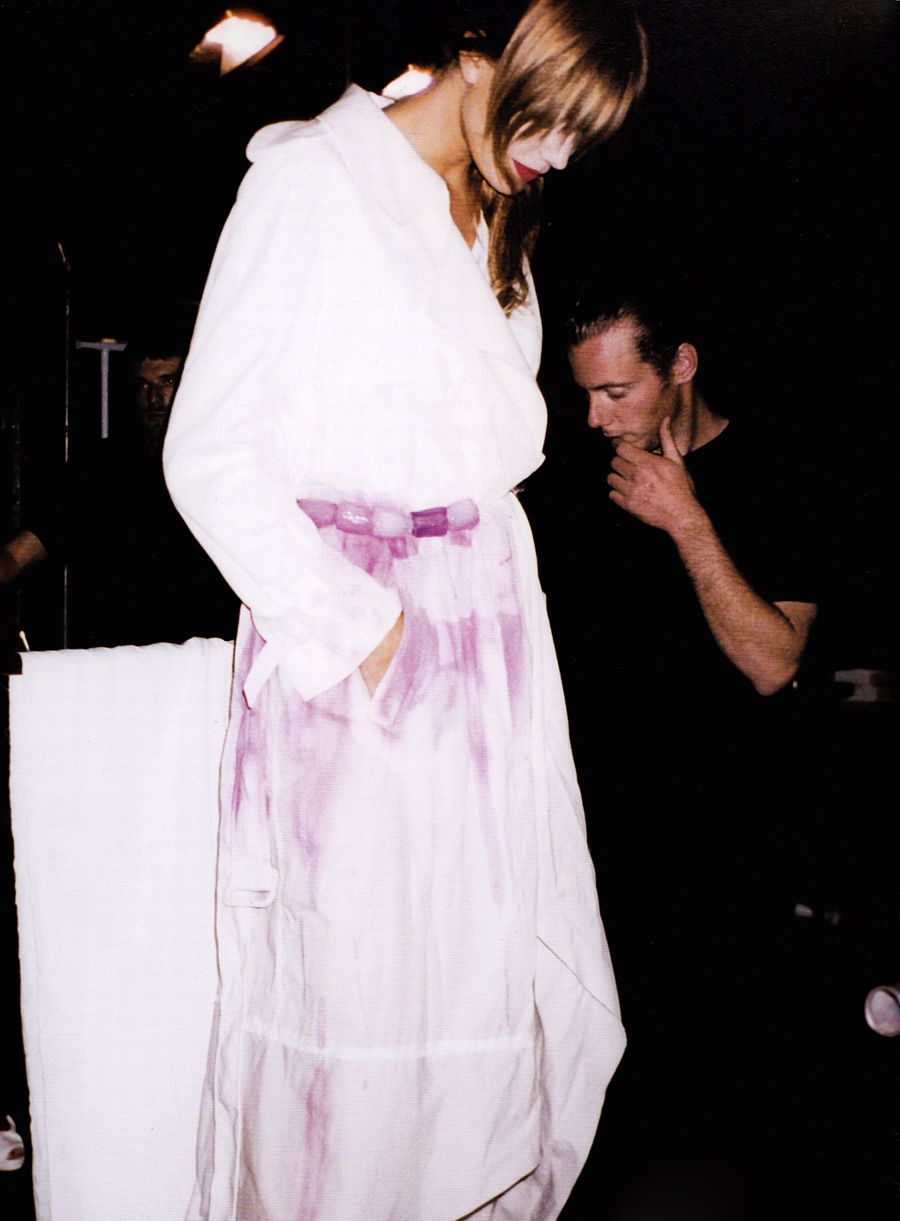 Celebrated Belgian fashion designer Martin Margiela has maintained an enigmatic profile for decades, staying elusive aside from the chance appearance at an event or in print. In 2021, Margiela made his official foray into the art world with a solo exhibition of sculptures at Lafayette Anticipations in Paris, though his collections and fashion shows have always blurred the lines of art and design. Memorably, Maison Martin Margiela's Spring/Summer 2006 collection featured necklaces, earrings, bracelets and belts strung with coloured ice cubes. The bright stage lights and the heat from the bodies of the models and audience melted the ice so that the dyed cubes ran down the models' skin, colouring their white clothes and visually changing the collection as time unfolded.



Paul Kos, The Sound of Ice Melting, 1970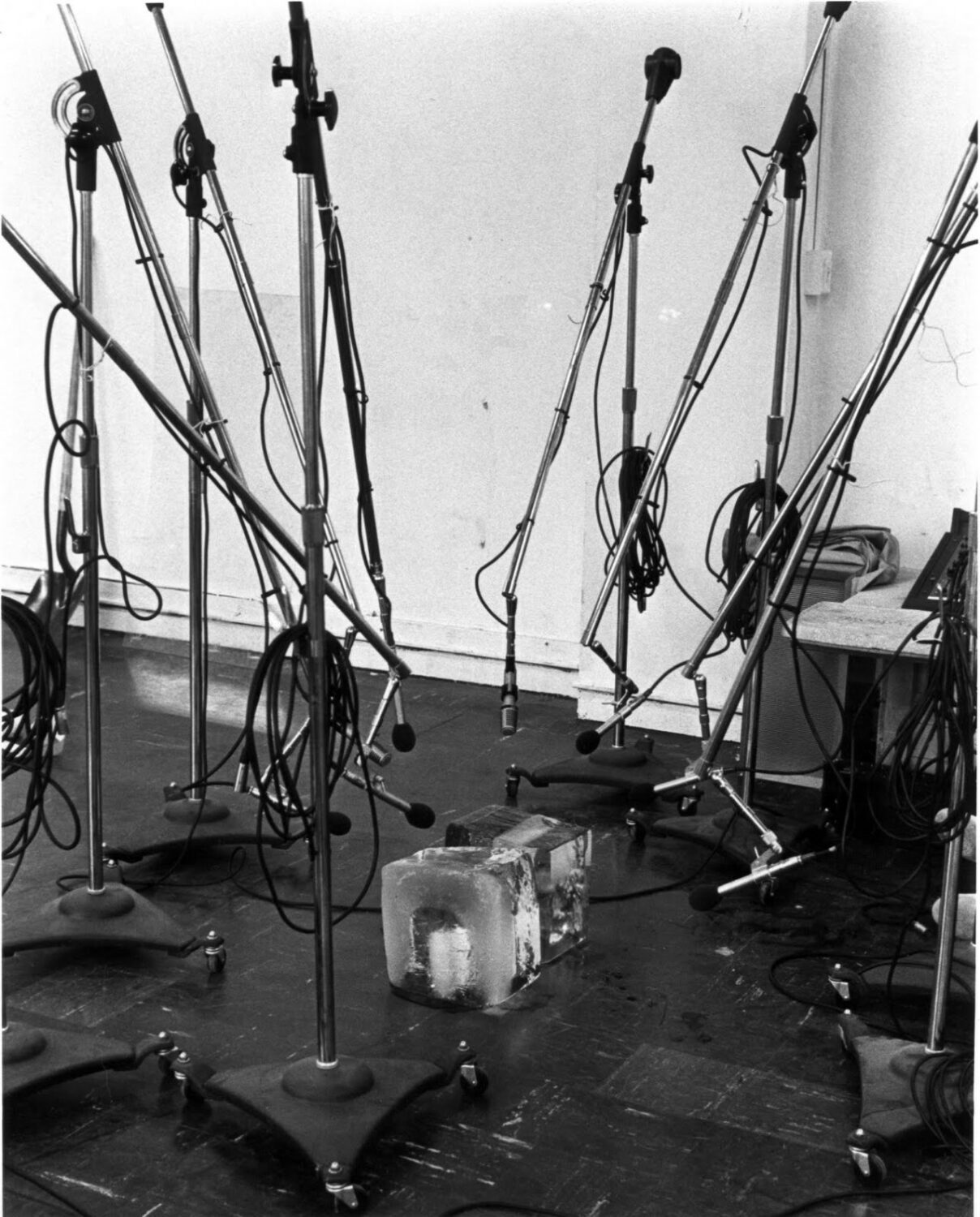 Based in San Francisco, artist Paul Kos playfully utilises everyday materials and video, actively responding to the sites in which he works. In his practice, the artist exploits humour and absurdity to relate to ideas around human life, including notions of time and spirituality. Kos' 1970 piece, Sound of Ice Melting, is based on the ancient Zen Buddhist koan about the sound of one hand clapping; Zen practice values such absurdity as a way to transcend the limitations of rational thought. In the work, Kos surrounded two twenty-five-pound blocks of ice with eight microphones that call to mind the political press conferences prevalent during the Vietnam War era when this piece was created.



Andy Goldsworthy, Ice Star, 1987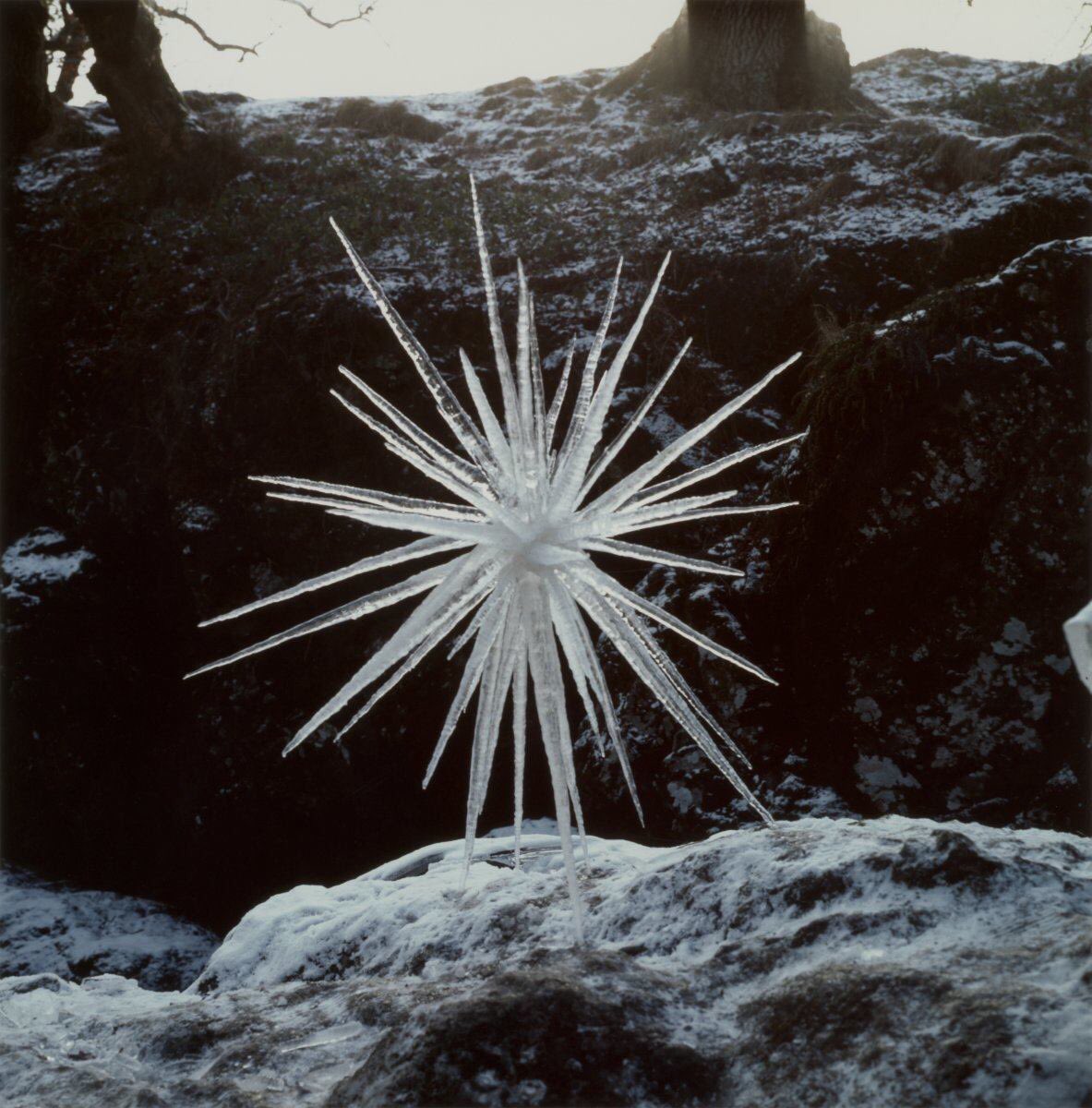 British artist Andy Goldsworthy is known for his site-specific installations involving natural materials and the passage of time. Working as both sculptor and photographer, Goldsworthy crafts his installations out of rocks, ice, leaves, or branches, then carefully documents the ephemeral collaborations with nature through photography. The artist spent his teenage years working as a farm labourer in rural England before going on to study art. In 1985, he moved to Scotland where he began producing work inspired by Robert Smithson and other Land Art practitioners from the 1960s and 1970s. One of Goldsworthy's many temporal outdoor installations, Ice Star was made using icicles located on the banks of Scaur Water river in Scotland, which Goldsworthy meticulously adjoined.



David Hammons, Bliz-aard Ball Sale, 1983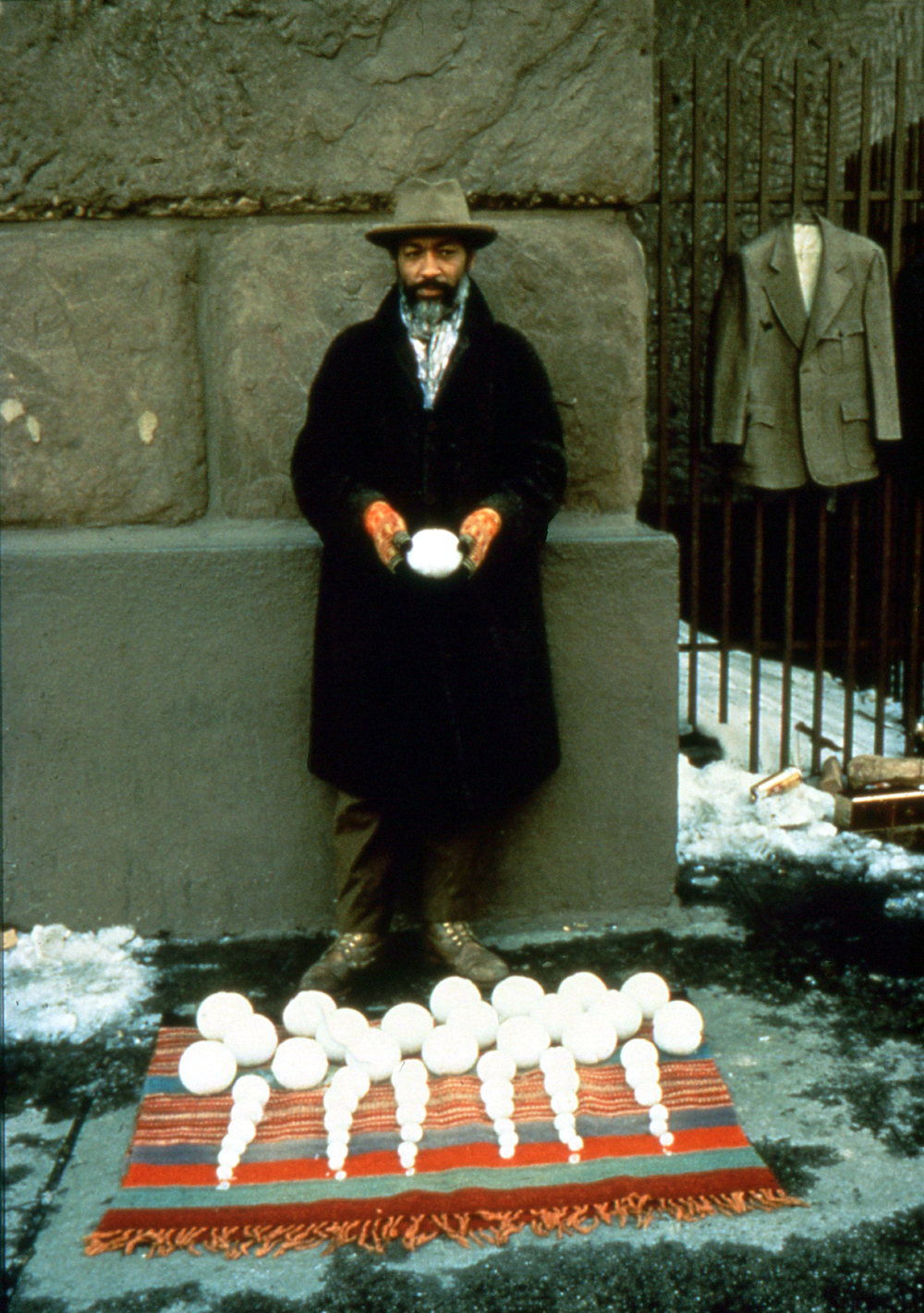 On a chilly winter's morning in 1983, beside various other street vendors in New York's East Village, artist David Hammons peddled snowballs of various sizes to curious passers by. He carefully arranged the icy spheres out on a woven rug in graduated rows and spent the day acting as a salesman. He dubbed the short-lived and unannounced street happening Bliz-aard Ball Sale, inscribing the performance into a body of work that, from the late 1960s to the present, has utilised ephemeral actions and found materials resonating with Black culture to comment on the art world and race in America. Though Bliz-aard Ball Sale has been frequently cited and is increasingly influential, it has long been known only through a mix of eyewitness rumours and a handful of photographs.



Olafur Eliasson & Minik Rosing, Ice Watch, 2014-2019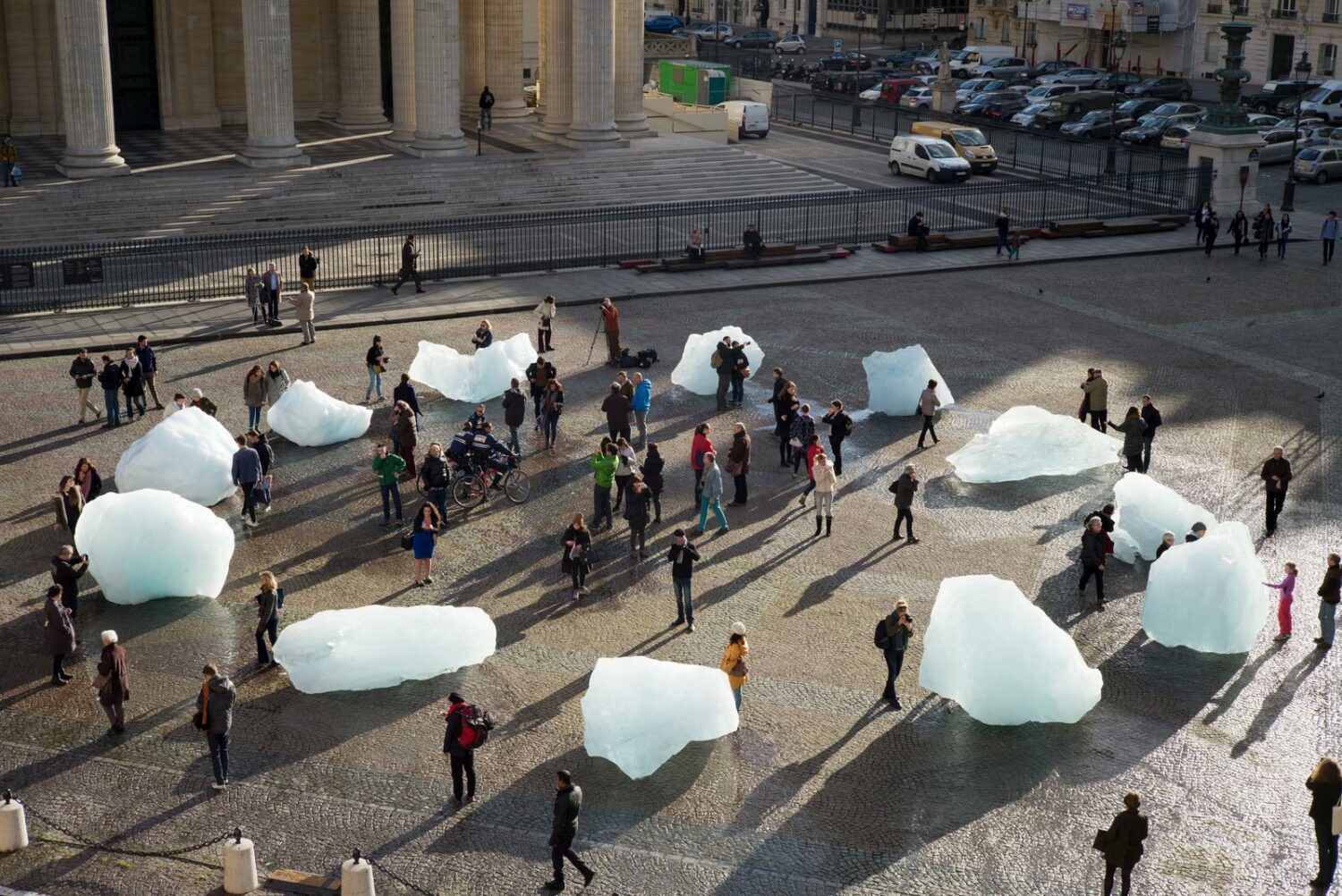 In the work Ice Watch, twelve large blocks of ice cast off from the Greenland ice sheet were harvested from a fjord outside Nuuk and presented by artist Olafur Eliasson and geologist Minik Rosing. Arranged in a clock-like formation, the impactful installation seeks to raise awareness of climate change by providing a direct and tangible experience of the reality of melting arctic ice. Since 2014, Ice Watch has so far been installed in three locations across Copenhagen, Paris, and London. Reflecting on the work, Eliasson commented: "The ice is amazingly beautiful – you can smell it, you can kiss it, and essentially put your hands on it and touch Greenland … It is a lot more physical; it suddenly gives a stronger sense of what it is they're talking about when they say the Greenland ice caps are melting."



Feature image: Francis Alÿs, Paradox of Praxis 1 (Sometimes Making Something Leads to Nothing), 1997. © Francis Alÿs